Now that the 750th day of January has finally ended (seriously…..why did January feel like it went on forever this year?) I can finally share all the goodies I've been saving up for my Monthly Round Up, and believe me I've got lots to tell you about!  First, make sure you check out my 2018 round up or my 2019 plans if you missed them at the beginning of the month:
DIY Workshop at the Philly Home and Garden Show
I am so excited to announce that over President's Day Weekend I will be taking part in the "Make It Take It" Workshops during the Philly Home and Garden Show at the Oaks Convention Center!  I will be hosting two one-hour DIY demos (Saturday, 2/16 at 10am and Sunday, 2/17 at 4pm) and will be sharing how to make one of my favorite ways to display art…and the best part is that you get to take home what you make.  If you're in the area come stop on by and stick around to see some of the awesome displays – like the Party Barn that Denise from The Painted Home is putting together and everyone's favorite Trading Spaces carpenter, Ty Pennington.
The 52 Week CIO Challenge
In addition to my main resolutions for 2019, I also decided to tackle a little side project that I'm calling the 52 Week Cross it Off Challenge – as in Cross It Off that gigantic To Do list.  At the beginning of the year I sat down and came up with a list of 52 things that have been lingering on the big To Do list in my mind that for one reason or another I've been procrastinating about and made a commitment to complete one a week this year!  These are all separate from the big house projects I've laid out this year and I set some parameters that none can take that much time (they have to easily be done in a week), cost that much money (nothing on this list should cost me more than $10 – $15), or cause me additional stress (if I miss a week because we're on vaca I'll double up on the next go).  Things range from tasks as simple as changing out a burnt lightbulb to slightly more involved like installing the front door knocker that's been sitting in the garage.  I'm going to share my progress each month with you in my round up – and if you feel like jumping in with me at any point this year I'd love to hear about it!  My goal is to start 2020 with a lot less unnecessary baggage – doesn't that sound wonderful???  So here's what I got done in January:
Bought a clock for my bedroom so we can get rid of the cable box in there
Changed the burnt out garage door lightbulbs
Fixed the frames of the living room built ins (the boys kept hanging on them so I had to re-inforce w/some screws)
Scheduled a Purple Heart Pick Up for the donation pile in my bedroom (FYI – this is my favorite way to donate my used items;  they come right to your house and the profits go to support veterans and their families)
Hilltown House Amazon Storefront
Speaking of the 52 Week Challenge, my goal for this week was to finish setting up the Hilltown House Amazon Storefront —- sidenote I had been hesitant to share this with you guys because my Profile named is spelled wrong so just know I have Amazon on it and hopefully they will get it fixed soon!  I'm always happy to share all of the links to the products I put in my own house, but because I either build so many of my own things, or find things on sale that go out of stock or in stores that don't have a site I can point you to (like HomeGoods or antique stores) I am happy to have this site to point my readers to to find great finds similar to some of my favorite home decor items!  I've not only put together boards to help you "get the look" of the rooms in my house, but also lists of my favorite DIY, Cleaning, Kitchen, and Bathroom products.  Go take a peak and give it a follow!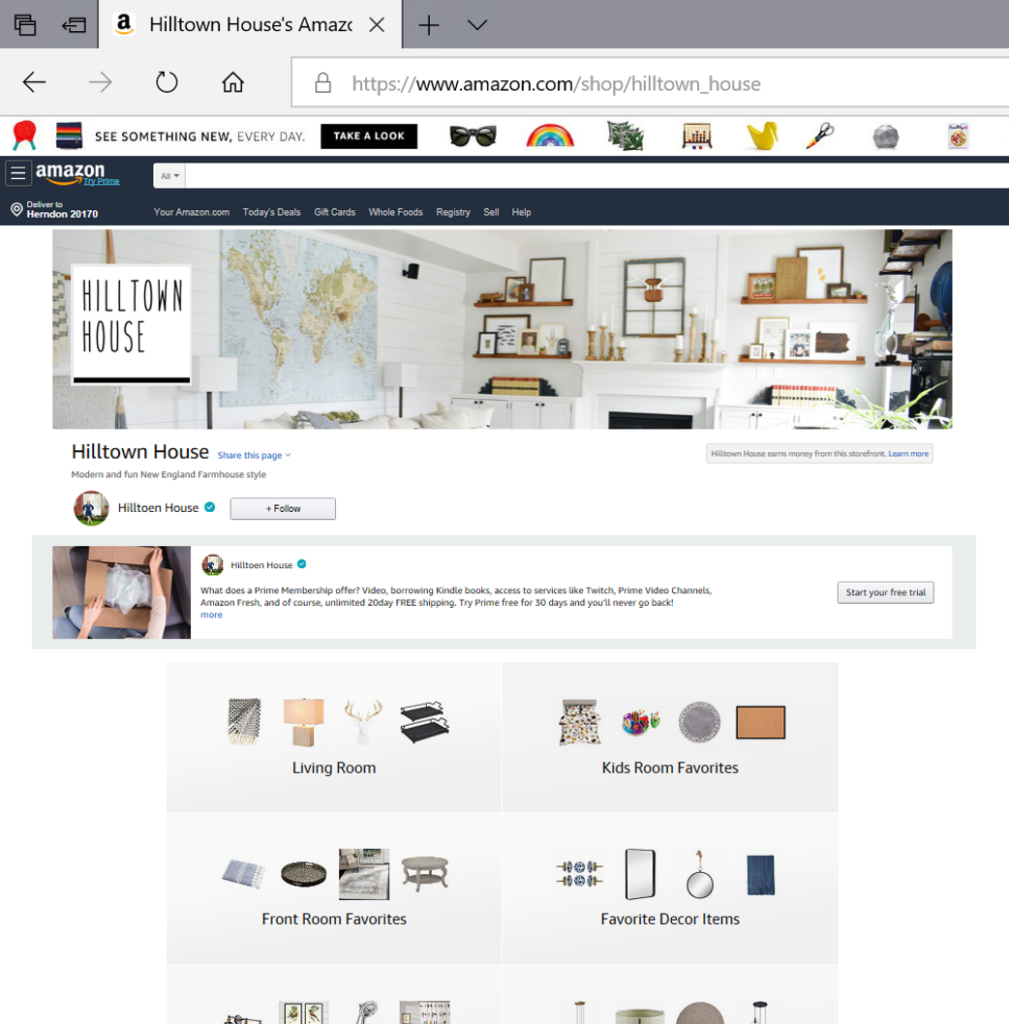 Upping my Baking Game
Chalk it up to watching waaaayyyy too much of the Great British Baking Show last Fall, but I've been really inspired lately to challenge myself to try new baking recipes and actually work on them to improve my technique.  I love baking but there are things that I generally pass on attempting because I don't have enough time, but in the spirit of my goal to do activities that I find Relaxing this year I'm going to put aside some long weekend hours to indulge my sweet tooth.  So far I've dove into the world of Swiss Rolls with this Hot Cocoa Cake (it turned out so well that I know want to try every roll up recipe I can find!), started my quest for the perfect pound cake recipe (this one was Grapefruit Flavored and super delicious), and dipped my toe into the tricky world of pastry (I made a first attempt at a Chocolate Raspberry Tart that needs a little work but I'm hoping to make it for Valentine's day again!).  I'll still be sharing my favorite savory recipe through the year, but will be throwing in some sweet treats for you too.
Kitchen Progress
Wrapping up this round up with a quick sneak peek at the Kitchen updates I started as soon as the New Year kicked into gear.  I'll be sharing a full reveal once I'm done but you can follow along with me on my Instagram feed and through my stories if you want to see how it comes together in real time.