Eight years ago we started construction on our house, which we fully intend to be our forever home. It is nestled among the farms of Bucks County, PA, surrounded by trees and wildlife. We modeled the outside on the old stone historic houses that dot our towns, and I try to keep that feeling going inside by sticking with traditional details while injecting a dose of color and fun.
I think it's easy for people to assume that New Construction means a perfect house, but most of the time it means a big blank intimidating canvas! I hope from the before pictures you can get a good sense of how even the most builder basic-options can be transformed into a house full of personality and character. Not every space is quite finished yet, but the journey is definitely part of the fun!
First Floor
---
— Entryway —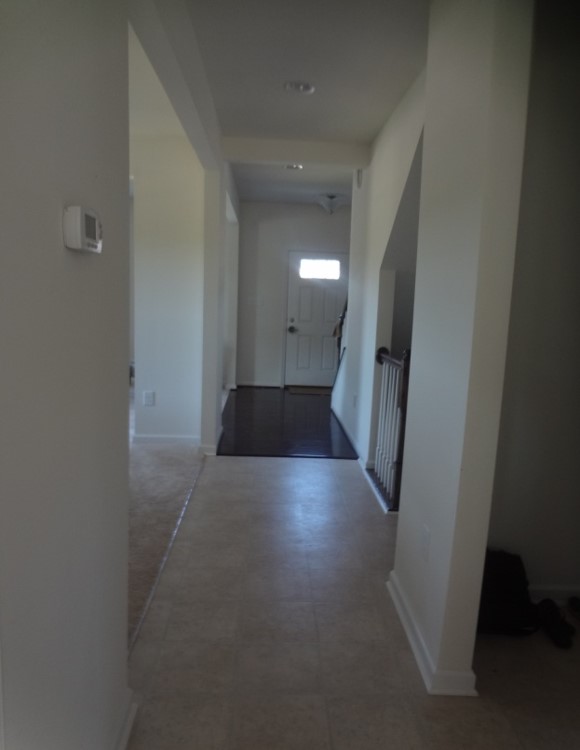 One of the reasons I loved this floor-plan is because of this long hallway off of our front door, but the original entryway was the perfect example of what a basic, builder grade house looks like – mixmatched floors, very bare walls and boob lights.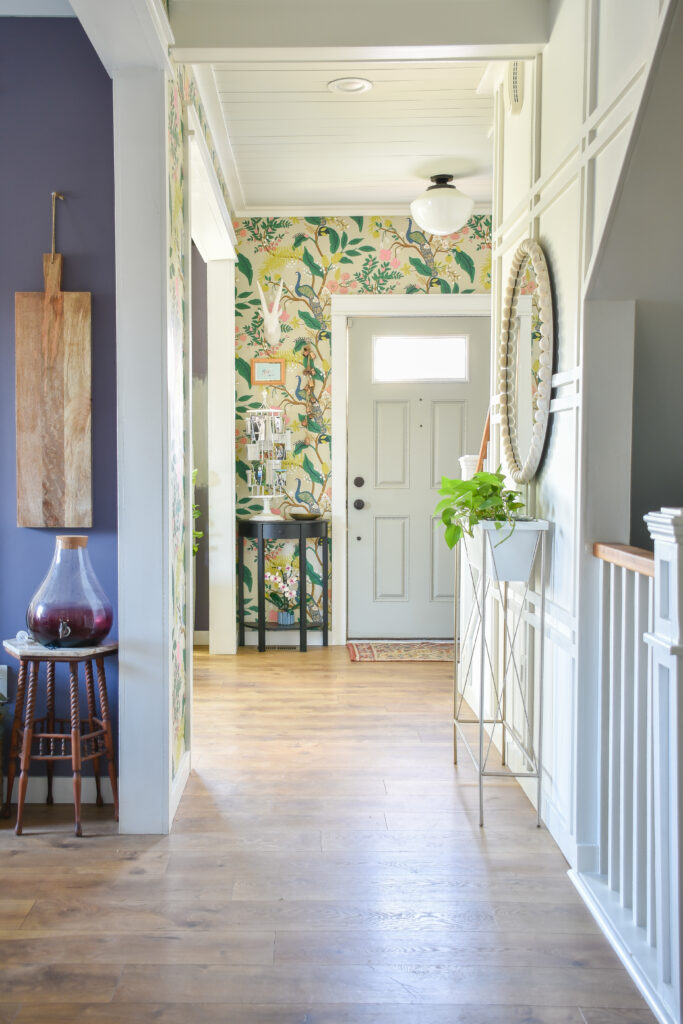 Now this is honestly one of my favorite views in the whole house. This is probably the best spot where you can see the difference replacing the floors made, but in addition I changed out the light, painted the back of the door, added a plaid accent wall, replaced the banisters, added faux beams, ship-lapped the ceiling, and added some beautiful wallpaper.  Check out this post for more details.
Wallpaper | Front Door Color – Sherwin Williams Sensible Hue | DIY Mirror | White Hanging Frames | Accent Rug | Light Fixture
— Front Room —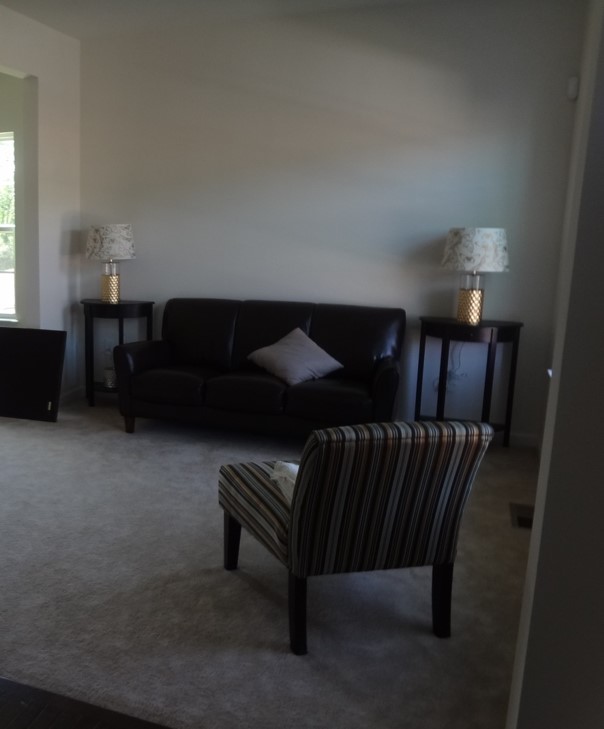 Along our hallways is our front room / dining room combo. The original placement of the couch was so wrong! It looked like you were walking past a department store display.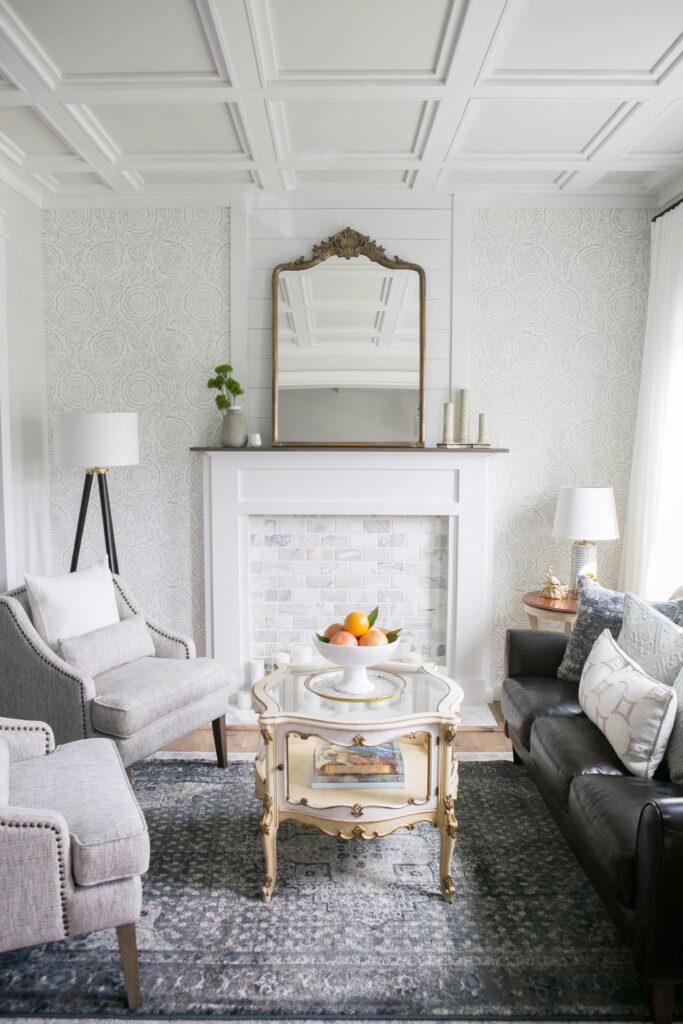 After a lot of trial and error I finally figured out how to orient the seating in this room and realized that it was lacking height and that back was screaming for a focal point and some pattern. To fix that I added wallpaper and created a faux marble fireplace. I wanted this space to feel formal, but not stuffy, with a touch of elegance and a good mix of vintage/modern. Check out the reveal here.
Wall Color – Sherwin Williams Frosty White | Wallpaper | Fireplace Tile
Mirror | Striped Lamp | Ivory Rug | Blue Rug | Accent Chairs | Peacock Dish | Tripod Lamp | Curtains
— Dining Room —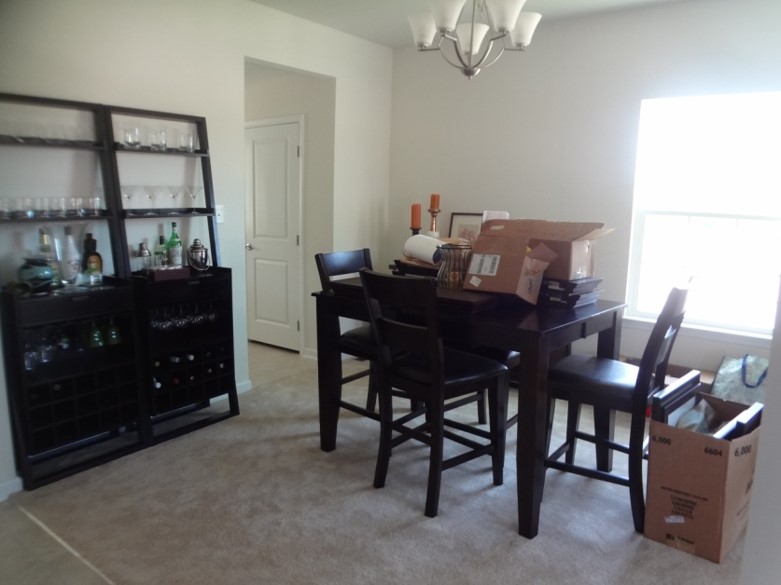 We pretty much just transferred our old dining room into our new one when we moved. It's not a very big room and it's almost perfectly square so all of the furniture never felt quite right, but since we don't use it very often it hasn't been high on the priority list.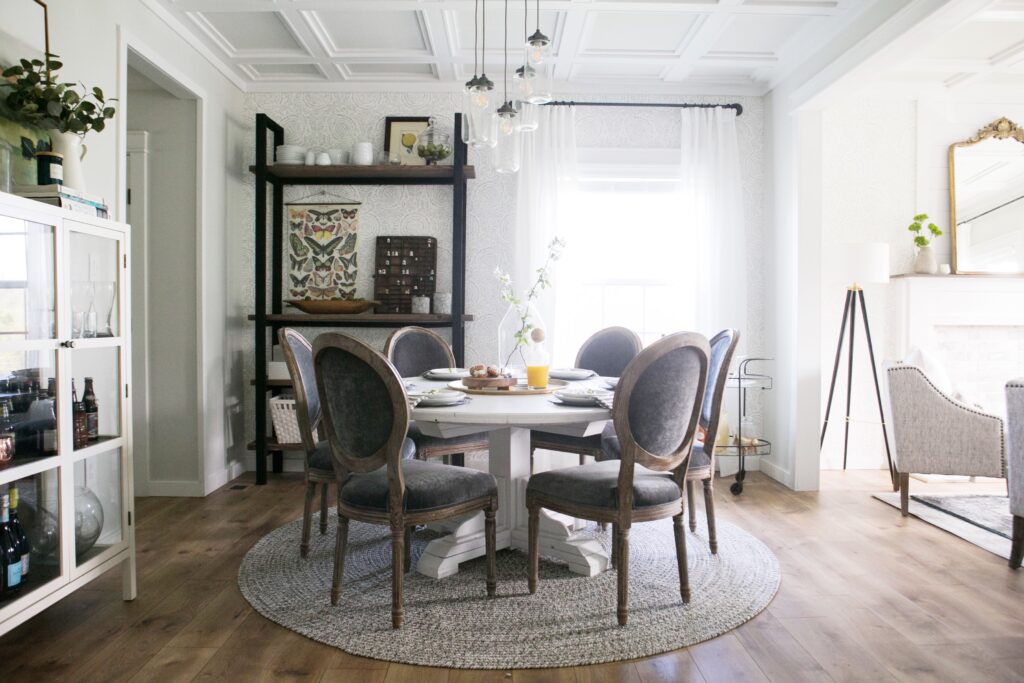 All that changed when I tackled this space, along with the front room, for the Spring 2018 One Room Challenge. I always dreamed of a round table, so I built one along with a large bakers rack. I accentuated the height of this space with a DIY coffered ceiling that was definitely worth all of the hard work! I love working in this room now because it gets the most wonderful breeze out of that lovely window. Check out the reveal here.
Wall Color – Sherwin Williams Frosty White | Wallpaper
Dining Room Chairs | Landscape Painting | Round Rug | Wooden Trivet | Curtains | Striped Throw | Glass Cabinet | Chargers | Striped Napkins
Brass Tray | Large Glass Vase| White Baskets| Dough Bowl | The light fixture is from West Elm and is no longer sold but This Collection is similar
— Mudroom —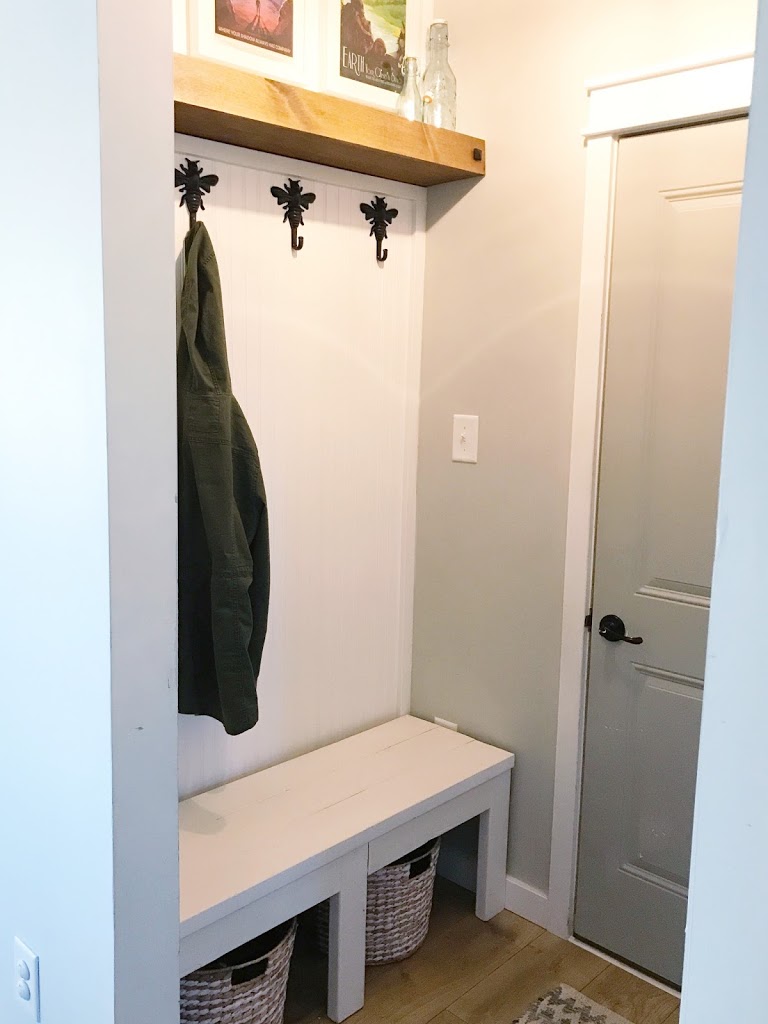 I don't think that our mudroom really qualifies as a room – it's kinda like a mud hallway. Luckily a small bench, some baskets for shoes, and some hooks for coats tuck away perfectly onto one side. I also built a large chalkboard for the kiddos and kept that up for a few years until I was able to give this space a much larger makeover.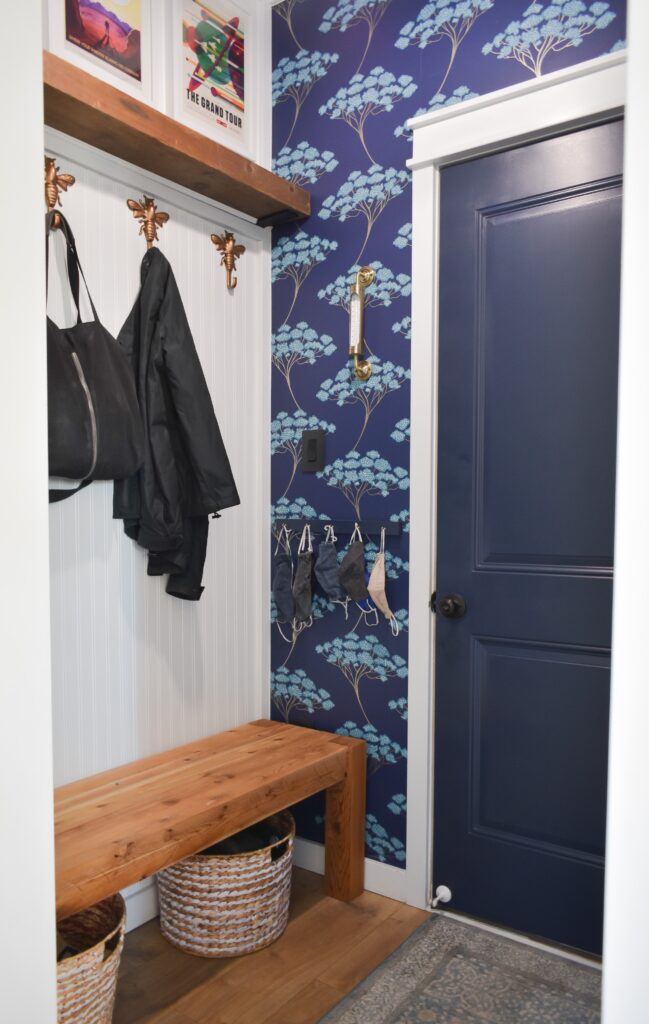 Some really fun wallpaper and a new color scheme totally transformed this room into something really special. I replaced the chalkboard with a peg rack to hold the boys hats and built a new bench because the old one was a little wobbly. I also painted the ceiling a lighter shade of blue which made this room feel 12 feet tall. Click here for the room reveal.
Wallpaper from WallPops! | Ceiling color – Blue'd Up | Door Color – Goodnight Moon | Rug
— Powder Room —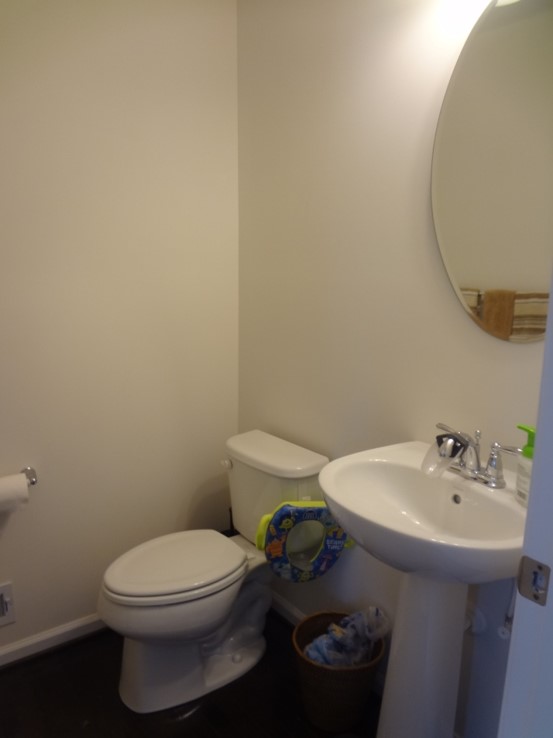 I kinda just want to laugh when I look at this before picture!! The only thing this room had going for it was that it had dark hardwood floors, but besides those and the toilet everything else went out the door – even that towel bar you can spy in the mirror that I had totally forgotten existed.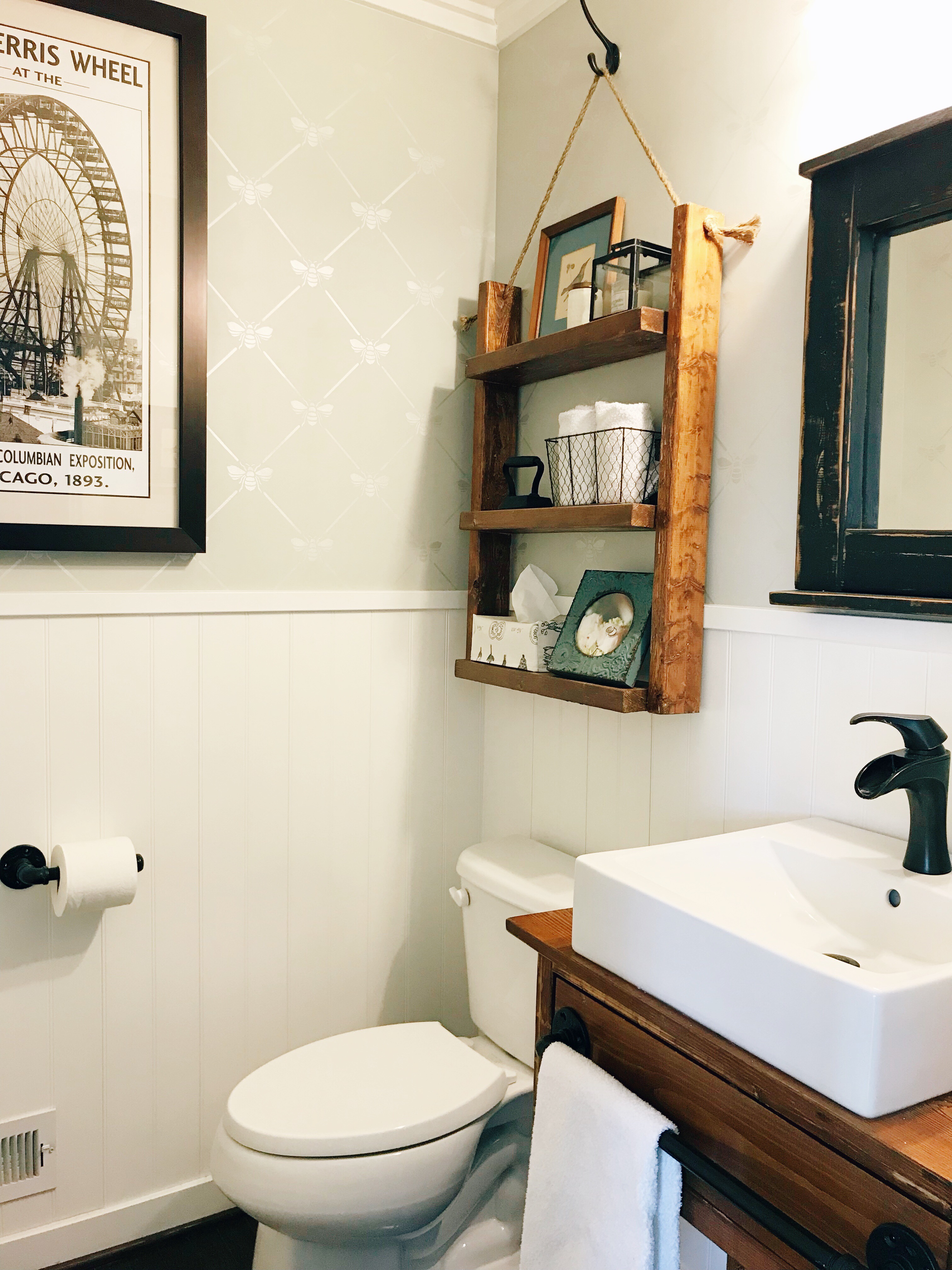 I wanted to pack as much personality in this little room as I could so I injected every spot with a hand-crafted, slightly vintage feel. The beadboard, stenciled walls, hanging shelf, mirror, and vanity were all DIYd and give a cozy, inviting feel to one of the most used rooms in the house. Check out the full reveal here.
Wall Color is Sherwin Williams Aloof Gray | Royal Design Studio French Bee Trellis Stencil in Pearl Oyster Stencil Creme
Hanging Shelf plans from Shanty 2 Chic | Mirror Plans from Shanty 2 Chic | Vanity adapted from Farmhouse Bedside table plans from Ana White
Sink | Faucet | Ferris Wheel Print – It looks like the framed version is no longer sold but the link will take you to the same print
— Living Room —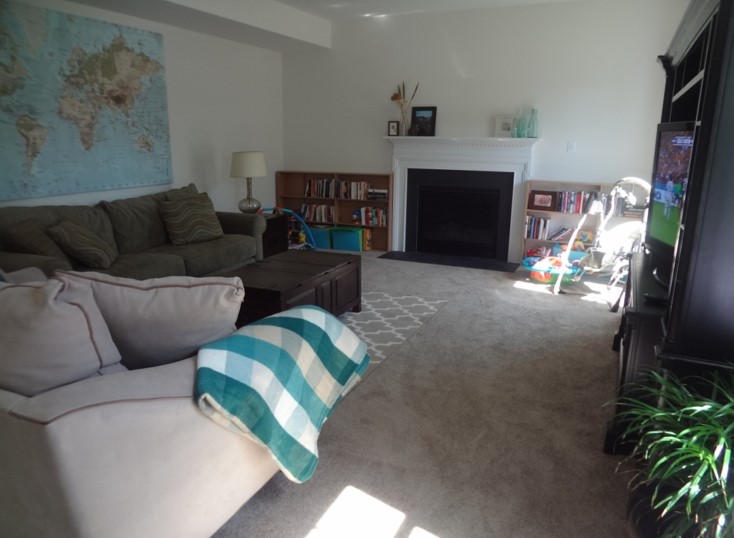 Our living room and kitchen are completely open to each other so of course we spend 99.9% of our time in there. We brought our two old sofas into this room with the intention to basically wear them down to the bone when the boys were babies/toddlers – and boy did we wear those things out! As much as it would have been nice to tackle this room earlier, I needed to let my boys grow up a little first.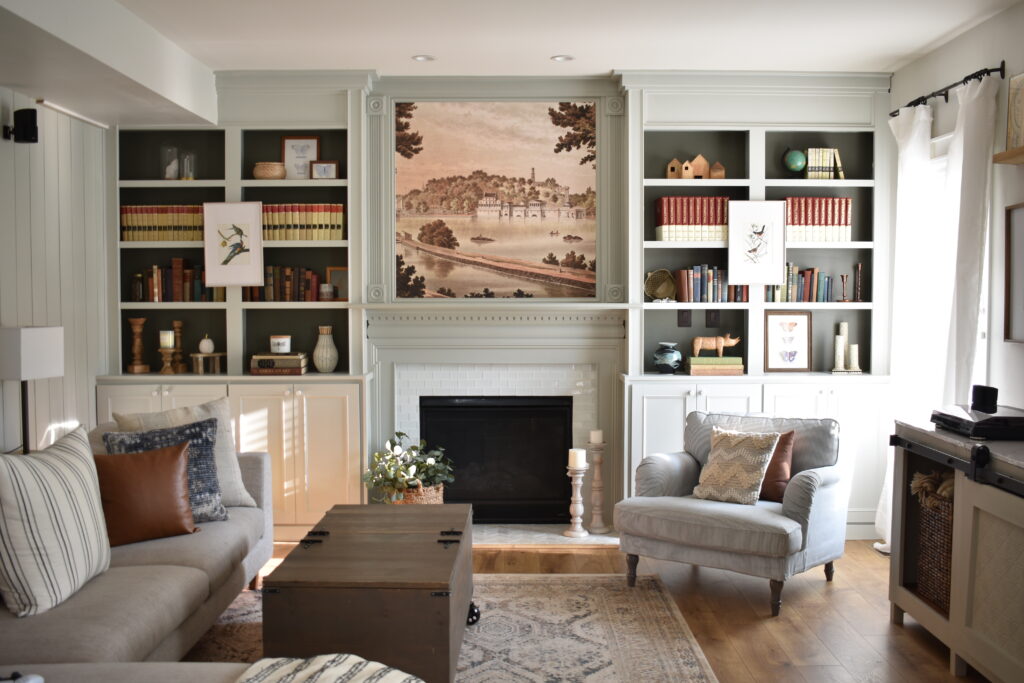 My main goal with this room was to create a casual space that I would feel comfortable letting the boys play in, but was also detailed, comfortable, and relaxing. This room went through a very farmhouse stage for the first few years but I wanted to do something totally different so I added full built-ins flanking either side of the fireplace, trimmed out the mantel with lots of trim, and added a faux mural of the vintage Philadelphia waterfront.
— Kitchen —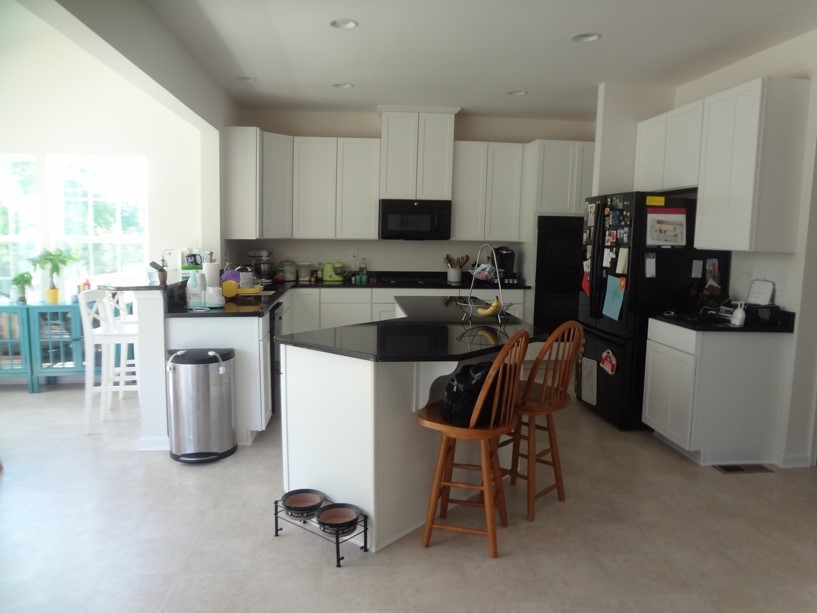 One of the splurges we opted for was an upgraded kitchen layout, which included a double oven, separate stove top, and larger island. Everything else we kept very basic, including linoleum floors, no backsplash, and not having hardware installed. I have to admit, for a while I thought we made a huge mistake in going for the white/black combo because it felt so stark!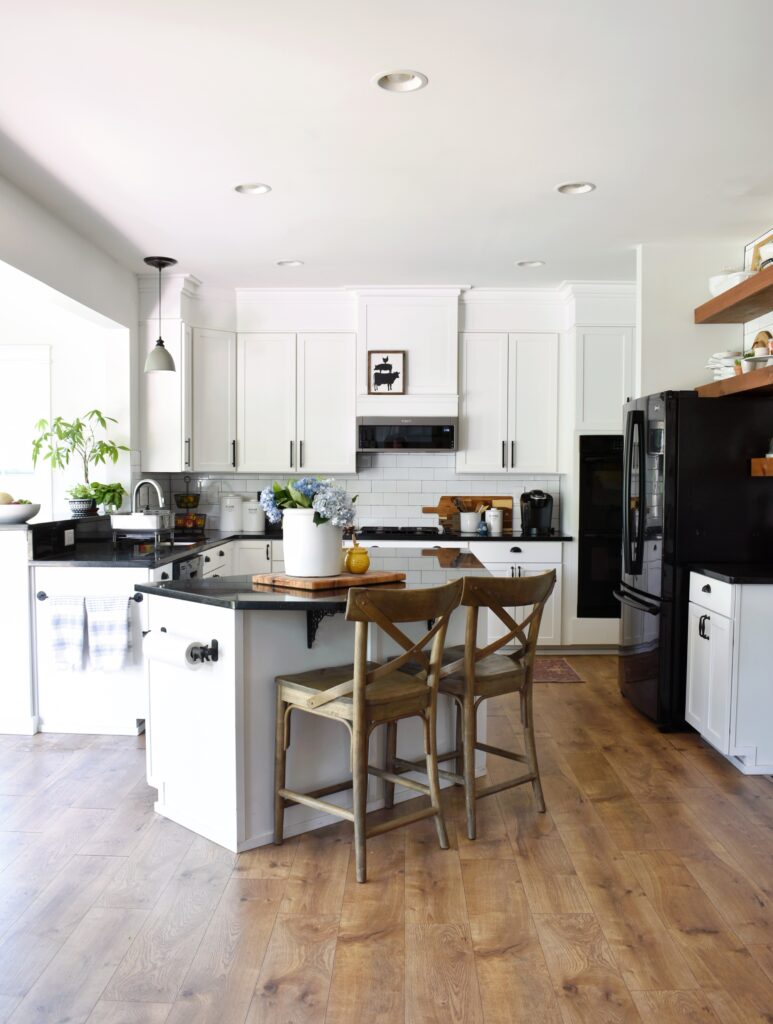 Luckily all of that changed as soon as we put the new floors in! The light wood tone just made the whole kitchen come alive. Unlike other rooms, I work on the kitchen a little bit at a time since it doesn't need any major demo. Over the last few years I've installed hardware, added towel bars, added under cabinet lighting (actually a professional did this one), installed a backsplash, added a lot of behind the scenes organization, trimmed out the island and added new brackets, changed out the outlet covers, and added floating shelves around the fridge, installed a new microwave, and filled in the space above the cabinets. There a few more things I want to tackle, but I absolutely love how far this kitchen has come.
Wall Color – Sherwin Williams Frosty White
Subway Tile | Counter Stools | Cabinet Door Hardware | Cabinet Drawer Hardware
— Morning Room —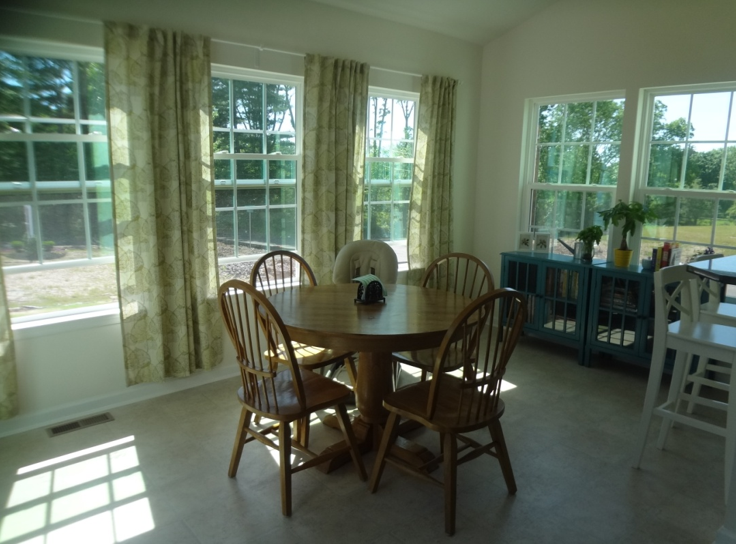 One of the rooms that has the most impact on our house is our morning room, which extends out the back of our kitchen and holds our kitchen table. It has windows on all 3 sides so not only does it let all kinds of natural light in, it also gives the back of the house a very indoor/outdoor vibe as we can see trees in every direction. At first we filled it with our old kitchen table and curtains (and those teal cabinets which my mom bought us as a housewarming present). Side note – seeing that little high chair at our old kitchen table brings back such good memories : )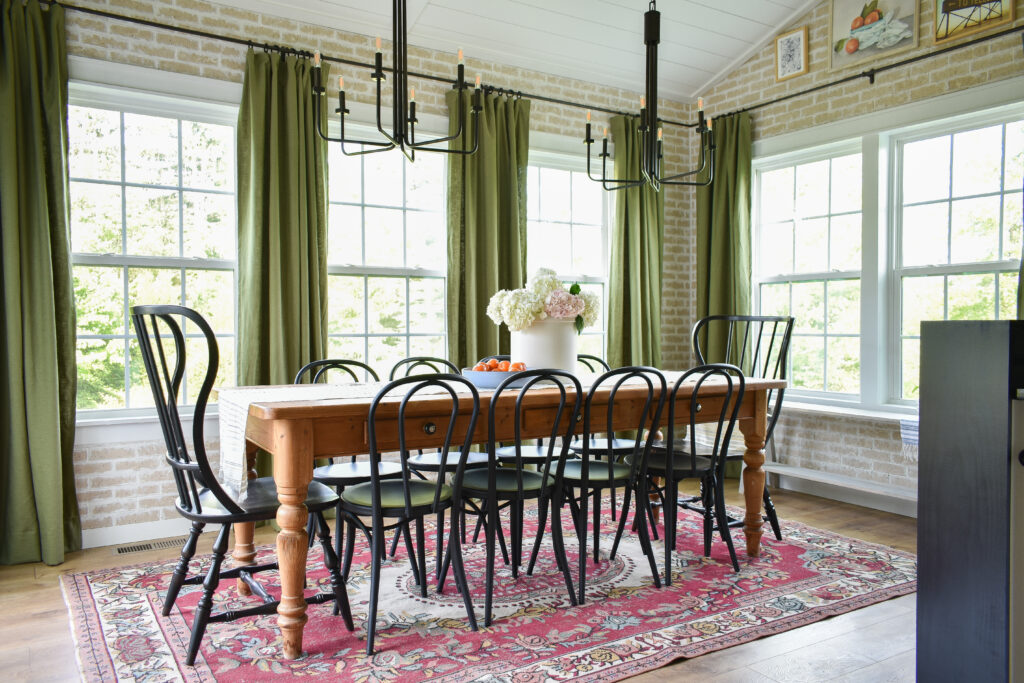 The morning room always felt cold despite the natural light from all of the windows, so to warm it up I added texture with faux brick and a shiplap ceiling. The vintage farmhouse table works perfect for our weeknight family dinners and larger gatherings and ties this room into the kitchen and the rest of the first floor. It has become the perfect spot to watch the trees and the season's change. Click here for the full room reveal….
CVintage Table from Chairish | Old Mill Brick in Bristol White | Hooker Arm Chair | Calico Wexford Linen in Basil | Metal Bistro Chairs | Vintage Rug from Etsy
SECOND FLOOR
---
— Loft —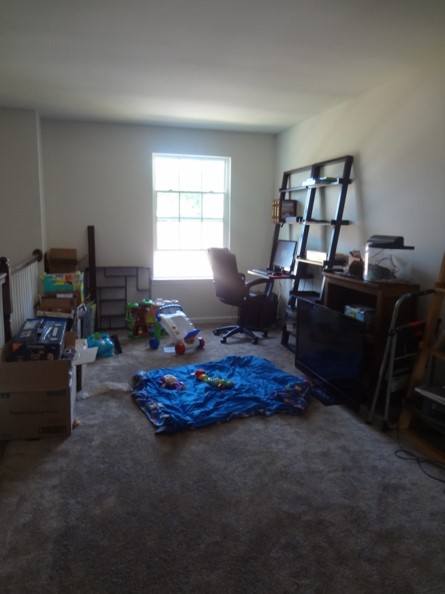 The main reason we wanted this floor plan was because of this loft space. The railing overlooks the staircase and all of the bedrooms are laid out in a square around it. That window also gets the best breeze in the house and is the perfect spot to sit on a spring day.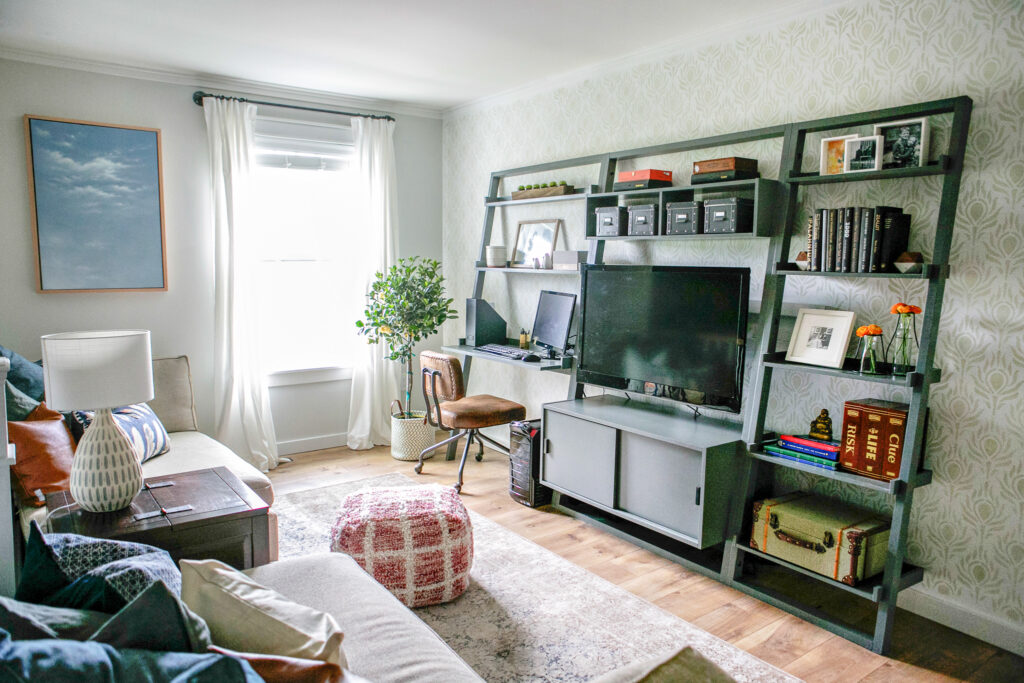 The makeover in the loft wasn't huge, but it made such a difference! A stenciled wall and lots of pillow add to the casual fun vibe of this space which is perfect for weekend sleepovers. And since it serves double duty as an office, I added a larger desk to match the leaning shelves we already had. Now the loft feels like an actual room instead of just an in-between space surrounded with bedrooms.
Wall Color – Sherwin Williams Frosty White | Stencil Color is Moonstone Ring by ValsparChaise Lounges | Desk Chair | Rug | Artwork | Floor Poof | The leaning shelves are Crate and Barrel mixed with desk that built. They don't make these exact ones any longer but this is the new design
— Guest Bathroom —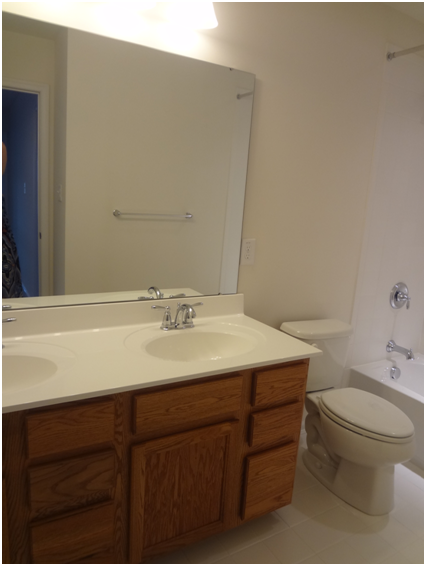 The original guest room bath taught me two important lessons – 1) if you build a new house and have plans of eventually updating your bathroom floor just have them install linoleum to begin with and 2) I will NEVER use white grout on a bathroom floor again!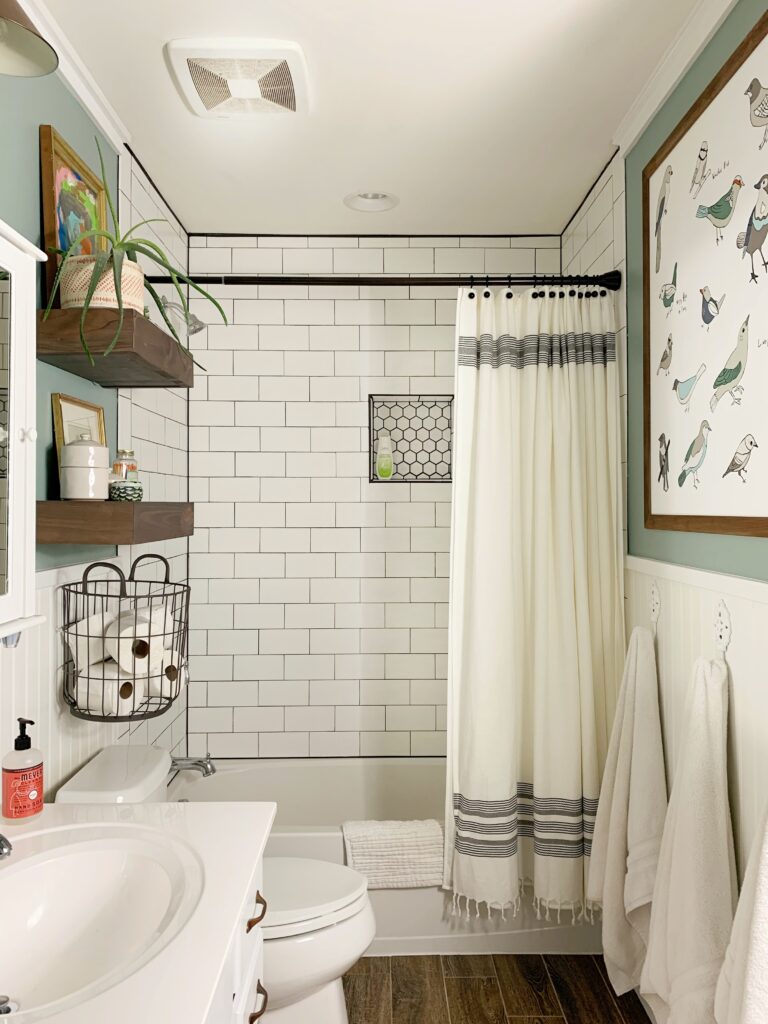 The guest bathroom is the first room in the house to get two makeovers. In the first re-model, I demoed all of the floor and shower tile and rebuilt both from scratch, added beadbord and trim, replaced the giant mirror with seperate medicine cabinets, and added double sconces. The second time around I swapped the paint color and styling to give a much more fun look that fits with the style of the house.
Sherwin Williams – Halcyon Green | Vanity Color – Sherwin Williams Extra White
Medicine Cabinets | Subway Tile | Shower Curtain
— Guest Bedroom —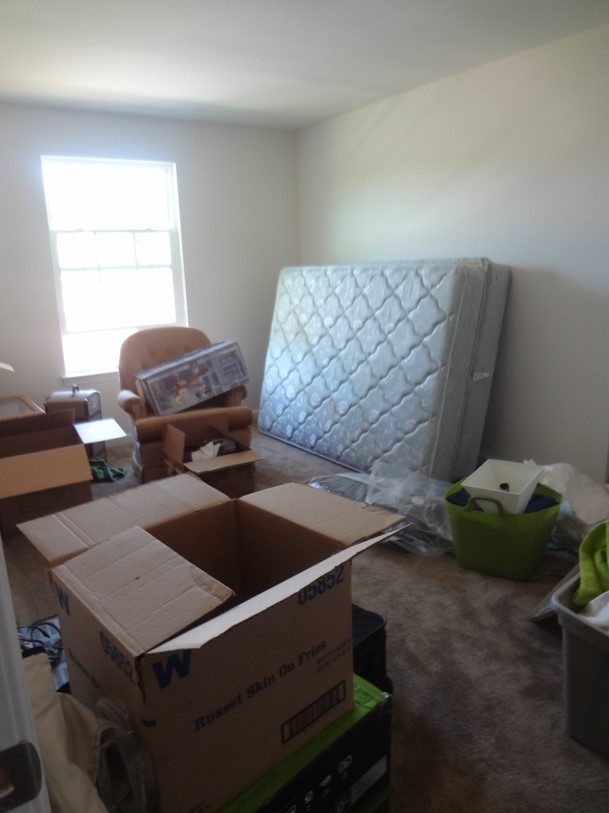 I think our Guest Bedroom Started out like a lot of peoples – part dumping ground / part round-up of old furniture. Eventually we did clean it out and made room on the floor for that mattress, but it was still essentially a plain white box and the last thing from welcoming.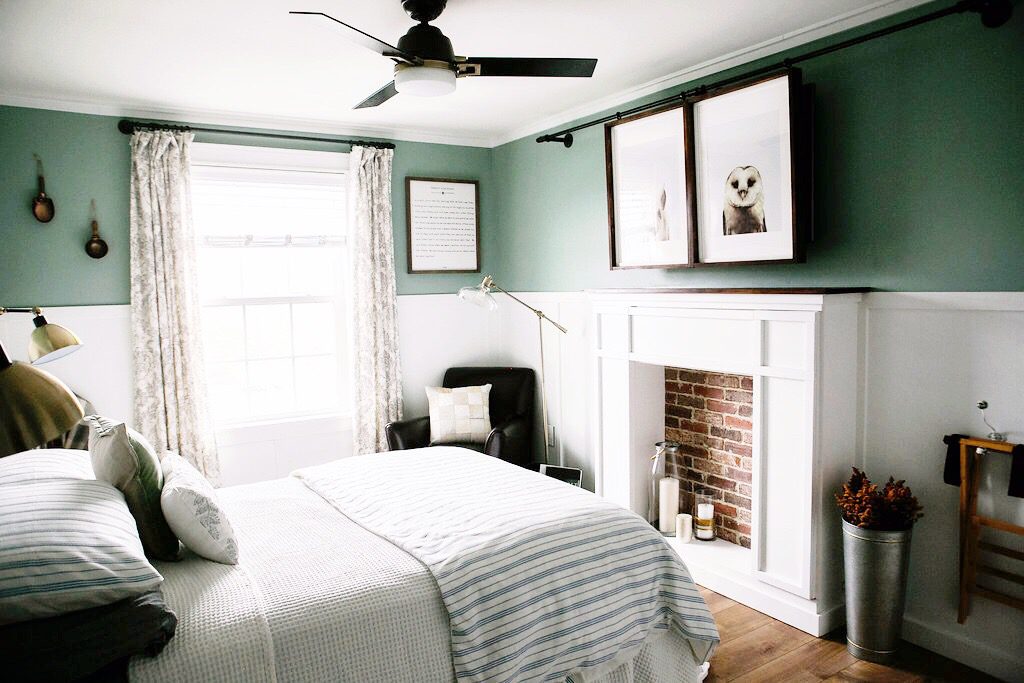 I ended up tackling this room as my first One Room Challenge hosted by Calling it Home. I departed from the gray tones of the rest of the house and choose a bold green-blue for the wall. I wanted the room to look like it could belong in a super cozy bed and breakfast in an old farmhouse, which led to me adding a faux fireplace and traditional board and batten trim. Now I'm super jealous that this isn't my master bedroom! You can check out the full final reveal here.
Wall Color – Sherwin Williams Halcyon Green
Fireplace built based on these Faux Fireplace plans from Ana White
Blue Striped Duvet Cover | Ceiling Fan | Waffle Weave Blanket | Animal
portraits | Sconces | Luggage Rack | Floor Lamp | Faux Brick | Curtain fabric | Rug | Galvanized Vase | Glass Jug Candle Holder | Brass Wrapped Vase
— Owner's Bedroom —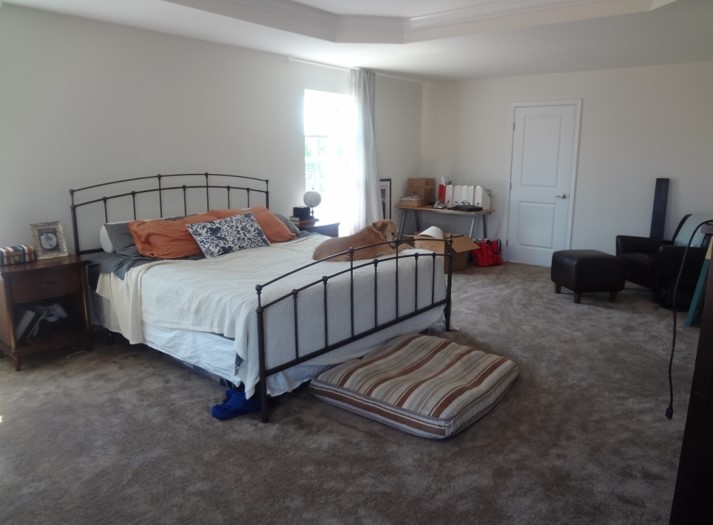 Our Master Suite takes up the entire back half of the 2nd floor so it is very large. Lucky for us this is more than enough space for our California King Bed, which is necessary because the little prince sitting on it in this picture likes to sprawl out.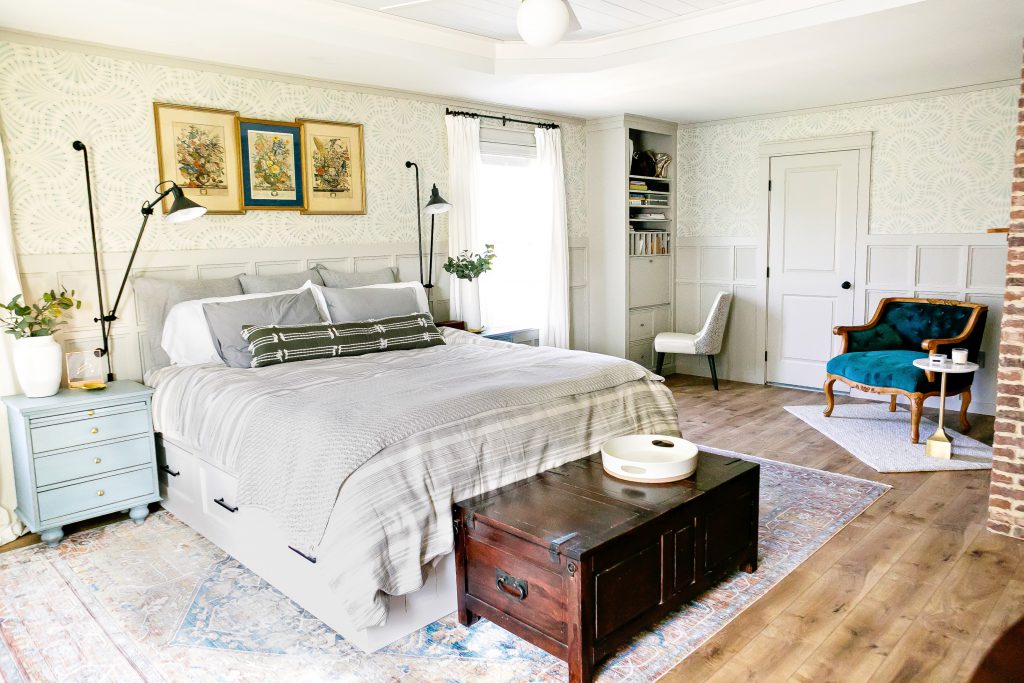 t's not that surprising that one of the biggest things lacking with a builder grade home is character, but bedrooms are such a great place to get really creative and add your own personality since they're the most private spots in our homes. From the wallpaper, to the trimwork, to the ceiling, and the giant faux brick fireplace I added, this room is now drenched head to toe with pattern and texture, but the monochromatic color keeps it from feeling overwhelming.
Wall Color – Sherwin Williams Skyline Steel
Hunter Hepburn Fan | Lumber Pillow | Area Rug | Marble and Gold Table | Accent Rug | Wall Sconces | Velvet Arm Chair | Duvet Cover
— Owner's Bathroom —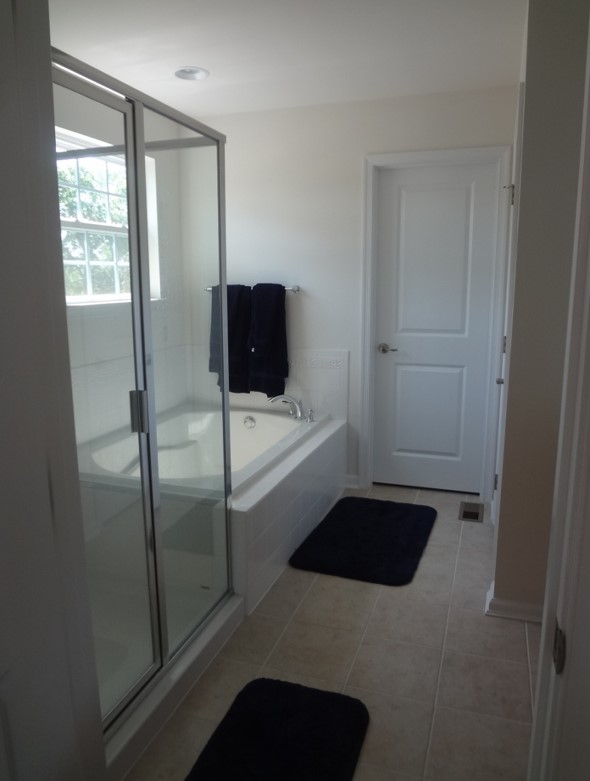 In addition to the kitchen, we also chose to upgrade the layout of the Master Bathroom, which gave us a separate tub and shower, a water closet, and most importantly a window. The tile wasn't my favorite, but it's not terrible and is certainly easier to keep clean than the guest bathroom was, so my plan was to seperate any changes to this bathroom into Phase 1 (easy cosmetic changes) and Phase 2 (demo and replace the tile and shower).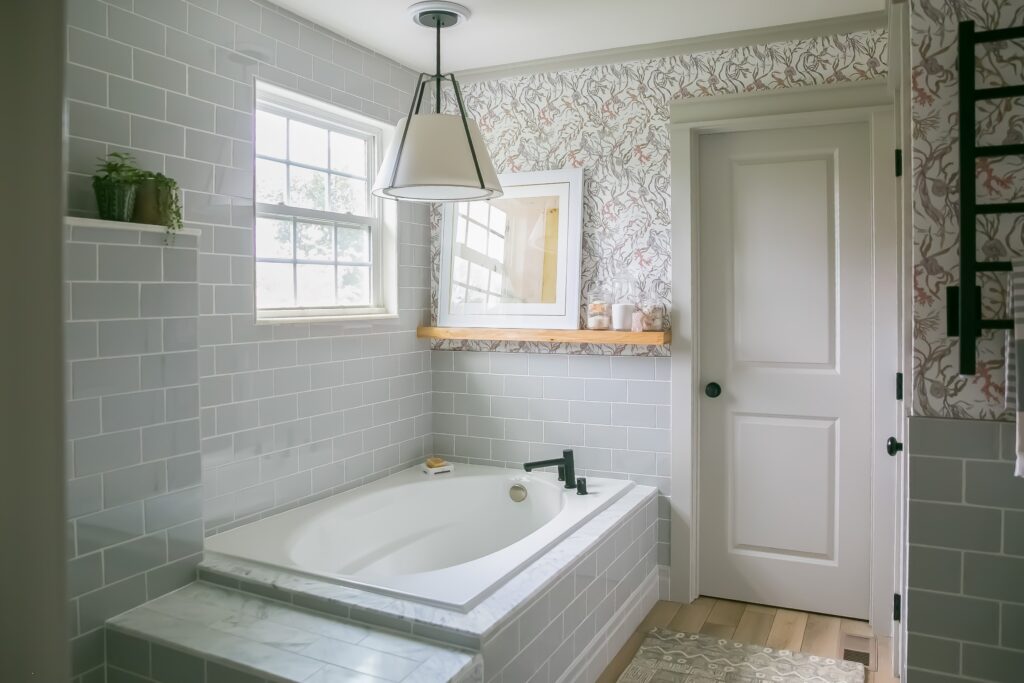 Our Phase 2 remodel came quicker then we were planning when our shower started leaking through the ceiling. After a full demo we rebuilt into a calm, but still colorful space that feels amazing any time of day. Check out the full reveal here.
Atoll Wallpaper | Towel Warmer | Subway Tile | Fulton 3 Light Black Pendant
— Laundry Room —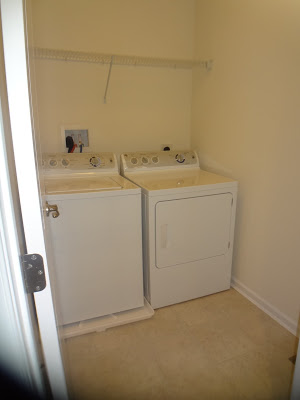 Our laundry room is pretty tiny, which is fine because it is right off of the loft so we can do any folding out there, but the laminate floor, wire shelves, and barely functional dryer didn't motivate me to do laundry in the least.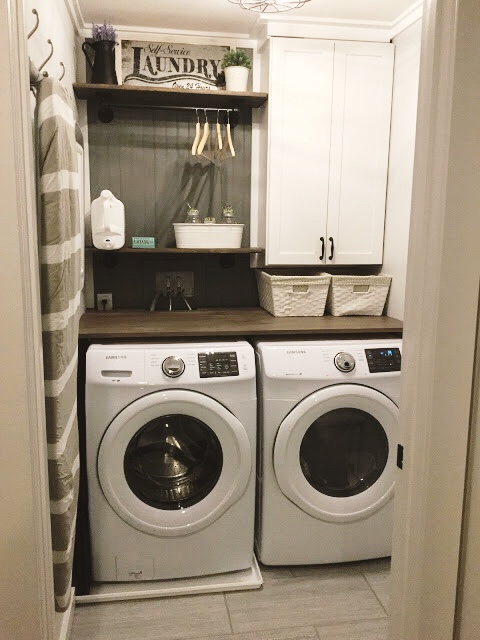 You can check out the whole Laundry Room reveal for all the details but in a nutshell – when our dryer finally started to break down for good I decided to re-do the entire laundry room and turn it into a space that was actually pleasant to spend time in. New tile floor, upper cabinet stolen from the kitchen, floor to ceiling bead board, new shelves and a planked countertop. Ahhh – so much better!
Wall color – Sherwin Williams Nebulus White | Bead Board color – Sherwin Williams Grizzle Gray
Floor Tile | Washer | Dryer | Laundry Sign
— Boys Bedroom —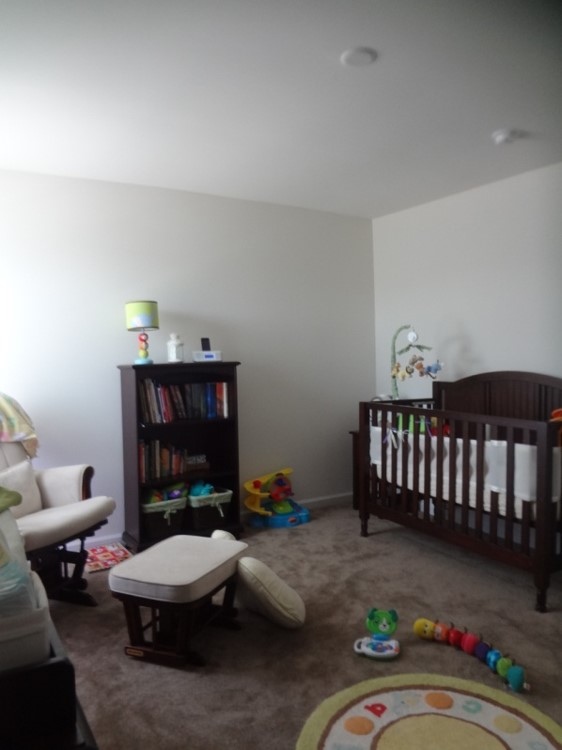 The room the boys share used was originally our little ones nursery. It was very difficult leaving the old nursery because I spent a year painting a mural on the walls, but I thought this was a really cute temporary space.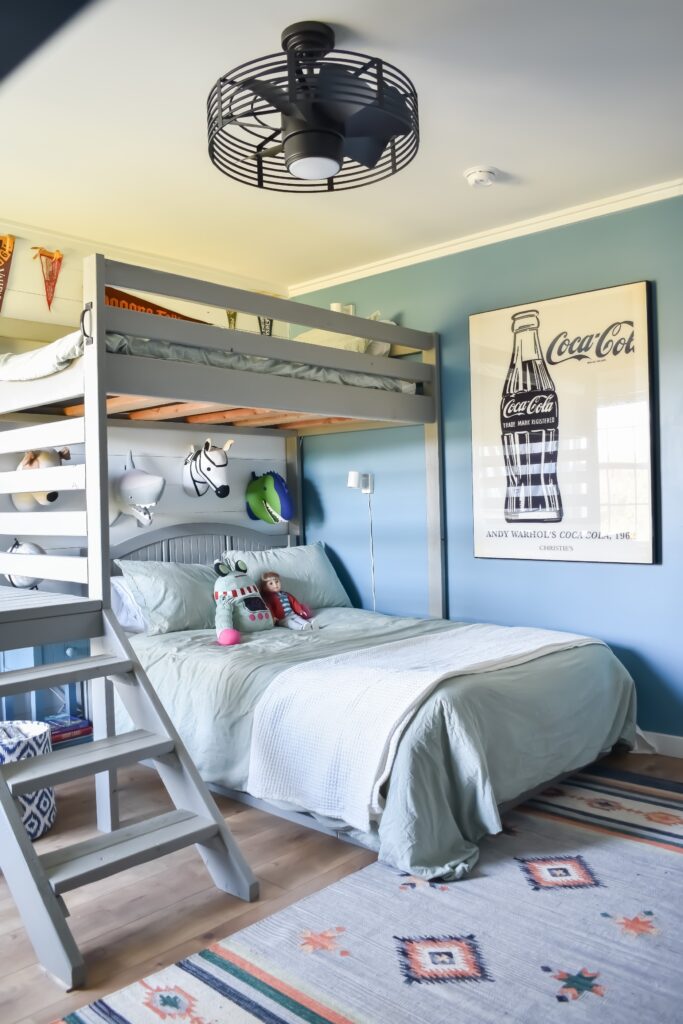 This boys room has gone through two transformations since we moved in – the the first time I built a built bed and moved the boys in together, and just a few months ago I added a more grown up color and some fun decor including a set of circle shelves to house our ever growing LEGO collection. Click Here for the full reveal.
Wall Color – Clare Paint Blue Ivy | Bed Color – Rustoleum Chalked Paint in Country Gray
Loft Bed built using Camp Loft Bed Plans from Ana White | Bottom bed built from Captains Bed Plans from Ana White and Pottery Barn Kids Catelina Crib | Ceiling Fan
— Boys Playroom —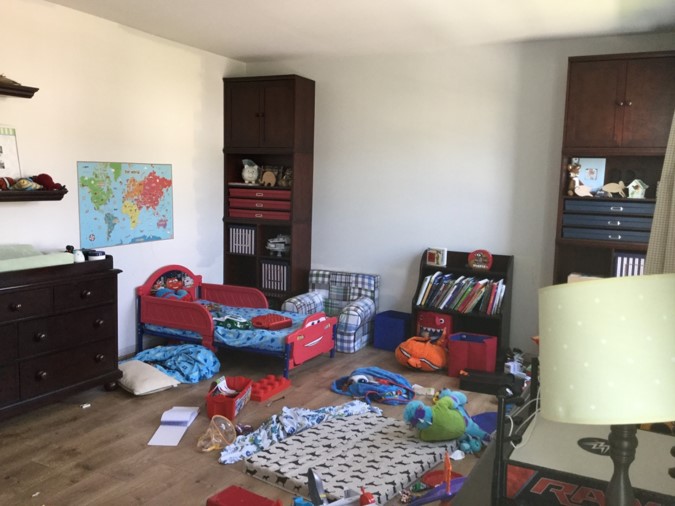 I don't have a good picture of the playroom when we first moved in, so this is from a year later when we had already re-done the floors and I had figured out where I wanted the cabinets to go, but you can see that this used to be our oldest sons room. This room is actually really big so it didn't make much sense as a bedroom for one little boy, which led us to the decision to merge their bedrooms and move them both into the smaller, darker of the two rooms on this side of the house.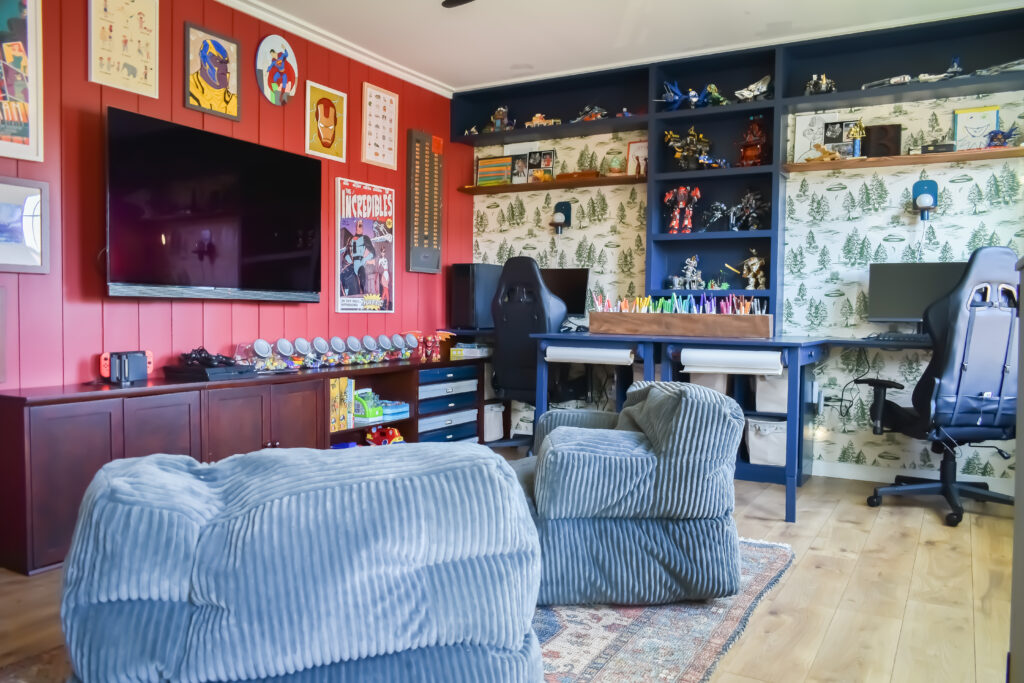 My boys have gotten really into gaming over the last year so when it was time to give the playroom a new look I took it a step further and turned it into a game room where they each have their own desks and laptops. I re-used 99% of the furniture and added some color / pattern that remind me of an basement from the 1980s.
Spoonflower Wallpaper | Workshop Sconces | Incredibles Artwork | Light Up Gaming Chair | Clare Paint in Big Apple and Goodnight Moon | Area Rug | Bean Bag Lounge Chair
The floors are Pergo Laminate in Riverbend Oak that we bought from Home Depot and installed ourselves.