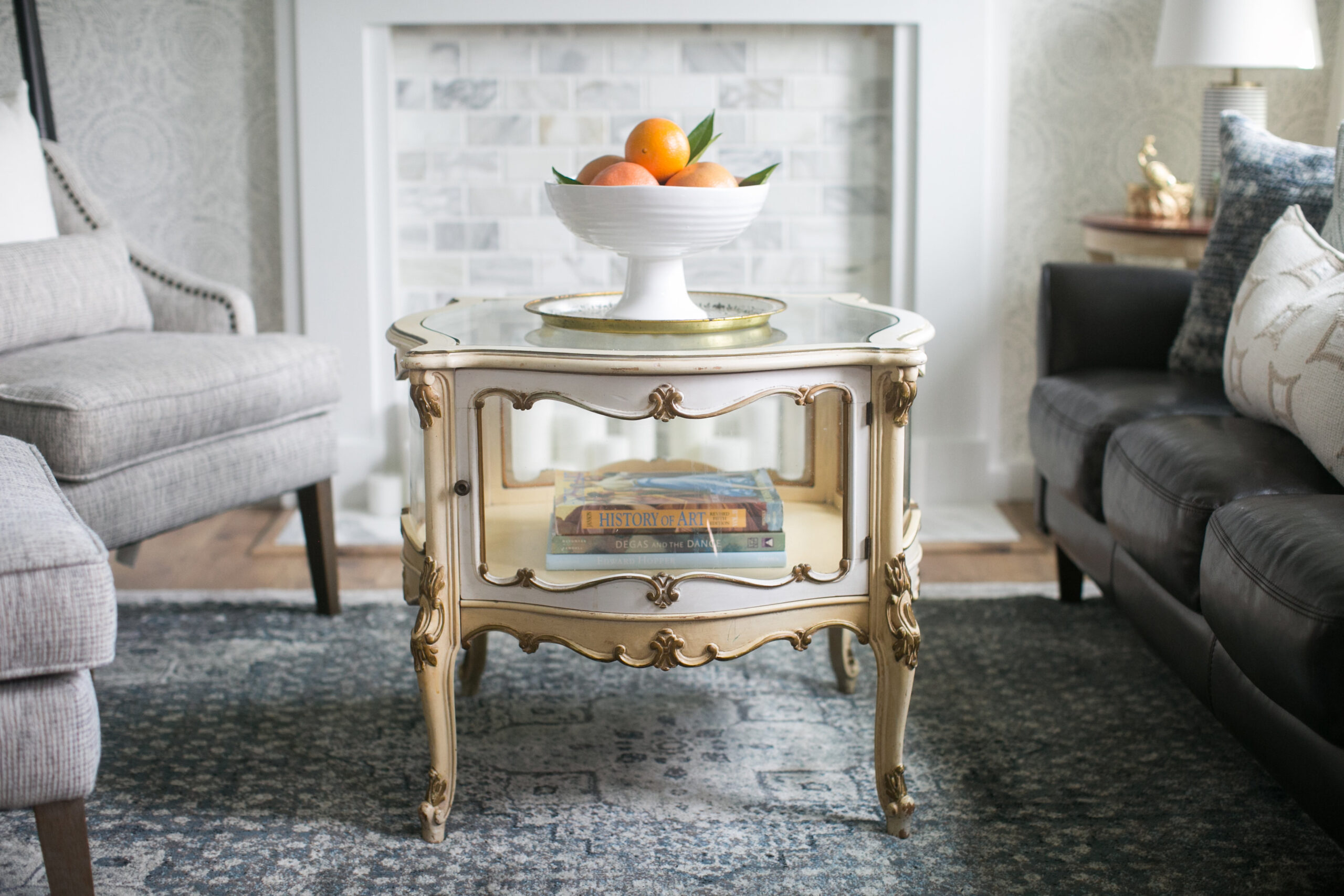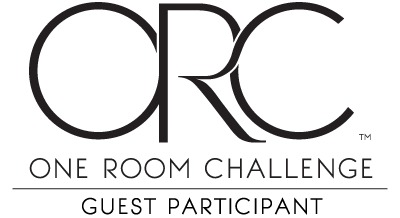 I can't believe that we're already at the One Room Challenge Reveal day! These last 6 weeks flew by and the end crept up on me incredibly fast – but somehow I got everything I had on my list done.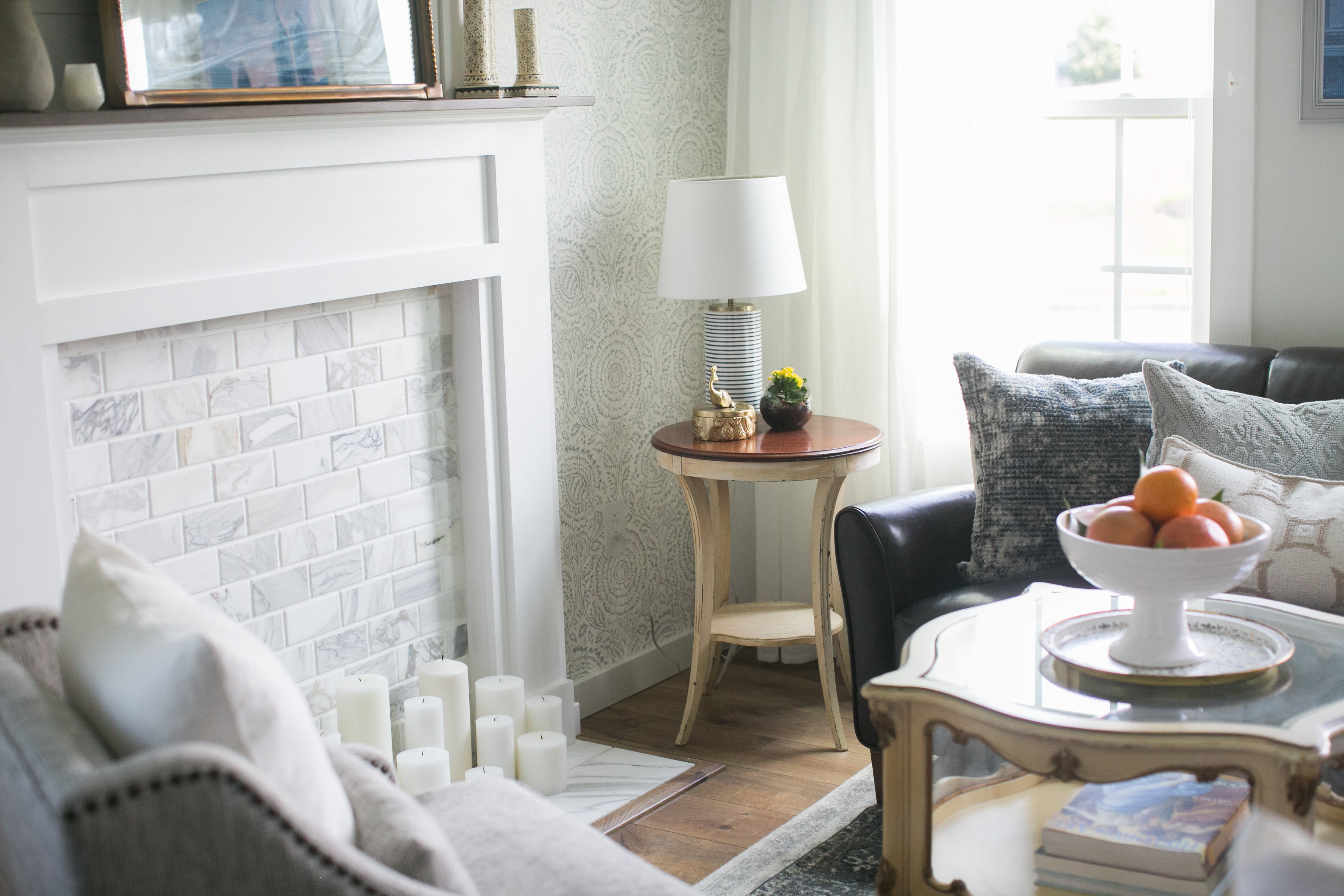 If you missed any of my previous week's posts you can catch up on all of them at these links:
Week Three – DIY Coffered Ceiling and Trim
Week Four – Furniture Decisions
Week Five – DIY Faux Fireplace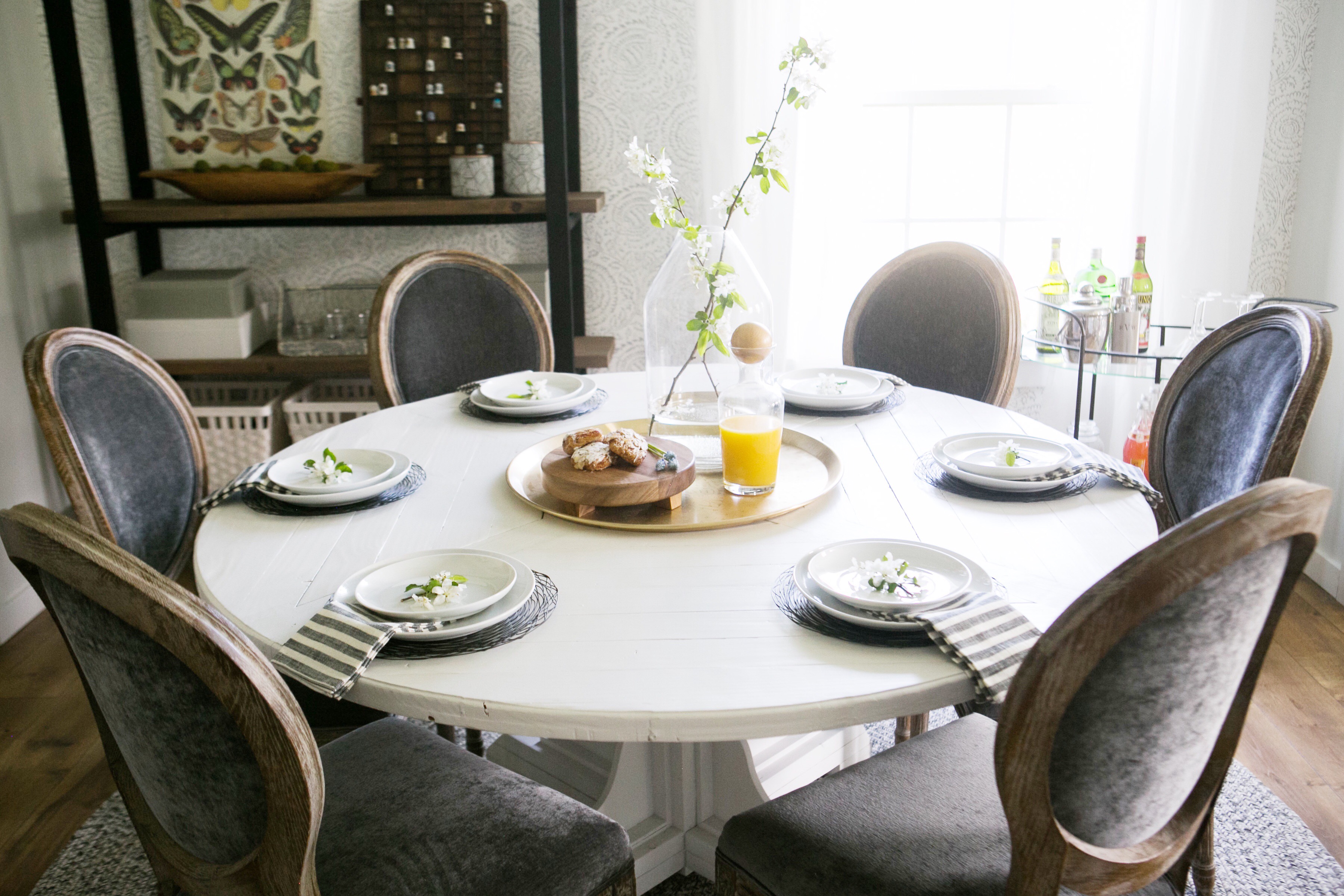 Before I get too far into this post I have to take a moment and thank everyone who has supported me through this wonderfully crazy process – my boys, my family and my friends who have been so understanding with my mess and scatter brain, and also all of my virtual friends who have taken the time to read my posts each week and leave words of encouragement! All of that kept me going when things got rough and it means more to me than I could ever properly say. And of course I have to thank Linda from Calling it Home for being an incredible organizer and supporter of all of us, as well as House Beautiful and the Home Love Network for helping make this event possible each season.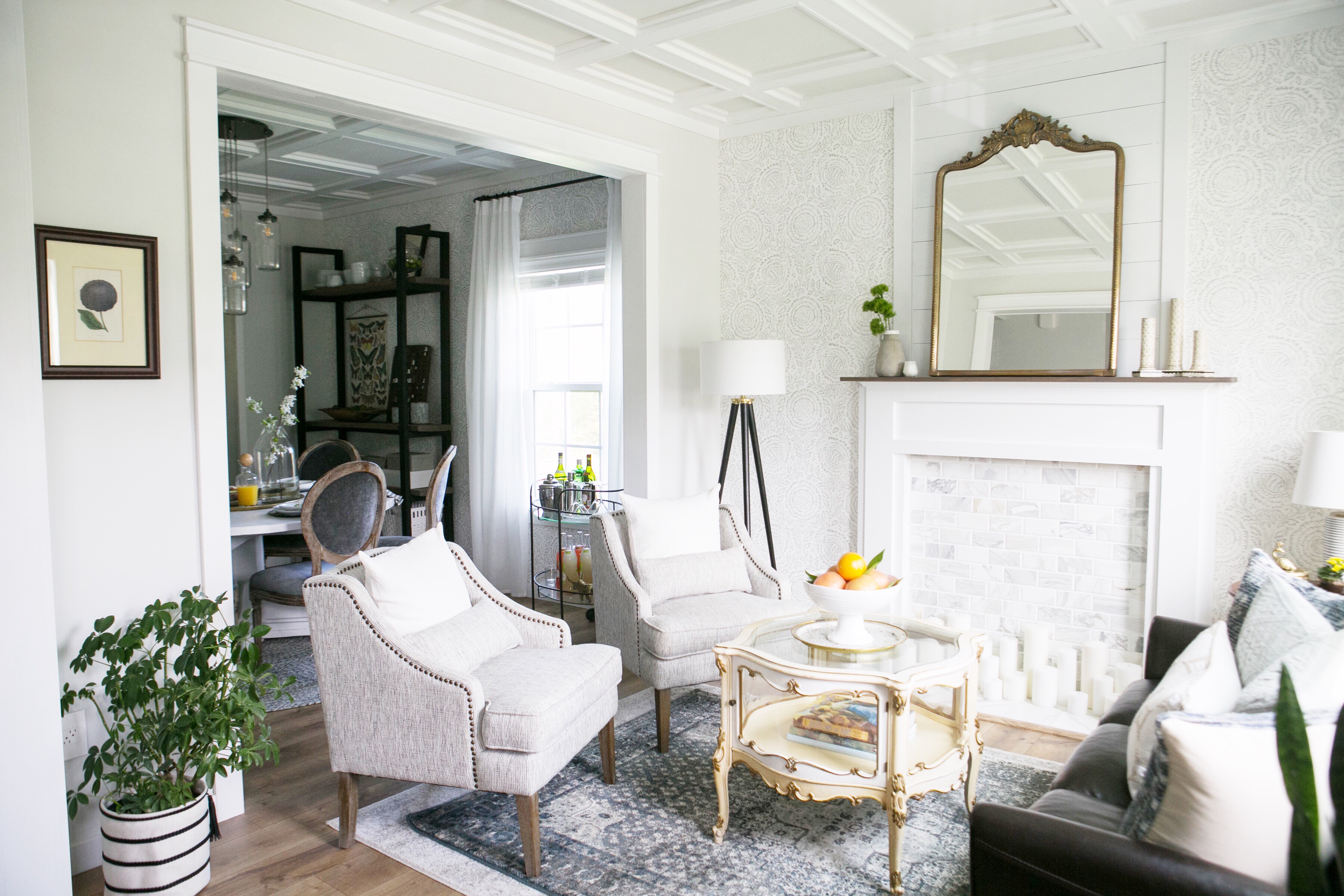 Now – ONTO THE SHOW! Before these rooms were dark, uninspiring little boxes and now, they are the perfect welcome into our home.
Front Room Before / After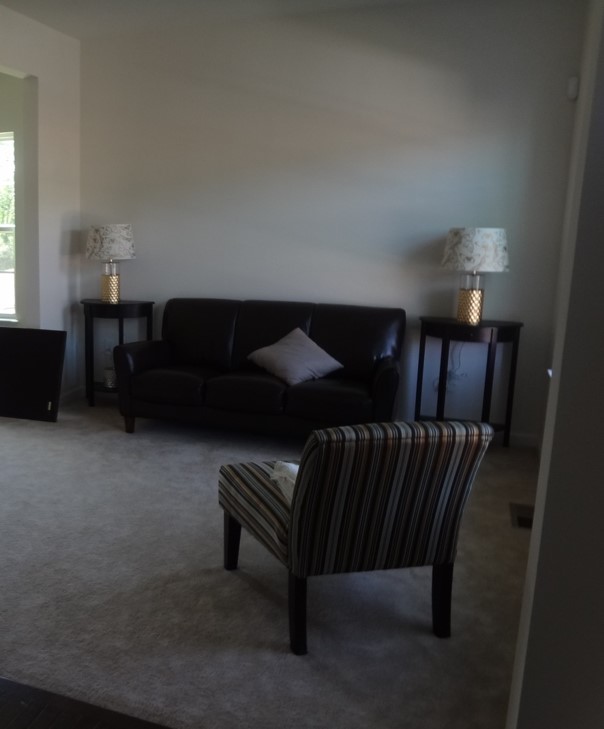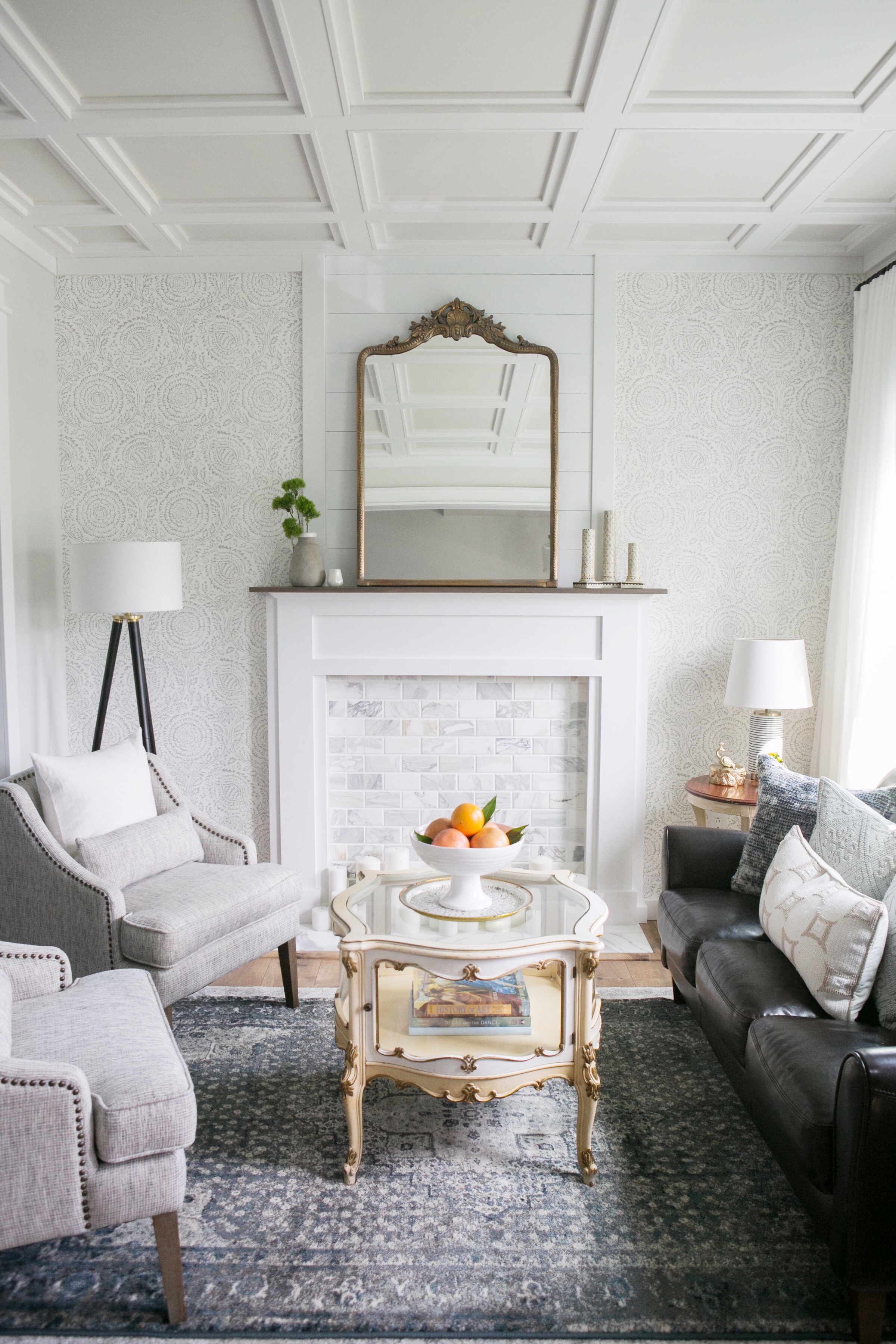 Dining Room Before / After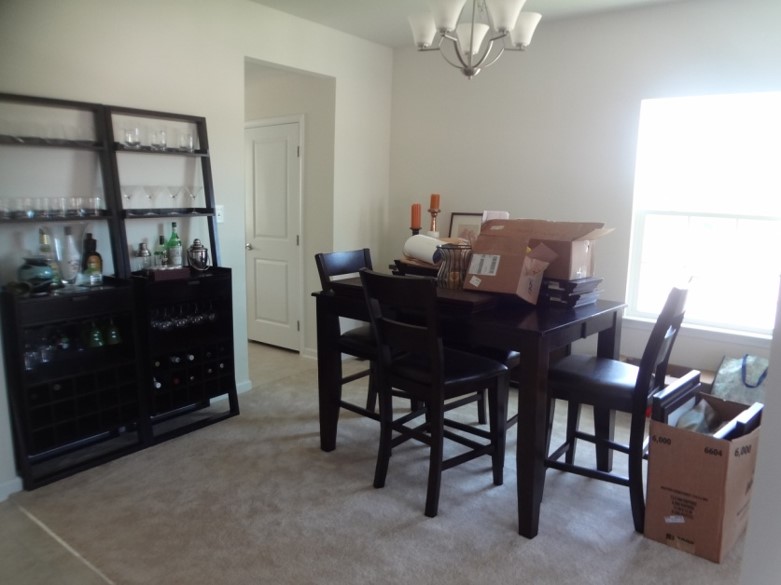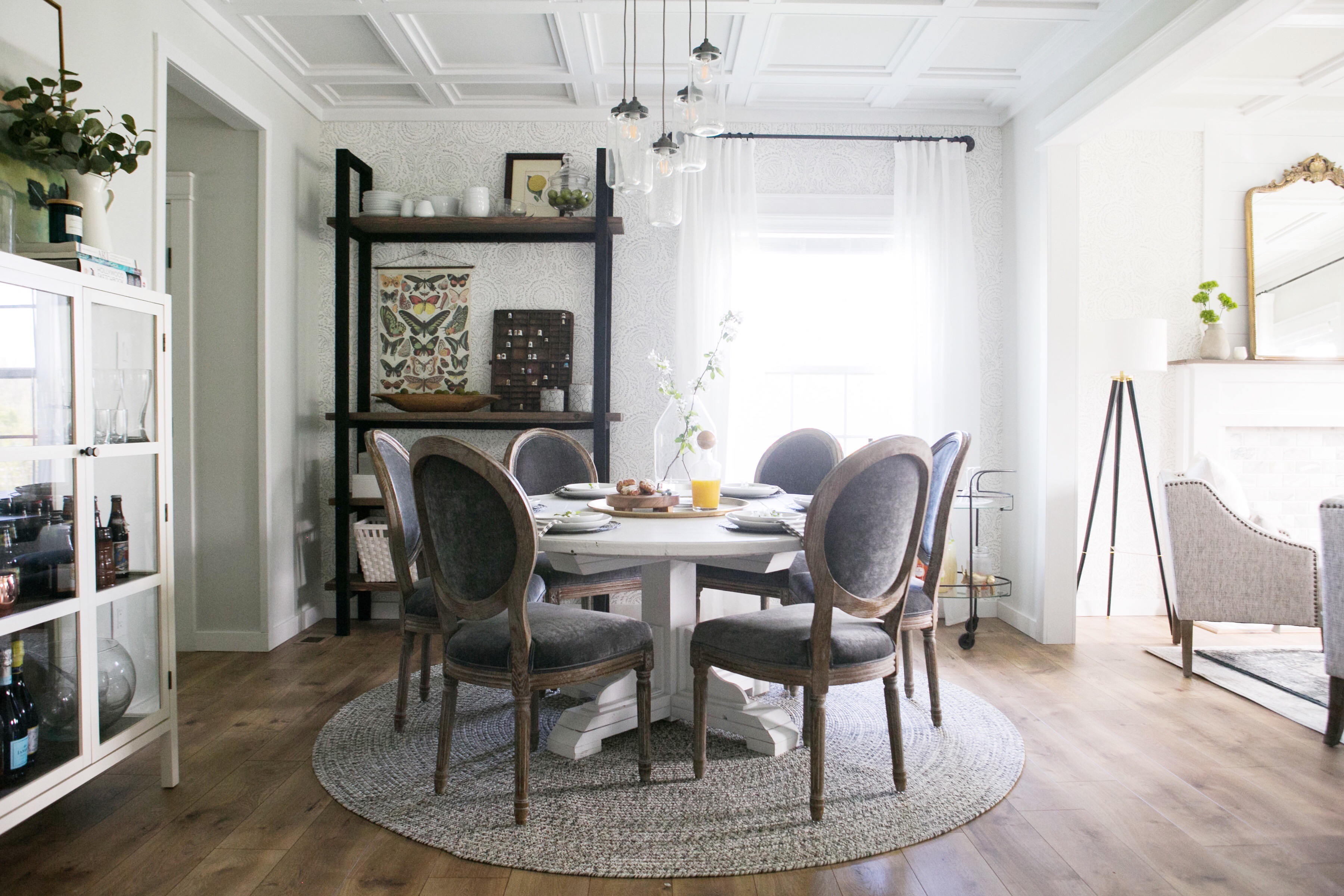 While it would have been a lot more manageable to tackle one room at a time, since there are elements that carry through both (like the wallpaper and trim) and design decisions for each that couldn't be made in isolation (how do I tie the rugs in both spaces together?) it really just didn't make sense to do it that way. While it was a challenge in every sense of the word, I am extremely happy that I took on both AND extremely proud of myself and all of the work and love I put into these rooms.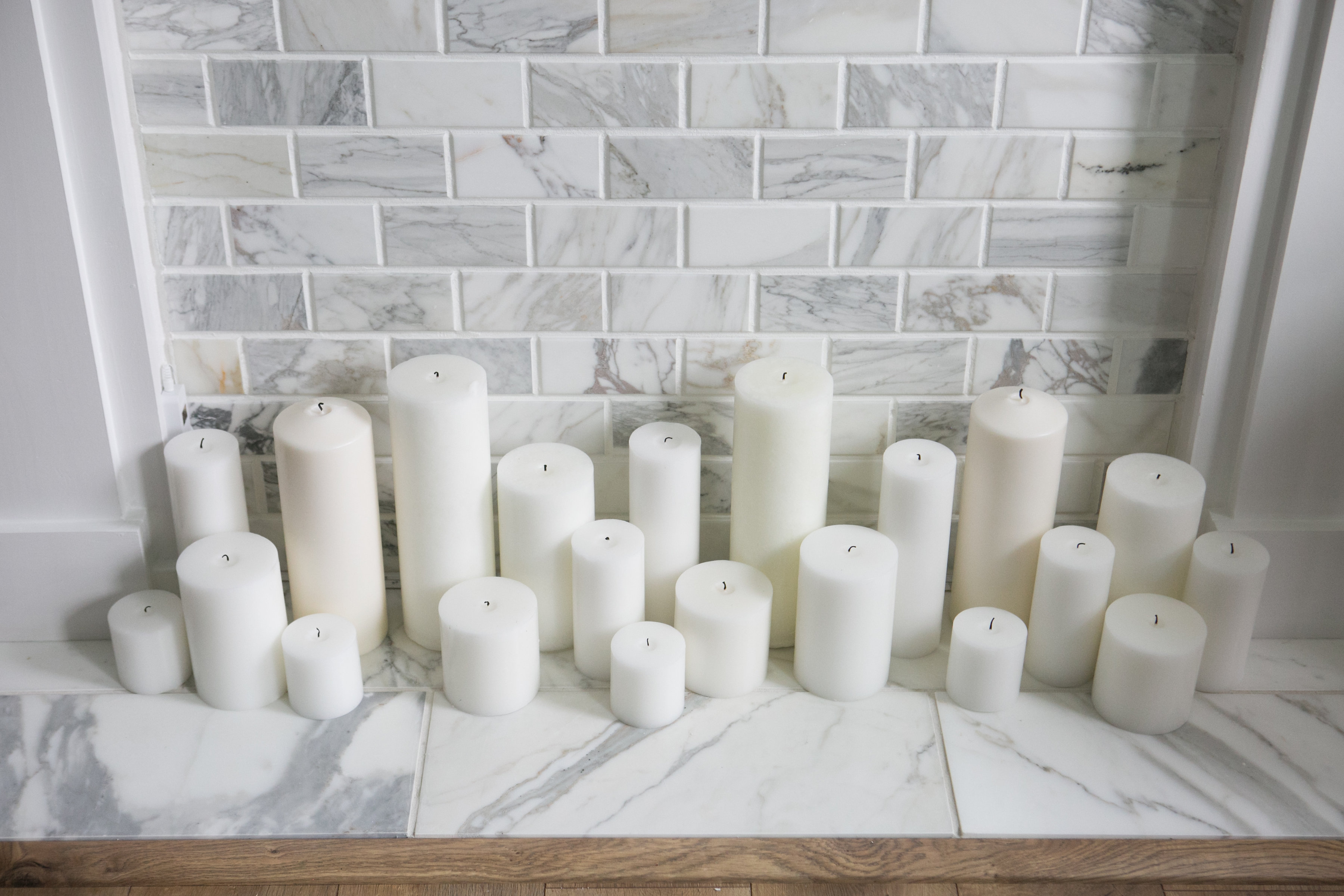 The largest element in the room is of course the new coffered ceiling. I love to be able to tell people that a project is a lot simpler than it looks – but that's not the case with this one. It took a lot of time, a lot of planning, and a lot of physical labor (not to mention two bloody fingers from so much caulking!) Could I have designed these rooms without this element – definitely – but they wouldn't have been nearly as special. All of the hard work was so worth it and I don't regret tackling this project for one second.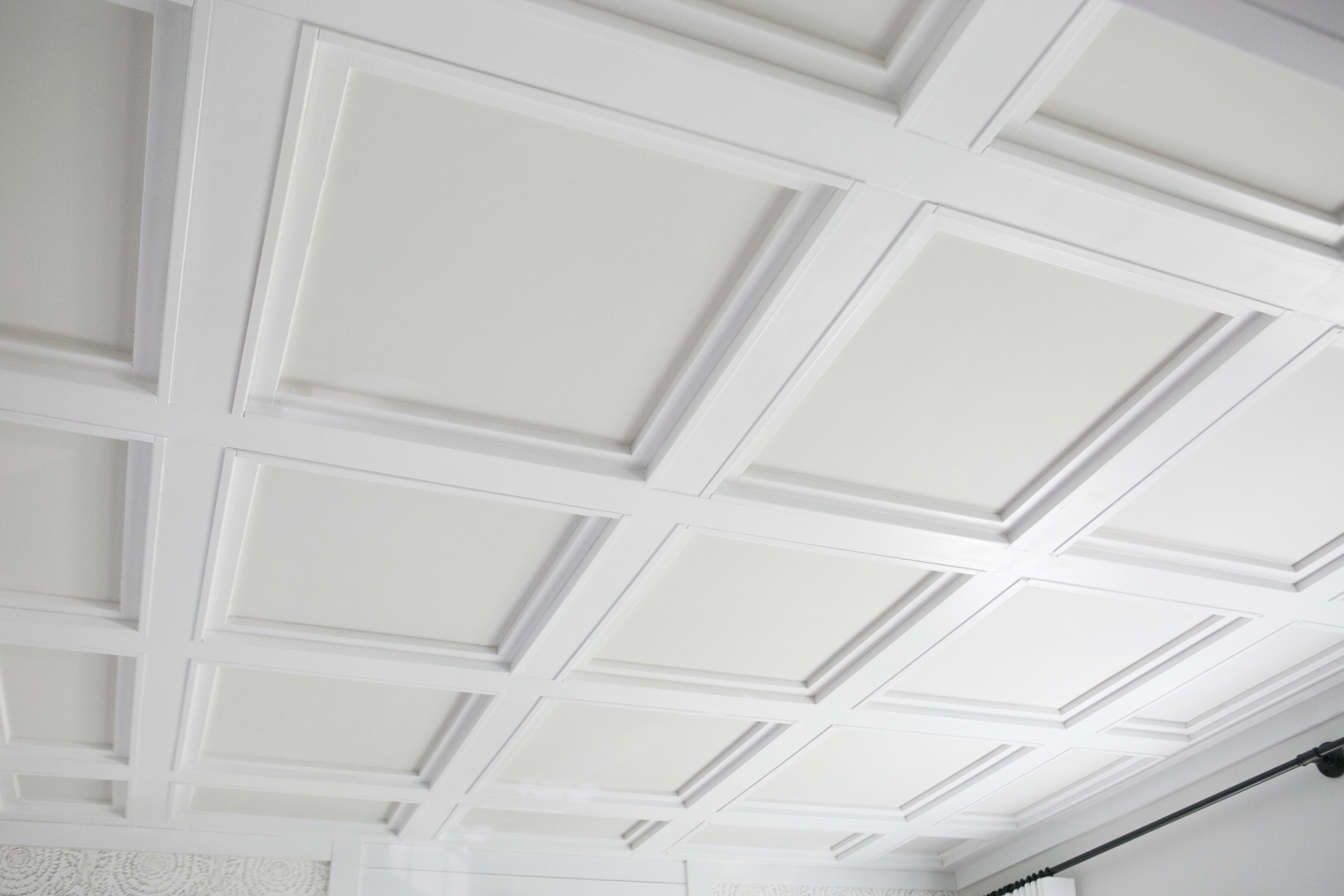 Both of the rooms are pretty small on their own, but the one thing they have going for them is the 9 foot ceilings that we have on our whole first floor, so in addition to the ceiling I made sure to add height anywhere I could. In the dining room I built the custom shelves at a towering 8 ft, and in the front room I extended the fireplace up to the ceiling w/shiplap and a gorgeous mirror from Ballard Designs. Additionally, in both rooms I hung the curtain rods as high as I could and added light, inexpensive white curtains from IKEA, doubling them up in the front room to make them look more substantial.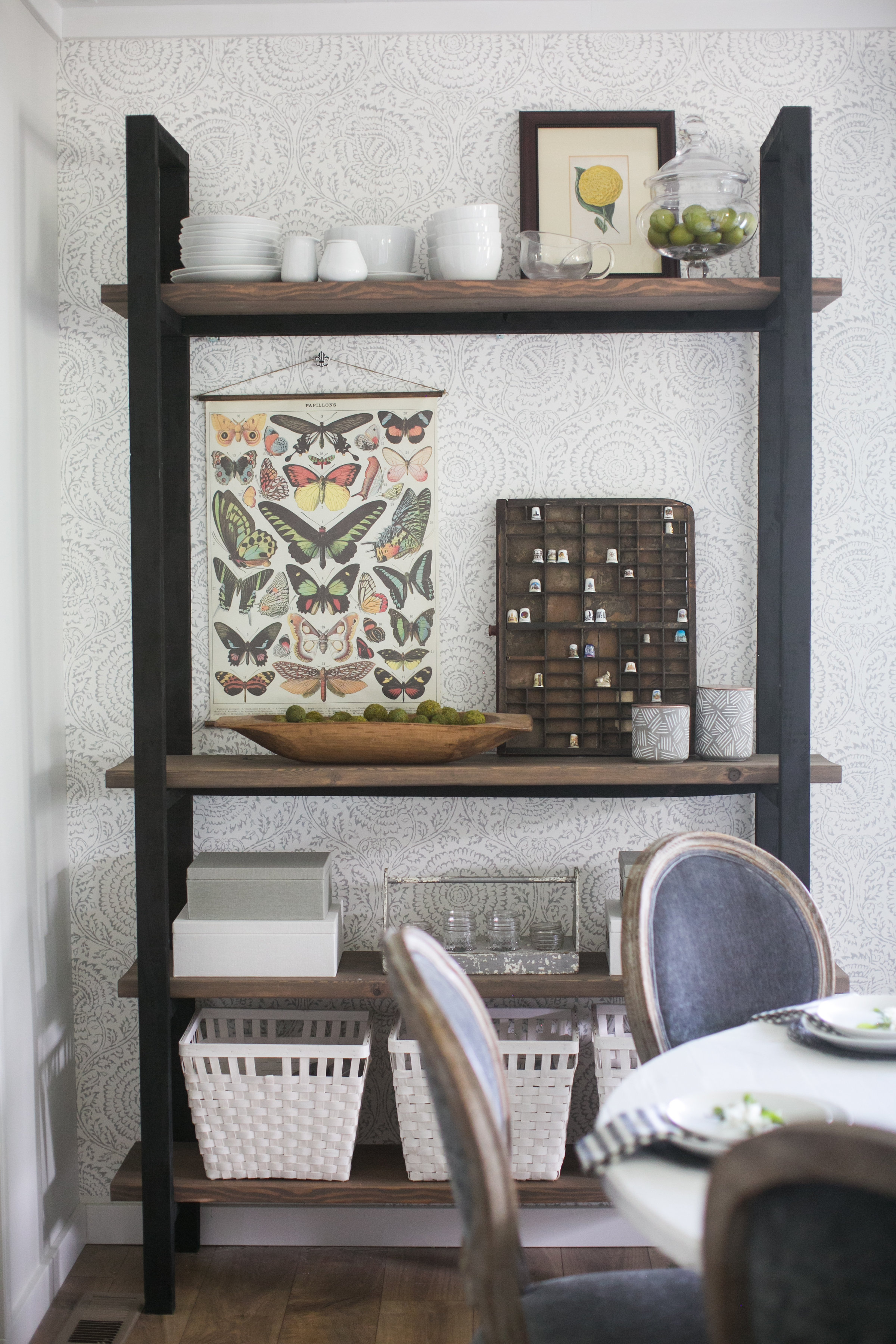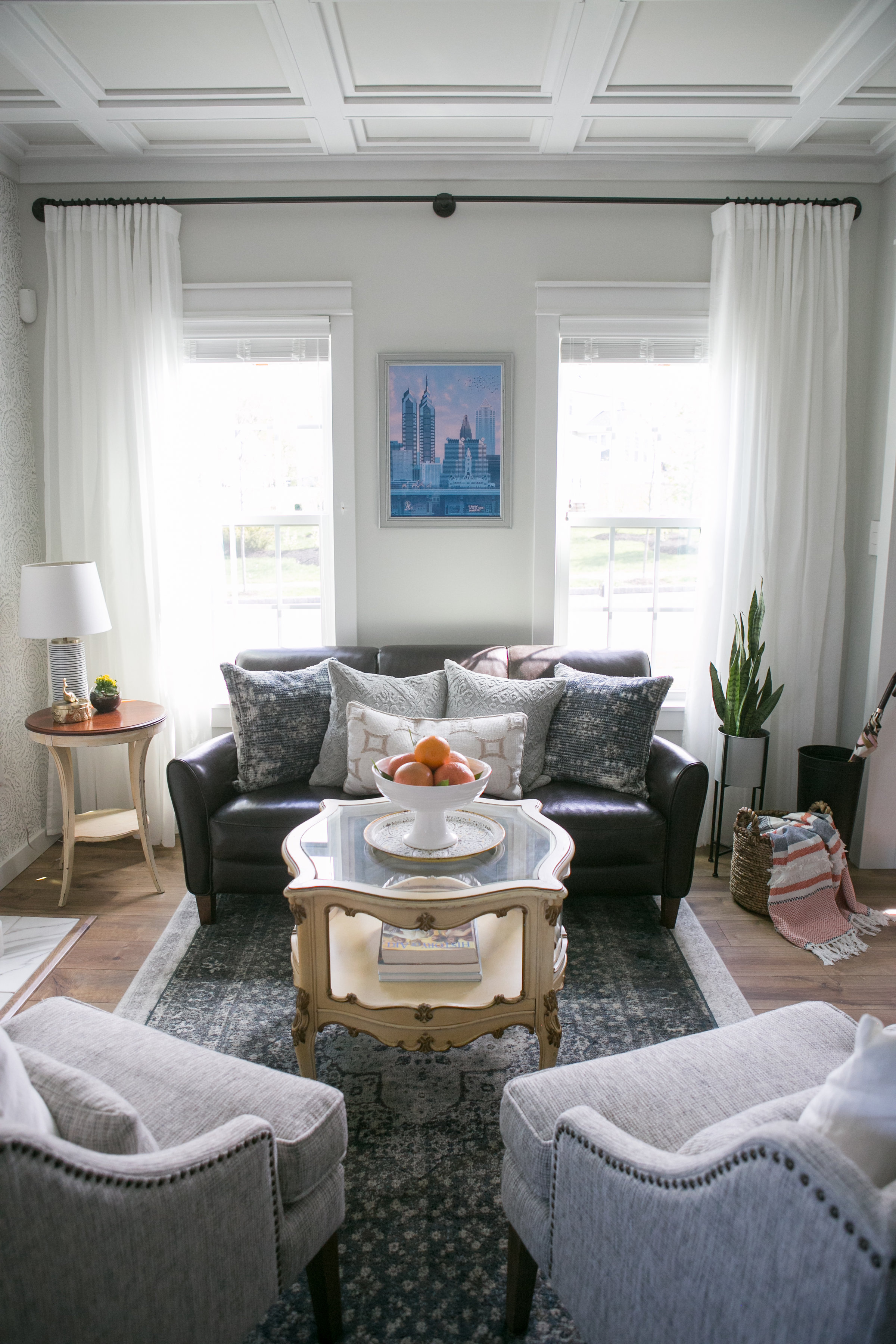 My jumping off point for the design was actually my beautiful little antique coffee table that was given to me by family friend while I was still in high school. When I paired this very feminine, light piece with our heavy dark brown leather loveseat, I knew that the key to making these spaces work was to pay close attention to balance. It took many iterations of my plan to strike just the right note, but all of that planning paid off and the spaces are as fresh and bright as I had imagined with unique touches sprinkled throughout to keep things fun as always – like my favorite Philly Skyline/Twelve Monkey's print from my amazingly talented friend Tim at Timothy Anderson Design.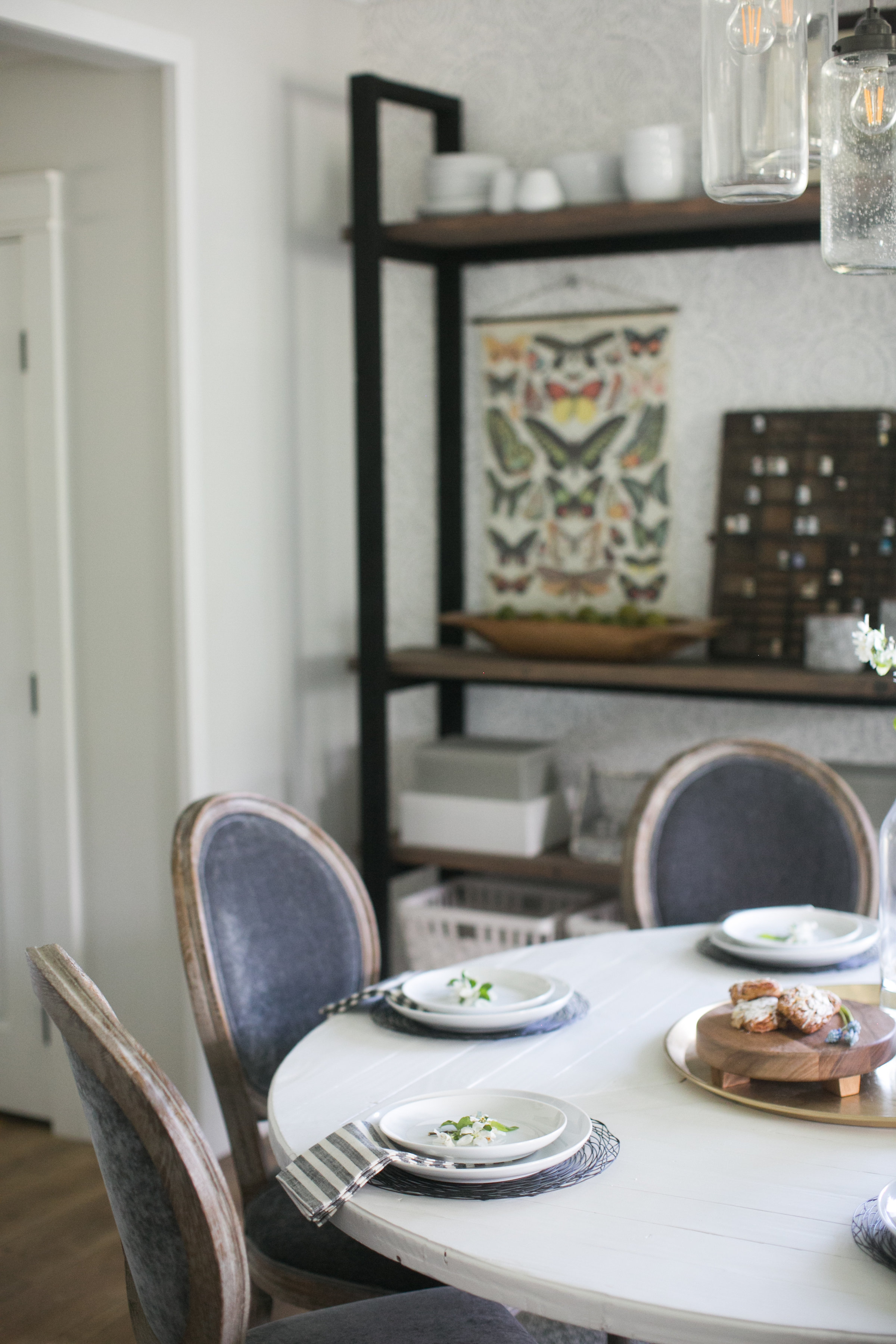 I also have to thank my incredibly talented friend Lauri from Lauri Tripaldi Photography for these beautiful images. All of this would be for nothing if I didn't have her amazing talent to capture things in a way I never could.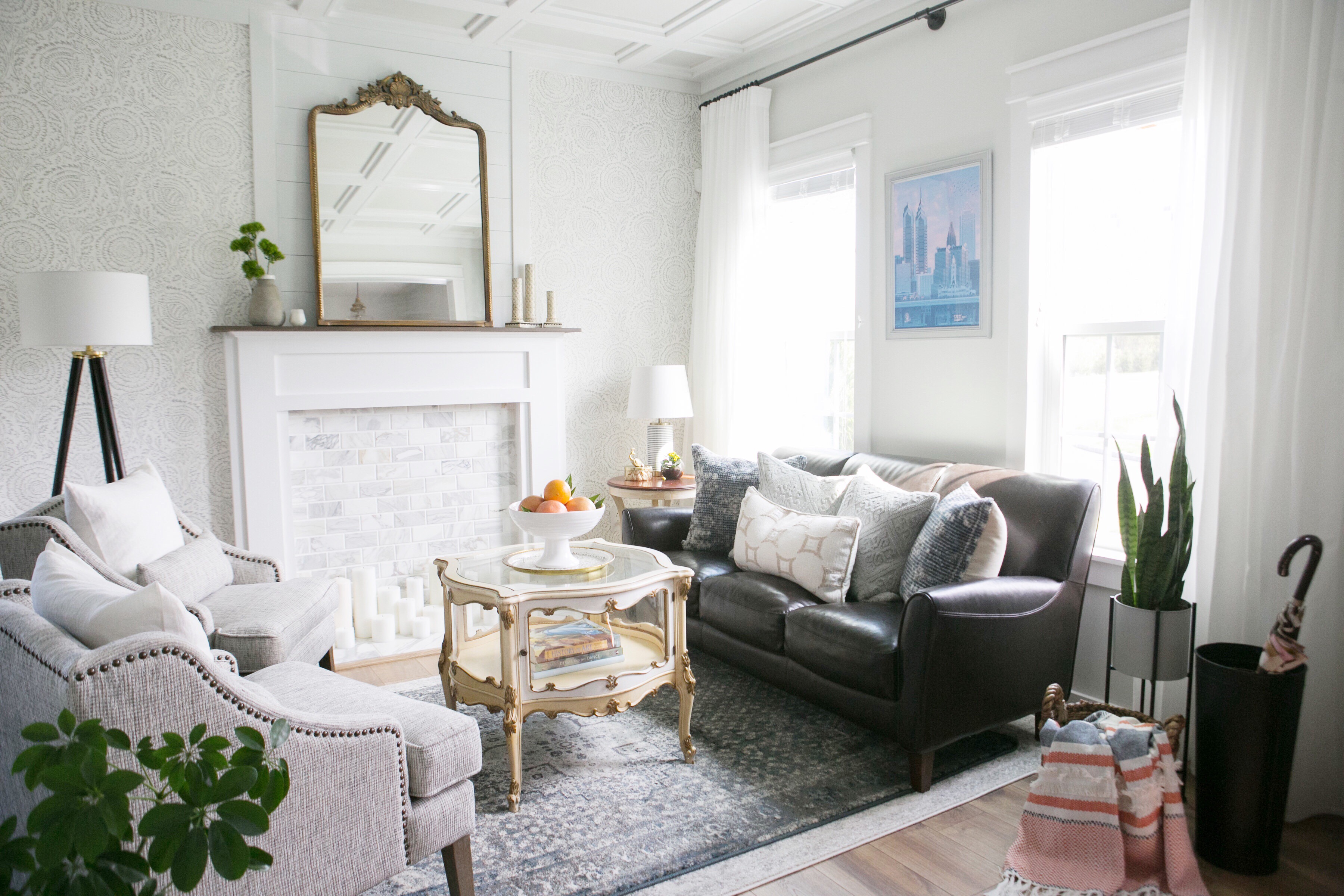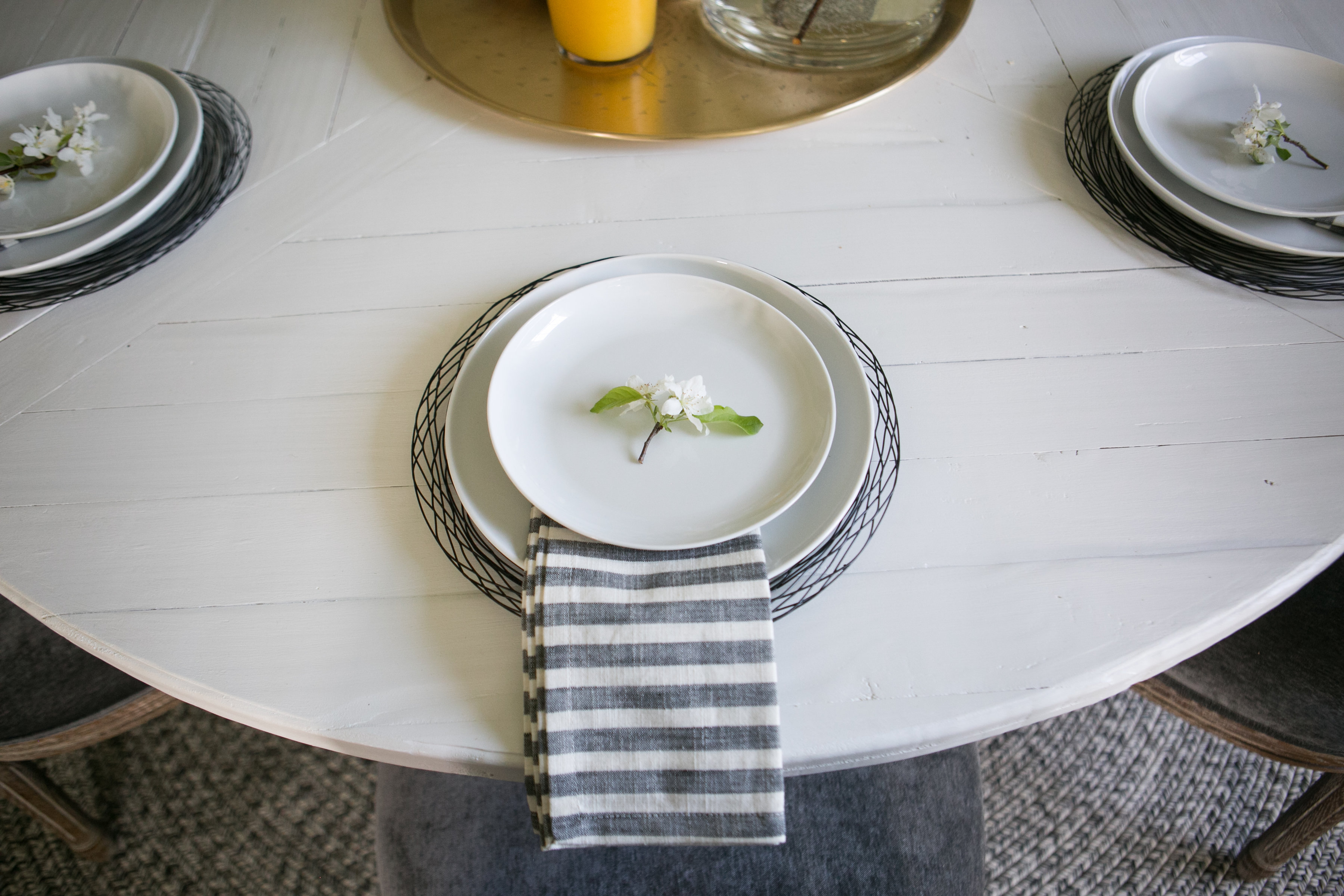 And of course, one last time I have to thank Legrand for providing me with products from their new radiant® Collection of electrical outlets and light switches. You can cread all about my experiences with the Legrand radiant® Collection, and why I was extremely happy to be able to work with a company that I already trusted enough to have in my home. I cannot think of a better final touch to add to my new spaces – and you can believe that I wouldn't let anything other than the most beautiful outlets around near my new wallpaper!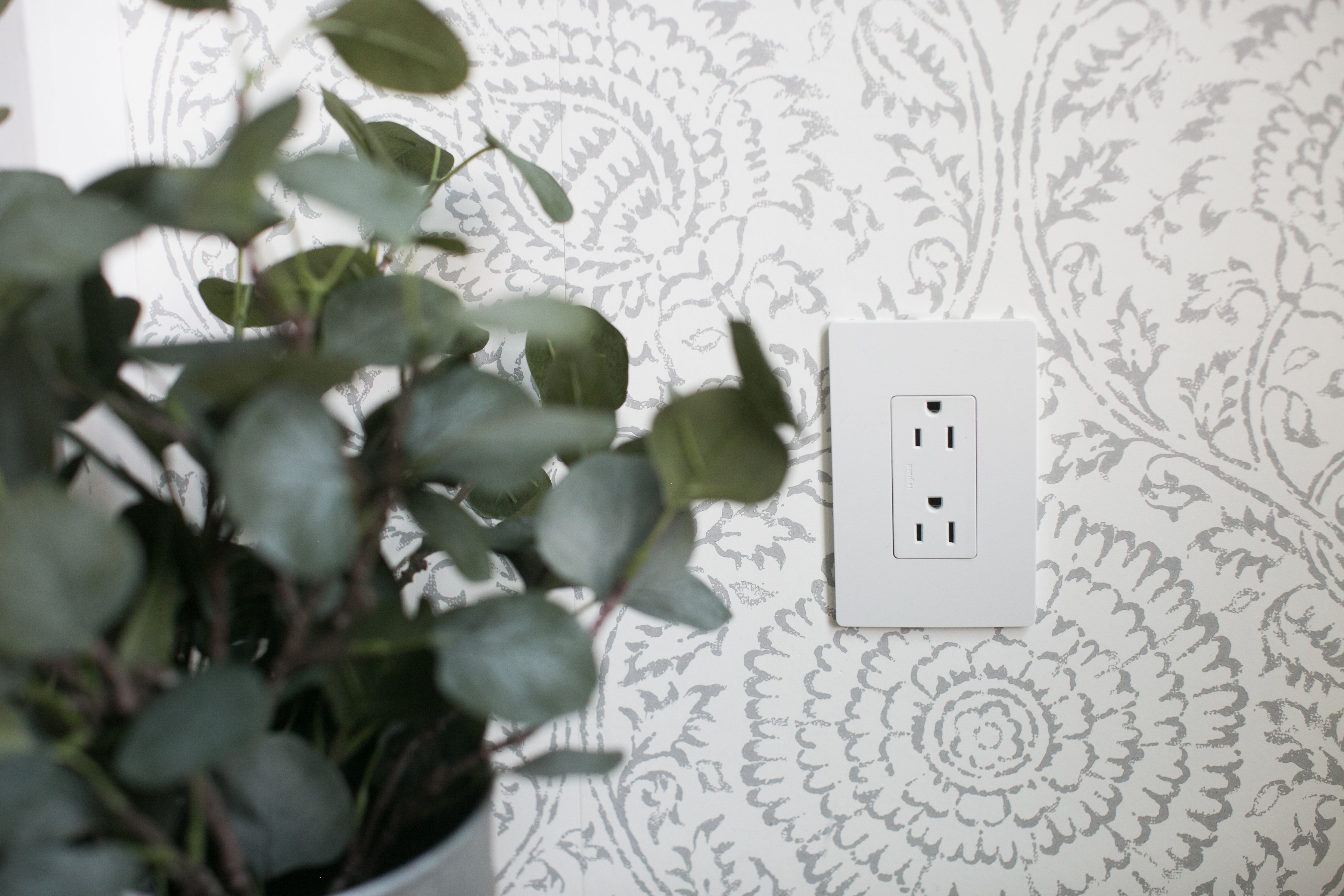 Once again, thank you all for spending the last 6 weeks with me and I hope you have enjoyed this journey as much as I did!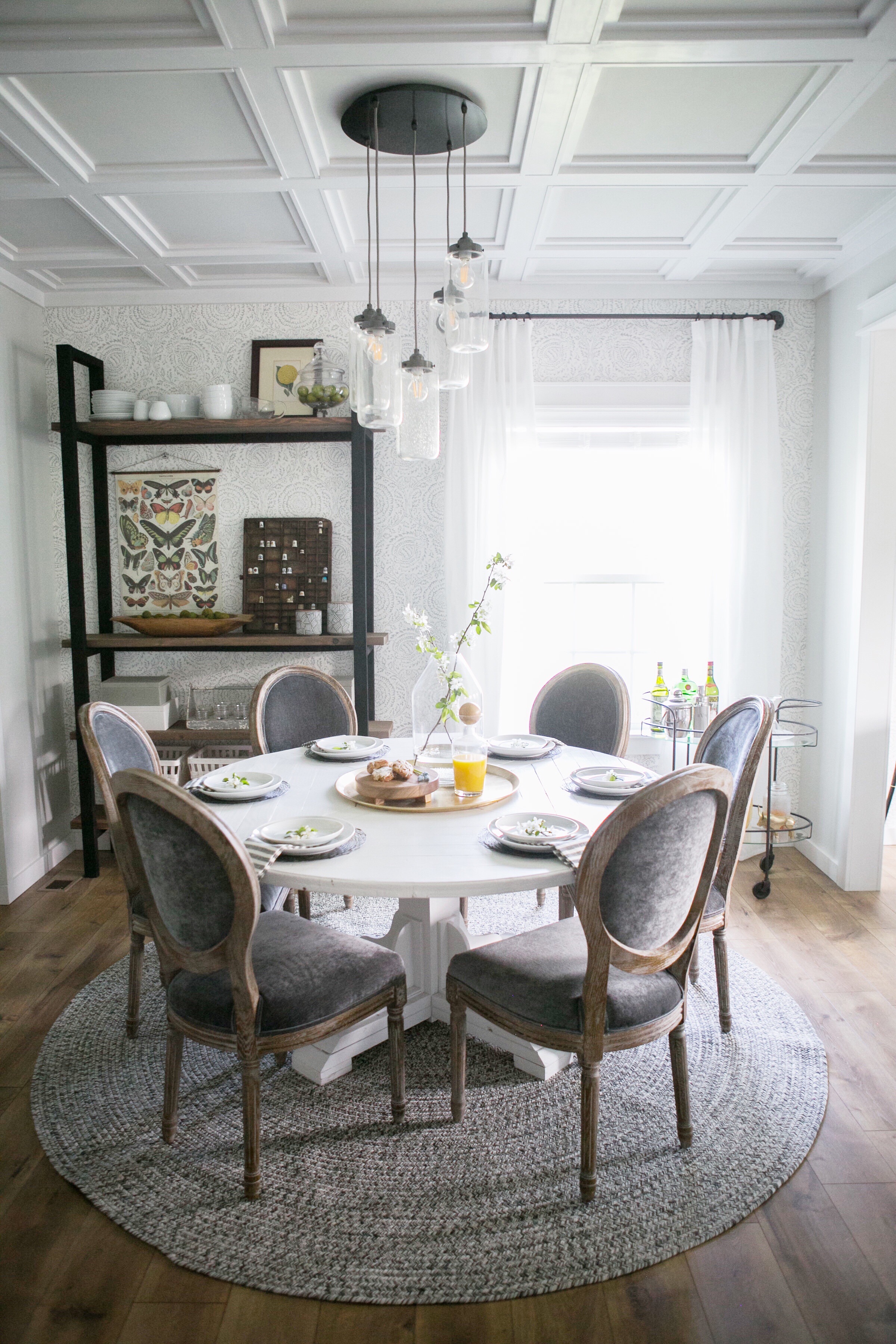 If you are interested in the products used in these spaces I am including links to those that are available below. (Disclosure: Some of the links below are affiliate links, meaning, at no additional cost to you, I will earn a commission if you click through and make a purchase)
Wallpaper | Floor | Fireplace Tile | Paint color is Frosty White by Sherwin Williams
The dining table, shelving unit, and fireplace surround were all handmade by myself.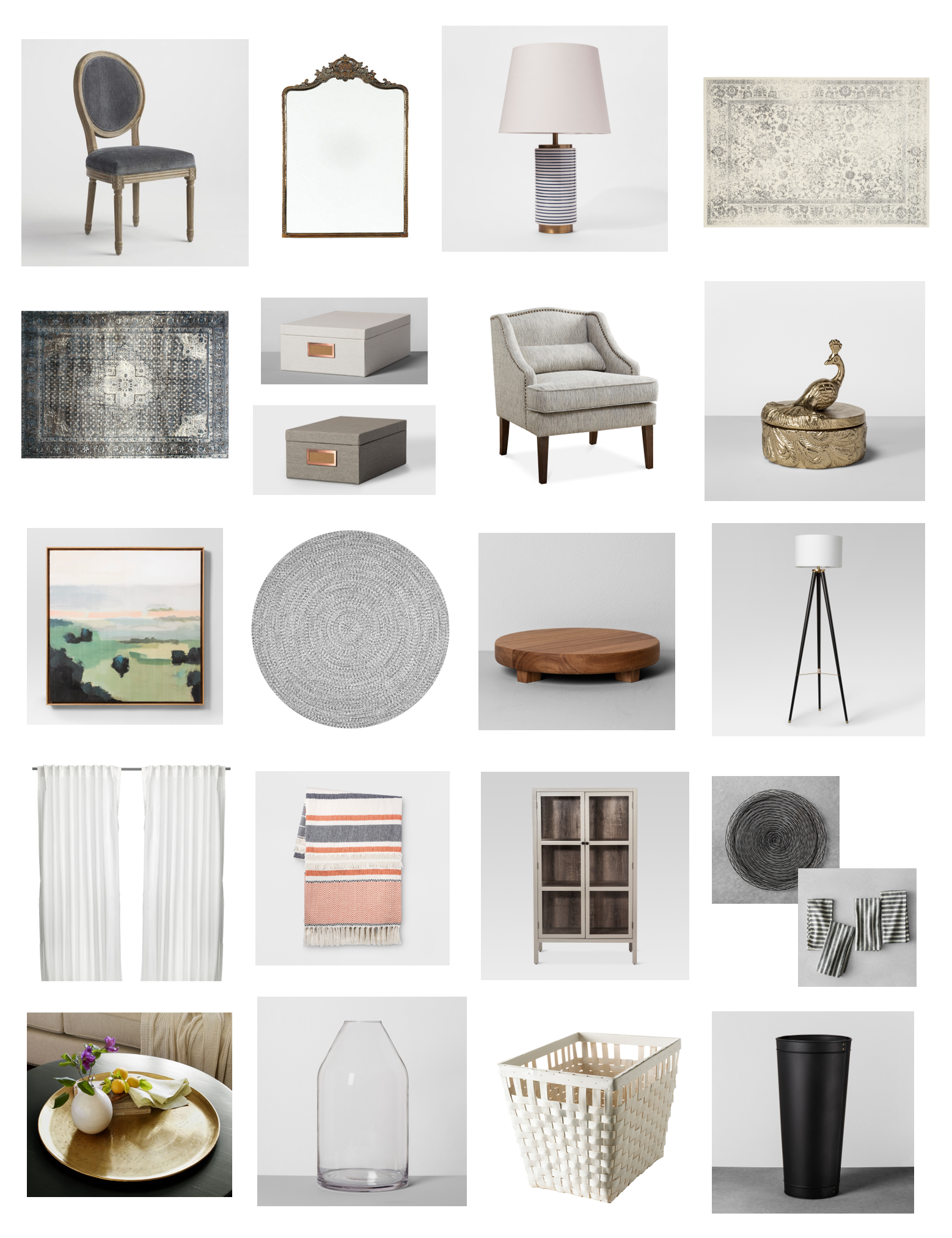 Dining Room Chairs | Mirror | Striped Lamp | Ivory Rug | Blue Rug | White Storage Box | Gray Storage Box | Accent Chairs | Peacock Dish
Landscape Painting | Round Rug | Wooden Trivet | Tripod Lamp | Curtains | Striped Throw | Glass Cabinet | Chargers | Striped Napkins
Brass Tray | Large Glass Vase| White Baskets| Umbrella Stand
The light fixture is from West Elm and is no longer sold but This Collection is similar
Be sure to check out all of the amazing One Room Challenge reveals here
Thank you to my sponsor!
A huge thanks to my sponsor, Legrand. Please check out my post featuring their radiant® Collection to learn more!