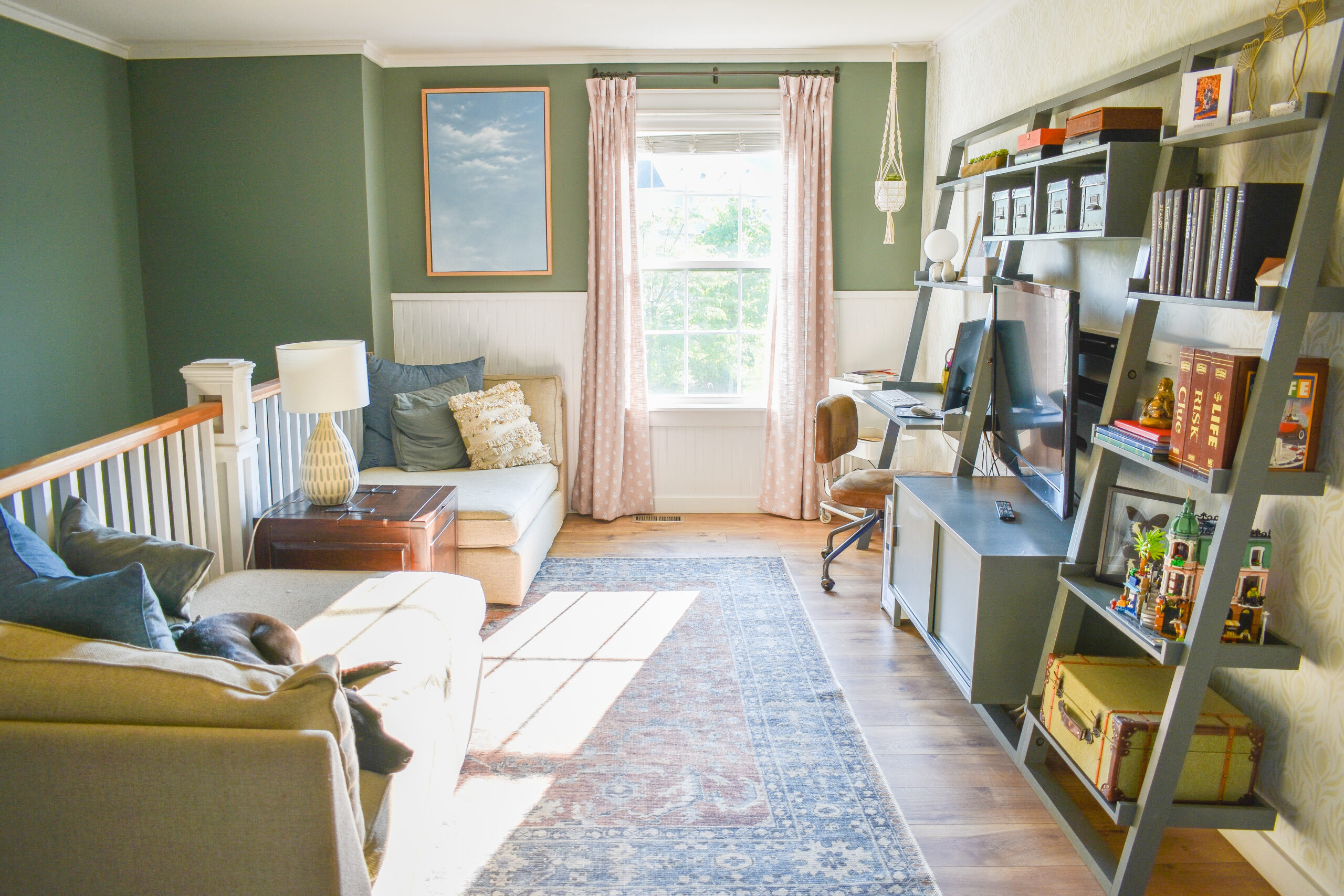 When I first tackled the loft I was still a baby DIYer; super ambitious but not paying attention to the final details the way I do now. I still love everything I put into this space, but I've realized with my earlier spaces is that I just didn't take things far enough. The loft always felt a little disconnected from the rest of the house, which was fine because it was upstairs, but in the back of my mind there were a few spots that I wished I could wave a magic wand at and add that last final details that were missing….so you could call this my fairy godmother DIY era.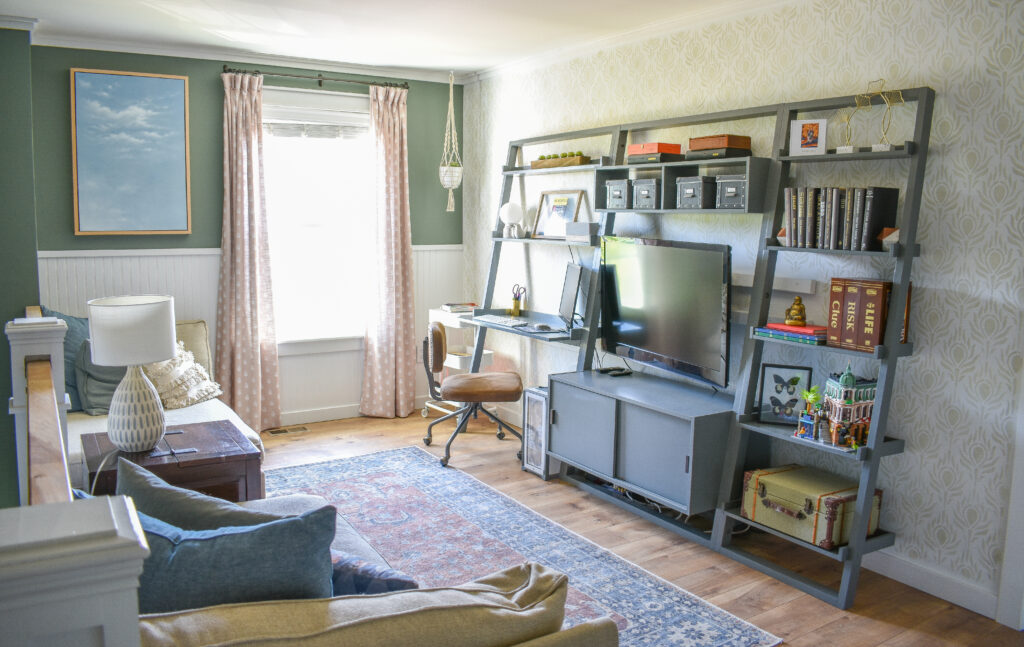 One wall in particular really felt un-finished to me – the fan favorite hanging gallery wall. Almost immediately after I finished the loft I felt like I should have carried the beadboard trim from the guest bathroom along that wall to make the pictures feel more grounded. My hesitation was being too repetitive with the trimwork in my home — another lesson I had to learn which was that repetition doesn't have to be boring but can be an important tool to make your home feel cohesive. I used pre-primed MDF beadboard panels painted with my go to white paint (Extra White from Sherwin Williams) to add the missing texture that this space needed.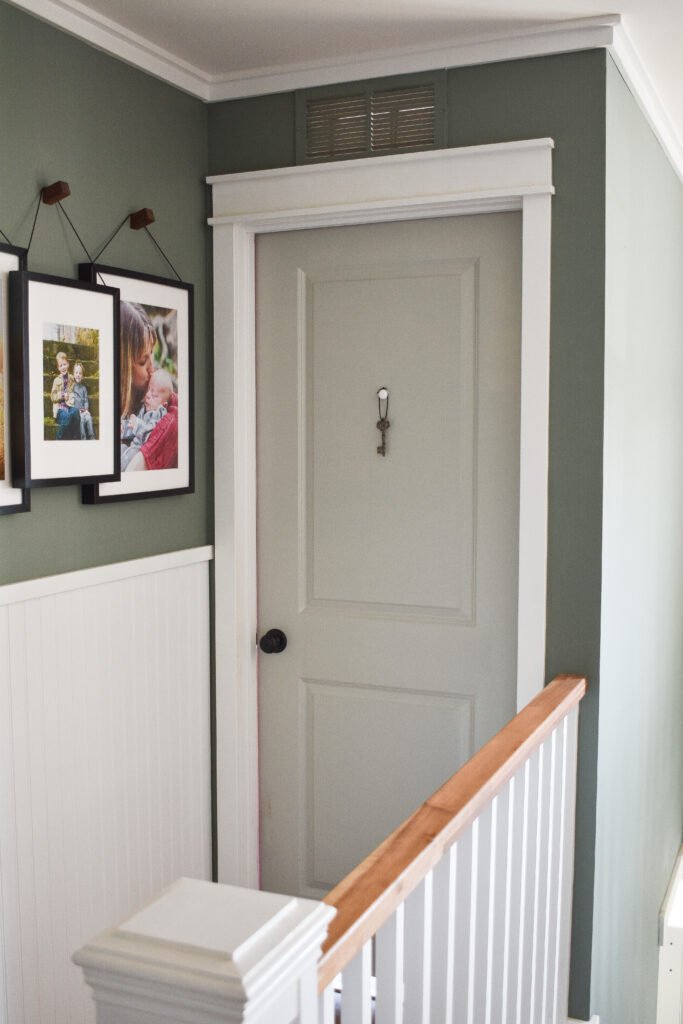 Once I made the decision to add the beadboard my next choice was what to do with the top half of the wall – leave it as is, paint it a different color, carry the stencil from the TV wall? Ultimately I had to stick with my goal of cohesion and chose to paint the top of the wall the same dark green (Retreat from Sherwin Williams) as the stairway. The warm rich color immediately made this large room feel more cozy and intimate.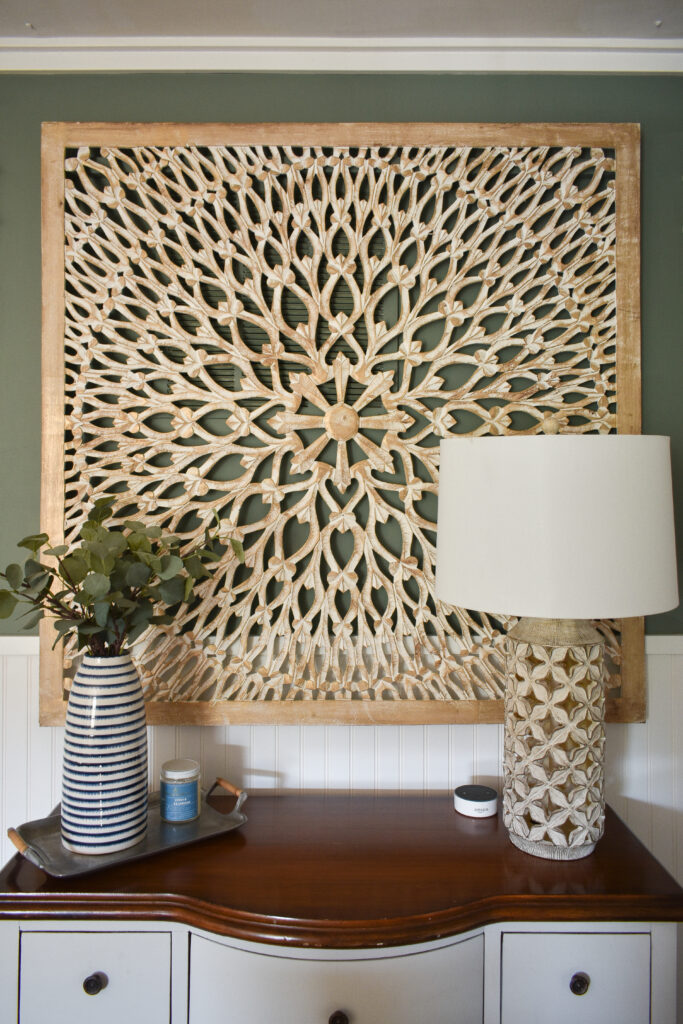 If there's one thing this space is not lacking it's doors – there are seven total that lead to the bedrooms, laundry room, and bathroom – and they were just begging to be painted. Personally I think doors are much easier to keep clean if they are painted with a high quality semi gloss paint (I use Sherwin Williams Emerald Urethane Trim Enamel) and I just think if you have cheap builder grade white doors why not have a little fun with them? I went with one of my fav gray-greens (Sensible Hue by Sherwin Williams) to both compliment and contrast the dark green.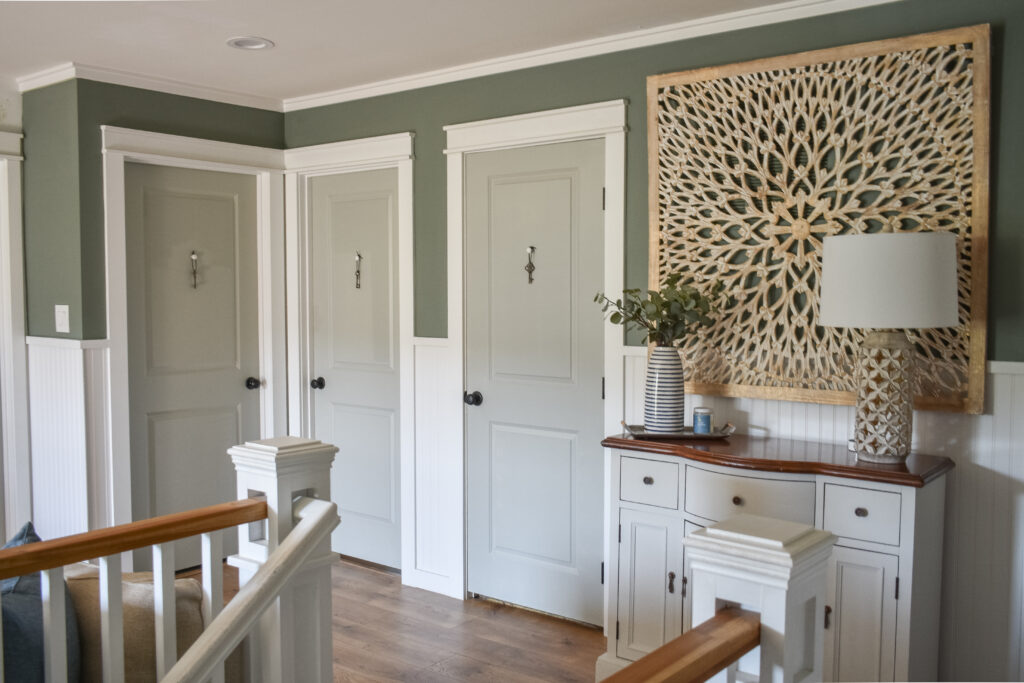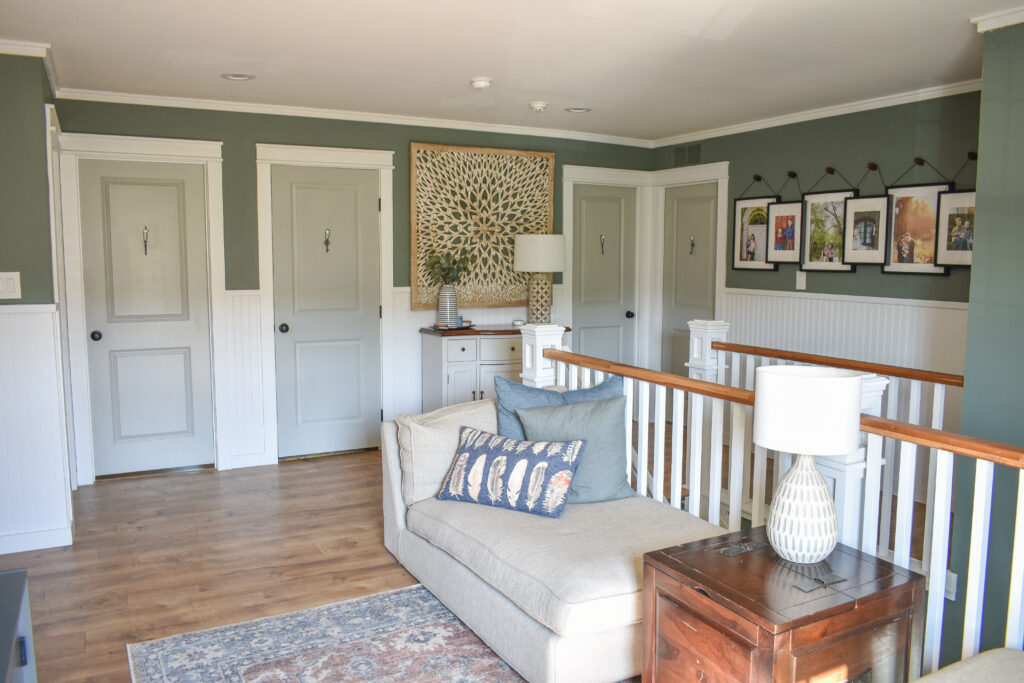 Ever since the start of the year I've been trying to work at my desk more (special thanks to the husband for building me my own beautiful PC for Xmas) but it needed a little TLC. The stencil walls had taken a beating during remote schooling so I gave them a wash and added a simple piece of plexiglass to the lower half to save it from dirt and shoe scuffs. I also sanded some rough parts on the desk and gave it a new coat of paint. My fav addition though is my new rolling cart/laptop stand. I used the beloved IKEA rolling cart but I attached the top shelf on upside down so I could have a flat surface for my laptop to sit on and be rolled away at the end of the workday. And in the spirit of moving from baby DIY to grown up DIY I also splurged and added a beautiful new set of grown-up drapes complete with lining and pinch-pleats.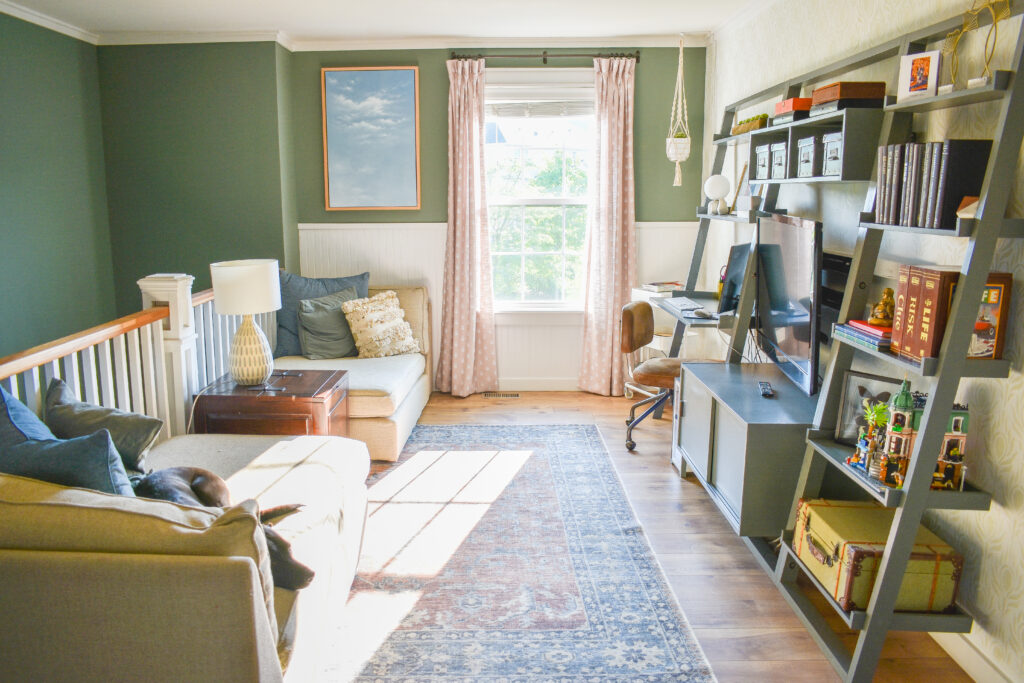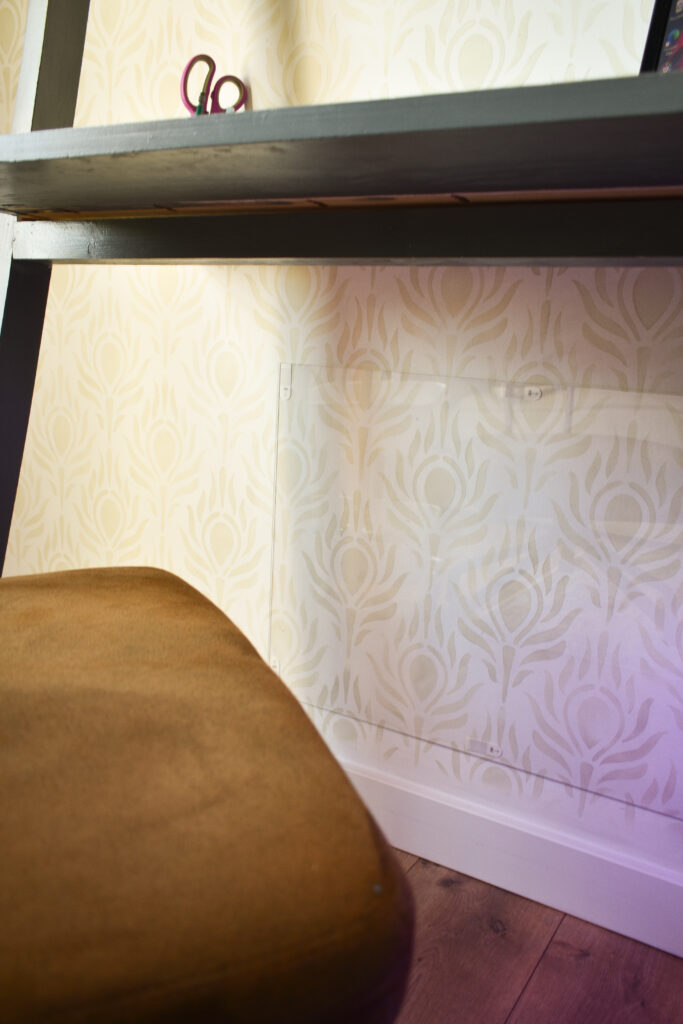 Amusing anecdote to end this post – our last dog used to love to lounge on the chaise lounges in the loft since he wasn't allowed on the living room couch, but no matter how hard I tried to coax them our new dogs absolutely refused to get on them ever since we brought them home 5 years ago. But when I was painting the room and had to move the couches into the middle they all of a sudden gave them a try and it's their new favorite spot especially in the morning when the sun streams into the room…so who knows what that was all about.