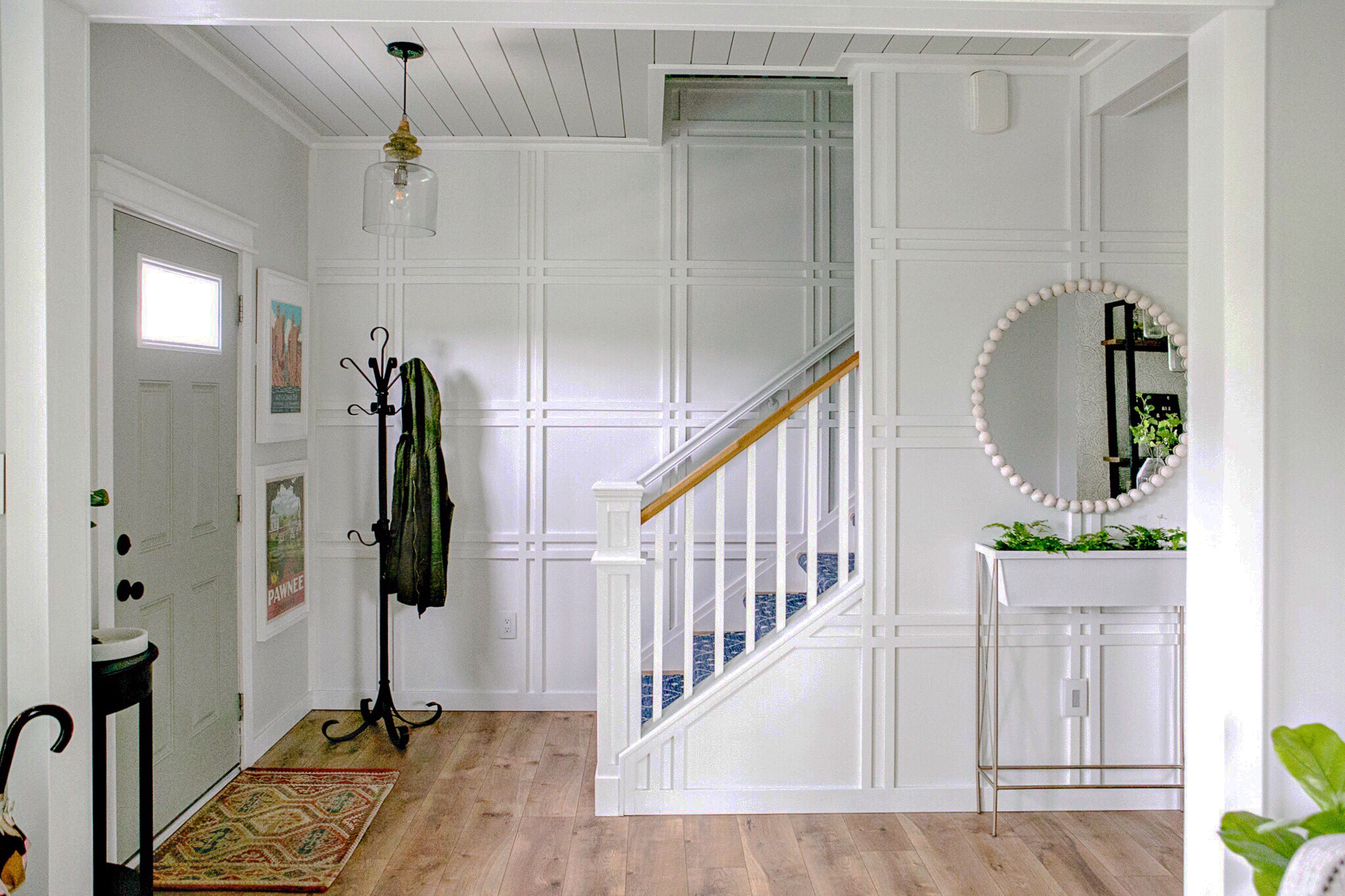 And just like that we've reached the end my friends – six weeks of late nights, early mornings, and constant trips to the hardware store and my One Room Challenge spaces are done. At the end of Week 4 I was incredibly worried that I wasn't going to make it, but something magical always seems to happen in that final push and it all comes together. I want to thank you all for joining me on this journey – both here on the blog but also through my other social media channels. I have said it before but it bears repeating – your interest in this project and support along the way makes those late nights worth it!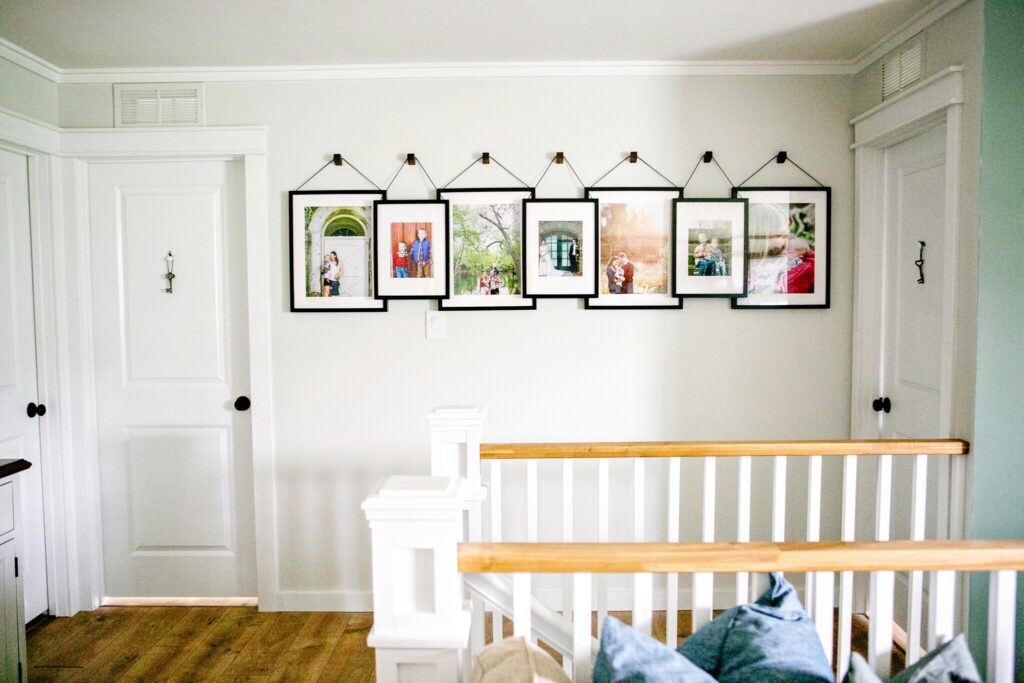 Also, a special thanks to Linda Weinstein and Better Homes and Gardens for sponsoring this challenge and giving us guest participants the opportunity to not only promote our projects but to connect with each other and share this experience. Lastly, a gigantic THANK YOU to my wonderful photographer Lauri Tripaldi – not only does she make my house look beautiful, but the photos you'll see in the gallery wall come from our photo shoots with her through the years and are priceless mementos of our life together.
Now onto the show – I hope you all love these spaces as much as I do! If you missed any of the updates you can check them out at the links below to see how all of this came together
Week 1 / Week 2 / Week 3 / Week 4 / Week 5 / Week 6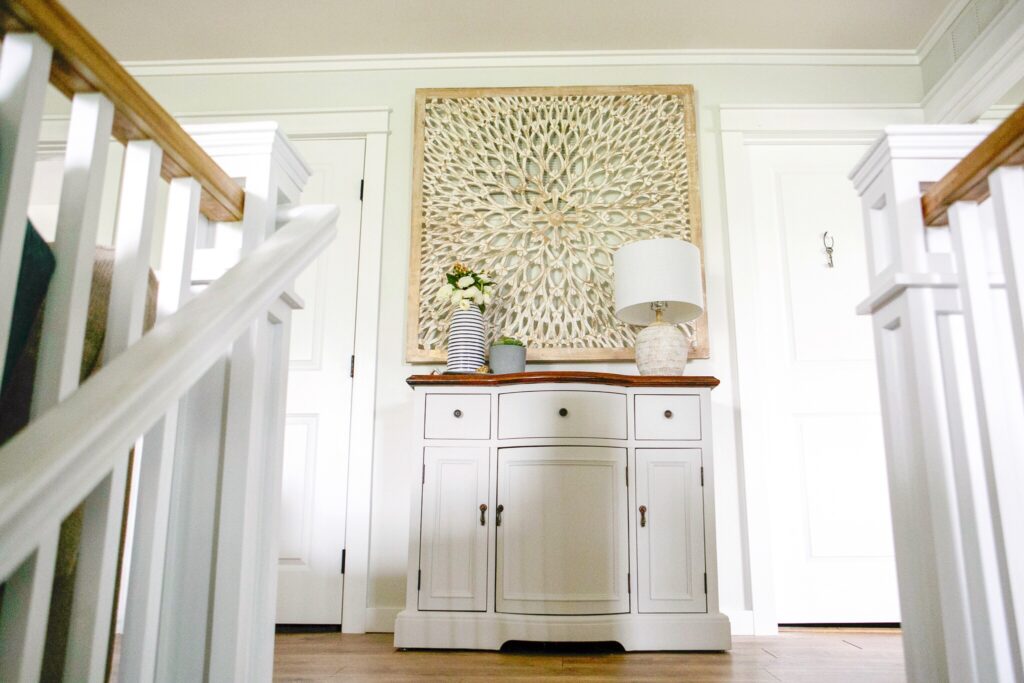 First off – let's take a look at the before photos – some from when we first moved in and some from just 6 weeks ago………………………
The Foyer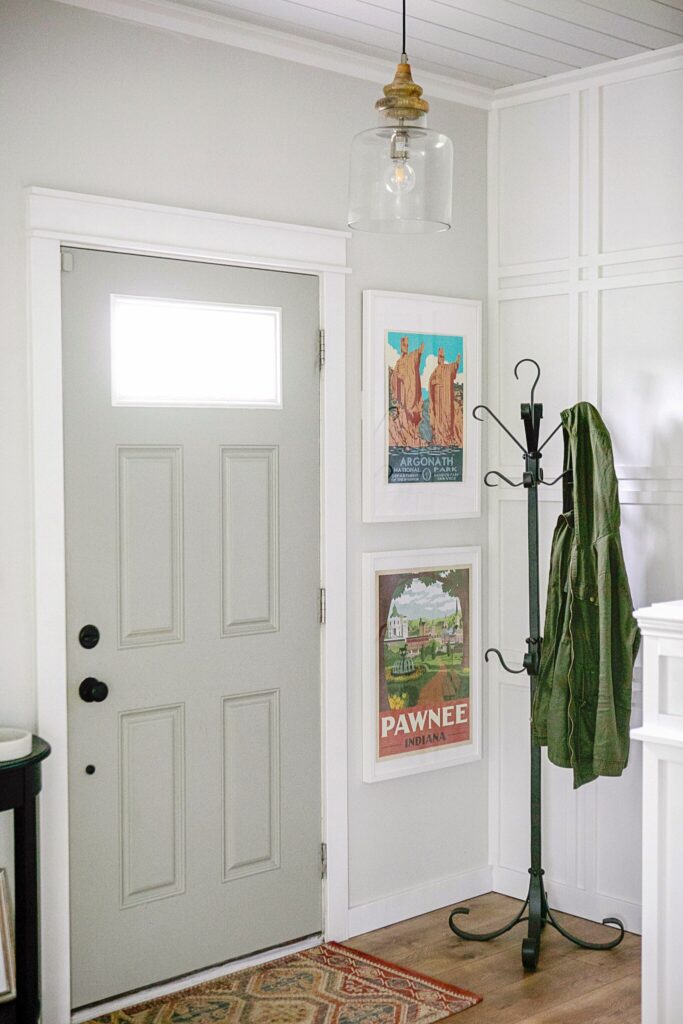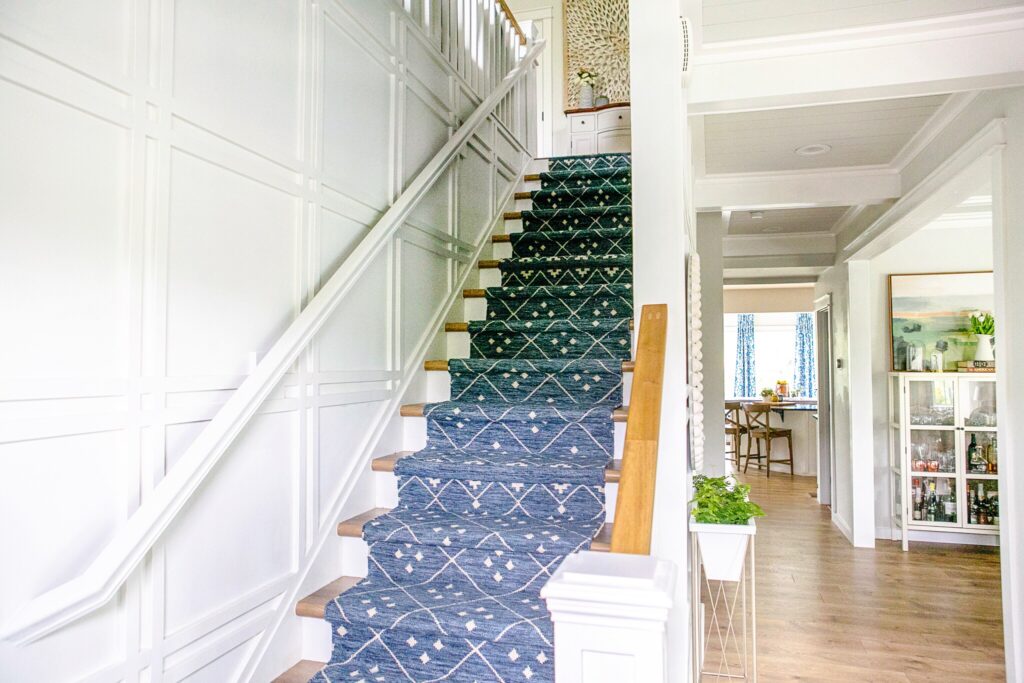 The super long hallway between the front door and the kitchen has always been one of my favorite features in our home – and now it finally matches the spirit I want guests to feel when they visit. I went all out in this space and added every element I had been dreaming about – a plaid grid wall treatment, completely new banisters, a shiplap clad ceiling along with some new faux beams, and a painted accent wall. On paper it may seem like too many different trim treatments in one area, but my dear friend from Meghan and Marco described what I was going for better than I ever could so I'm going to plagiarize her words (with her permission of course LOL) "They're so close and layered looking that it makes sense. Like a beige cable knit sweater with a white scarf." The moment that it all came together was when I went with my gut and painted the Metrie Shiplap to match the wall color instead of leaving it white – it's one of those cases where a subtle color brightens a space up better than white could. Some of the final details in the space include these amazing handrawn sketches from my friend Tim Anderson, my huge DIY mirror, our re-painted IKEA shoe cabinet, some new recessed lights, and a fun indoor flower box below the mirror.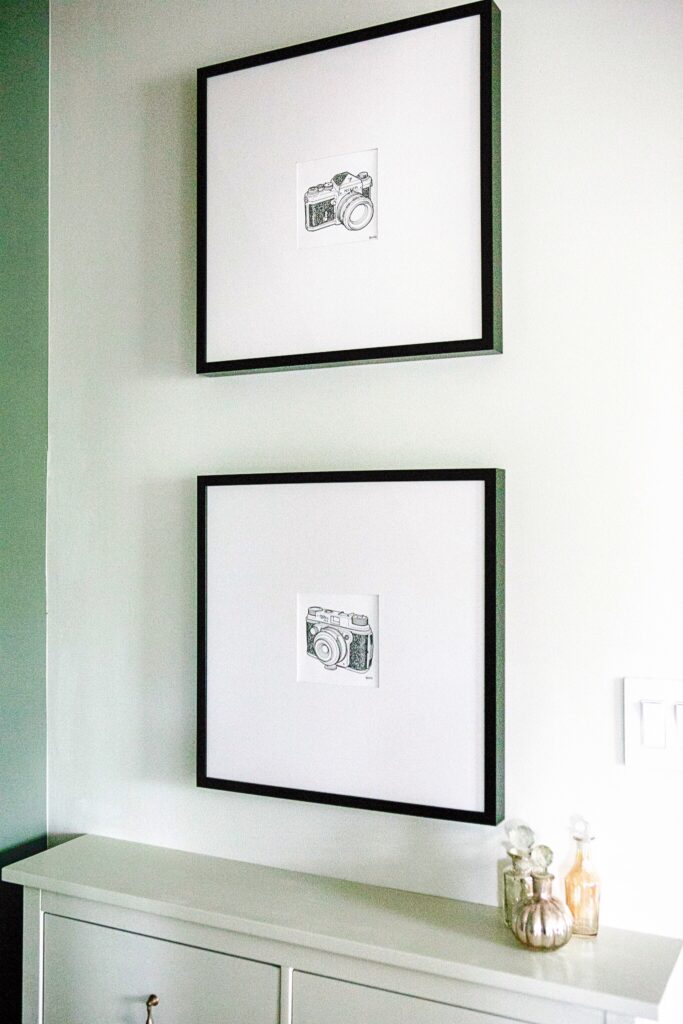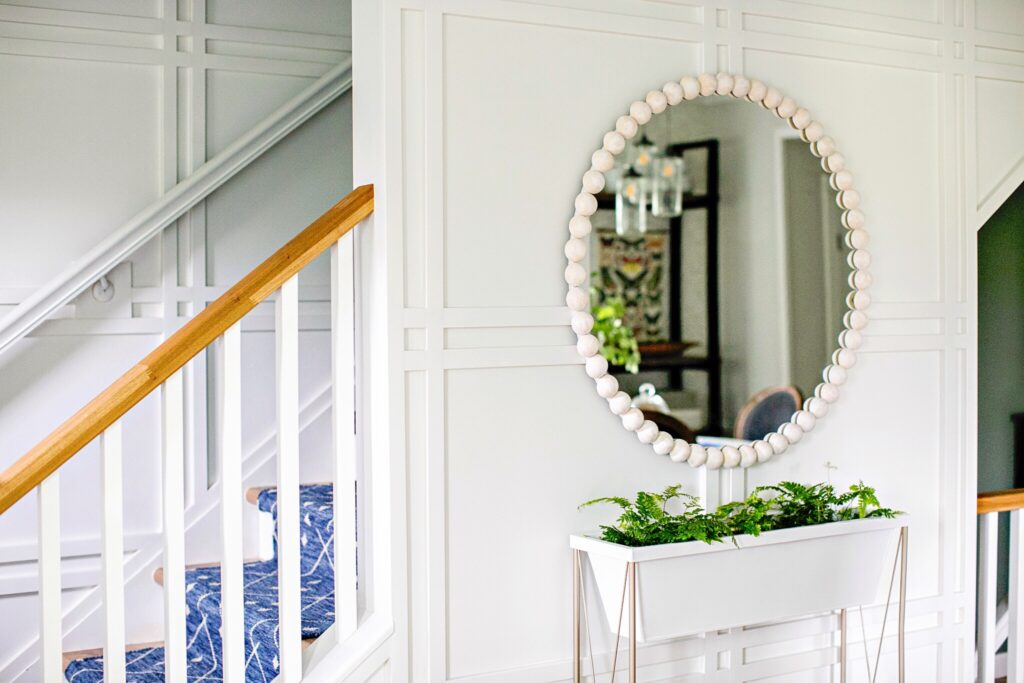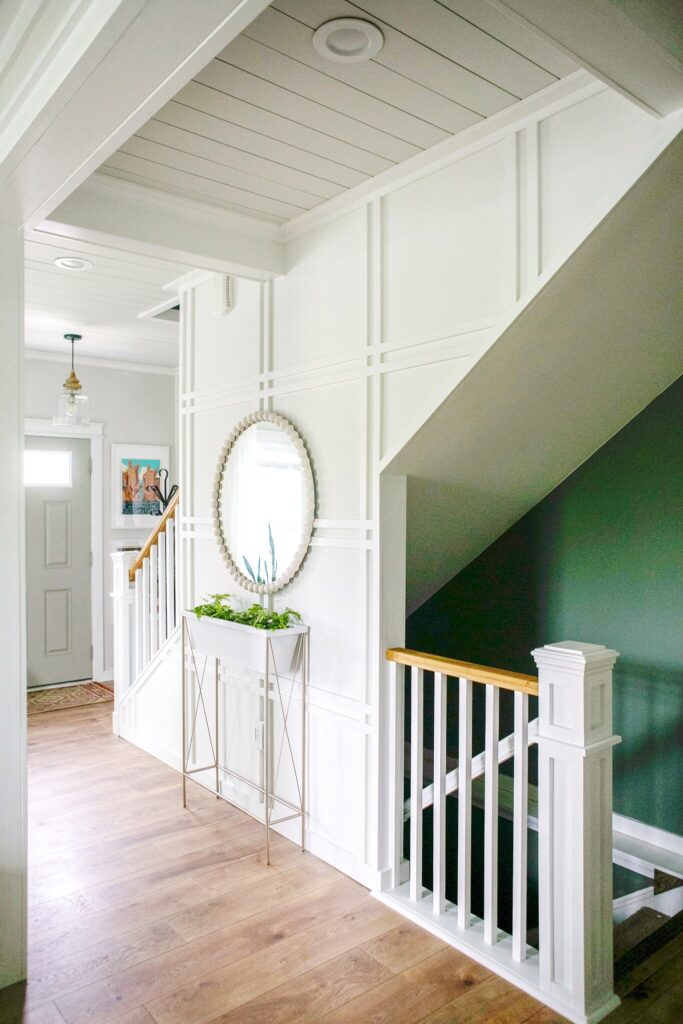 The Staircase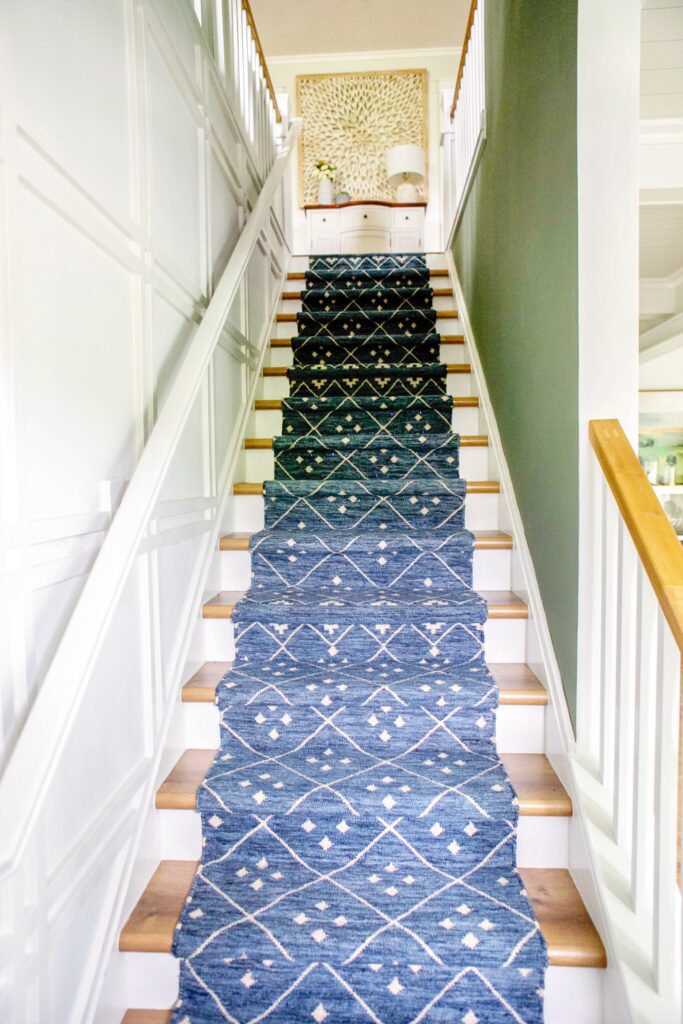 I have been waiting 3 year to replace the carpet on these stairs – ever since we replaced the rest of the flooring in the house I've been planning my dream staircase….and now I absolutely have it. Over those 3 years I went through lots of variations of this staircase (tweaking the banisters, the wall treatment, the stair runner) before I landed on the final design. The absolute biggest challenge of this whole project was replacing those banisters – I was working on them well into Week Five and they are one of my proudest achievements to date. On the other hand, replacing the stairs was actually the quickest part of the whole project – they honestly only took about 3 hours total including adding the amazing stair runner! These stairs don't get a lot of light so all of the choices I made were to brighten the space and emphasize the height. As much as I love how they turned out, I have to say seeing my smiley little guys coming down this beautiful staircase each morning is the best accessory you could ask for.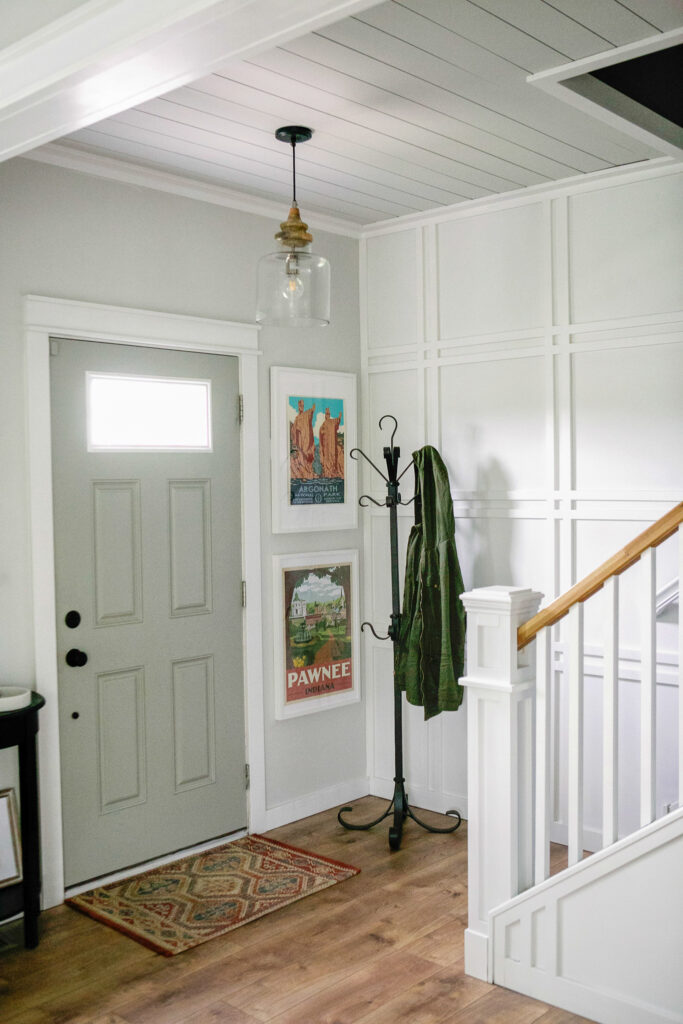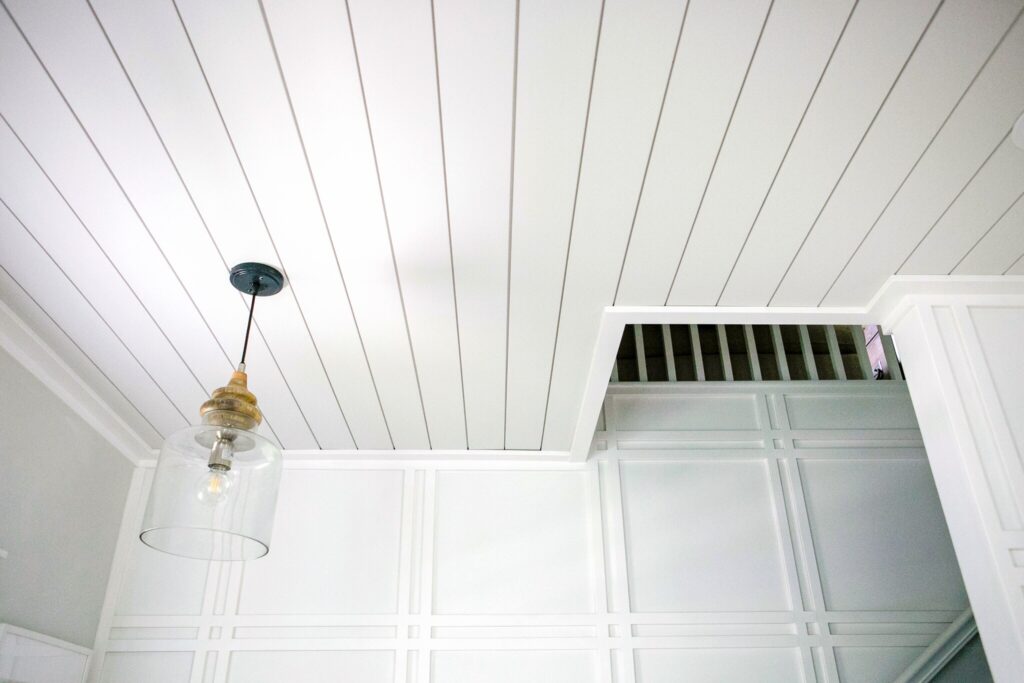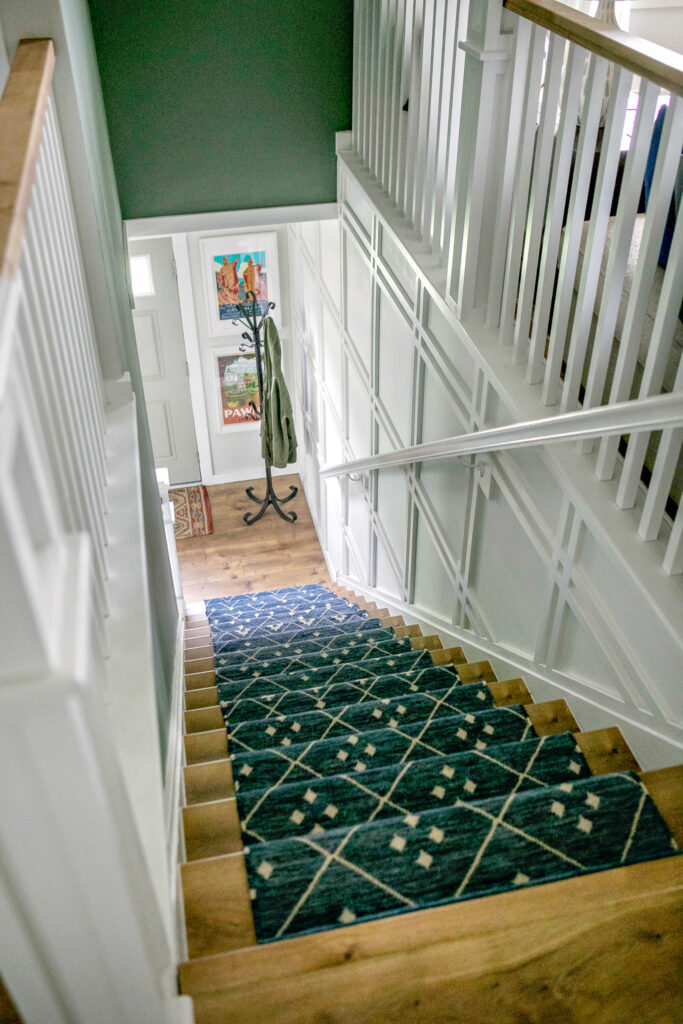 The Loft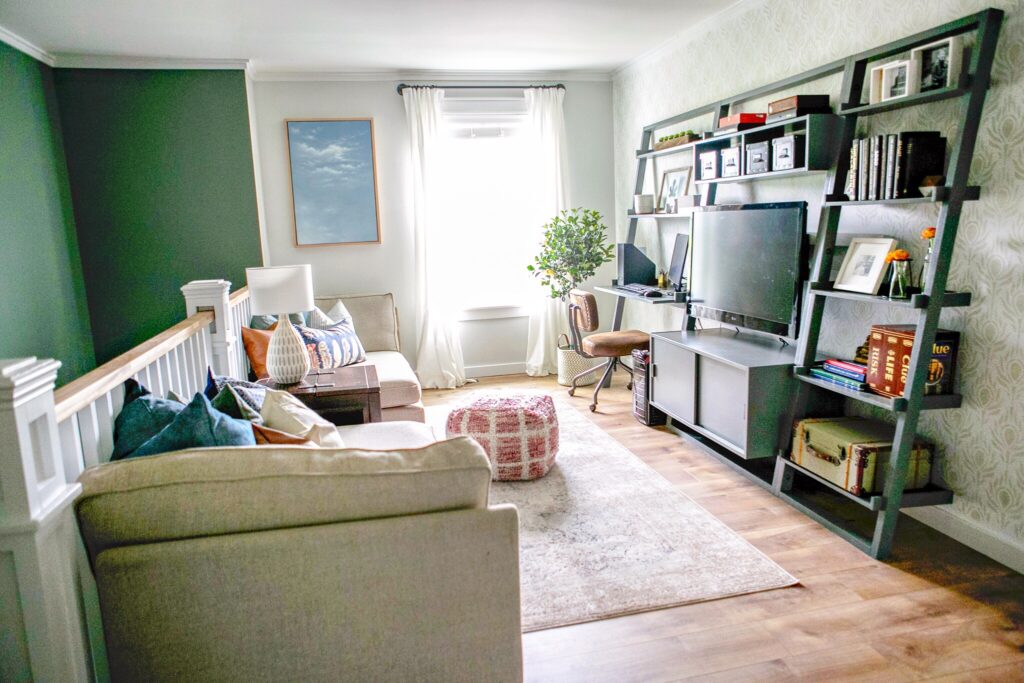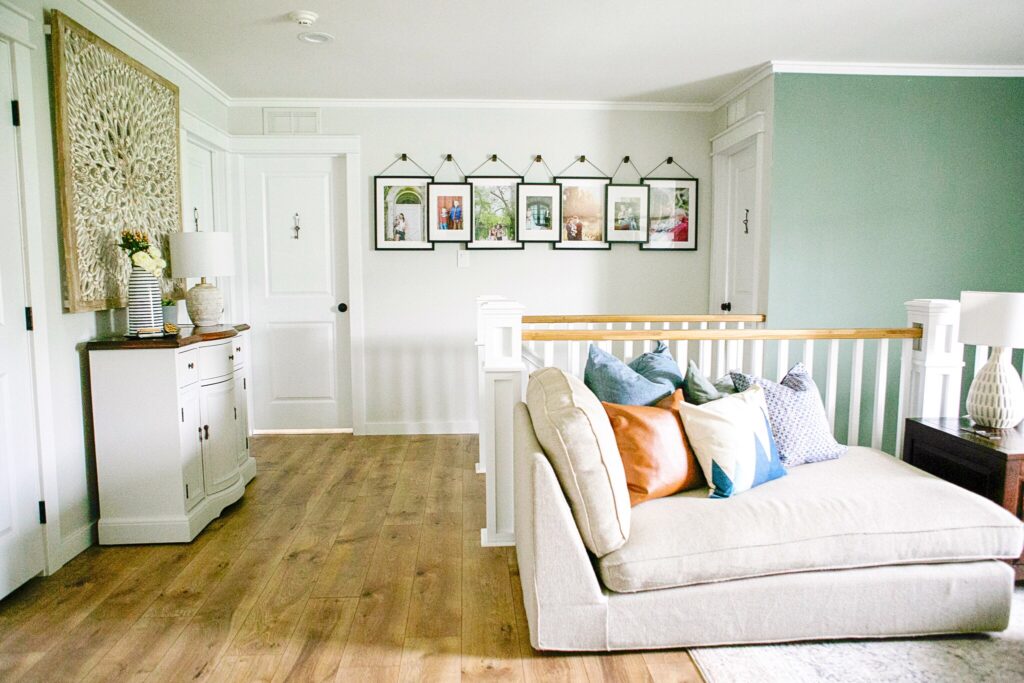 My goal with the loft was to make a stylish, cozy, and fun hang out area for our family, but also make it a more functional office space for my husband when he works from home. I'm pretty sure that way back in Week Two I said that the space wasn't going to get that big of a transformation — now I'm kind of eating my words because I cannot tell you how different it feels in here! First of all – the room feels twice as big even though the furniture is pretty much exactly the same. The trick comes from adding that dark green wall – it makes the open space feels like it goes on forever but still keeps it cozy. I shared the stenciled wall in Week Four, but I only gave you guys a hint of the updated shelving unit. The old leaning desk was really too small so I built a larger version that matched the existing pieces, then I painted the whole thing a greenish gray color and cleaned out the books in favor of some more paired down, but very personal, accessories like family photos, my late father-in-laws coin/stamp collections, and a bunch of old cigar boxes my dad dropped off during the renovation.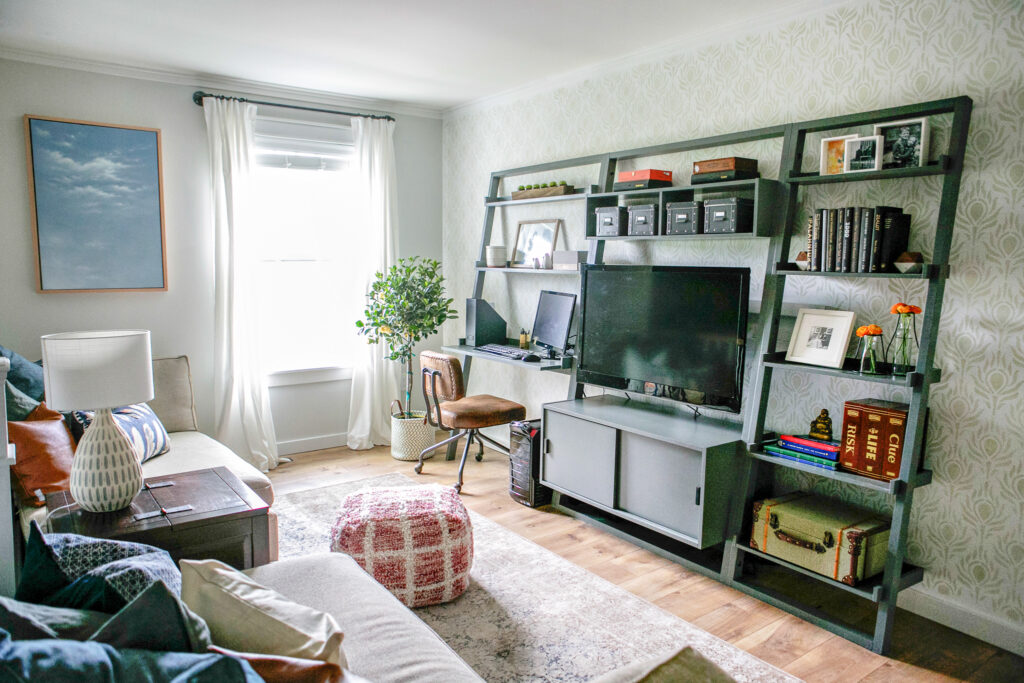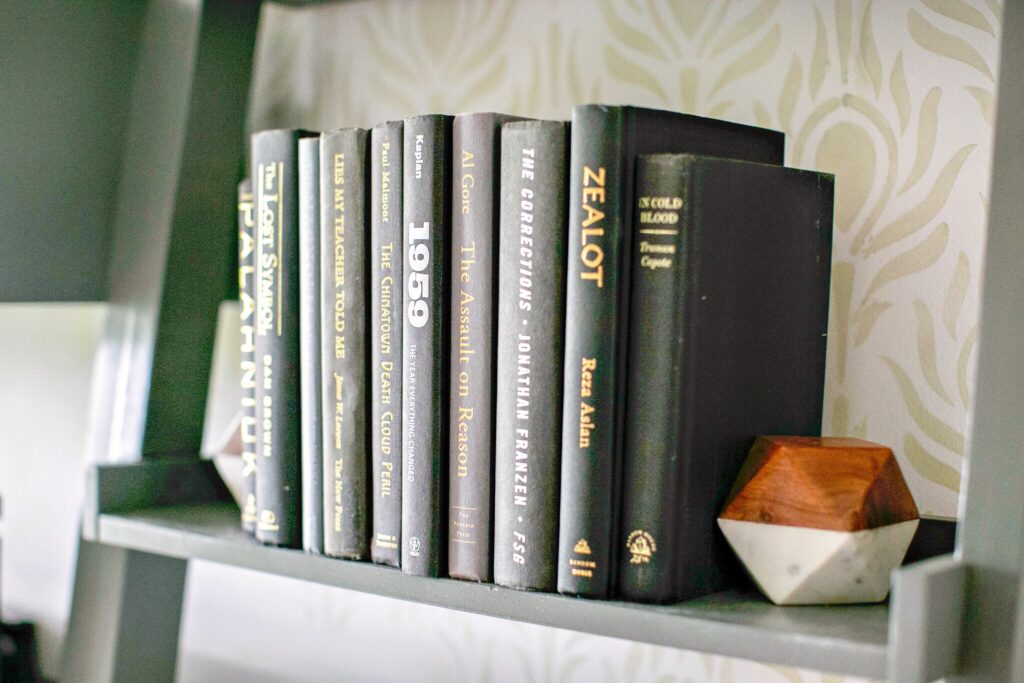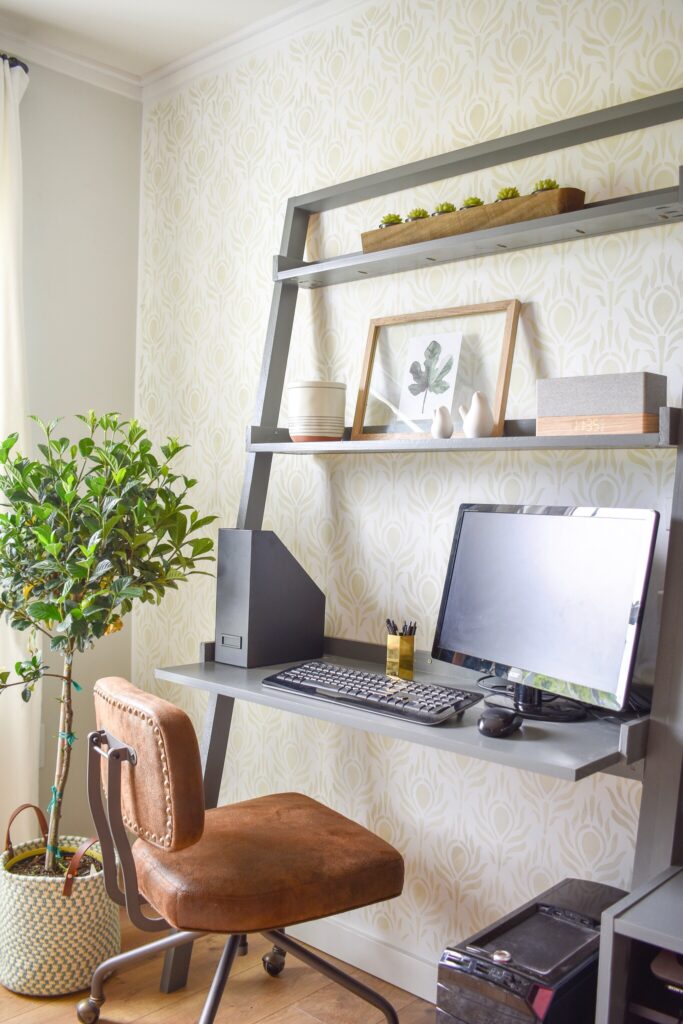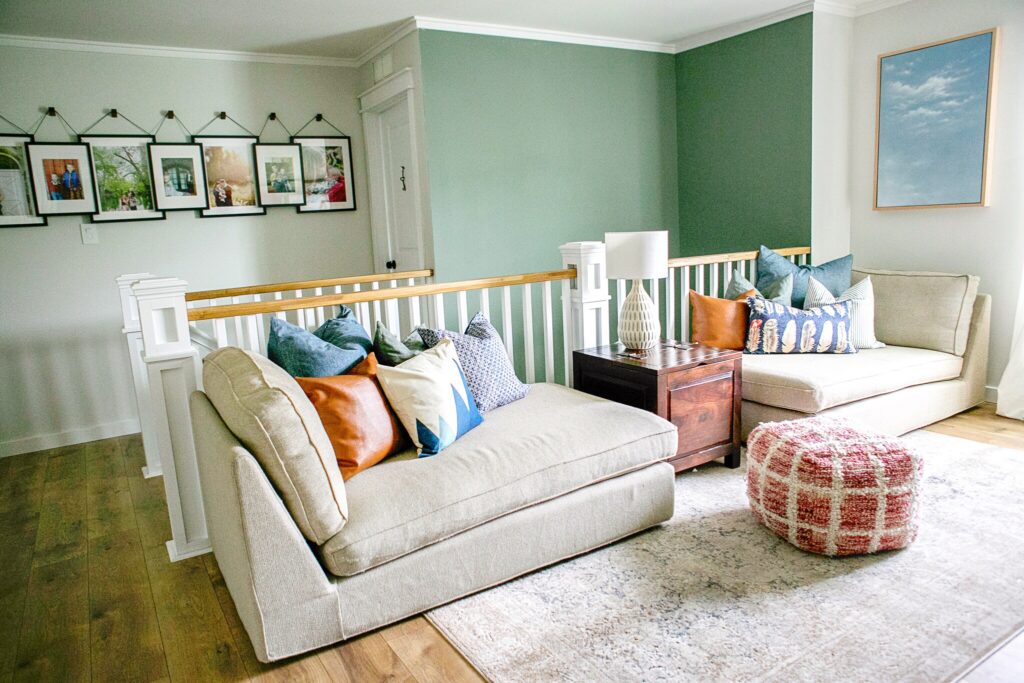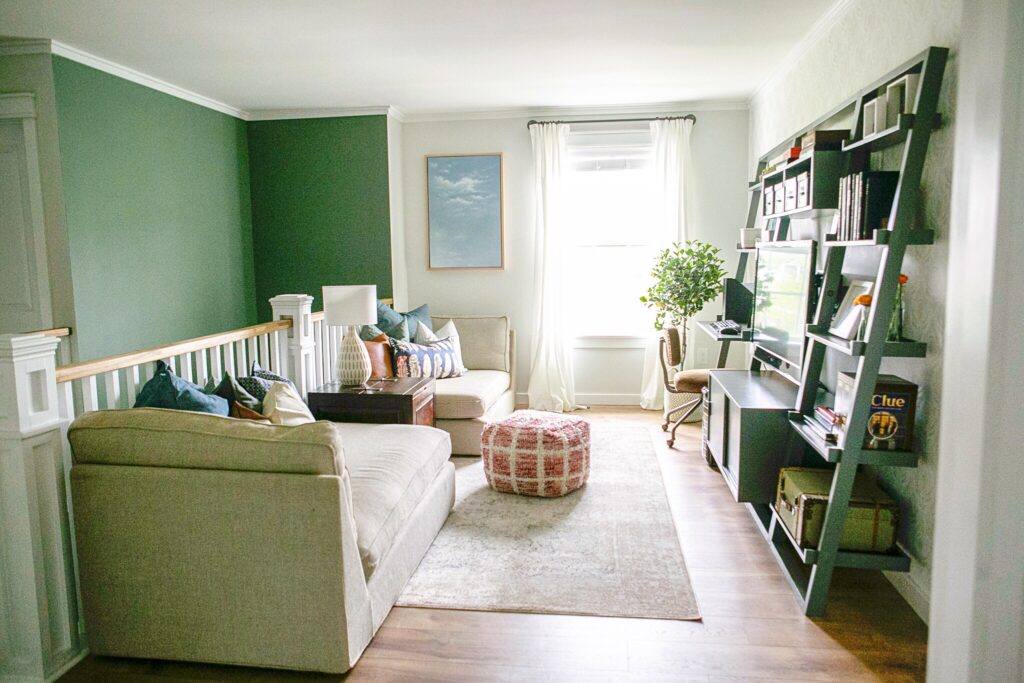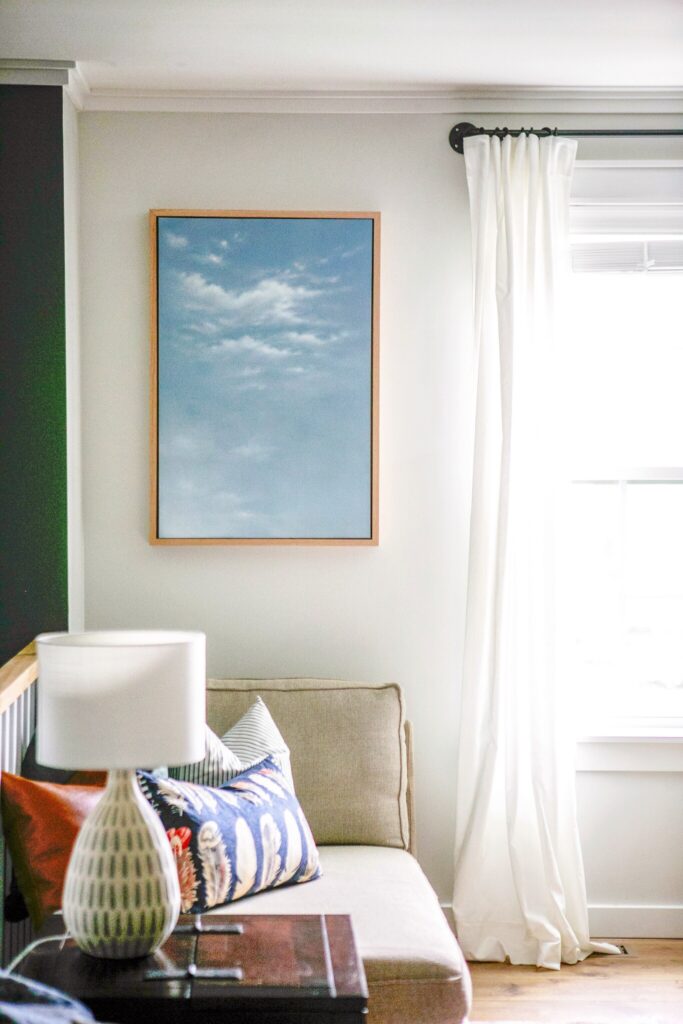 The star of this space to me is absolutely my cloud painting from the amazing Kelly Money. I hung it in a spot where I can actually see it from my bed so it's the last thing I see before I got to bed and the first thing I see when I wake up. For the other walls I went big with a gigantic wooden wall carving that actually covers up the super inconveniently placed HVAC return vent, and my modern take on a gallery wall which is full of some of my favorite family photos. That little cabinet at the top of the stairs was the results of months of FB marketplace searching and a coat of chalk paint to create the perfect piece for that spot. The last thing I added were those tiny ceramic knobs on the back of each door – during Christmas time I will use them to hang our stockings but for now I added these vintage inspired keys I've been hoarding for a while. It's one of those quirky touches that make me deliriously happy each time I see them.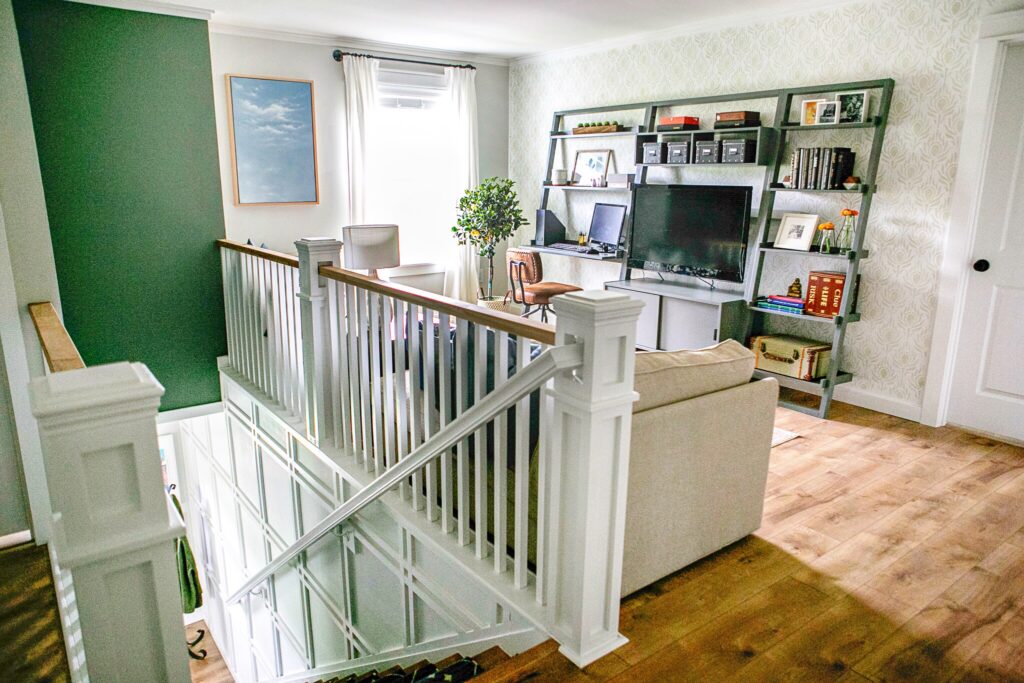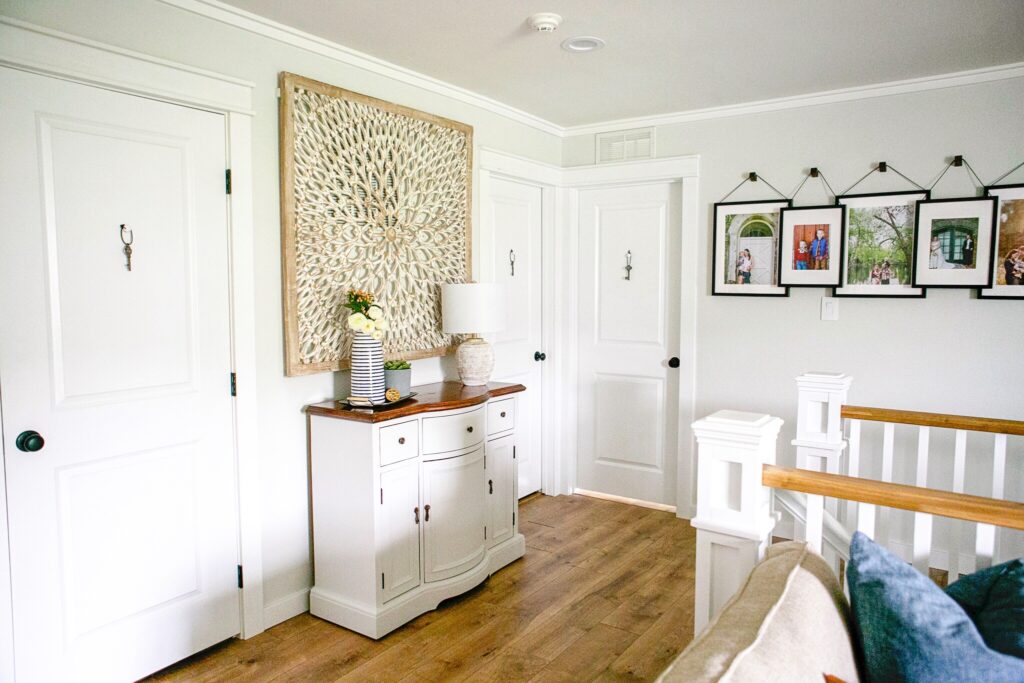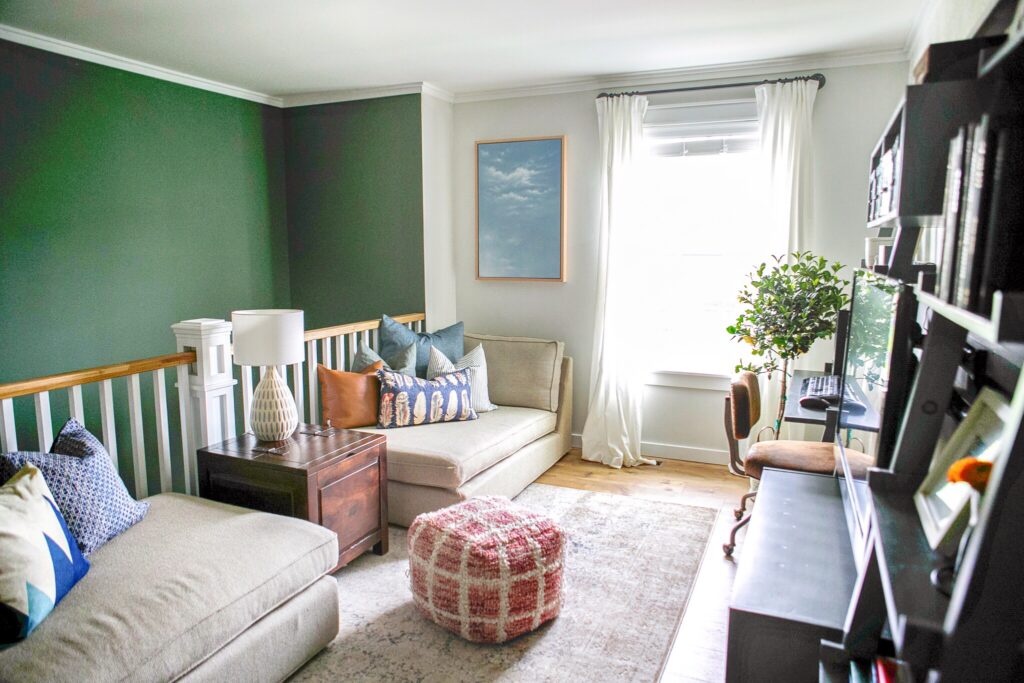 It's a funny feeling each time I get to the end of these six weeks – at the same time that you're happy to be done, you also feel a little lost without having a gigantic list to check off each day! Slowly that feeling goes away though, and the realization that you now get to live in this wonderful space you created starts to sink in — and I've got to tell you there's no better feeling. So to all my fellow One Room Challenge guest participants – I hope that you all are basking in the glow of your accomplishments! I cant' wait to check out all of your reveals this weekend.
Before I go, here is a little walk-through of the new space and all of the links to the products that I used, but feel free to leave me a message if you're looking for information on anything I didn't link!
Foyer – Floor | Shiplap by Metrie | Ceiling and Wall color is Frosty White by Sherwin Williams | Door Color is Sensible Hue by Sherwin Williams | Click here for the Pottery Barn Inspired Mirror DIY
Loft – Peacock Stencil by Royal Design Studios | Stencil Color is Moonstone Ring by Valspar | Cabinet is from Facebook Marketplace painted with Magnolia Chalk Paint in Yarn | The shelves from Crate and Barrel are no longer sold (these are similar) | Painted in Grizzle Gray by Sherwin Williams (the large desk was built by me)
Stairway – Stair Runner by Annie Selke | Stair Threads from Cap-A-Thread | Wall Color is Retreat by Sherwin Williams | Trim color is Extra White by Sherwin Williams
If you are interested in the products used in these spaces I am including links to those that are available below. (Disclosure: Some of the links below are affiliate links, meaning, at no additional cost to you, I will earn a commission if you click through and make a purchase)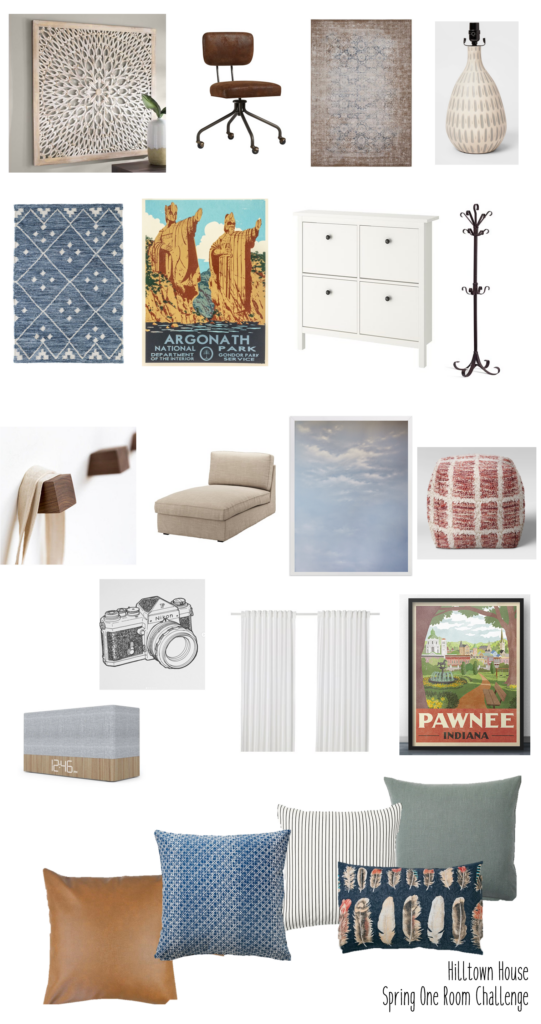 Wall Art | Desk Chair | Rug from McGee and Co | Table Lamp
Stair Runner by Annie Selke | Argonath Artwork | Storage Cabinet painted in Moonstone Ring by Valspar | Coat rack
Wooden Wall Pegs | Chaises | Custom Artwork from Kelly Money | Floor Poof
Clock/Bluetooth Speaker | Arwork from Timothy Anderson Design | Curtains | Pawnee Indiana Artwork
Faux Leather Pillows | Blue Patterned Pillow | Striped Pillow | Green Pillows | Feather Pillow