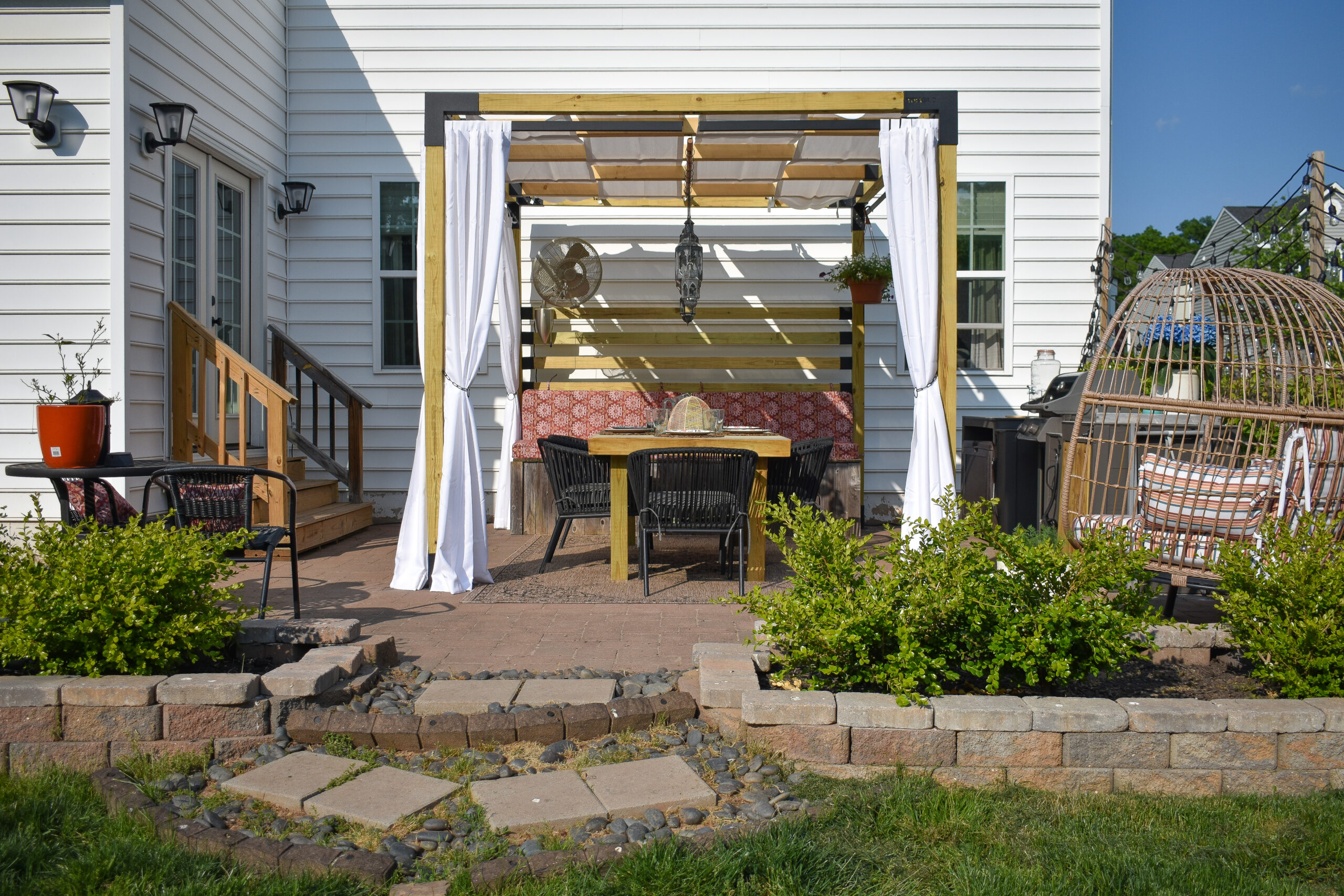 Sometimes I plan out my One Room Challenge projects for years and go after my carefully laid out to do list week by week, watching each step meticulously build on the other one — and then sometimes I decide to jump in last minute, hastily come up with a plan, and after eight weeks of what feels like a fever dream I magically have a new space but no real recollection of how it came together. This time it was definitely the latter. I feel like I took a really long nap and woke up to a beautiful new patio with no idea of how it got there but a real appreciation for how it turned out.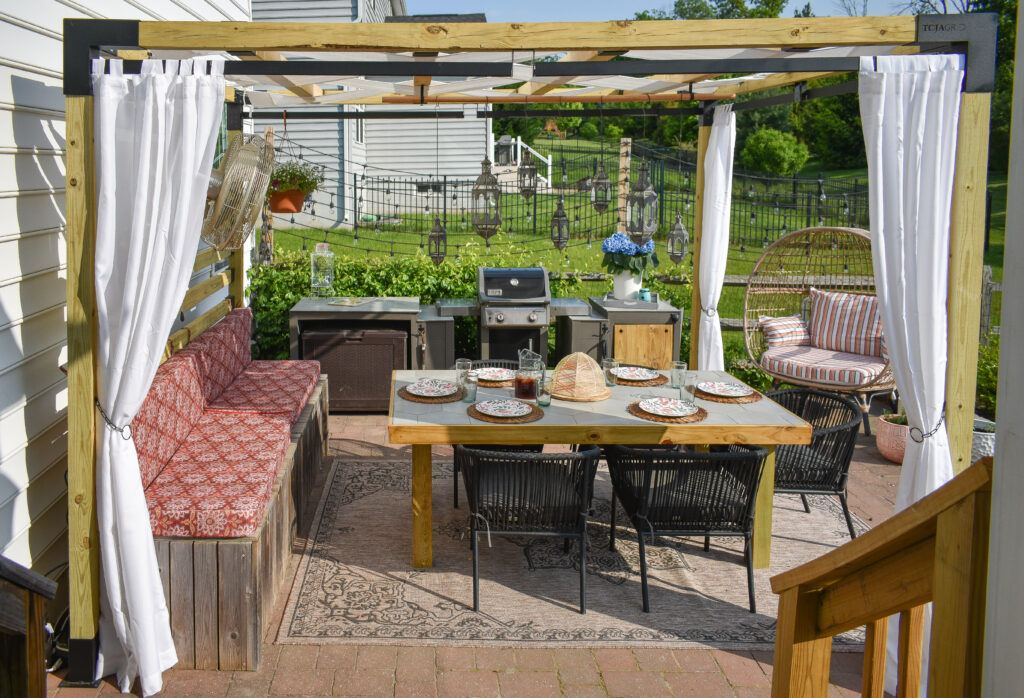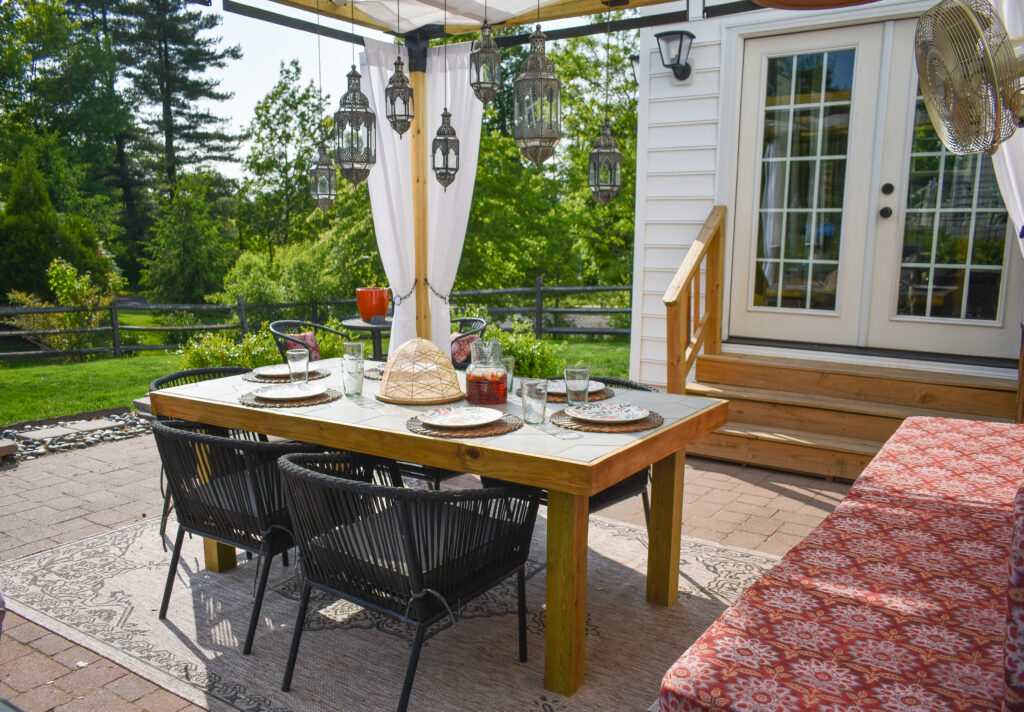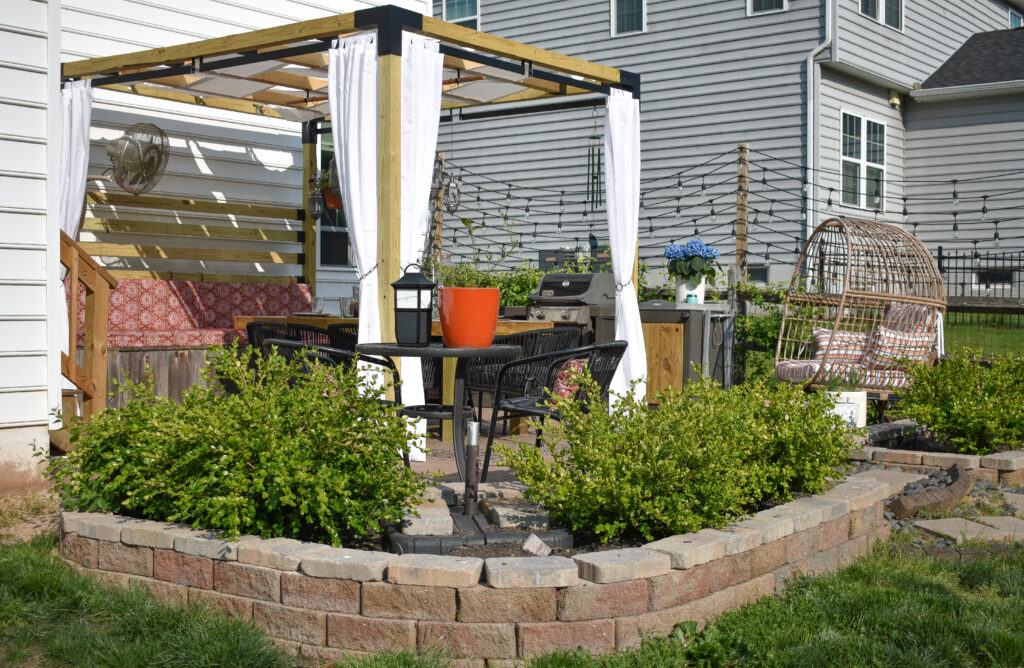 If you missed any of the progress over the last few weeks feel free to go back for the How-Tos of each individual project, but to wrap things up this time I wanted to go back to how my plans for this patio started and break it down into the 4 most important features I need out of my outdoor spaces and how I achieved each one….and of course share all of the good before/after photos everyone has been waiting for.
Week 1 / Week 2 / Week 3 / Week 4 / Week 5 / Week 6 / Week 7 / Week 8
---
Feature 1: Super Easy Upkeep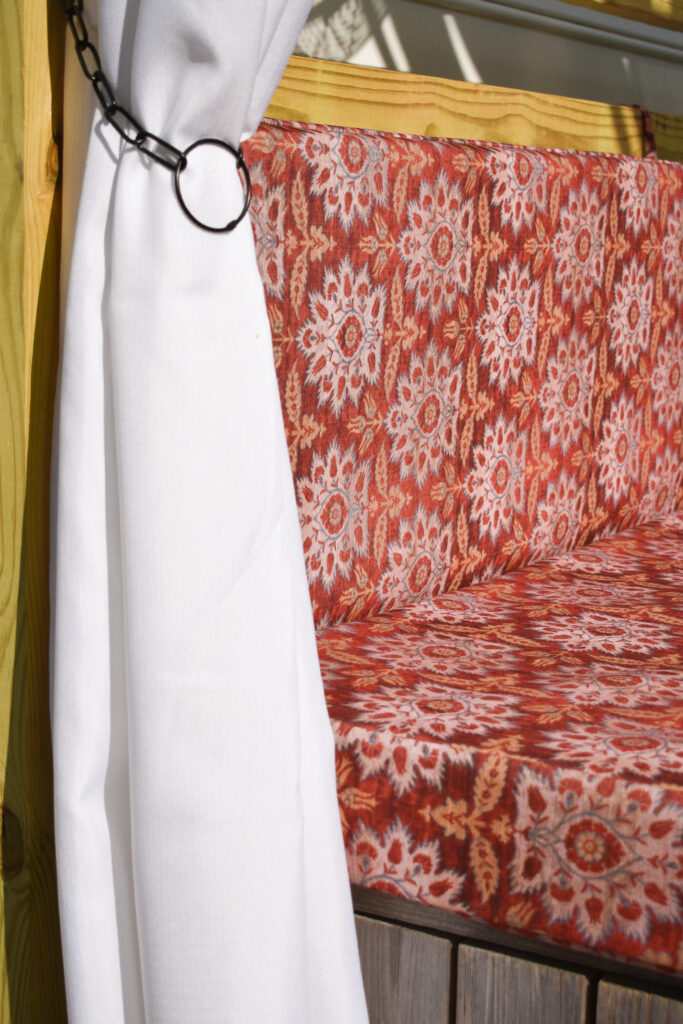 I've said before that every almost every design decision I make for the interior of my house is to keep it as easy to keep clean/organized as possible — and I would say that is at least twice as important for my outdoor spaces. I want to be able to go out my patio door, curl up on my egg chair with a drink, and just have things feel tidy and cozy.
I keep the soft goods at a minimum and make sure they are all water resistant + easy to store for the winter.
I've learned to not over-do it on plants that I'm not going to be able to take care of; fingers crossed that a few containers of herbs and my little lemon tree will be easy enough for me to keep alive.
I have easily accessible, but hidden, storage containers for everything we need to grill, eat, and lounge on the patio.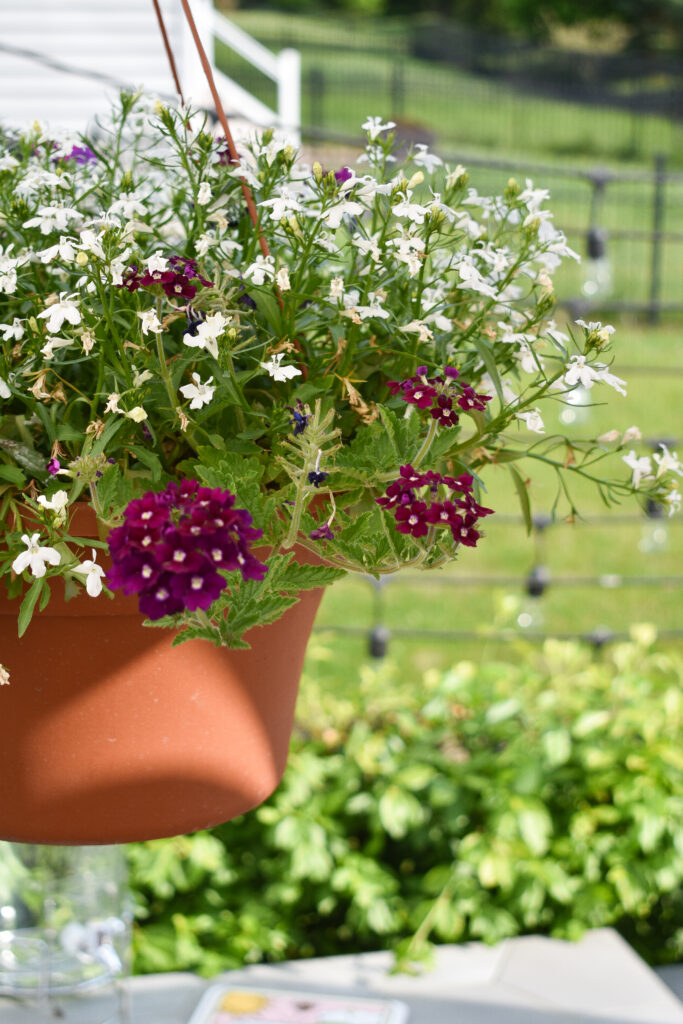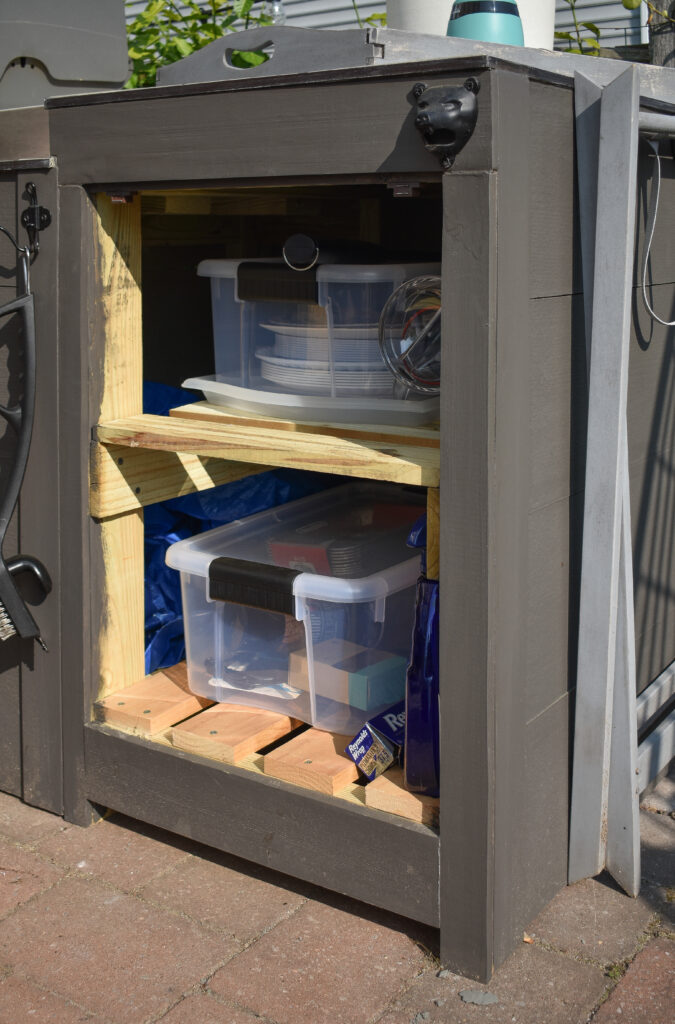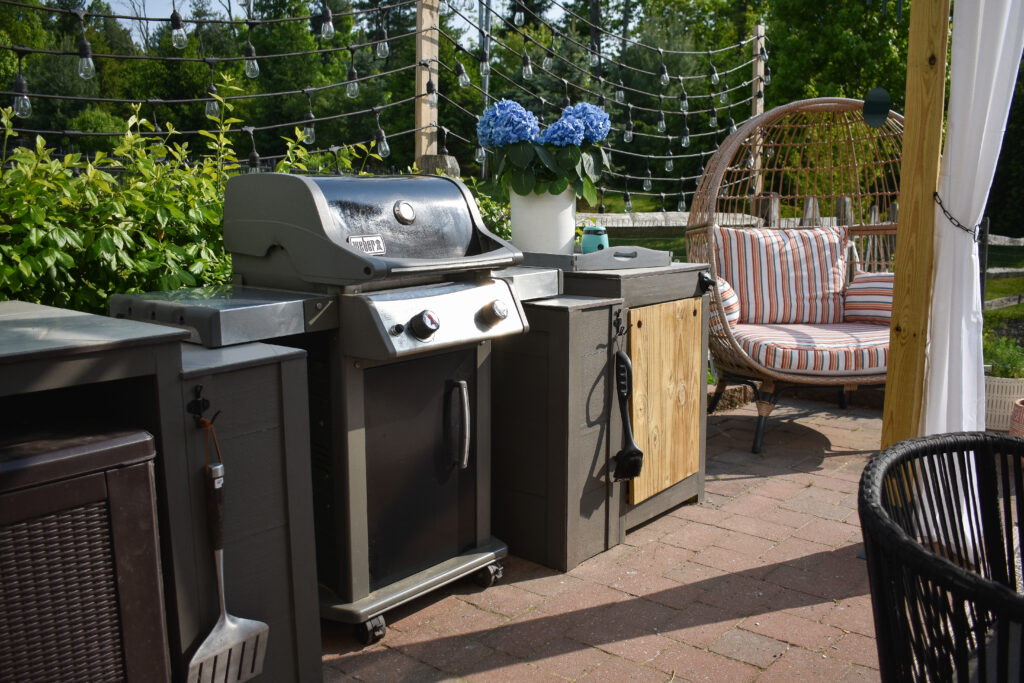 ---
Feature 2: Sunproof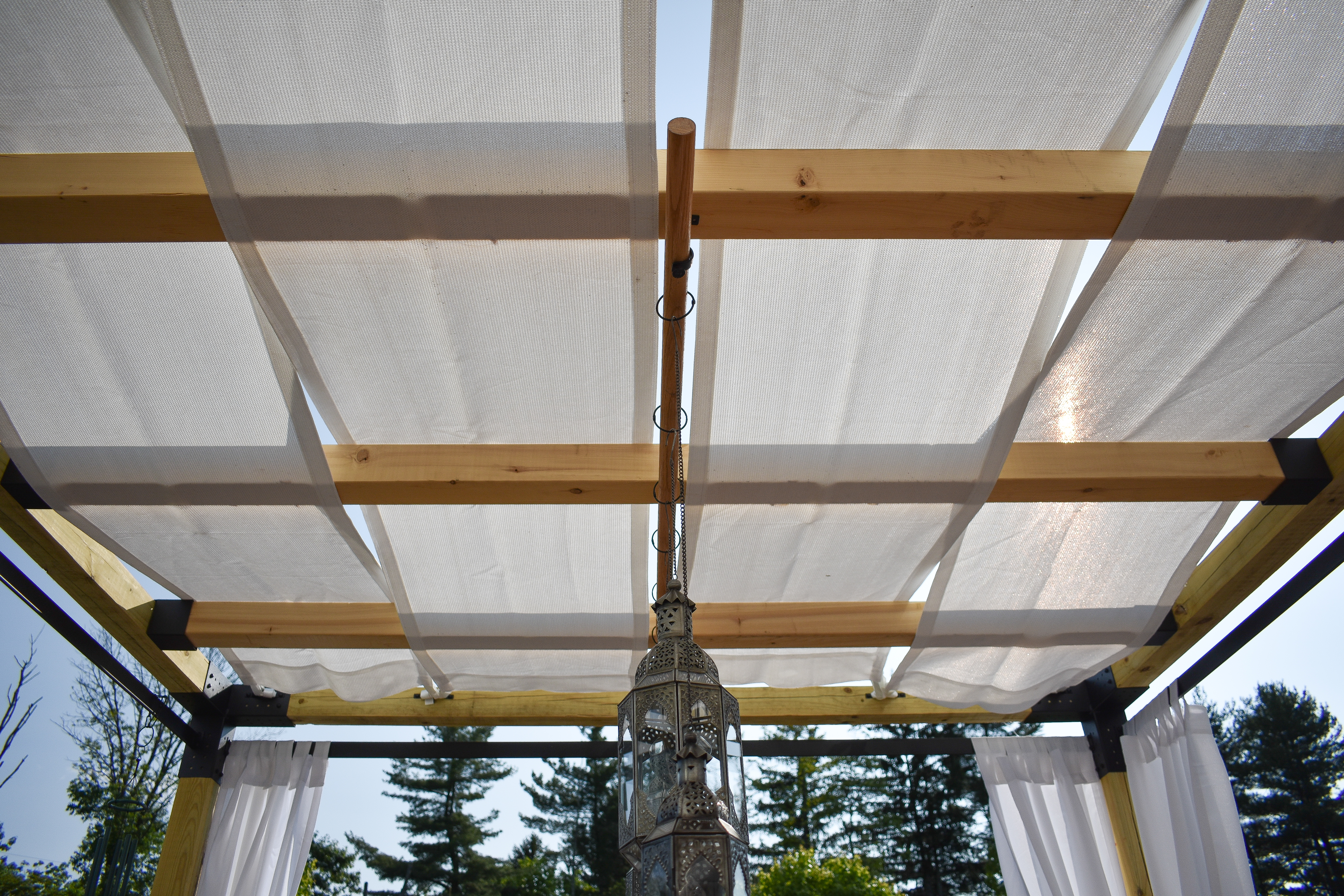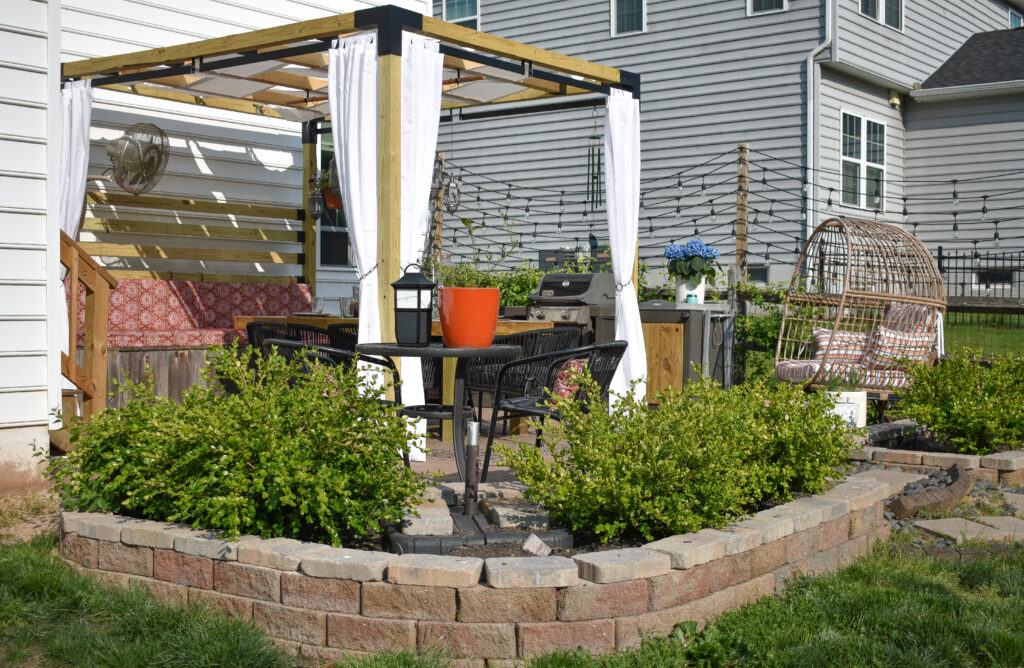 I fear sounding like a broken record on this one – but I don't think I can convey how hot this patio gets….well used to get. Even though the summer temps are still a few weeks away the difference out here is already drastic especially in the afternoon and I don't think I'll be getting over it anytime soon.
The biggest difference of course has come courtesy of Toja Grid and their generously sponsored DIY Pergola kit. The woven sun-shade top provides the perfect shade when the sun is over-head and I love the intimacy the structure adds to the dining area both during the day and at night.
Another big game changer is going to be our new Kichler Outdoor Fan. I'm so happy that my expectations were exceeded for how powerful this thing is! I can't wait to really see the difference it makes in July and August.
One of the most challenging obstacles out here is that the sun sets in the back corner around dinner time so the addition of some simple white curtains allows us to block out the corner of the pergola and keep the sun off the dinner table.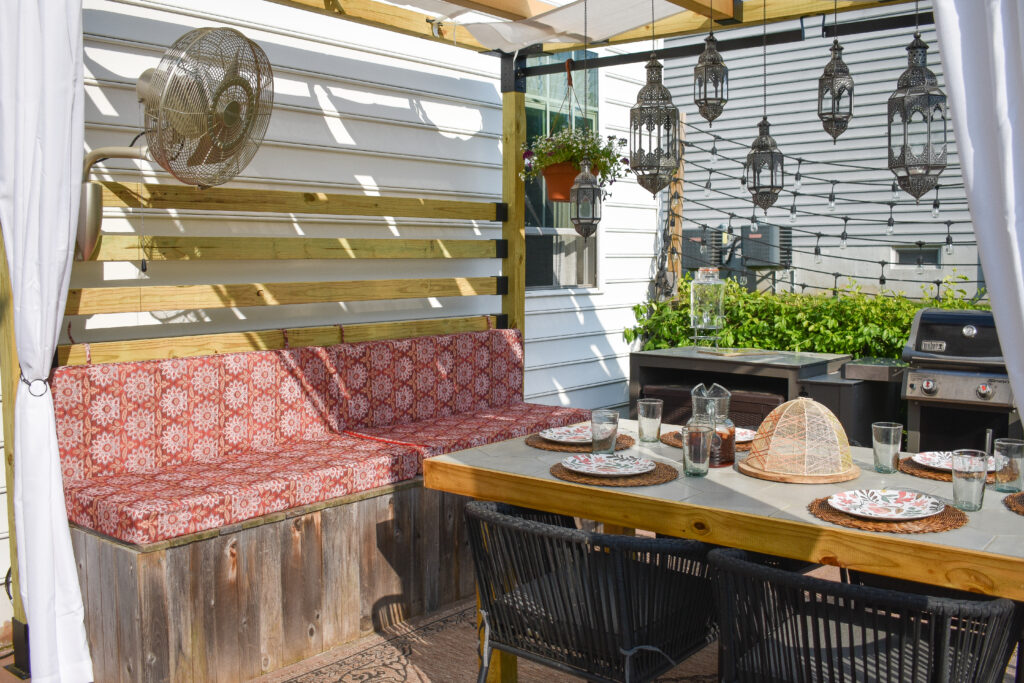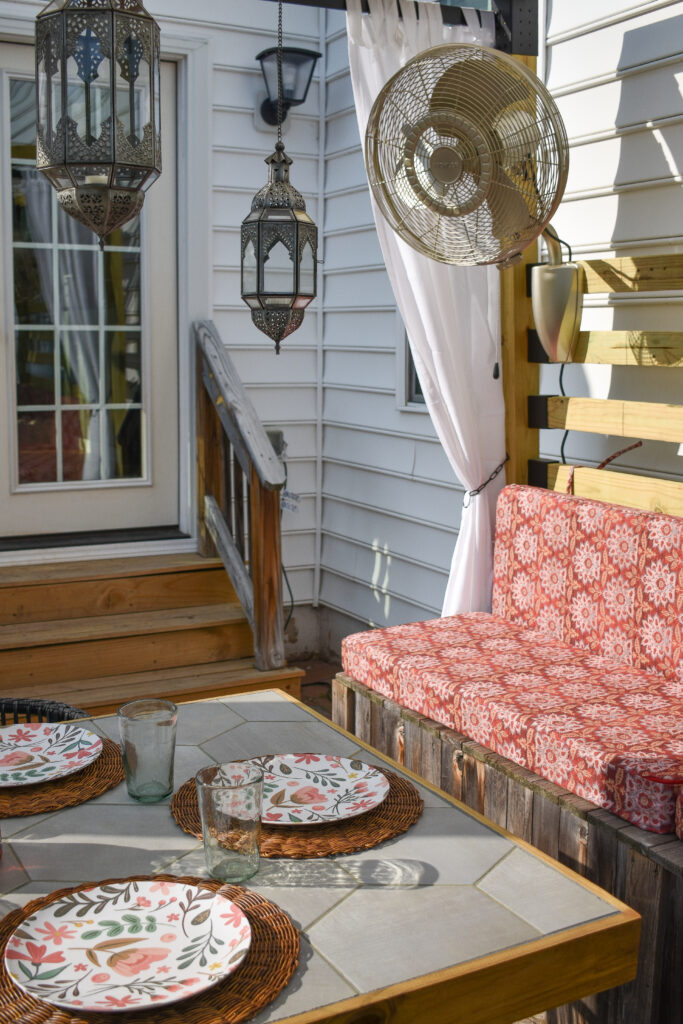 ---
Feature 3: Dogproof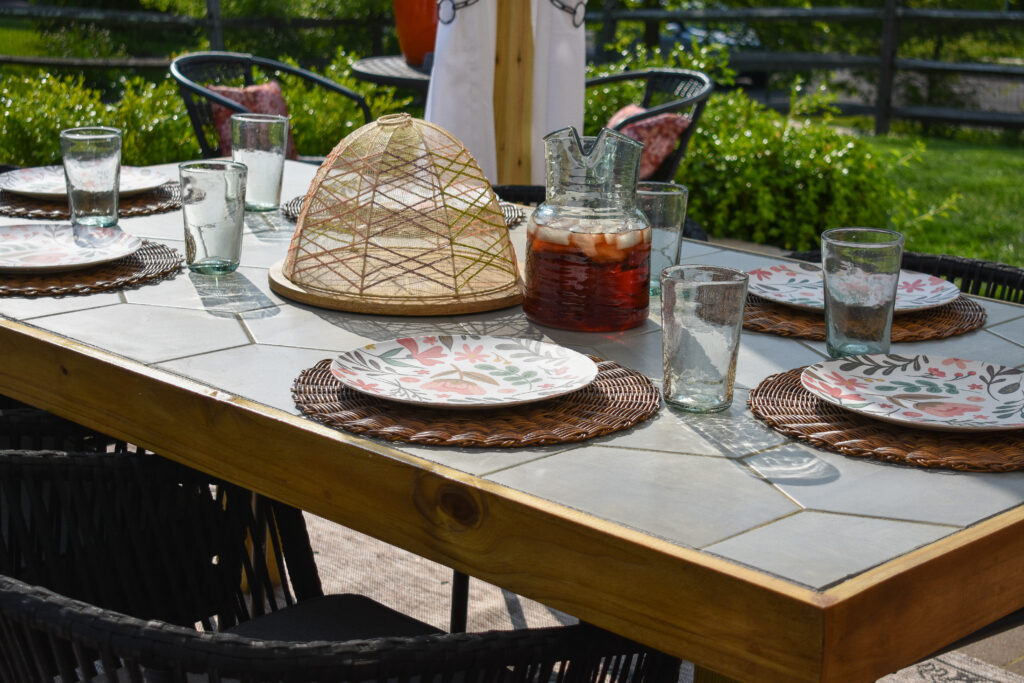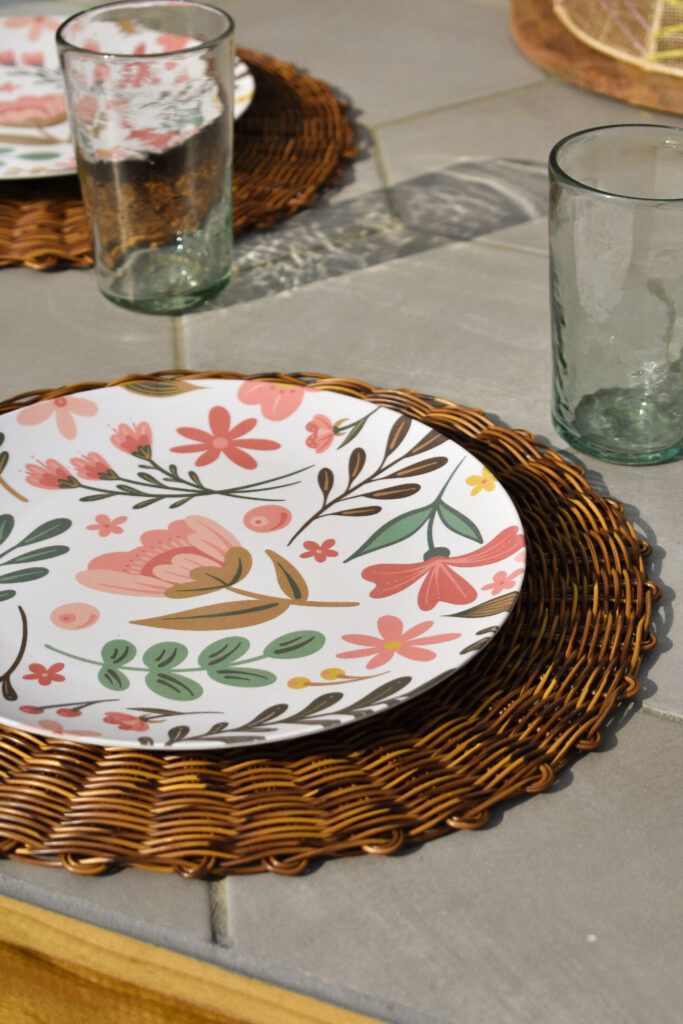 My two dogs love to lounge on the patio — but I think they love to wreak chaos out here even more. From destroying basically every type of furniture cover we've tried to using my chair cushions as chew toys they always seem to find a way to get into trouble so I put my best effort into making this makeover as dogproof as possible…until they find a new source of mischief.
Since the table desperately needed a new top, and the dogs have discovered how to jump up here, I gave it a major upgrade by using tile instead of wood and repeated the material on the counters in the grill area for a strong and heatproof solution.
I can stand replacing a lot of things but my egg chair is not one of them! Not only did I re-upholster the cushions, I also added ties to all of them so they can't be dragged into the yard and I also used some self-fusing tape to repair the frame damage which has held up extremely well to the elements.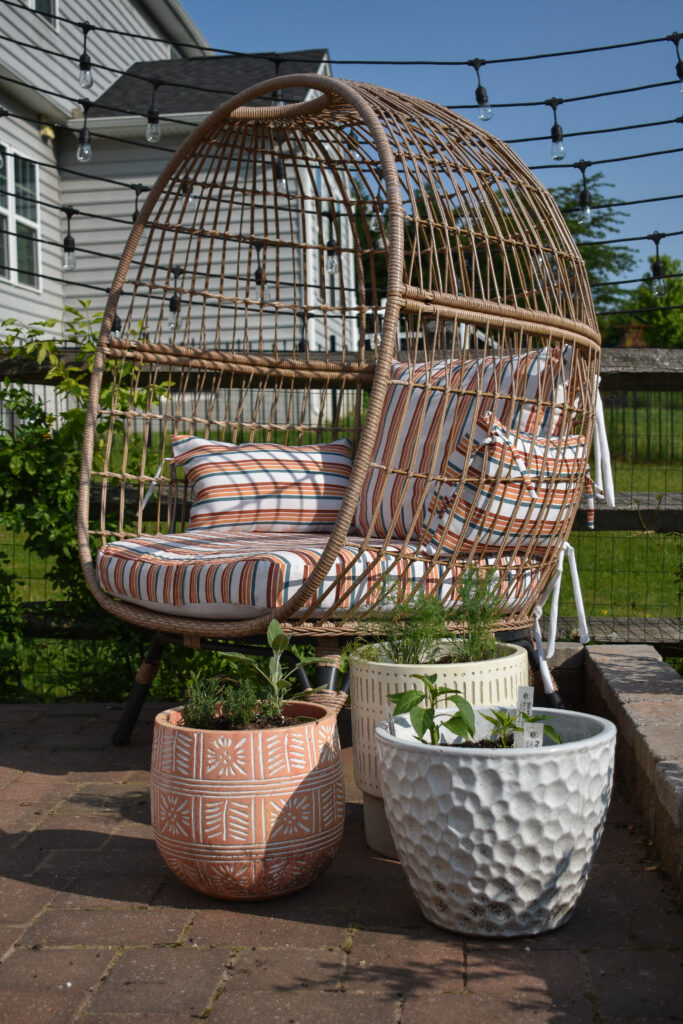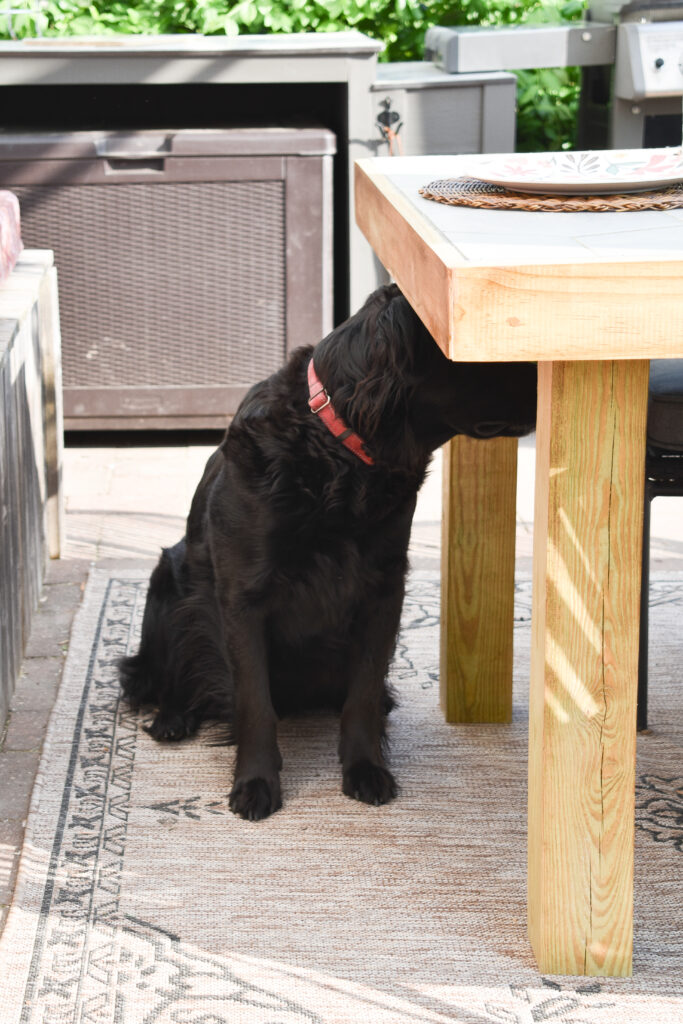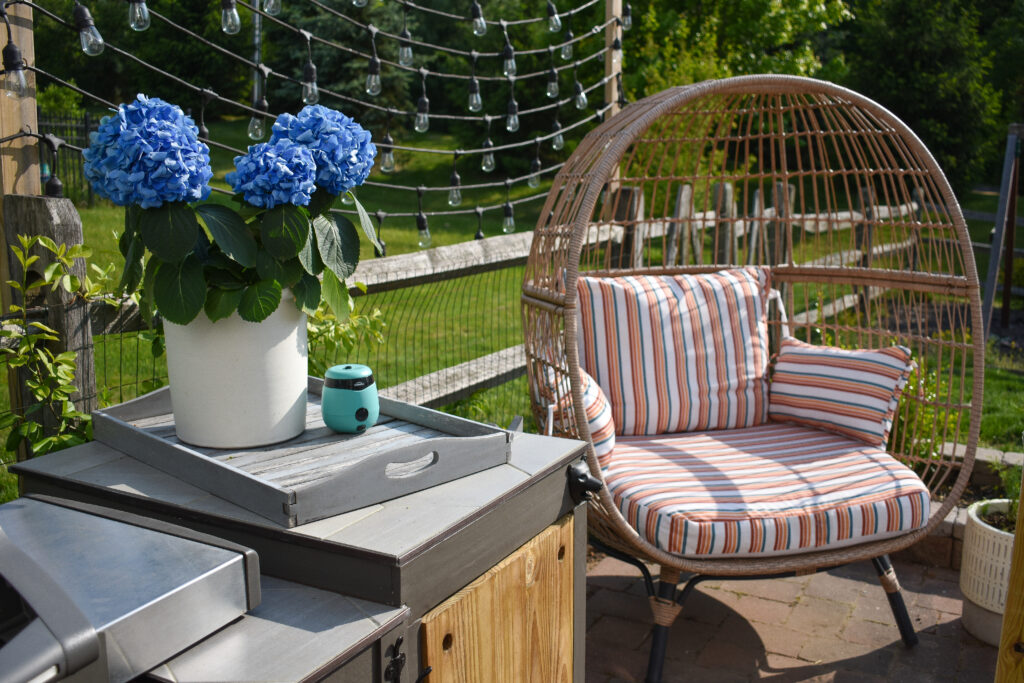 ---
Feature 4: Natural Vibes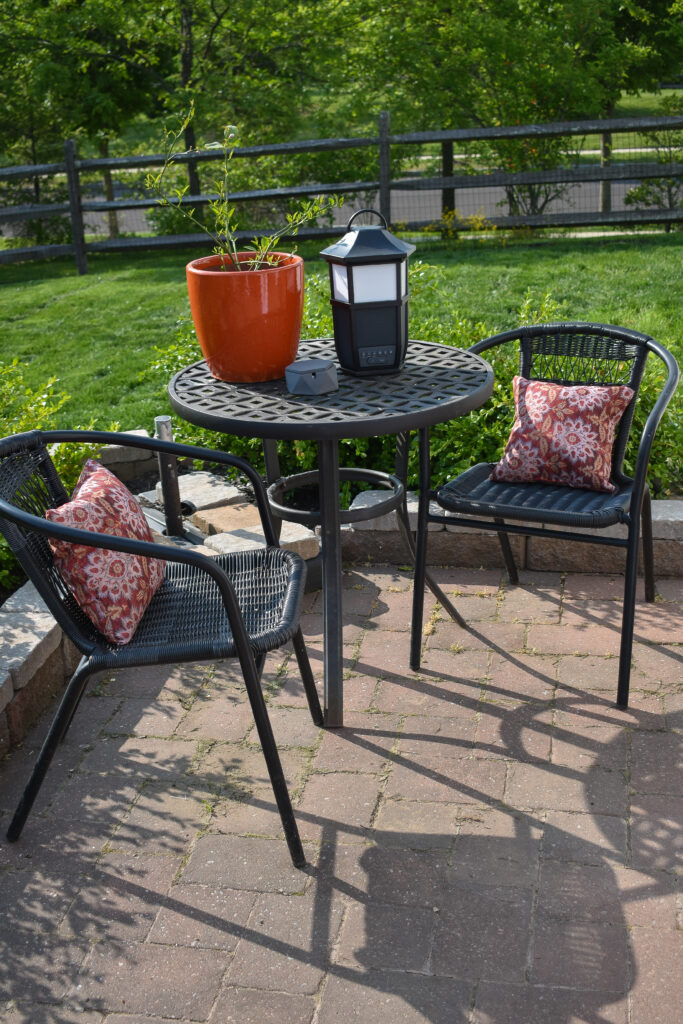 When it comes to outdoor spaces my personal preference is for ones that lean more wild than polished. It's one of the reasons that we've gone slow in the backyard and opted for DIYing over contracting. I want my outdoor spaces to blend into the background, not dominate it, and if it's all a little rough around the edges that just adds to the ambience.
Natural wood that will age with the elements and match our fence, stairs, and storage benches.
Colorful but non-overwhelming fabrics; I chose to go with shades of dark red, which is not a color that I use in my house frequently but one that I think looks great against the greenery and the black seating we already owned.
Super simple accessories – some hanging lanters, a soothing windchime, some cute yet practical tableware – and they are all very easily put away if a storm comes through unexpectedly,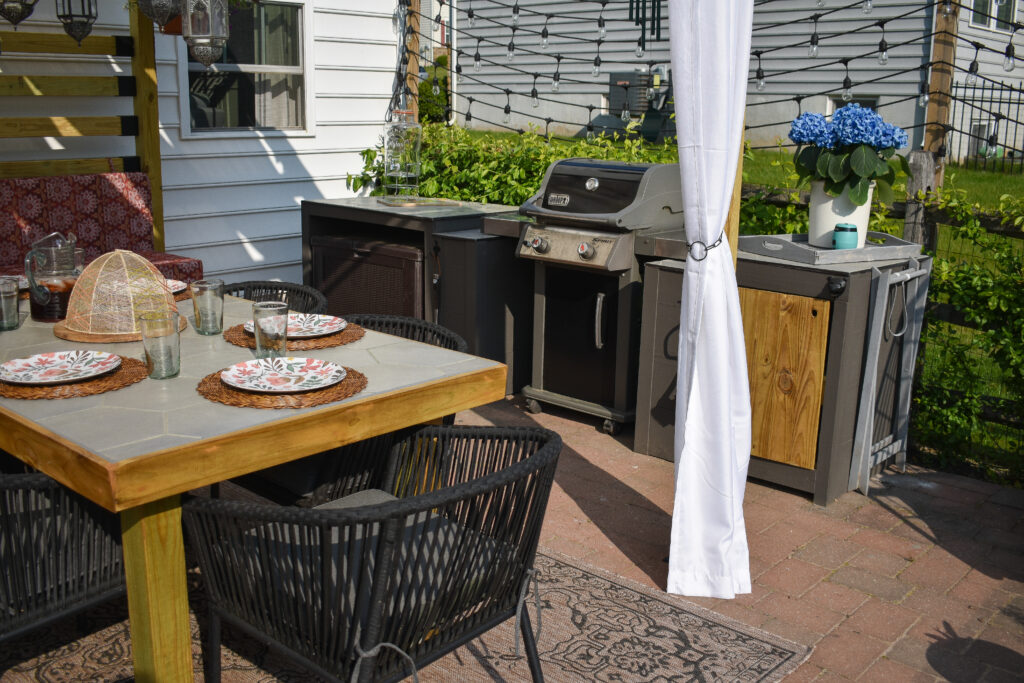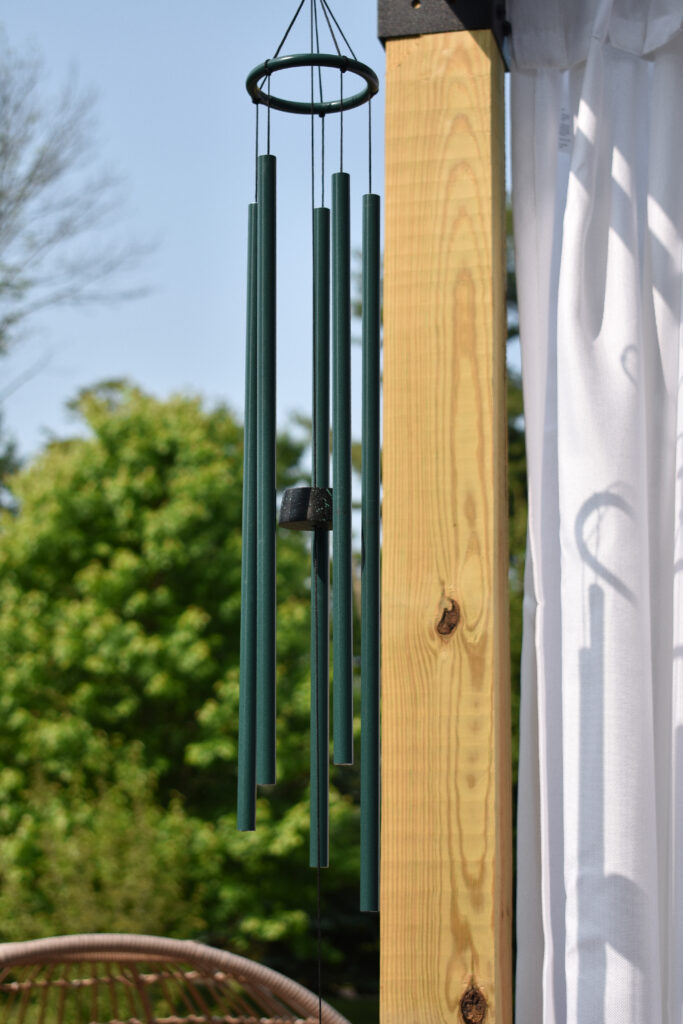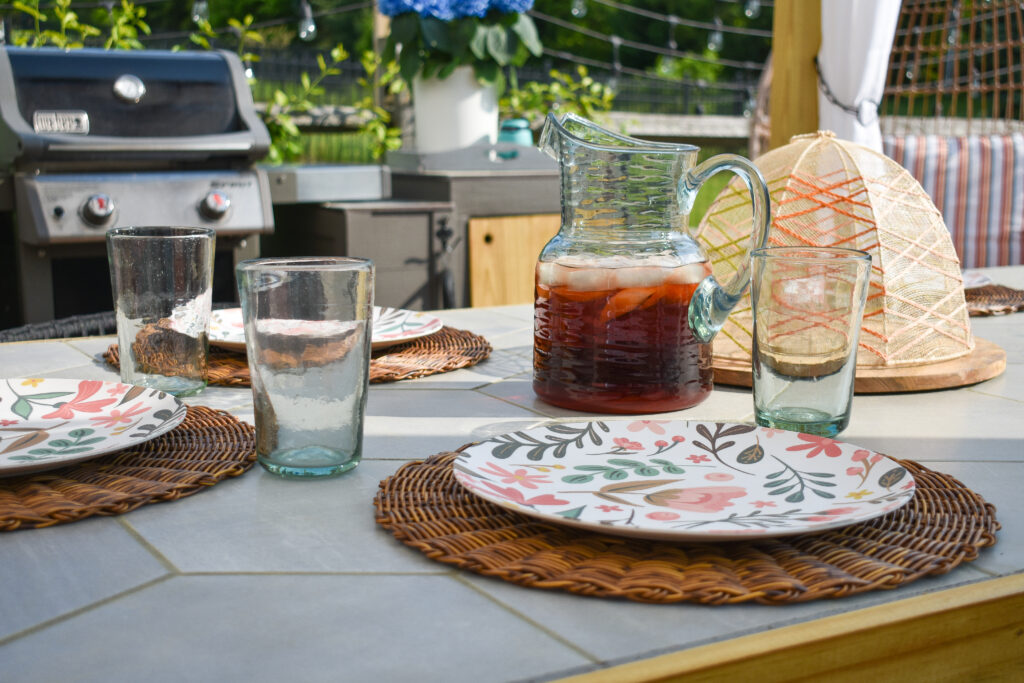 Last spring I said that it was probably my last One Room Challenge because I've run out of rooms inside my house — which was technically true since I had to move outside to squeeze one last project out. Who knows what next Spring will bring (of course I already have an idea of what I want my next backyard project to be) but it felt nice to jump in at least one more time and try my hand at something brand new.
I'd like to give one last big thank you to my sponsors this ORC – Kichler Lighting and Toja Grid.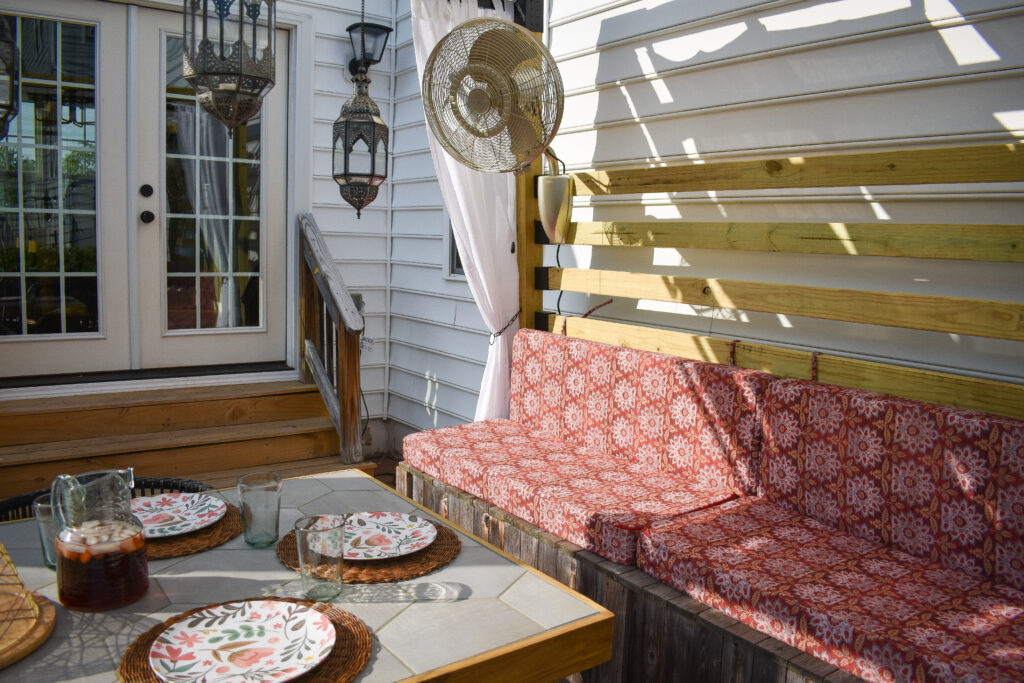 And congrats to all of the other ORC participants for another great season – be sure to check out all the reveals on the One Room Challenge blog!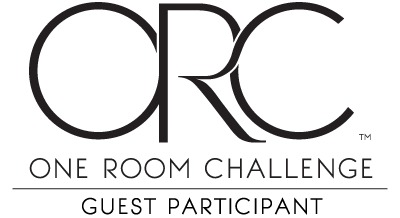 ---
Some of the links included below are affiliate links, meaning, at no additional cost to you, I will earn a commission if you click through and make a purchase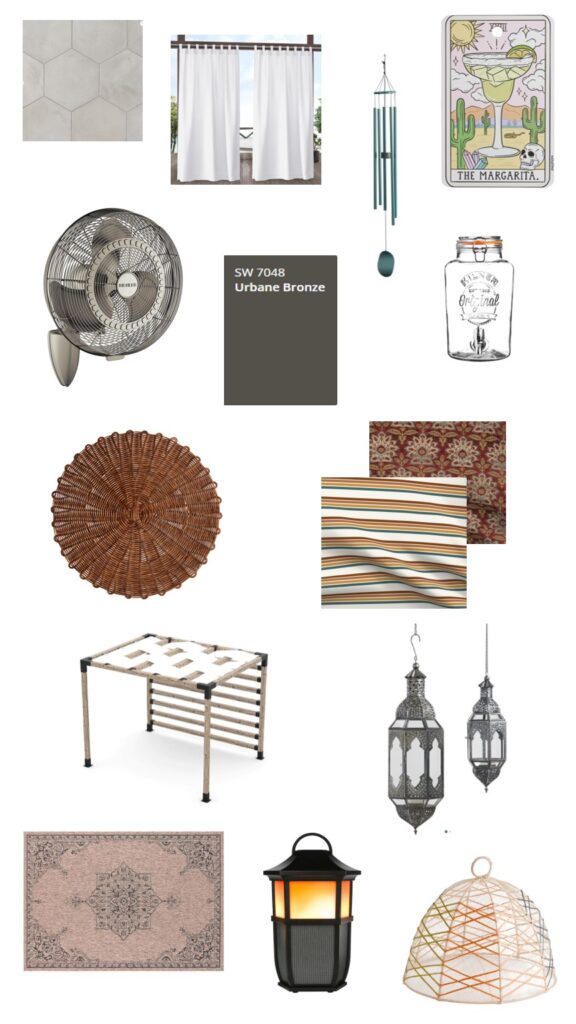 Gray Hexagon Tile | Outdoor Curtains | Green Metal Wind Chimes | Cutting Board | Kichler Pola Wall Mount Fan | Sherwin Williams Urbane Bronze | Drink Dispenser | Placemats | Damask Ikat Fabric | Retro Halloween Stripes Fabric | Toja Grid DIY Pergola Kit | Zinc Lanterns | Outdoor Rug | Outdoor Wireless Speaker | Outdoor Food Cover |