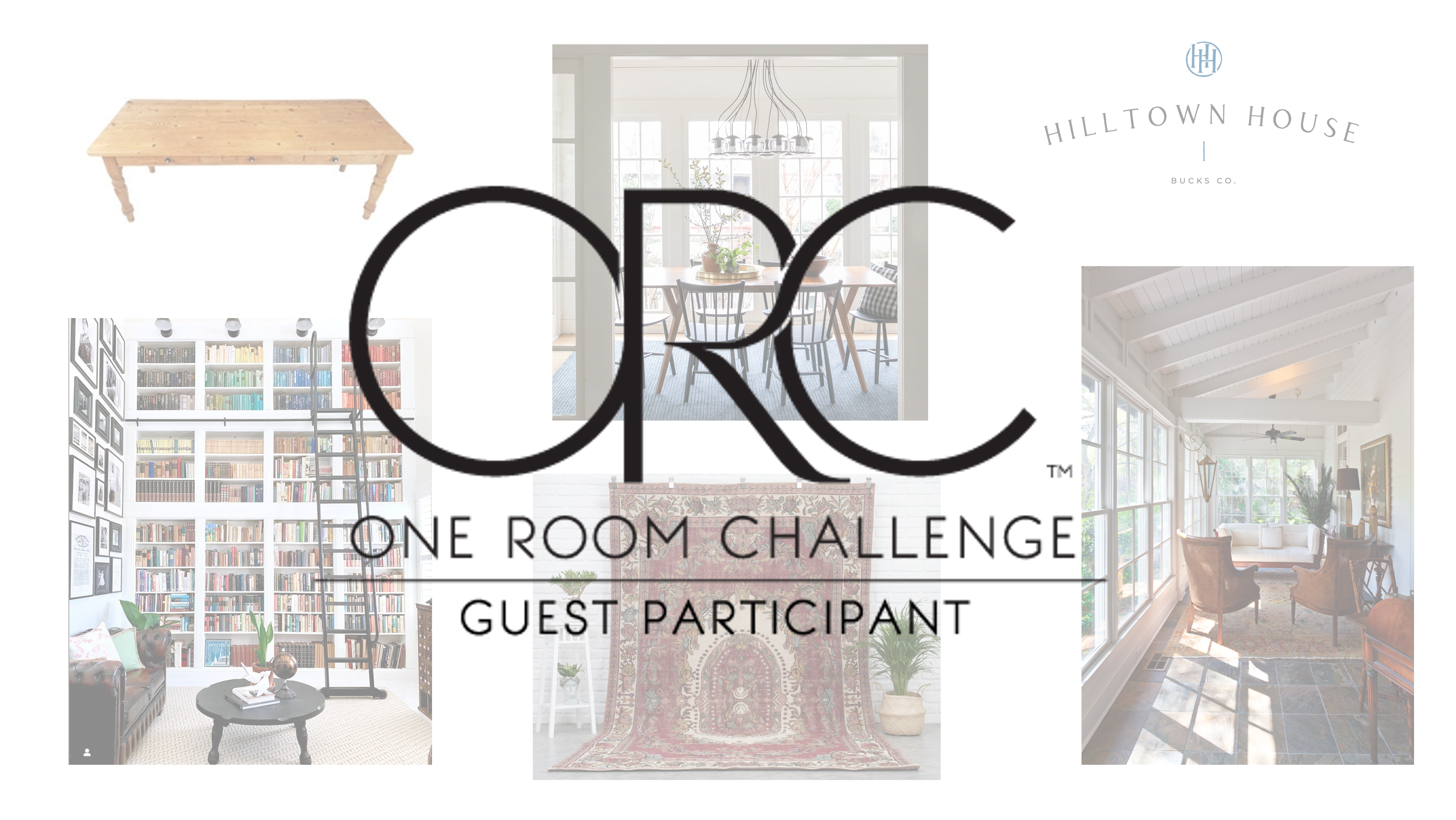 The temps are rising, the days are getting longer (for the most part because we're gonna pretend like those little NE snow squalls didn't happen last week K?) and around here that means it's time once again for the One Room Challenge. You wanna know what I'm most excited about this time around? I'm finally working on a room that's on the fist floor of my house again! After 4 back to back ORC's on the 2nd floor my legs are finally going to get a small break – WooHoo!! But before we get to all of that let me introduce myself to anyone new to Hilltown House………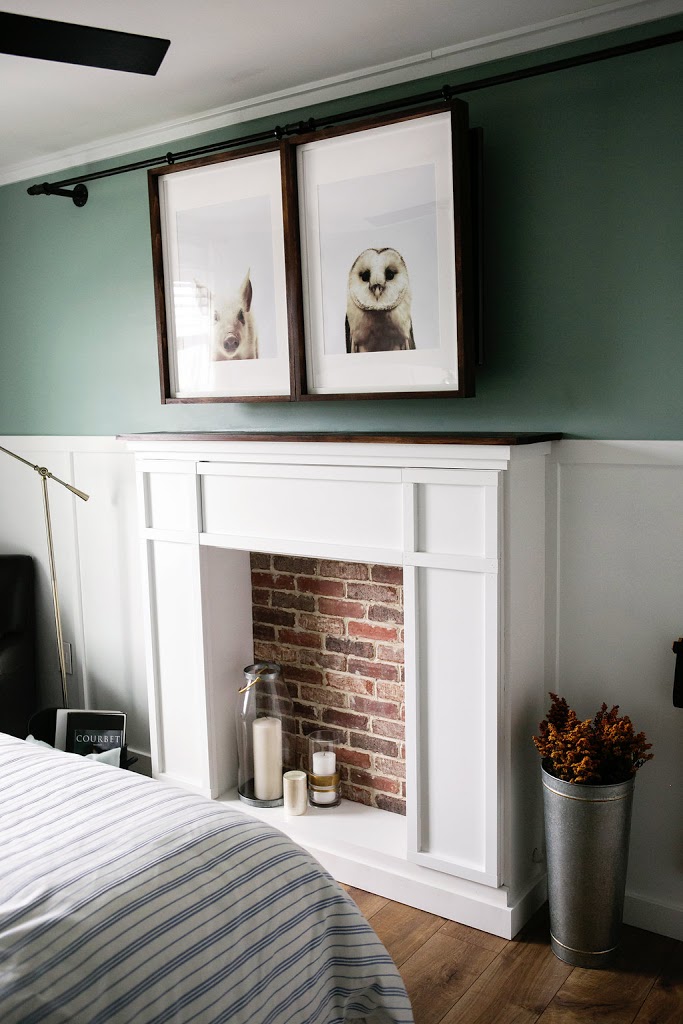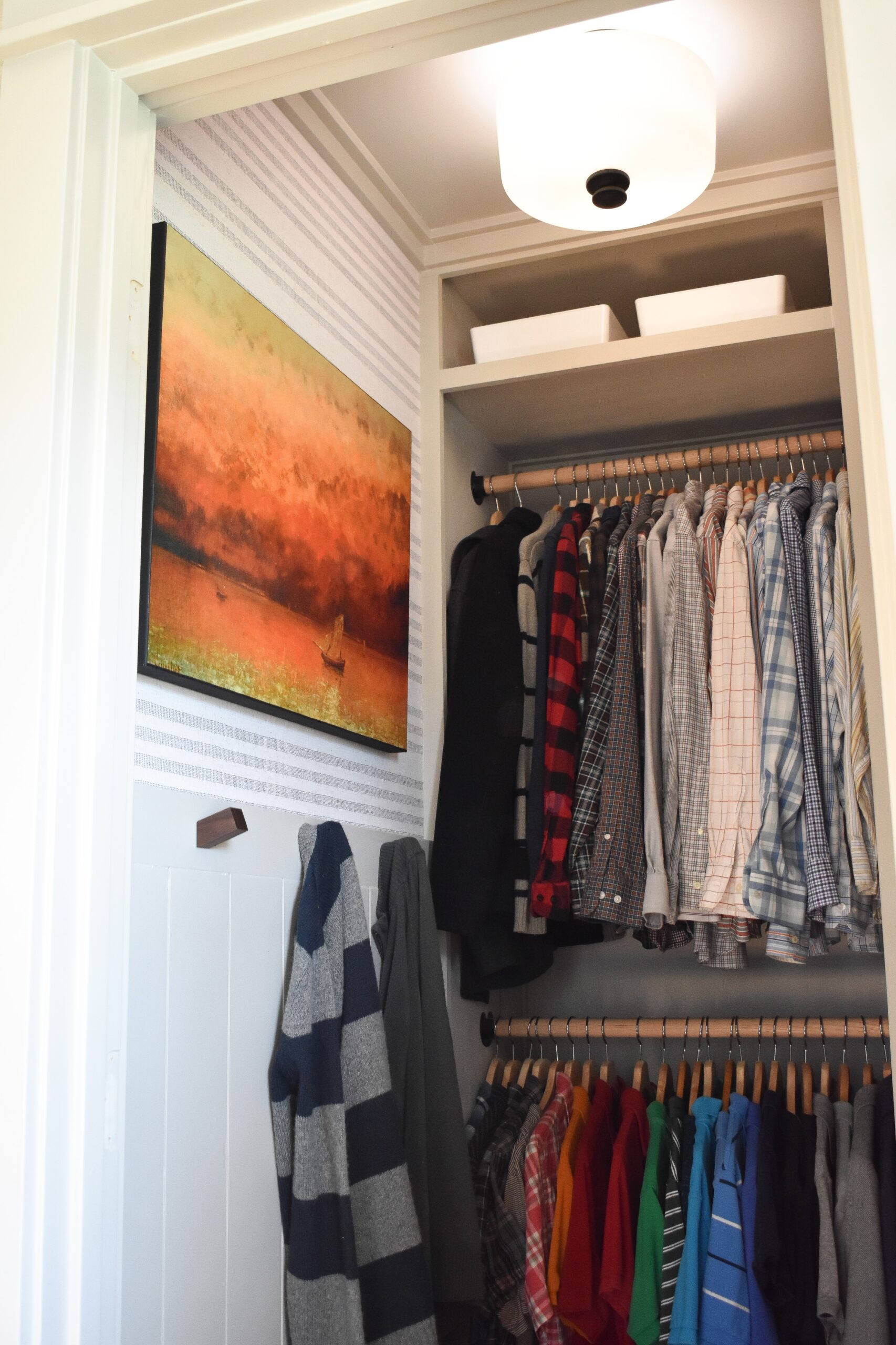 I started Hilltown House just about 8 years ago and I quickly fell fully into my passion for DIY and design as I've worked my way through our beautiful, but boring, builder grade home. This is my 8th time (yikes!) participating in the One Room Challenge — in year's past I've tackled the Guest Bedroom, the Front Room and Dining Room, our foyer, staircase, and loft, my boys gameroom, and my entire en-suite including the bedroom, bathroom, and both my husband's and my walk in closet. (Be sure to visit my Home Tour page if you want see more before/afters). Over the year's I've discovered that I'm most comfortable putting my own spin on traditional design while always making sure that my spaces are liveable and don't take themselves too seriously.
Spring 2022 One Room Challenge – The Sunroom/Morning Room Makeover
First things first – I haven't decided if I want to ultimately call this room the Morning Room (which is what it's called by our builder and around our part of PA) or the SunRoom which sounds a lot less formal but maybe doesn't exactly describe the function of this room since it's where our kitchen table is? Anyway I may randomly switch back and forth between the two so head's up on that….if you have any other suggestions feel free to leave them in the comments.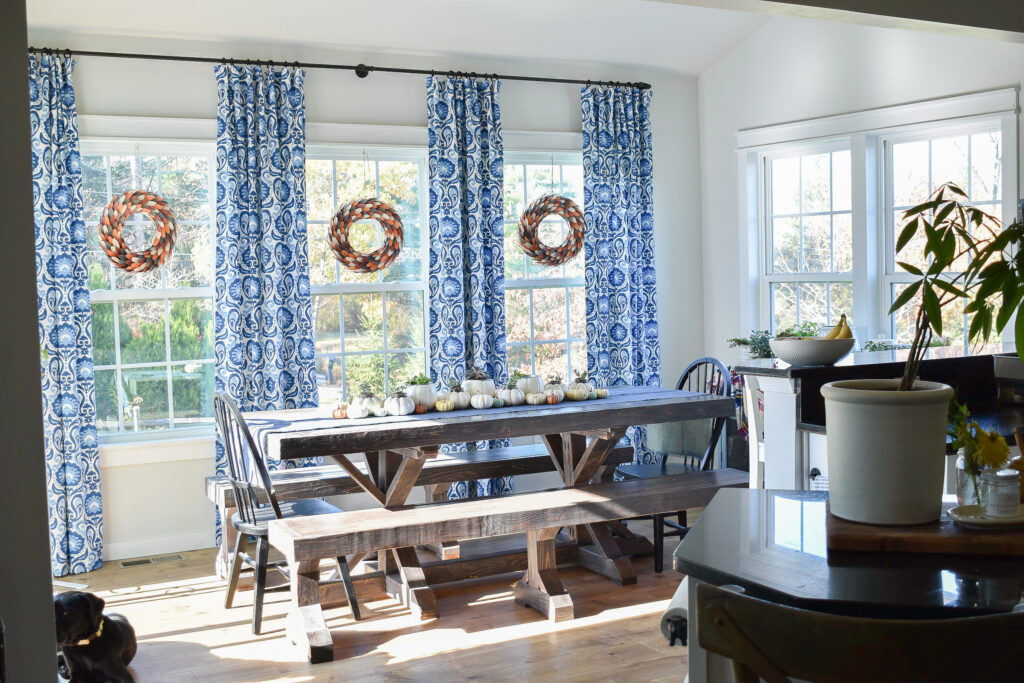 Whatever you wanna call it, this room sits off the back of our kitchen and overlooks our backyard. When we were picking out the options for our home we knew we wanted to add windows on all sides to maximize the light in our kitchen and take advantage of the fact that we have a corner lot and only have a neighbor on one side. Once the trees start to bloom in the spring we are surrounded by green and the view out of this room is unbelievably beautiful and there's nothing better than opening all of the windows and letting the breeze blow in.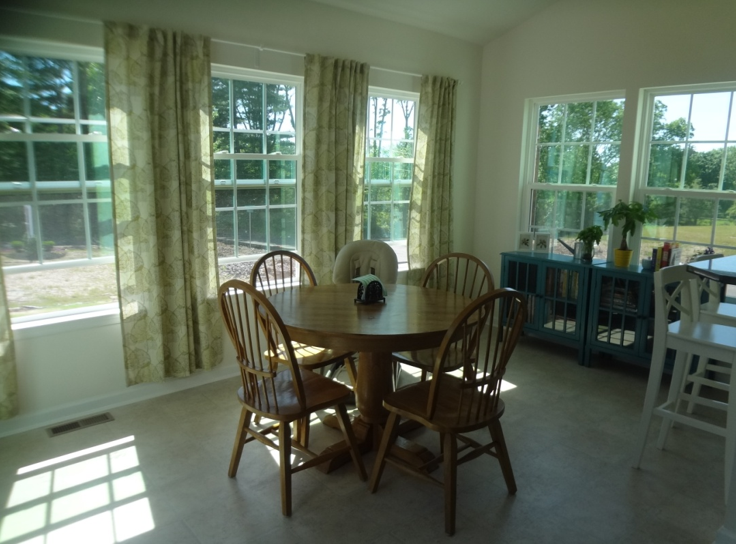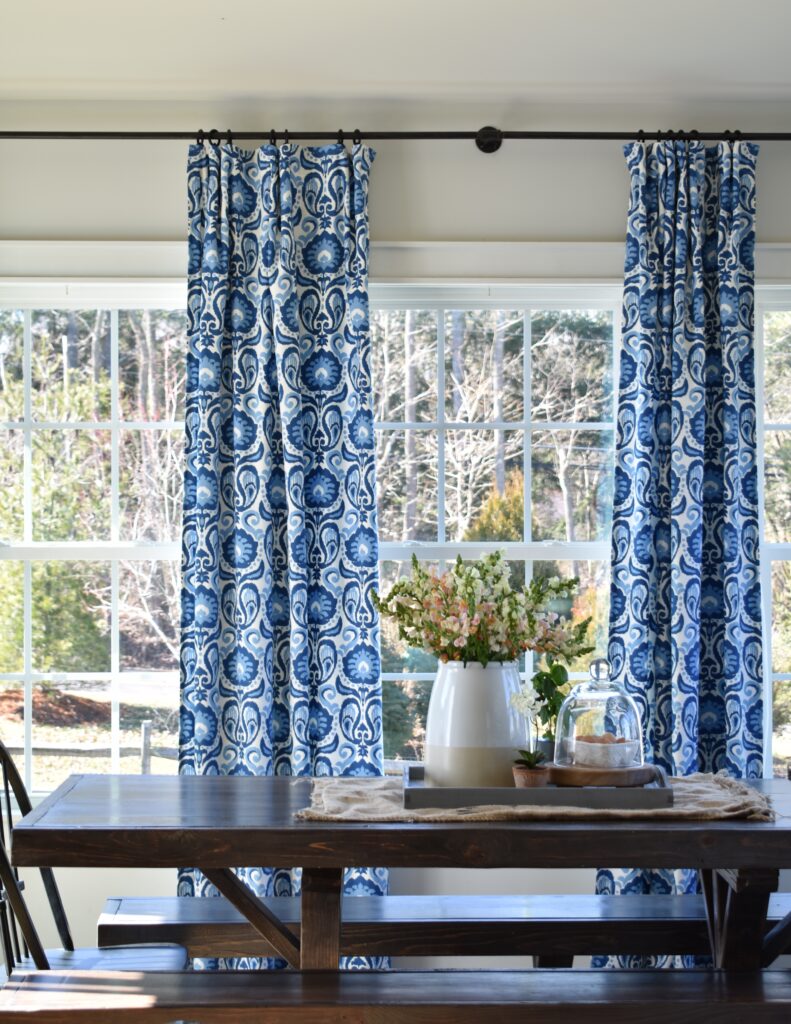 Besides the basics – flooring, window trim, curtains, a coat of paint – this room really hasn't gotten any major attention since we moved in. Up until recently it was home to the first major build I ever took on – our kitchen table, which served us so well over the last few years but was also super wonky if you looked at it up close and besides that I was just ready for a change. Earlier this year I found the perfect vintage table on Charish so I grabbed it, but other than that this room has pretty much looked the same for the last 5 years.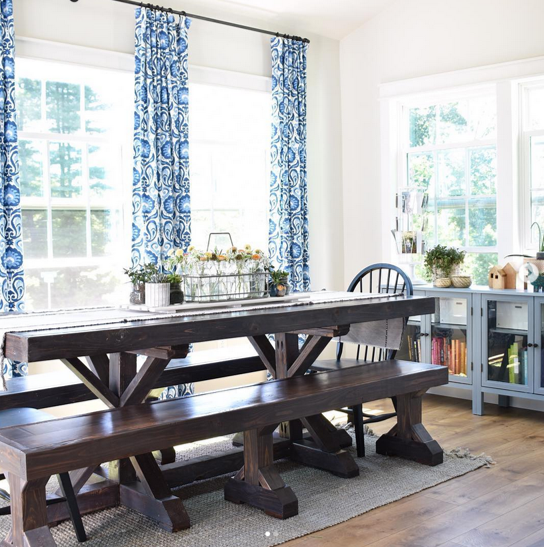 It's a relatively narrow space so besides the table there's not much space for furniture, but with the vaulted ceiling and high walls there is plenty of vertical space to play with and I plan to take full advantage of it. There's also one early obstacle that I need to touble-shoot, which is the breakfast bar/pony wall that divides this space from the kitchen. A neighbor of mine actually flattened out the countertop in their kitchen to make it all one level – which looks great and is an excellent option for anyone facing the same issue — but I have something else planned that, if it works, solve two problems at once.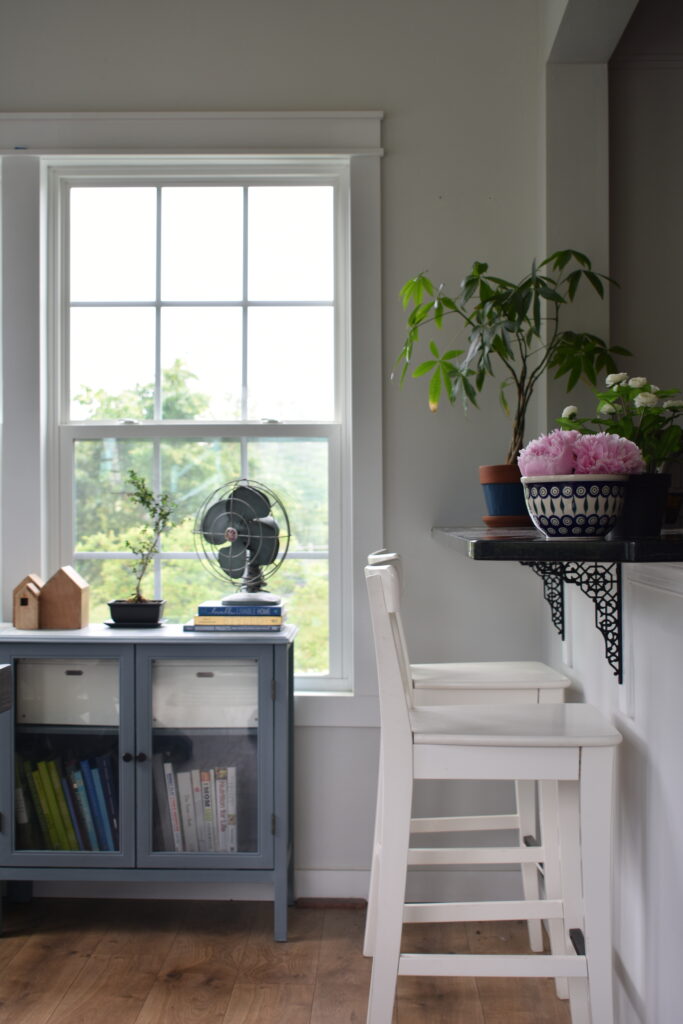 Next time I'll take you through my design plans in more detail including my mock-up for the space but for now here's a little peak of what's in store for the next 8 weeks: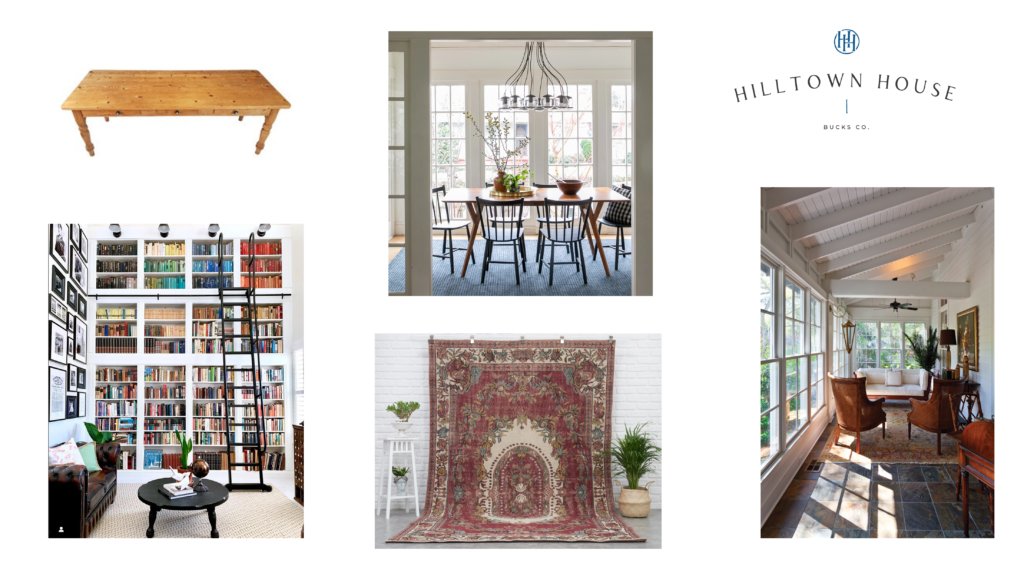 Vintage kitchen table from Charish and new chairs to replace the benches
Built in Bookcase inspired by House of Esperanza
Statement Chandeliers and white brick walls (photo inspo from Schoolhouse Electric)
Pops of color from a vintage rug and new drapery surrounding the room
Shiplap and beams to highlight the vaulted ceiling (Photo inspo from Mobile Bay)
I'm also incredibly excited to be partnering with Calico Corners for this One Room Challenge and have the opportunity to finish this space with some of their gorgeous fabric and a surprise pop of wallpaper, as well as Minted to add my favorite finishing touch for any space — artwork! Stay tuned to see more of each over the coming work.

And don't forget to check out what all the other featured and guest participants are up to each week on the One Room Challenge blog!