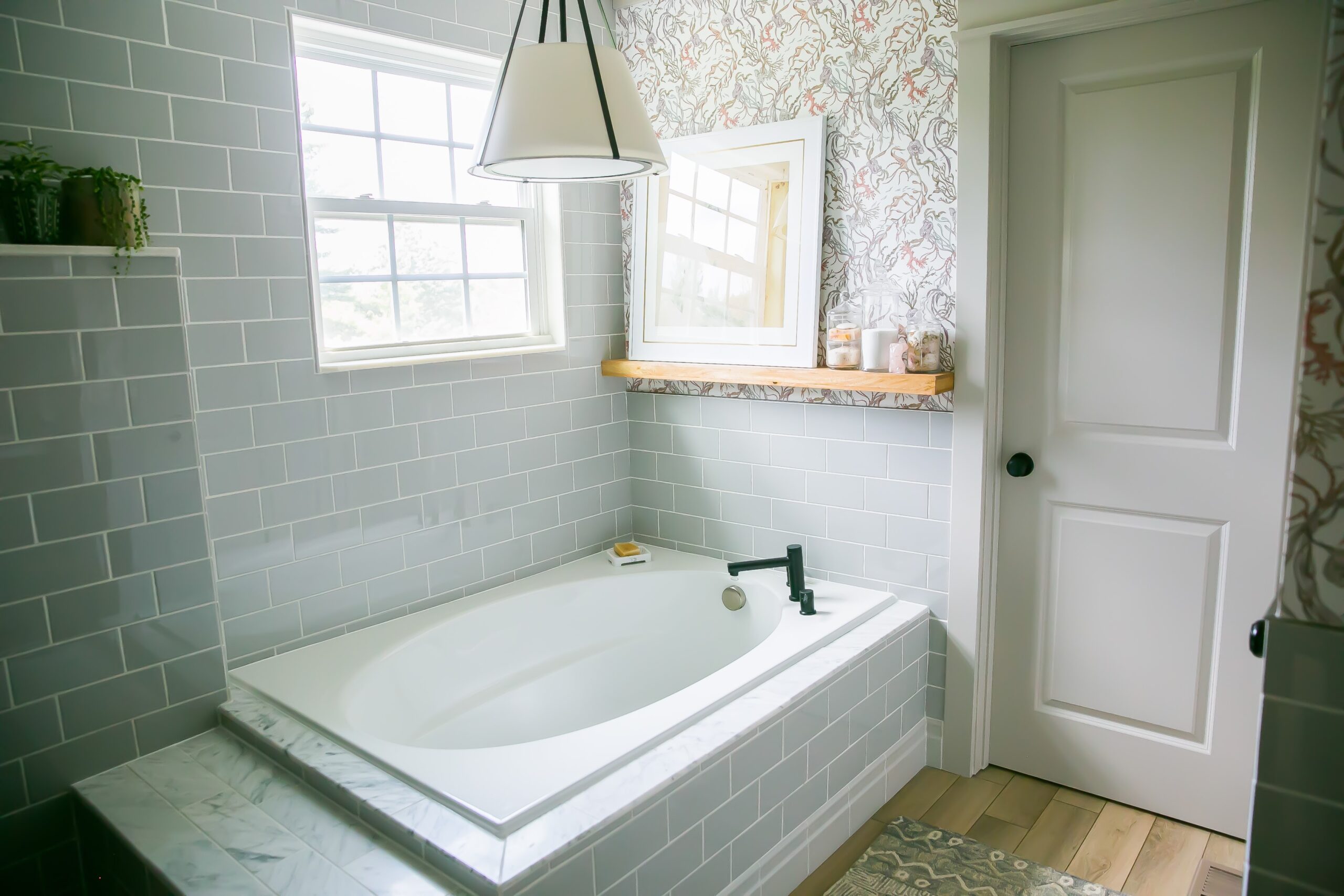 Wow it feels pretty surreal to write the title of this post! I mentioned in week one that this One Room Challenge included a lot of firsts for me…..but one first that I didn't mention was that this was the first time that I was working on a room that started it's makeover waaaayyyyyyy before the ORC start date. After 6 months of living with plumbing equipment strewn throughout my bedroom, sharing one shower with 3 boys, and constantly worrying that there was no way I was gonna hit this deadline in time I cannot tell you how amazing it feels to be able to say that I did it…..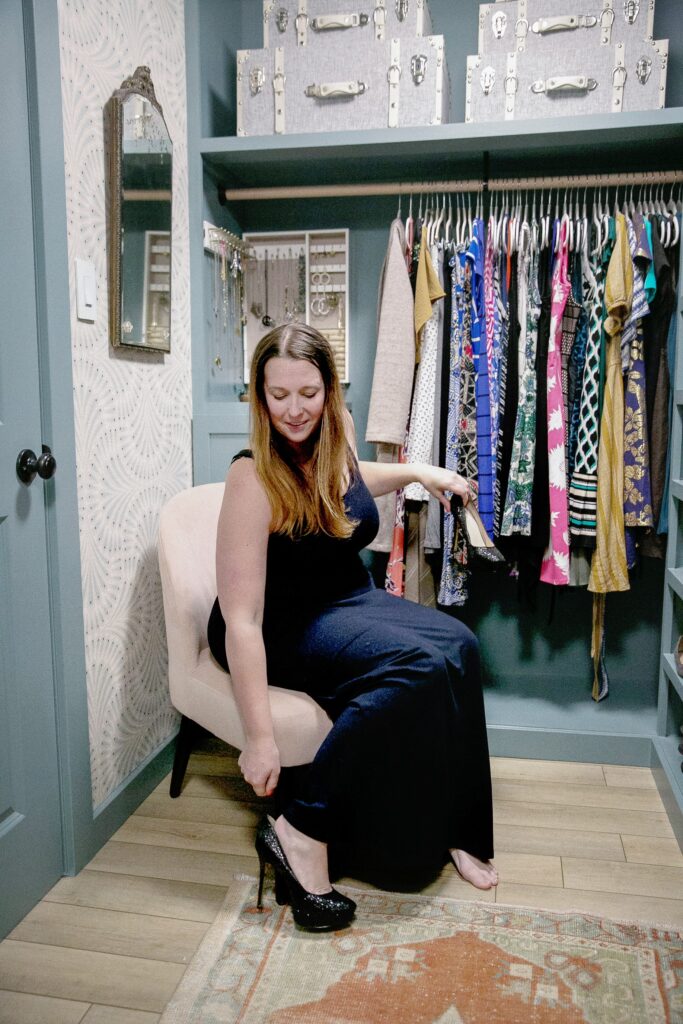 Week 1 / Week 2 / Week 3 / Week 4 / Week 5 / Week 6 / Week 7 / Week 8
(Some of the links included in this post are affiliate links, meaning, at no additional cost to you, I will earn a commission if you click through and make a purchase)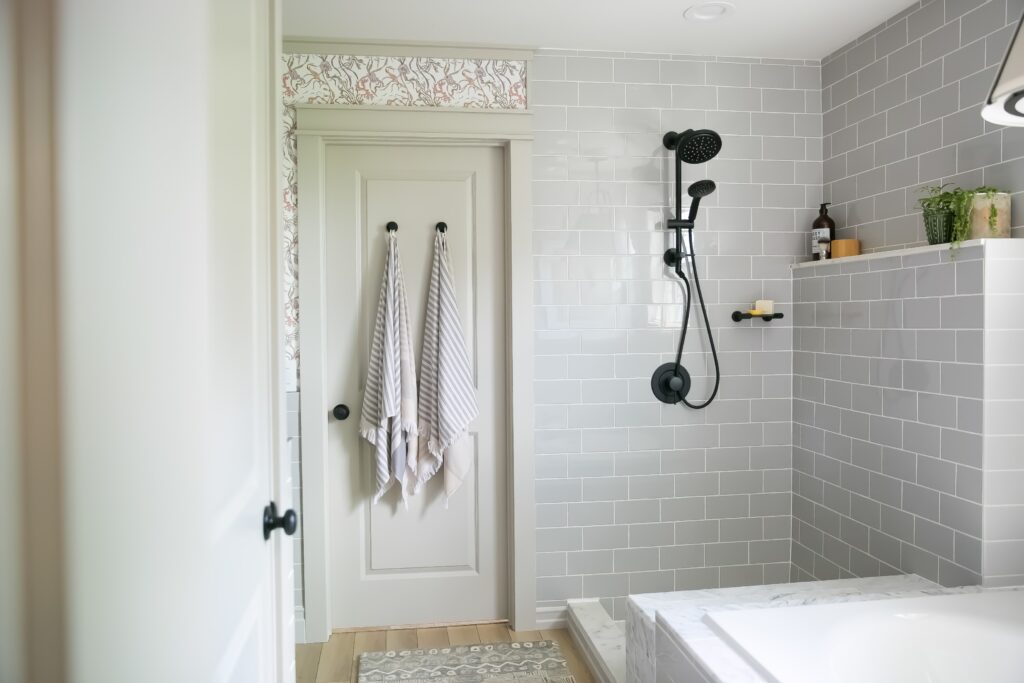 Well almost did it…..can you spot what's missing??? It's the shower glass. I knew when the shower wasn't done at the end of week one that there was a really good possibility that production delays would cause that piece to not make it in time, and with no delivery date in site right now I decided to just go forward with the reveal because 1) honestly it's easier to get pictures without the glass anyway and 2) I think if you just pretend that it was suppose to be an open concept shower from the start you won't even miss it, right? Once it's installed I'll go back and update this post but just wanted to be sure we were all on the same page to start.
---
UPDATE: About 2 weeks after my reveal post our shower glass was installed. In retrospect I am actually really glad that we were able to photographer it first because it would have been difficult to get photos of some of the other details in the room after it was installed, but I am incredibly happy to take a shower in here finally.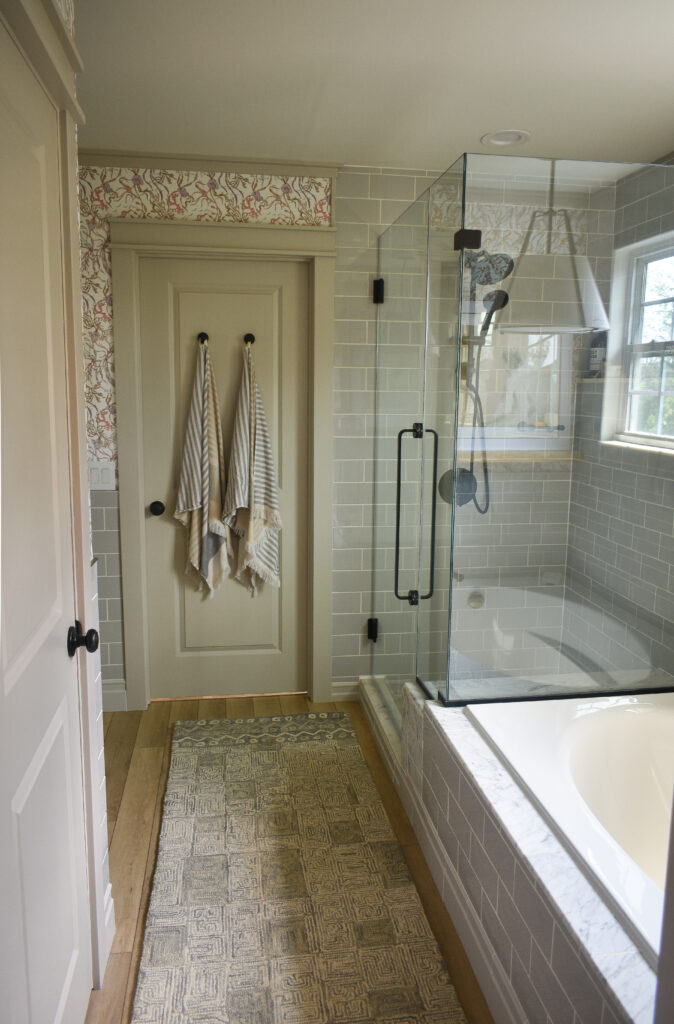 We went with a local company (L&R Installations – they service PA, NJ, and Delaware) and they were a real pleasure to work with especially after the other issues we faced. At the first consult they were able to tell me on the spot what my options were and determine that we would be able to have a single pane of glass for the door and determine which direction we could hang my Speakman Vector 24in. Back-to-Back Towel Bar (I wanted horizontal at first but I think I was wrong because the vertical placement looks amazing).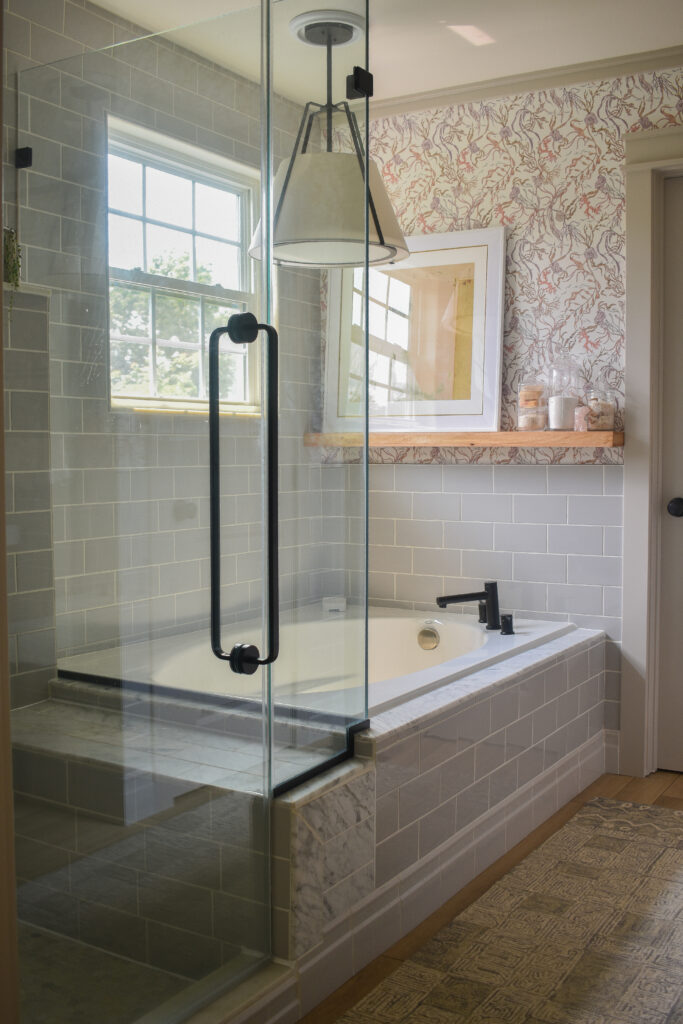 We also upgraded to the Shower Guard protection that they offered for the glass because we have hard water in our area, and even with a water softener we still have to be cautious of build up on our surfaces. Time will tell if it's worth it but so far it looks as clear as the day it was installed.
---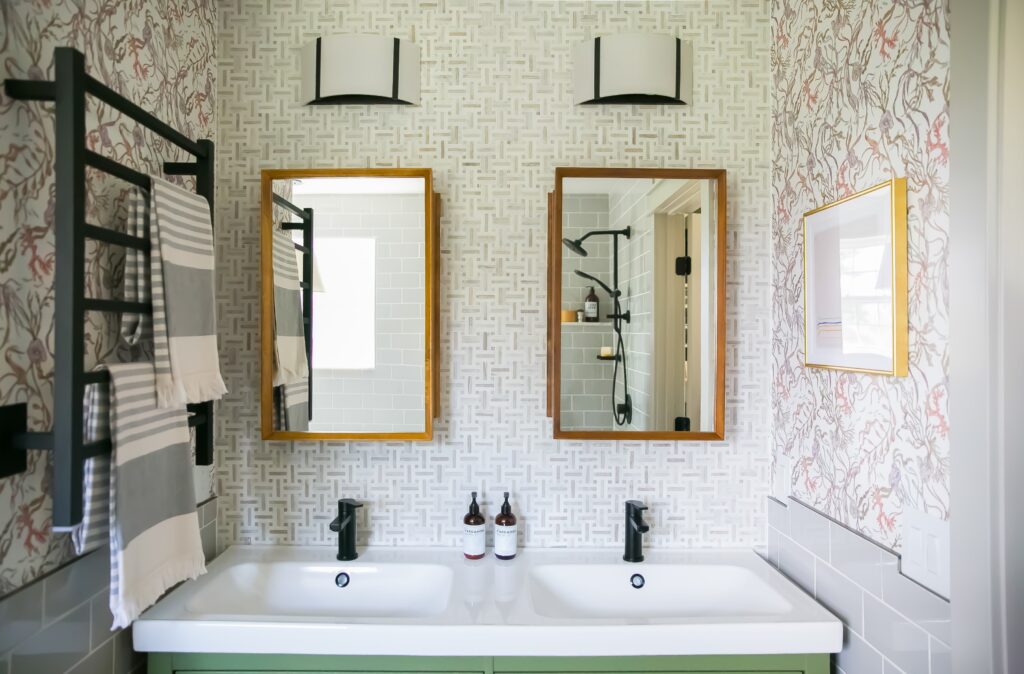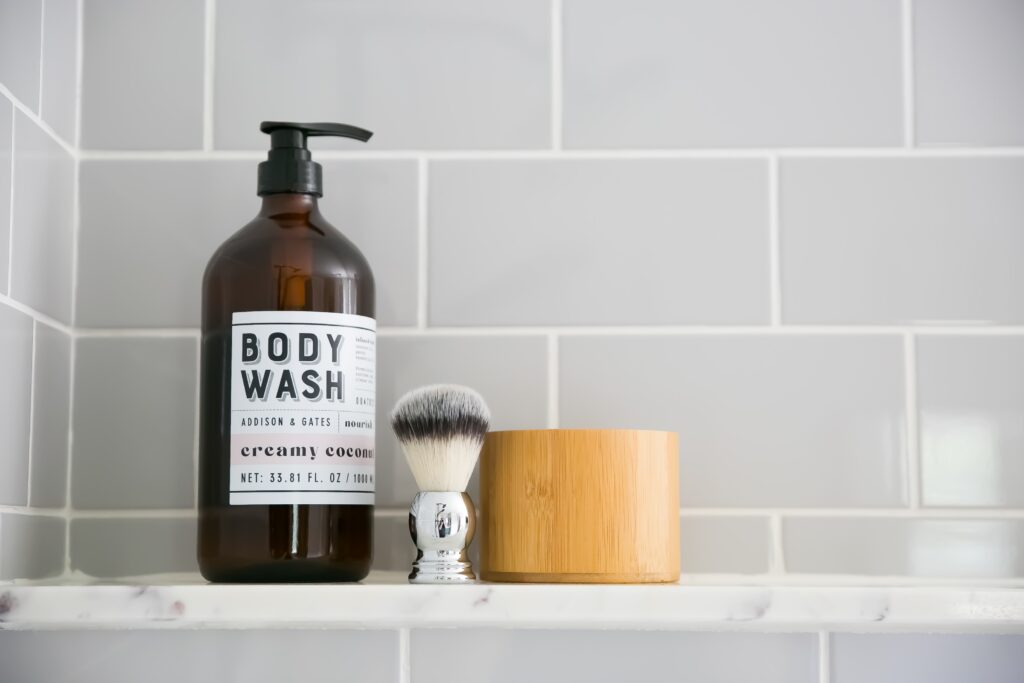 After rambling on for the last seven weeks I'd rather let the pictures do most of the talking, but there's just a few last things I feel are important to point out to wrap up this project. As much as I love all the pretty finishes that went into these spaces (and don't get me wrong – I LOVE them), every single decision 100% started with the functionality….especially in the bathroom where storage and floor space was lacking. Adding the matching medicine cabinets, the long shelf in the shower, and the secret cabinet behind the toilet have already transformed how we use this space and keep it organized and I think it's only going to get better as we use it more.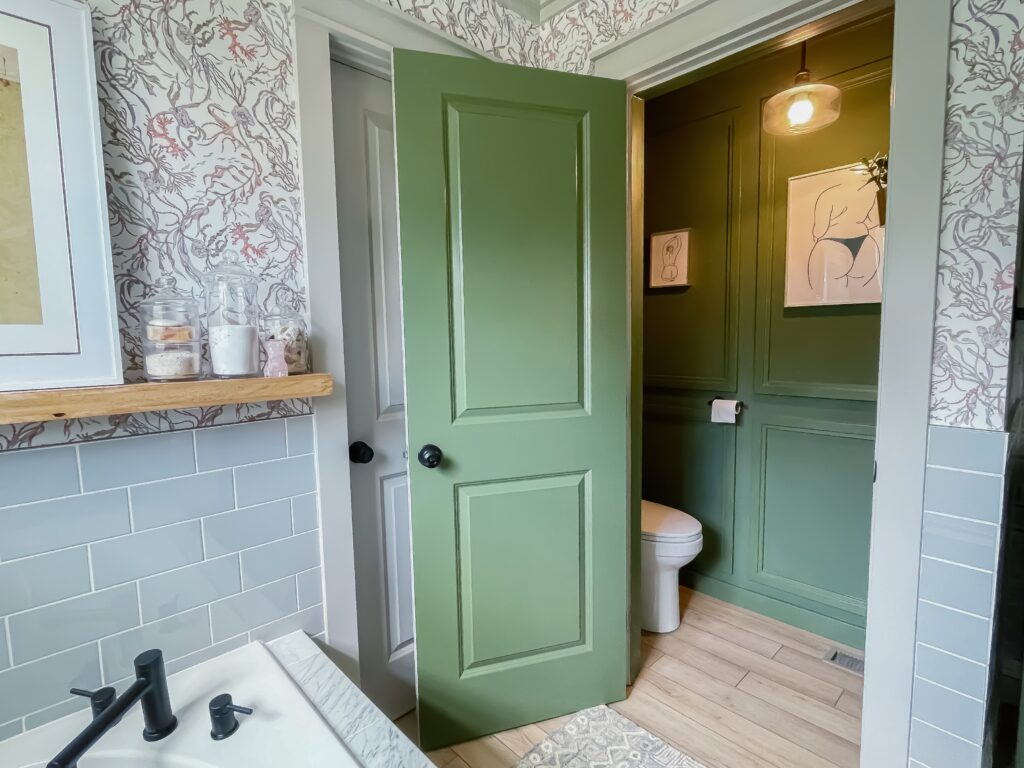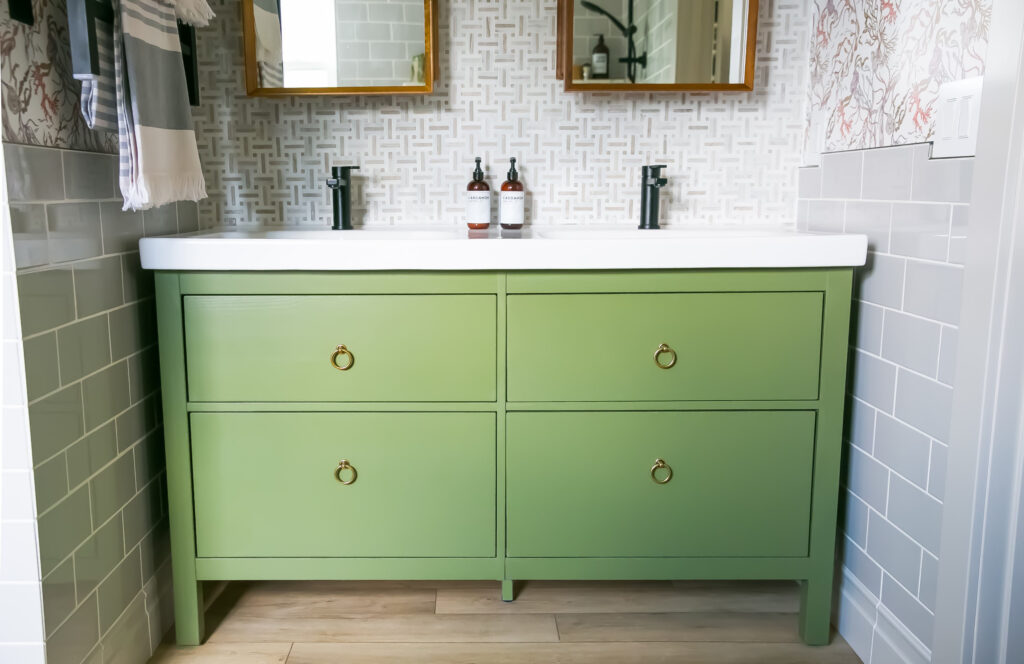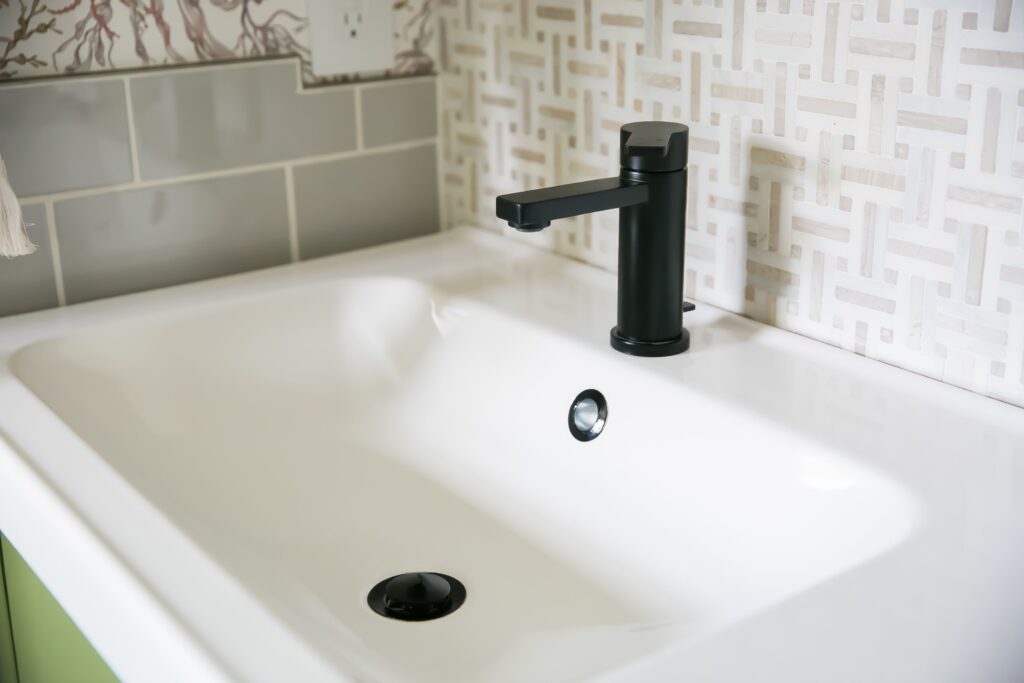 Another big change to the way the bathroom functions is the new plumbing and fixtures. Even though we used a builder to build this home, there always seemed to be something off about the plumbing and drainage in this bathroom….which probably lead to us having to tear everything out in the first place. I can't speak to the shower yet but I can already tell that my new Speakman Glenwynn T-5001 Skirted One Piece Toilet and Speakman Vector Single Lever faucets are working much better than what we used to have in here, and they look pretty great too.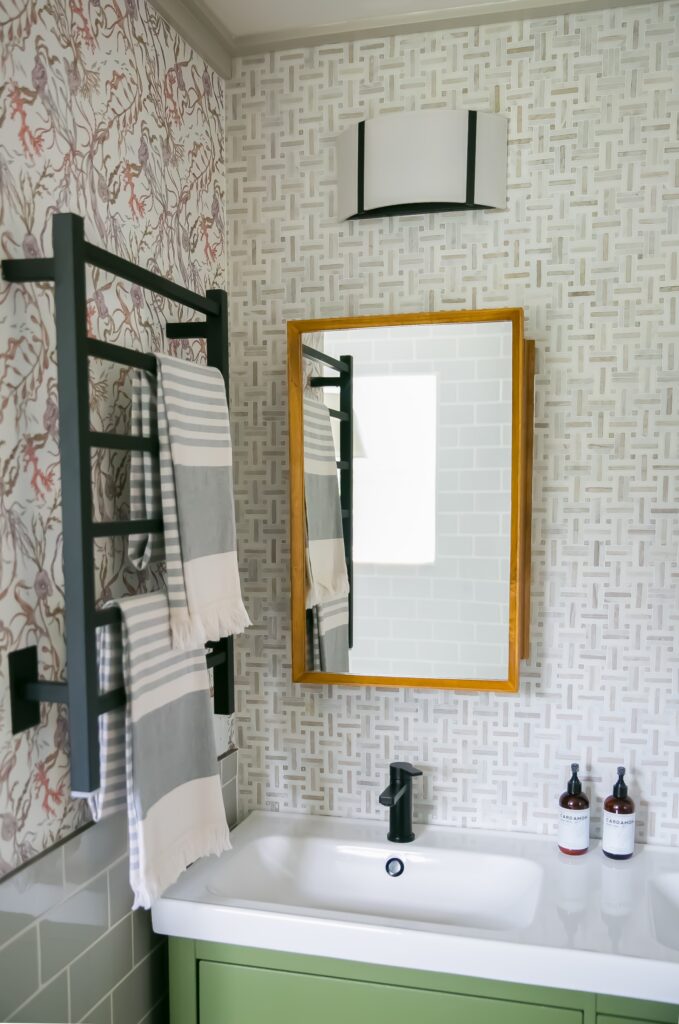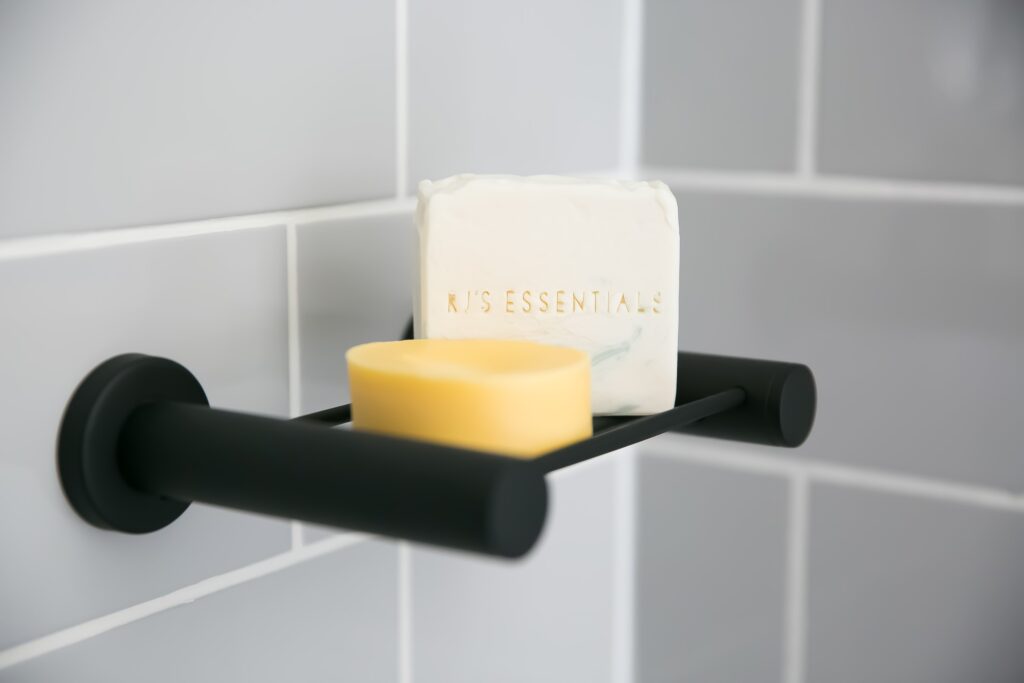 My attraction to matte black metal accents only grows as I grow my design style, and Bathroom Butler really helped me pull the final details in this room together. To match my Cubic 6 Bar 21″ Heated Towel RackHeated Towel Warmer (which btw. how awesome does it look against this wallpaper??) they provided some sleek Robe Hooks, Toilet Paper Holder, and a truly beautiful Soap Rack for the shower. I was mildly terrified to install it because drilling through tile was something I had never done before, but some of that terror was lessened because of the super simple templates and hardware that Bathroom Butler provides to install all of their products.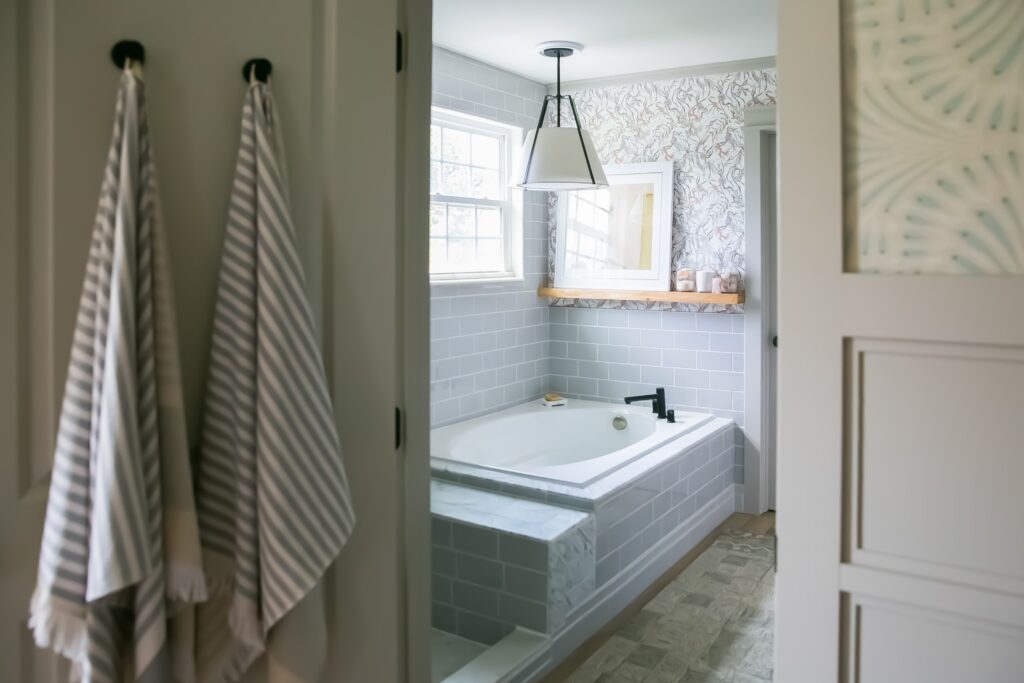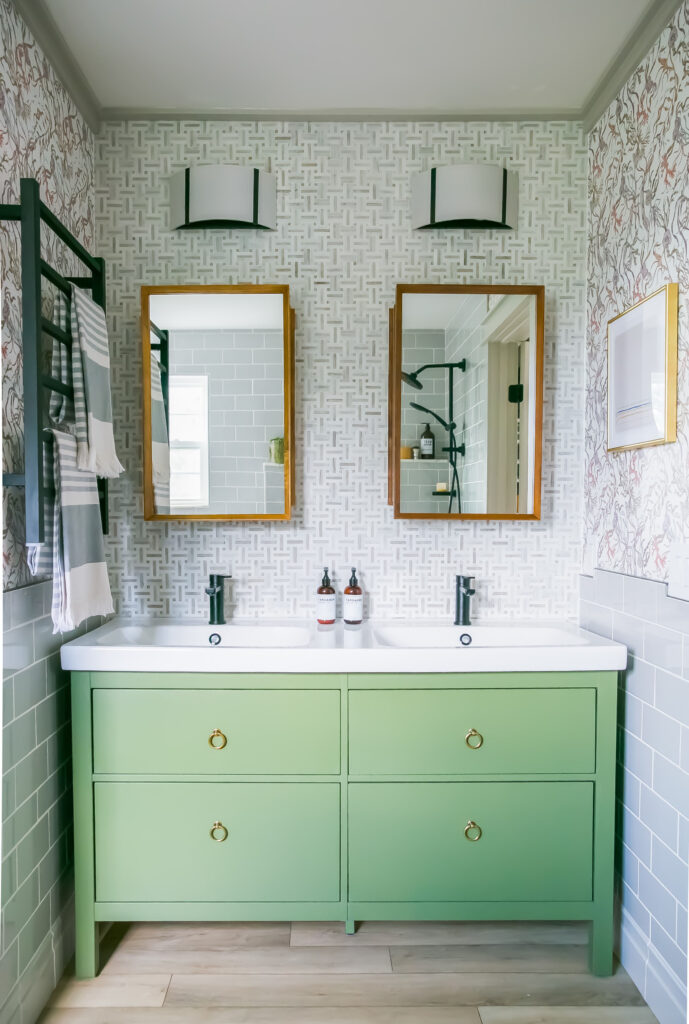 Speaking of big changes, I have to point out again what an amazing difference the Crystorama lighting has made in here, especially in the evening (check out my Week Seven post to read more about these lighting choices). The Fulton 3 Light Black Pendant and Fulton 2 Light Black Wall Mounts give off the perfect warm/soft glow and I just want to bathe it in each night along with in my new tub.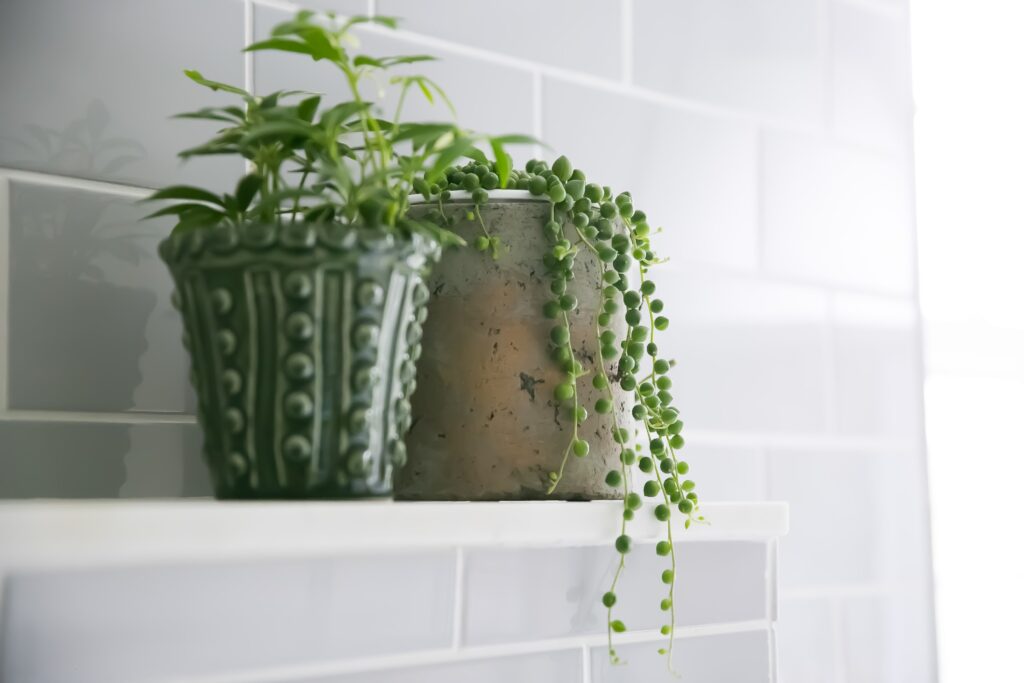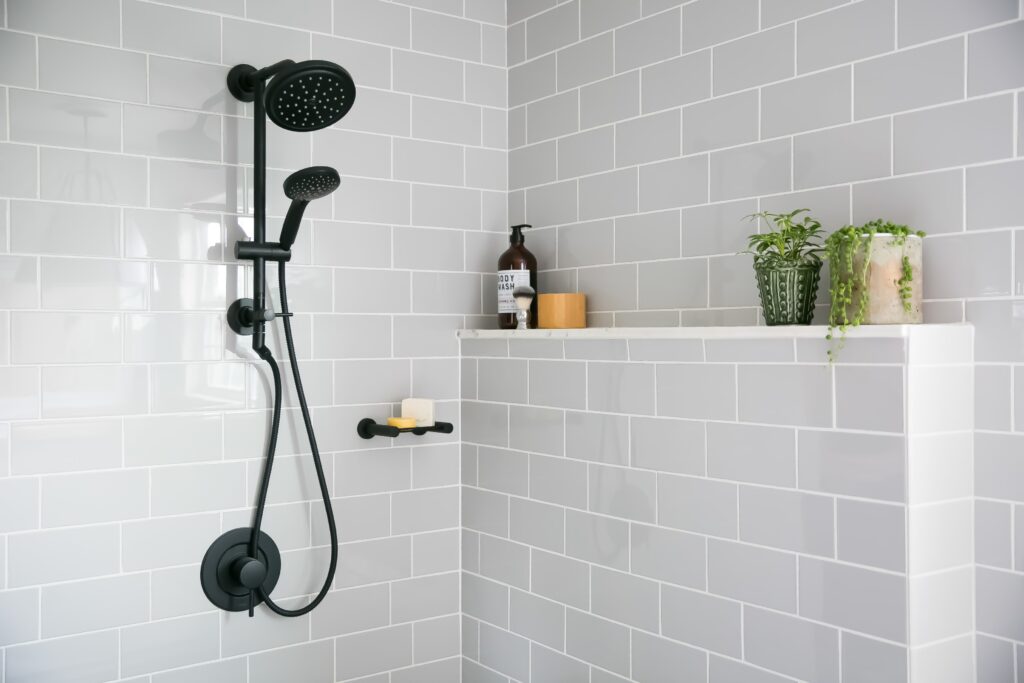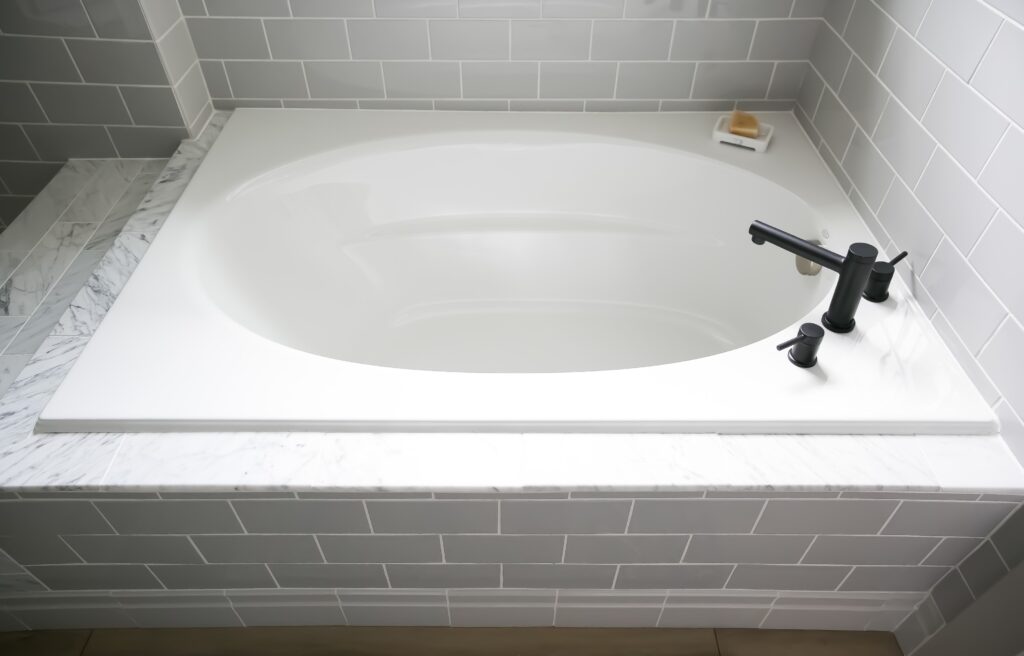 Moving away from the bathroom for a minute, can we talk about my new closet? I cannot even remember what it felt like to be in here before — and that's a really good thing because it was beyond a hot mess! I have been thinking about how I wanted to organize this space for years because I knew if I was going to put this much work into it then I wanted it to be a space that was going to serve me for years to come. I wanted it to be a space that would give me just enough space to grow, a space that I would want to keep organized, and a space that would inspire me to be a better consumer — something I never really gave much thought to when I was younger but something that I'm trying to be conscience of for the future. A lot of pressure to put on a closet I know but why can't a room also come with lofty goals….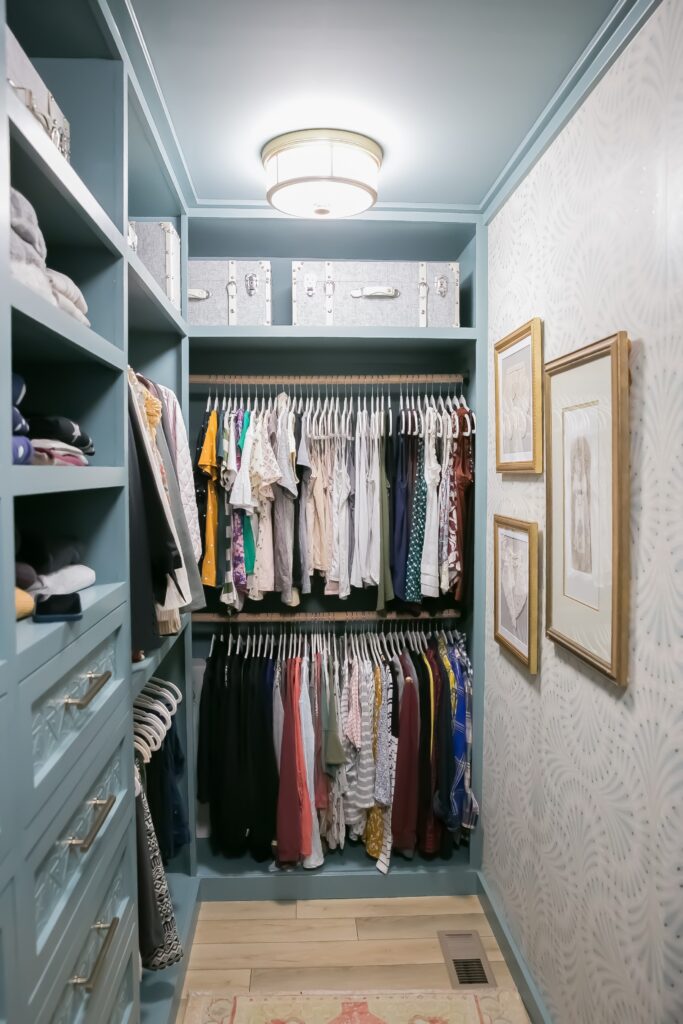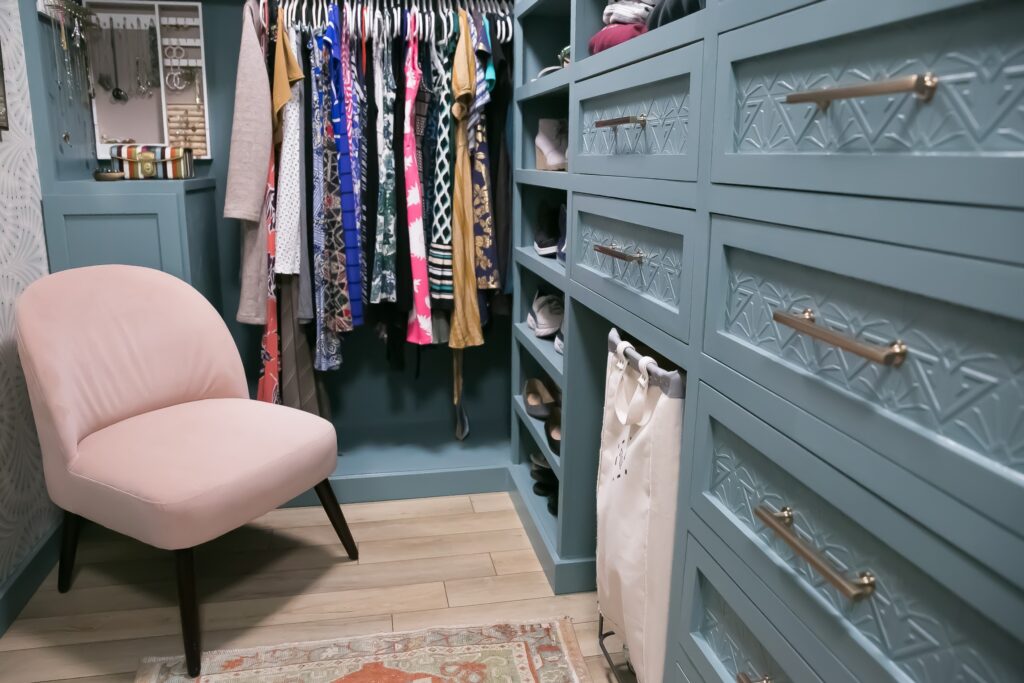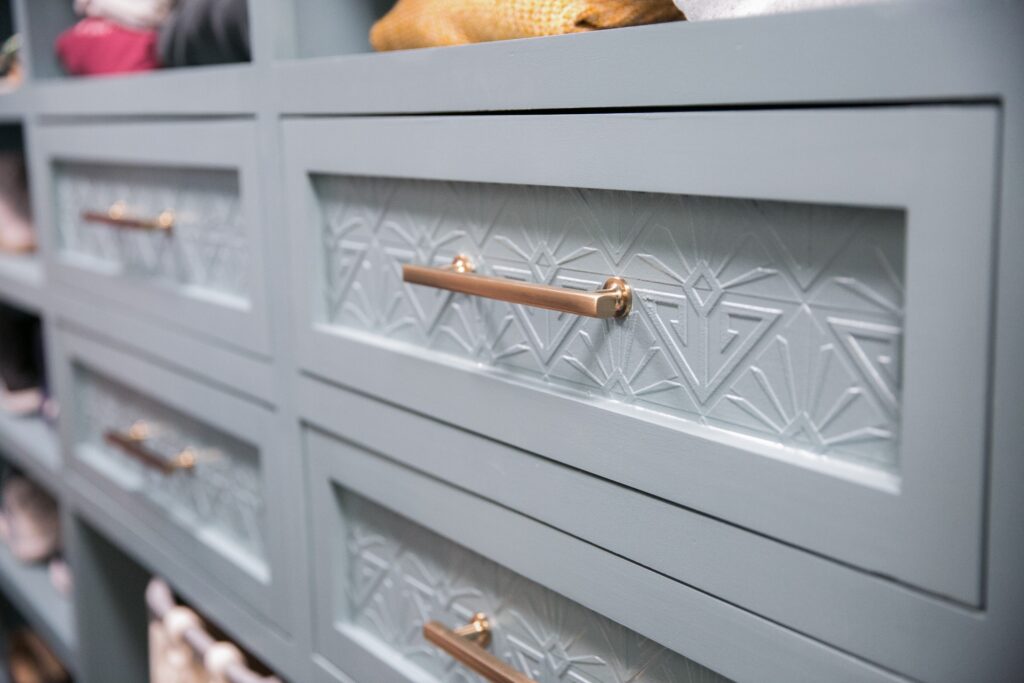 I'm so glad that I changed course and went with this darker color blue for the cabinetry. It's a fun pop of color but also feels super sophisticated paired with the wallpaper and gold accents. Speaking of fun yet sophisticated, I'm pretty excited about the solution I came up for extra storage in here by the way of these faux steamer trunks I found by scouring a few different local Homegoods. Quick story — When I brought them home I kept joking that I felt like I was Rose about to board the Titanic, which actually reminded me that the reason I choose this wallpaper in the first place was because it reminded me of a bathroom at the Hotel Hershey, and the owner of the hotel Milton Hershey was actually suppose to be aboard the Titanic but had to skip the trip because his wife was ill. Now whenever I'm in there I kinda feel like I'm in a fancy lady from the 1930's…I just need a feather dressing robe to complete the look.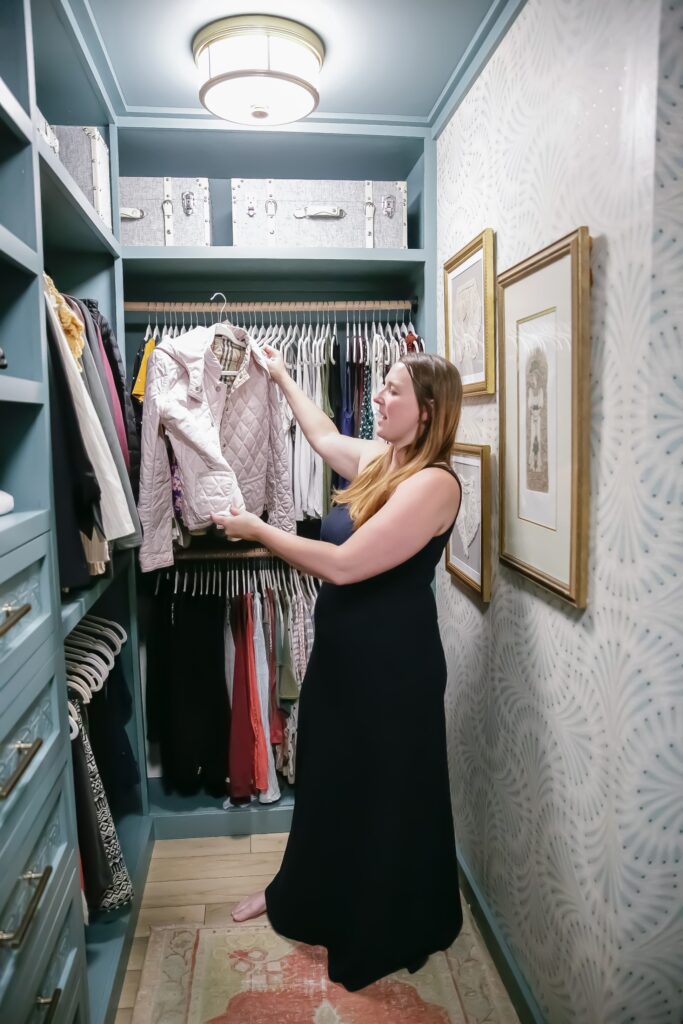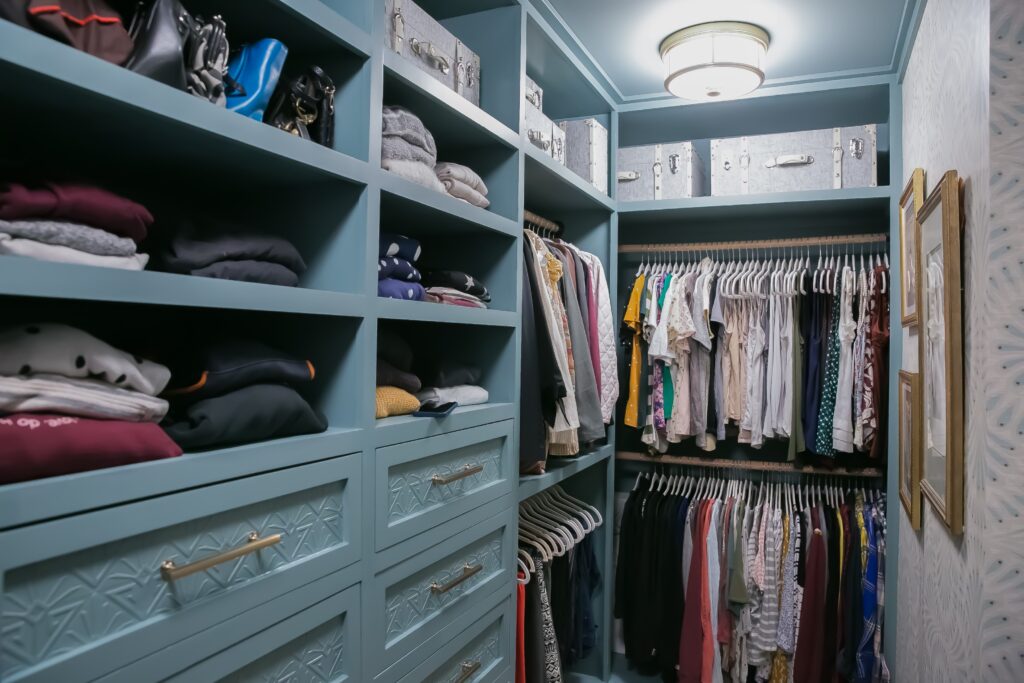 From the start I wanted a lot of artwork in all three of these spaces and started to collect some amazing pieces, but I totally dropped the ball on getting any of it framed. Lucky for me in the middle of the challenge a chance to work with the team at Frame it Easy came along and saved my butt! I was able to go online, find the styles that fit my artwork best, and get frames and mats cut to the exact sizes I needed delivered super fast. I went with some of their more modern styles in the bathroom (taking full advantage of the double mat option to add a hint of gold to my lovely Minted print). In the closet I used their Granby ornate wood style to frame a set of delicate antique Victorian lace collars and match the frame on my vintage etching. I definitely recommend checking them out if you've been looking to get some framing done but need a little help deciding on the right options.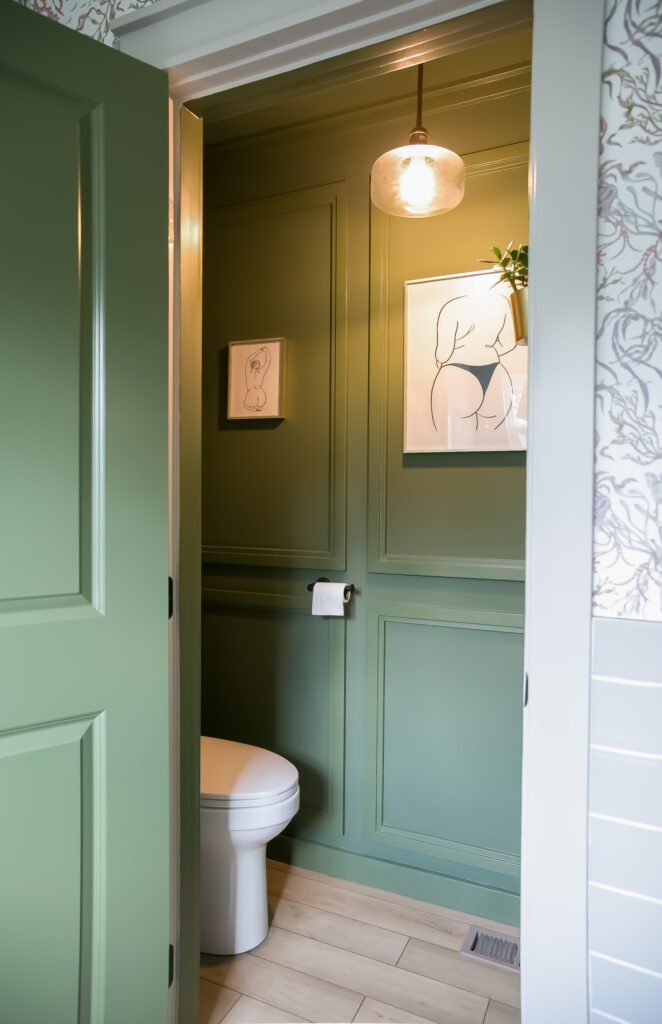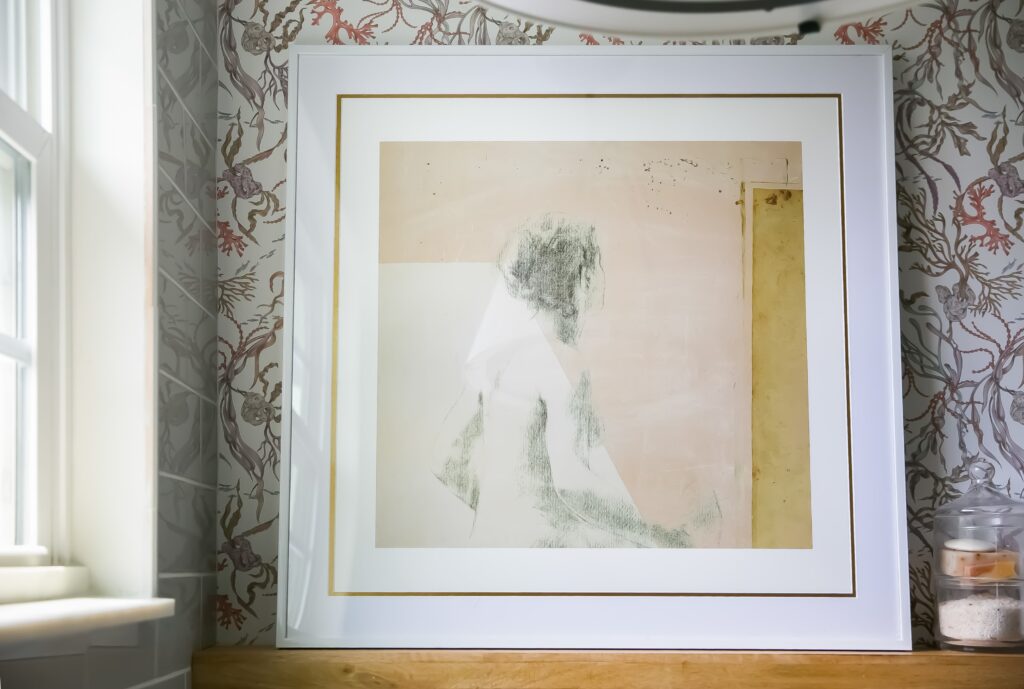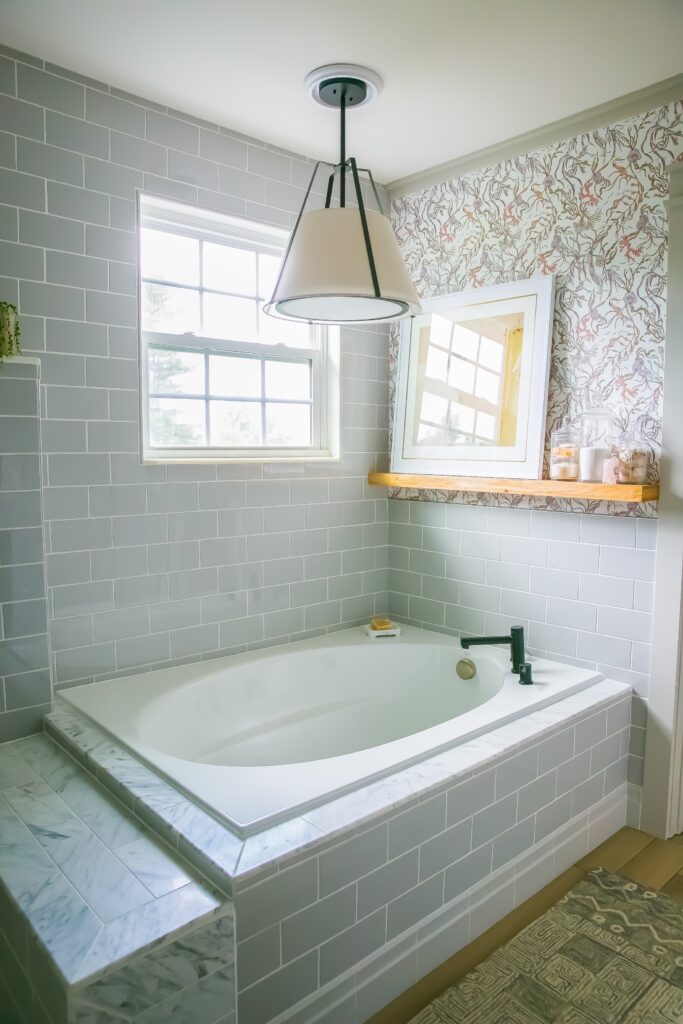 Before I wrap up what was truly a new ORC for me I want to say a thank you to all you who supported me both online and in the real world though this very long and tiring process. And as always I have to say thank you to Linda and the rest of the team at the One Room Challenge and Better Homes and Gardens for hosting this event each year. Every time I participate I learn more and push myself to be braver with my designs and my DIY's. Now……I've been looking forward to enjoying my new bathtub for months so buh bye my friends! Go check out the rest of reveals and show some love to my fellow One Room Challengers.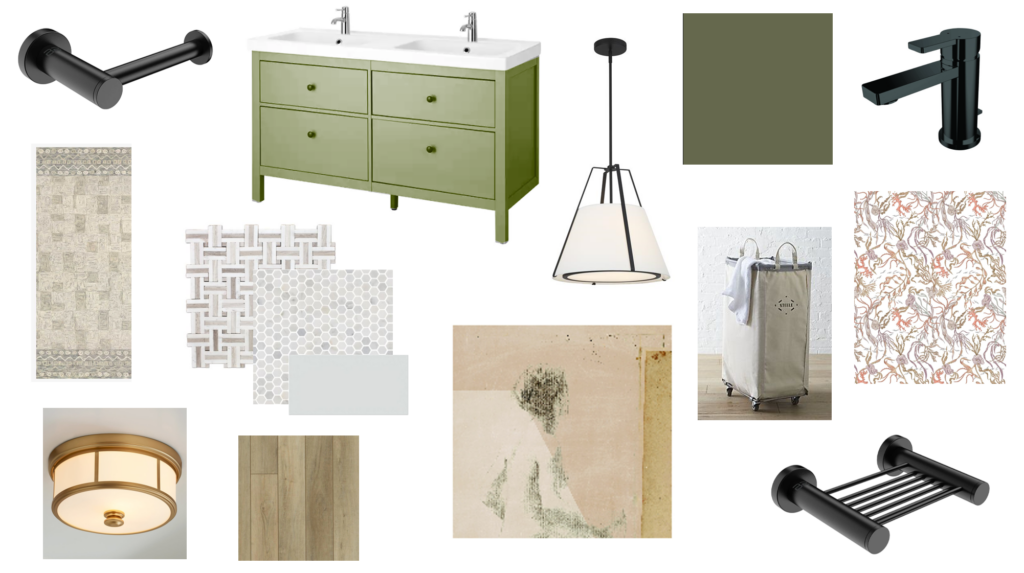 Toilet Paper Holder | Vanity | Fulton 3 Light Black Pendant | Sherwin Williams Oakmoss | Faucets
Rug | Basketweave Tile | Subway Tile | Hex Tile | Steele Laundry Basket | Atoll Wallpaper
Urban Cage Ceiling Light | Vinyl Flooring | Morning Light Print | Soap Rack
Robe Hook Single | Towels | Body Positive Line Art | Brass Ring Pulls | Art Deco wallpaper
Sherwin Williams Moody Blue | Bathroom Butler Heated Towel Warmer | Fulton 2 Light Black Wall Mounts
Spearmint Cream Stripes Print | Drawer Pulls | Glenwynn T-5001 Skirted One Piece Toilet | Medicine Cabinets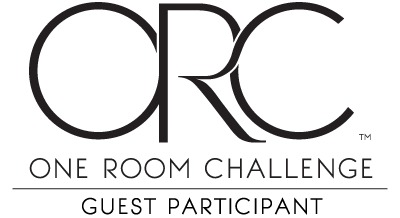 Thank you to my sponsors!
Thank you to the companies that sponsored products for me to use in this project, Cyrstorama, Speakman, Bathroom Butler, and Handy Paint Products. I'm so grateful to be able to use their beautiful products to make my vision come to life.