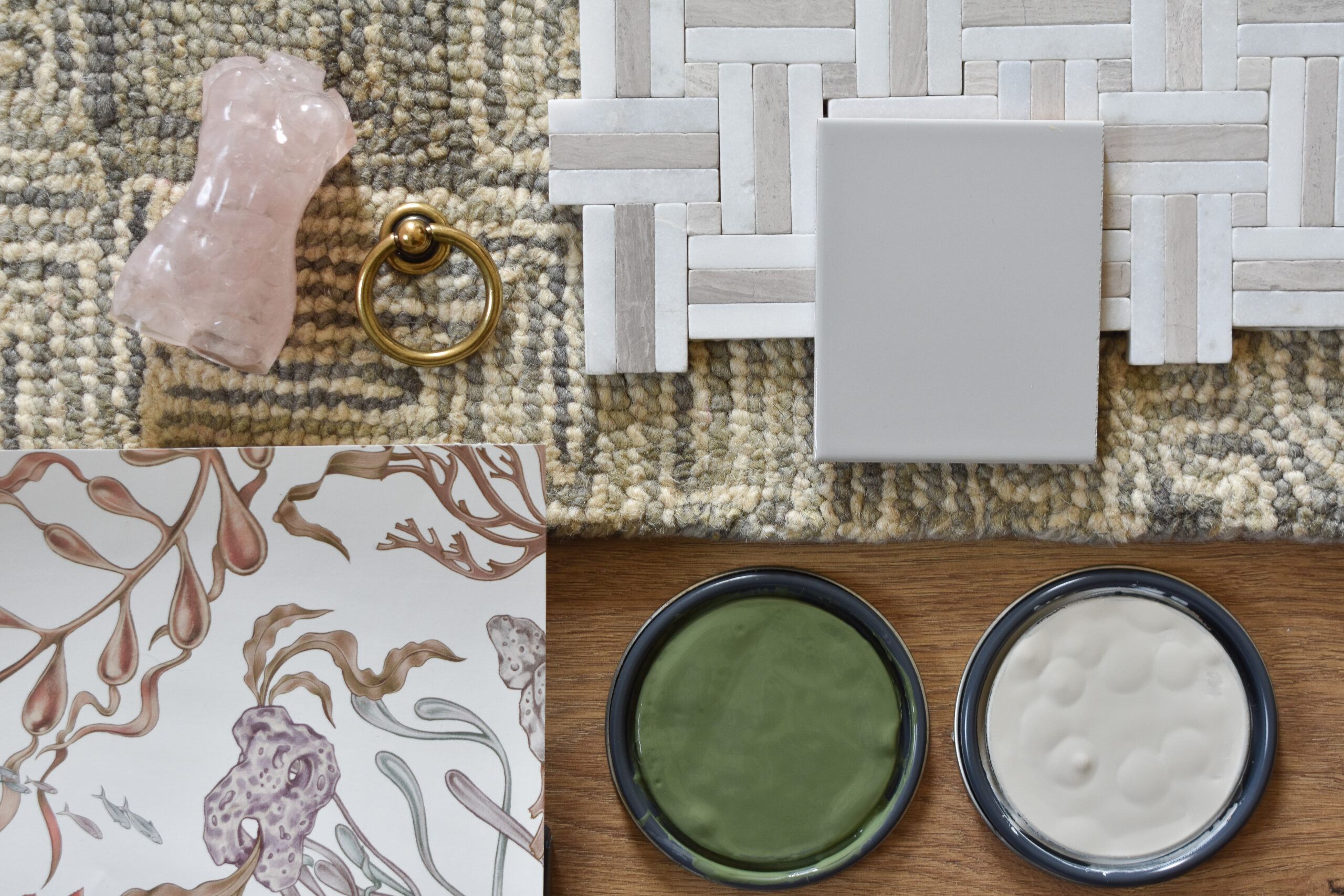 Welcome to week 2 of the One Room Challenge. I always hit the ground running full speed as soon as the gates open because I need every second I can get to finish on time, and one thing that helps me be able to do that is to have a really solid design and strategy planned out ahead of time. Usually I work on them for at least a year (basically as soon as one ends I'm already planning for the next) but this time I was thrown for a major curve ball and had to change course right around the holidays.
Week 1 / Week 2 / Week 3 / Week 4 / Week 5 / Week 6 / Week 7 / Week 8
(Some of the links included in this post are affiliate links, meaning, at no additional cost to you, I will earn a commission if you click through and make a purchase)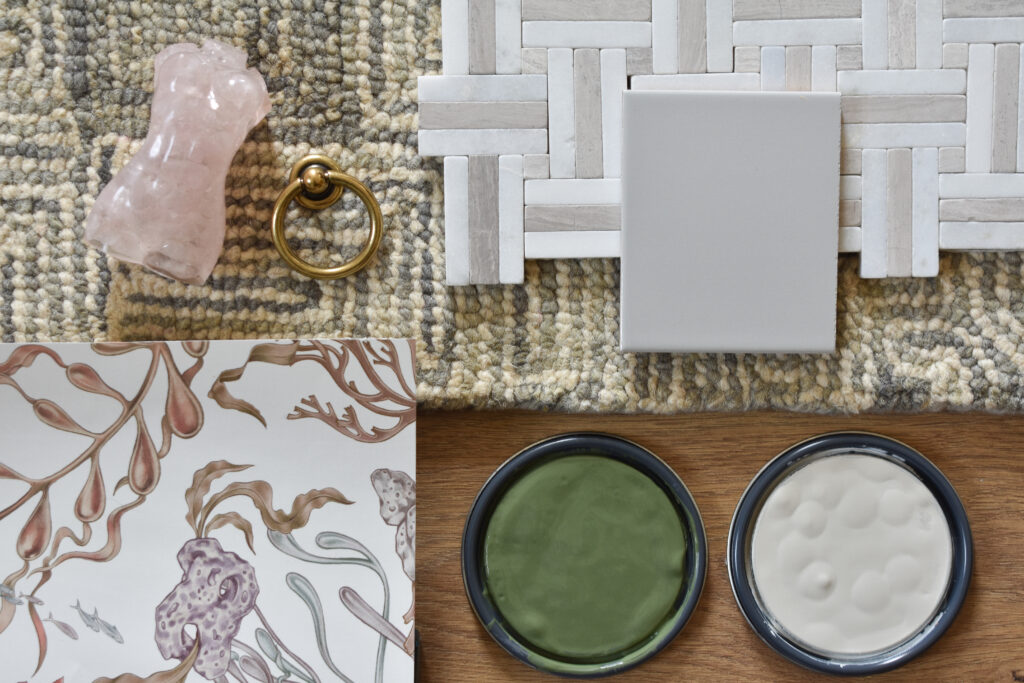 My original plan was to tackle our kitchen and morning room for this year's ORC and had started on some really early drafts over the summer and fall, but just before Thanksgiving our shower started to leak into not only the bathroom walls but also our kitchen ceiling. After a few band-aids failed to solve the problems, we decided that it didn't make sense to work on any other big projects in the house until we fixed whatever was wrong with the plumbing. Our plans for this year actually included to finish our basement, so while remodeling the bathroom wasn't exactly something we were looking forward to we at least had already been planning on a big expenditure this year and could pivot the energy (and the funds!) to make it happen.
So in a very short period of time I had to scrap all of the ORC plans that I already had in motion and come up with my dream bathroom design in a relatively short period of time. Since all my creative juices had been fixed on the kitchen, I didn't really have anything concrete in mind to pull inspiration from, so I turned to my bedroom that I finished last year as a starting point. I knew I wanted to give the whole owner's suite the same vibe by using the same color scheme as a base — that beautiful puddy color on the walls along with the pops of blues, greens, and just a touch of rust.
To start – I turned to one of my favorite places to wander around and find inspiration, The Tile Shop. Very quickly I found this beautiful marble basket weave tile which became my jumping off point and paired beautifully with a subway tile in almost the exact shade as my bedroom trim-work. Originally I thought I wanted a dark gray, cement tile floor but we ended up going in a totally different direction that I'll keep as a little surprise for later in the process.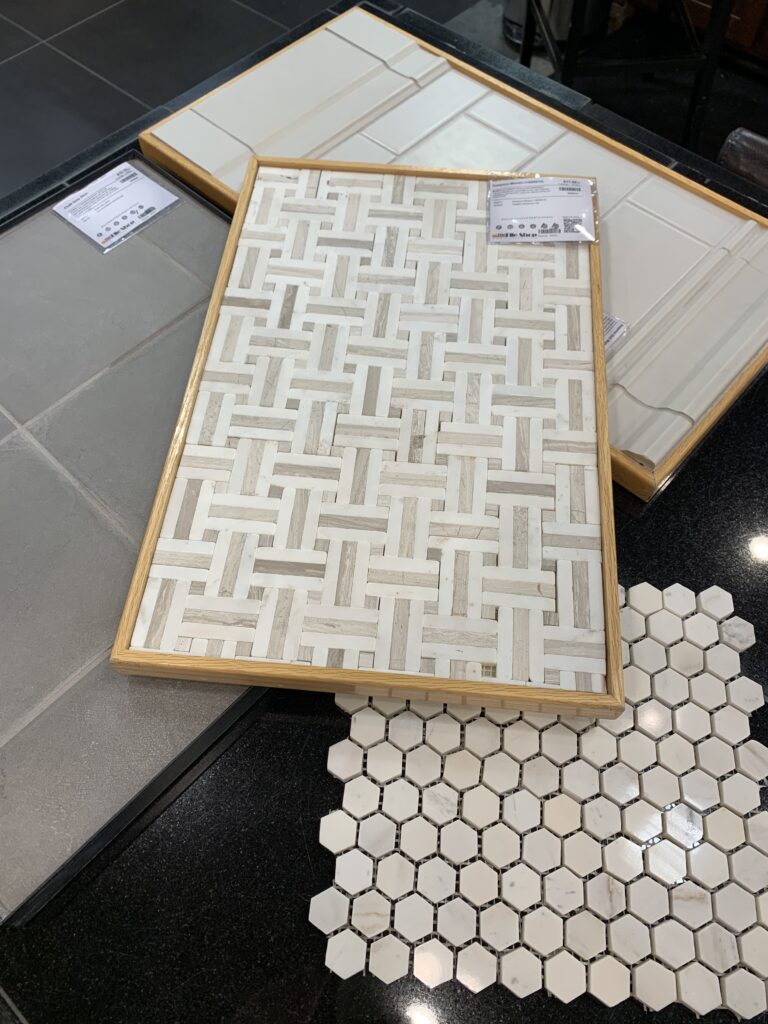 From the beginning I was sold on adding a quirky wallpaper in here to break up the monochromatic tile and reflect my own mantra that rooms should never take themselves too seriously…..and I pretty much fell for the Atoll pattern from Hygge and West as soon as I saw. It has the pops of rust, green, blue I was looking for and there's even the smallest touch of purple in it which I love. And luckily I still have a lot of the amazing Art Deco inspired wallpaper leftover from my bedroom so I'll be installing that in the closet and pairing it with some fun tealy blue cabinetry.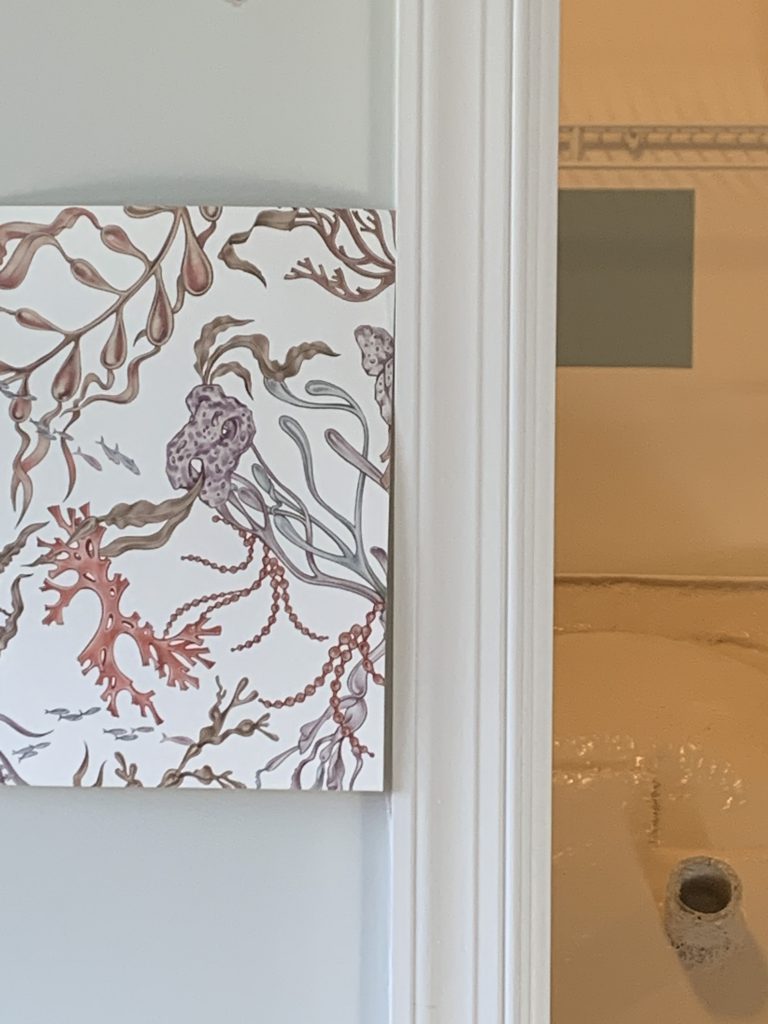 The goal of this project is really to create the grown-up bathroom and closet I've always wanted by playing around with layers of texture and pattern while also fitting in as much functional storage as we can. I've got a few tricks up my sleeve to make that happen that I'm really hoping work out because they're the parts that I'm really excited for…..
Bathroom Plan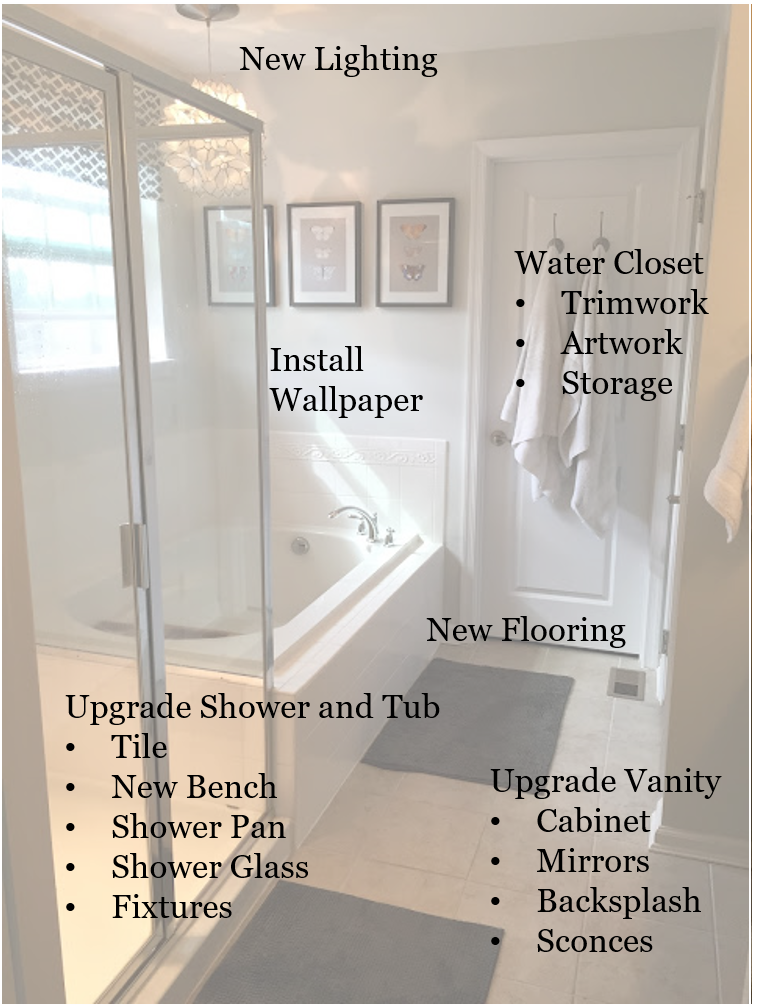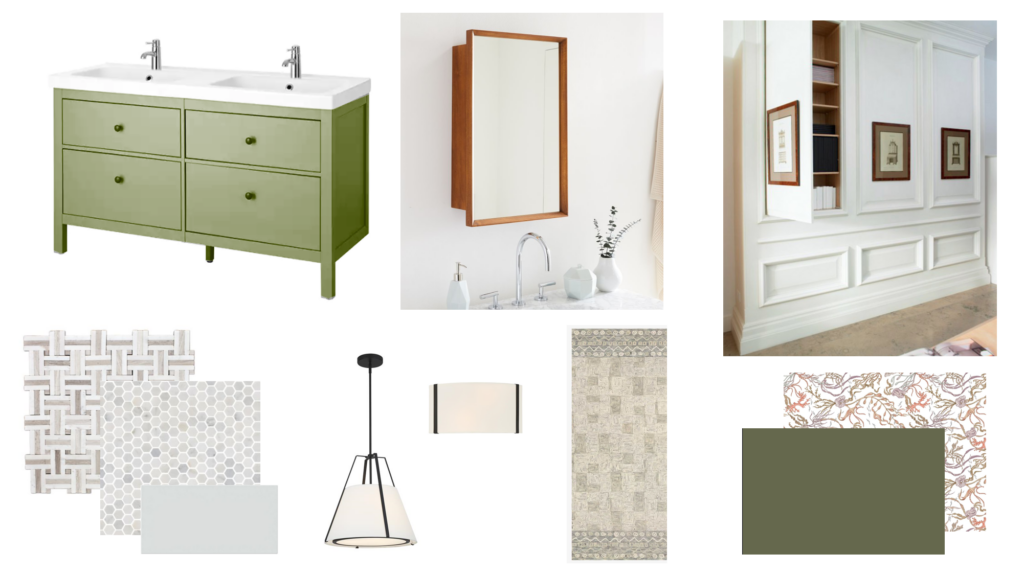 Dresser | Medicine Cabinet | Hidden Storage (photo source) | Basketweave Tile | Hex Tile | Subway Tile | Crystorama Fulton Pendant and Sconce | Runner | Wallpaper | Sherwin Williams Oakmoss
Walk in Closet Plan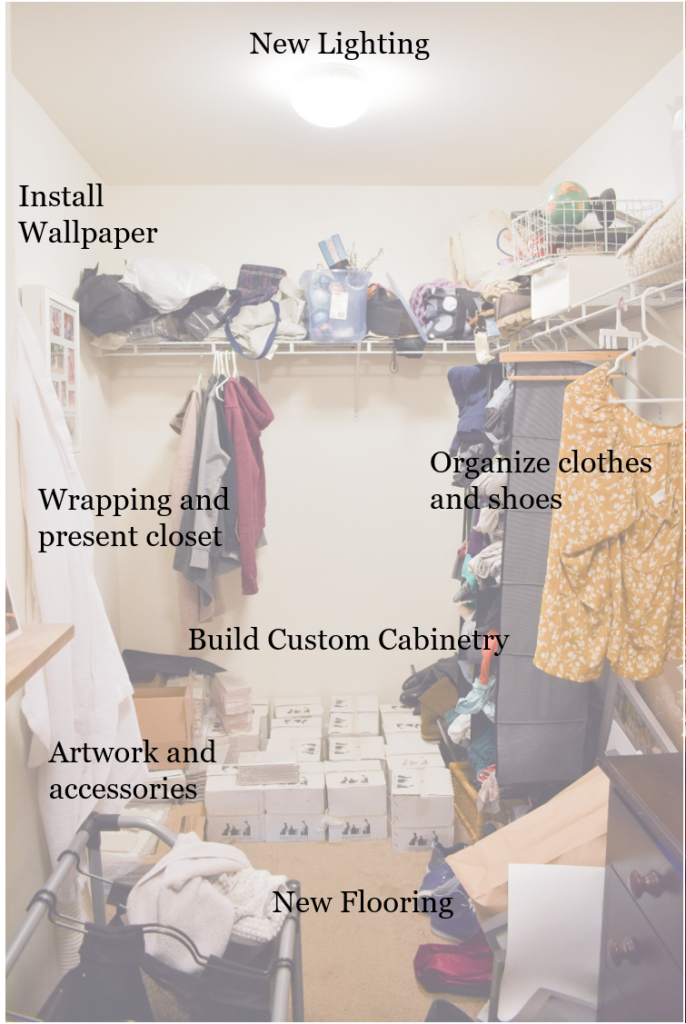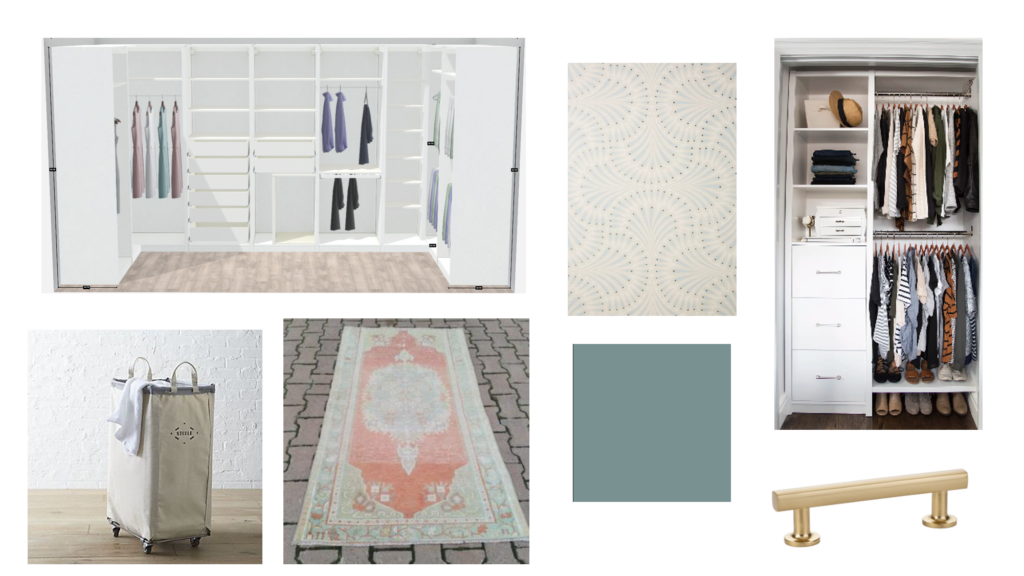 Closet Mock-up w/IKEA PAX system | Wallpaper | Inspo Photo Source | Steele Laundry Basket | Vintage Runner from Etsy | Sherwin Williams Moody Blue | Hardware
Next week I'll continue the bathroom reno saga for you (trust me….there's a LOT more tea to spill on that) and finally start sharing some progress photos because I know that's what we all really want! For now, if you want to stay up to date on everything going on, be sure to follow me on my Instagram stories where I post daily updates, as well as share the spaces from my fellow One Room Challenge friends each week.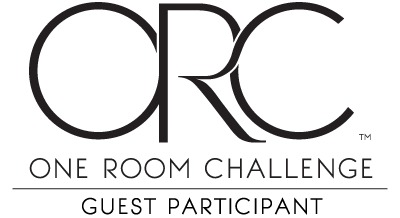 Thank you to my sponsors!
Thank you to the companies that sponsored products for me to use in this project, Cyrstorama, Speakman, Bathroom Butler, and Handy Paint Products. I'm so grateful to be able to use their beautiful products to make my vision come to life.