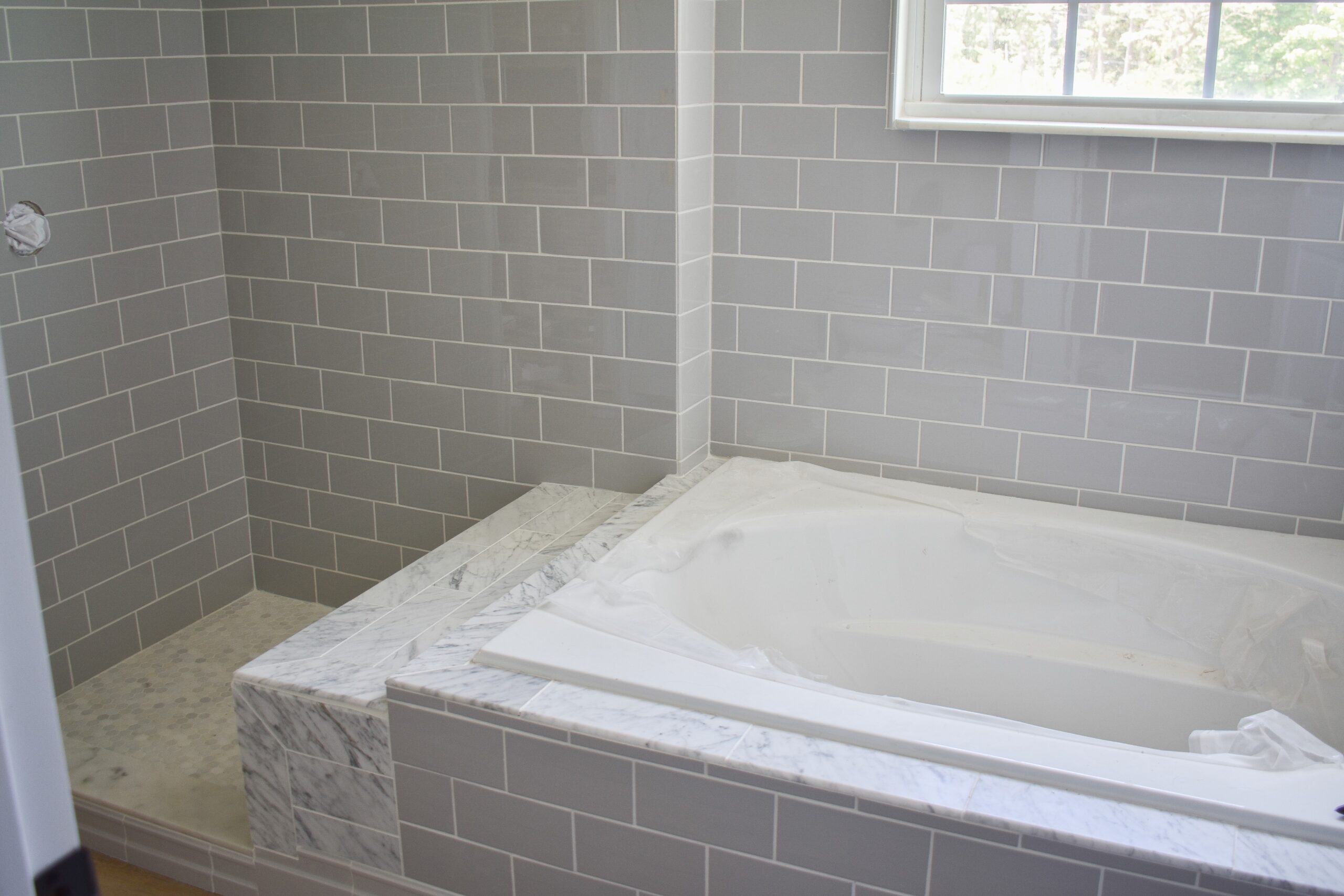 Welcome to Week Three of the One Room Challenge, and the next chapter in our bathroom journey. So gather round the fire as we continue our story…..
Week 1 / Week 2 / Week 3 / Week 4 / Week 5 / Week 6 / Week 7 / Week 8
(Some of the links included in this post are affiliate links, meaning, at no additional cost to you, I will earn a commission if you click through and make a purchase)
Last week I told you WHY we made the big pivot to remodel our bathroom this year (water leaking into your kitchen ceiling is quite the motivator) and this week I want to take you through the HOW we got to the point we find ourselves at today because, more than any project we've tackled so far, it's been a really stressful ride.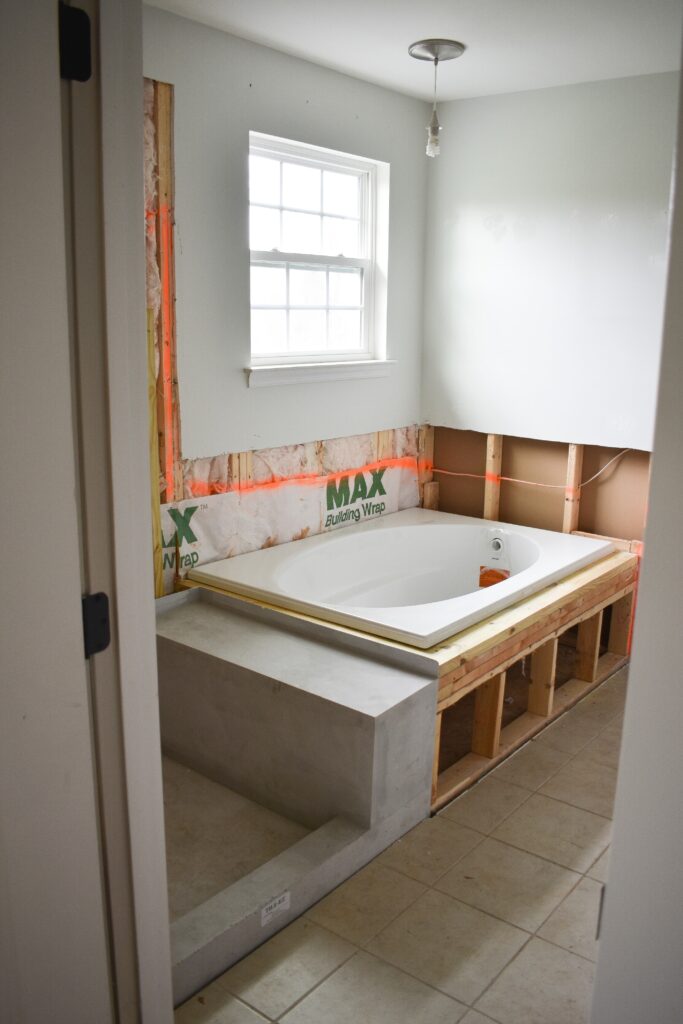 We started the demo process right before Christmas — we weren't using the bathroom anyway for fear of making the water damage worse and I wanted to make sure there wasn't A LOT MORE damage that we weren't seeing. Luckily that wasn't the case (unless you count finding a 1/4 full jug of fruit punch from 2014 under the bathtub) BUT as soon as they broke apart the old shower bench they found black mold starting to form and because it was basically made out of sub-floor which is beyond not water proof and was compacting from the weight of the tile, which led to the grout constantly splitting, which lead to the leaking. They also discovered that the shower valve was missing a gasket (cue the water behind the wall) and the whole thing just generally wasn't built great.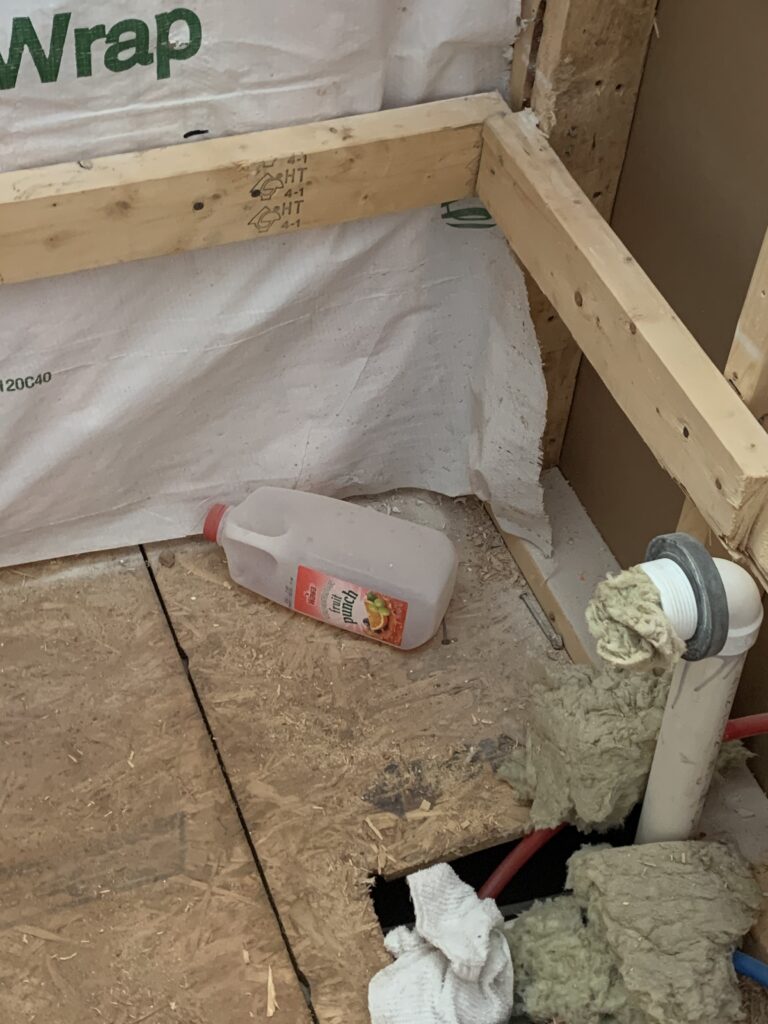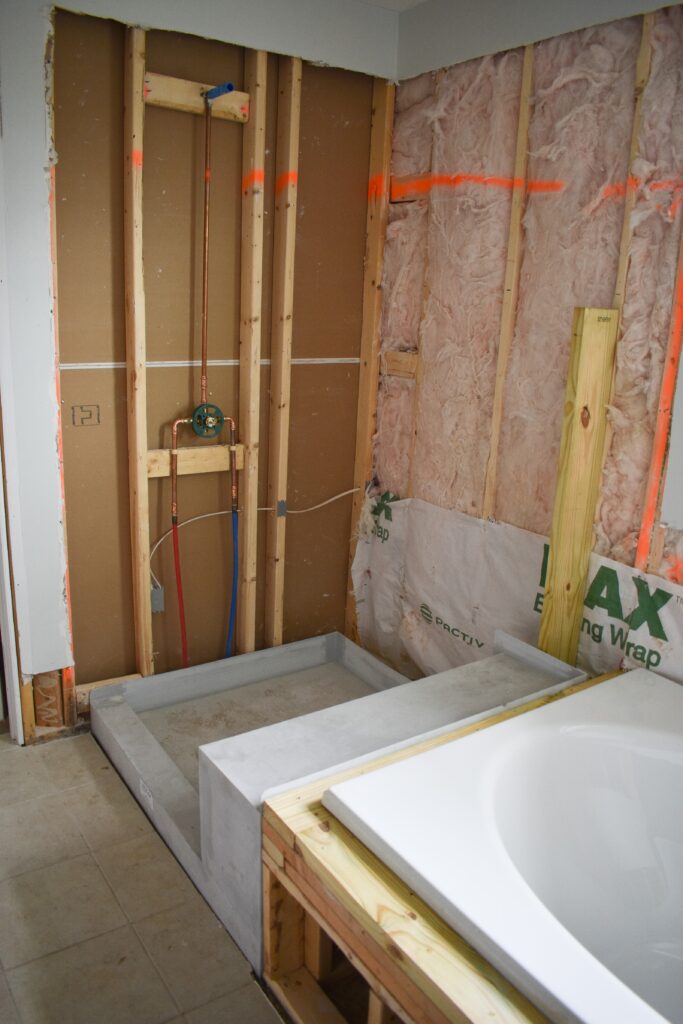 Since the entire structure was going to have to be rebuilt, I made the decision to switch up the layout to work better for us. My plan included moving the shower bench to the tub side of the shower so it didn't take up as much space as the old one, and then adding a tall shelf ledge to the back of the shower. The plumber recommended something I had never heard of, which was a custom built shower pan/bench combo that is poured as one piece so there is no chance of splitting or leaking — sounds perfect right? We thought so too…….and then we waited, and waited, and waited…………………..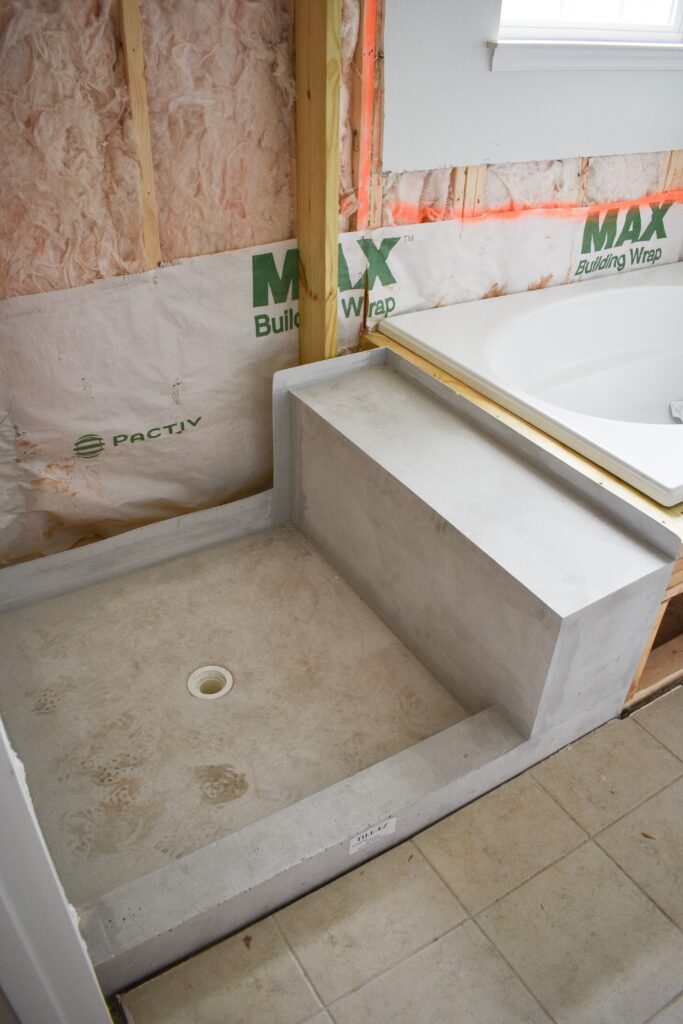 Now – the first timeline quote we got on this project from demo to finish was 10-12 days, which I thought was extremely wishful thinking but figured that if we were able to get it done by the end of February/early March then I'd have enough breathing space before the start of the One Room Challenge to feel comfortable since my plan was to have the crew tackle the shower/tub, and then I would finish the vanity area and add the final details myself. What I really didn't expect was for early March to come and go and not only would we would still be waiting, but also that there was a whole roller coaster waiting for us over the last month that went something like this….
Custom Shower pan is finally produced and delivered (yay!) / Crew is held up on another job so can't start ours yet (crap!) / Crew is done on the other job and can start before Easter (hooray!) / One of the crew members tested positive for COVID and has to isolate (oh no!) / Crew member is negative and can start right after Easter (oh good!)…..and then most heartbreaking of all, one of the crew members lost a family member right after work began. The reason I'm sharing all of this with you is to serve as a reminder that when you're taking on a big project there's always things you can't control — one being that the people you're working with have lives and families that are way more important than the stress of being out a bathroom for a few months.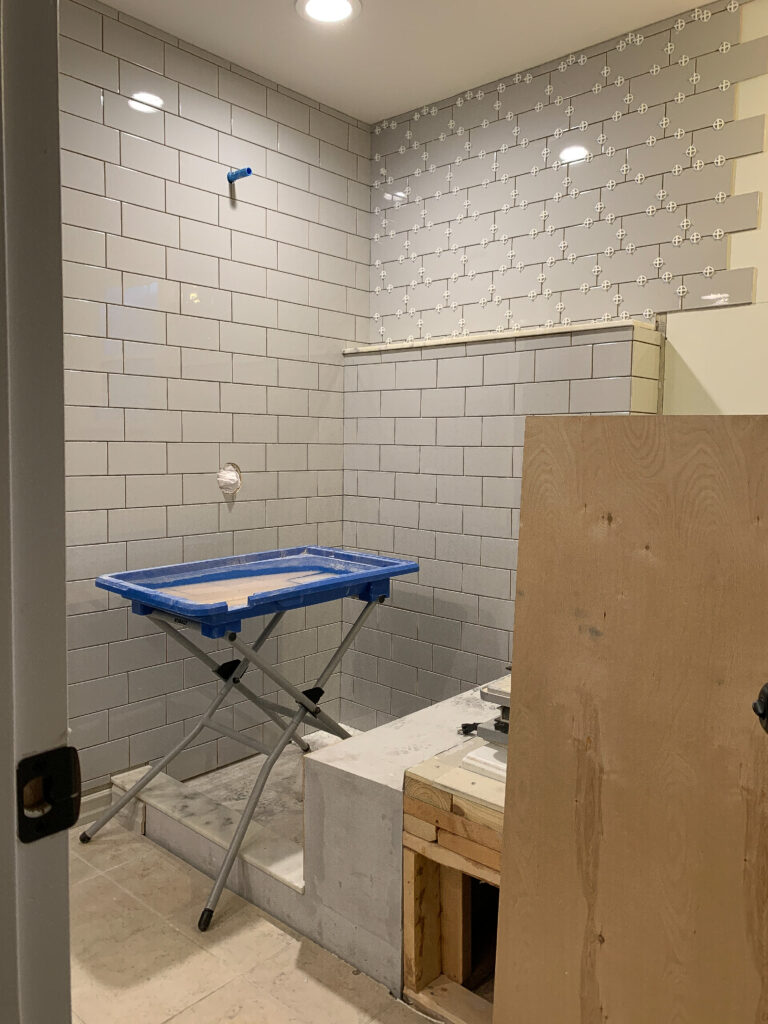 Over the last few weeks the gentleman who does the tile-work for the plumber we've been working with has been able to come every day and slowly we are watching things come together. I did have to make two more small pivots in my original tile plan due to some unforeseen problems — I had to scratch the accent tile that I was planning on using behind the shower fixtures (but I'll still use it in the vanity area) and I had to switch the bench top and bathtub trim from the griege subway tile to a marble version instead (which I think is an unexpected upgrade to be honest).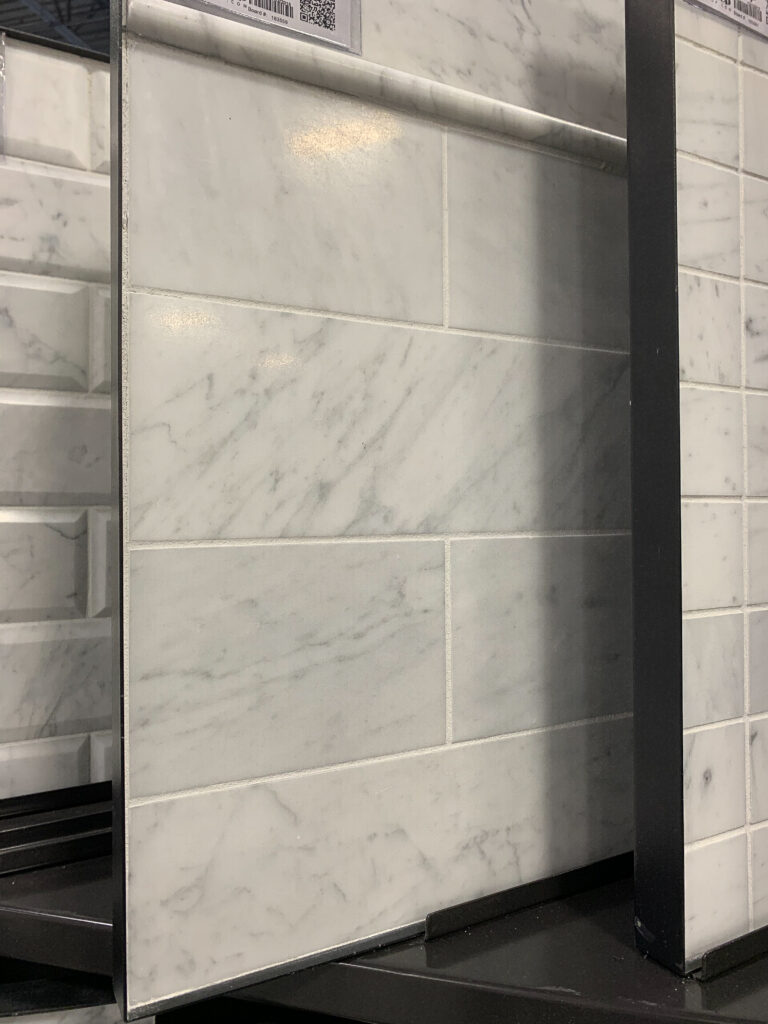 The biggest change that I'm going to have to make is to my own timeline because we can't both be working in this small space at the same time. So to give the crew as much time as possible to finish up what they needed to do, I started working in the closet for the first few weeks…..which I'll be talking about next! Until then, here's a sneak peak of what the tile-work looks like right now (well worth the wait in my opinion) and enjoy checking out the rest of the One Room Challenge guest participants blogs this week.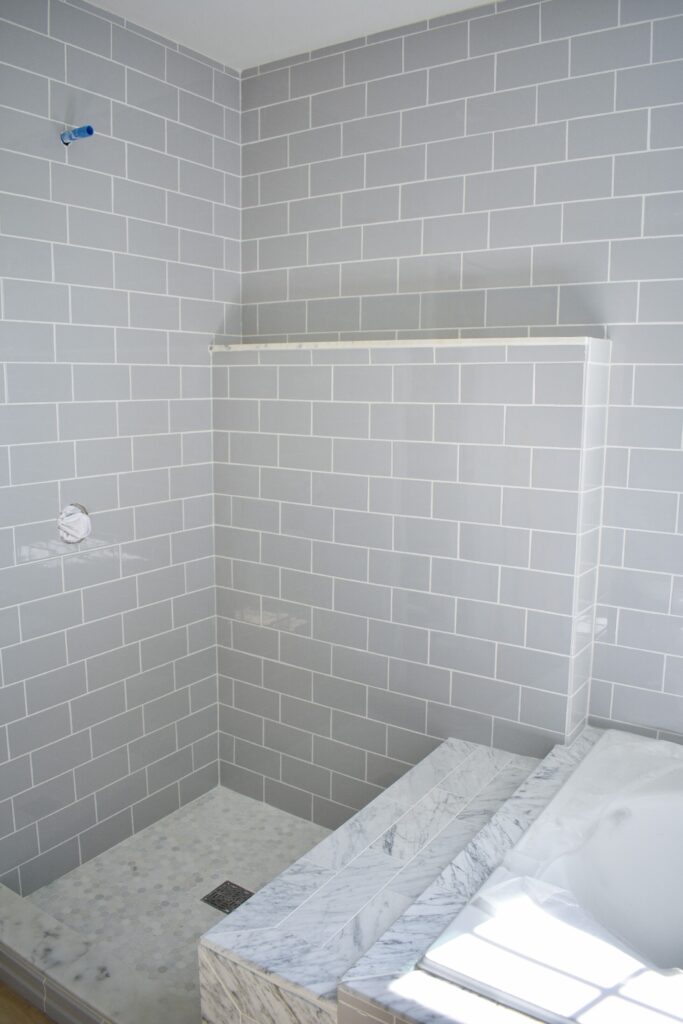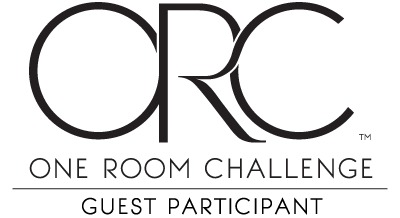 Thank you to my sponsors!
Thank you to the companies that sponsored products for me to use in this project, Cyrstorama, Speakman, Bathroom Butler, and Handy Paint Products. I'm so grateful to be able to use their beautiful products to make my vision come to life.