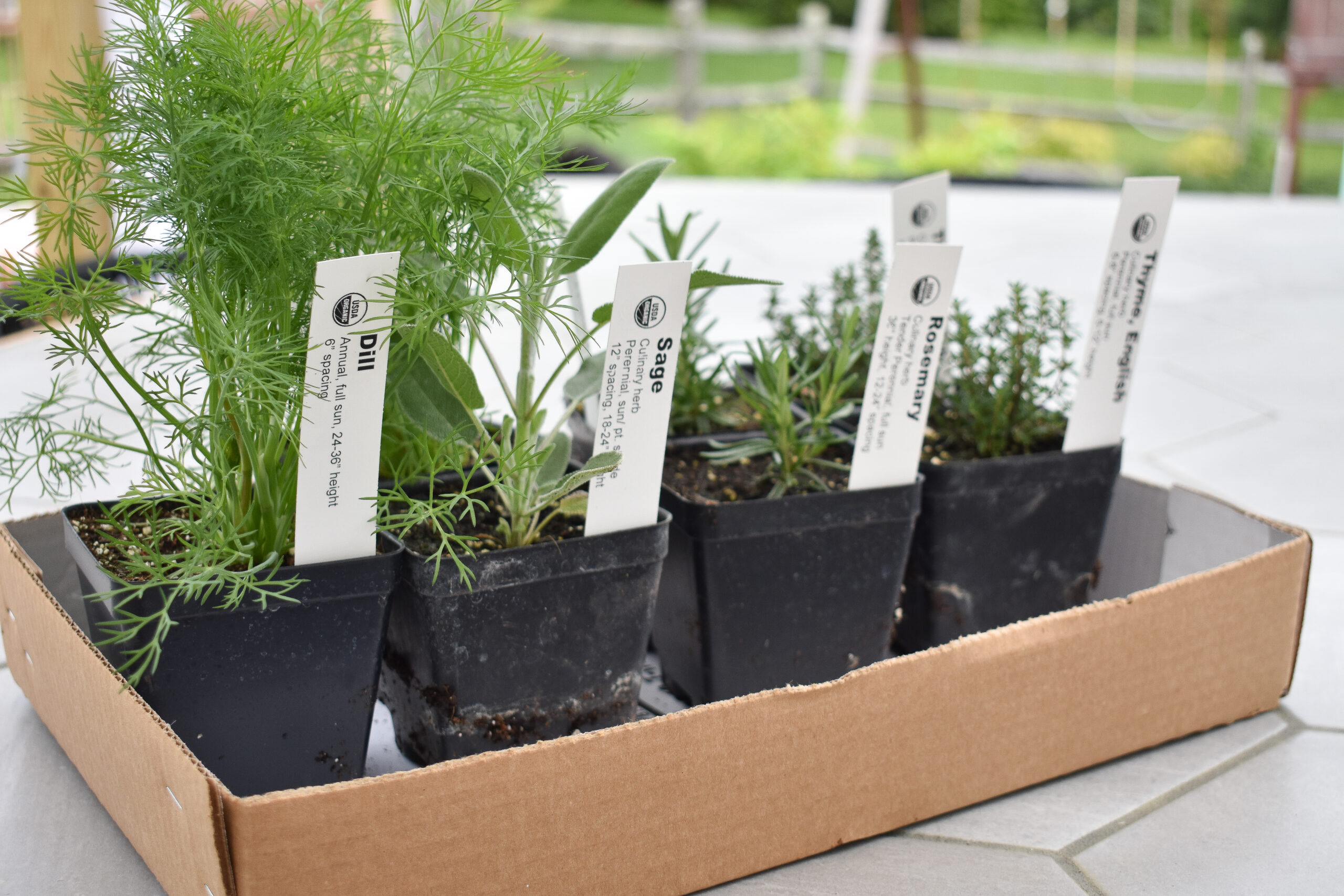 Week Seven of the ORC is always about adding the final touches to a space to really make it come alive, while making sure to only share JUST enough on the blog to keep it interesting without spoiling the final reveal.
Week 1 / Week 2 / Week 3 / Week 4 / Week 5 / Week 6 / Week 7 / Week 8
NOTE: Some of roducts described in this post were provided by Kichler Lighting. All opinions and experiences are my own.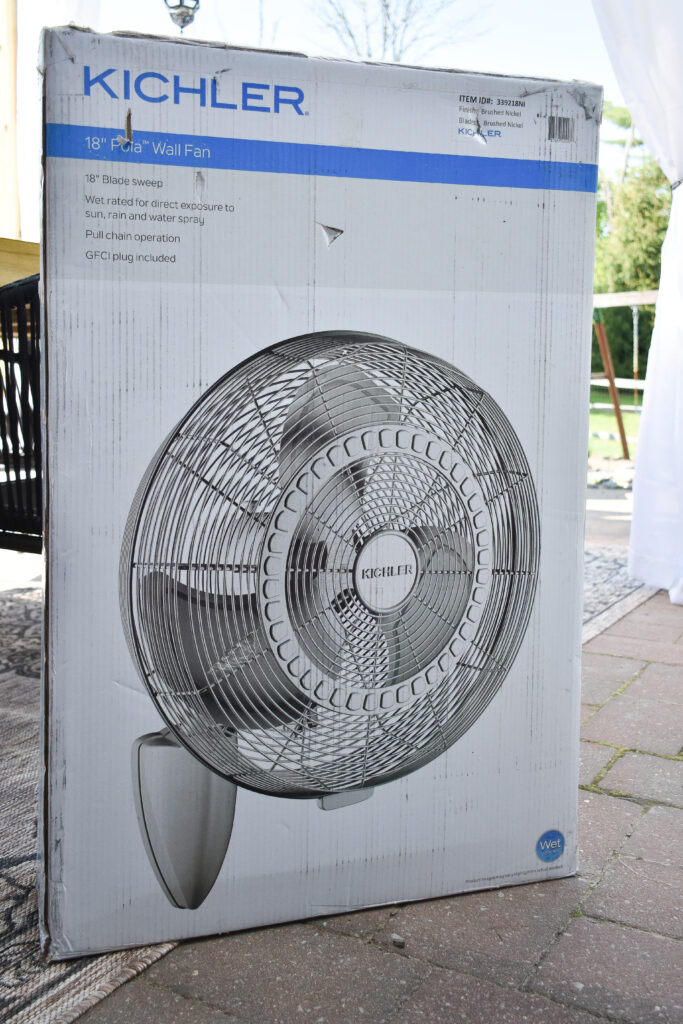 So let's start off with the most extra of extras that got added this week – our awesome new Kichler Pola Outdoor Fan. A few days before the ORC was scheduled to kick off I had the thought of adding an outdoor fan to the Pergola, and almost exactly 24 hours later the chance to work with Kichler Lighting came along and low and behold they had exactly what I was looking for!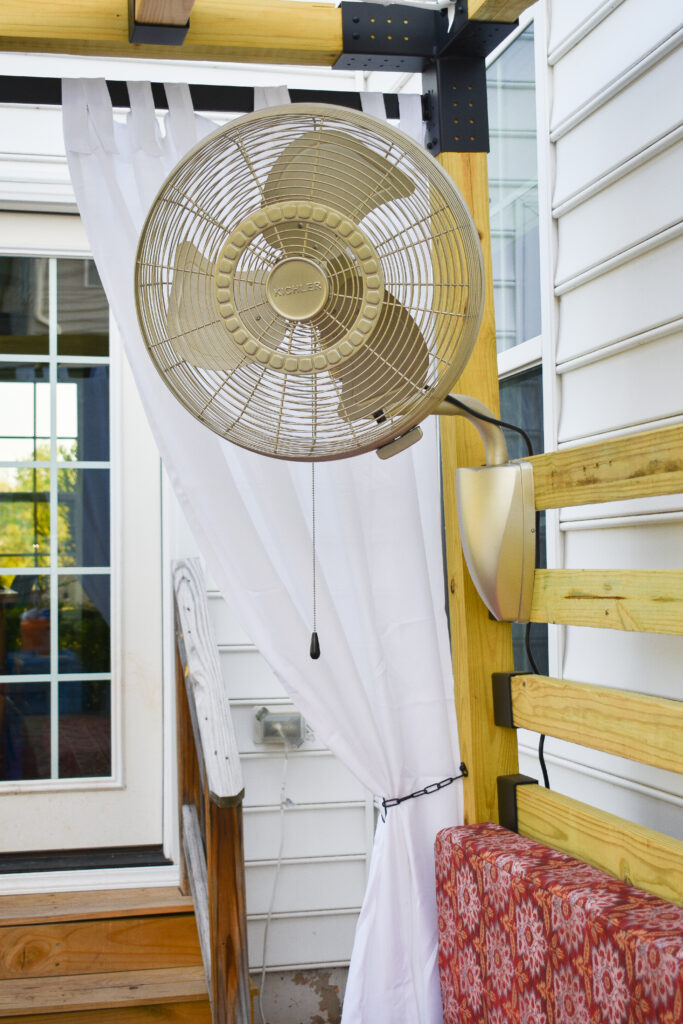 I wanted to take advantage of all sides of the Pergola and wasn't interested in adding anything hard-wired so the Kichler Pola Outdoor Fan fit both of those requirements nicely. Not only does it plug in, but it's also wall-mounted AND can function in either stationary or oscillating mode so we'll stay cool no matter where we're sitting. Also let me just add that is is POWERFUL – the first time I turned it on I had to double check that it was still only on the lowest setting because the breeze was so intense (in nice + refreshing way). I went with the 18″ version which I think will be more than enough for the size of my Pergola, but they also have a 24″ version if you have a larger space.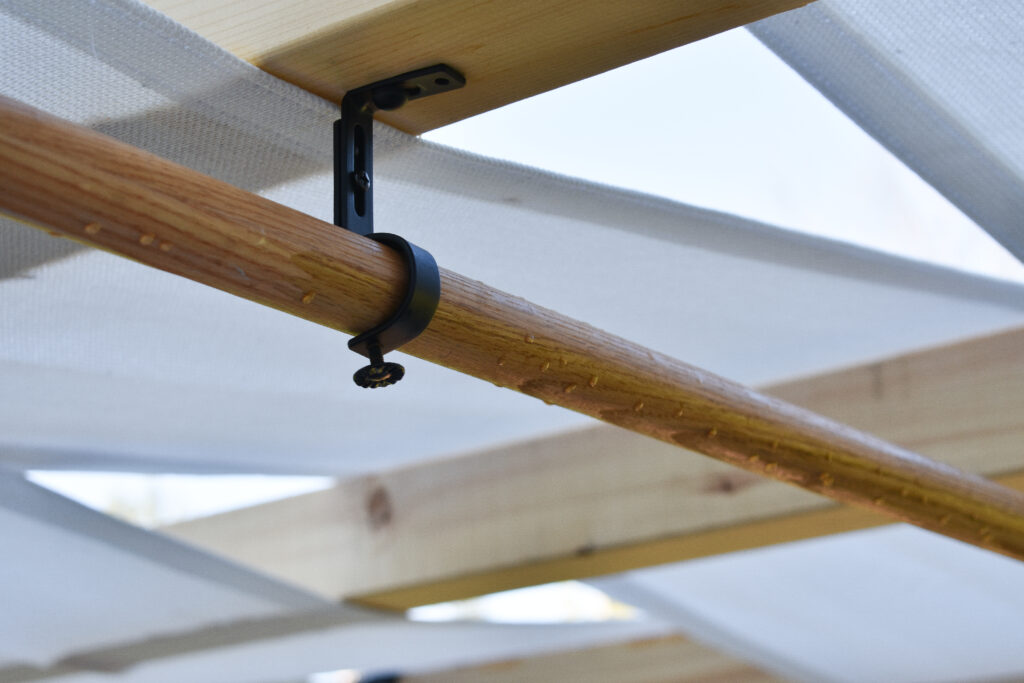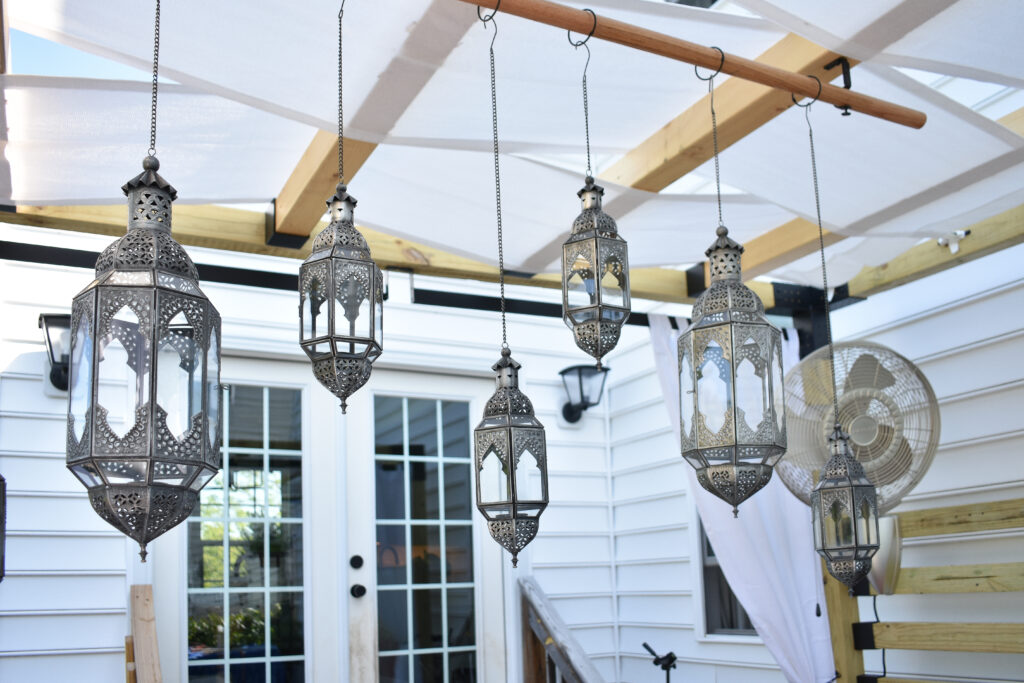 The other biggest addition this week was the solution I came up with for a light fixture over the dining table. The cafe lights and the sconces add more than enough light to the patio (oh also I picked up this great outdoor lantern/Bluetooth speaker from Costco) so I had my heart set on using something with candles for a soft and elegant touch. I was looking around at maybe repurposing an old hard-wired chandelier — but then I found these awesome Zinc lanterns from World Market and whipped up a way to hang them from a wooden closet rod that I sealed in Spar Varnish and hung from curtain rod brackets.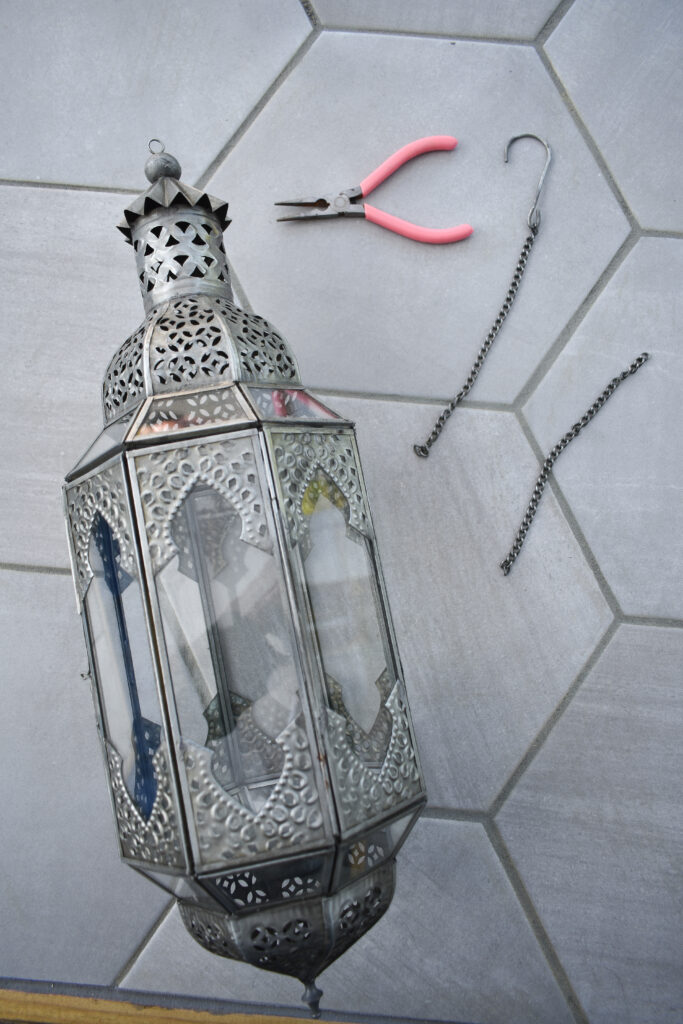 To give them that "randomly placed but took a lot of thought" look, I took apart the chain links and re-combined them at various lengths and used Shower Curtain Rings to hang them in a way that is super easy for me to remove in bad weather or before the winter months. I also picked up these citronella tea lights to hopefully help keep the mosquitos away this summer.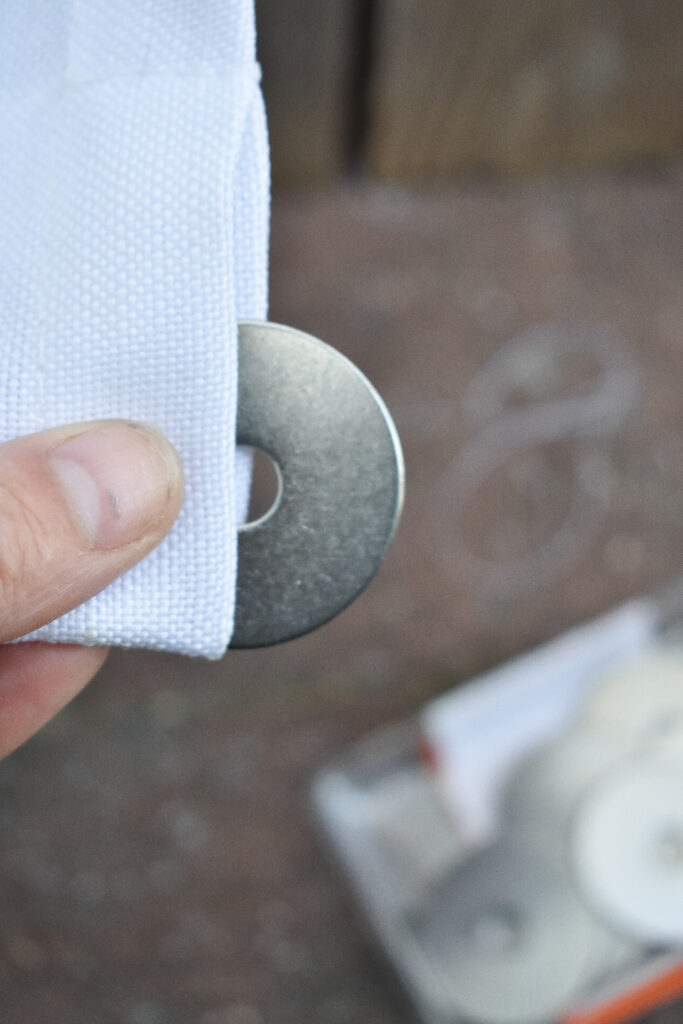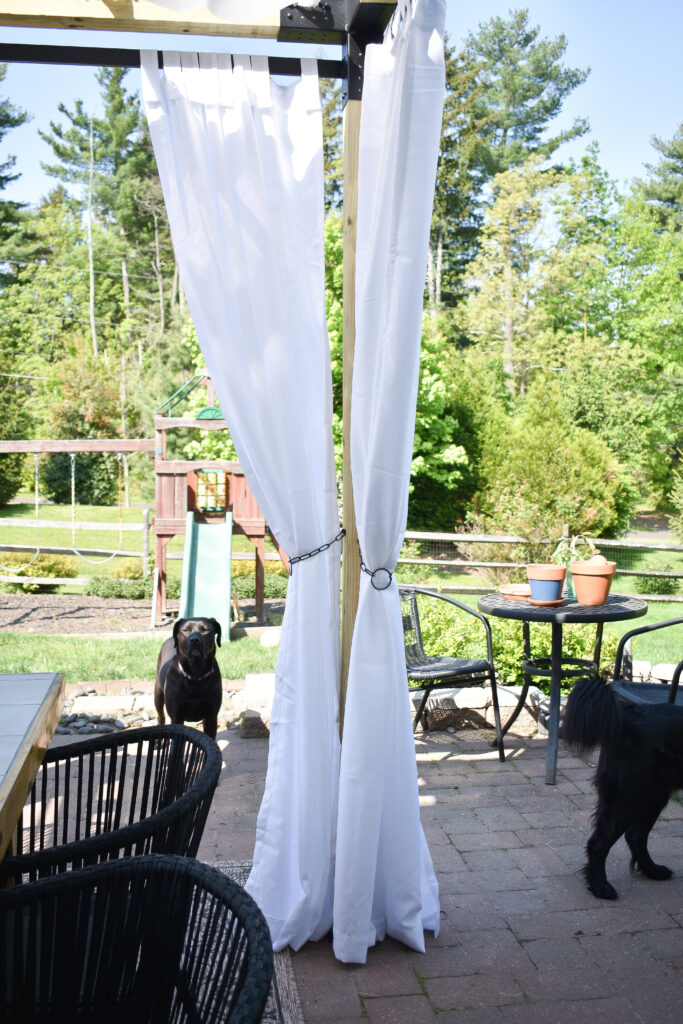 The curtains also got hung (love that these have velcro tops for easy removal from the Toja Grid curtain rods) and I came up with what I think is a pretty cool way to tie them back using some black chain and leftover shower curtain rings, as well as sewed some washers at the bottom to keep them from blowing around when they're open.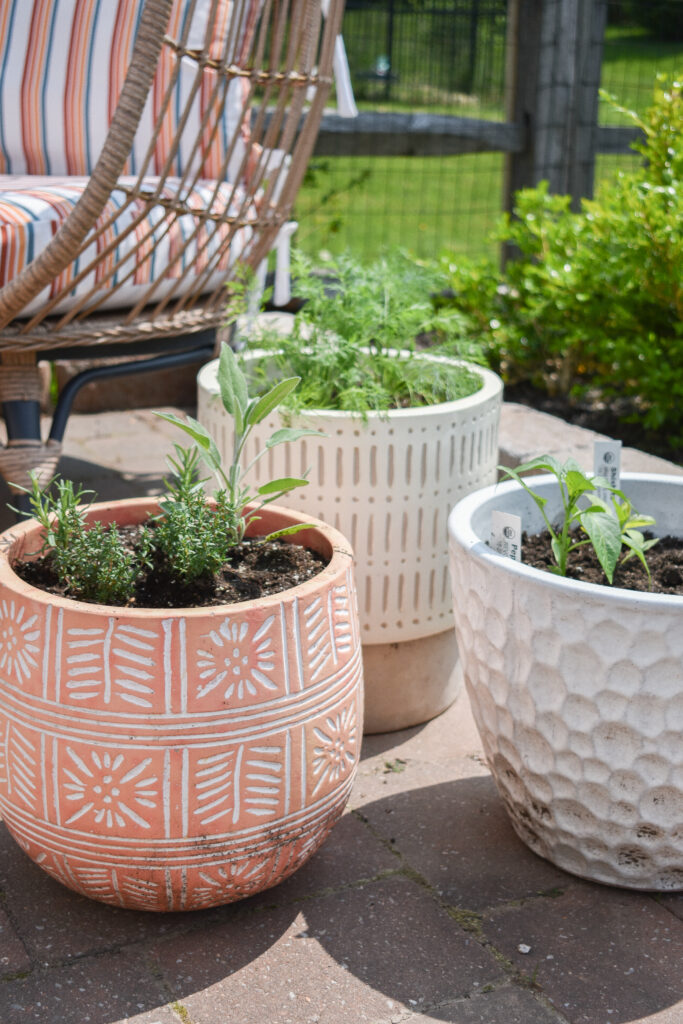 Other than that, the pots got filled with some herbs, the grill got a good deep clean, the patio got swept, and all of the little touches ups slowly got checked off the list. Now all that's left is to decorate, take pics, and celebrate with our first family dinner out here. I have to tell you my plan to front load this project with all of the heavy lifting was the best idea because with end of school activities and spring sports filling our evenings the slower pace has been really really nice.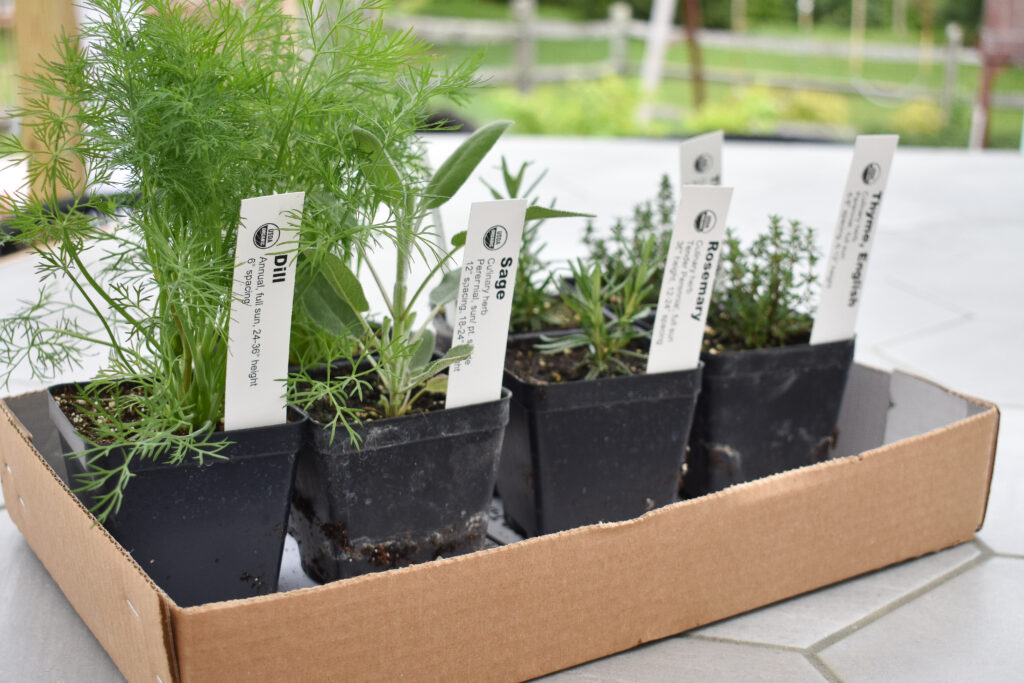 If you've been following along with this season's One Room Challenge you may have seen some other participants sharing their beautiful Kichler Lighting fixtures — if you're interested in giving them a look you can browse all of their products on Build.com
And don't forget to check out what all the other featured and guest participants are up to each week on the One Room Challenge blog!