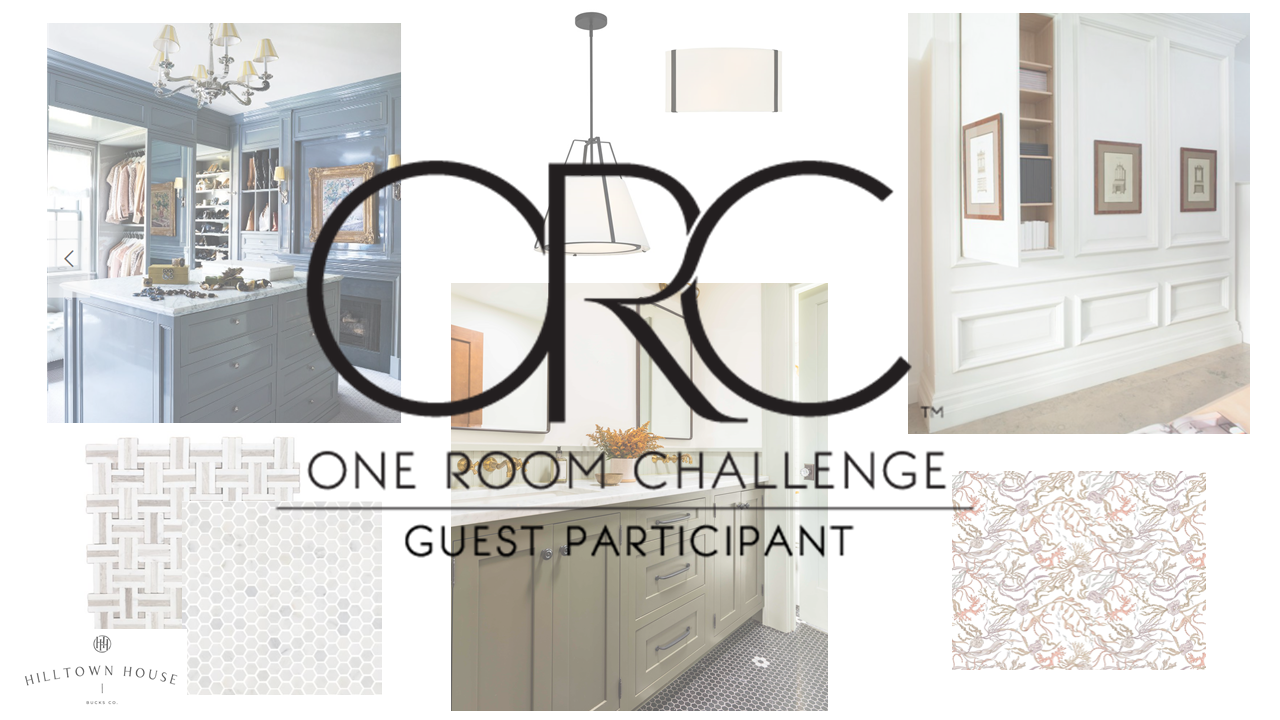 Welcome back friends to my favorite time of year – One Room Challenge time! I've been sitting here reflecting on the last 12 months and having flashbacks to the uncertainty I felt last Spring. I am truly thankful, now more than ever, to have the privilege to participate in this event each year and have the opportunity to stretch my creativity and be inspired by many incredibly talented people. For anyone new to the One Room Challenge, it is a bi-annual gathering of home decor, DIY, and interior design bloggers hosted by Linda at Calling it Home in partnership with Better Home and Gardens. During the next 8 weeks a group of over 200 guest and 20 featured bloggers will challenge themselves to transform one room in their homes and share their progress along the way.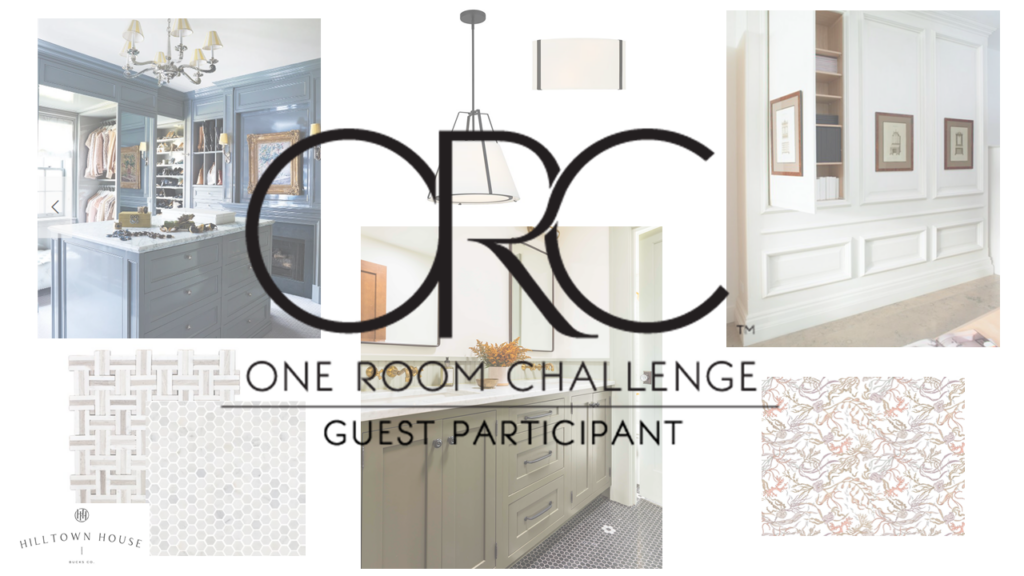 Before we get started let me start by saying "HI" to any new readers popping over from the One Room Challenge blog. I launched Hilltown House 6 years ago when I started to renovate our brand new but boring builder grade home. When we moved into this home I found my passion for DIY and design and so far I've gotten my hands on just about every inch of my home. This is my 6th time participating in the One Room Challenge — in year's past I've tackled the Guest Bedroom, the Front Room and Dining Room, our foyer, staircase, and loft, and the last year I tackled the primary bedroom and my husband's walk in closet. (Be sure to visit my Home Tour page if you want see more before/afters). Over the year's I've discovered that I'm most comfortable putting my own spin on traditional design while always making sure that my spaces are liveable and don't take themselves too seriously.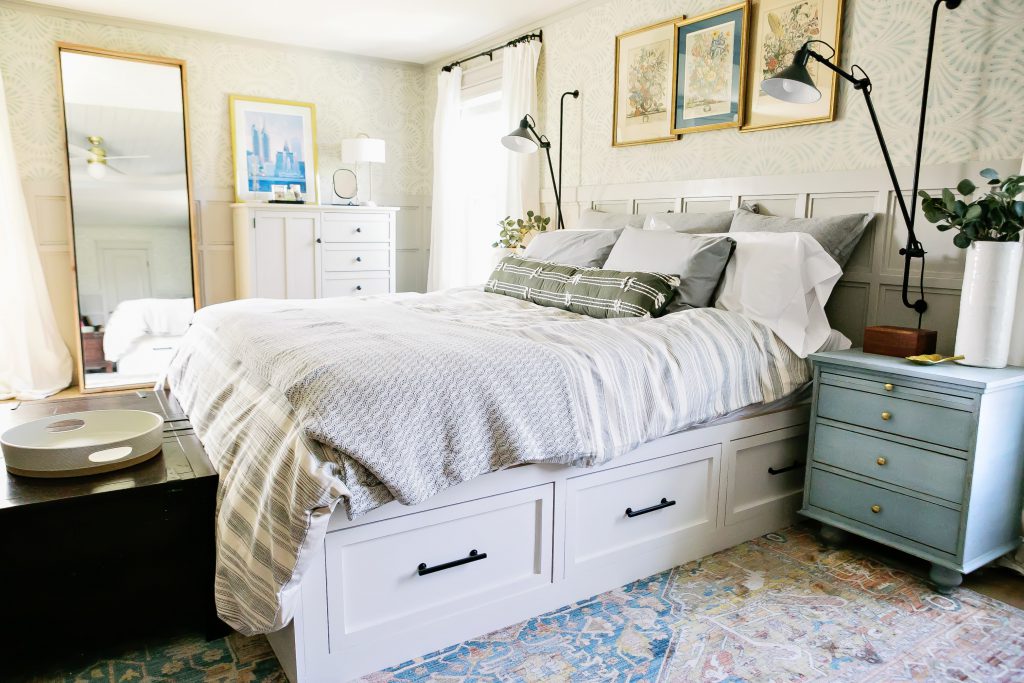 This year's Challenge – The En Suite Bathroom and Walk In Closet
This year I'm finishing what I started last year and completing my en-suite bathroom and my walk in closet. AND I have a really big first for me this time — for the first time in my One Room Challenge history I will not be DIY'ing the entire project and will be hiring professionals to finish a large portion of the bathroom (more on that decision/necessity coming in future weeks but to be fully transparent some of the work they have has fallen outside of the 8 week timeframe). But don't worry….there is still more than enough work left for me to finish and I'm sure it'll be a scramble to the reveal as always.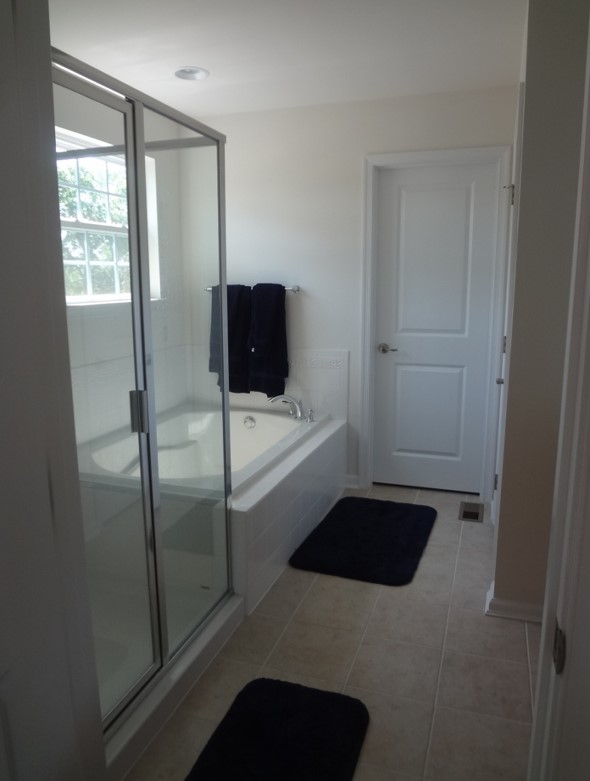 When we built our house we chose a few upgrades to the bathroom, most notably an upgraded layout that gave us a separate shower and bathtub. I've actually always been happy with the way this space is laid out, especially the window above the tub and the private water closet. What I've never been in love with was the finishes. We've done a few minor upgrades (replacing the builder grade mirror and light fixtures, giving the vanity a makeover, adding a heated towel warmer) but I've always known that one day that we would do a much larger gut job. Now due to some unexpected plumbing problems that day came sooner than we thought (again more on that soon) so here we are.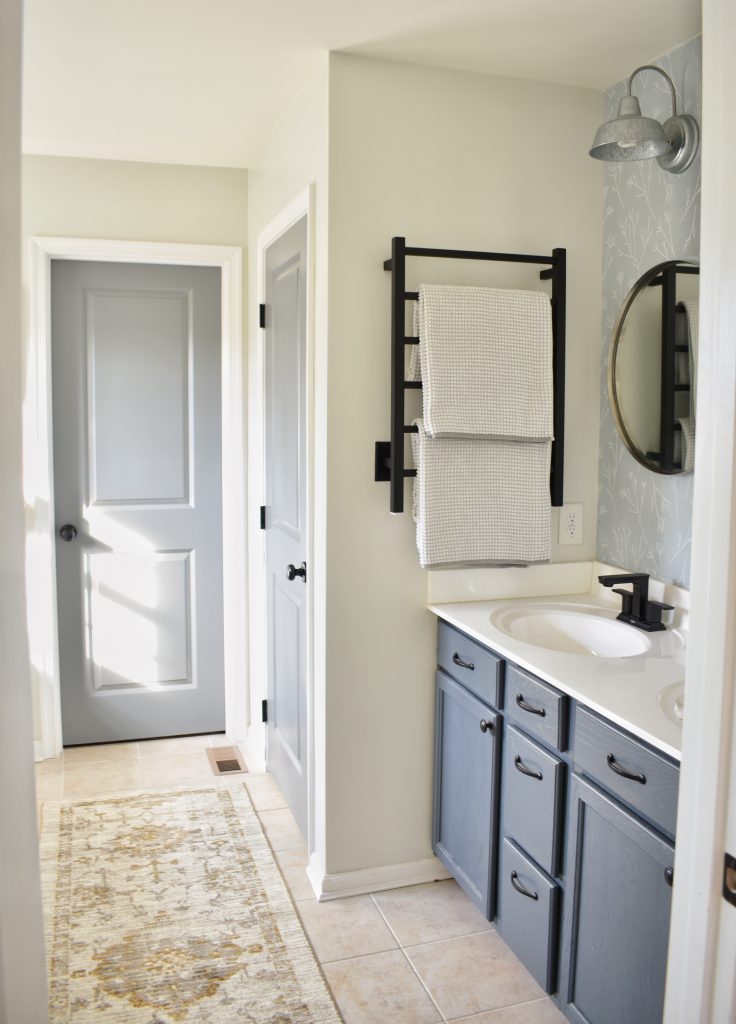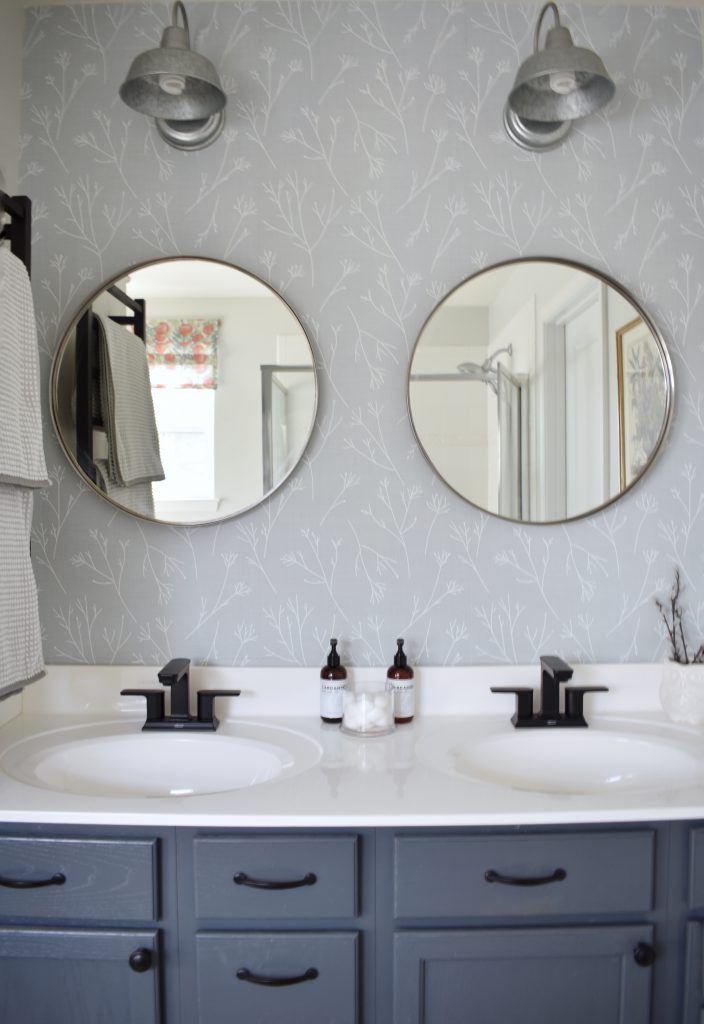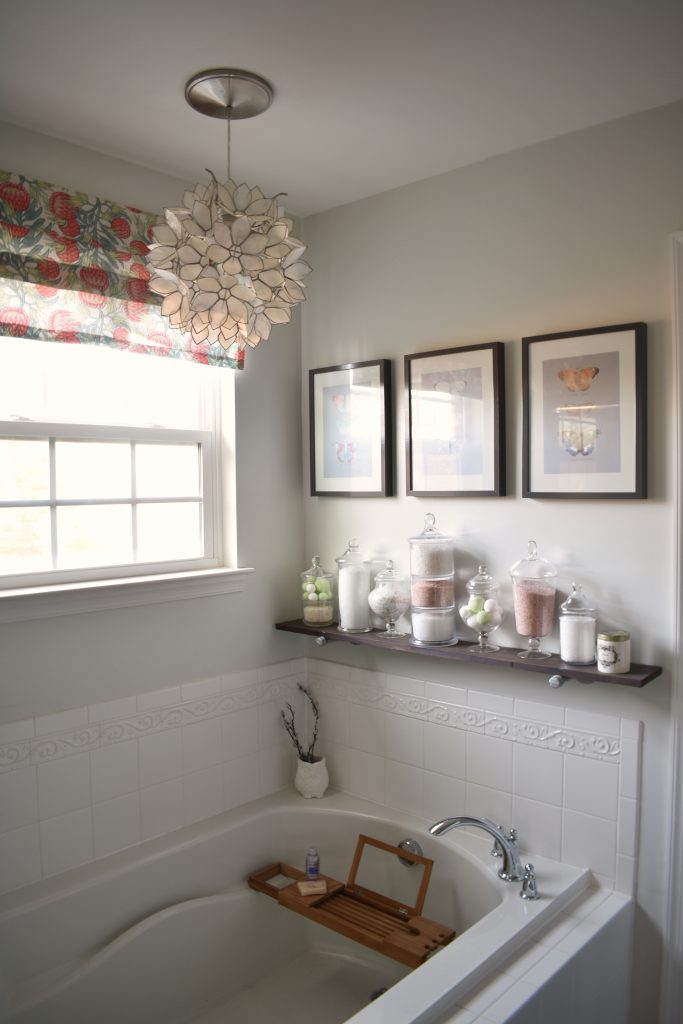 I wouldn't be me if I didn't push myself a little bit extra each time, so I'm also going to be making over my walk in closet. I've been waiting to take on this project ever since we moved into this house. My closet is more than spacious enough for me but as you can see I have failed to keep it even remotely tidy so I'm really hoping that this makeover gives me the incentive to get it together. My plan is to add as much closet cabinetry as I can fit to maximize every single inch of this room and create custom solutions for the random junk that I keep in here (like my wrapping paper collection). And since I took on my husband's closet last fall, the process is still really fresh in my mind which will work to my advantage in the planning and execution.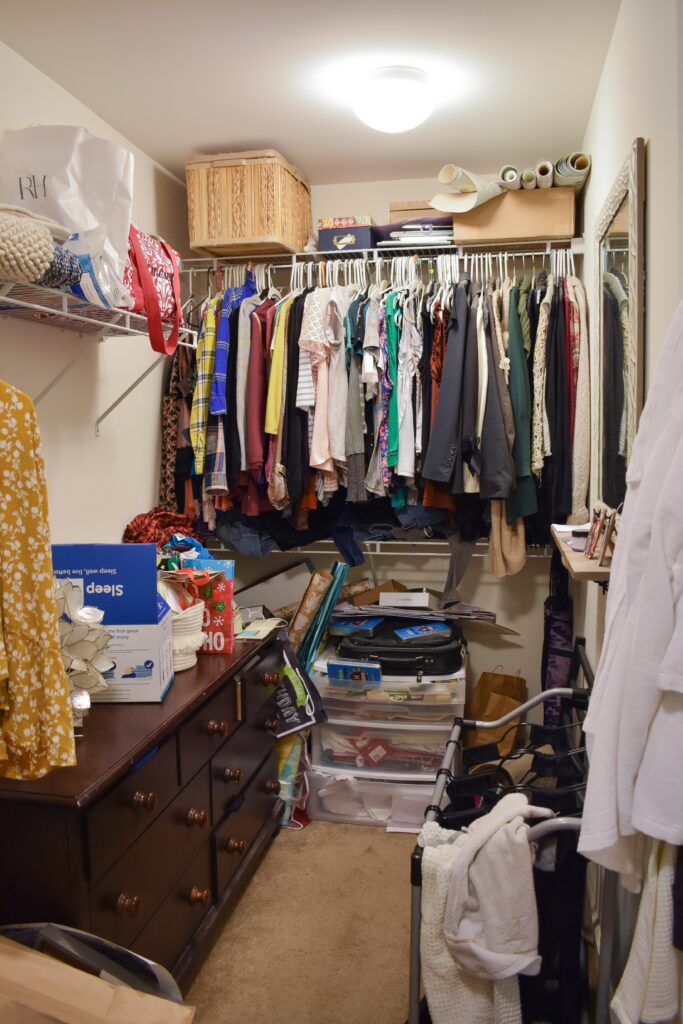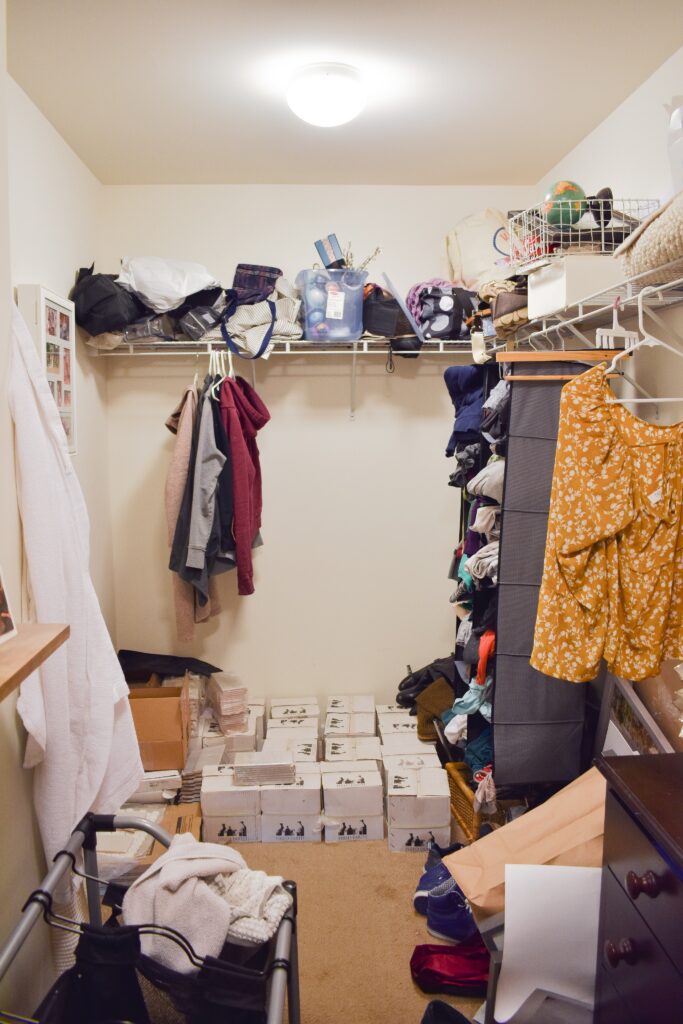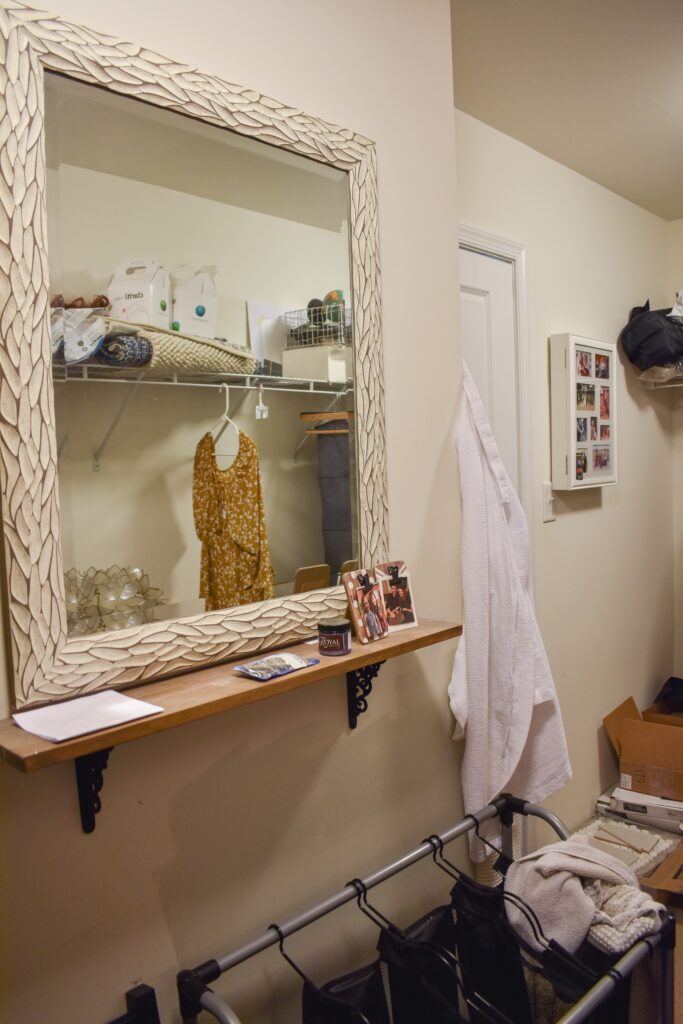 Next week I'll take you through my plans in more detail and show you what the space looks like today, but for now here's a quick overview of the major changes on deck for these two spaces: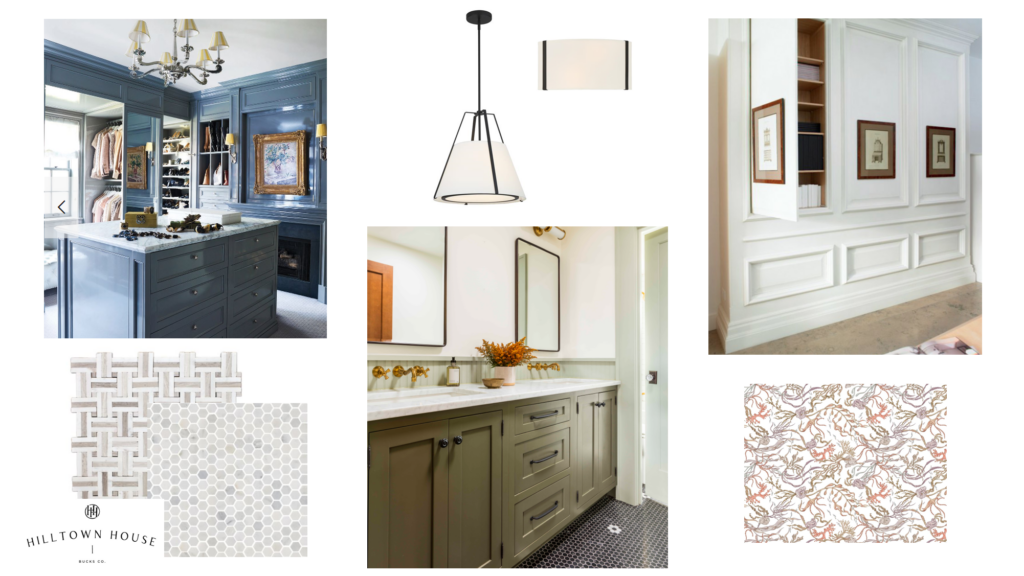 Add custom built in closet cabinetry (photo source Elle Decor)
New shower and bathtub including new tilework and fixtures
New vanity, backsplash tile, and medicine cabinets (photo source Heidi Caillier Design)
Bathroom wallpaper, trim work, and tile
Hidden storage cabinet in water closet (photo source Providence Design)
For me watching the other participants spaces come together each week is a big part of why I participate in this event each year so I'll be heading One Room Challenge blog this weekend and seeing what everyone has up their sleeves.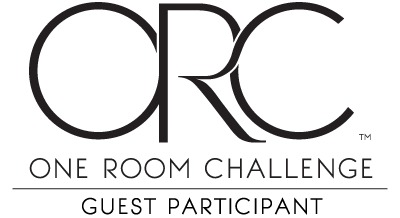 Thank you to my sponsors!
Finally……A huge thanks to the companies that sponsored products for me to use in this project, Cyrstorama, Speakman, Bathroom Butler, and Handy Paint Products. I'm so grateful to be able to use their beautiful products to make my vision come to life.