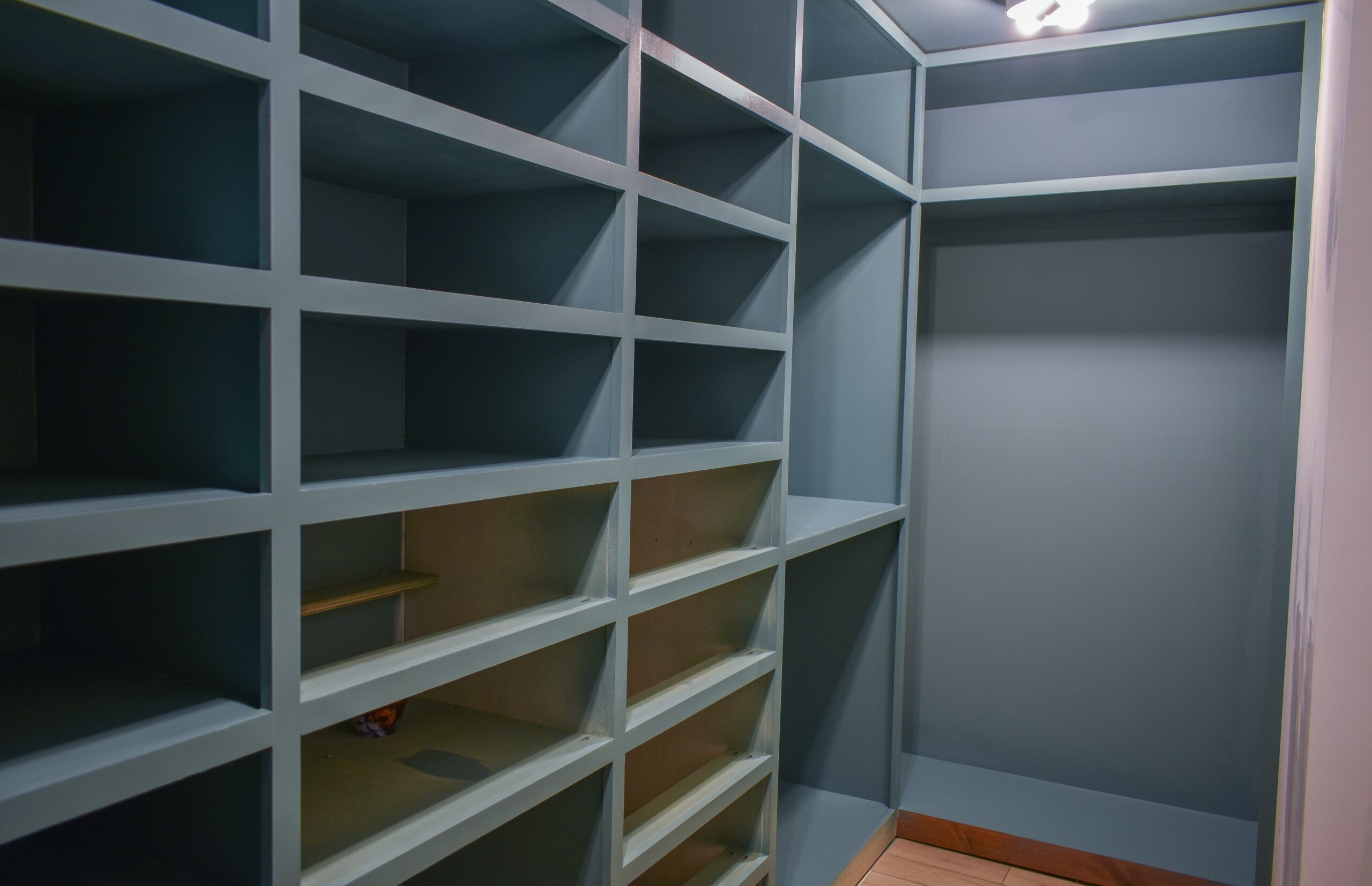 My brain knows we're already at the halfway point but my anxiety refuses to accept it. In year's past I've had a really straightforward plan of attack —- but not this time. I've been jumping from task to task based on the bathrooms crew's timetable, and that is definitely contributing to the chaos going on in my gut right now. At least this week I have some actual progress to share with you guys so that's exciting, right???
Week 1 / Week 2 / Week 3 / Week 4 / Week 5 / Week 6 / Week 7 / Week 8
(Some of the links included in this post are affiliate links, meaning, at no additional cost to you, I will earn a commission if you click through and make a purchase)
Speaking of having a good plan — along with finalizing as much of my design plan before I start my ORC projects each year, one other way that I get myself ready to hit the ground running each time is to make sure that my DIY inventory is fully stocked. Over the winter this year cleaned out my whole garage and supply storage and created a checklist of my go to supplies to have on hand in an effort to avoid adding lots of extra emergency trips to the hardware store.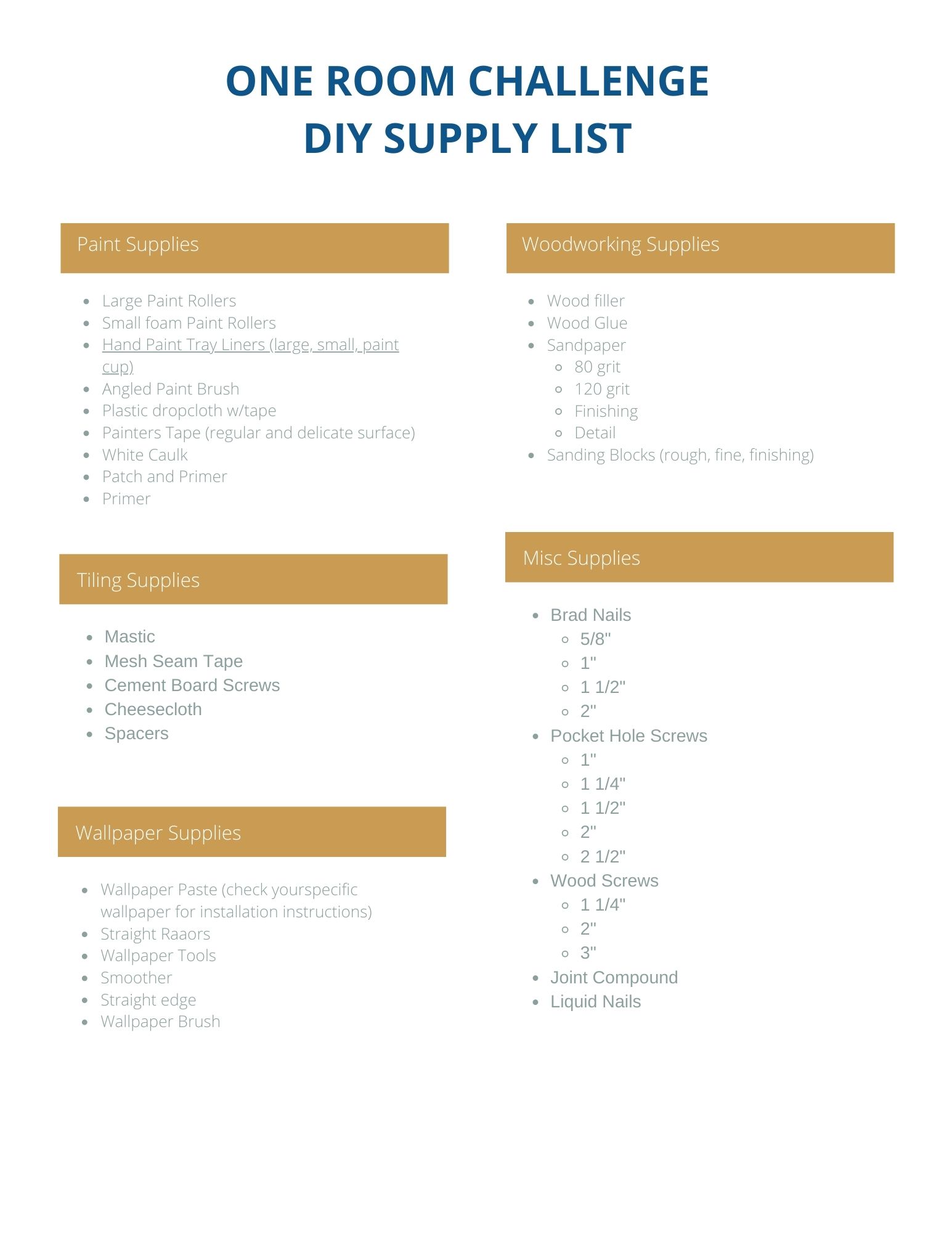 Something that I always make sure to stock up on when I have a lot of painting ahead (and let's face it, when is there not a lot of painting ahead?) is my collection of Handy Paint trays and liners. I usually have at least 2 if not more painting projects going on at once so the easy to swap out liners let me jump from project to project and the different size trays keep things neat and tidy no matter what size job I'm working on.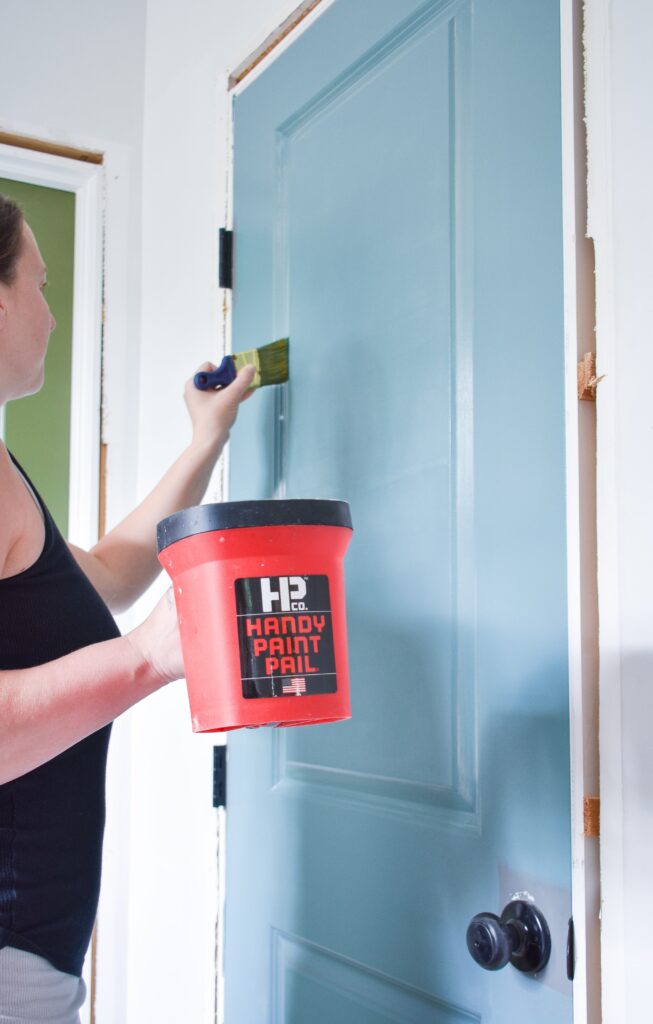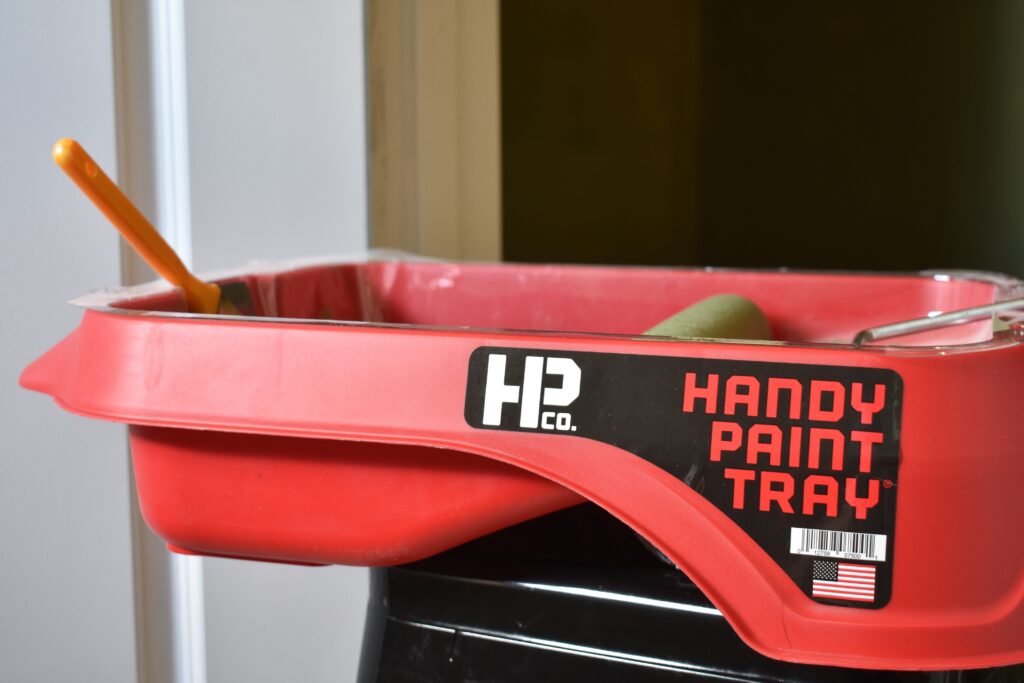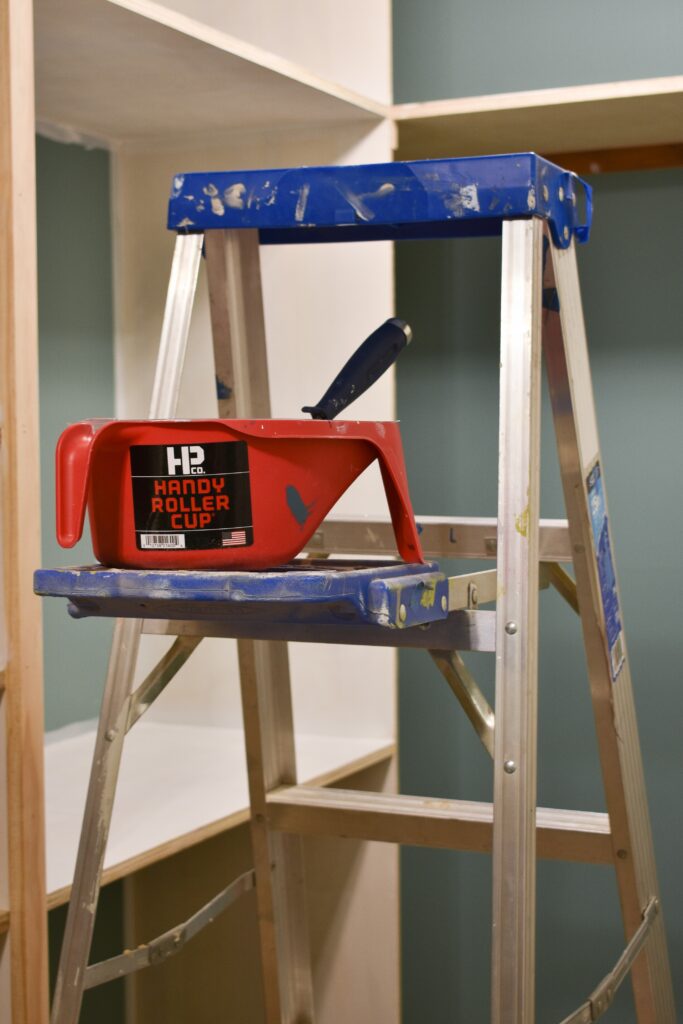 Since the bathroom was still being worked on when the challenge officially started, I started working in my closet each evening after they left (which if I hadn't mentioned before I have to walk through the bathroom to access which is a plus for hiding out from children but a minus when you're trying to get some work done while a construction crew is present) and devoted my weekends to tackle as much of the actual building as I could.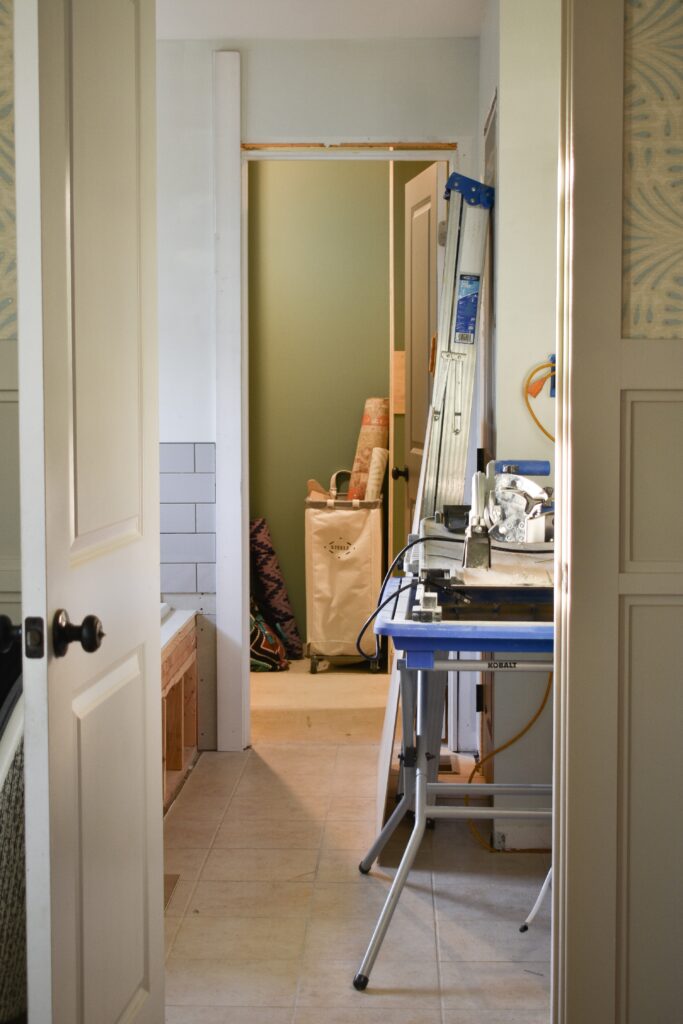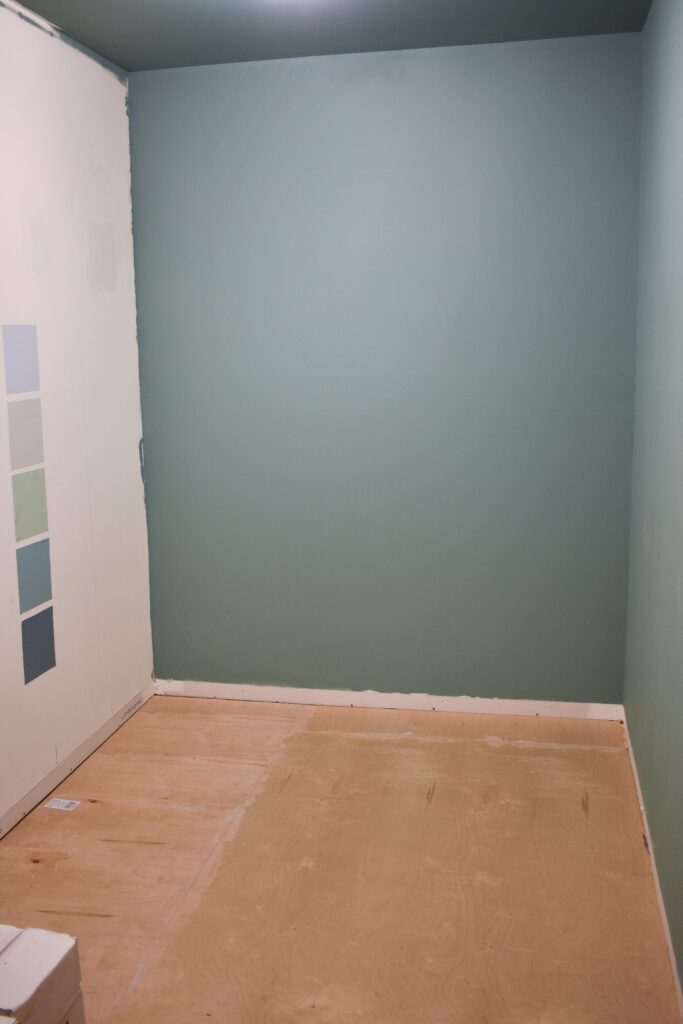 I started by painting the walls and ceiling (Sherwin Williams Moody Blue) and then ripped up the carpet. I am going to be running new continuous flooring from the bathroom into the closet so I had to level out the subfloor with two layers of plywood. I also had to pry out the metal trim piece from underneath the existing tile, which resulted in some chipping, so I filled that gap with this floor compound I stumbled across at Lowes.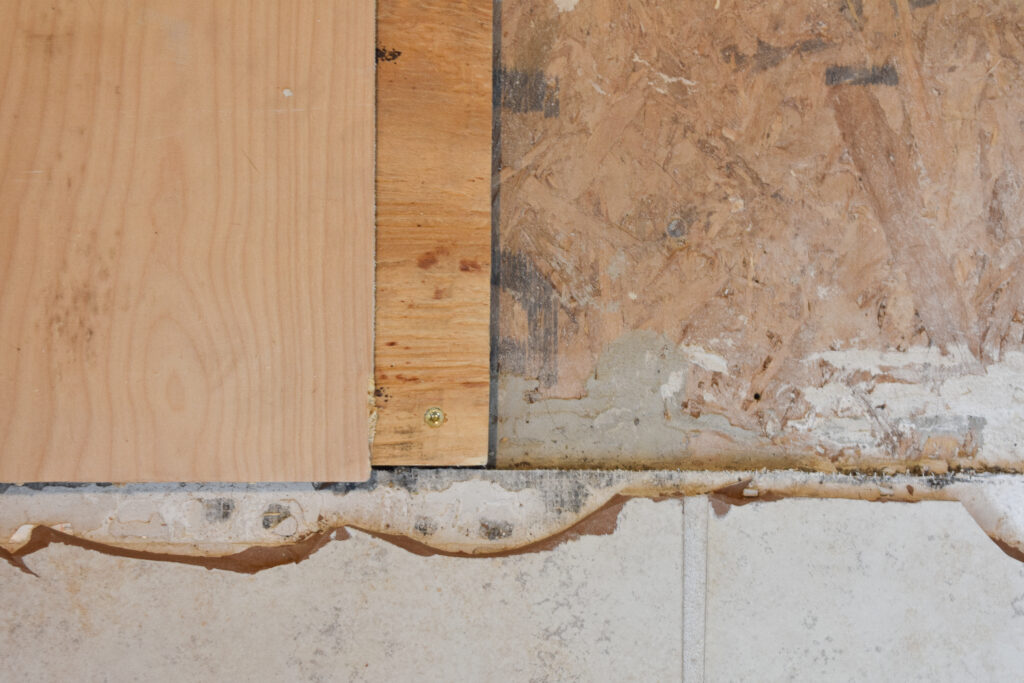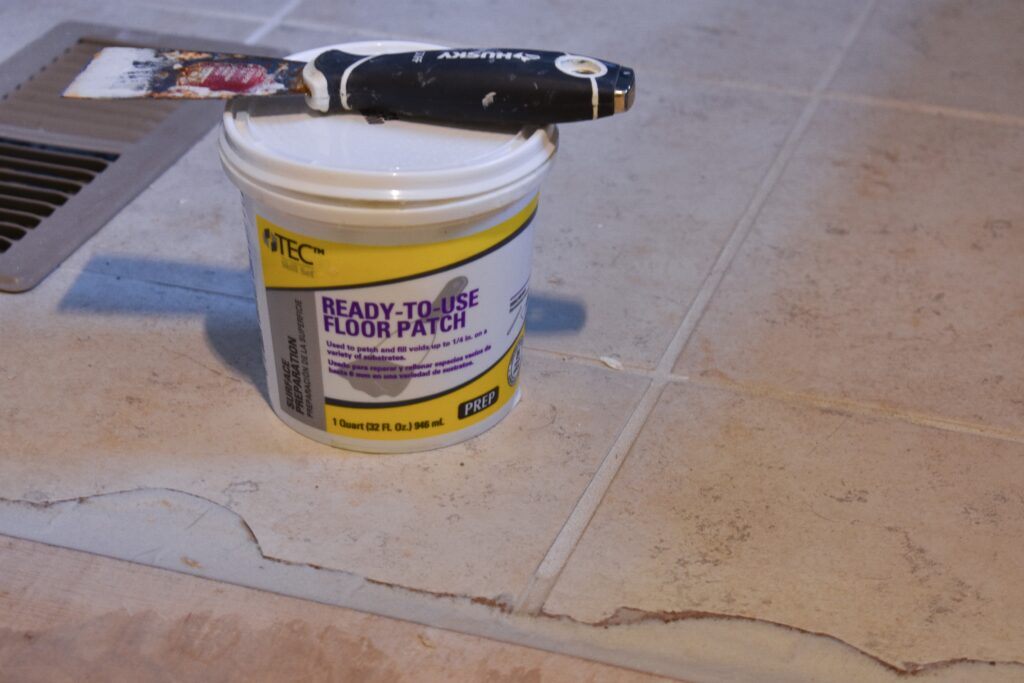 If you're looking for a really great closet tutorial I highly suggest checking out this one from Ashley at Smashing DIY, and I also did a pretty throughout breakdown of my own closet building process during last Fall's One Room Challenge (you can check that out here) for a smaller closet. I had to modify both processes a little bit to not only deal with building in a larger, but still very narrow, space but also to compensate for the insane lumber prices right now!
Start by building frames out of 2×4 and attaching to the floor and ceiling.

Make sure to check your frames are level and square before you attach them.

Cut the sides of your cabinets out of 1/2″ or 3/4″ plywood and attach (checking they are plum and straight)

Attach your side pieces either directly to the wall, or to the 2×4 frames

Cover the top and bottom frames w/1/4″plywood

Use scrap wood to keep the spacing even as you work your way around the room (these will be removed before the next step)

Cut your shelves to size and attach with pocket holes, screws, and wood glue

Use scrap wood to keep your spacing and check that each piece is level

For the larger shelves I added 1×2's for extra support underneath

Finish with 1×2 boards to trim out the shelves and frames.
Once everything was trimmed, caulked, patched, sanded, and primed — I taped off the entire room and sprayed everything with a few coats of semi-gloss paint. If you look close you can even catch a glimpse of the new vinyl plank floors that I installed in both spaces.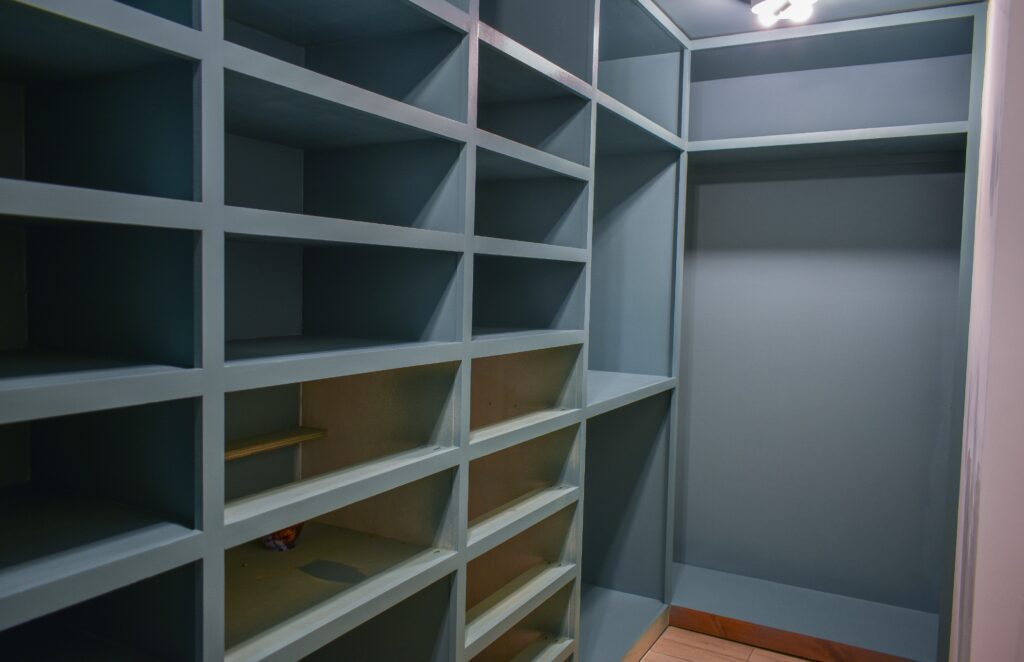 I'm probably going to shift direction for the next week or two and check off some items in the bathroom now that the floor is in and the plumbing crew is pretty much wrapped up, also I am in deep denial that I still have to build 7 drawers and I'd like to keep that going for as long as possible.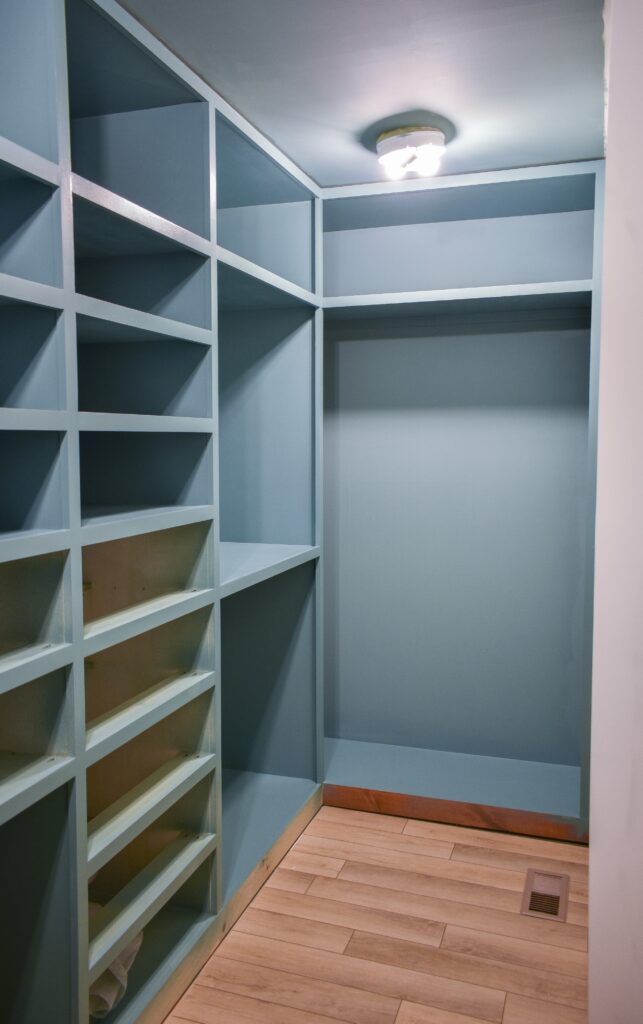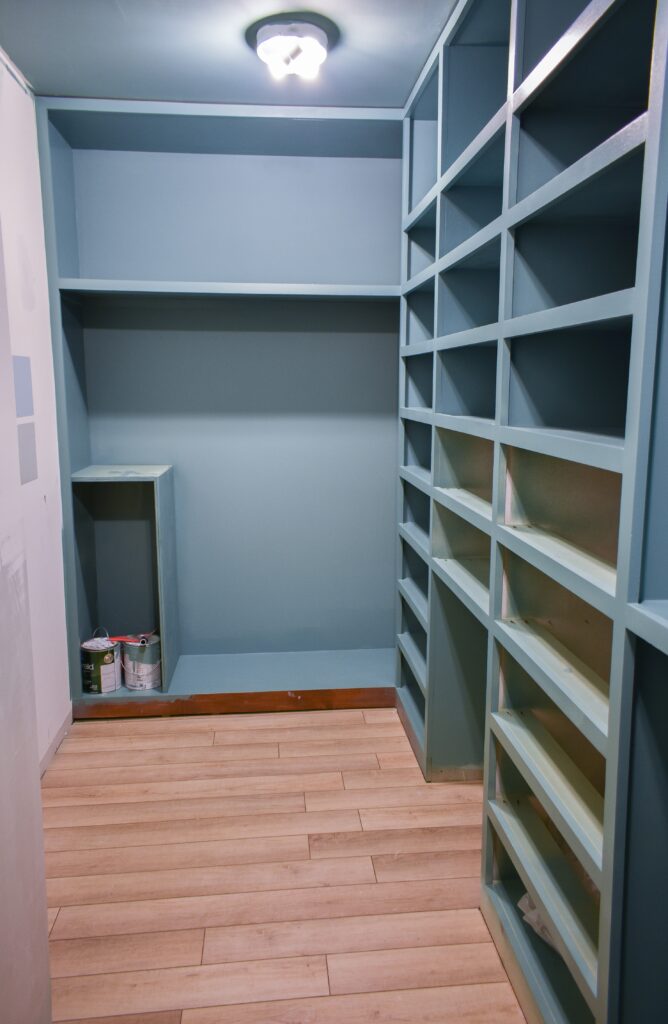 I'm also really really looking forward to the 3 day weekend ahead and getting a chance to put my feet up and see what all of the other One Room Challengers are looking like at the halfway point….there's actually a lot of other people working on bathrooms and/or closets this year so that's exciting!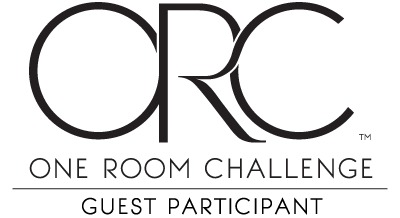 Thank you to my sponsors!
Thank you to the companies that sponsored products for me to use in this project, Cyrstorama, Speakman, Bathroom Butler, and Handy Paint Products. I'm so grateful to be able to use their beautiful products to make my vision come to life.