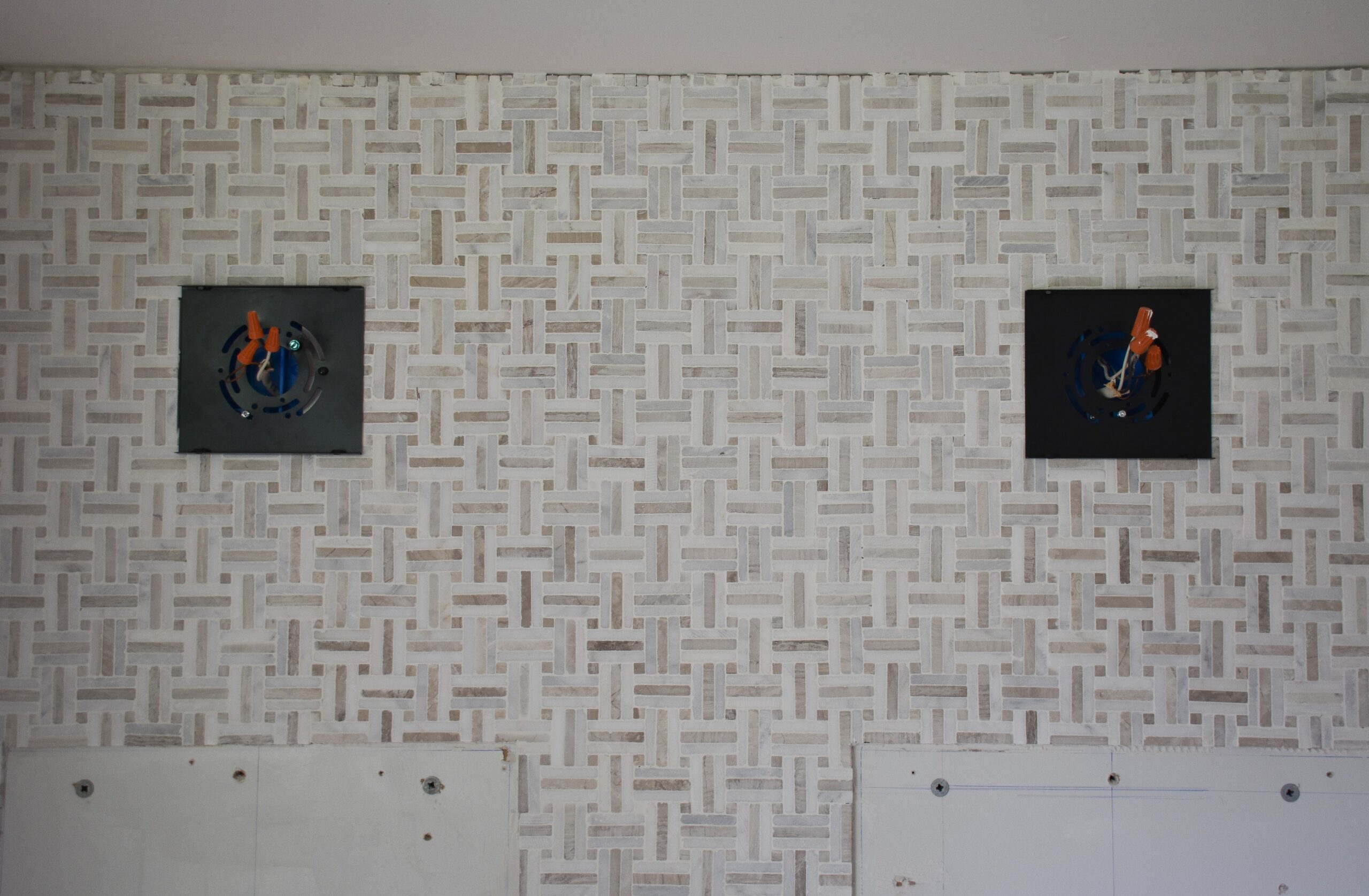 I'm usually pretty good at finding my second wind and rallying right at the end of the One Room Challenge, but friends I'm struggling to finish this one! Don't get me wrong, I now feel pretty confident that I will make it in time which is a great improvement from last week, but I am also really really ready to be done and put my feet up for a few days. I'm saving quite a lot details for the final reveal, but there were three big things that happened right at the end that I want to share for week seven so let's go…..
Week 1 / Week 2 / Week 3 / Week 4 / Week 5 / Week 6 / Week 7 / Week 8
(Some of the links included in this post are affiliate links, meaning, at no additional cost to you, I will earn a commission if you click through and make a purchase)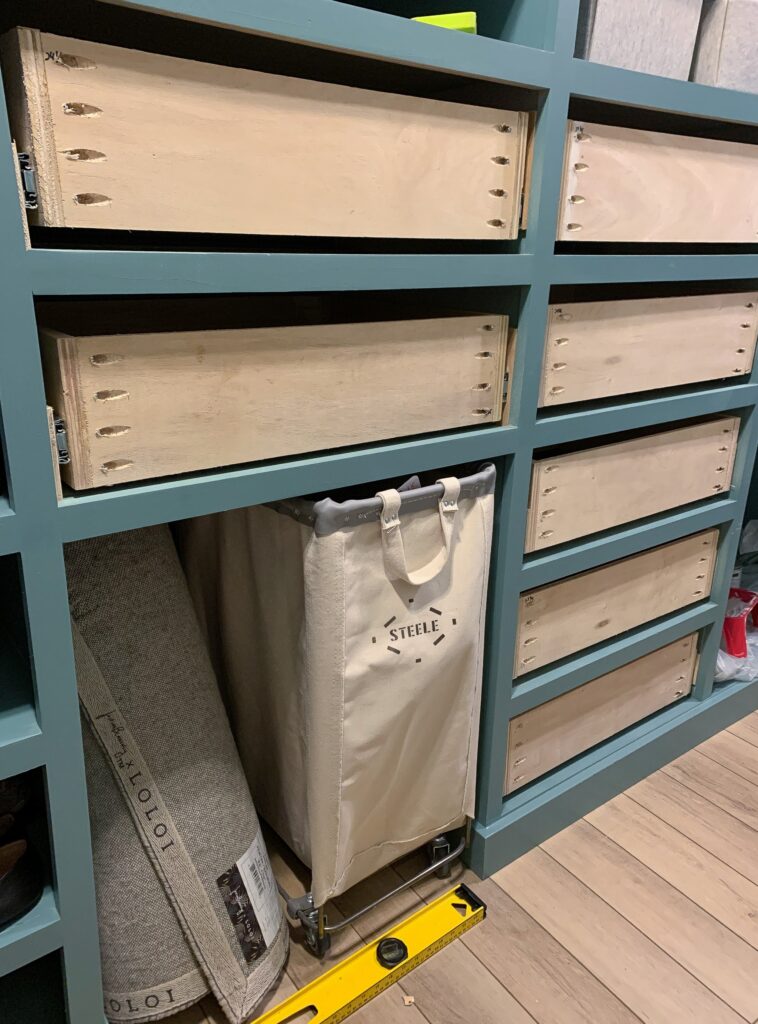 As much as I wanted to keep procrastinating it, I couldn't put off building the closet drawers any longer so I got my butt in the garage and got to work. I'm taking a small gamble to try to dress these up a little bit with a trick that I learned from Stacie's Spaces earlier this year involving some textured wallpaper that I have leftover from another project. I attached a piece to each front panel using spray-able adhesive before installation, and after I paint everything in the same shade of blue as the rest of the closet I think the subtle texture will look really cool.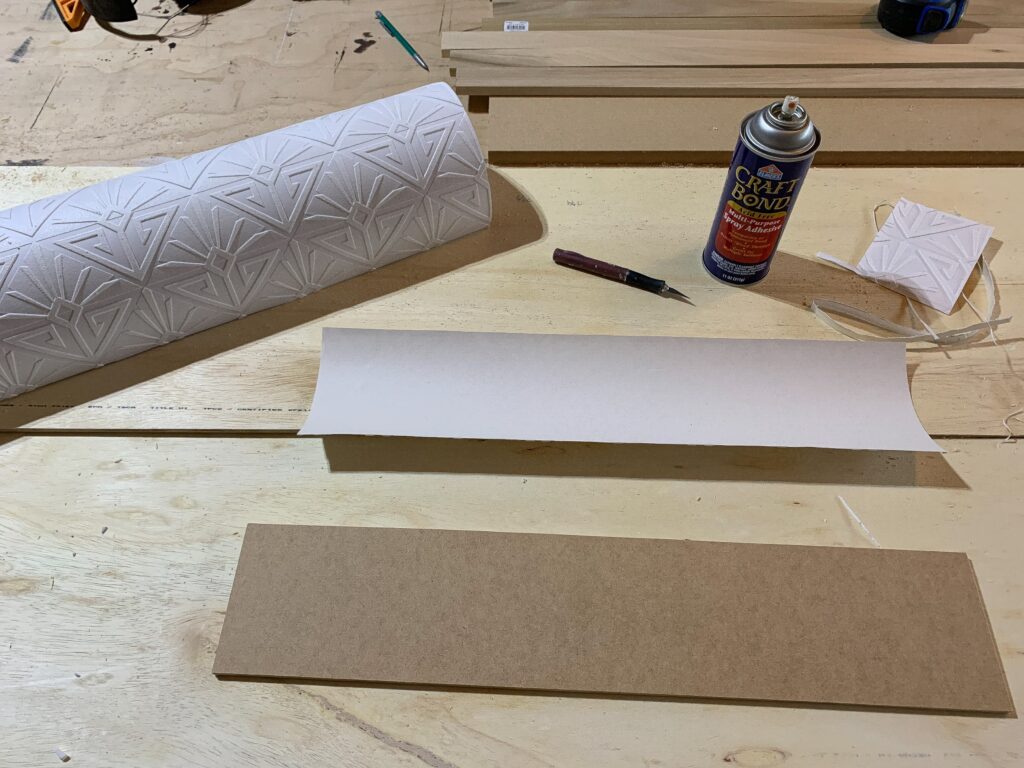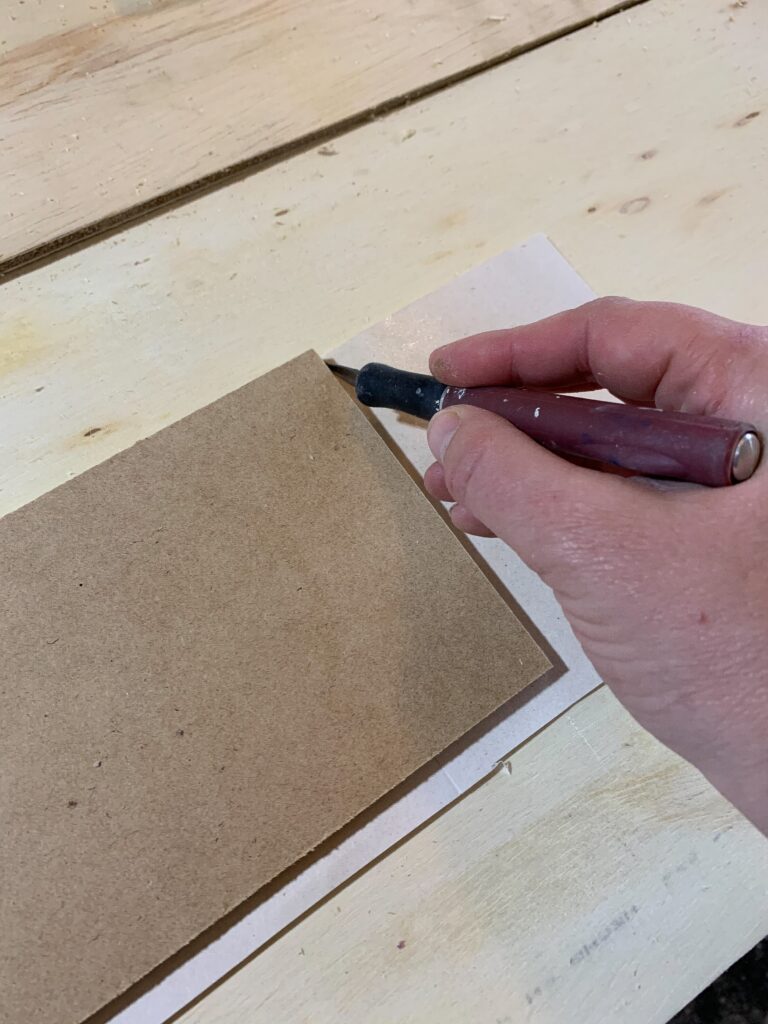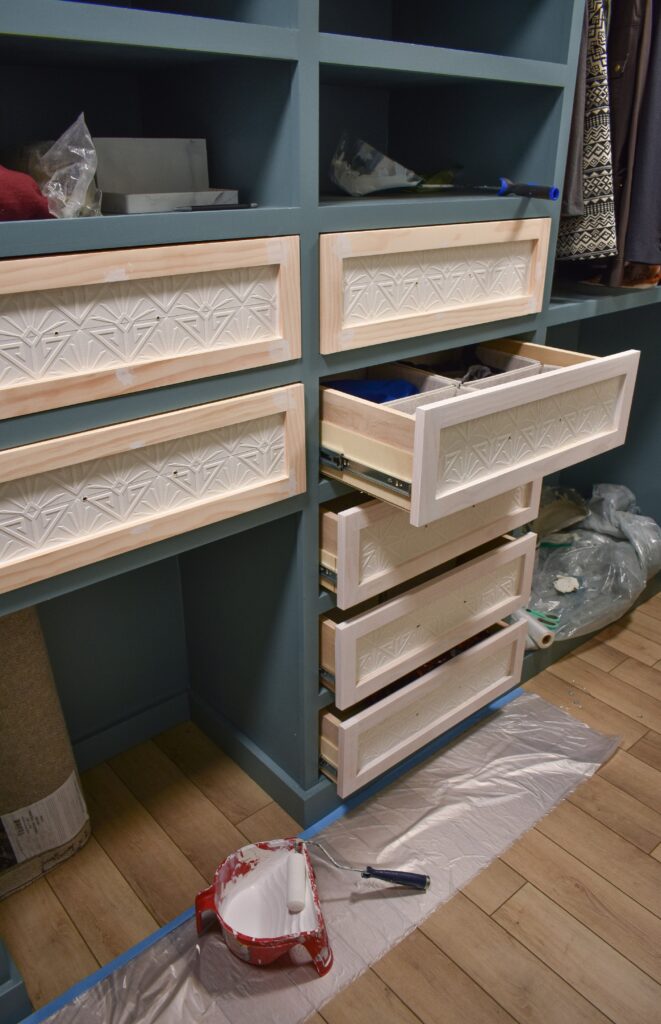 And because I've come to the realization that I'm pretty addicted to wallpaper these days and will look for any and every excuse to use it, we had wallpaper installation number two this week. I have zero pictures of the installation process because at first this was an ABSOLUTE DISASTER! I followed the directions that came with it and tried to put the first piece up —– and the entire thing crinkled and then bubbled right off the wall….and then I had a pretty big meltdown because not only was I totally in love with this pattern, it also wasn't cheap! LUCKILY my dad was over to do some electrical work and had experience with this type of paper. He was quickly able to figure out that it needed way more soaking time then the instructions indicated and after that we were able to work together to get it installed in one afternoon. This pattern is everything I dreamed of and so much more. It reminds me of the types of wallpaper that my grandparents had in their home that I would stare at while falling asleep at night and that memory alone was worth all the stress it took to get it up.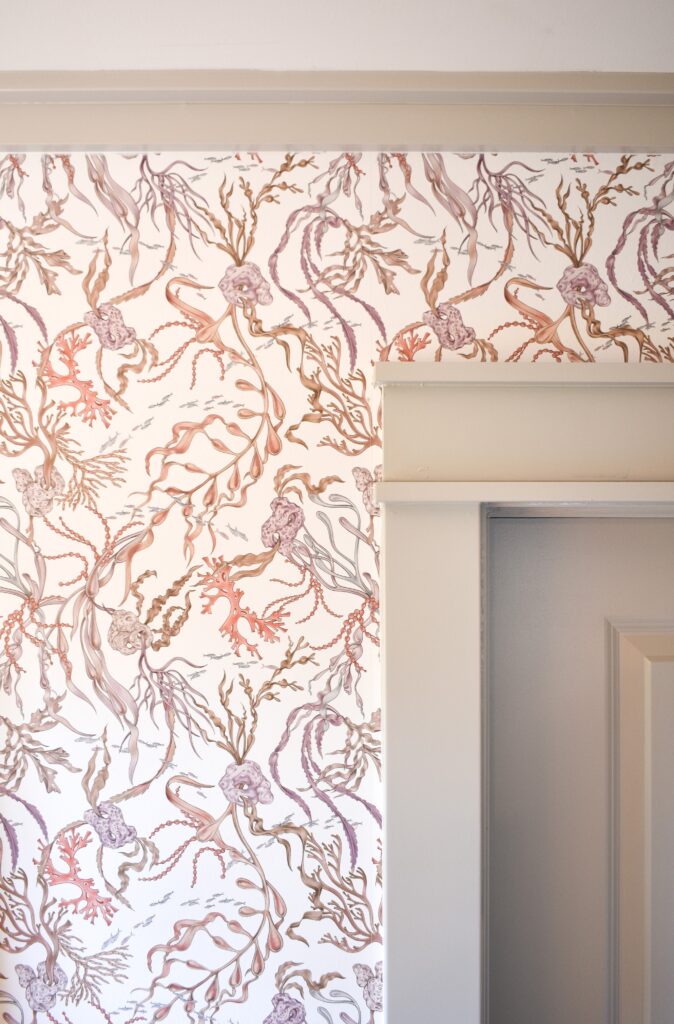 Now that this wallpaper is up I can begin working on all the final projects in this space, including changing out the light fixtures. I was extremely privileged to get the chance to work with Cyrstorama again during this One Room Challenge and find the perfect lighting to tie the bathroom together. There's quite a lot going on in here so I wanted to keep the lighting simple, but impactful, and very much was hoping to match the pendant over the bathtub with the sconces over the sinks. Ultimately I chose to go with pieces from their beautiful Fulton lighting collection. The sleek silhouettes really stand out against the busy wallpaper and tilework, and the black metal accents compliment the fixtures perfectly.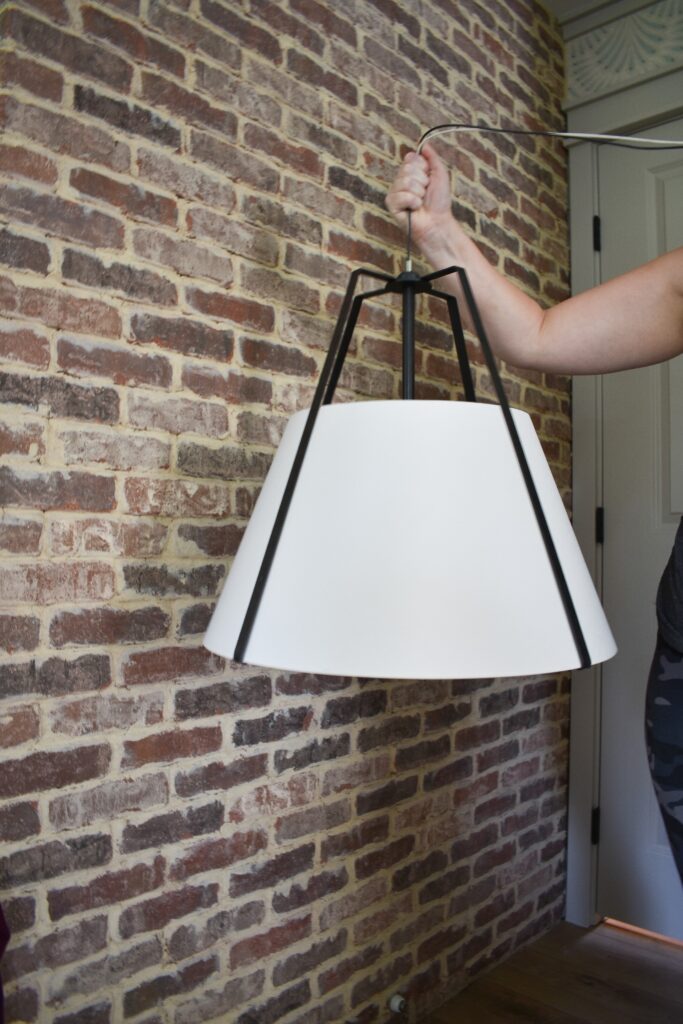 I'm usually not the biggest fan of fabric shade light fixtures because I think they look a little bit boring, but when I first saw the Fulton 2 Light Black Wall Mount sconces I actually thought they were frosted glass because of the softly curved shape. These were easy enough for me to install myself over the marble weave tile backsplash I put up last week and I'm really pleased with the way they look together.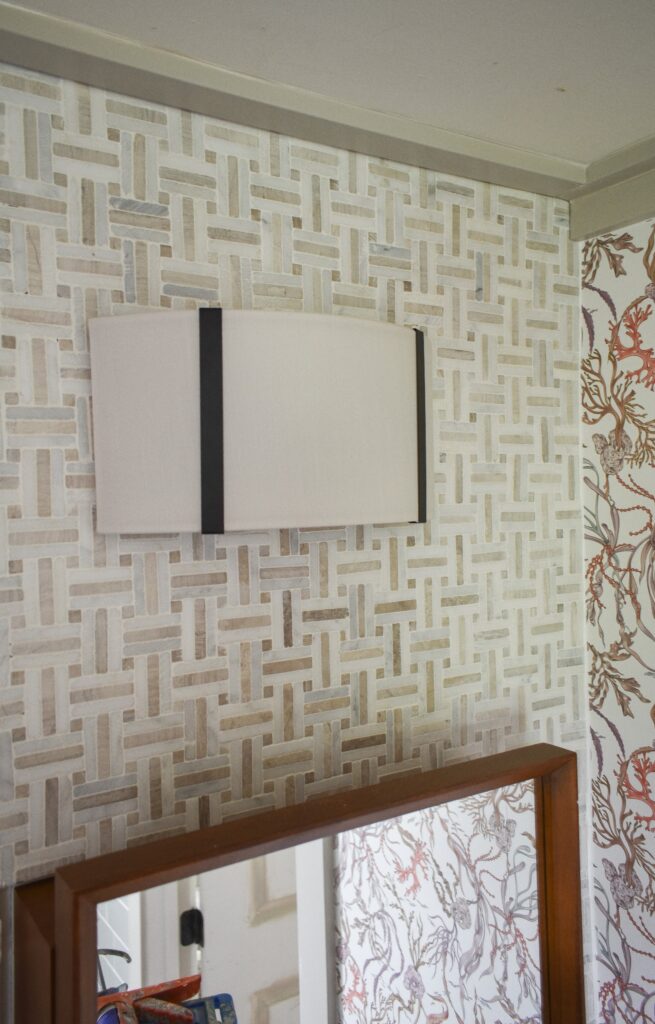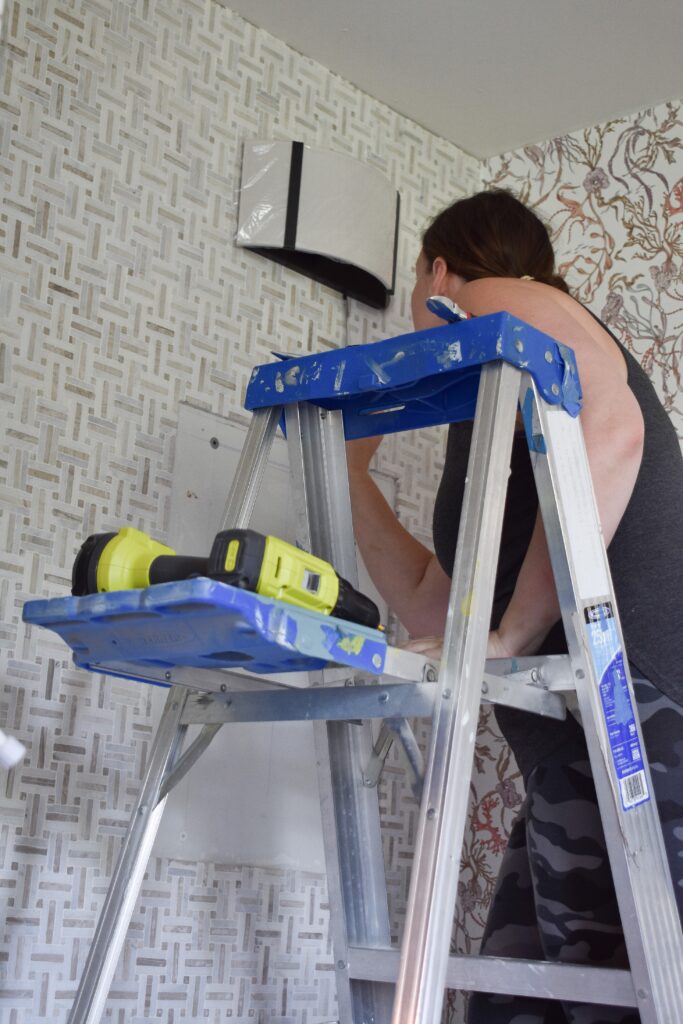 For help installing the pendant over the tub I called in reinforcements (aka my dad) because we had to first install a recessed light conversion kit and I wanted him to confirm that it was going to be strong enough to hold the new fixture (turns out it attached super securely without additional supports and is a nifty new idea to put in my bag of tricks). Also he's a lot taller than me which always helps for jobs like this.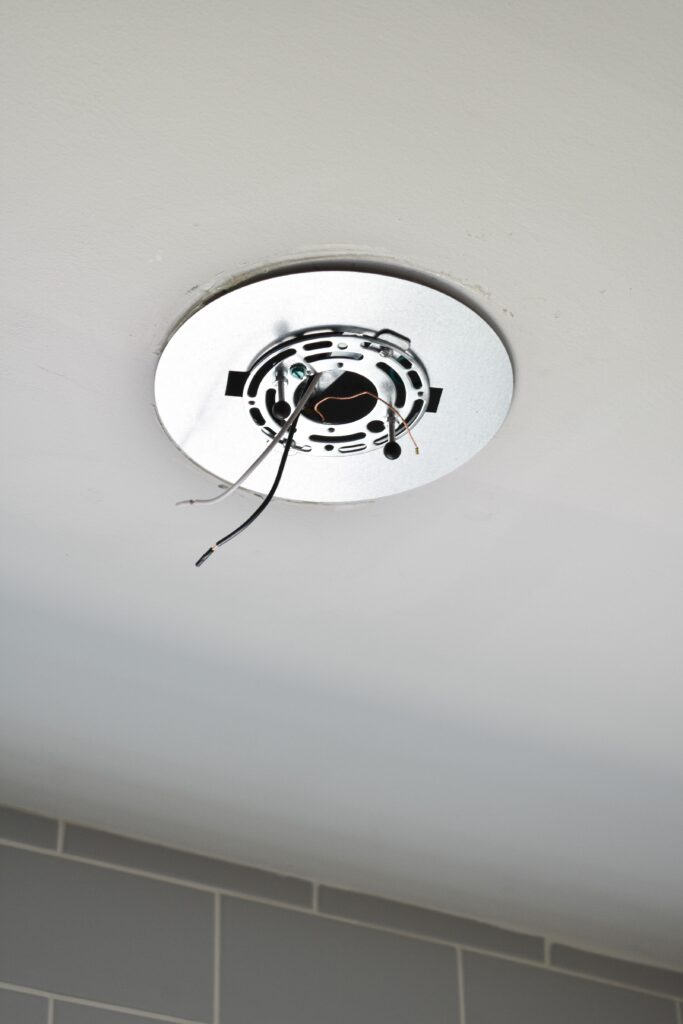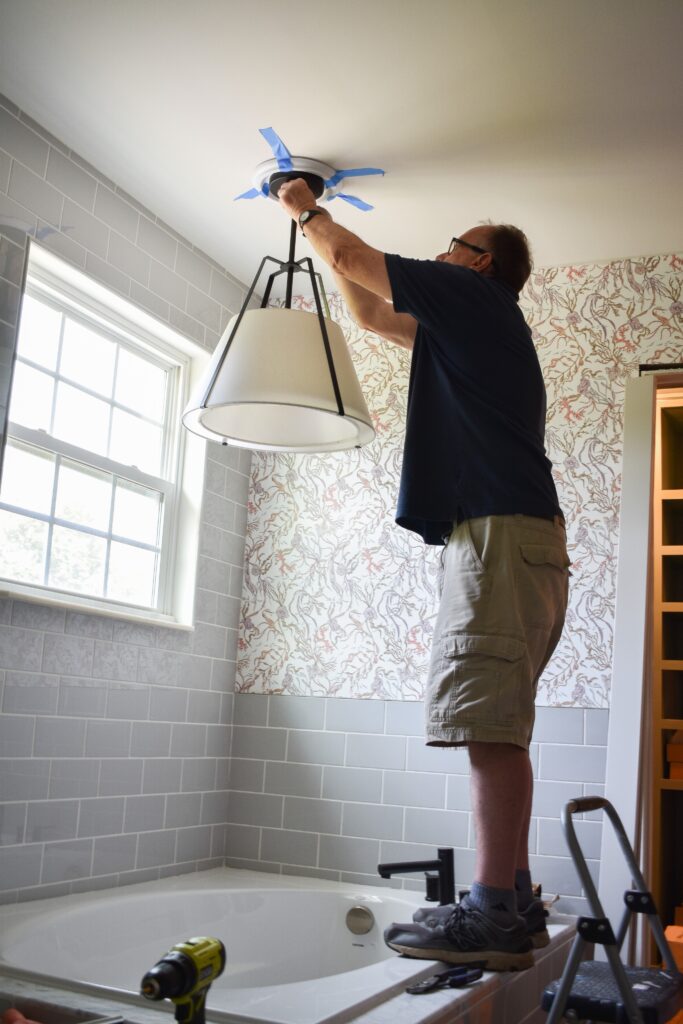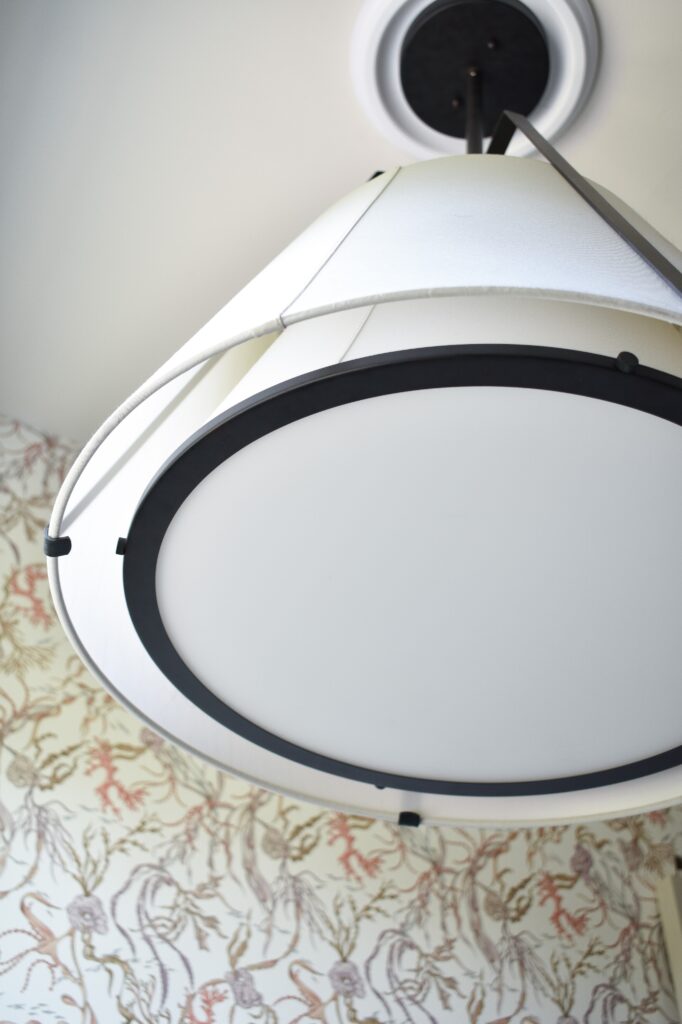 Pictures really may not adequately express how gorgeous our new Fulton 3 Light Black Pendant is but I'll try. The fabric shade on this one also very much reminds me of frosted glass (the bottom actually is glass which helps cast a nice soft glow into the bathtub) and even though it is quite large it still feels very light and airy. Most of that is due to the negative space created by the black metal bars which to me is what makes this pendant really special. I've been hating to turn it off at night because it's even more beautiful when it's lit up.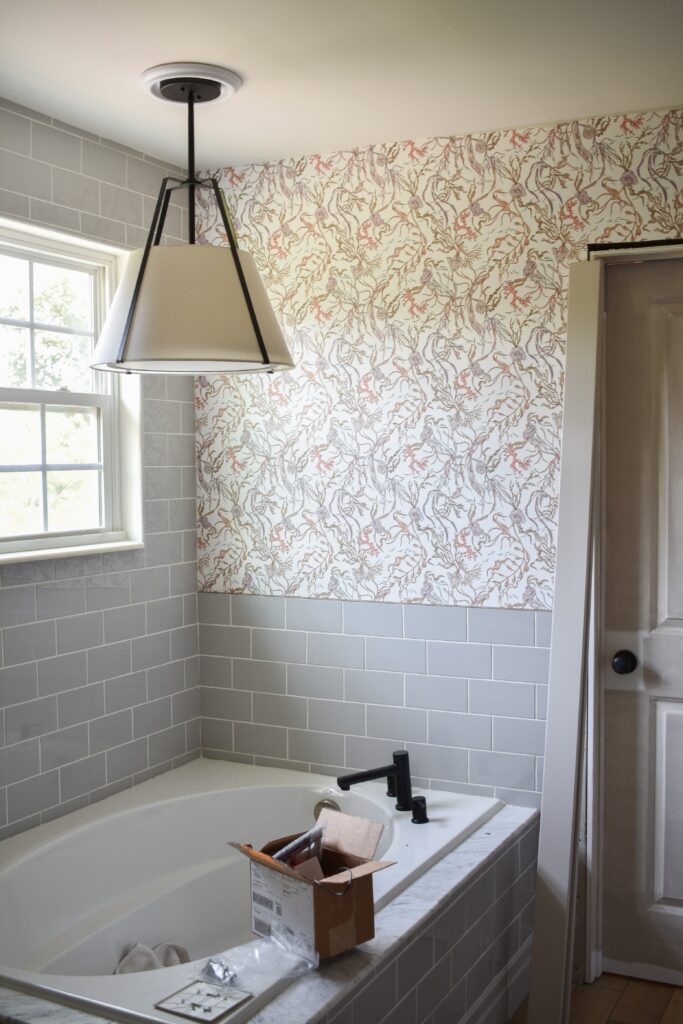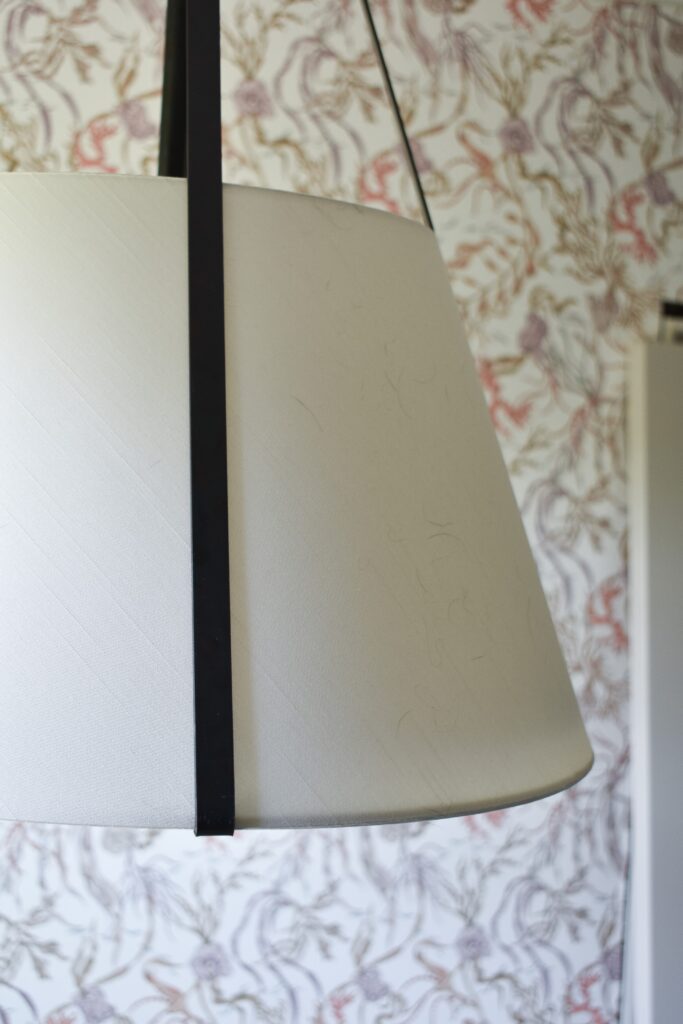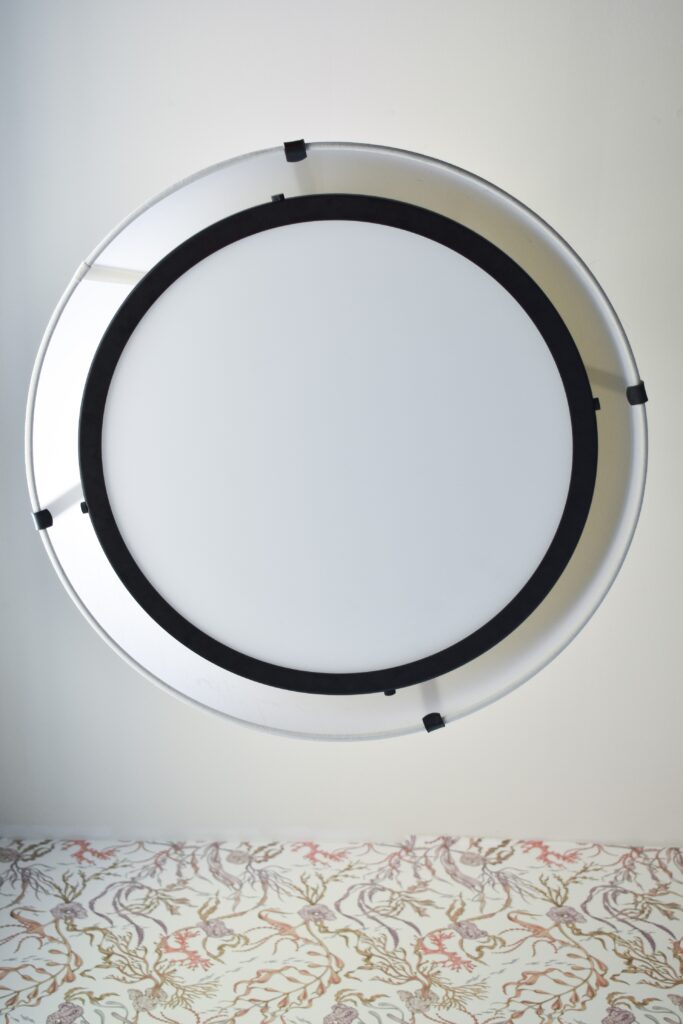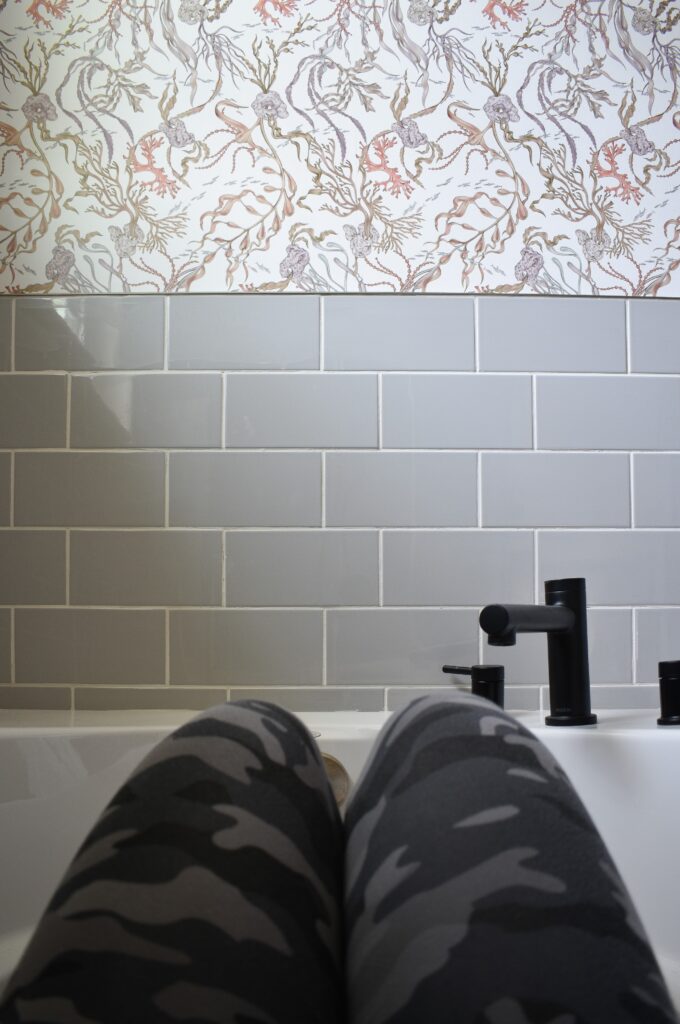 To get some of these shots I crawled into the bathtub for the first time and didn't want to get out….I contemplated taking a full on nap and seeing if anyone would notice. But eventually I got out because there is still a ton to do before the reveal and it's finally really starting to feel like the space I have been envisioning for all these months and I cannot wait to share it with you all. Until then, enjoy this picture that GOB snuck of himself while we weren't looking.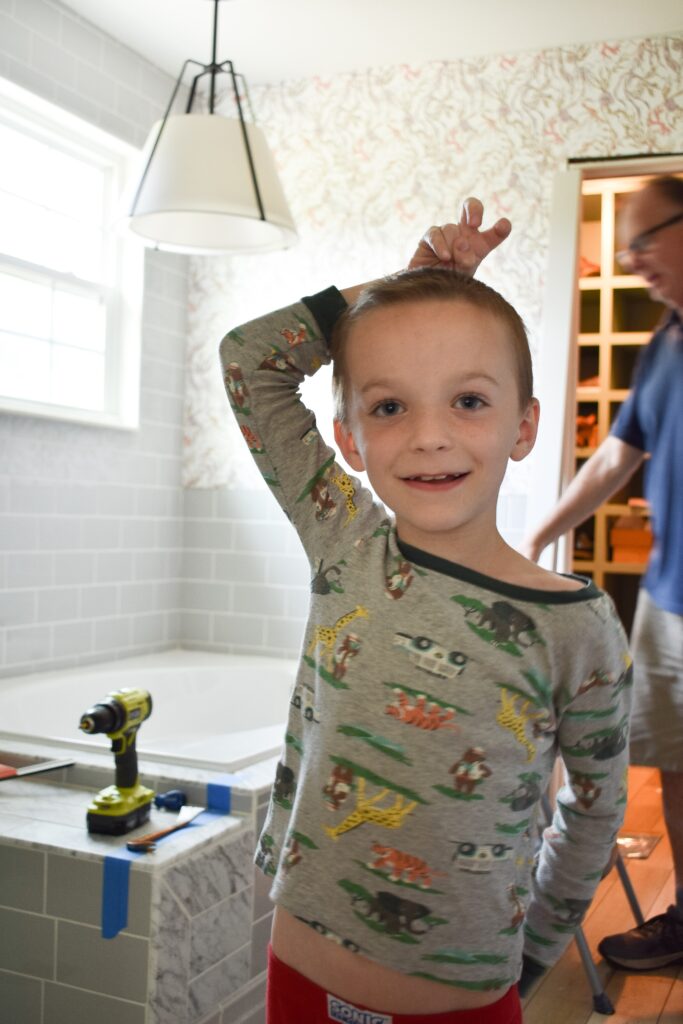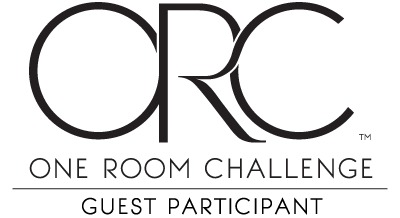 Thank you to my sponsors!
Thank you to the companies that sponsored products for me to use in this project, Cyrstorama, Speakman, Bathroom Butler, and Handy Paint Products. I'm so grateful to be able to use their beautiful products to make my vision come to life.