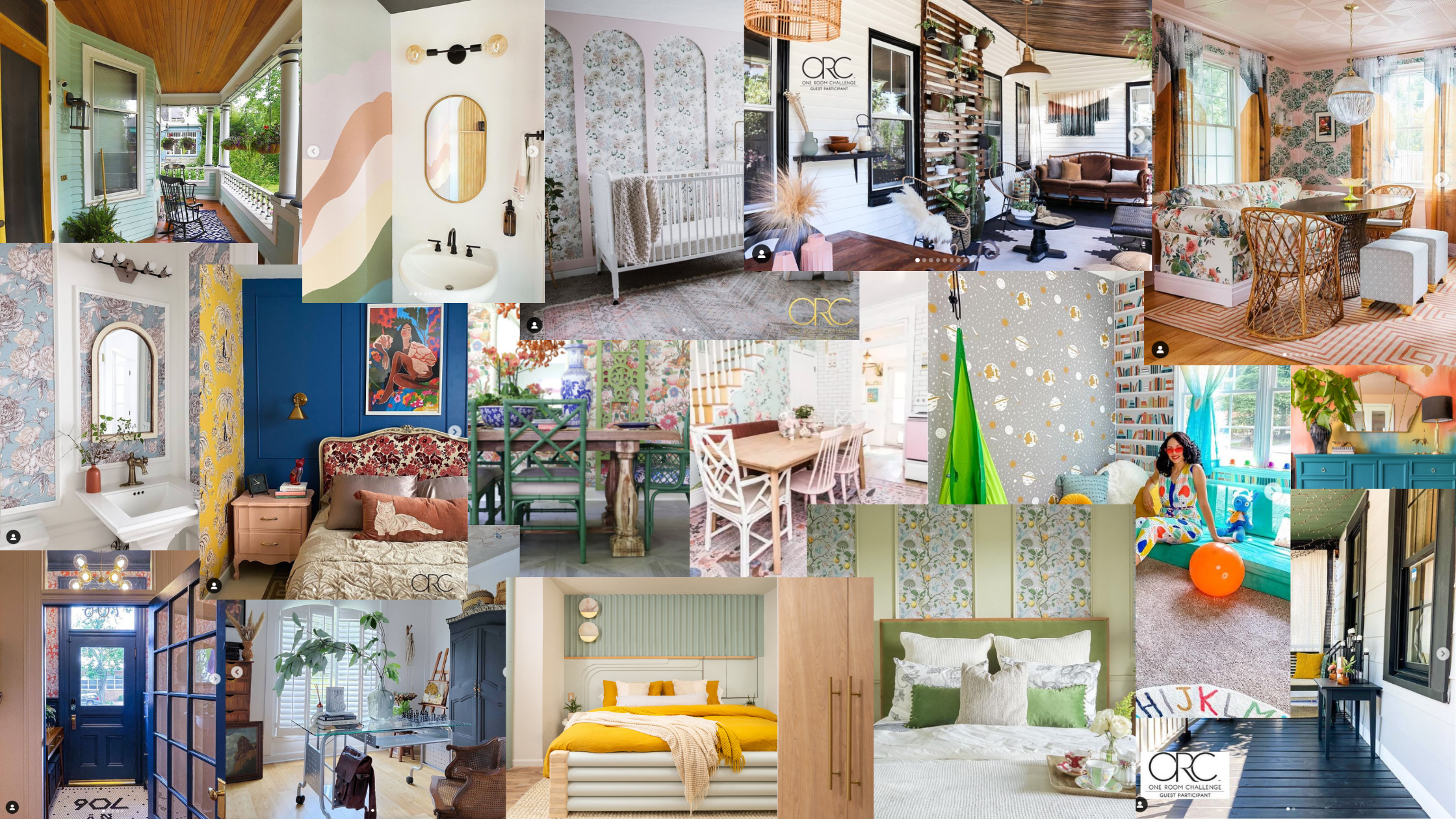 One last blog post before we say goodbye to the latest One Room Challenge. Whether I participate or not, one of the best parts of each round is watching the participants push themselves and their creativity to new levels, and once the dust settles I love to go through each and every entry and pick out a selection of trends that excite me. This is by no means a complete list of my favorite spaces, but rather a list of the ideas that I'm predicting will not only become more popular but also ones I think easily translate into DIYs that you can incorporate into your own room. So sit back, enjoy, and give these awesome designers the love the deserve by visiting their posts, leaving some comments, and giving them a follow!
Also -side note – one non-decor trend I noticed was that there were a LOT of mama-to-be's participating this time (and I think at least two babies made their debuts before the reveal) so I just want to give a very big shout out to them for being awesome and showing the power and resilience of pregnant women!
Grown Up Pastels
Or as I like to call it "Boca is the new Boho"…..At Home with Ashley again showed why she is the queen of sophisticated pastels with her kitchen renovation but many other designers proved that rainbows don't need to be relegated to kids spaces. While I definitely get a strong feeling of being in the sunshine state from each of these spaces (especially when they come with a hint of art deco) the vibe is much more cocktail hour than beach party.
Framed Wallpaper Panels
This one feels like a bit of a throw back style, but with the re-found love of wallpaper going strong and the huge array of beautiful patterns to chose from these days I feel like the trick of framing wallpaper panels instead of doing a whole wall feels fresh again. And although it's not technically wallpaper, I included the framed shiplap from House with Home because it gives a very similar effect that I think is really lovely.
Saturated Color and Pattern Play
This isn't a new trend by any means, but I love seeing bright bold colors and pattern-on-pattern spaces becoming more popular each year. Spaces like these inspire me to be more adventurous in my own home, even just in my choice of rugs, artwork, and accessories. Each of the spaces below concentrate on two to three main colors and build off of those so while there's a lot going on, they feel cohesive and not overwhelming.
Adding Pattern on the Ceiling
Hopefully when you read that sub-heading you did what I do and sing it to the tune of "Dancing on the Ceiling" by Lionel Ritchie. I've mentioned in some of my room reveals that I like to paint ceilings (especially in smaller spaces like closets and powder rooms) but I have yet to take the plunge and add pattern to one. As this becomes more and more popular and designers push this to new heights (um hello shower ceilings!) I'm more committed to finally add this to my own home…..probably in next year's ORC LOL.
Inviting Porches and Entryway's
I admittedly have serious front porch/vestibule envy since I have neither so maybe my own bias is showing on this one, but while the last few year's outdoor ORC spaces have primarily been backyard decks/patios/sunrooms, this year I noticed a definite upswing in people tackling their front porches and entryways. My sentimental side likes to think it's because we're all looking forward to be able to start welcoming guests into our homes again, or maybe more of us discovered the pleasure of sitting on our front porches people watching at the end of the day. My favorite spaces are the ones that feel lived in and loved – and planked floors, painted ceilings, and turned columns will also pull at my heartstrings any day.