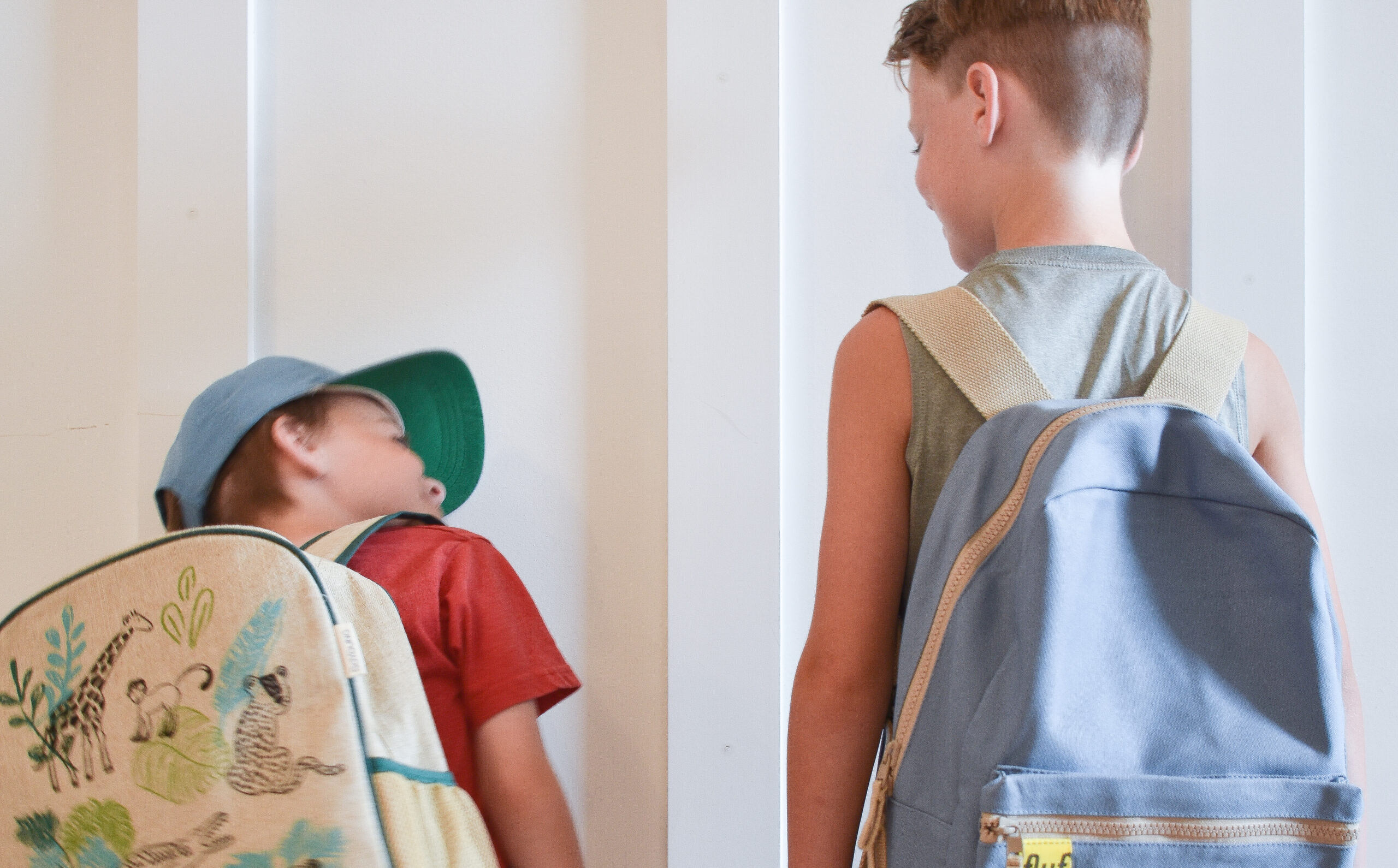 It may not seem like the best idea to re-launch something in the middle of the year but if there's one thing I've come to realize over the last few months it's that when it comes to this little corner of the internet that I've carved out I've just gotta go with what feels right……and right now it feels right to get back to writing my monthly round up posts. I took a break from them for the last year and a half because I didn't feel comfortable putting out, to be frank, pretty trivial posts like these when we were all facing such uncertainty…..and by re-starting these I'm not implying that I think that uncertainty has lifted……but at best I'm more hopeful now than I was last year and at worst a once a month distraction sounds like a nice break.
Back-to-School
The one thing that I am most hopeful for is that both of my boys will be able to go back to school full time this year so over the next few weeks we'll be working our way through our back-to-school checklist. It's far from the most exciting list (no fun crafts or chalkboards) but a well organized house and a clear schedule is the best way that I can prepare myself and my family to transition into the fall and winter (and especially after a year where the boundaries between school time and home time were non-existent I think it's going to be more important than ever). On our list before we board that bus again is:
Cleaning out the boys clothes, including shoes and coats, for things that are too small
Buying school supplies and stocking up on craft supplies for home
Cleaning out the pantry and stocking up on lunch and after-school snacks
Discussing lunch / breakfast / snack options with the boys to see what they want to eat
Coming up with a weekly chore list with the boys
Putting together a before / after school schedule with the boys (homework, bedtime, screen time, bus time, etc.)
Our command center is in need of a little makeover soon to adjust to our changing family needs, but for the time being I'm just using some clipboards that I have on hand to add one of the things that we're missing, which is a place to keep the boys "to-do" lists of things that they need to do each day before they can enjoy their free time. My oldest son just turned ten and we've been talking a lot about what priorities are and why they're going to become more and more important as he gets involved in sports and after-school activities. To me in order for a system like this to work it's really important for these lists to be in a spot that my kids can both see and reach so they can check things off by them self. A simple whiteboard, a spare glass picture frame, or a piece of paper in a plastic page protector, all work easily with erasable markers and reused each day.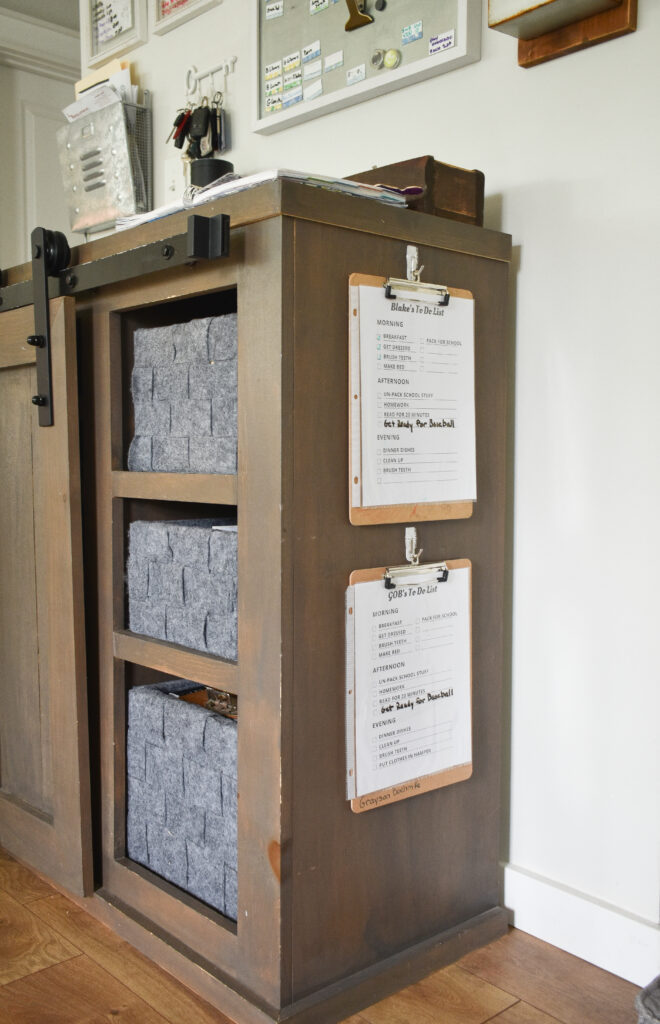 I can't be a total no-fun mom though so we'll also go shopping and pick out a new shirt or two and of course a few special school supplies because honestly I'm a sucker for a cute notebook and a new pack of pens.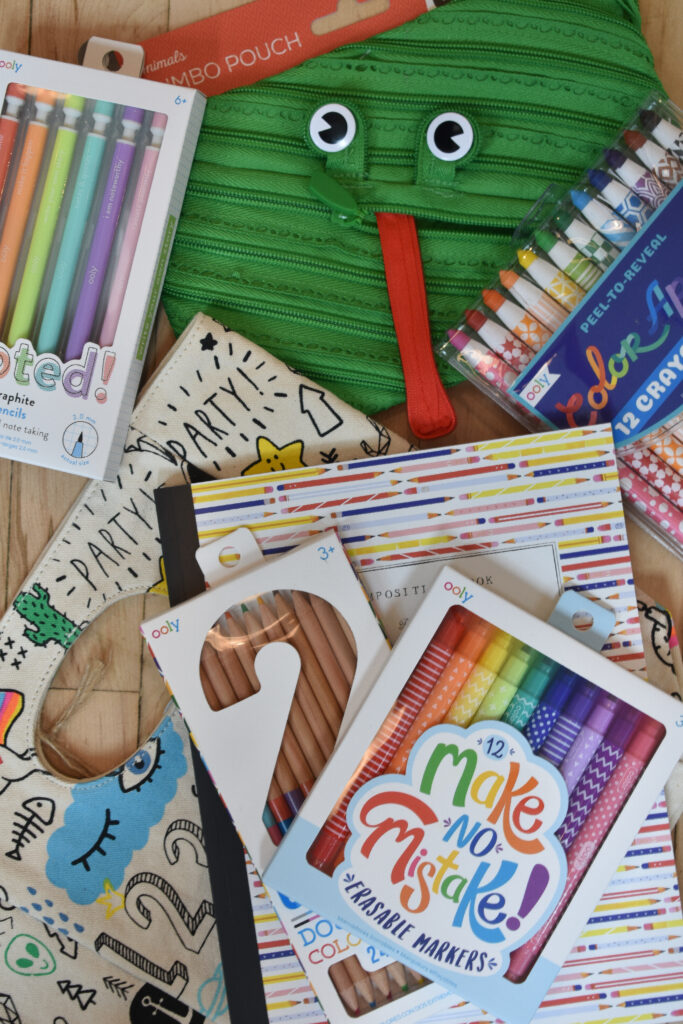 Around the House this month……
I had been toying with the idea of painting my front/dining room for months and pretty much on a whim I went out one day in July, picked up some samples, and over a few weekends turned them both purple (Exclusive Plum from Sherwin Williams). The darker shade feels so good and has sparked so many more ideas for front of our home…..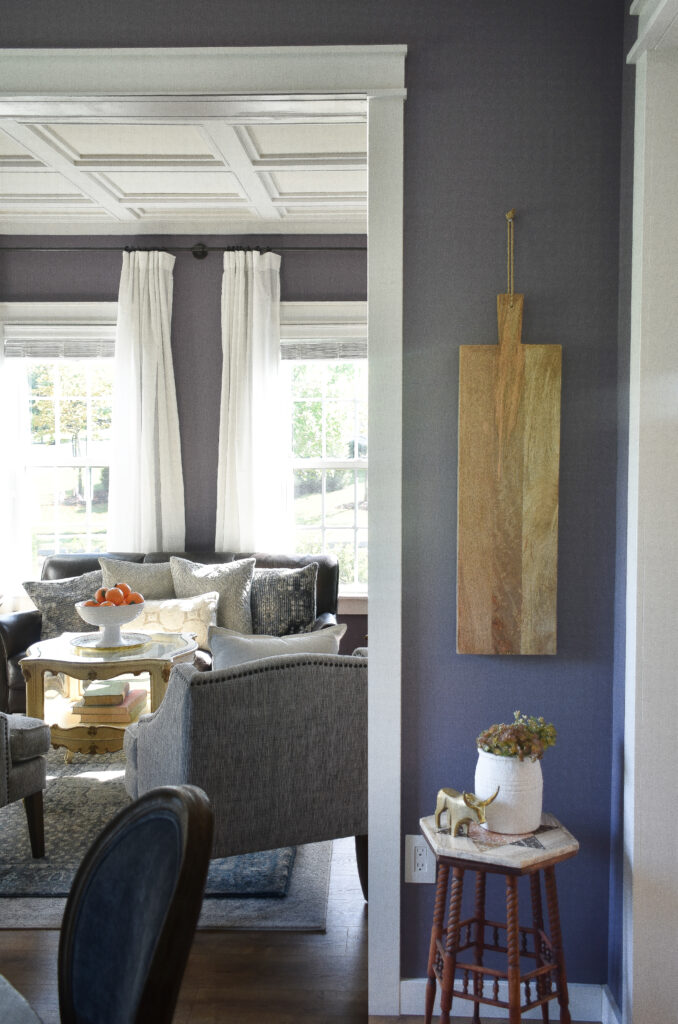 ….most of which will happen over time but I'm keeping my eyes open for small changes I can make as I'm working on other things. One that I'm already super happy with was the easy makeover I gave to the dining room chandelier by replacing the clear glass jars with some round milk glass globes that I found on Etsy for about $100.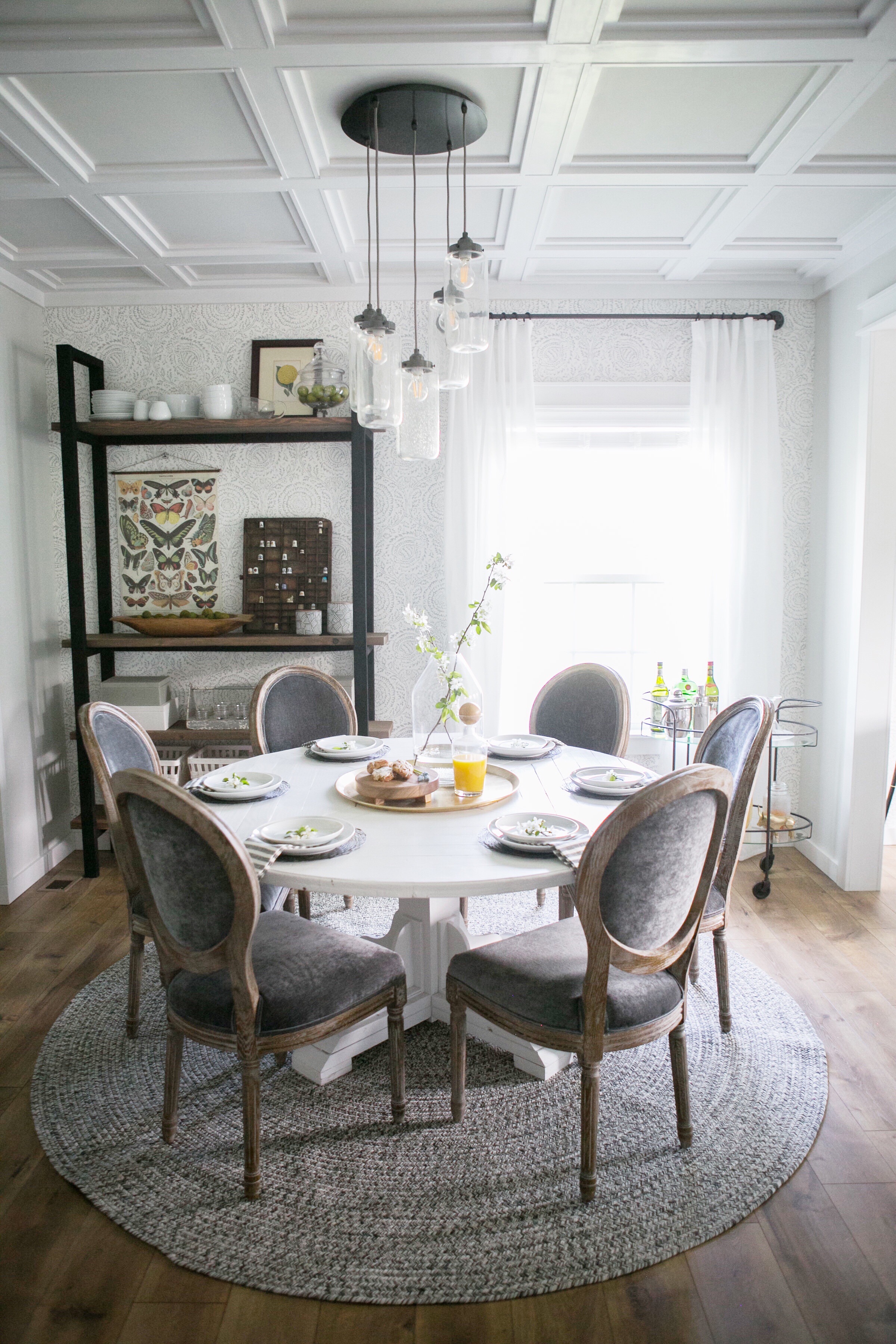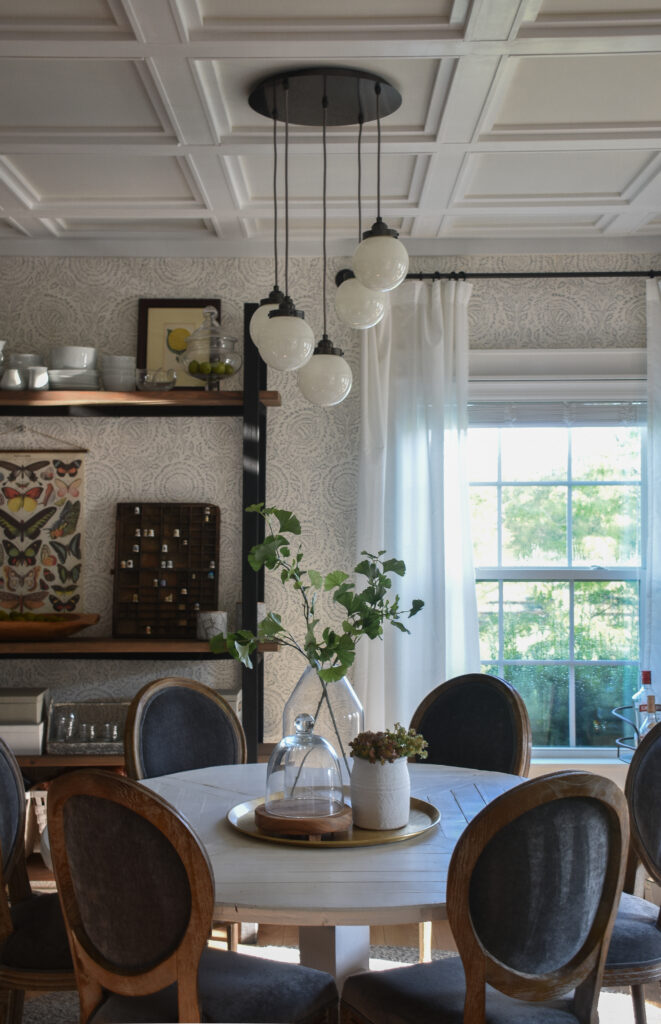 In the meantime, I just began work on the last phase of the living room makeover I started earlier this year by ripping off the top of my builder grade fireplace mantel. By the end of August I really hope to reach my goal of installing a set of built in bookcases on top of the cabinets, and add something pretty cool to the top of the fireplace (which I'm keeping a secret for now so you'll just have to come back next month to check it out).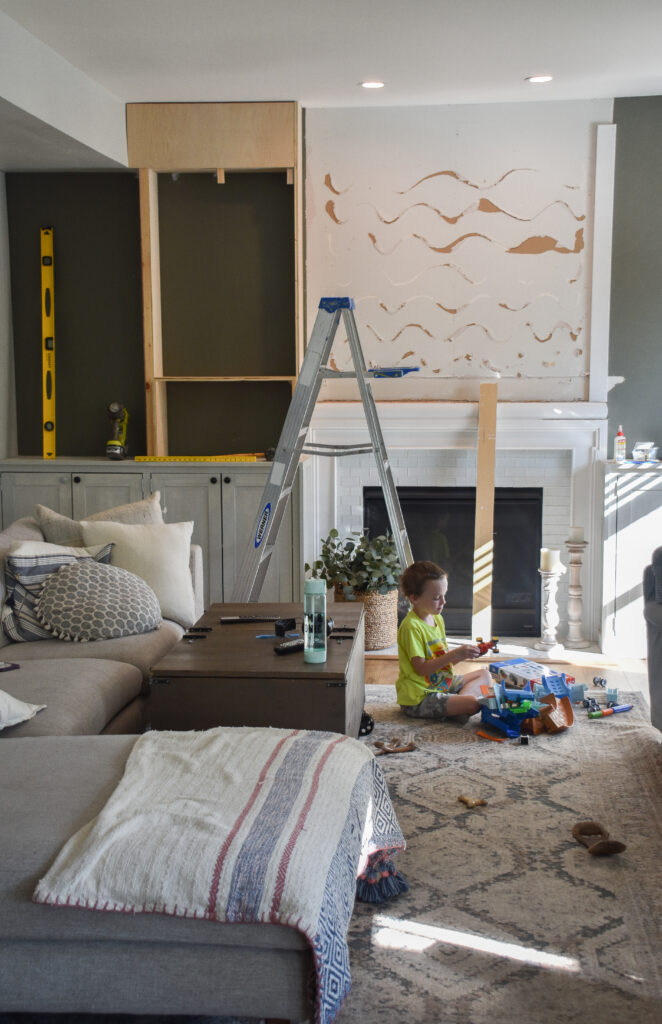 Lastly, I want to start sharing some of the smaller decor things that I pick up each month in these posts. One of my resolutions this year was to be more conscious of my spending habits and buy from small/local, inclusive, or environmentally responsible companies whenever I can and this will be my space to share those with you. So with that said, here are three of my favorite things I brought home over the last few weeks:
My first new item of clothing since I finished my closet….super soft but heavy denim and looks great paired with so many thing.
Great end of summer/early fall scent for when it's still too hot to bust out the pumpkin spice.
I just happened to stop in maker's on the day these amazing Spalted Maple vases from SD Wood Designs were dropped off and I scooped them up. You can find more beautiful versions in Black Walnut, Maple, or Oak on their website.
Weeknight Dinner Ideas
One thing I'm looking forward to once both of the boys are in school (which btw. this will be the first time since my oldest son was born that I will be without kids on a regular basis!) is to have more time to plan, prep, and cook dinner each night. Some of my fav meals that I'm looking forward to serving next month include………