Four weeks in and only four to go…..which means it's just time for my annual One Room Challenge panic period to start. I'm really hoping that my county will get the yellow light next week as planned which will make finishing up a little bit easier, but in the meantime let's talk about two of my favorite subjects — wallpaper and shiplap.
Week 1 / Week 2 / Week 3 / Week 4 / Week 5 / Week 6 / Week 7 / Week 8
(Some of the links included in this post are affiliate links, meaning, at no additional cost to you, I will earn a commission if you click through and make a purchase)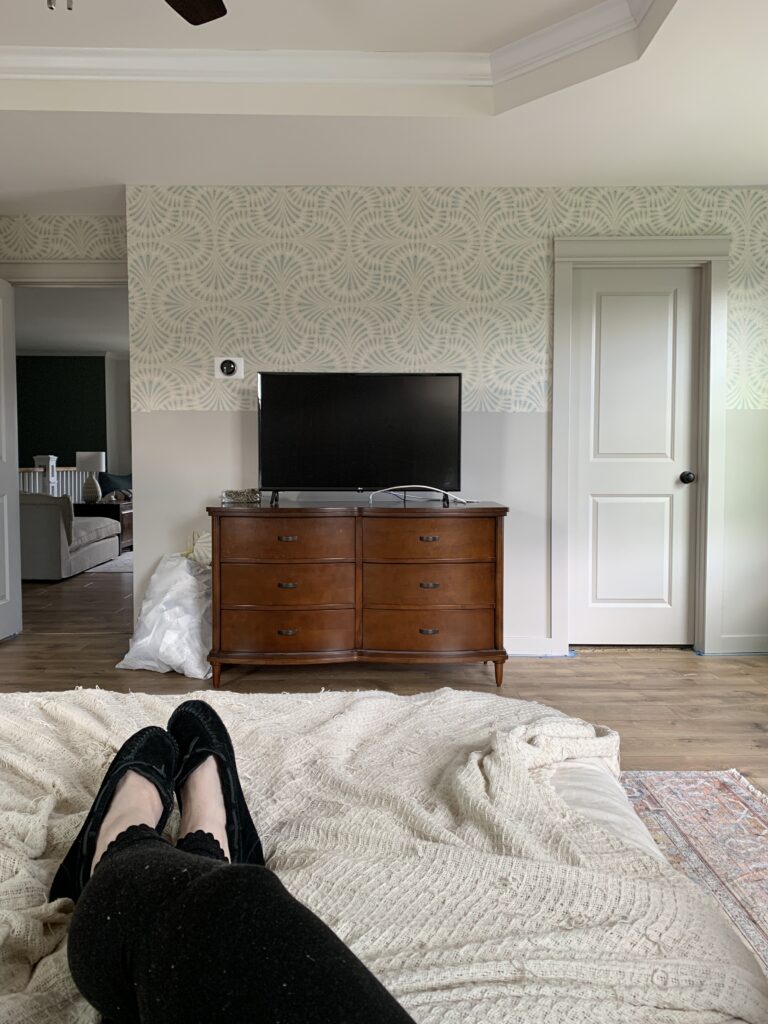 In Week Two I mentioned that I had my wallpaper lightbulb moment in a bathroom at the Hotel Hershey, but I still spent months after that looking for the perfect print. I wanted something that felt fun and fresh but also sophisticated and classy – and at first I blew right past my dream design because the preview image on the Anthropologie Website is in a different color combo and looks completely different!
The print is called Cabaret and it's from York Wallcoverings – which funny enough is the same company that made the peel-and-stick wallpaper I put up in my quick bathroom makeover.
Good thing I went back for a second look because I couldn't think of a more perfect design to be the star of this room – it reminds me of peacock feathers and you know I love me some birds. I was also pleasantly surprised to discover that it has a touch of metallic bronze that shines when the light hits it.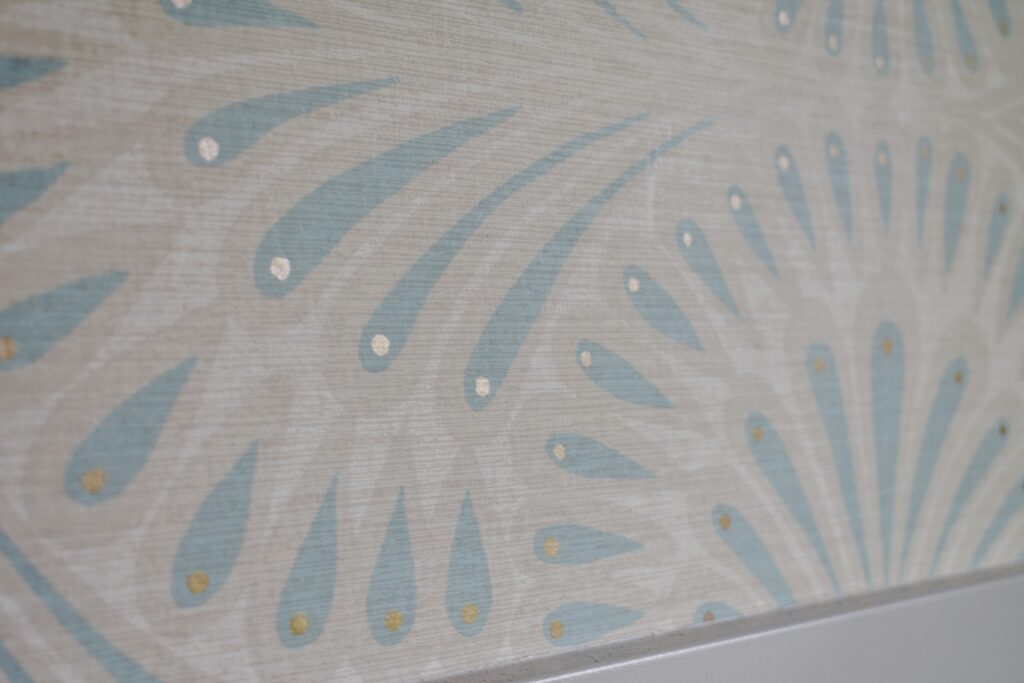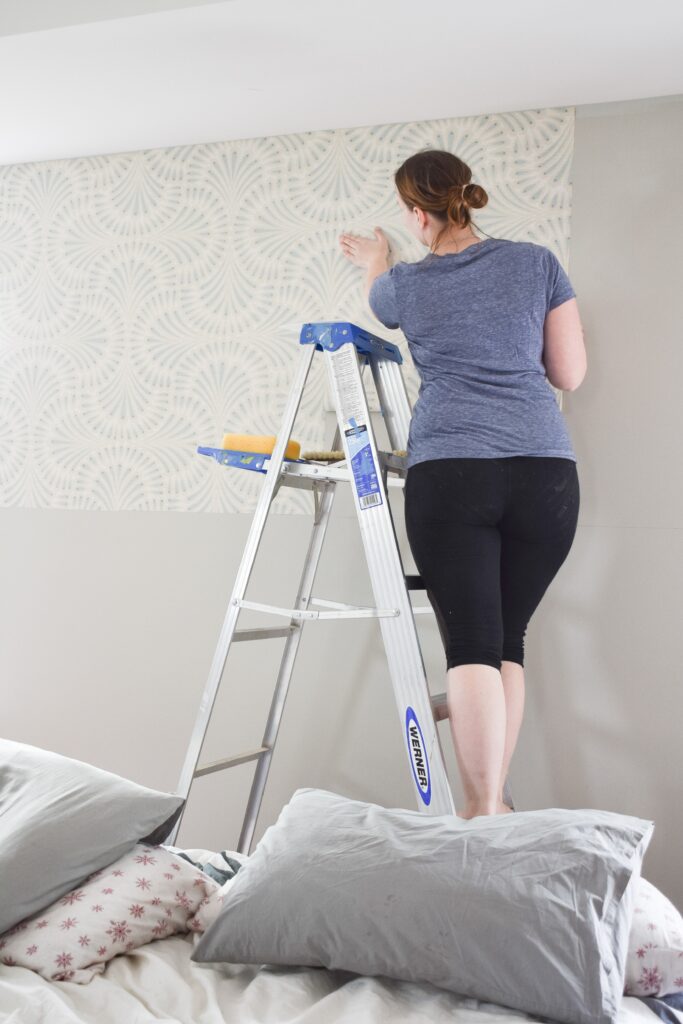 My dad is usually my wallpaper guy — but with the lockdown in place I really had no choice but to push forward and install it myself. Luckily I had helped him with the wallpaper in my dining/living room and he taught me the steps to working with un-pasted paper. And even though I'm not a wallpaper master, these tricks made the job manageable and now I have another DIY skill to add to my resume.
Read the directions to determine what kind of paste is best for your paper and if there are any special prep steps you need to take

Always start with a level line – don't assume that your corners are straight

Match up your pattern and cut your pieces to length with a 1/8 – 1/4 inch overhang on each side

When working around windows or doors cut your pieces to fit beforehand

Apply the paste to the back of your paper and spread with a bristle wallpaper brush. Make sure you use enough to cover the surface of the paper

Fold the ends of the paper and "book" it for a few minutes prior to install.

Hang the paper on the wall making sure to match up the pattern and keeping your edge straight. Once aligned use a smoothing tool to remove any wrinkles and a damp sponge to removed any access glue.

When working around obstacles use a super shartp razor blade and a straight edge to cut your edges.

For corners, overlap the wallpaper slightly to ensure you start the new wall with a level edge.
One of the hardest thing about this project is having to constantly move the mattress around to work which has made for some interesting sleeping arrangements, especially when I installed the Shiplap ceiling.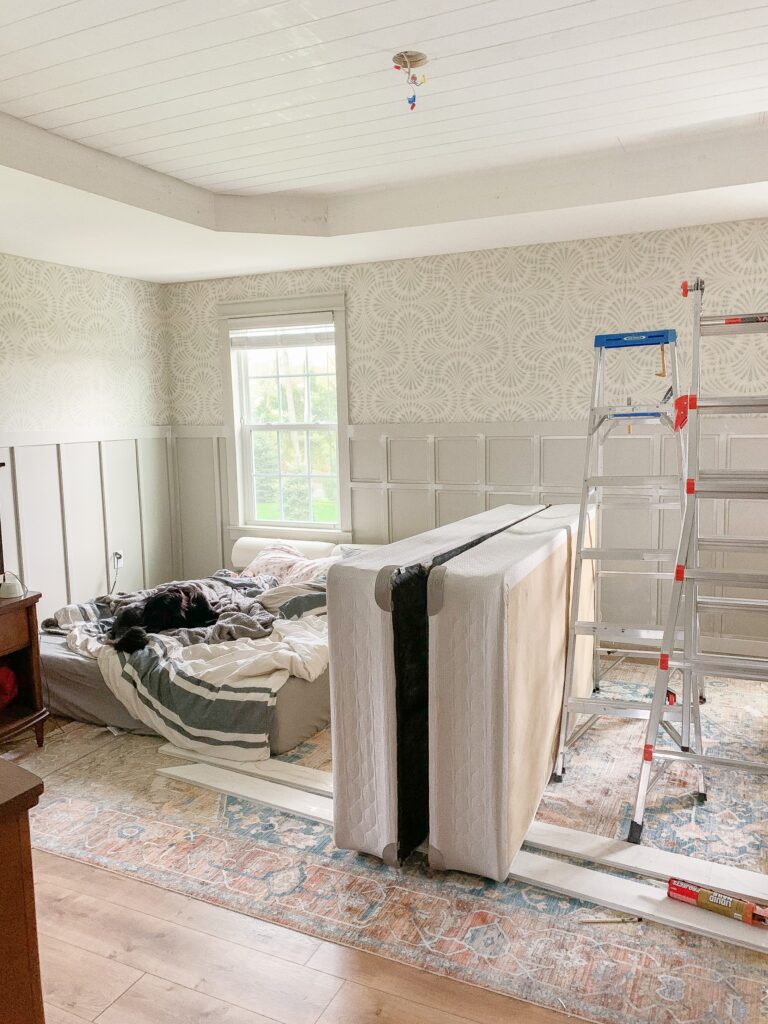 When we built our home we added a tray ceiling in the master bedroom and I since I was so happy with how my shiplapped hallway ceiling came out last year I thought it would be great to duplicate here. Instead of leaving it white, I painted it my favorite bluish gray color (Sherwin Williams Nebulous White) to play off the blue in the wallpaper.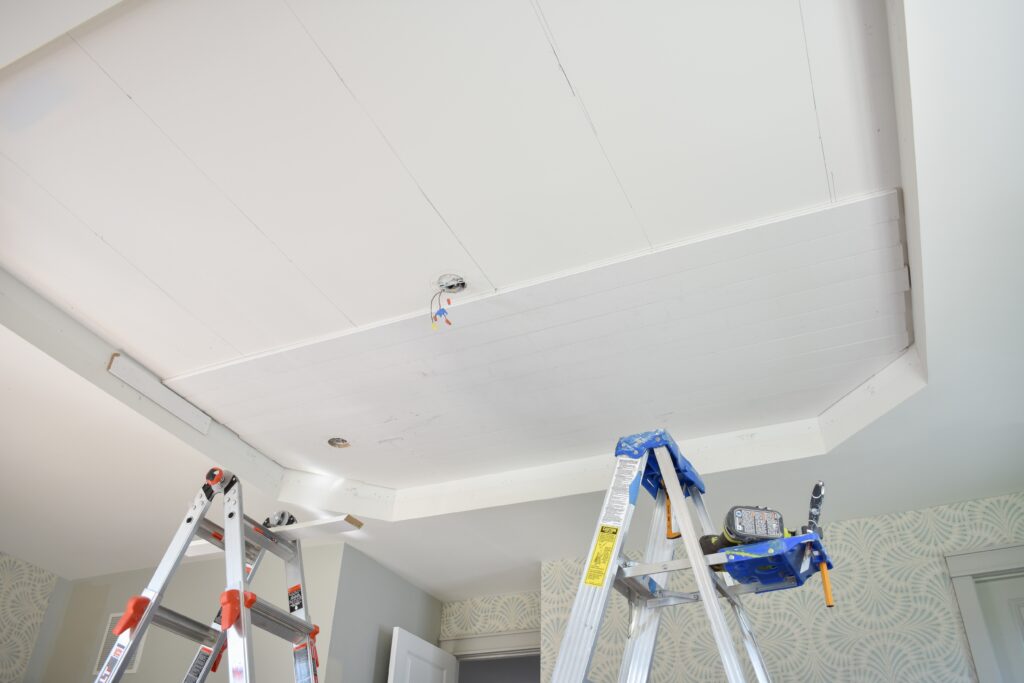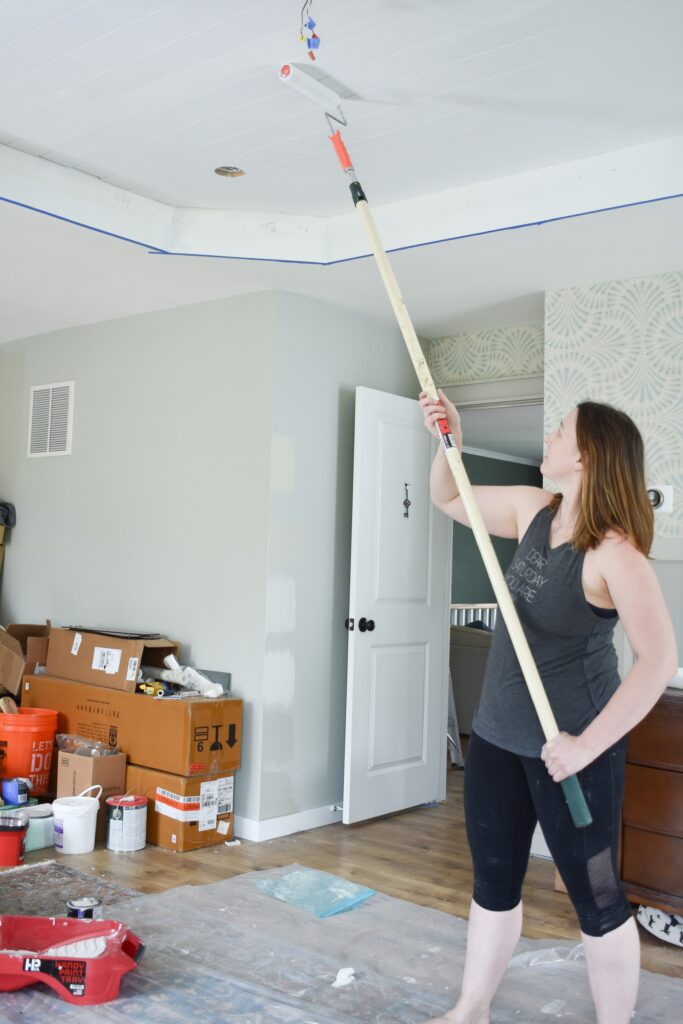 Before I could give my shoulders break, I had to hook up the new ceiling fan (which is also something I've never flown solo on before and am quite shocked I was able to do without any major issues). And can we just talk about how pretty she is! I saw this Hunter Hepburn fan on Pinterest months ago and knew it belonged in this room.
There's still quite a few really big projects to go (not to mention the dozens of smaller ones) and next week I'll talk about the biggest of them all – the trimwork that took on a life of it's own! Until then, make sure you're catching up on the One Room Challenge blog to see what the halfway point looks like for my fellow guest participants.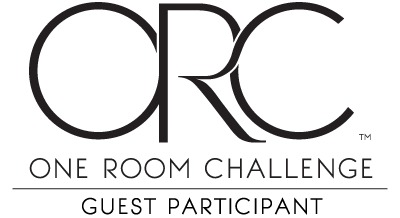 Thank you to my sponsors!
Finally……A huge thanks to the companies that sponsored products for me to use in this project, Handy Products and Miss Mustard Seed. I'm so grateful to be able to use their amazing paint products to make my vision come to life.