One of the unexpected bonuses I discovered during my first One Room Challenge was the chance to connect with designers and DIYers with different styles and experiences than mine and it's one of the reasons I continue to participate each year. Last week we all took a pause in support of Black Lives Matter, but also in support of the voices of the amazingly talented community of Black Designers and DIYers who have historically been under-appreciate in the design world, including in the One Room Challenge. This week before I get into my own work, I'm asking you all to put aside time to get introduced to some of the many, many talented women from that community who are participating as both featured and guest participants this spring. Read and comment on their blogs, follow them on Instagram, share their work on social media, and listen to them tell their stories.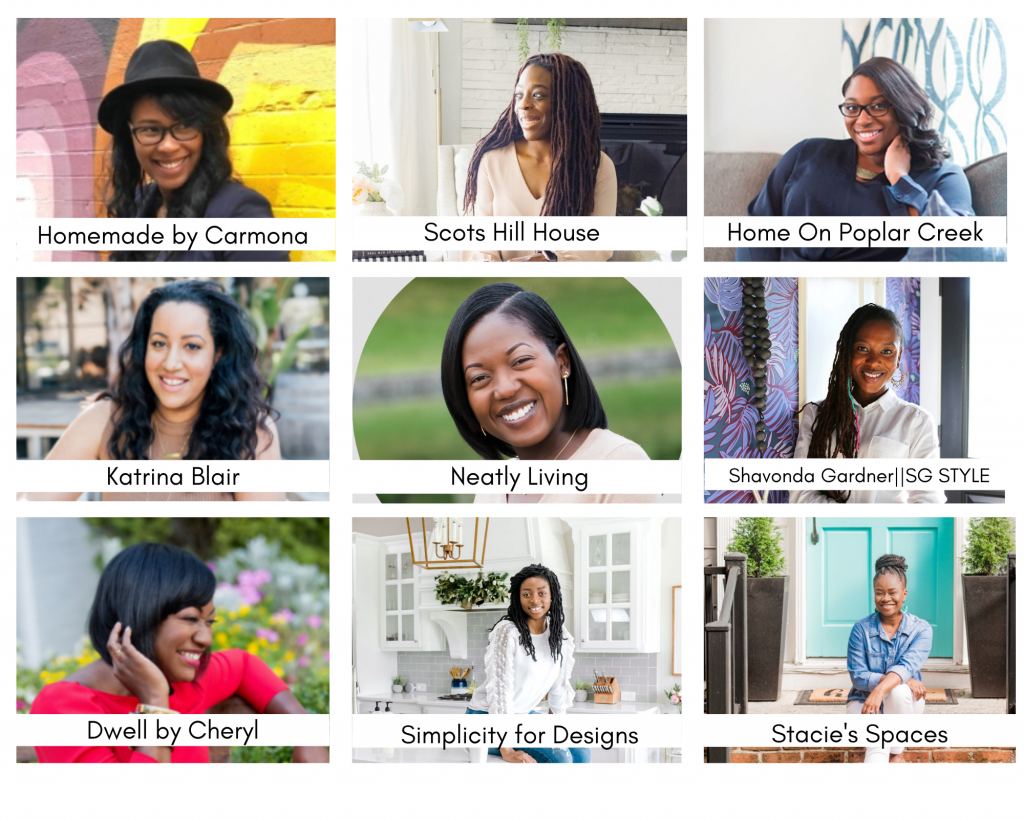 Homemade by Carmona | Scots Hill House | Home on Poplar Creek
Katrina Blair | Neatly Living | Shavonda Gardner|SG Style
Dwell by Cheryl | Simplicity for Designs | Stacie's Spaces
As for me, I've been moving along at what feels like a snails pace and (I know I say this every year) but more than ever I feel like I'm not gonna finish in time…..I'm actually OK with it though because I am so happy with how my bedroom is turning out. At least I'm not sleeping on the floor anymore so that's a step in the right direction.
Week 1 / Week 2 / Week 3 / Week 4 / Week 5 / W/one-room-challenge-week-six-the-extra-details/eek 6 / Week 7 / Week 8
(Some of the links included in this post are affiliate links, meaning, at no additional cost to you, I will earn a commission if you click through and make a purchase)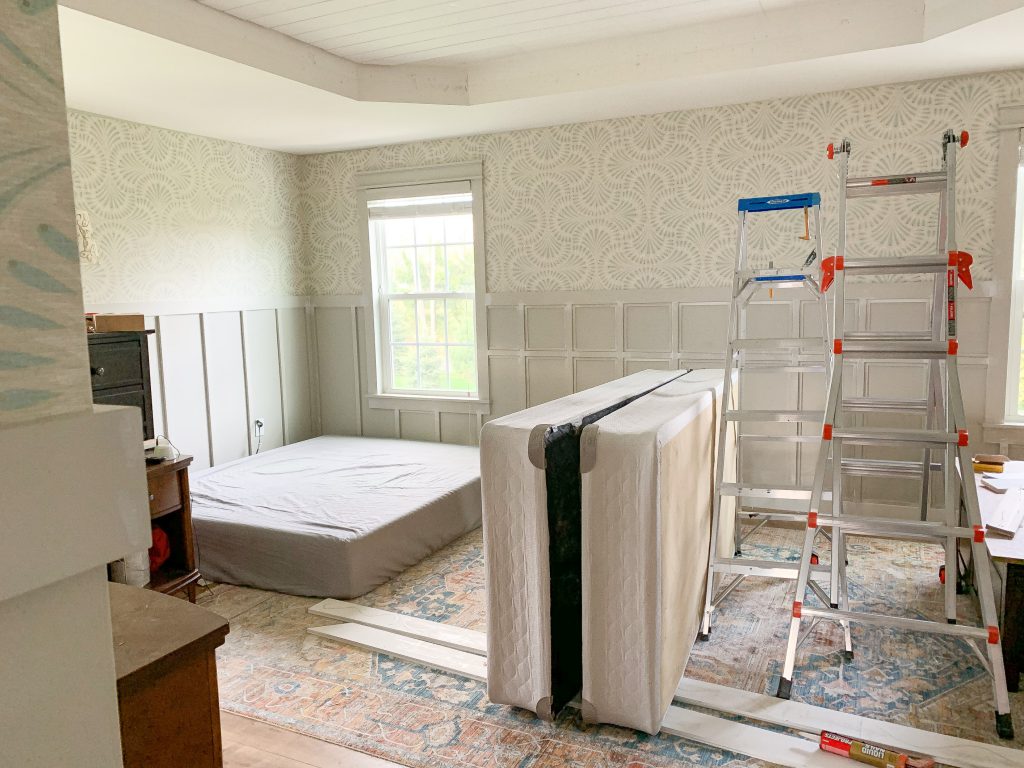 I feel like every week I've talked about one major job after the next, and this week is not going to be an exception — starting with the trimwork which I laughably thought was going to be one of the easier projects this time around.
I originally thought I was going to do a simple board and batten similar to my guest room, but as I got further along I quickly realized that it wasn't enough to balance out the wallpaper pattern. After playing around with some options I came up with a twist on tudor paneling.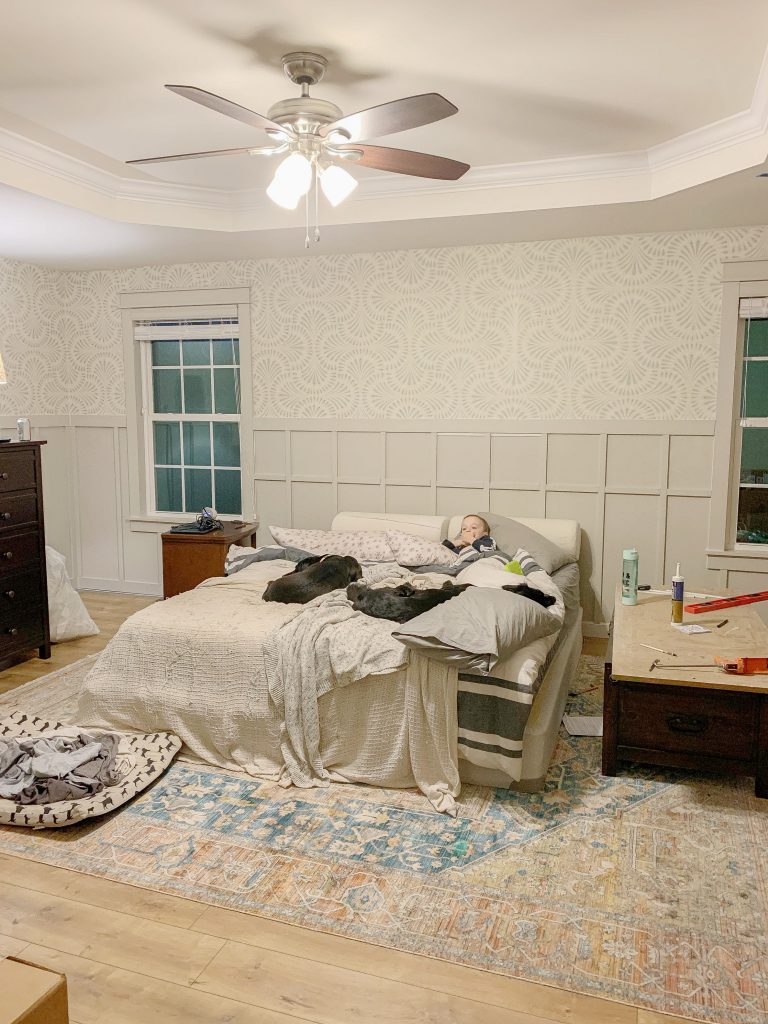 Unfortunately that added about 7 extra steps to my process (I'm still not completely done btw.) to get as seamless a look as possible, but it's definitely worth all the extra work.
Step 1 – Install your top horizontal pieces fist (I used 1×4 MDF) keeping the pieces level around the room

Step 2 – Plan out your layout ahead of time; I planned to have the top section be a perfect square and used that to determine my measurements

Step 3 – Add your vertical pieces, measuring each one before you cut it as there may be slight differences in size

Step 4 – Add your second horizontal pieces; I used a spacer made from scrap wood to keep my spacing consistent

Step 5 – I added a 2nd layer of trim to the interior using 1/4″ lattice

Step 6 -All joints were sanded, patched, sanded again,and then caulked

Step 7 – I painted the trimwork with semi-gloss paint and touched up the wall with flat paint in a flat finish
One of the most stressful jobs was carefully caulking and painting the trimwork that bordered the wallpaper and this delicate surface painter's tape was my secret weapon to getting a thin crisp line.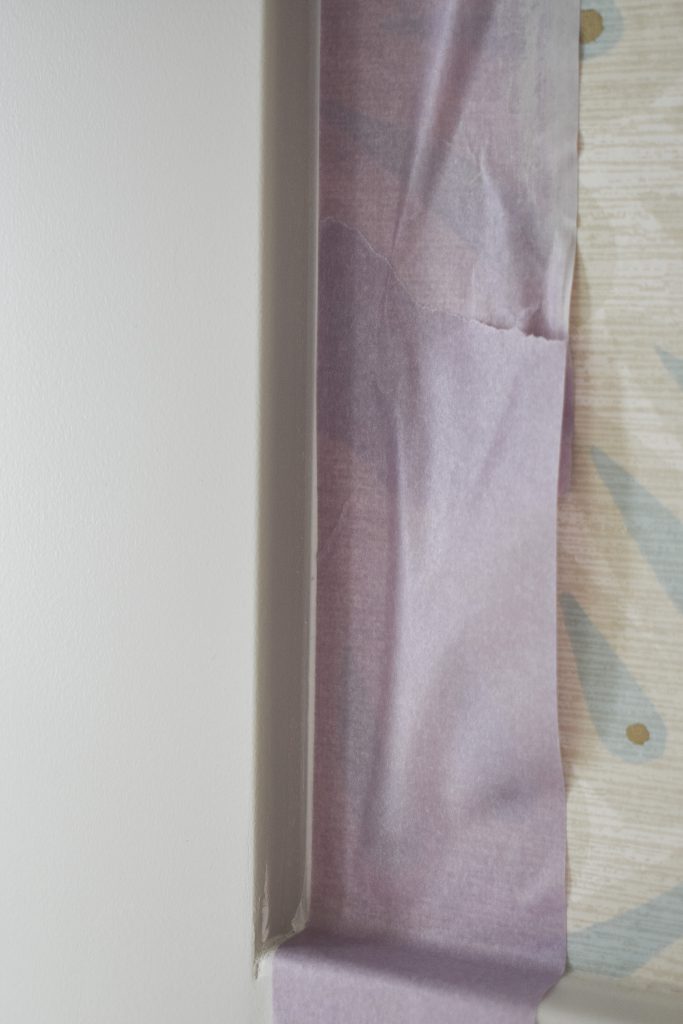 Of course my other secret weapon is my Handy Paint roller cup which makes moving from the floor to the ceiling and switching between my flat and semi-gloss paints super easy.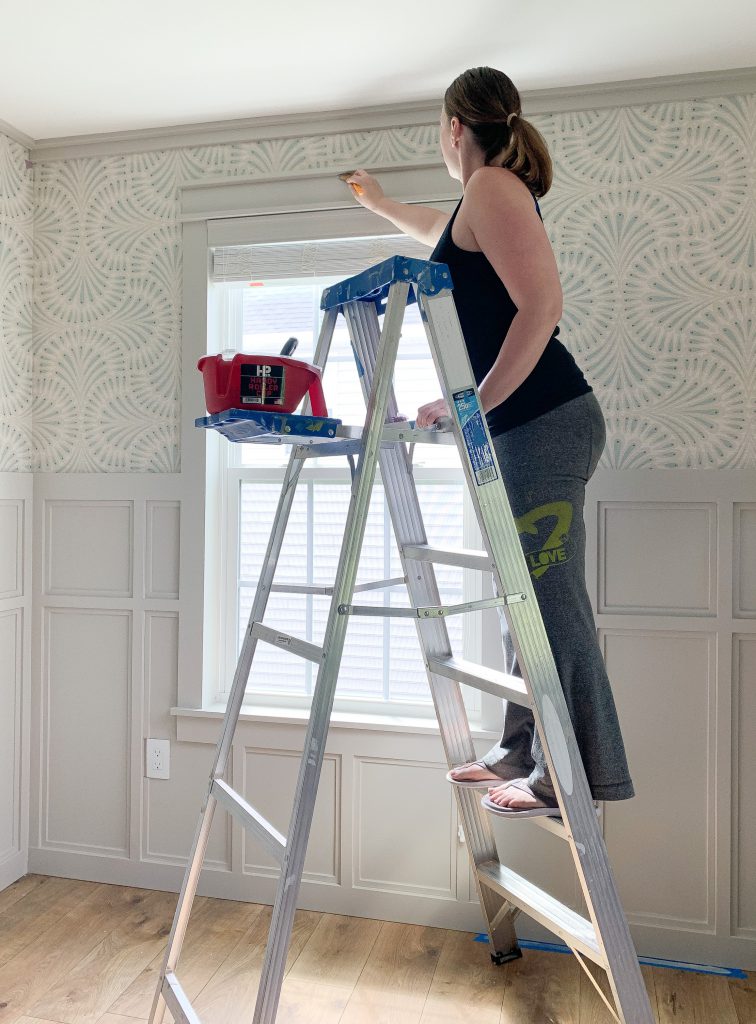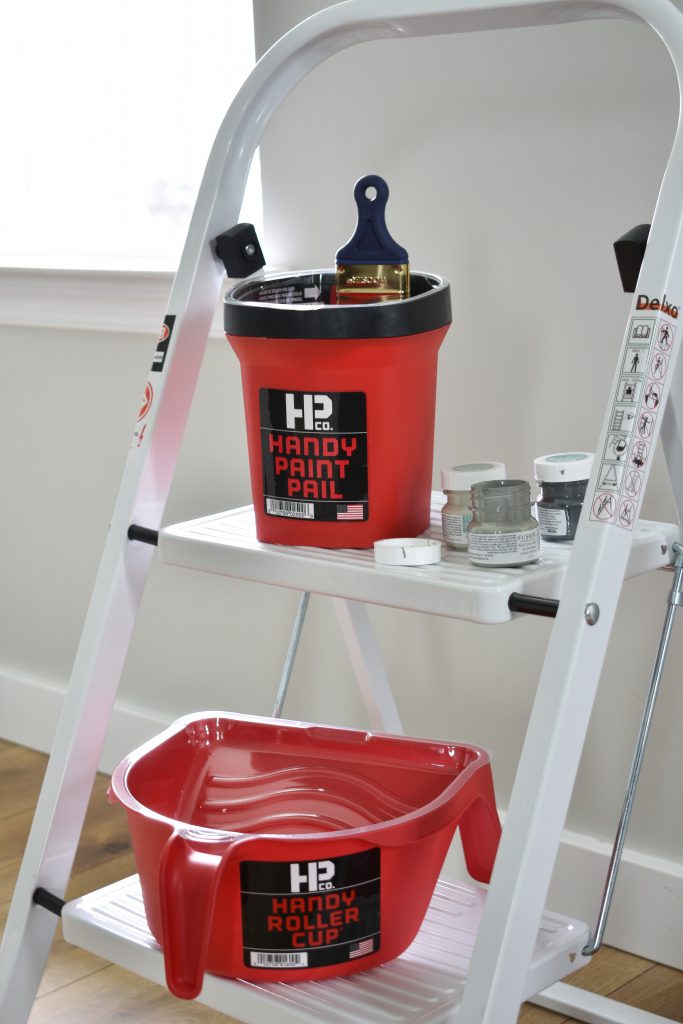 Before we wrap up Week 6, I would like to introduce you to where I will be spending the next two weeks of my life…..dealing with this giant pile of Old Mill bricks that will hopefully magically turn into a fireplace.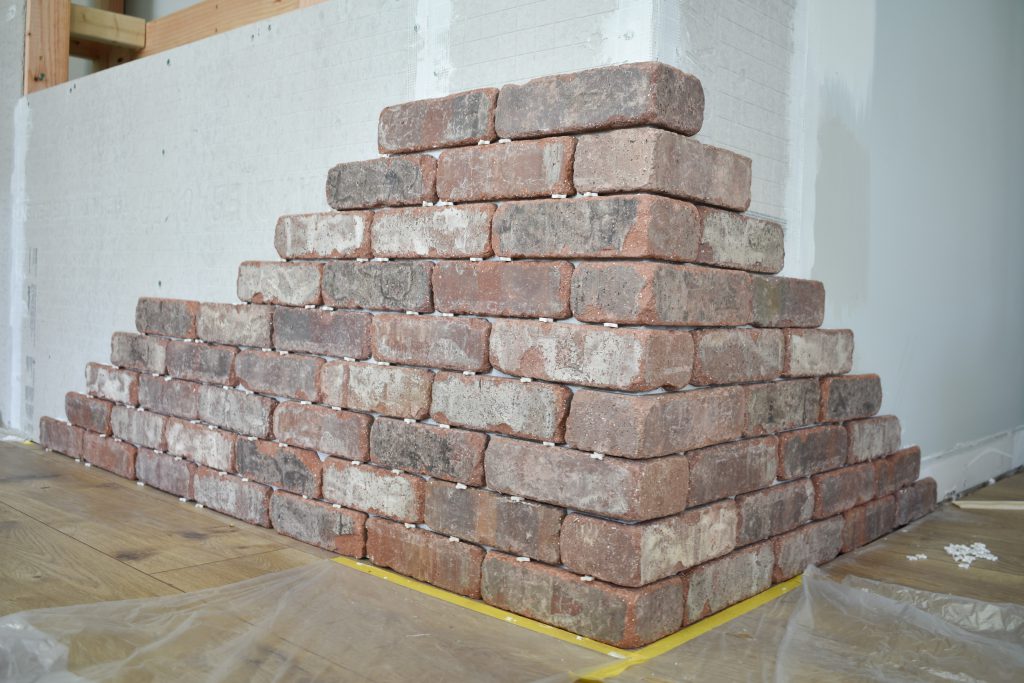 My plan is to write a follow up tutorial on this project when I'm confident that it actually worked out how I was hoping, but I started out by using this tutorial from Chris Loves Julia – which was what convinced me that adding an electric fireplace to this room was totally possible and the solution to masking the ugly return vent that lives on this wall.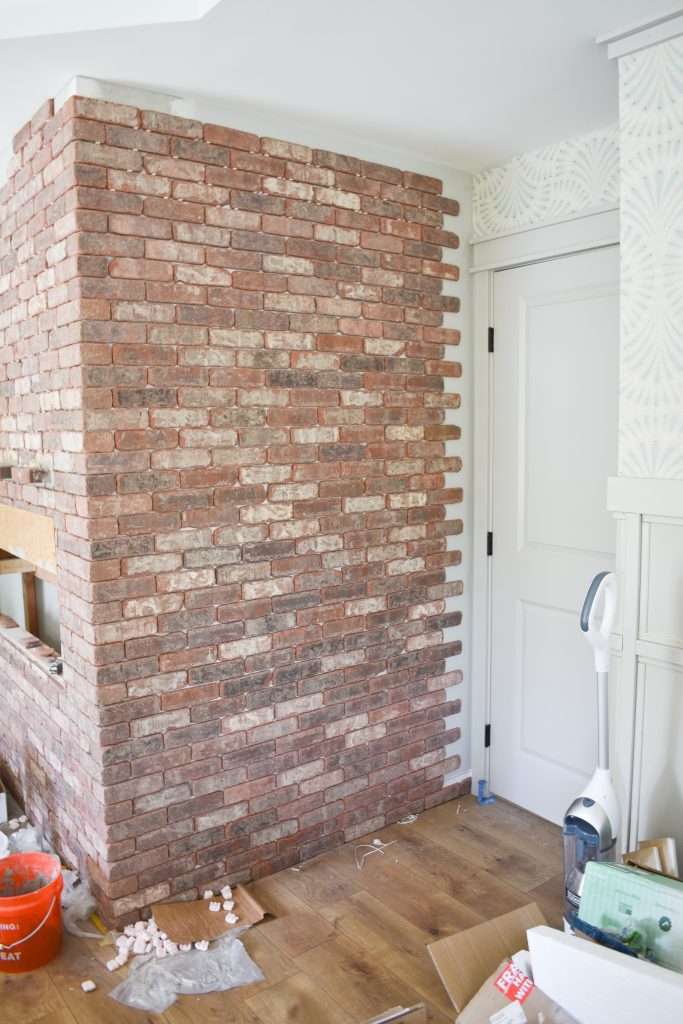 The design I came up with was to wrap the brick around the wall to basically create a giant faux firebox. I built a wooden framework to extend that wall slightly and then covered it with cement board before I started adding the thin bricks.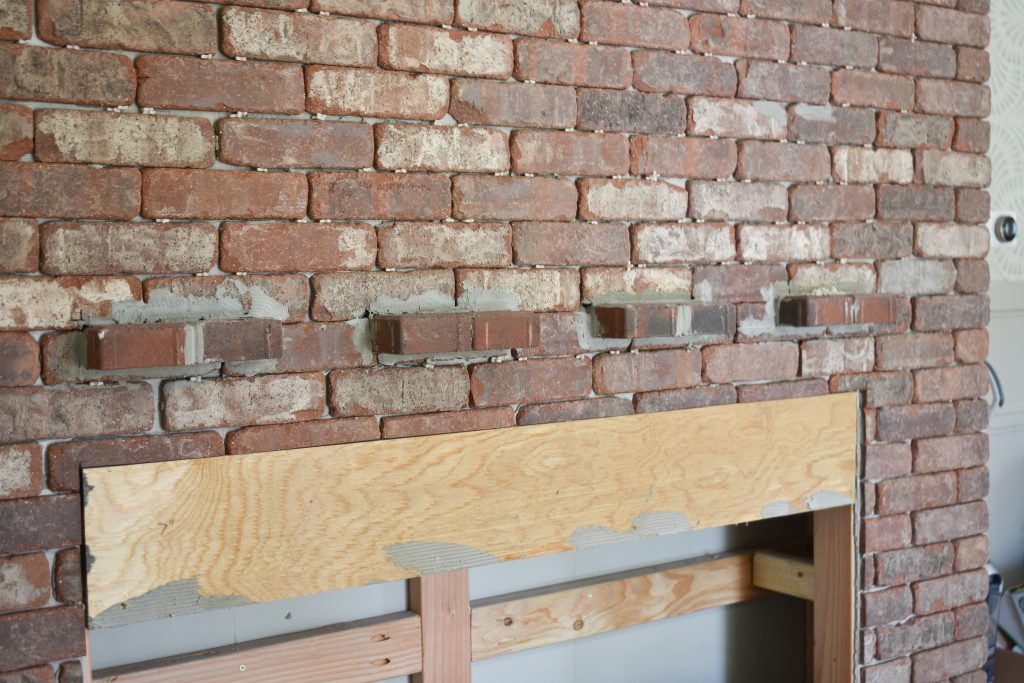 The hardest part was figuring out what to do with the mantel since I wasn't in love with the ideas of adding anything to thick or too thin, so what I decided to do was to create supports out of some cheap paver bricks that could hold a small wooden ledge (I really only want it to hold Christmas Stockings anyway). So far it seems like it's going to work but I won't know for sure until I finish grouting — which we're not going to talk about right now because I am DREADING IT. Oh and we're also not going to mention that I still need to build a bookshelf in that empty space.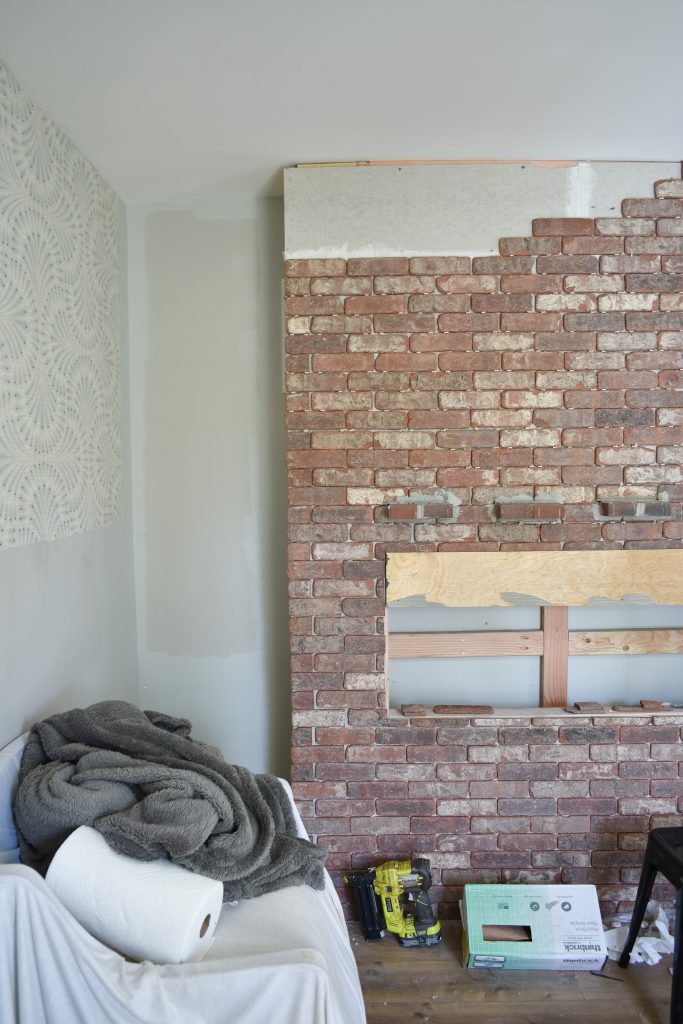 But I don't want to leave on a down note so let's go out on this pretty picture of the new curtains and the new light fixtures that are making this construction site feel like a real room. Until next week, I'm going to see if anyone else on the One Room Challenge blog is feeling the pressure like I am!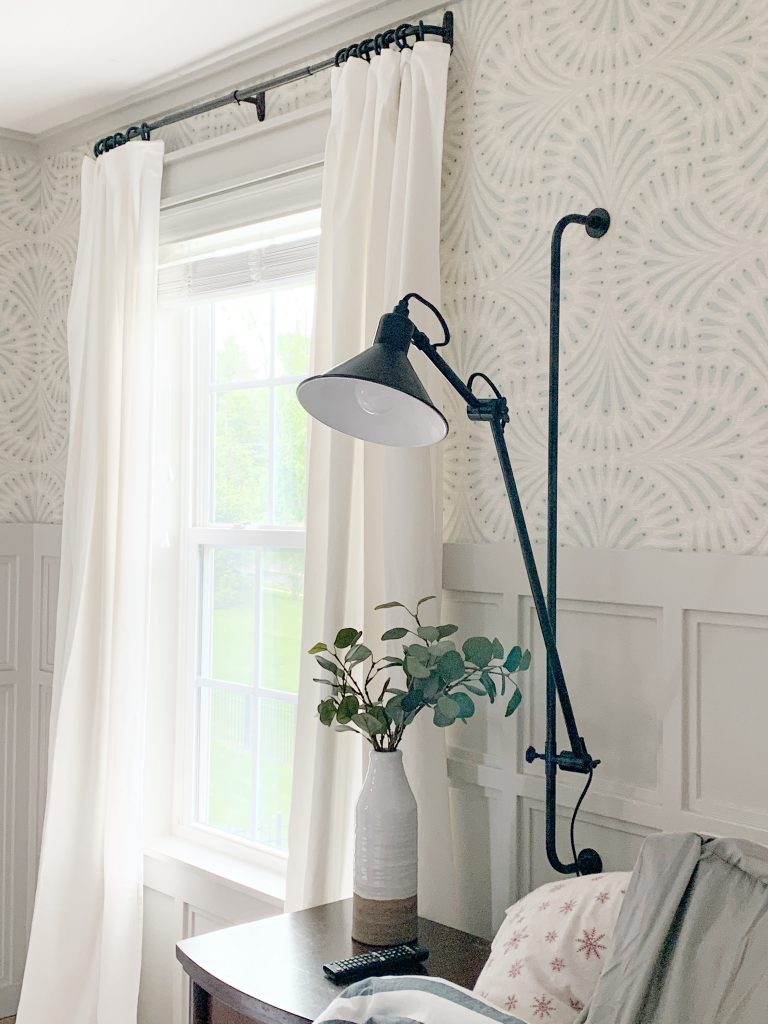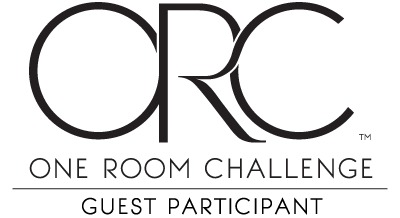 Thank you to my sponsors!
Finally……A huge thanks to the companies that sponsored products for me to use in this project, Handy Products and Miss Mustard Seed. I'm so grateful to be able to use their amazing paint products to make my vision come to life.