It really feels like I just wrote my week six post — the last 7 days have gone by so fast and the next 7 are most likely going to go by even faster! So this week's post is going to be short and sweet because I've got a lot of work left to do if I'm gonna meet the One Room Challenge deadline.
Week 1 / Week 2 / Week 3 / Week 4 / Week 5 / Week 6 / Week 7 / Week 8
(Some of the links included in this post are affiliate links, meaning, at no additional cost to you, I will earn a commission if you click through and make a purchase)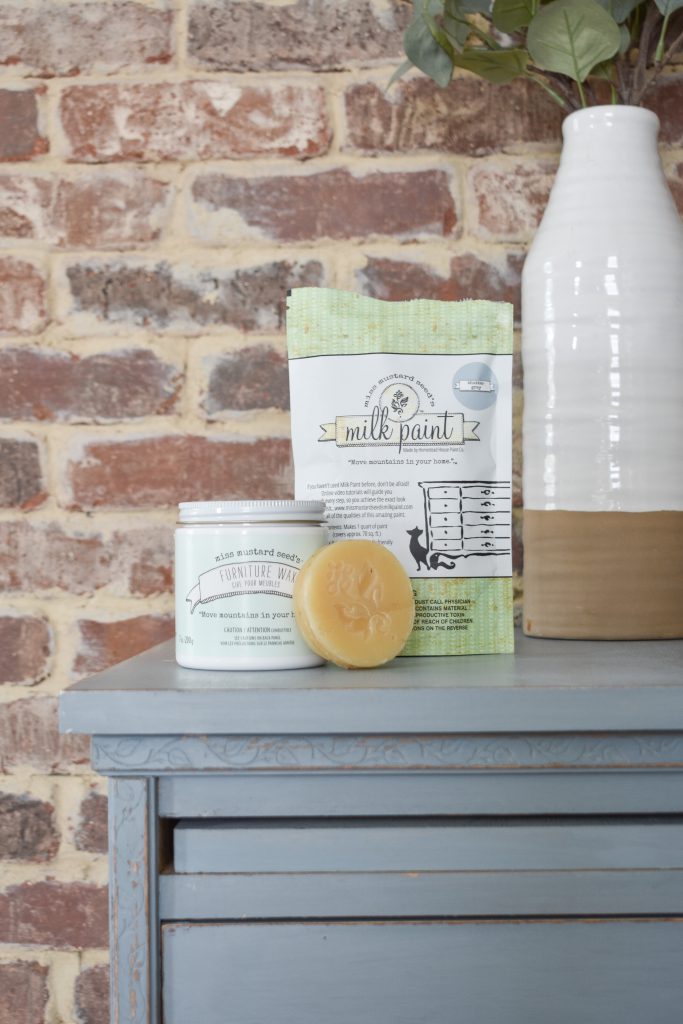 While I kept a some of my old bedroom furniture, I knew that I wanted to design and build a few custom pieces. As pretty as my old bedside tables were I really wanted ones with as much storage as I could get so I adjusted these plans to build two tables each with 3 drawers and a slide out writing desk….and thanks to Miss Mustard Seed I was able to give them the most beautiful finishing touch!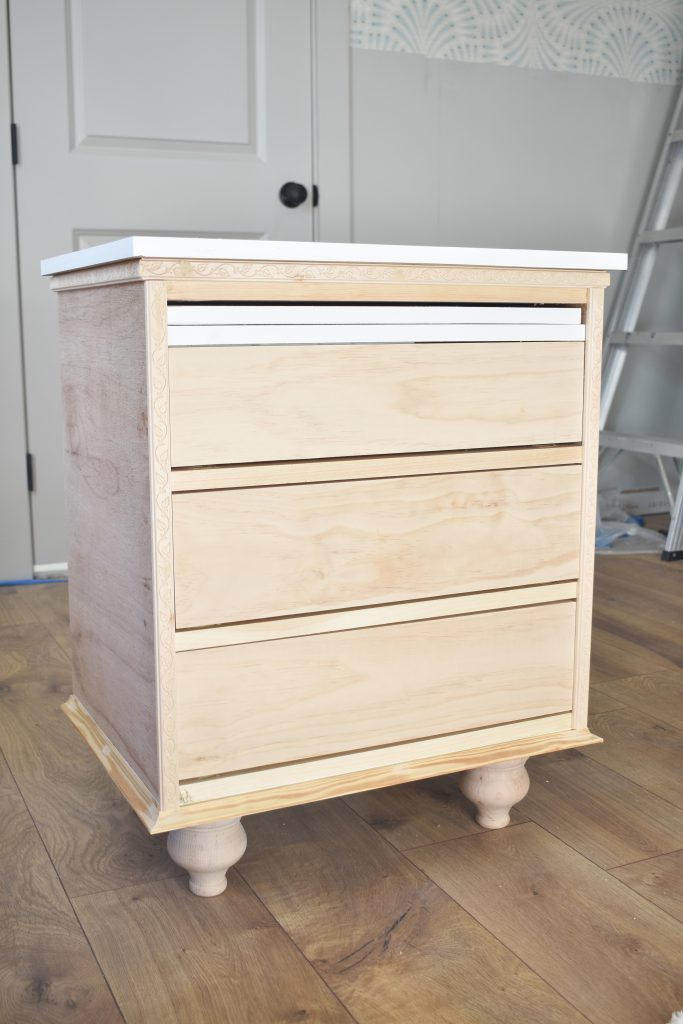 I had used Miss Mustard Seed Milk Paint previously to update my old Target cabinets, but I had never used it on raw wood. I knew I wanted a slightly aged look so I started with a quick coat of Varathane stain in Early American, and then used the Miss Mustard Seed Wax Puck along the edges, which will repel the paint and let the stained wood show through after a light sanding.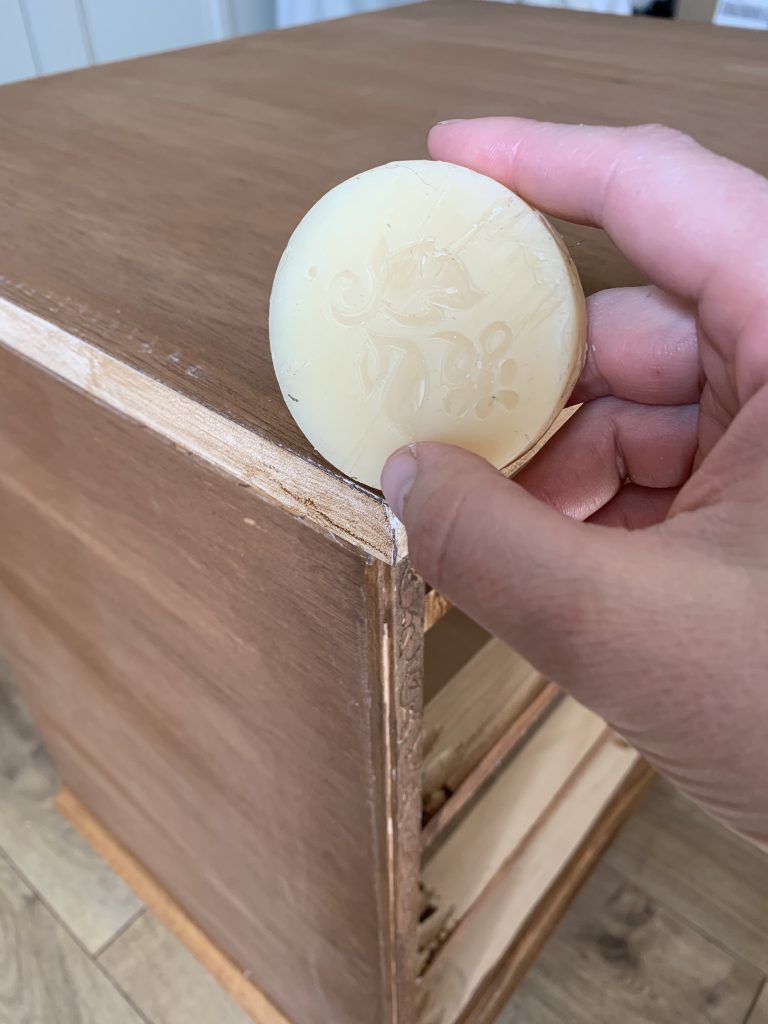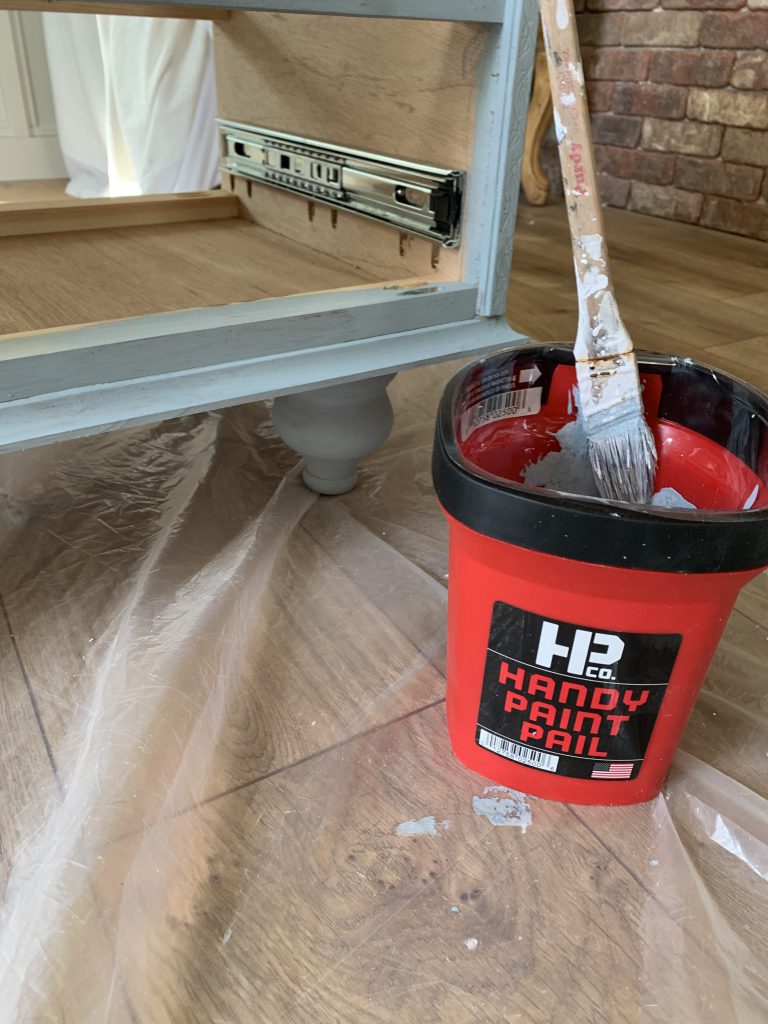 For the paint color I chose Shutter Gray – a beautiful blueish gray that compliments the blue in the ceiling and the wallpaper. I like to use my blender to mix milk paint for the smoothest finish, and my Handy Paint Pail was the perfect container to hold my it as I worked thanks to it's magnetic brush holder. Two coats of paint and I was ready to start distressing…..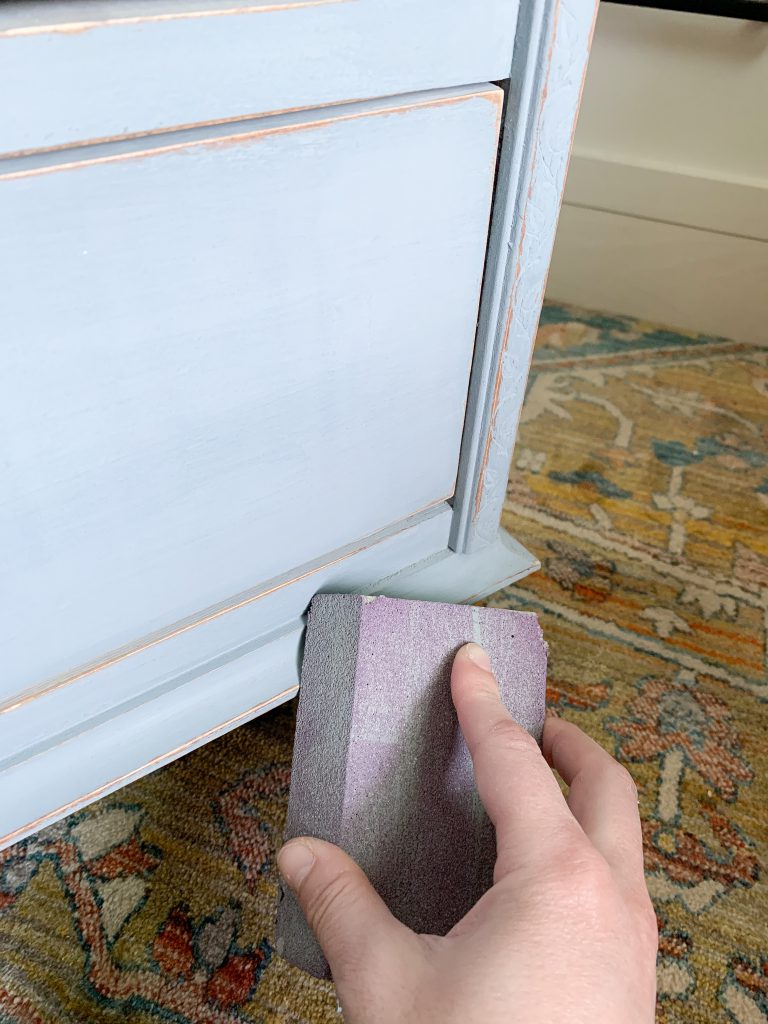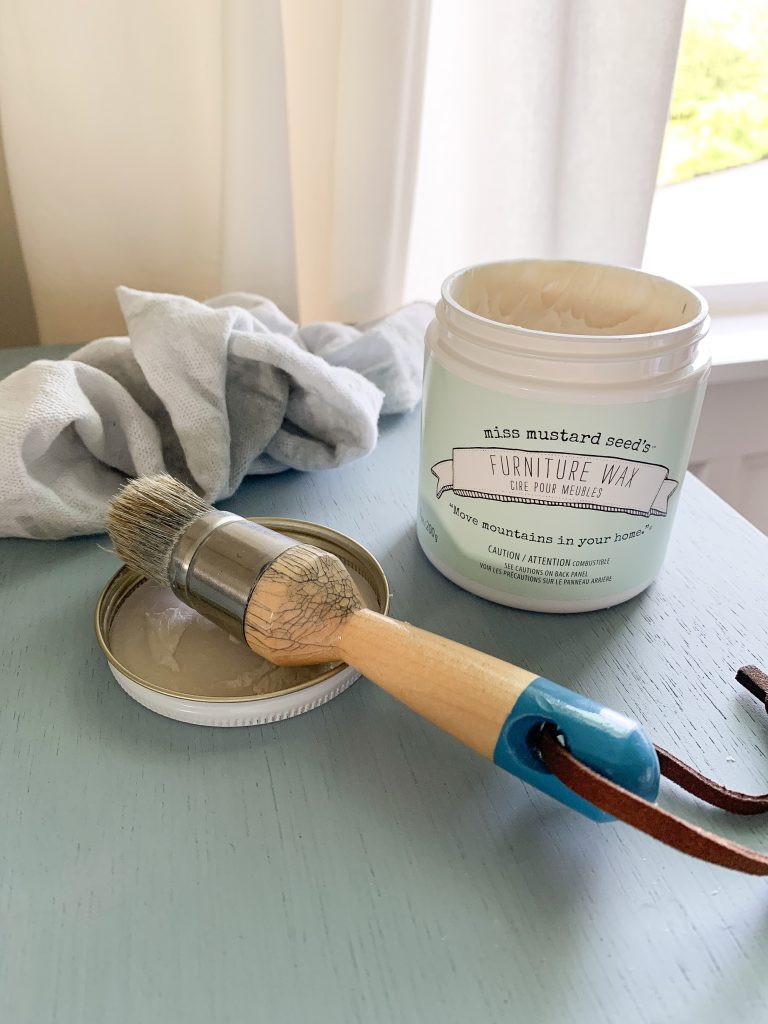 Since I only wanted a subtle antique look, I use a fine grit sandpaper block to go over the edges to remove the paint in the waxy spots and give the rest a super light sanding to get them silky smooth. Two coats of Miss Mustard Seed furniture wax gave the nightstands a beautifully smooth and durable finish and after some simple brass hardware they were ready to go. The spots where the stain comes through almost takes on a gold tint which looks perfect with the delicate leaf trim I picked up to make believe I'm an elf living in Rivendell. LOL.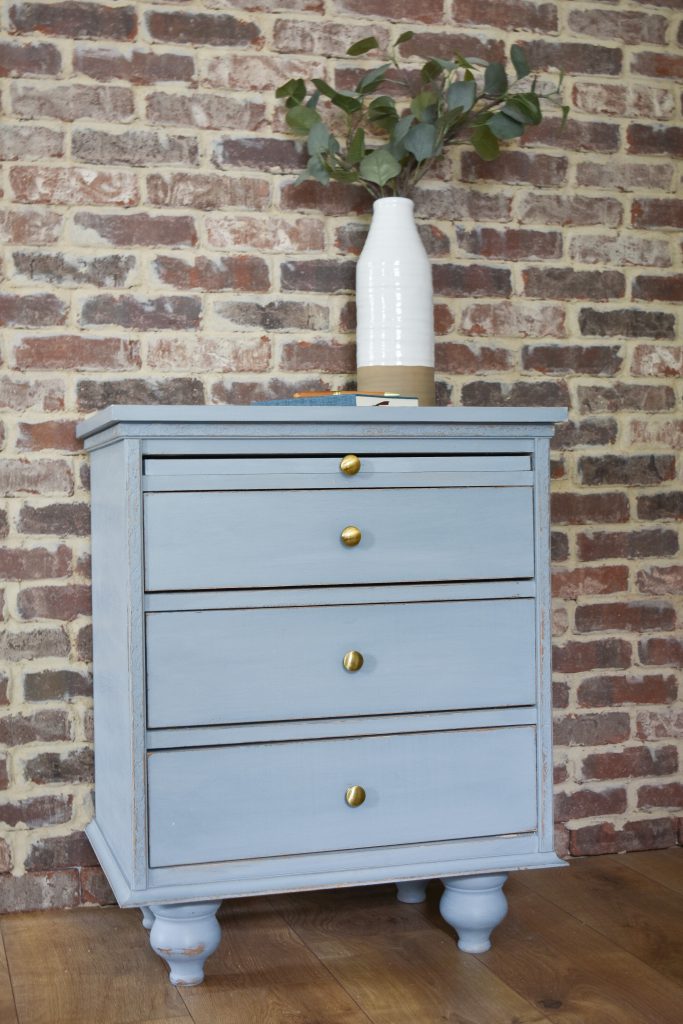 As if two brand new nightstands wasn't enough, I also took on the challenge of building myself a new bed. To maximize storage I built the bed frame out of two giant storage benches with pull out drawers (funny story — I first built it about a foot wide and an inch too high so that was a fun mistake to fix!)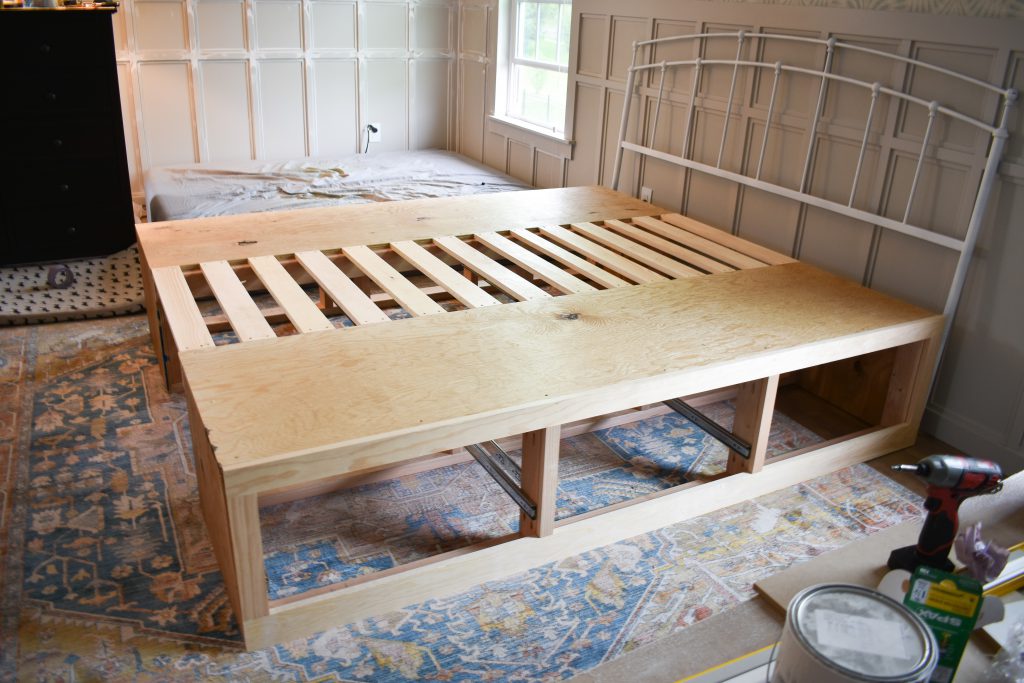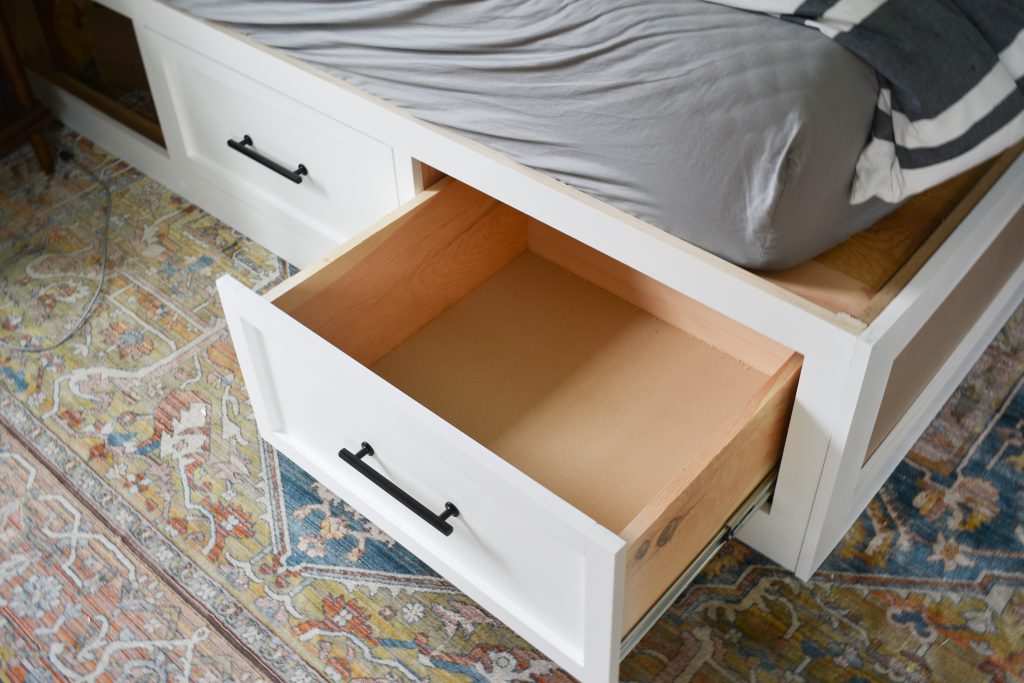 I never liked having a footboard that was higher than my mattress so I decided to go for a low one trimmed out in some leftover ceiling shiplap. The boys would have preferred I didn't add one at all as they had quite a blast hiding under the mattress as I was working.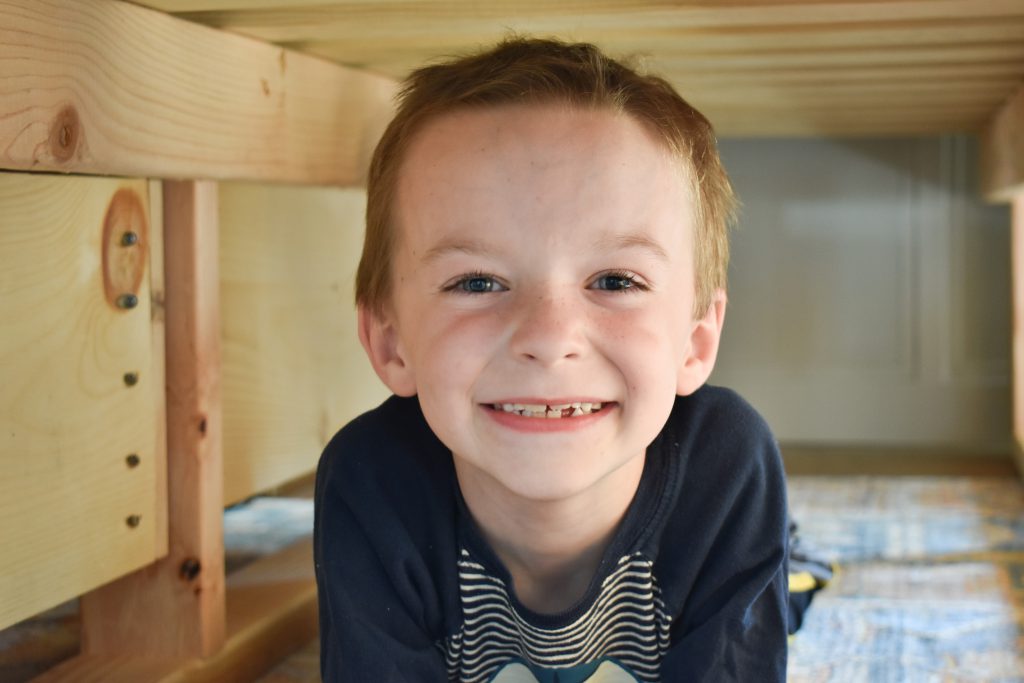 Originally I was going to just re-paint the old iron headboard (which you can see in the above picture) but once I started building out the space it really wasn't working with the trimwork so for now I'm opting to go with no headboard. I think once I get the new bedding on (and get the laundry off the bed) it'll all come together.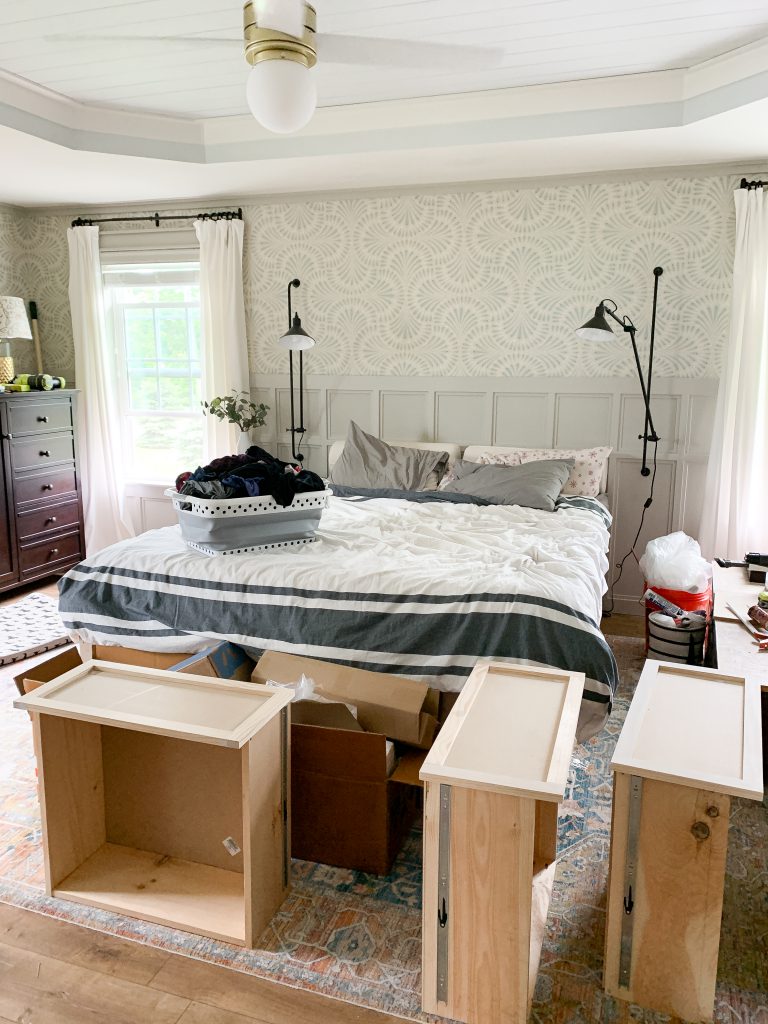 I'm usually a list girl but I haven't even started a punch list yet because there is still so much left to do!! But the exciting part is that there is still so much to show you in the reveal and I cannot wait for that. So for now I'm gonna get back to work — but you should be sure to check out all the other One Room Challenge Week Six blogs….I hope they're all a lot closer to the finish line then I am.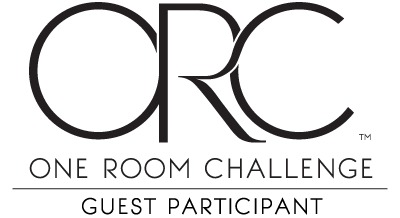 Thank you to my sponsors!
Finally……A huge thanks to the companies that sponsored products for me to use in this project, Handy Products and Miss Mustard Seed. I'm so grateful to be able to use their amazing paint products to make my vision come to life.