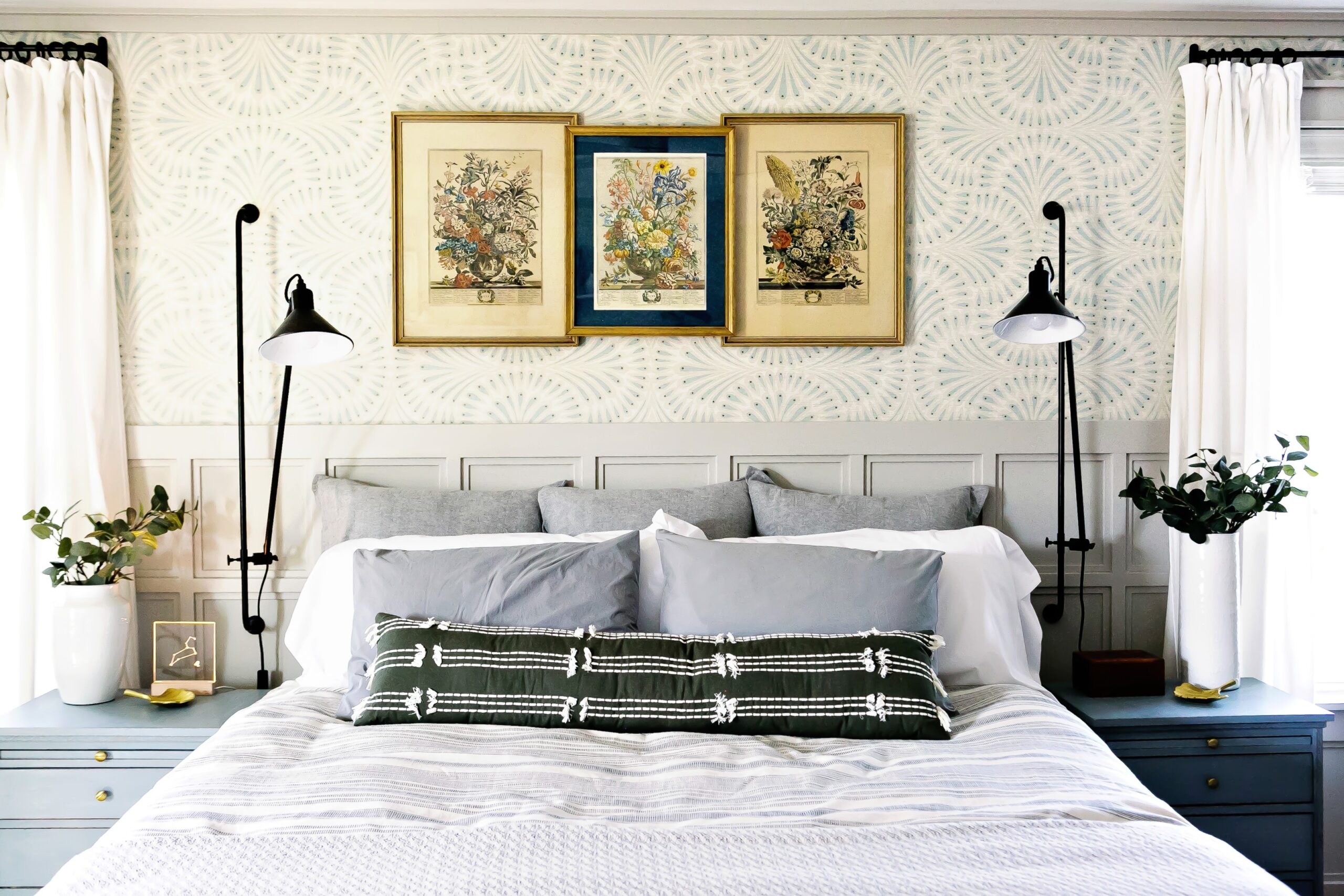 Cue the trumpets – the Master Bedroom is done!! I was finally able to sleep in a room with no ladders, no piles of boxes, and no giant to-do list waiting for me in the morning. This weekend you'll find me curled up in my front of my new fireplace scrolling through all of the amazing One Room Challenge reveals and getting inspired to do it all over again….
Week 1 / Week 2 / Week 3 / Week 4 / Week 5 / Week 6 / Week 7 / Week 8
(Some of the links included in this post are affiliate links, meaning, at no additional cost to you, I will earn a commission if you click through and make a purchase)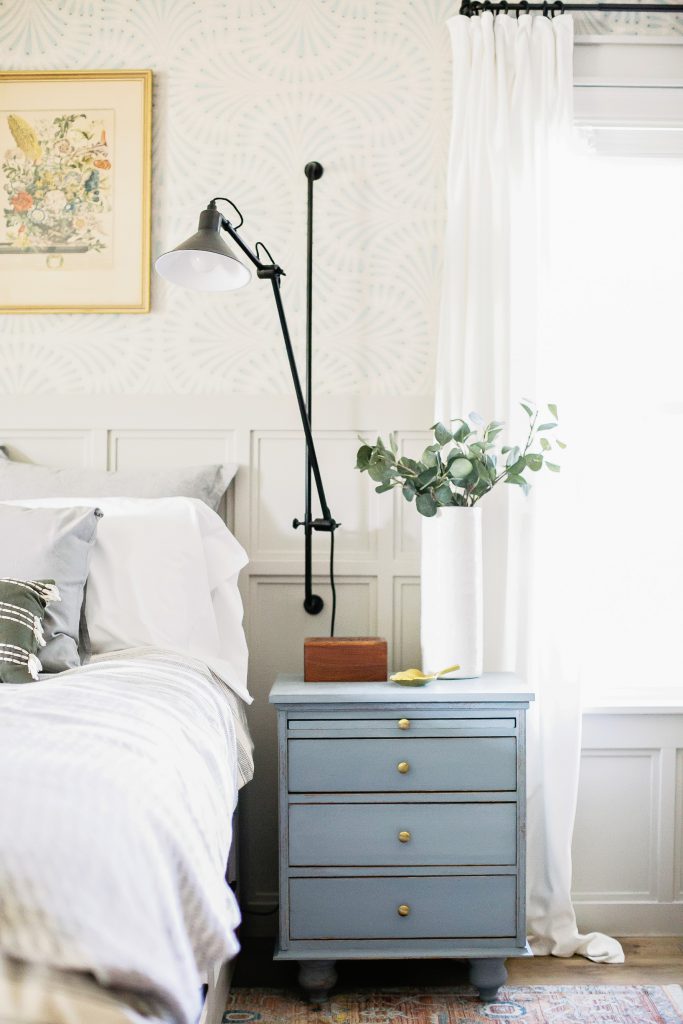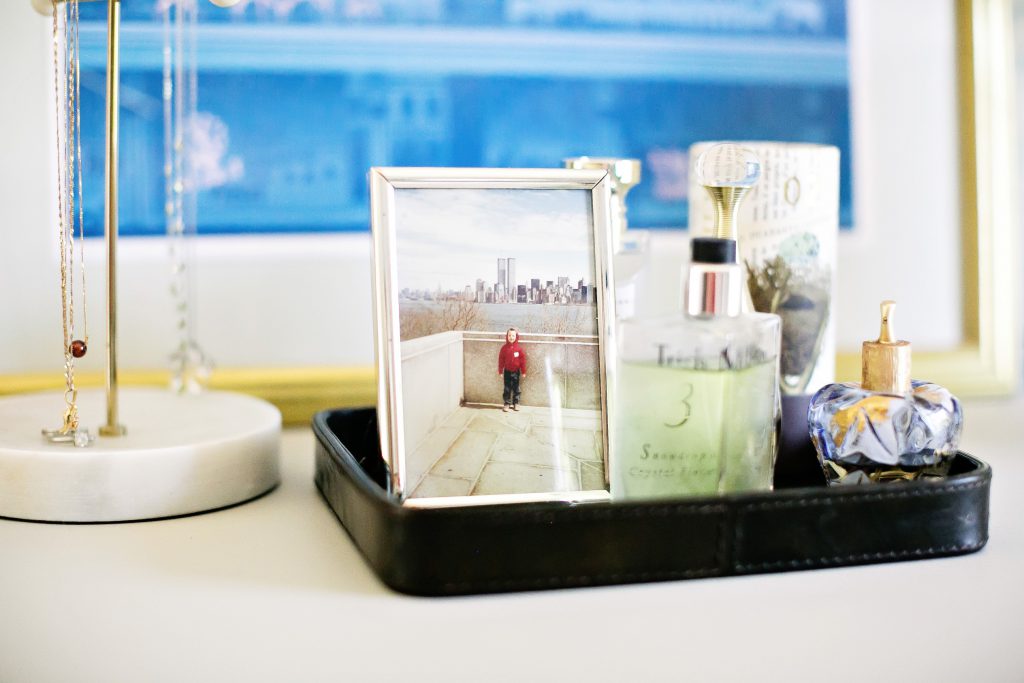 Every year I give a special thanks to Linda Weinstein and Better Homes and Gardens for sponsoring this challenge, but this year I want to extend my gratitude even more than usual. At the end of every distance learning, work juggling, locked down day, having a project to work on was a huge stress relief for me so THANK YOU. Lastly, as always I have to give another big THANK YOU to my wonderful photographer Lauri Tripaldi – I wish I could share all of the gorgeous photos she took of this room.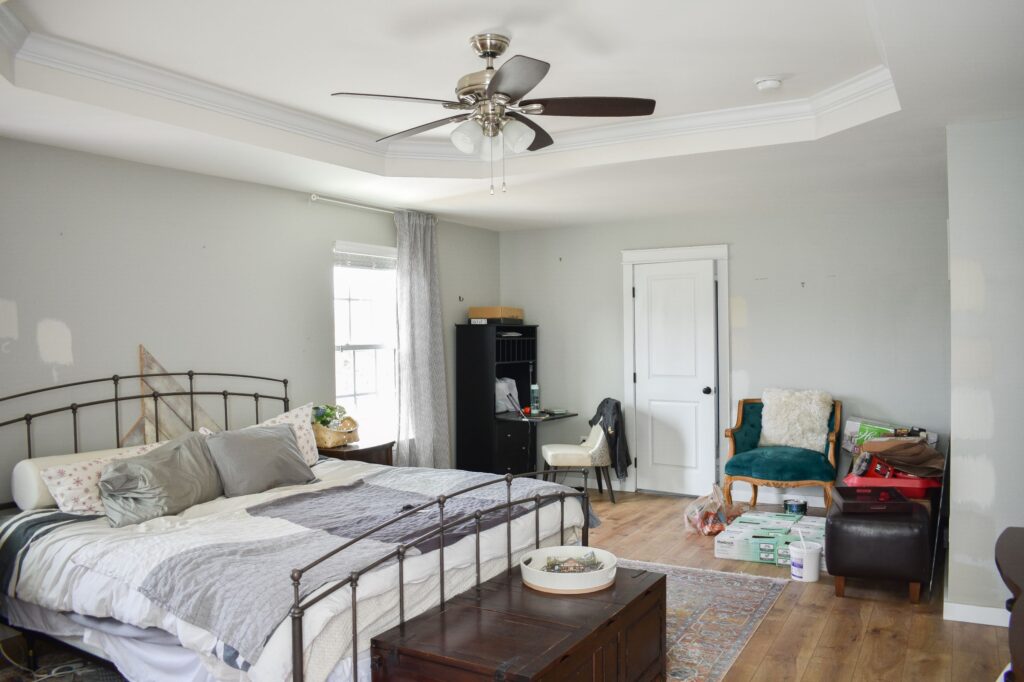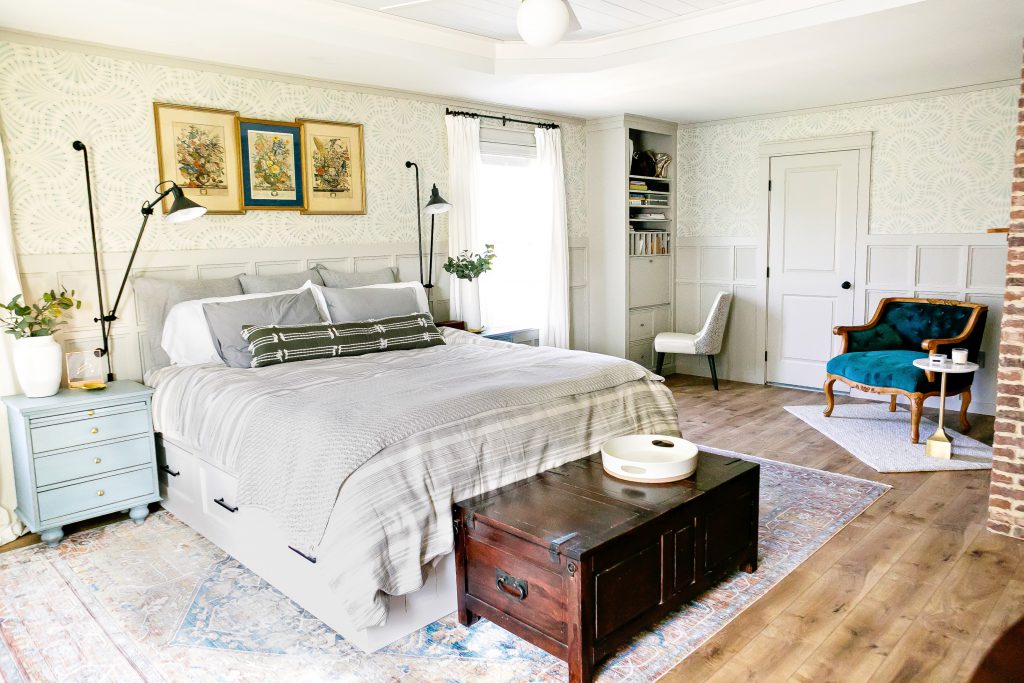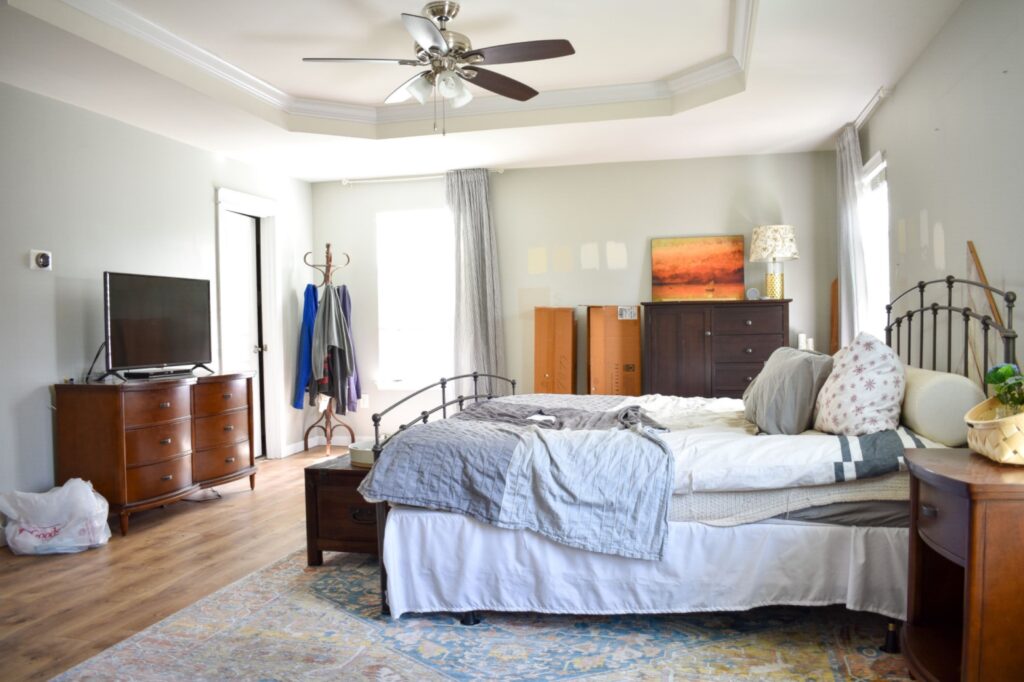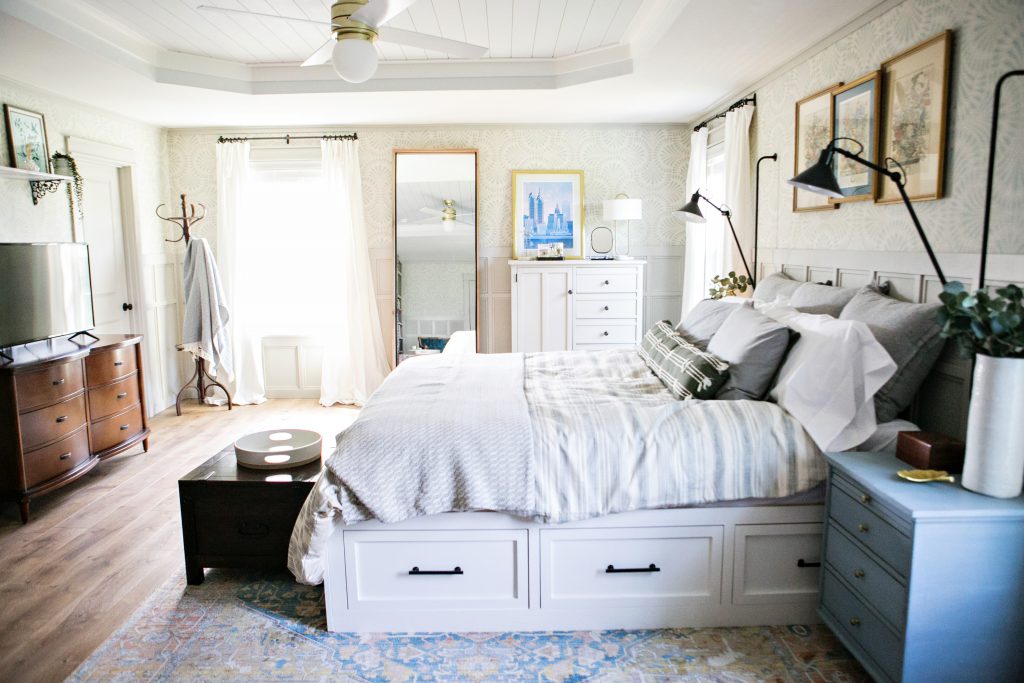 I know most of you all are just here for the pictures (let's be real LOL) and I promise not to interrupt too much — but I hope from the before/afters you can get a sense of how much cozier this room feels now. Even though the placement of the furniture didn't change, adding the faux brick fireplace to the formally dead corner totally transformed the space.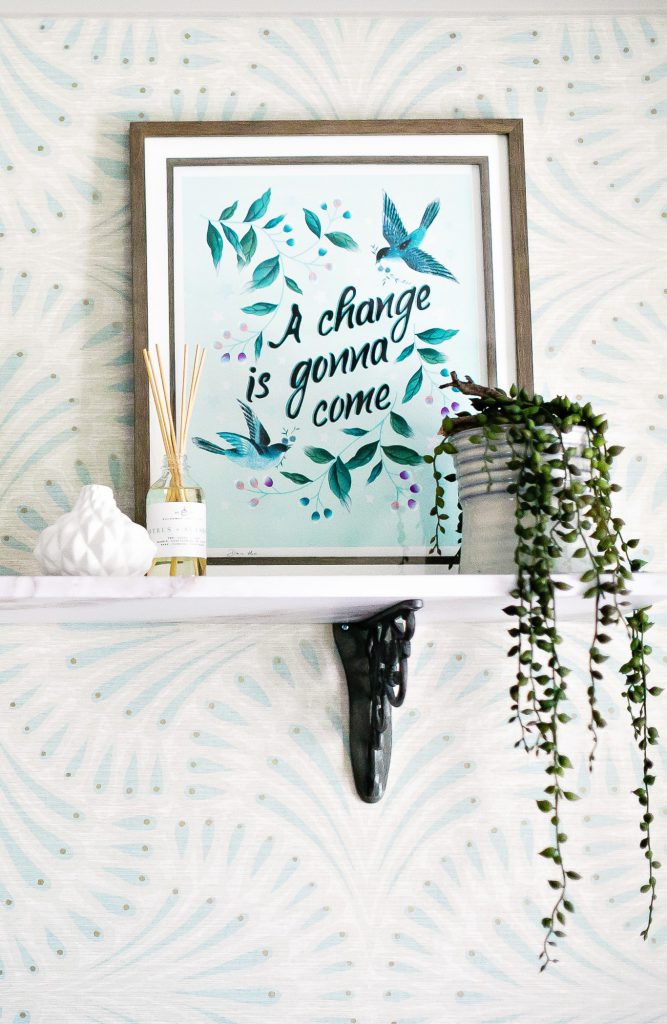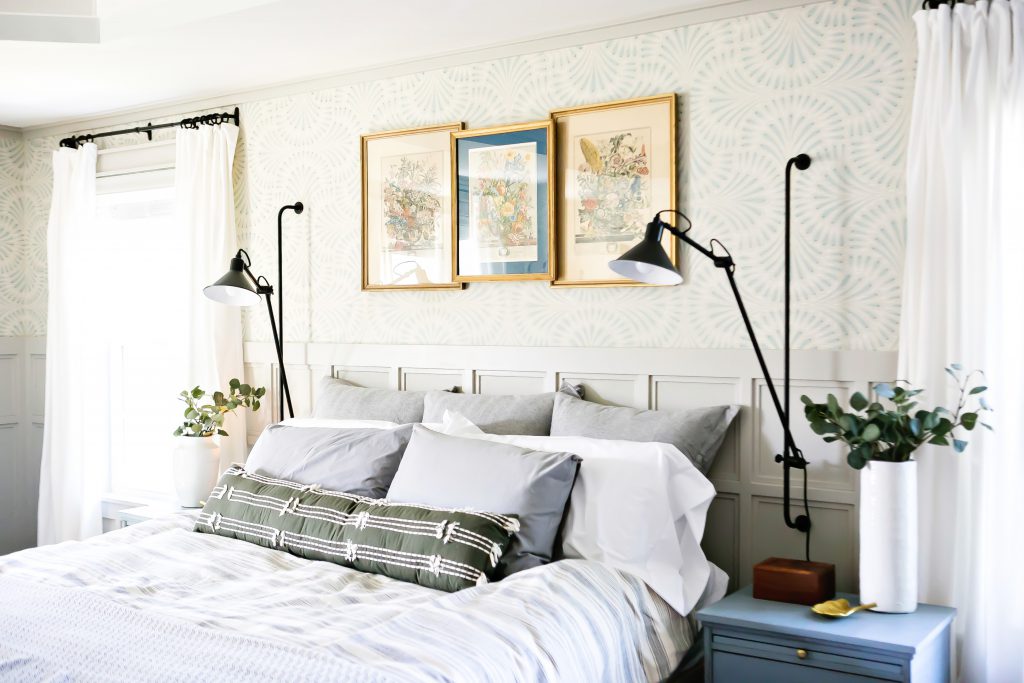 It's not that surprising that one of the biggest things lacking with a builder grade home is character, but bedrooms are such a great place to get really creative and add your own personality since they're the most private spots in our homes. From the wallpaper, to the trimwork, to the ceiling, this room is now drenched head to toe with pattern and texture, but the monochromatic color keeps it from feeling overwhelming.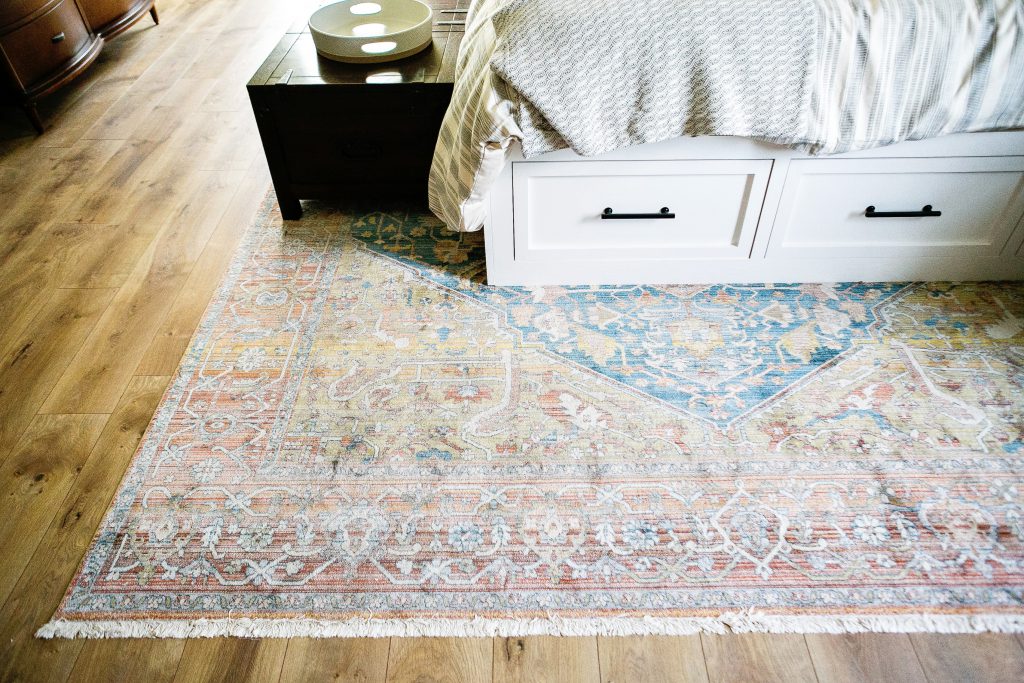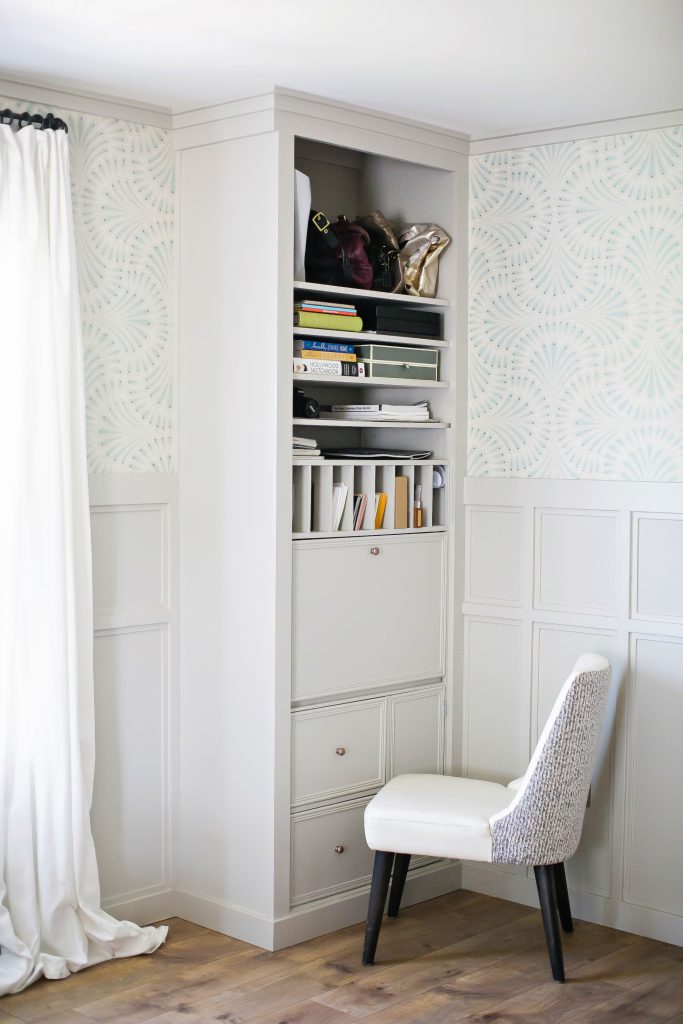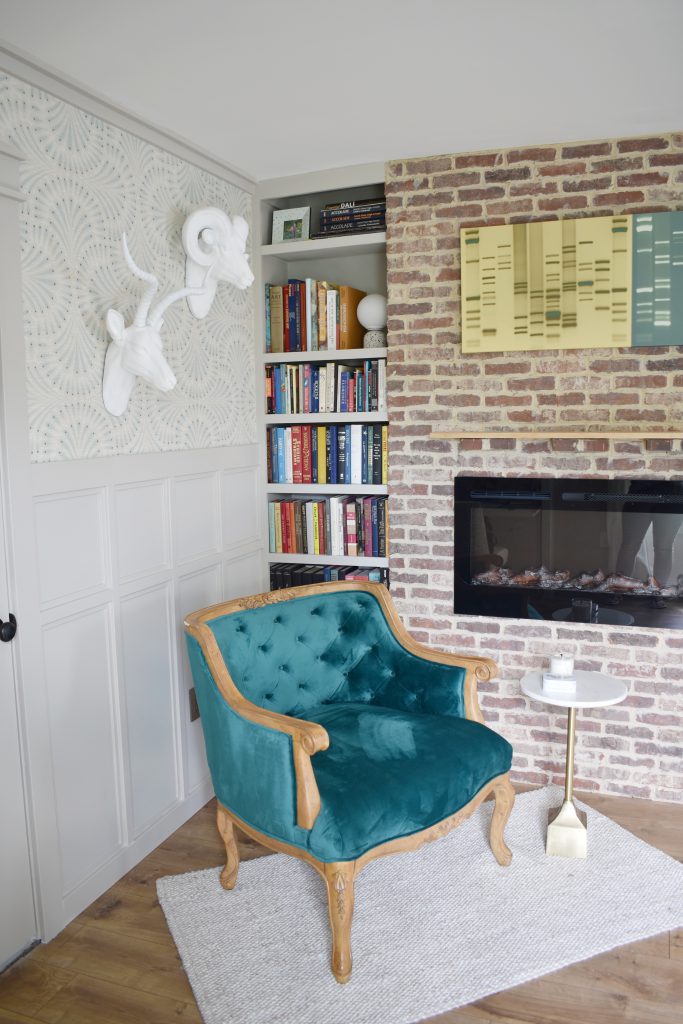 With two hairy dogs (who I just can't bring myself to kick out of the bed) I've always been worried about investing too much in linens for fear that they'll get destroyed – but I think that I came up with a good solution by sticking with neutral colors and adding a heavily textured duvet cover which I'm hoping will be more durable and easier to clean. I did get the opportunity to splurge a little on that beautiful textured blanket thanks to the incredibly kind team at Annie Selke. To keep it safe I just tuck it into the drawers I built into the bed until I need it at night, or for photo shoots ; )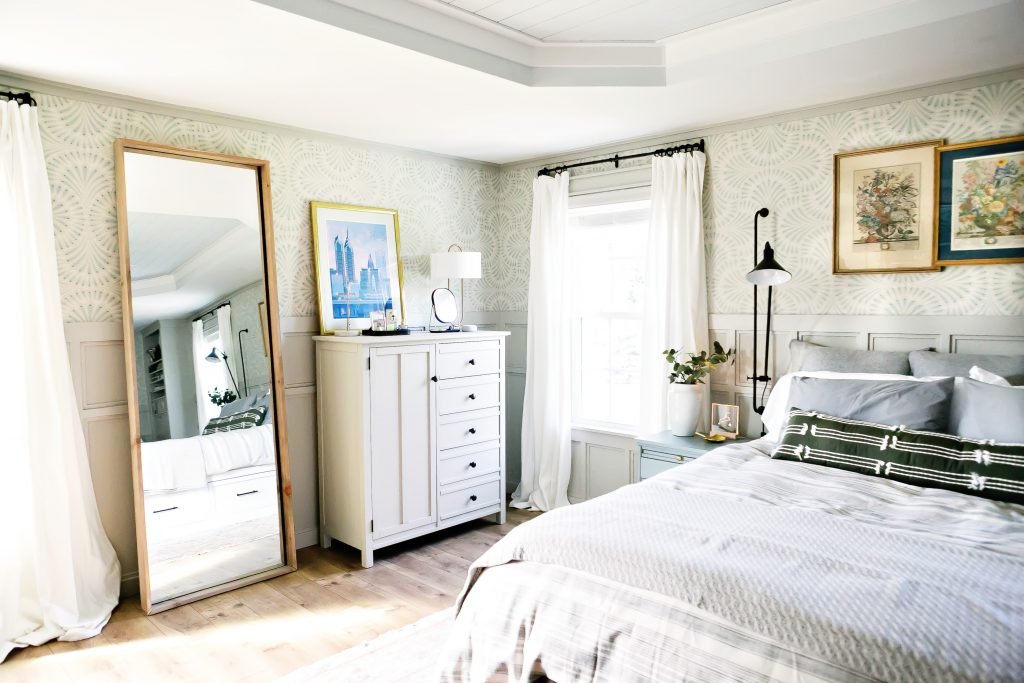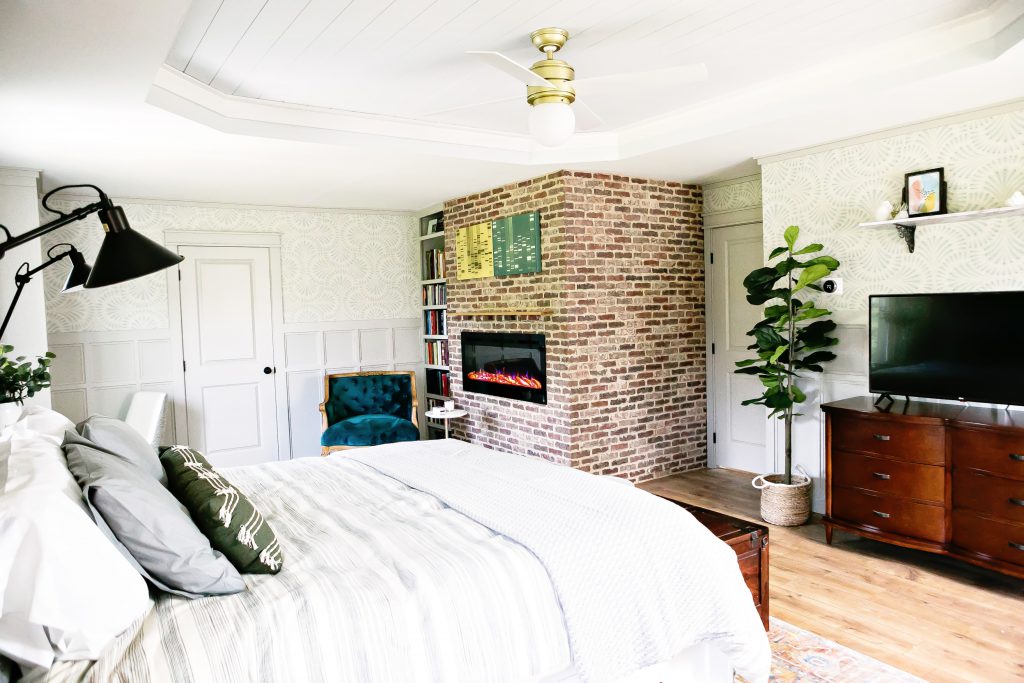 There are so many small projects that I snuck in between the big ones — my DIY floor to ceiling mirror, the faux marble shelf above the TV (it's just contact paper!), and the book case tucked behind the brick. I kept the accessories pretty minimal but every piece I brought in I truly love from the artwork, to the small touches of gold and marble, to the DIY lightbox kit that I made on Mother's Day.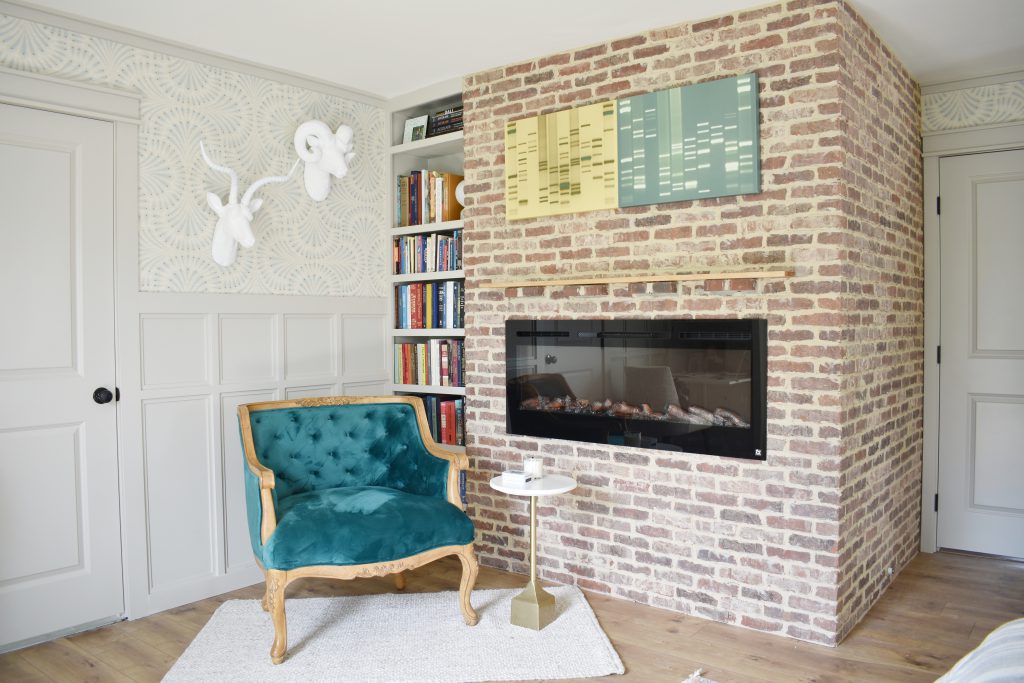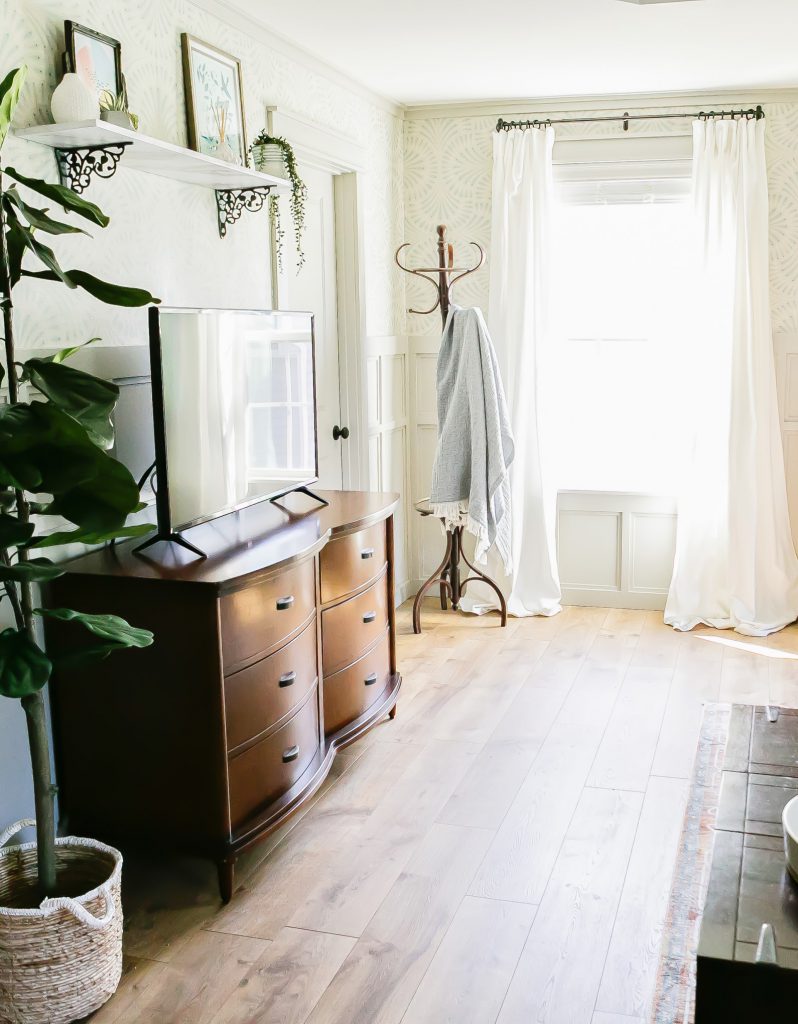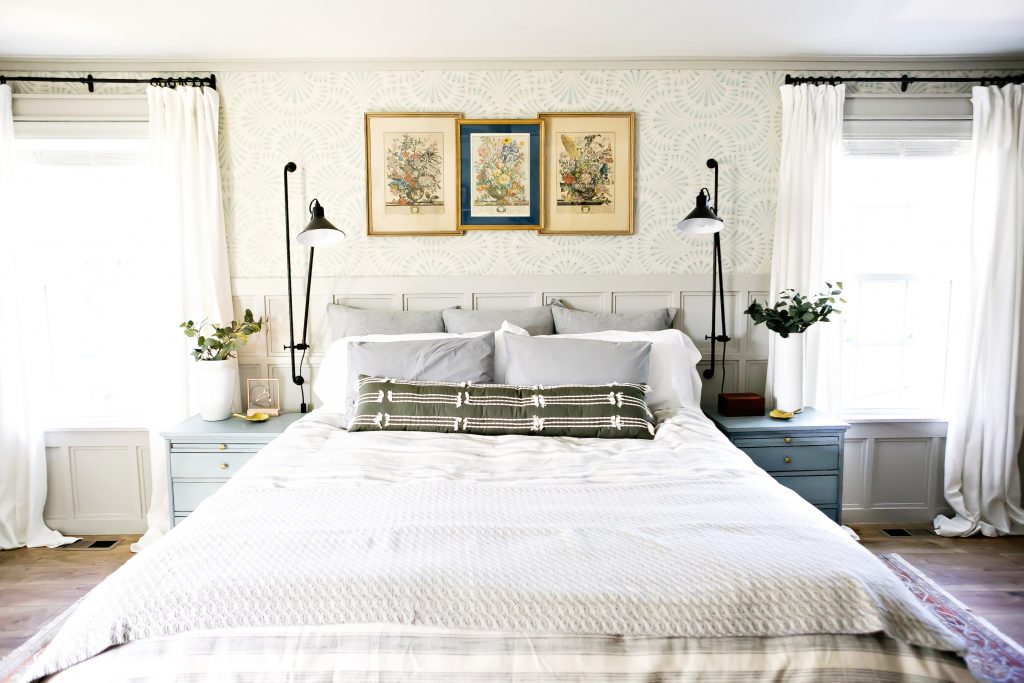 Every time I work on a room in my house it's more than just the pretty space you see at the end. The weeks and sometimes months of work that I put into these spaces are what write the history of my home, and the chapter I just finished will be one that I re-visit for year's to come. This space is filled with so many things that I love that I'd be hard-pressed to pick my favorite one, but nothing beats knowing that I get to wake up in this room every morning from now on.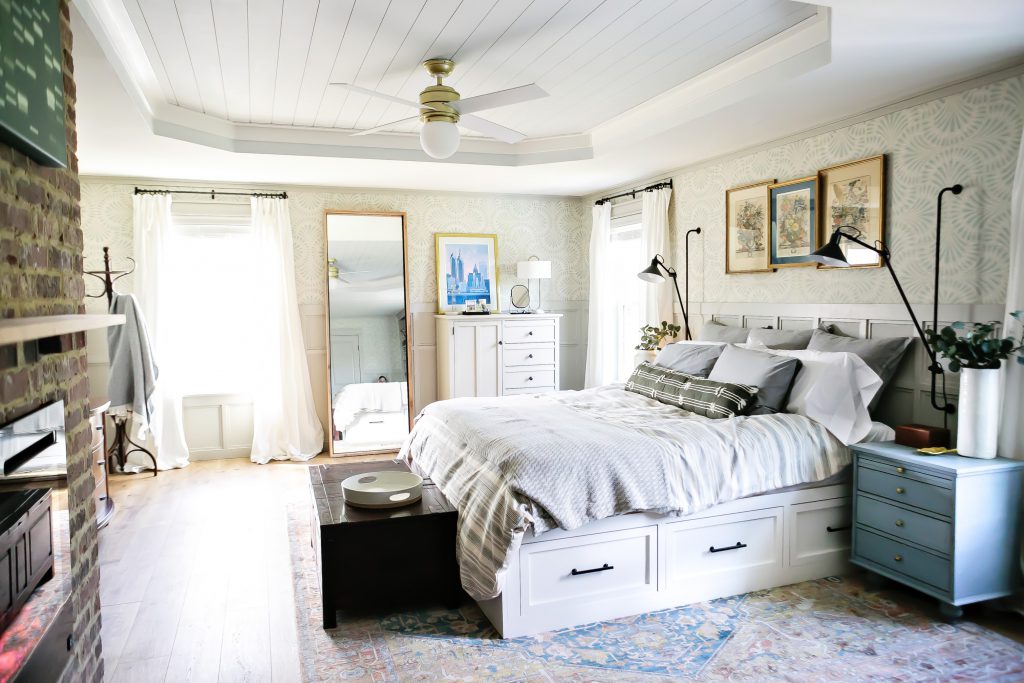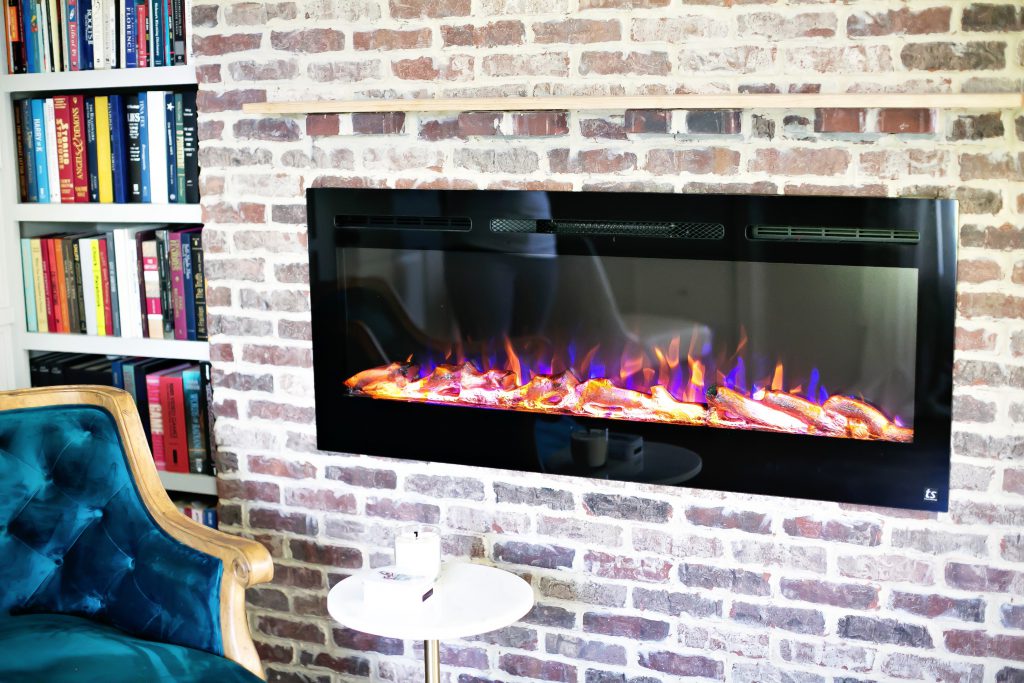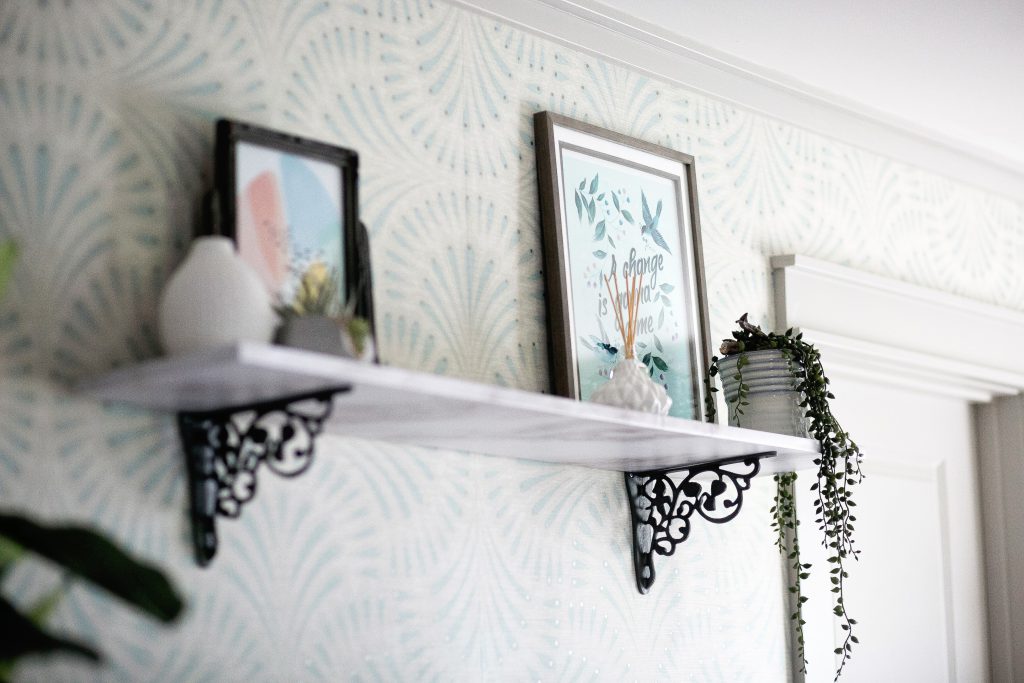 If you're interested in any of the products I used in this room check out the links below – or leave me a comment if you have any questions! Thank you all for your interest and your support in this year's challenge — it does not go unappreciated!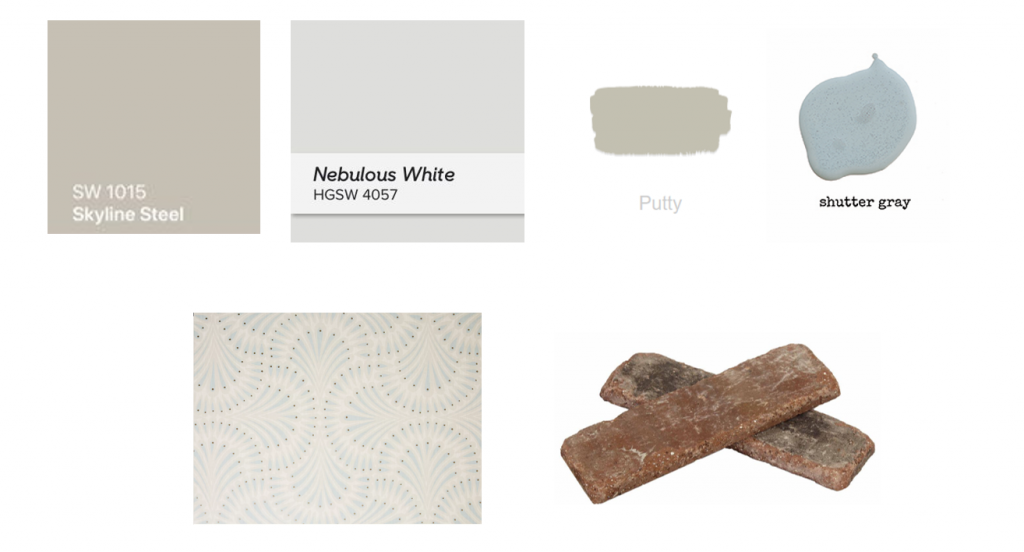 Wall Color – Skyline Steel by Sherwin Williams | Ceiling Color – Nebulous White by Sherwin Williams | Armoire Color – Fusion Mineral Paint in Putty | Nighstand Color – Miss Mustard Seed Milk Paint in Shutter Gray | York Wallcoverings Wallpaper | Old Mill Brick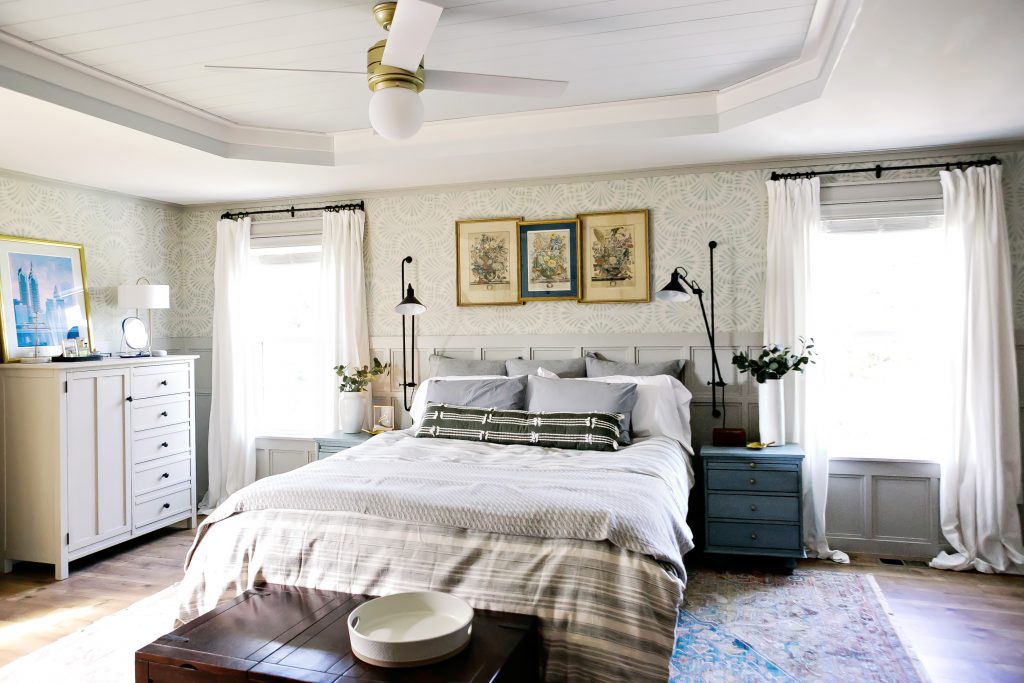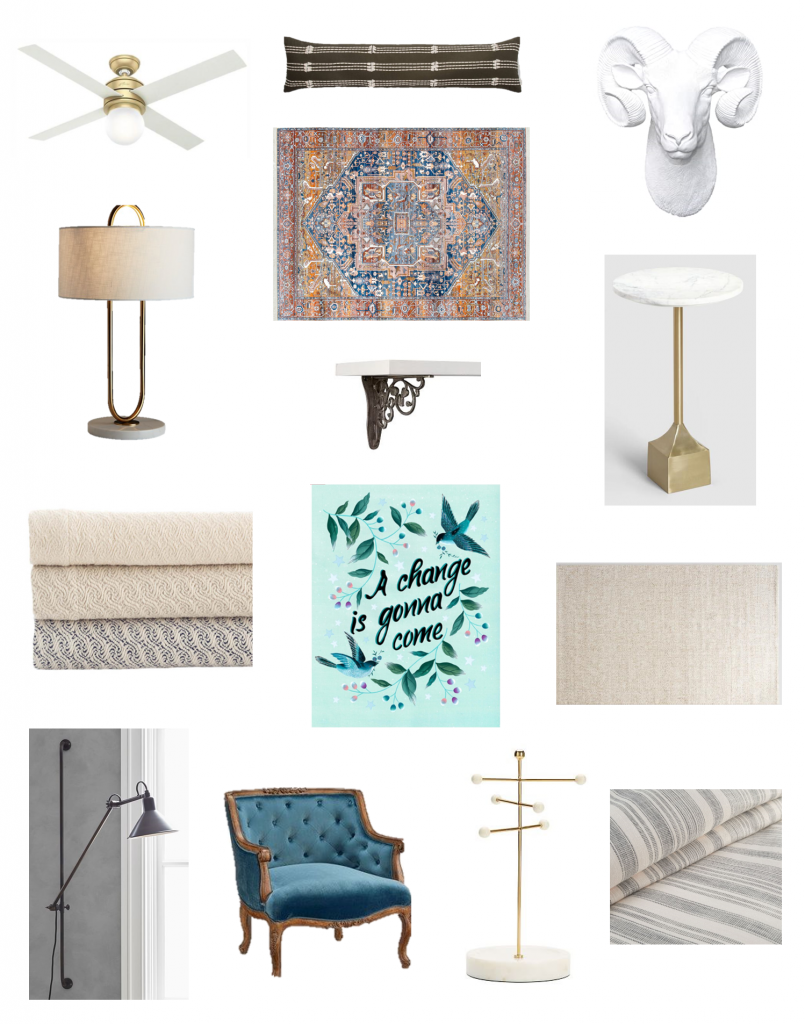 Hunter Hepburn Fan | Lumber Pillow | Faux Ram Head | Marble and Gold Lamp | Area Rug | Shelf Brackets | Marble and Gold Table | Annie Selke Throw Blanket | "A Change is Gonna Come" print | Accent Rug | Wall Sconces | Velvet Arm Chair | Marble and Gold Necklace Stand | Duvet Cover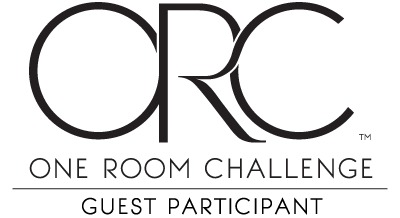 Thank you to my sponsors!
One last thanks to the companies that sponsored products for me to use in this project, Handy Products and Miss Mustard Seed. I'm so grateful to be able to use their amazing paint products to make my vision come to life.