Every year Week Three of the One Room Challenge sneaks up on me! It's the point where lots of things are started but nothing is actually finished and it's hard to feel comfortable about my progress — but I just keep reminding myself how far I've come already and keep checking things off that list, like picking the perfect paint color.
Week 1 / Week 2 / Week 3 / Week 4 / Week 5 / Week 6 / Week 7 / Week 8
(Some of the links included in this post are affiliate links, meaning, at no additional cost to you, I will earn a commission if you click through and make a purchase)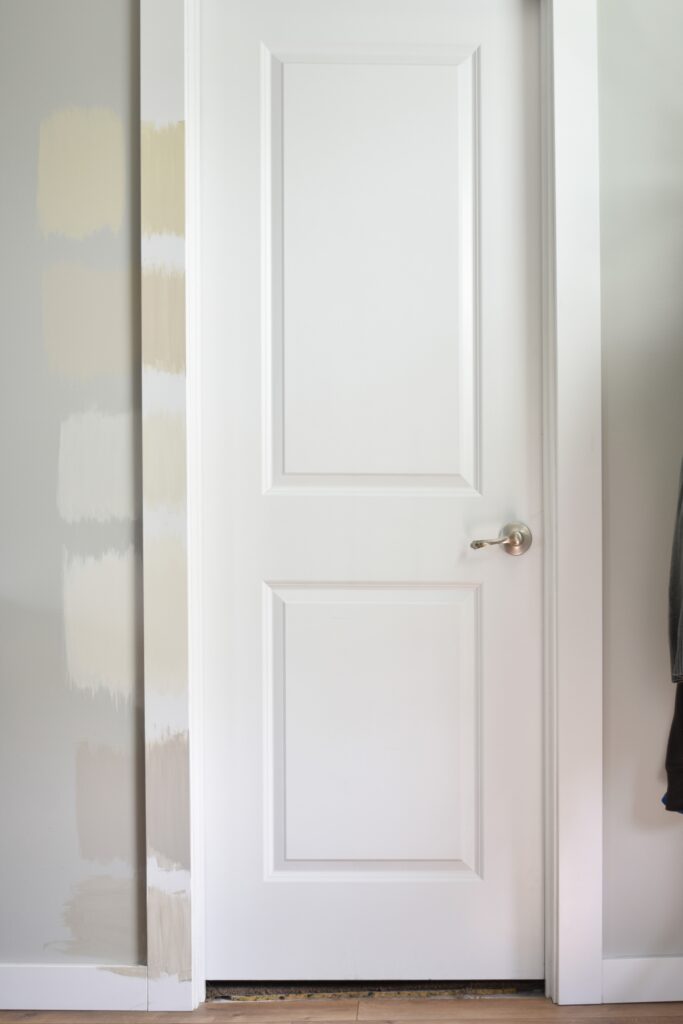 I had a really specific neutral tone in mind to compliment my wallpaper choice but everything I color matched to it looked way too yellow…not the greigy putty shade I had been dreaming of. Finally, after playing around on Sherwin Williams ColorSnap tool for hours I found my unicorn paint color – Skyline Steel – and it's perfection!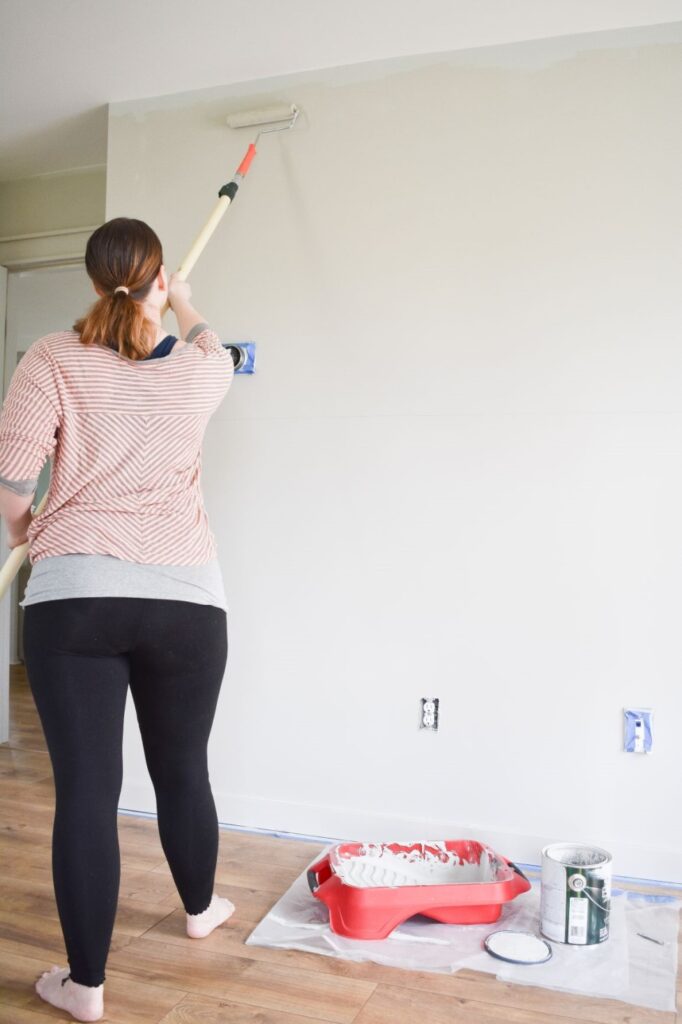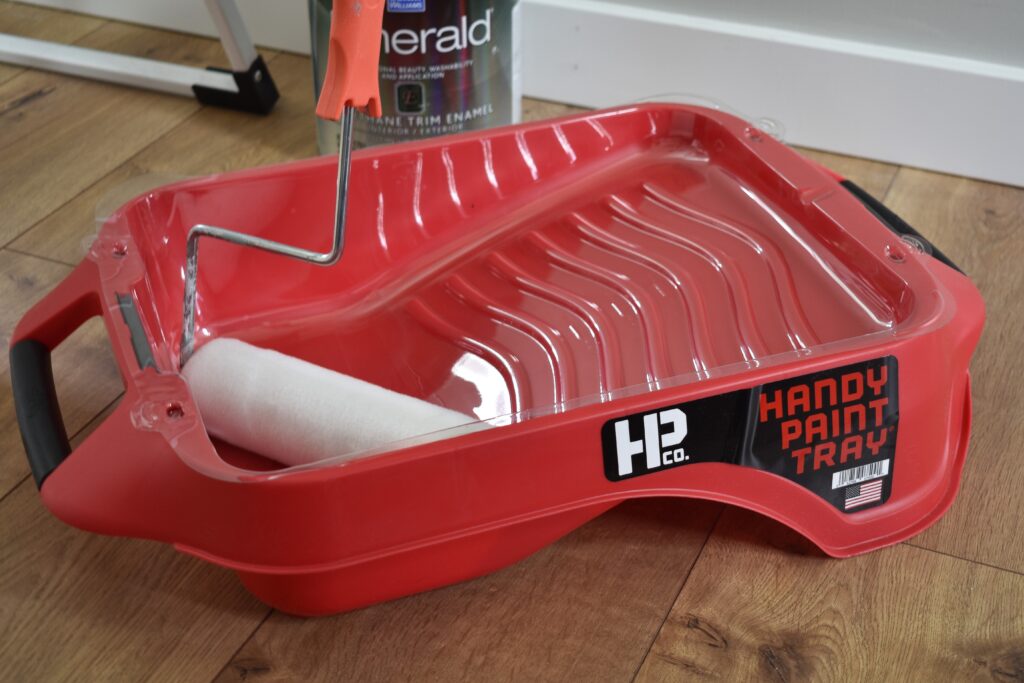 As I discussed last week, my vision for this space includes a monochromatic color scheme for the walls, trim, even the doors…which means I have a ton of painting in my future. Thankfully the kind team at Handy Products supplied me with everything I need from their product line to get things painted in record time. This was my first time using their large Handy Paint Tray and Disposable Liners and it's the little details they put into the design (the magnetic catch that holds your paint brush, the lip built into the front that keeps your roller from slipping) that really make for a more enjoyable painting experience.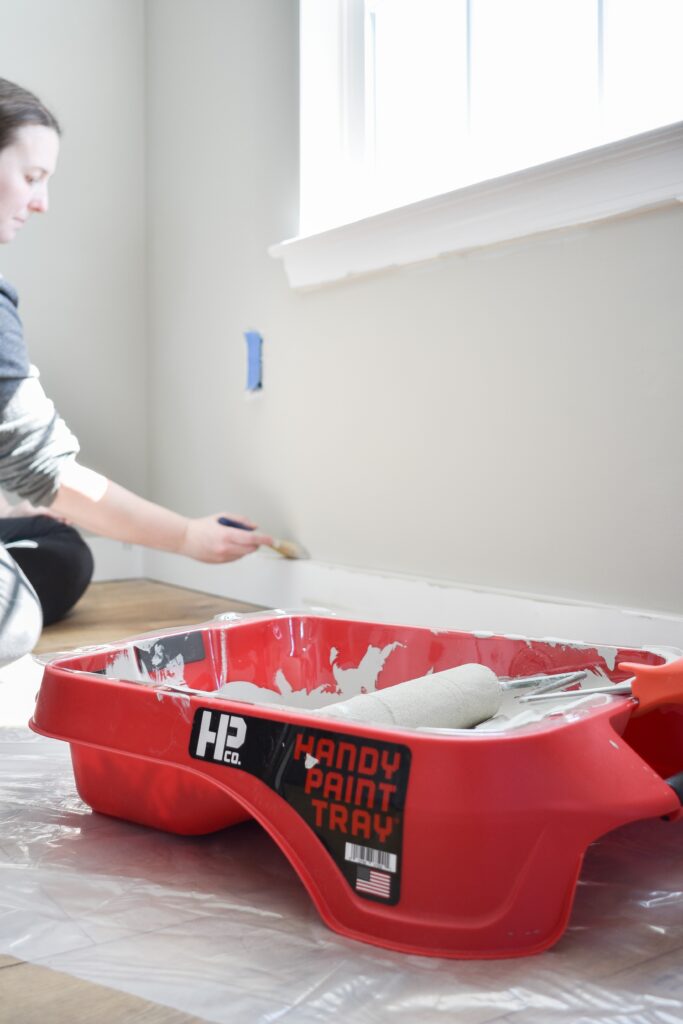 I wasn't expecting the room too feel to much different after painting since the new color isn't that big of a change from the old one – but I was so wrong! It feels light, fresh, and dare I say a little bit nude, but in a good way. On the walls I used SW Emerald Paint in a Flat finish, and all the trim will be painted with SW Emerald Urethane Trim Enamel in a Semi-gloss finish.
Once my first round of painting was done it was onto the first major build of this project….my desk.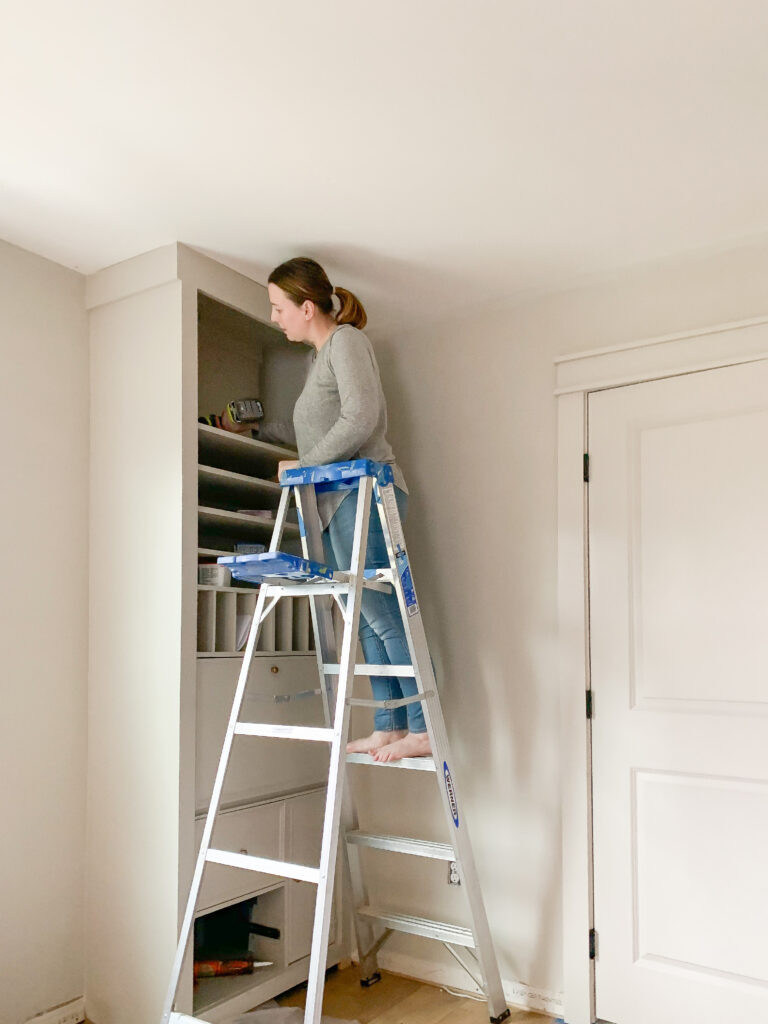 I know there are mixed opinions about having office space in a master bedroom, but I really do enjoy having a little corner to store my business supplies and files. As much as I liked the function of my old secretary desk, I always thought it looked a little short for the room and could use a touch more storage. So instead of getting something brand new I decided to try to frame it in and take it all the way up to the ceiling.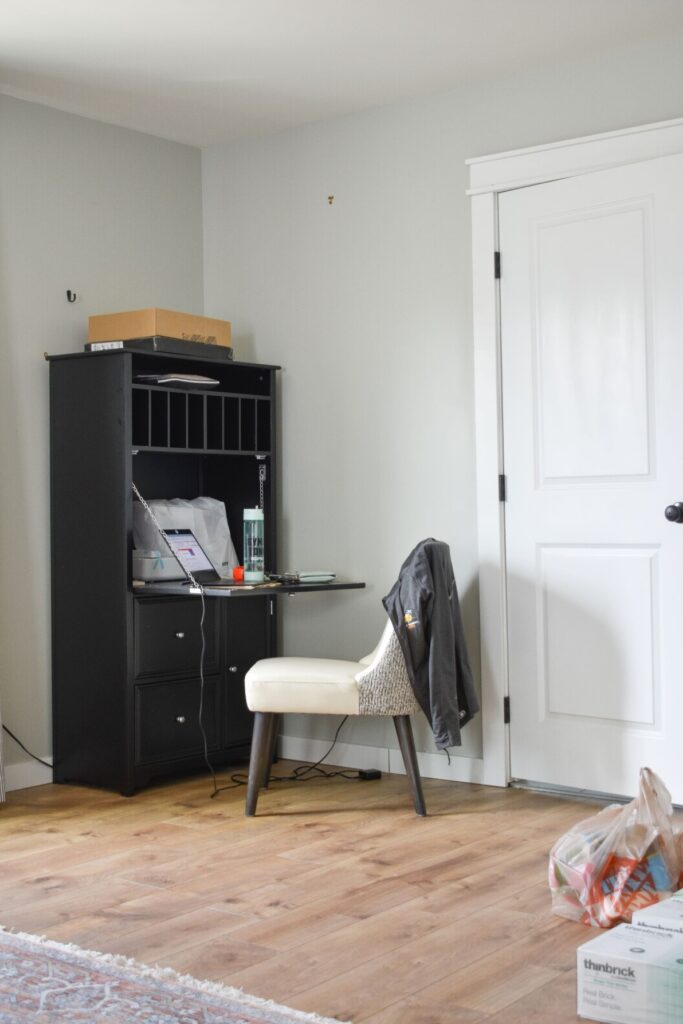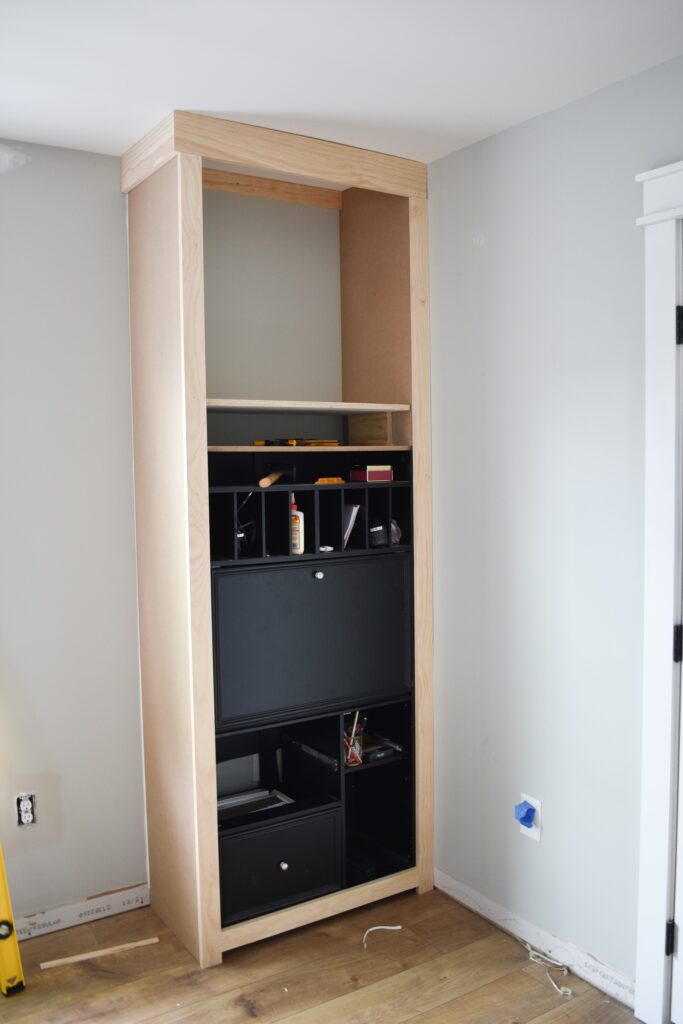 I'll be breaking down some of my DIYs from this challenge in slideshows each week for those that would like to follow along. You can use the same method I used for my desk to make any piece of furniture look built in and custom.
Step 1 – After removing the baseboards, I took the top of the desk off and trimmed the edge detail off of the sides and front

Step 2 – To give a little room between the desk and the wall, I built a spacer out of 2x4s the height of the ceiling

Step 3 – I attached the spacer directly to the wall, and screwed the desk to the 2x4s to make sure it was plumb and level

Step 4 – On the opposite side, I first attached a sheet of 3/4″ plywood the height of the ceiling with some wood screws

Step 5 – On top of that I added a sheet of 3/4″ plywood with construction adhesive and a few brad nails; to keep the spacing at the top I ended up adding a 1×3 board

Step 6 – I finished off the framing by attaching a piece 3/4″ MDF to the inside of the 2×4 frame

Step 7 – At the top I added 1×4 boards – later I will top these with the crown trim

Step 8 – I built a frame using 1x3s and Pocket Holes and then attached it with brad nails. After this step I patched all of my holes, sanded the frame, and caulked the edges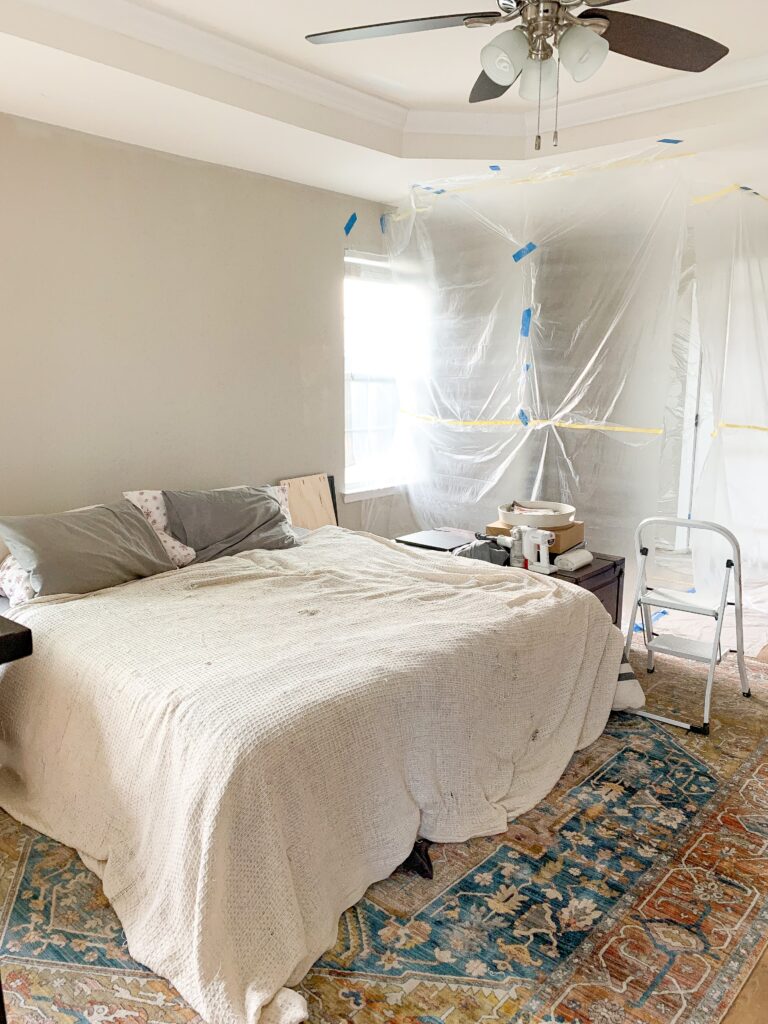 After adding new upper shelves, I painted the piece the same color as the walls to go with the monochromatic vibe I'm going for.
Step 9 – Before I started painting I pre-cut the shelves for the top section and bonded the edges

Step 10 – The whole piece got a coat of primer and then a light sanding

Step 11 – I used my paint sprayer to get a super even finish so to avoid overspray I created my own spray tent using this a drop cloth/painters tape combo

Step 12 – The existing door fronts as well as the upper shelves all got hand painted with primer and paint

Step 13 – I used a scrap piece of wood to space out the upper shelves

Step 13 – T14 – I used pocket holes to attach the shelves directly to the sides of the cabinet and then patched and painted the holes

Step 15 – I spray painted the hardware with Bronze spray paint and used some extra gold chains I had leftover from a light swag kit

Step 16 – To finish the built in look I wrapped the baseboards around the bottom (and I just have to show off that sweet tight fit LOL)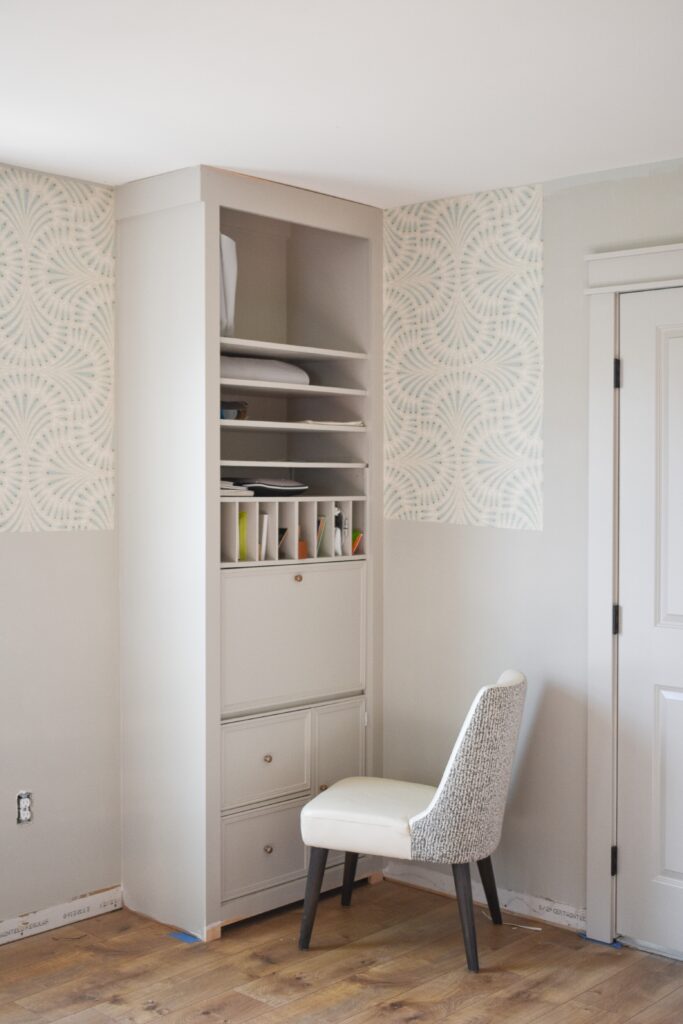 Next week I'll introduce to you my new best friend – that amazing wallpaper framing my beautiful new desk – and you do not want to miss it. Until then, have fun catching up with all of the other One Room Challenge guest participants….there are so many good designs in the works it's crazy!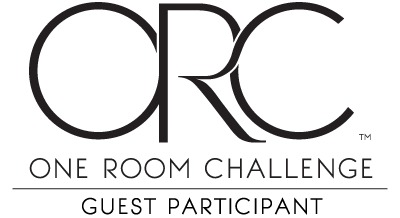 Thank you to my sponsors!
Finally……A huge thanks to the companies that sponsored products for me to use in this project, Handy Products and Miss Mustard Seed. I'm so grateful to be able to use their amazing paint products to make my vision come to life.