Welcome back to the Spring One Room Challenge – Master Bedroom Edition! Now that we are officially underway I've got the same "can I really get this all done" nerves that I get every year. Between having to work around our new schedule and the stress about getting the rest of my supplies, there's been a whole new set of challenges to overcome this year — so I'm really thankful for those extra two weeks the ORC team has given us this time around!
Week 1 / Week 2 / Week 3 / Week 4 / Week 5 / Week 6 / Week 7 / Week 8
(Some of the links included in this post are affiliate links, meaning, at no additional cost to you, I will earn a commission if you click through and make a purchase)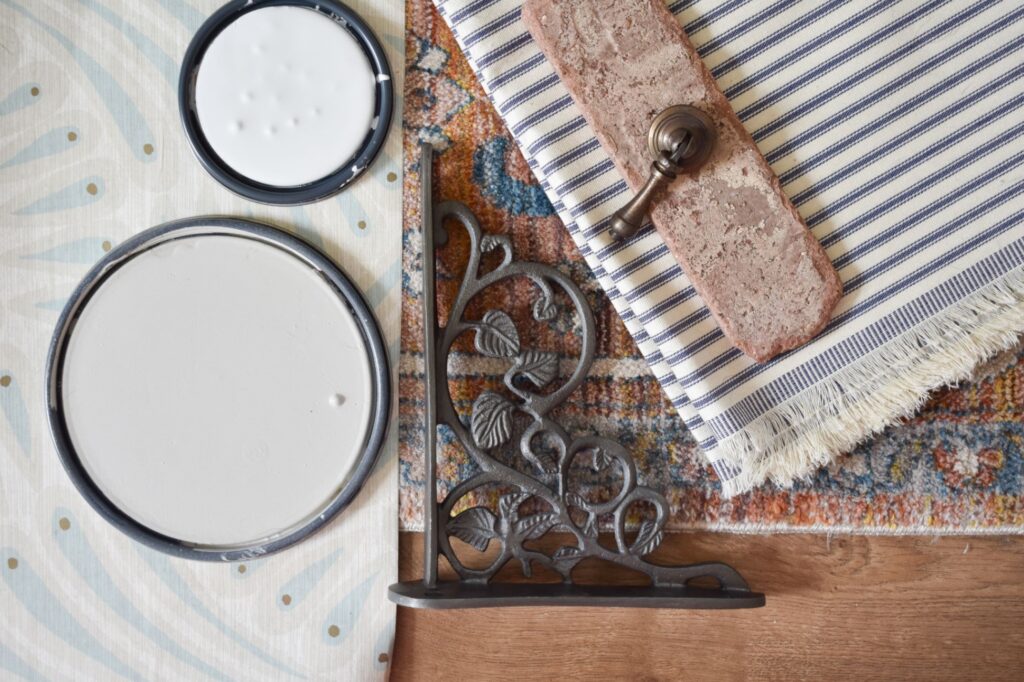 This week's post is all about the inspiration and design for the master bedroom. While I like to keep the first floor of my house pretty neutral, I have found that I really like to take more chances with the rooms upstairs and over the last year I fell in love with look of monochromatic trim work.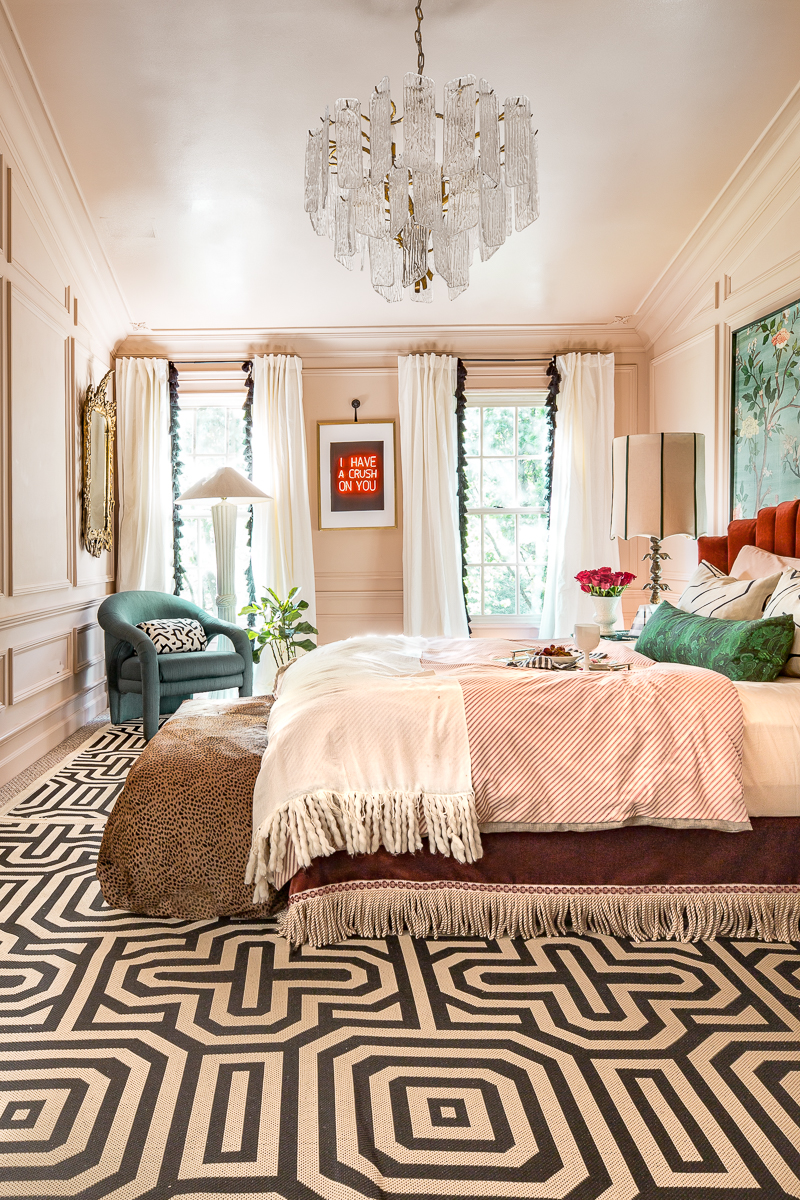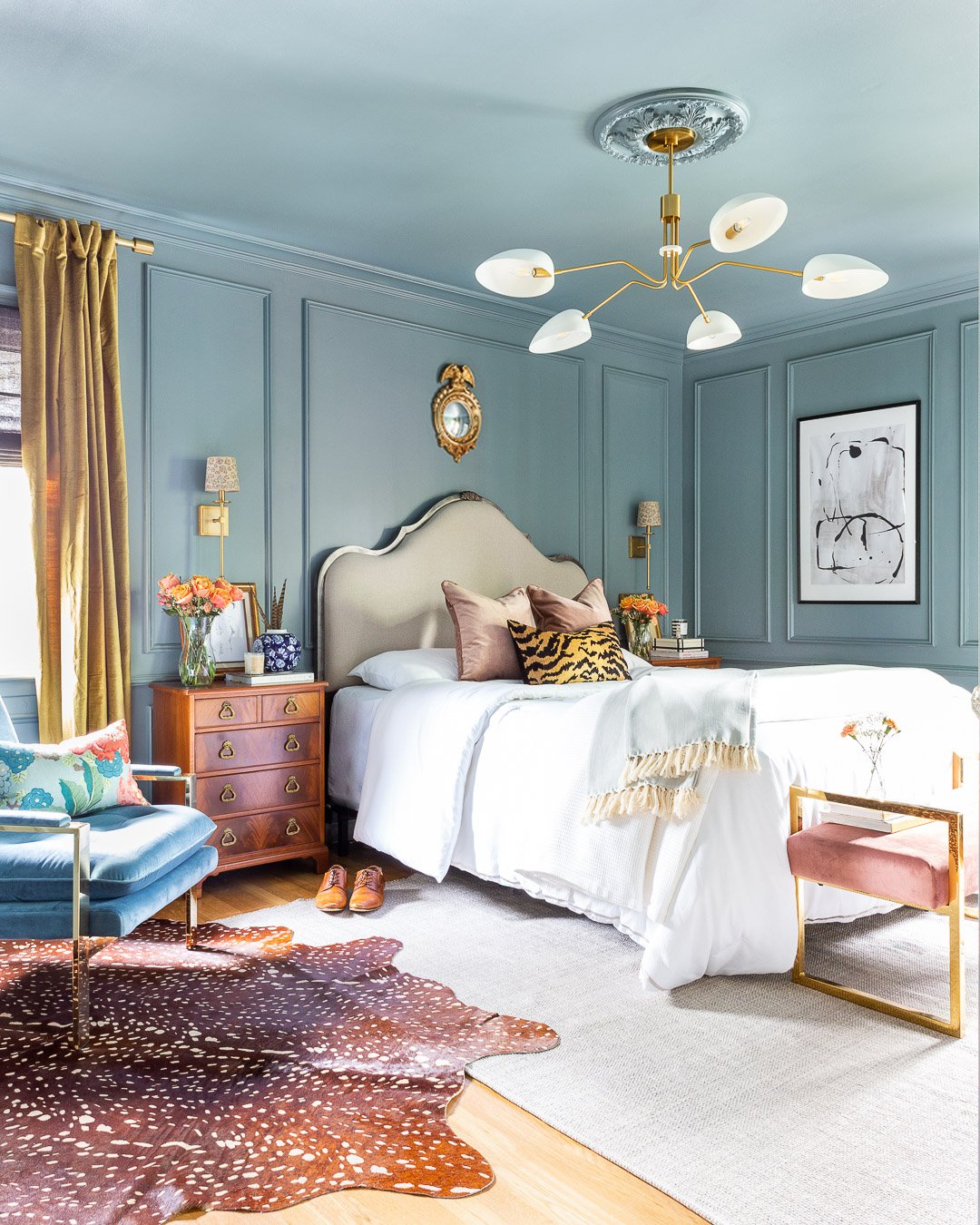 After last spring's challenge I couldn't get these two bedrooms out of my mind and they really became the jumping off point for my design. I wanted to emulate the lush, opulent feel that a master bedroom deserves. They also reminded me of Mandi's monochromatic Library from A Beautiful Mess that I am absolutely obsessed with and will be using as inspiration for the bookshelf I'll be building.
I'm going to be going with a more neutral color for my trimwork to compliment the other major element in the room (a giant DIY brick fireplace) so to keep things fun I decided to add some wallpaper. Finding the right pattern turned out to the the HARDEST part of the entire process!! I looked for months with no real direction — until we took our annual trip to The Hotel Hershey over Christmas and all of a sudden I found what I was looking for.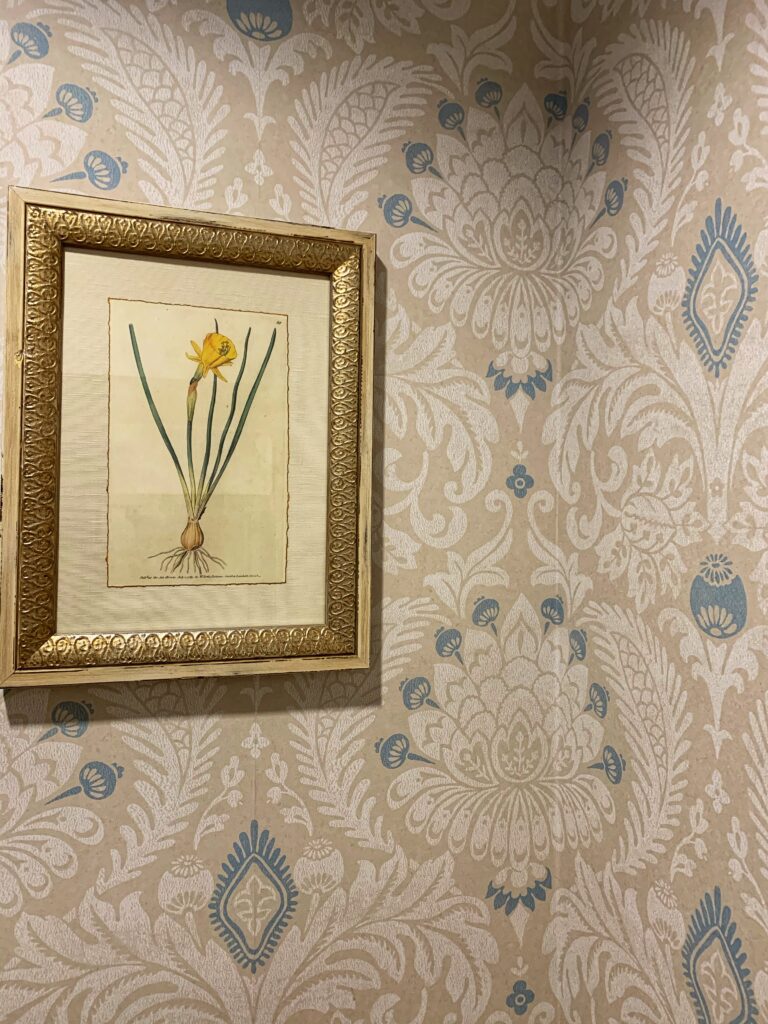 The pattern I finally settled on isn't exactly the same (it's definitely Art Deco inspired) but the movement and blue/putty color scheme came directly from that pattern I saw at the hotel.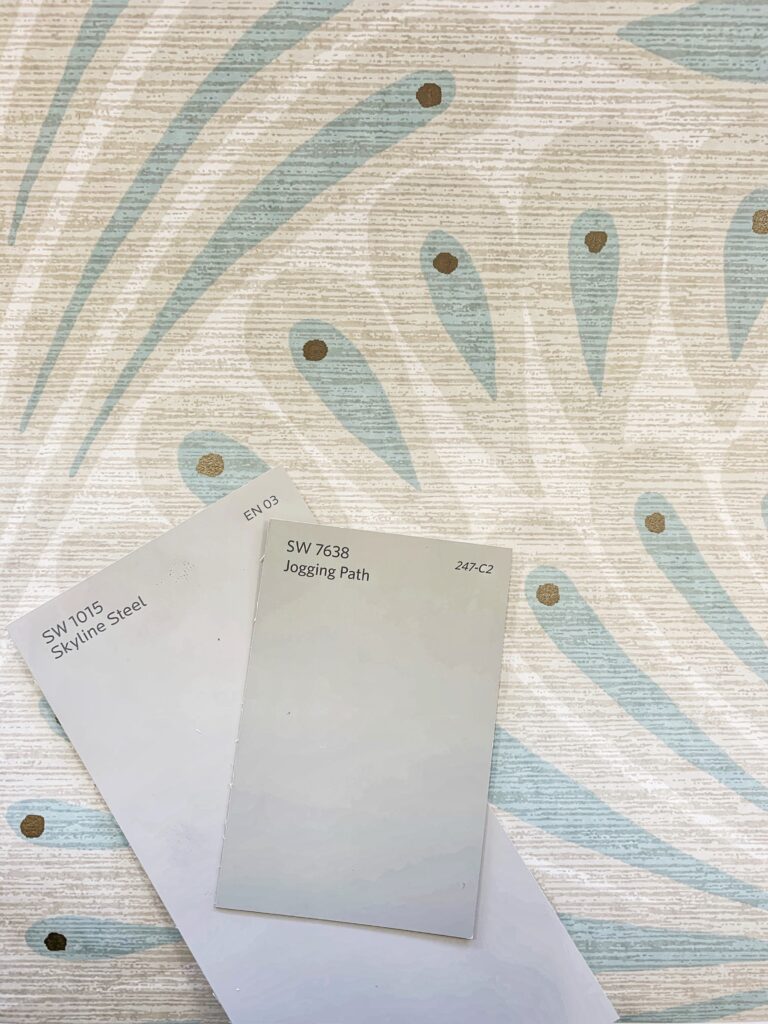 Even though I was loving the direction the design was headed, I was worried that I was falling in love with a lot of pieces that didn't necessarily go together so I put together a mood board to ease my mind.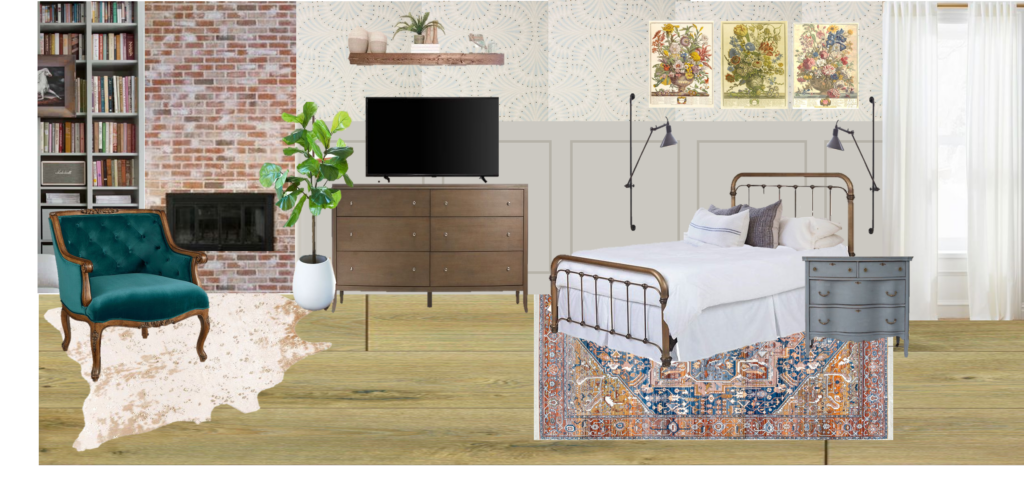 On paper, the actual workload looks a lot less than last year's challenge, when I took on three spaces, but behind each of the projects are 100s of tiny steps that I need to nail along the way.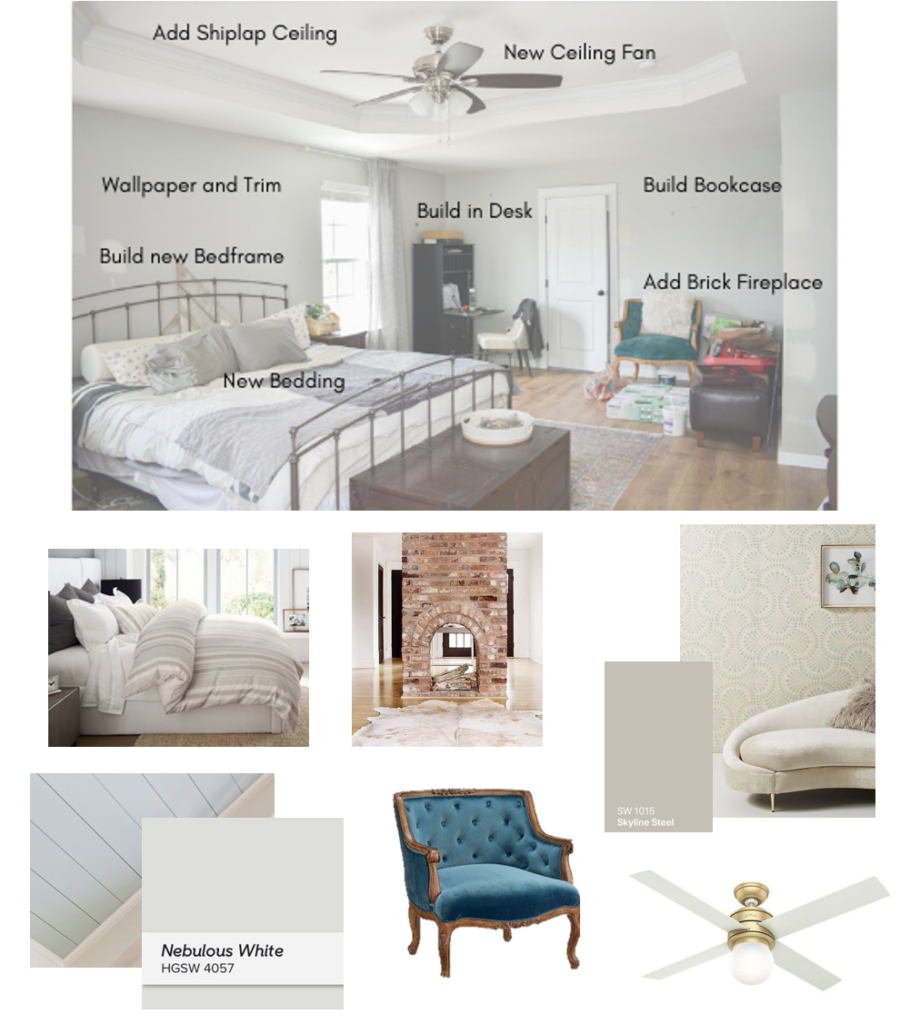 The biggest project in this room is hands down going to be the DIY brick fireplace I have planned for the corner – when I'm done this will be a cozy sitting area complete with the velvet Magnolia chair I found at HomeGoods over Christmas. But coming in a close second is installing the wallpaper and trimwork around the room. I'm also going to add painted shiplap to the tray ceiling and a gorgeous new Fan. In the desk area I'm planning on keeping my secretary desk, but building it in so that it goes all the way to the ceiling. Oh and I need to build a new bed frame and figure out a bedding solution that my dogs won't ruin.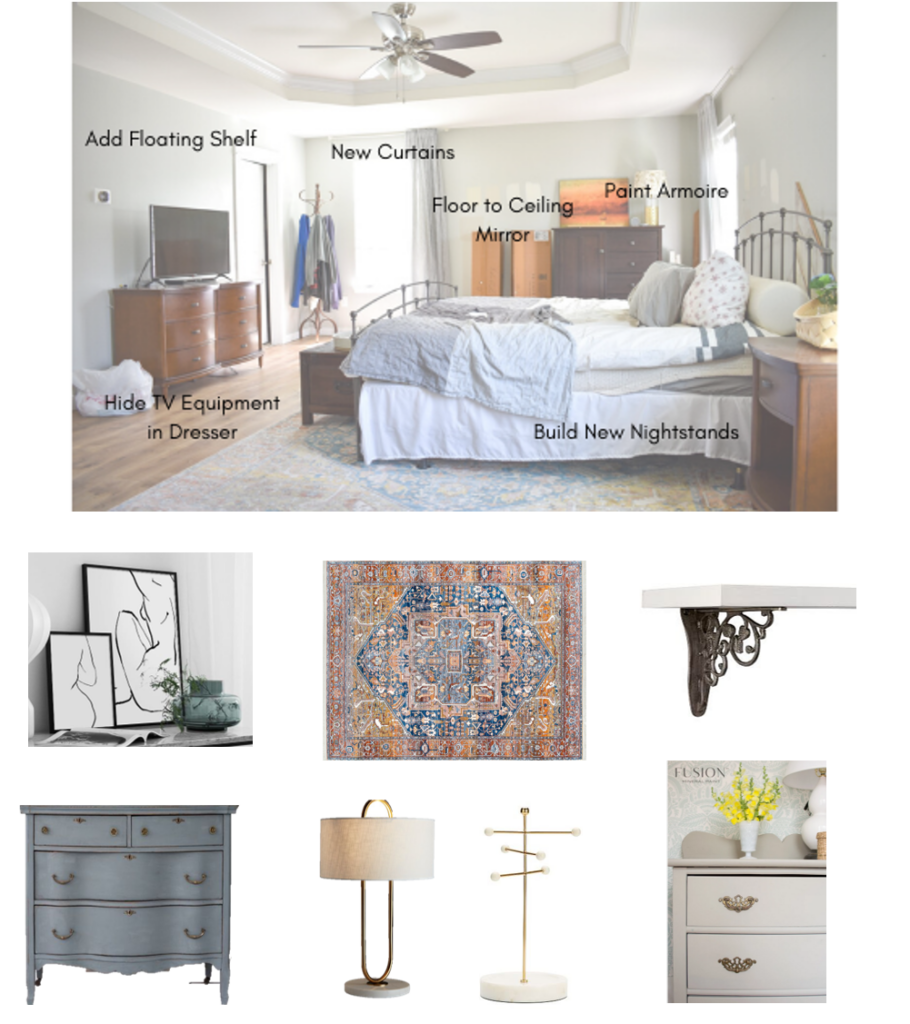 As I mentioned, a lot of the furniture in the room will stay the same but the dark armoire will be getting a paintjob and some new accessories. The colors in my favorite rug are also really going to pop in the new design. I will be building two new nightstands with a little help from my friends at Miss Mustard Seed and I'll also be building a floor to ceiling mirror and a simple floating shelf above the TV full of plants and artwork.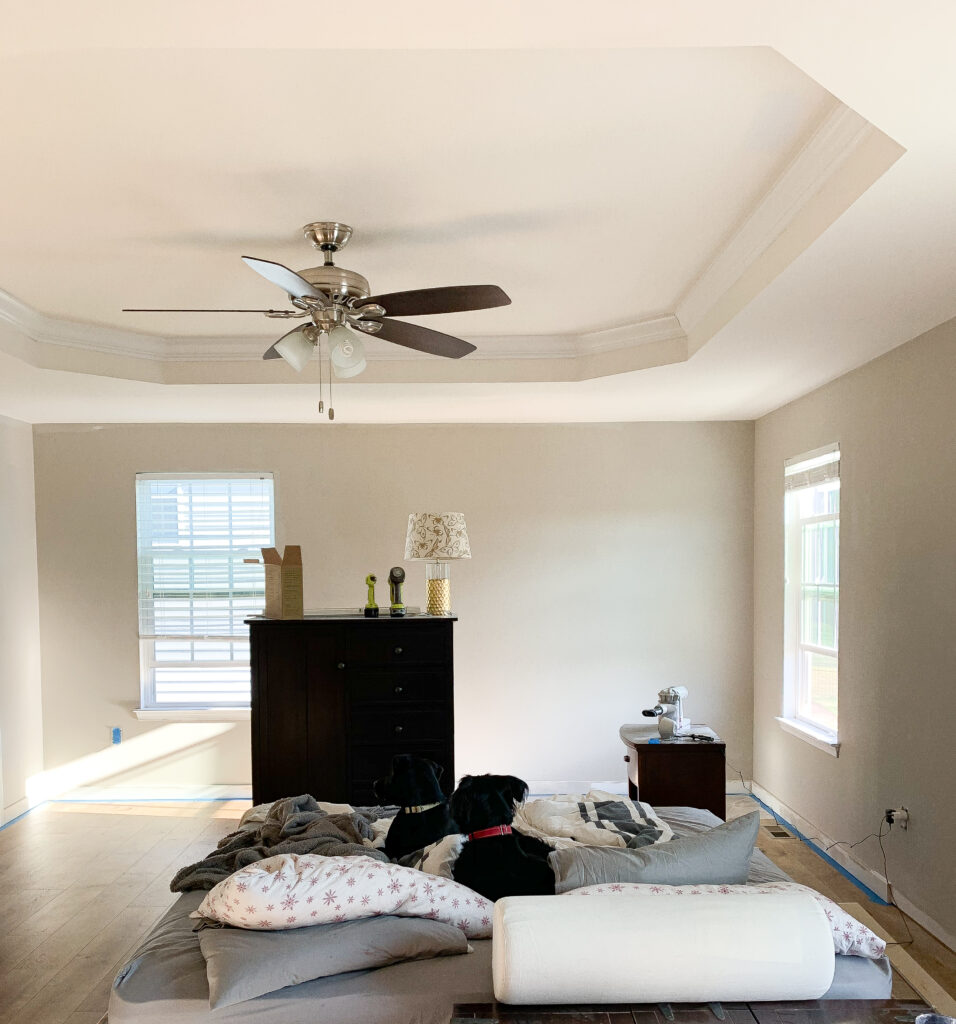 Next week the real fun starts when I'll be sharing some actual progress, but until then here's a little sneak peek at the paint color….I think you guys are gonna love it as much as I do! Until then go visit the One Room Challenge blog to see what everyone else has been up to this week.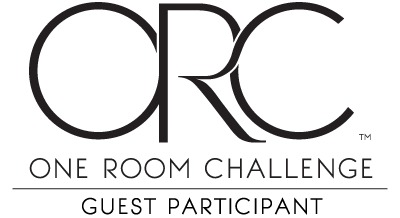 Thank you to my sponsors!
Finally……A huge thanks to the companies that sponsored products for me to use in this project, Handy Products and Miss Mustard Seed. I'm so grateful to be able to use their amazing paint products to make my vision come to life.