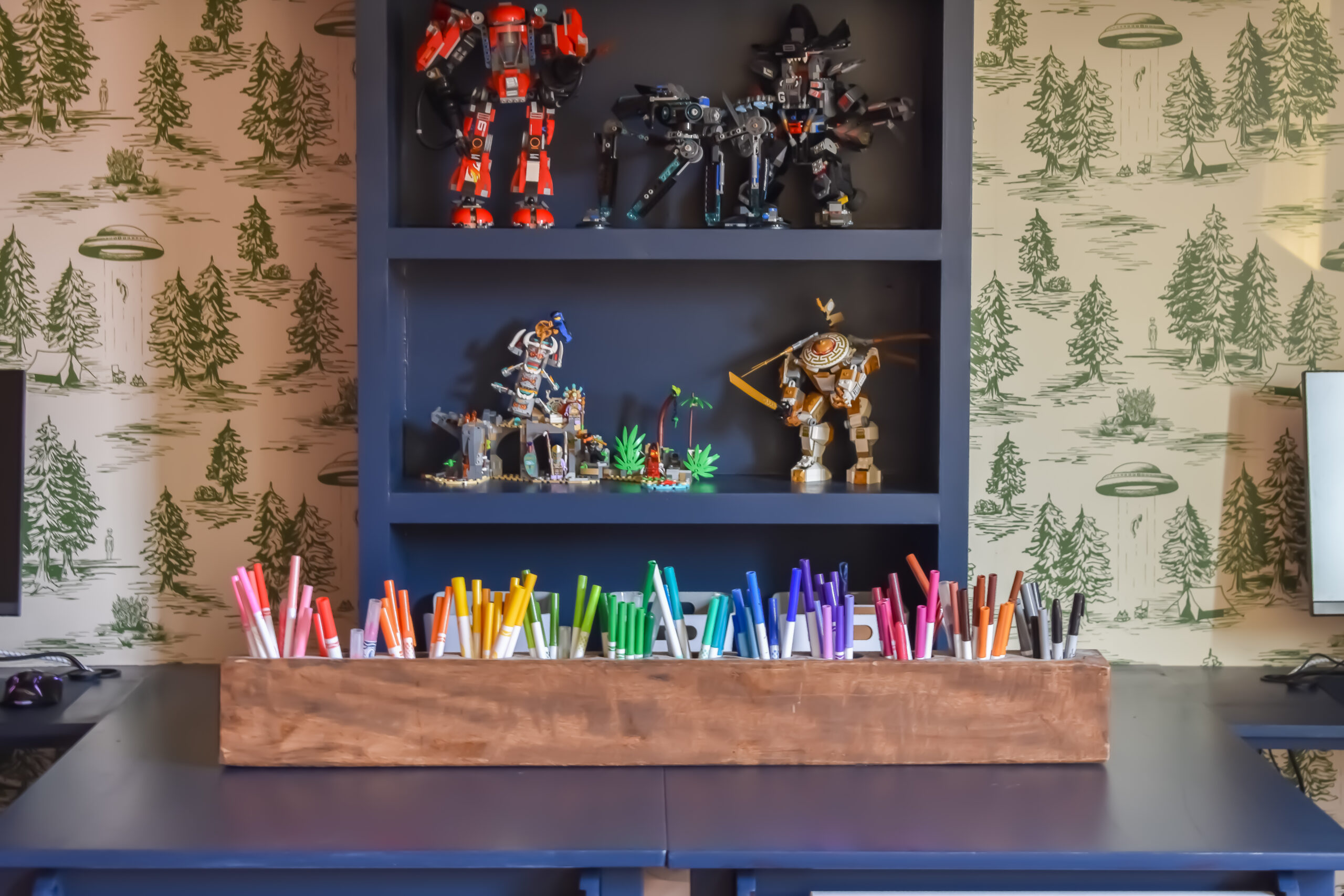 We've come to the end of the road yet again — not just to the end of this Fall's One Room Challenge but also to the end of my 2021 projects. The catalyst for this whole room makeover was to give my boys a place to enjoy themselves when the temperature starts to drop and with the holidays right around the corner I almost feel like I should tie a big red bow on the door so they can truly unwrap it.
This week I'm going to let the pictures do most of the talking but if you missed any progress along the way you can re-visit any of my weekly blog posts to see how this room came together.
Week 1 / Week 2 / Week 3 / Week 4 / Week 5 / Week 6 / Week 7 / Week 8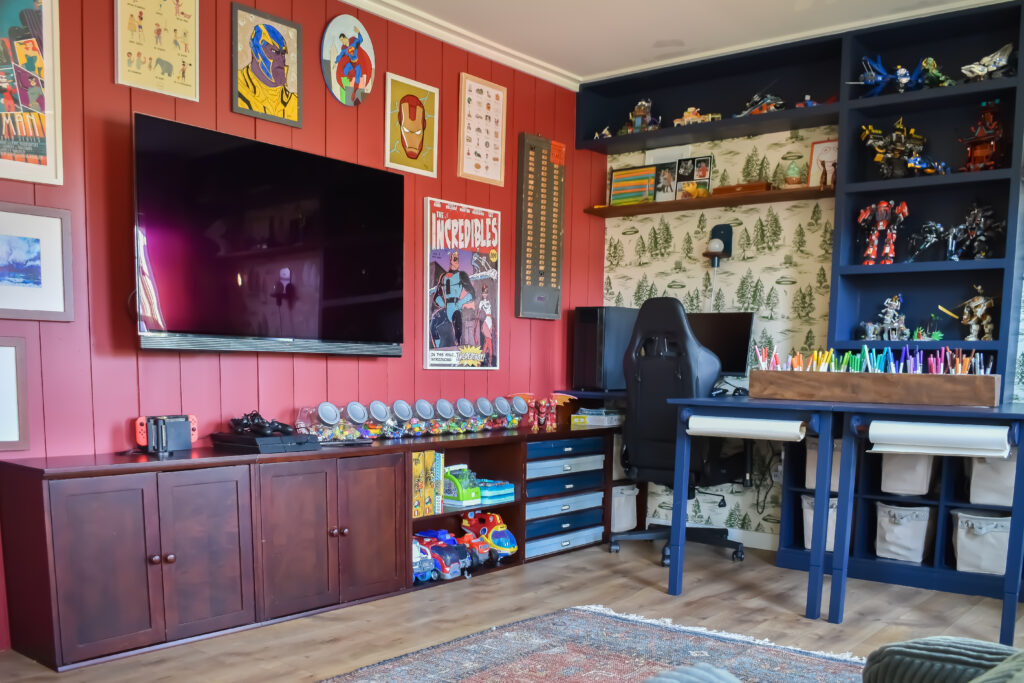 (Some of the links included in this post are affiliate links, meaning, at no additional cost to you, I will earn a commission if you click through and make a purchase)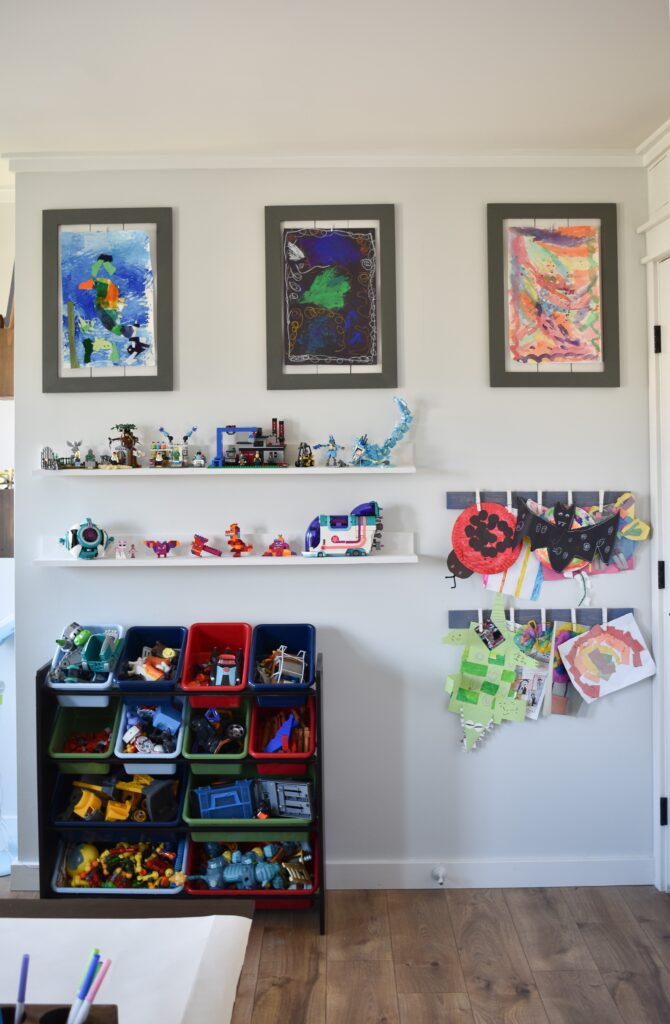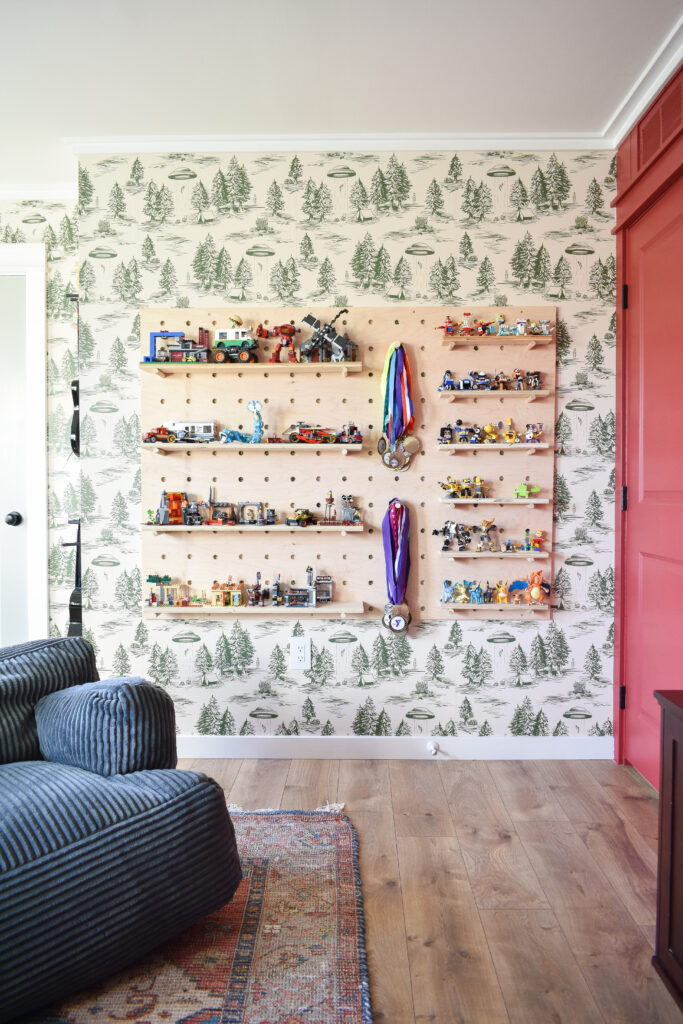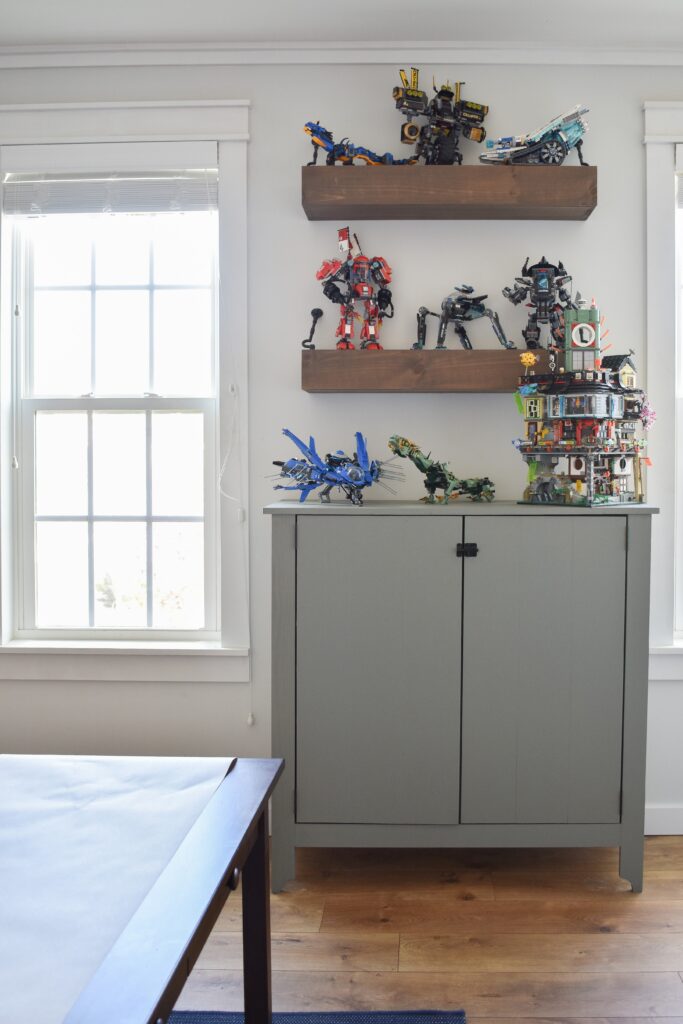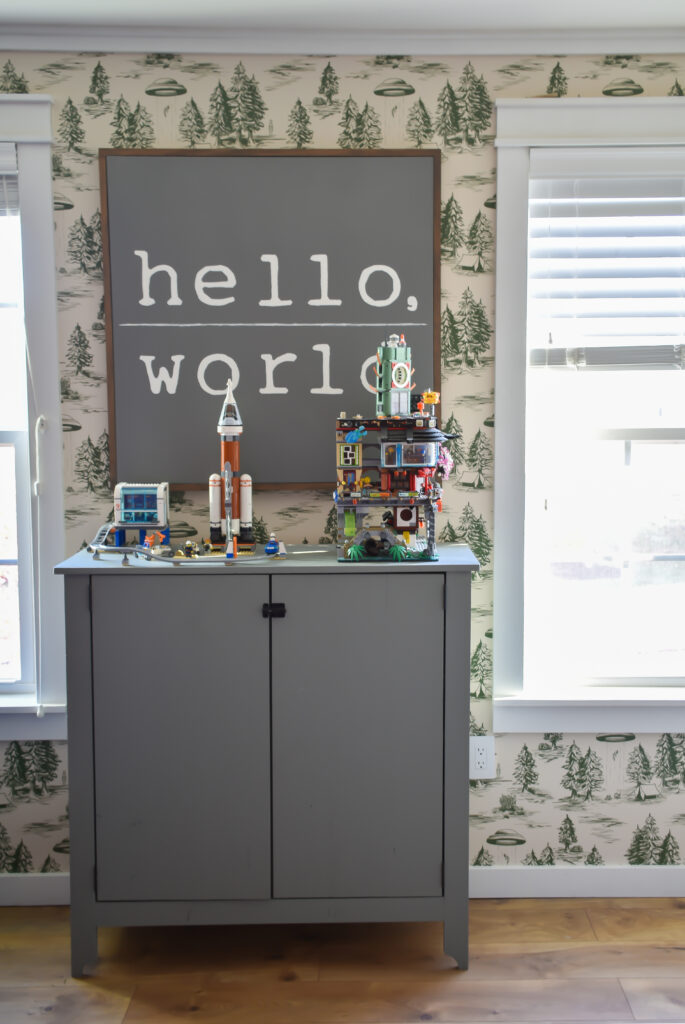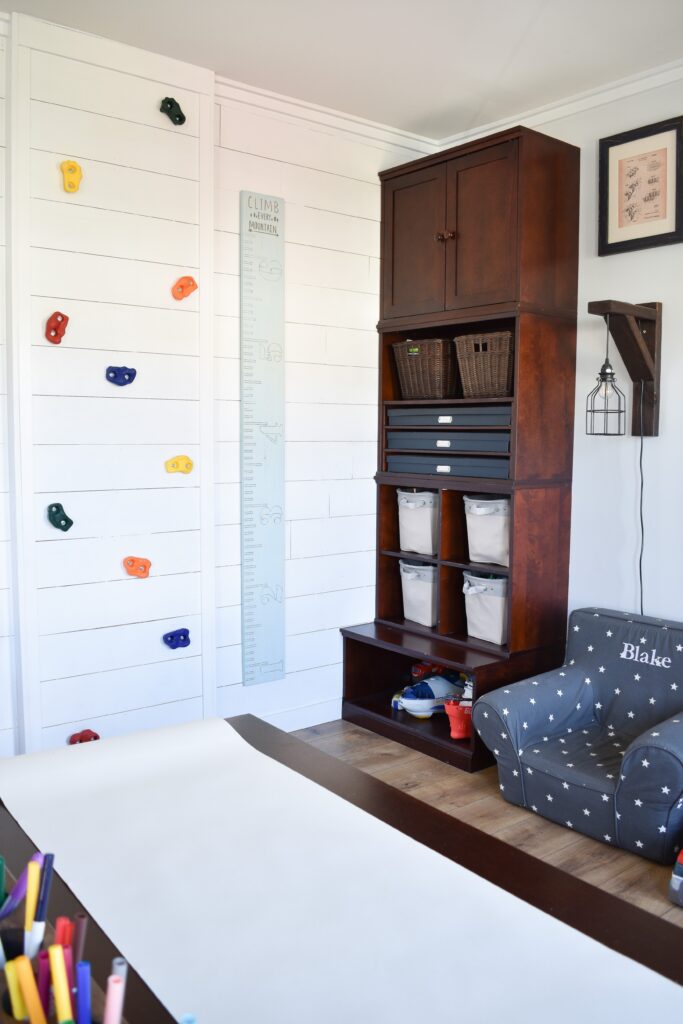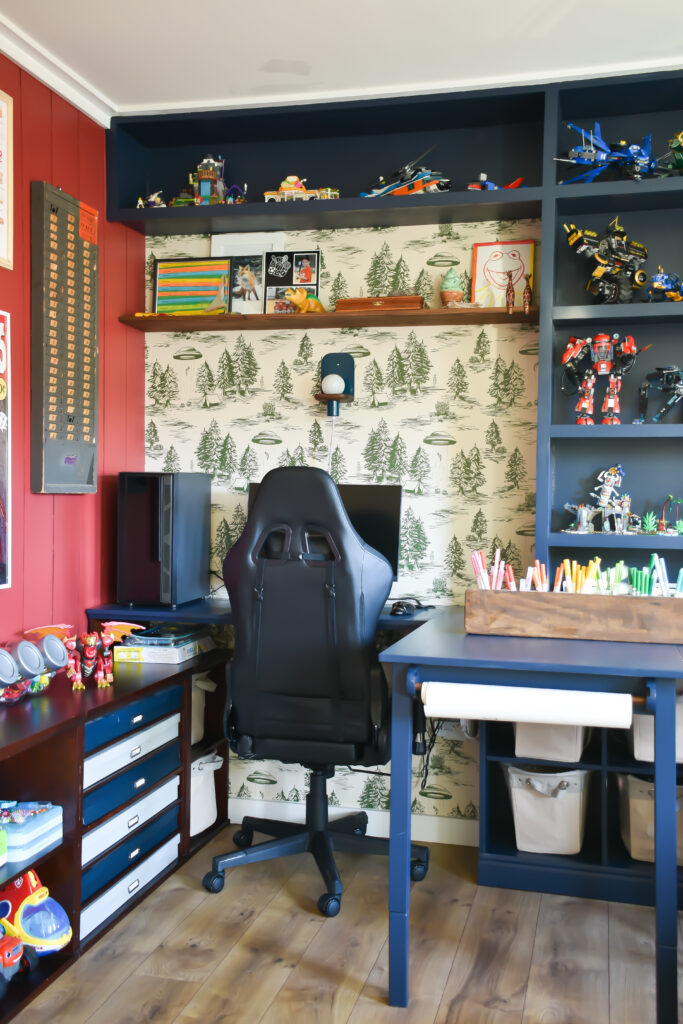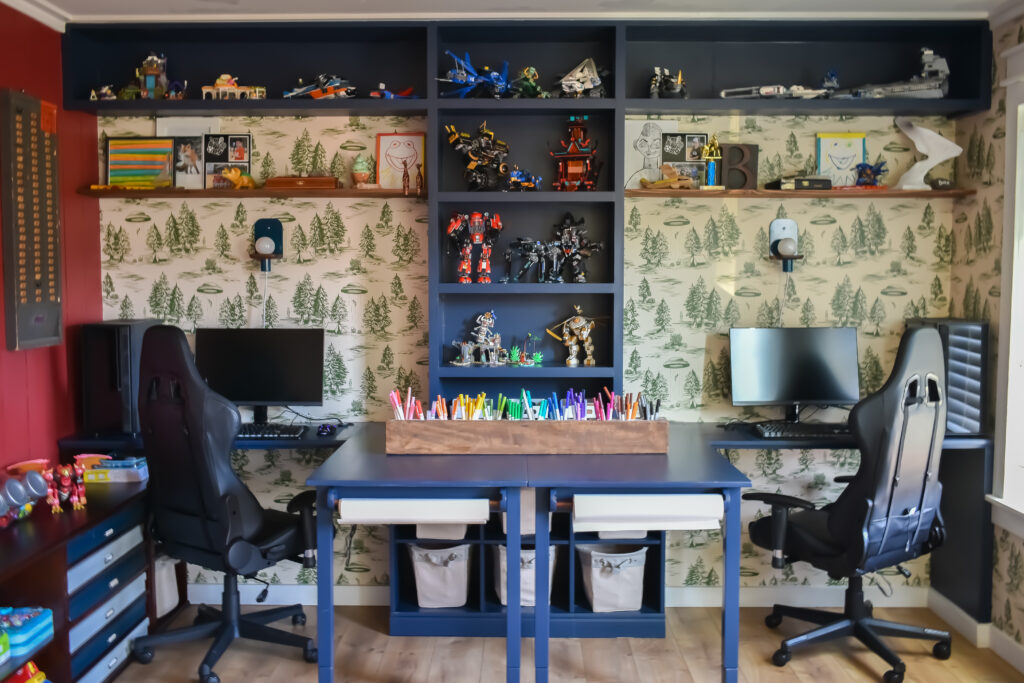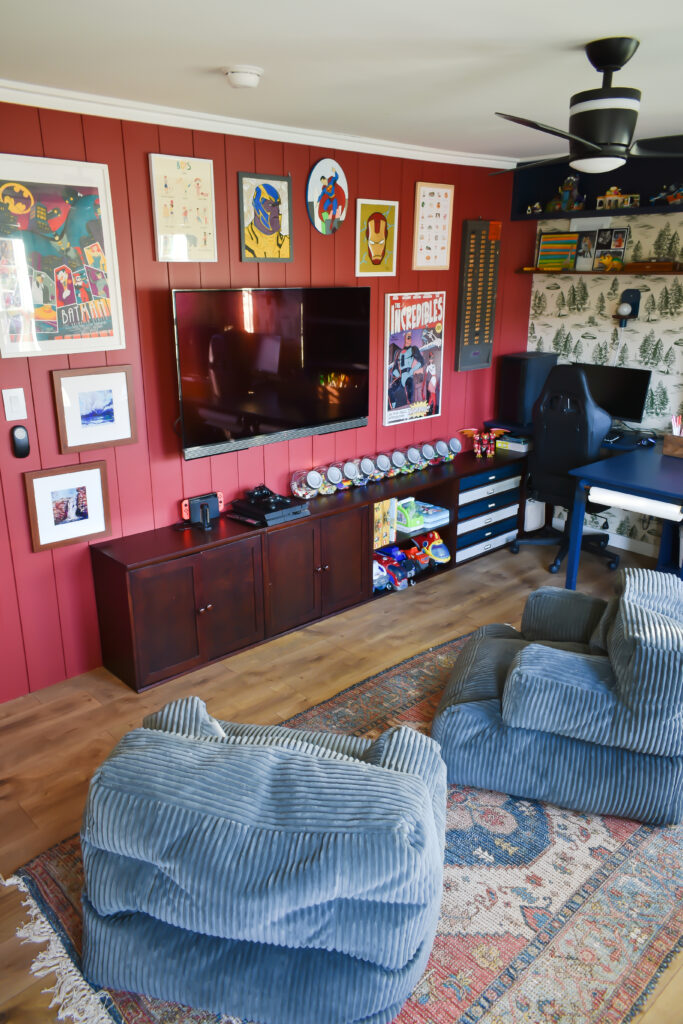 As hard as it was to watch this room grown up, it was time to make it fit with the chapter of life my boys are in AND the chapter of my design style my house is in. By adding layers of texture, pattern, and color I gave this space my special touch and feel like it finally has it's own personality.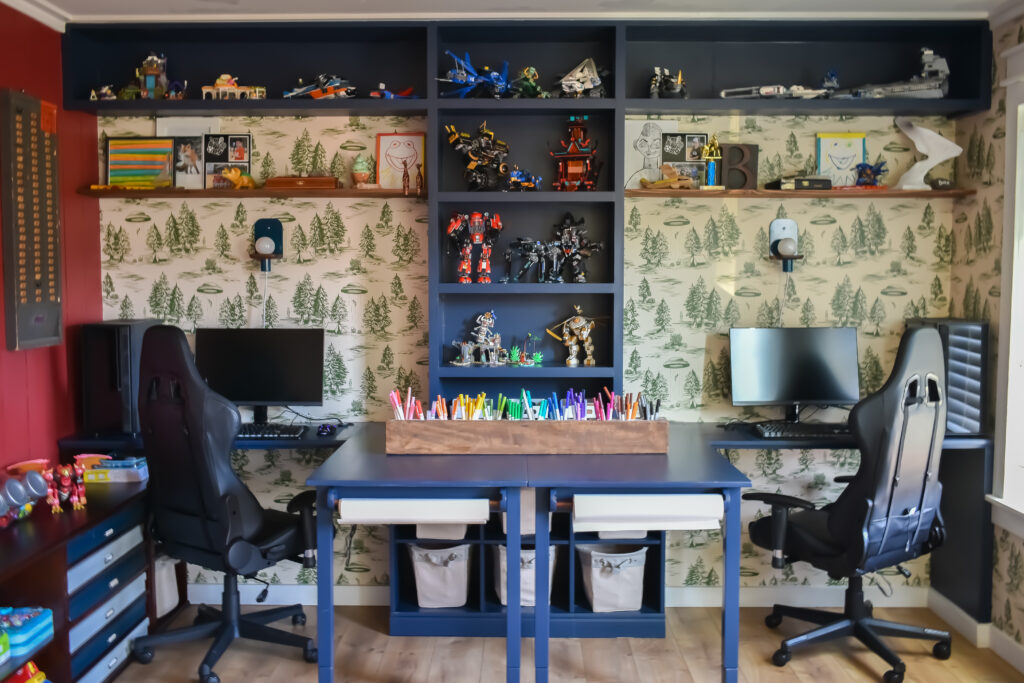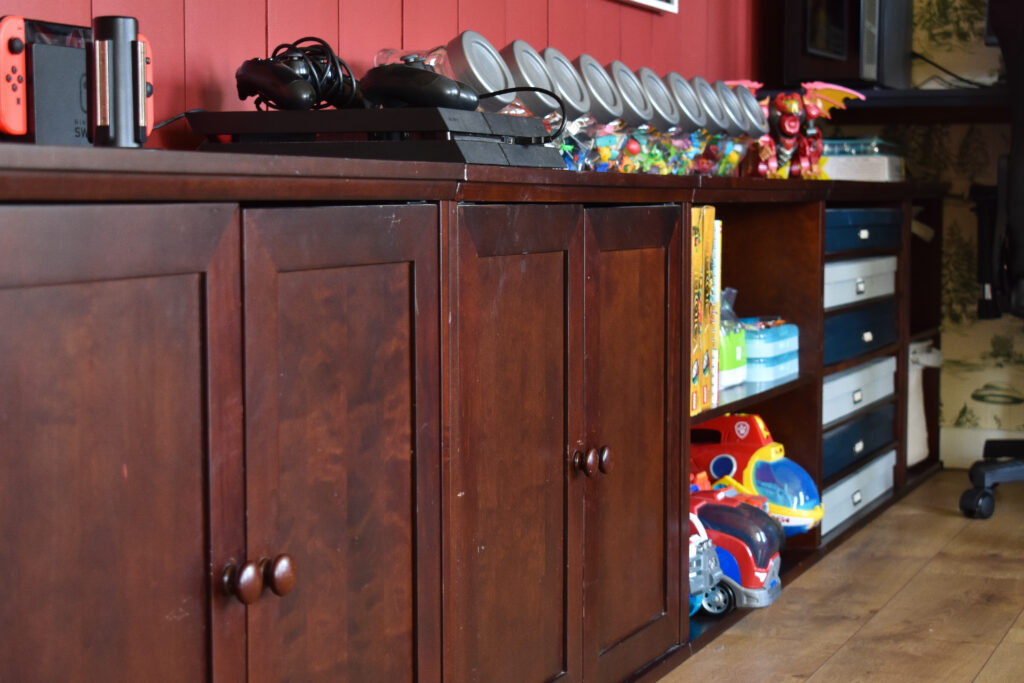 Besides the style, the most important thing I added to this space was storage and I added it wherever I could. From the re-imagined storage unit, to the new built in desk, to the DIY pegboard and into the closet I took advantage of every inch I could to maximize space for the boys toys, electronics, and (WHAT ELSE) LEGOs. There's still room for them to grow too, which is always important to me because a space that's stagnant doesn't work for us.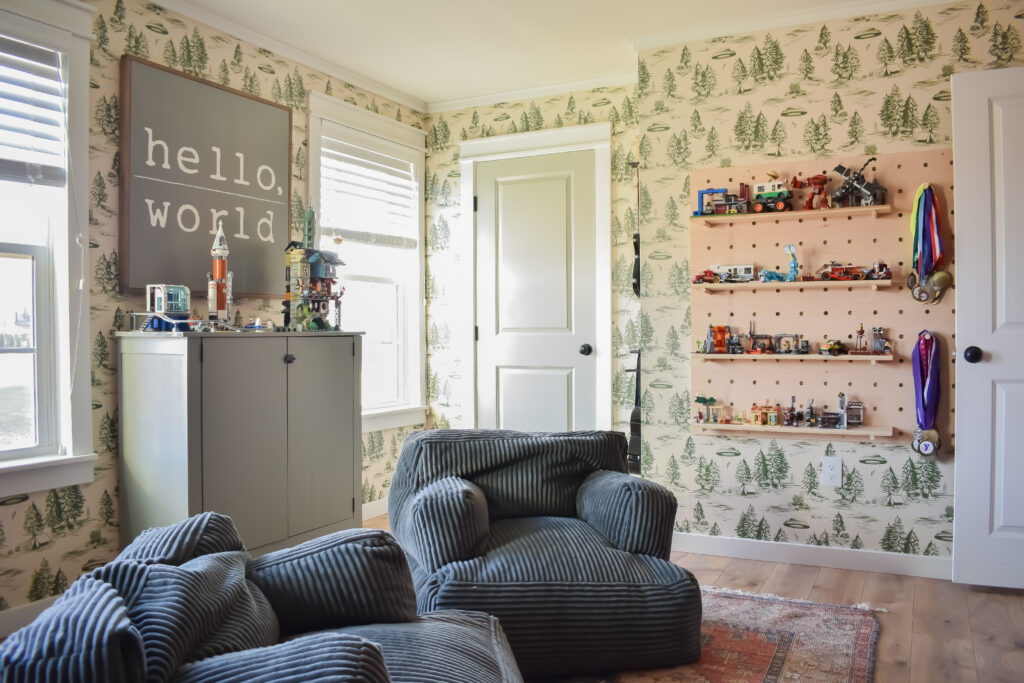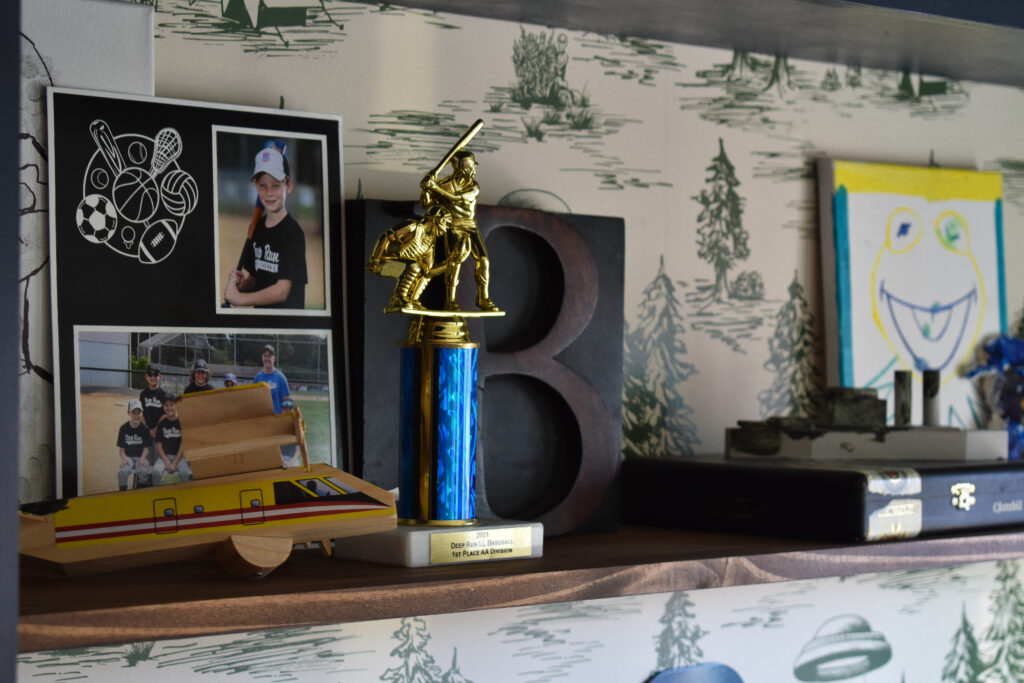 The last DIY I added to this space was an art installation that I made out of these awesome vintage arrows that I picked up from one of my favorite local vendors – In With the Old Goods. I think they go perfect with my 80's kid / grandpa's cabin vibe and remind me of watching the Olympic archery events with the boys this summer.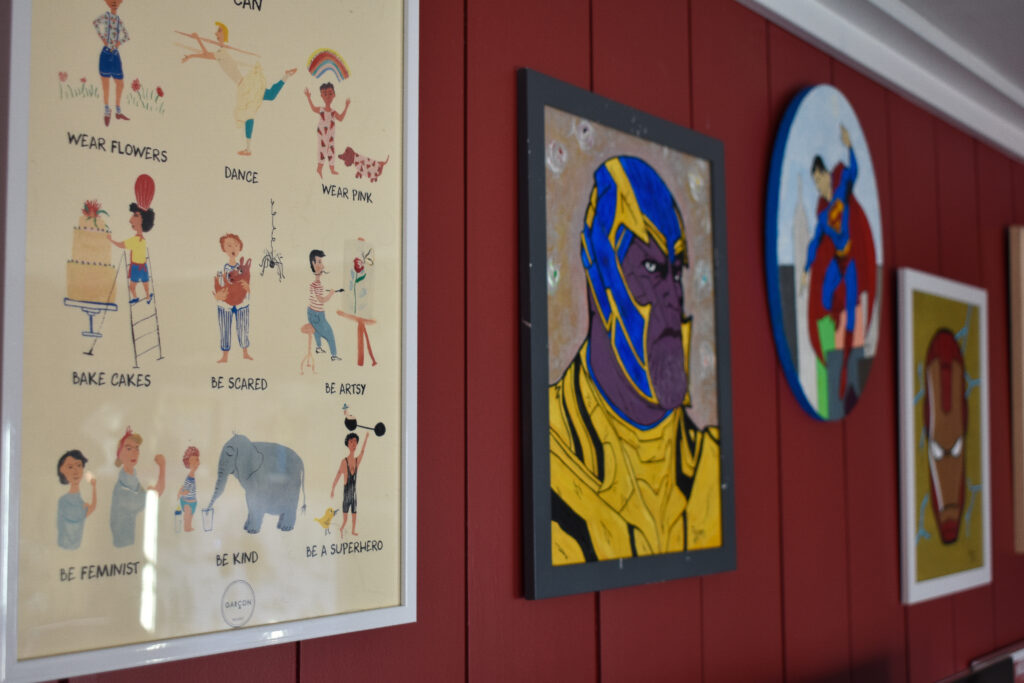 I've never been good at putting together a gallery wall, but I think this one actually came together really cute! It's a collection of artwork I've been curating for the boys over the years and is a mix of prints from artists I love (including my dad who painted the super hero portraits and my friend from Timothy Anderson Design who designed the over-sized comic book art). Each piece is really special and I think that's the key to creating a gallery wall for me.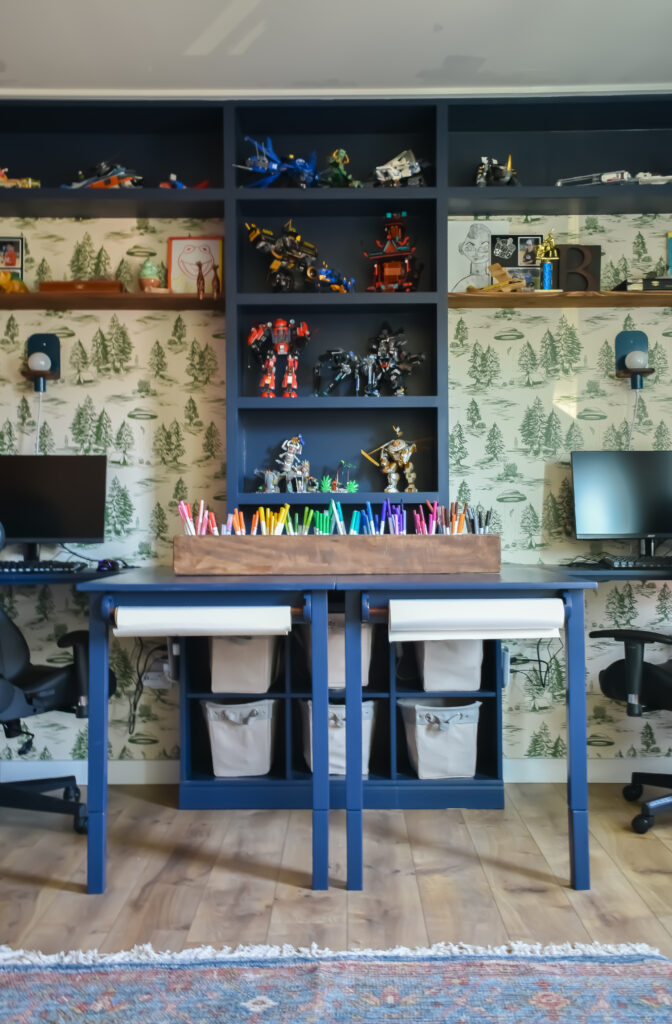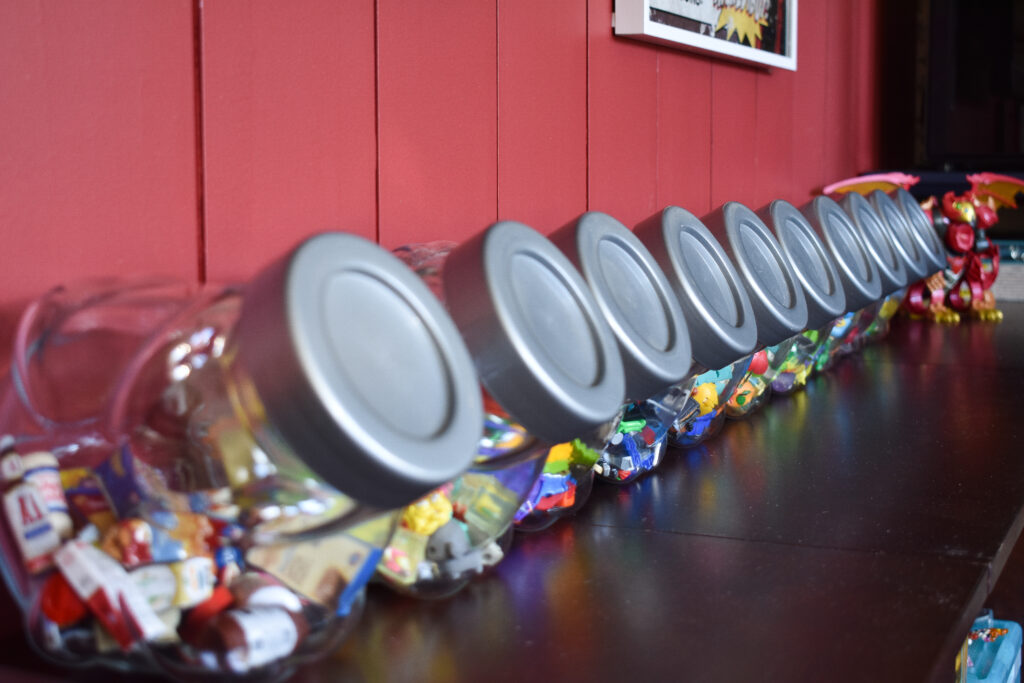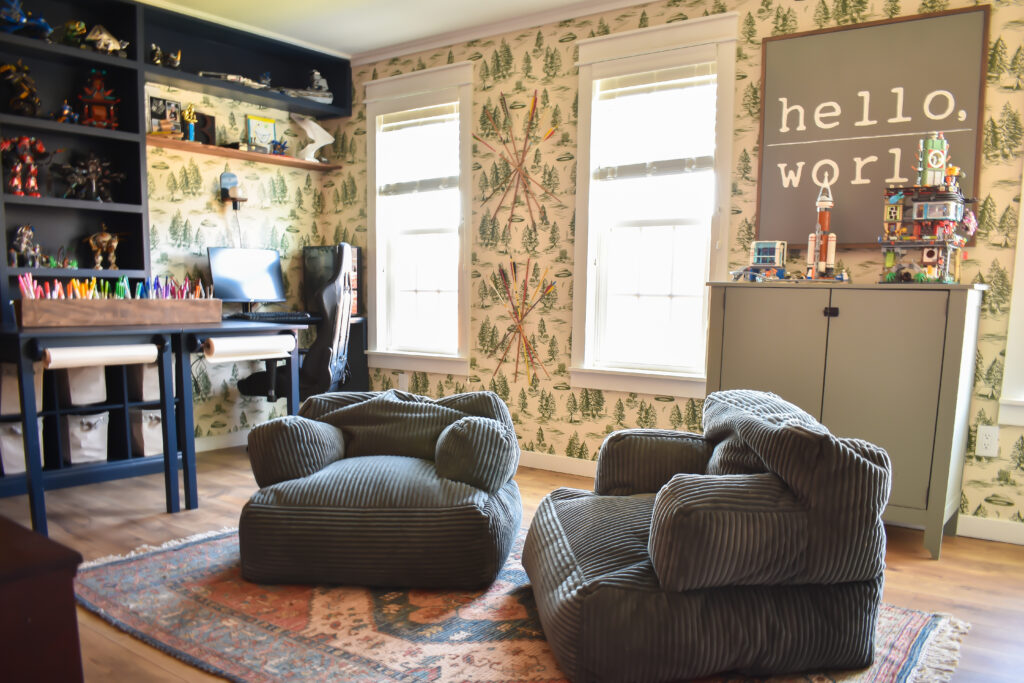 When I put together the furniture plan for this room, I wanted to make sure to leave as much floor space as possible to create a lounge area where they both could relax, watch TV, and camp out on weekend nights. I actually didn't have the TV in here when I first planned this space but when our living room TV developed a slight imperfection on the screen we were able to get a free replacement and move the old one upstairs along with all of their gaming equipment. Like I said from the beginning, this room was all about re-purposing as much as I could and I'm proud that I was able to accomplish that goal.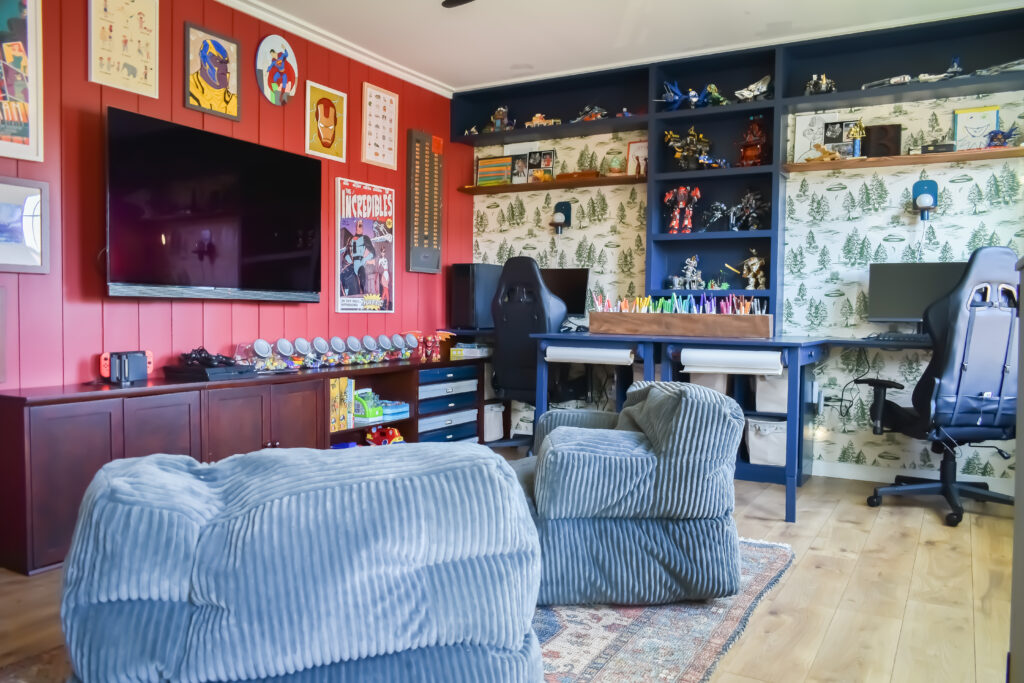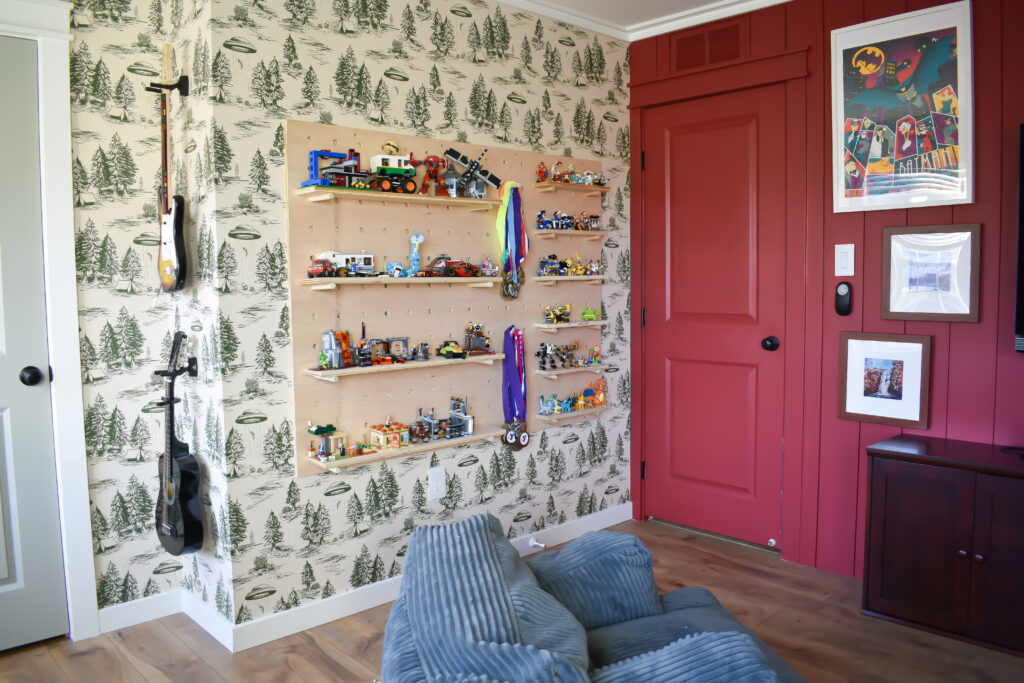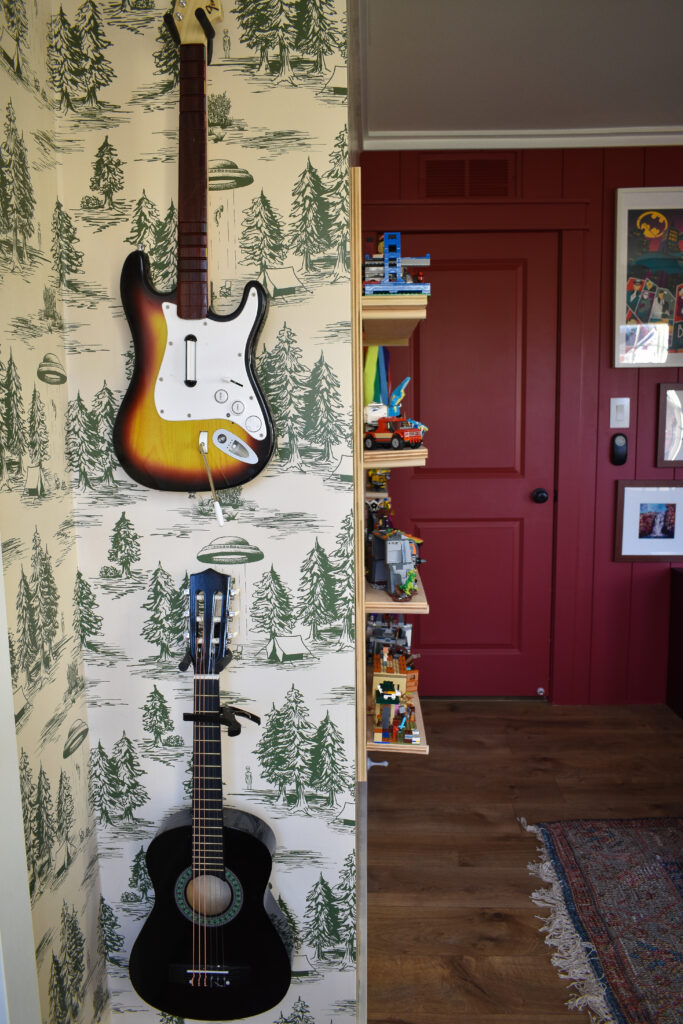 The only thing left in this space is for Santa (aka the husband) to deliver and install the final components to make the desktop computers work — hey maybe that's where the big red bows will end up after all!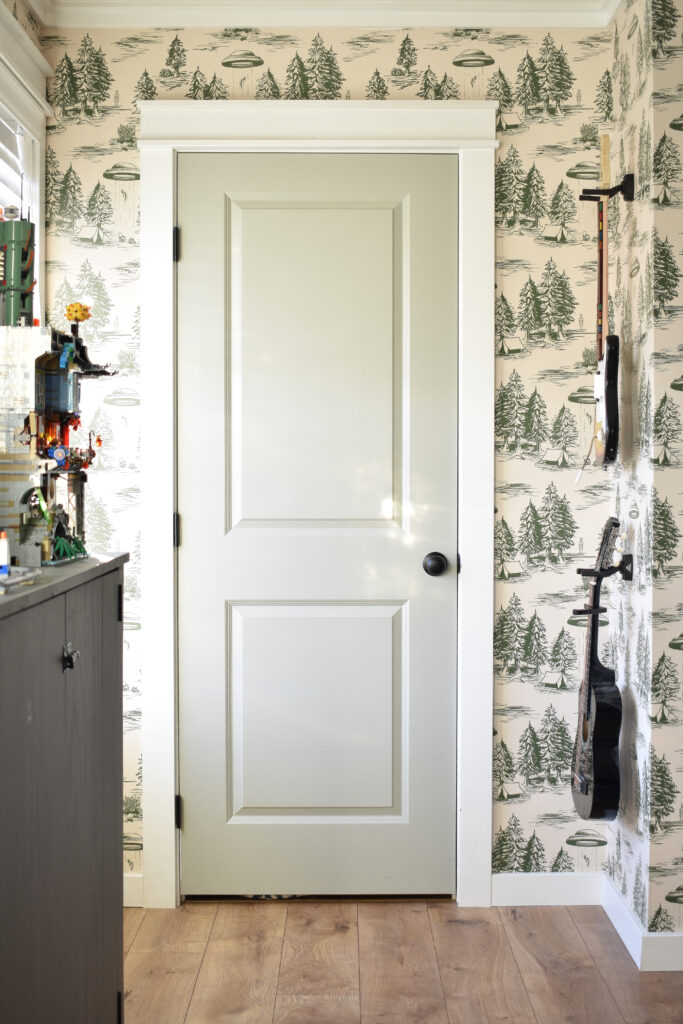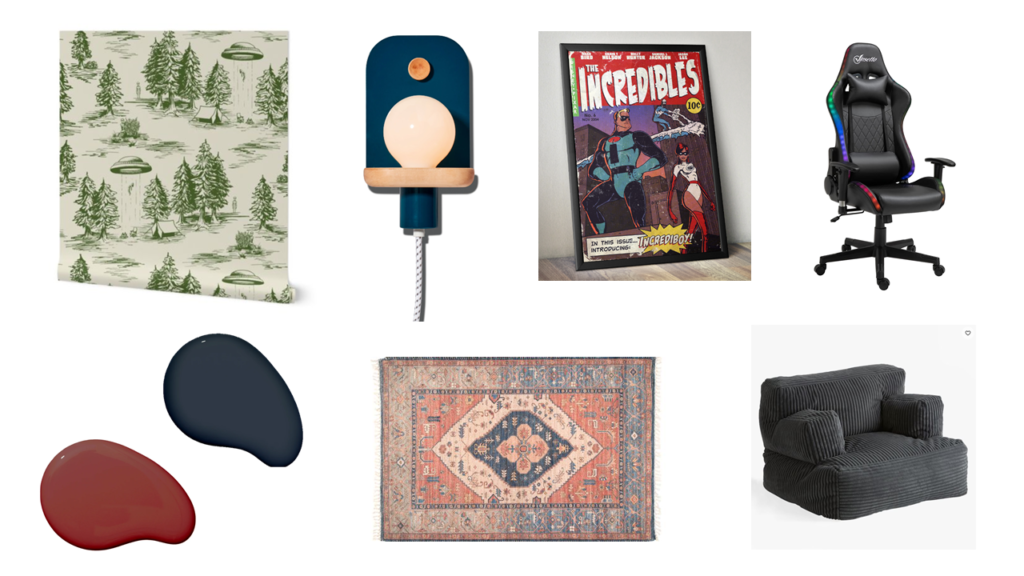 Spoonflower Wallpaper | Workshop Sconces | Incredibles Artwork | Light Up Gaming Chair
Clare Paint in Big Apple and Goodnight Moon | Area Rug | Bean Bag Lounge Chair
Before I sign off I want to give one last thank you to the One Room Challenge team for hosting this event each season and showcasing such an amazingly talented and diverse group of featured and guest participants, and to each of you who tuned in each week. Make sure to check out all of the final reveals to see some serious design and DIY skills….oh and make sure to come back next spring to see what's next at Hilltown House!