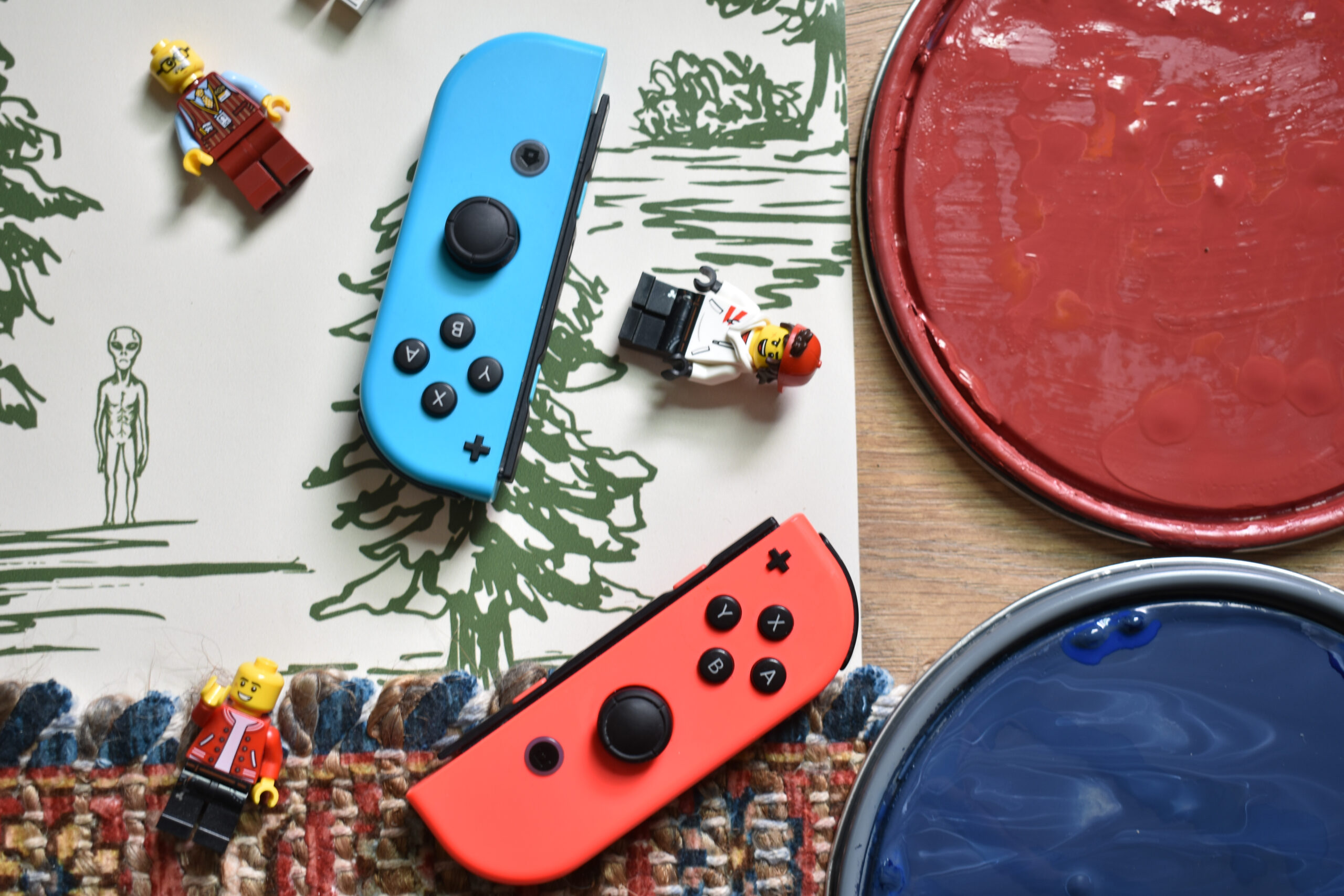 And we are off….demo has started in the playroom so it's too late to go back now! Actually now that progress has started I'm already feeling really excited about seeing a blank slate in this space again and what will soon fill these walls. So on that note, this week let's talk about my plans to take this room from playroom to gameroom.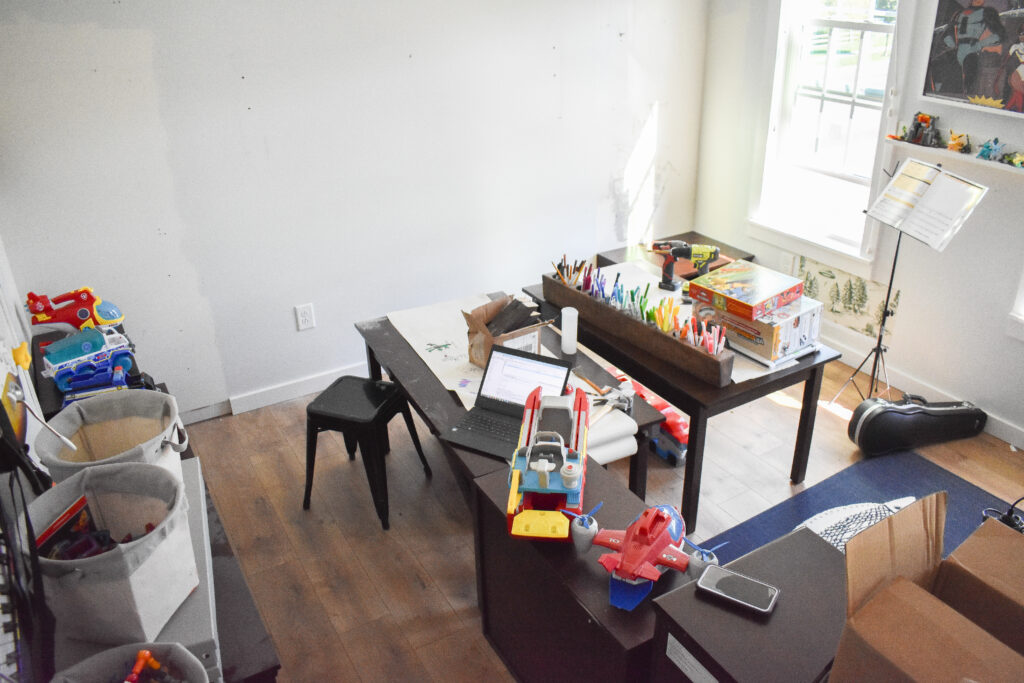 Week 1 / Week 2 / Week 3 / Week 4 / Week 5 / Week 6 / Week 7 / Week 8
First a quick backstory — ever since our first quarantine last spring, my boys have both started to really enjoy playing games on the computer more and more….which means they have started to take over our upstairs loft more and more since that's where our only desktop computer lives. Look – it's not an absolute disaster but its the first space I see when I wake up and the last I see before I go to bed so when it's a mess it stresses me out.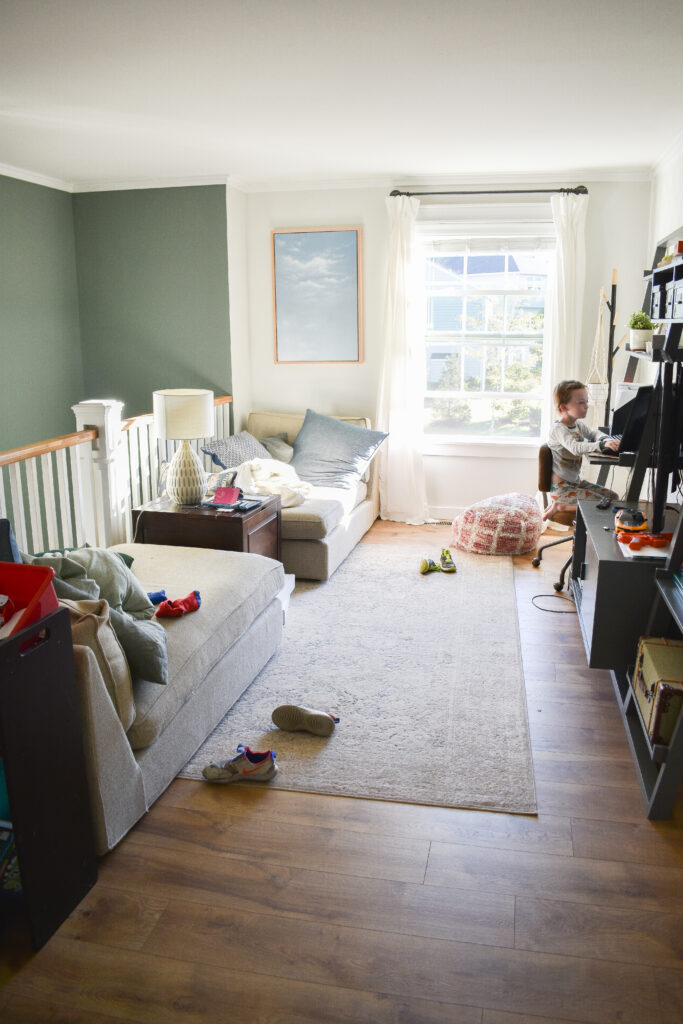 So, at the beginning of this year (after a few months of also juggling remote school) my husband made the suggestion that for Christmas this year he thought it'd be fun to build them each their own custom desktops (which is a hobby of his – I actually may have him guest write a post this year to explain how he goes about collecting the pieces and putting them together). Excited at the prospect at possibly being able to reclaim my loft space back — I suggested that I also could build them a new desk space in the playroom for their new computers……and then when I really thought about it, it just made sense to move their other gaming equipment into here as well….and then when I thought about it some more it also just made sense to go all in and do a full makeover.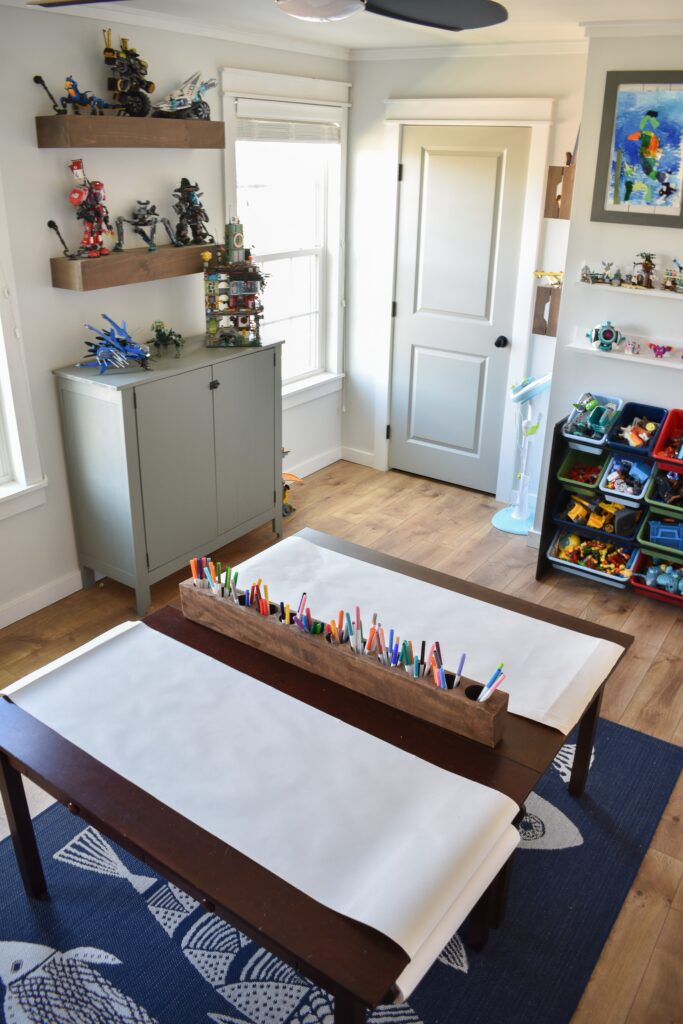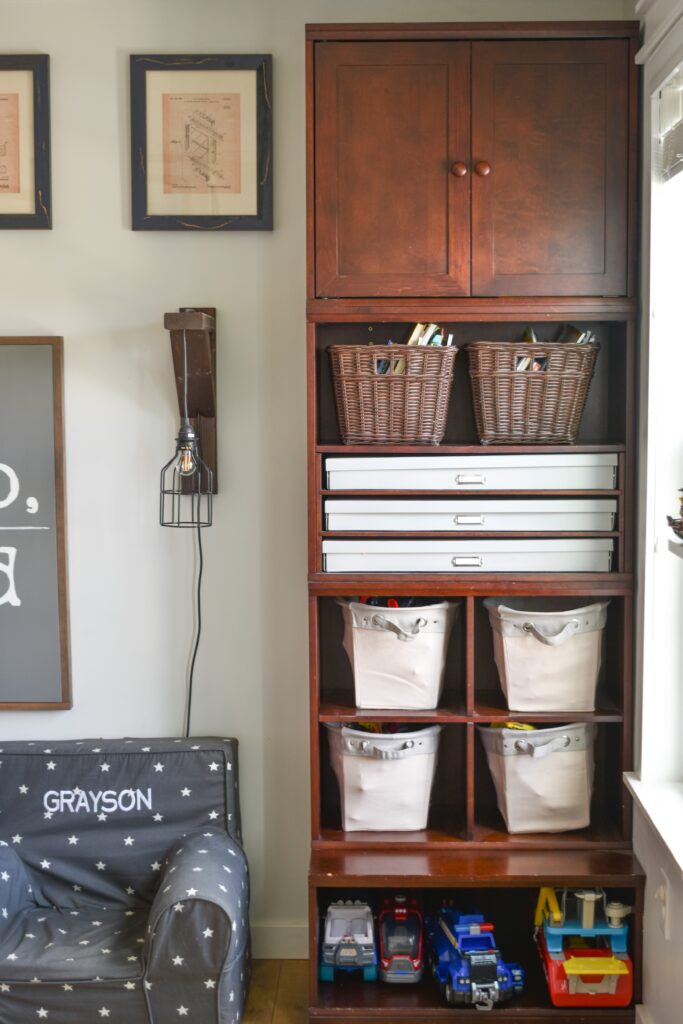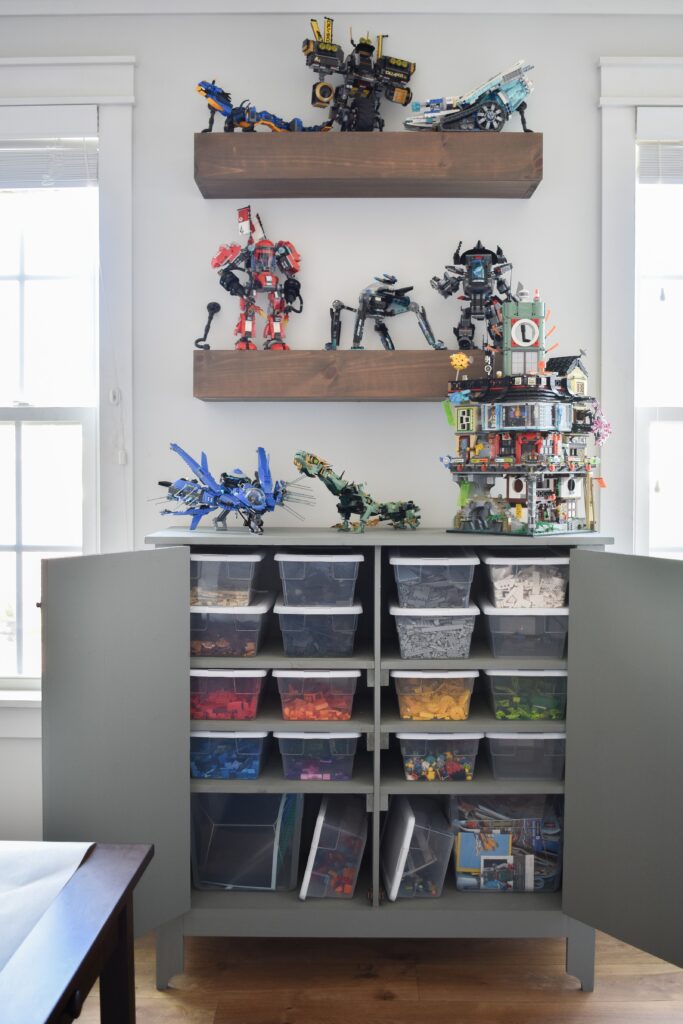 Actually, the full makeover label is probably a bit of an exaggeration. Yes there will of course be some new paint and trim and wallpaper (more on that in a sec) but a big part of keeping the execution of this space manageable (as I said last week, I'm still recovering from the bathroom) is to reuse as many of the existing pieces in this room as I can. This includes the modular bookcases, the craft desks, the artwork, and of course my LEGO cabinet isn't going anywhere.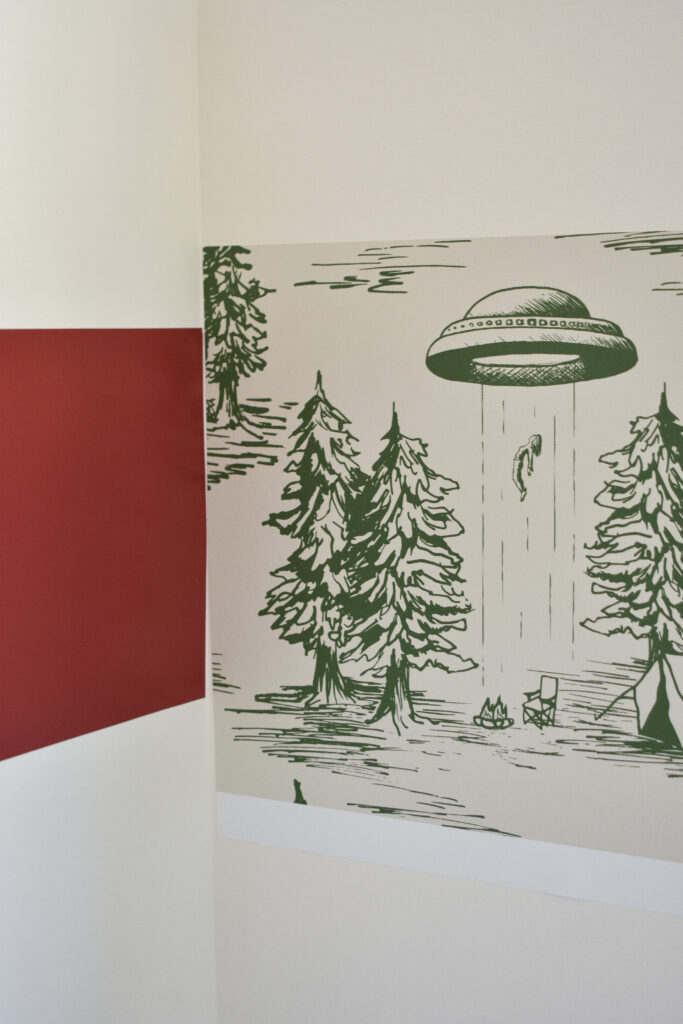 Now let's talk design and get down to what exactly I have on my to-do list to make it happen. My jumping off point this time was this truly amazing wallpaper that I found on Spoonflower that makes this X-Files/Stranger Things fan ridiculously happy. This will cover three of the four walls while the fourth will be covered in vertical shiplap covered in my oldest sons favorite, and my least favorite, color red (Big Apple from Clare Paint). This will be where the TV and game consoles will live surrounded by a really fun gallery wall.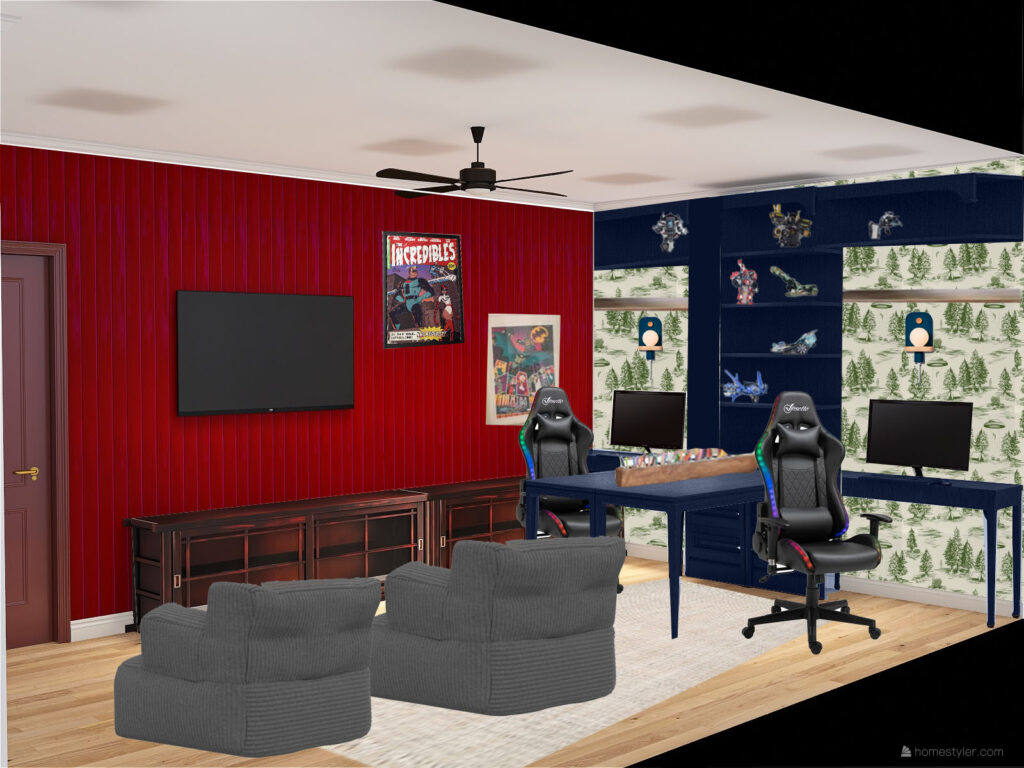 The biggest chunk of my time will be devoted to building out the desk wall. Each of my boys will get their own little L-shaped desk surrounded by lots and lots of shelving. The jury is still out but I'm pretty sure I'm going to paint the whole thing a rich dark blue.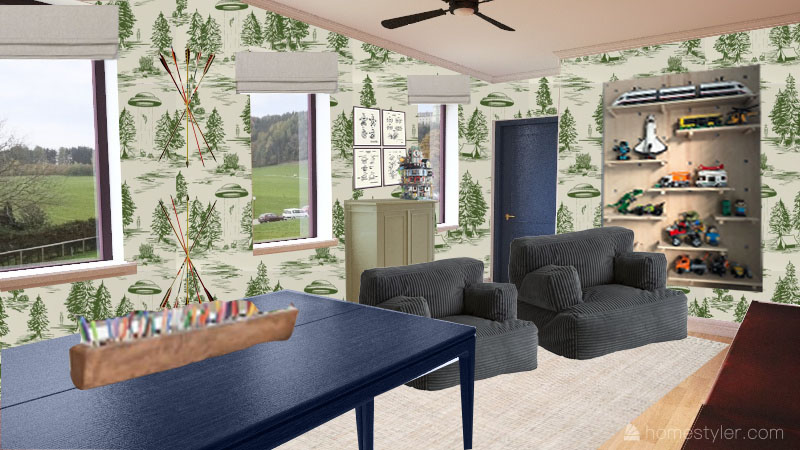 On the last wall I really want to add a giant over-sized pegboard that we can re-arrange as needed to hold some of their smaller LEGO sets and all of the random things that need homes.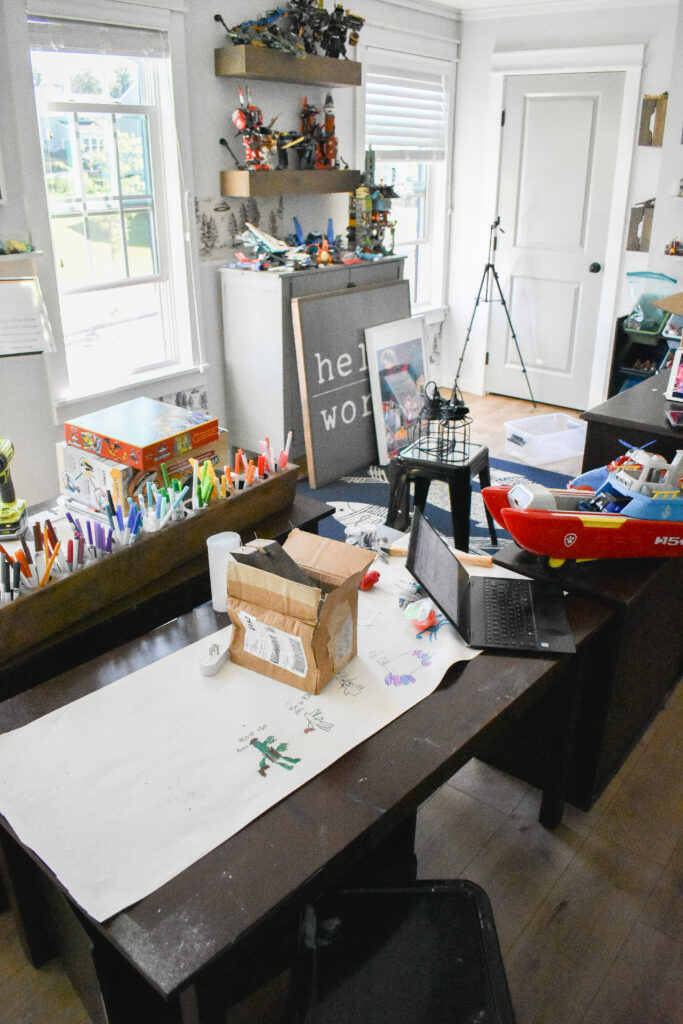 As usual, I know it probably sounds like a lot but I'm quite comfortable this time that I'll make it all happen without too much stress. And I'm not gonna lie, the prospect of a clean loft at the end of this is REALLY strong motivator! If you wanna hear a little bit more of my design process and the vibe I'm working towards in this space check out my Week Two video below.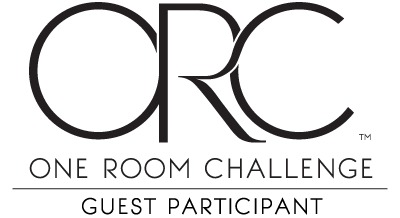 And don't forget to check out what all the other featured and guest participants are up to each week on the One Room Challenge blog!