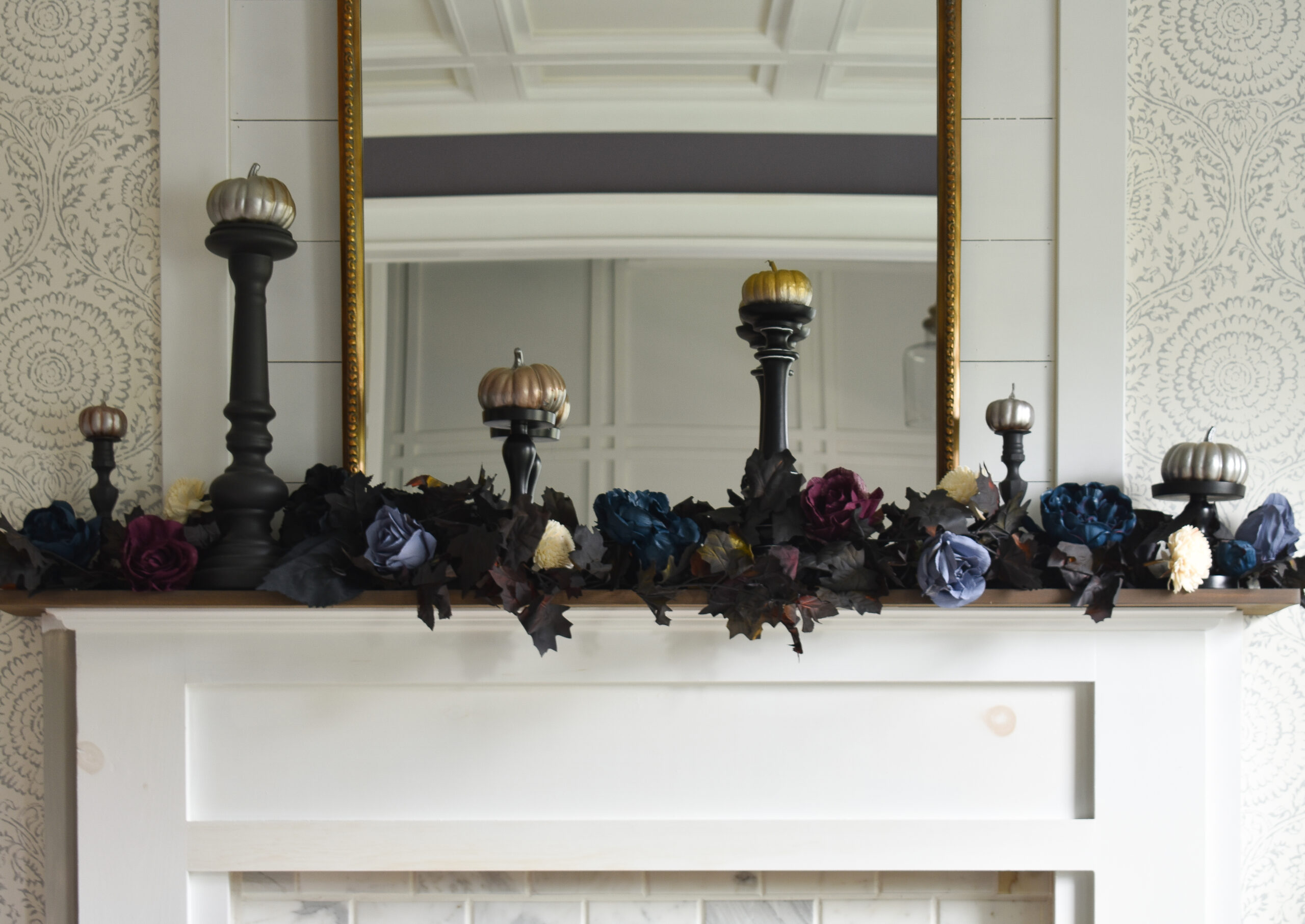 I don't know about you but it feels like Fall came all at once this year! All of a sudden we're back in a school routine, spending weekends on the soccer and baseball fields, and planning for GOB's bday tomorrow…..I'm not complaining about any of this btw. The weather has been amazing and there's really nothing that feels better than beginning to see friends and families again.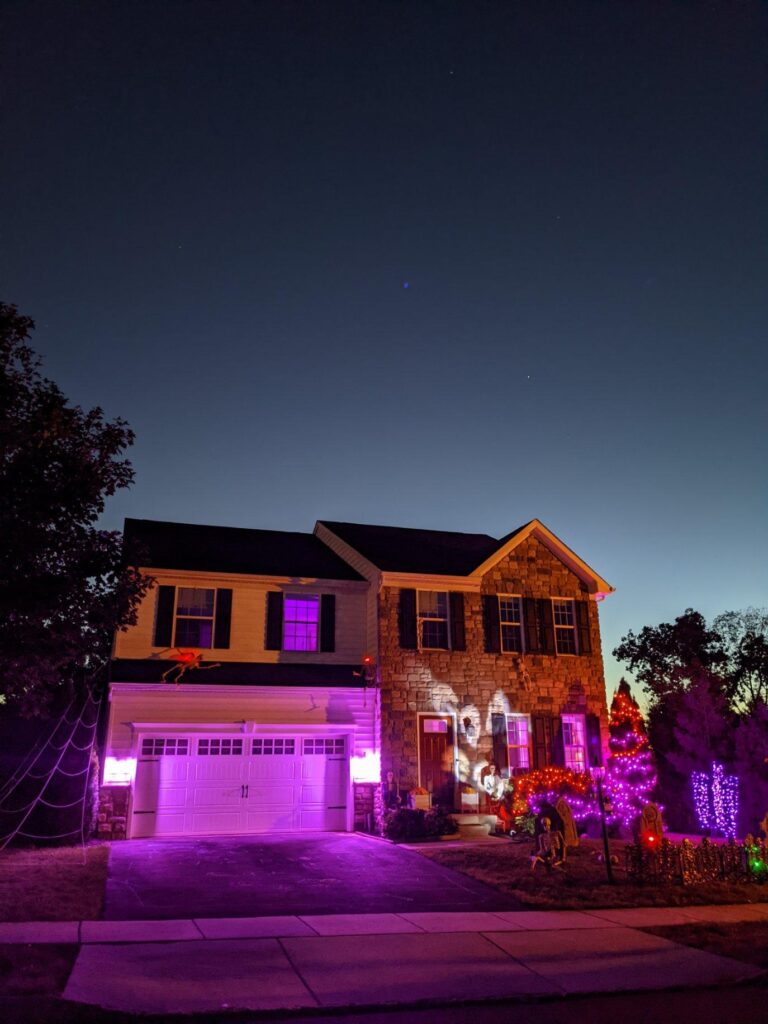 We decided to break out the Halloween decor early this year starting with our outdoor decor. I don't think it's hard to tell, but our family loves Halloween and each year we add a little bit more to our yard….in fact our neighborhood as a whole loves Halloween and it's one of my favorite nights of the year. The kids and adults alike stay out most of night visiting each other's porches, sharing drinks and candy, and enjoying some mischief.
Halloween at Hilltown House
Compared to year's past, I've gone a little light on my indoor Halloween Decor this year but there was one DIY project that I was committed to making happen inspired by a photo I saw in the Gradinroad catalog a few months ago that I knew would look perfect in my new purple front room. First I took two really cheap fall garlands and spay painted them black, and then I painted some silk flowers I got on super clearance at Micheal's and painted them in shades of blue, red, and purple. I used my collection of black candle pillars topped with some faux pumpkins (also spray painted with leftover metallics I had on hand) to finish off my new Gothic mantel.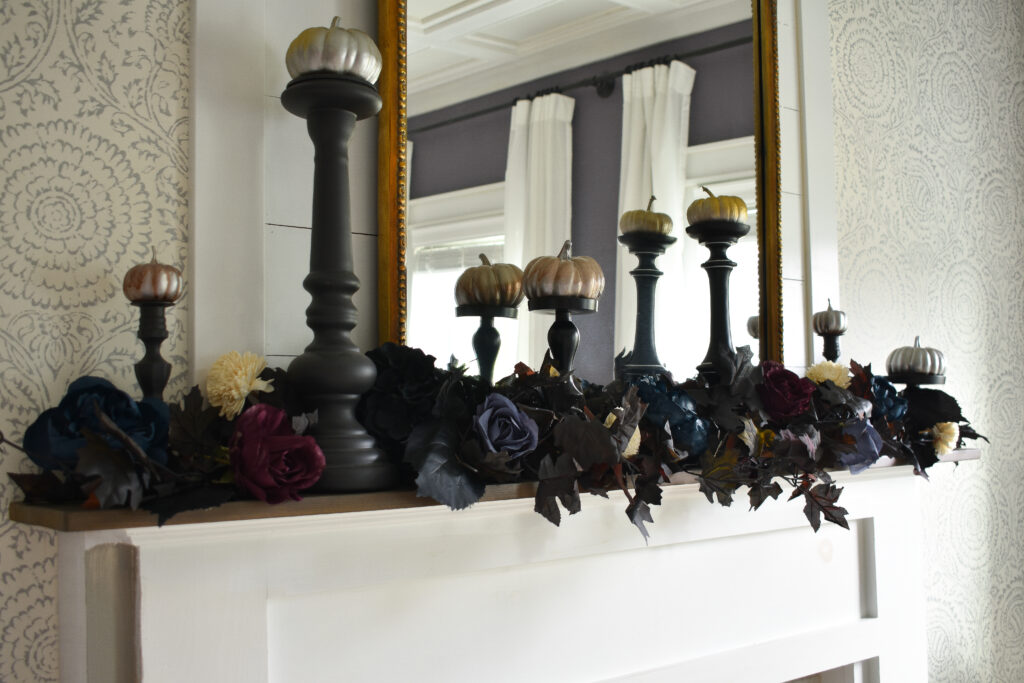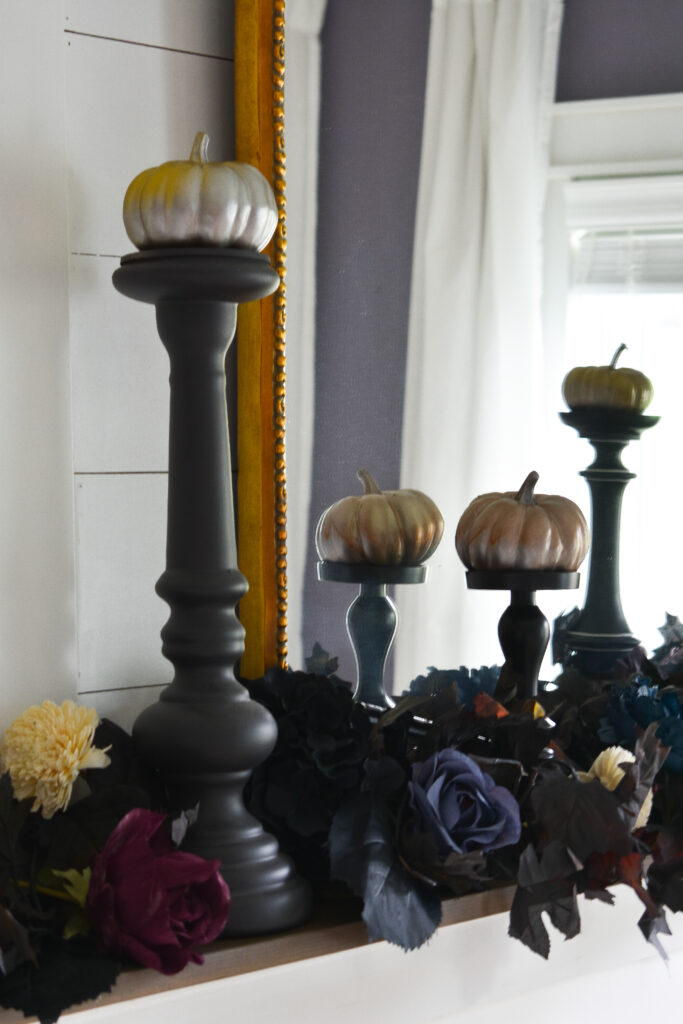 For more Halloween ideas check out some of my past Halloween projects or home tours that I've featured on the blog over the last few years….
Easy "use what you have" Halloween Costumes….
Like clockwork, every Halloween once the kids start to come knock on our door (and I have two glasses of wine with dinner) I decide that it would be super fun to put costume on to go Trick-or-Treating with my boys and end up raiding my closet and throwing something together in 10 minutes. And you know what? It's always TOTALLY worth it! Who's going to join me this year??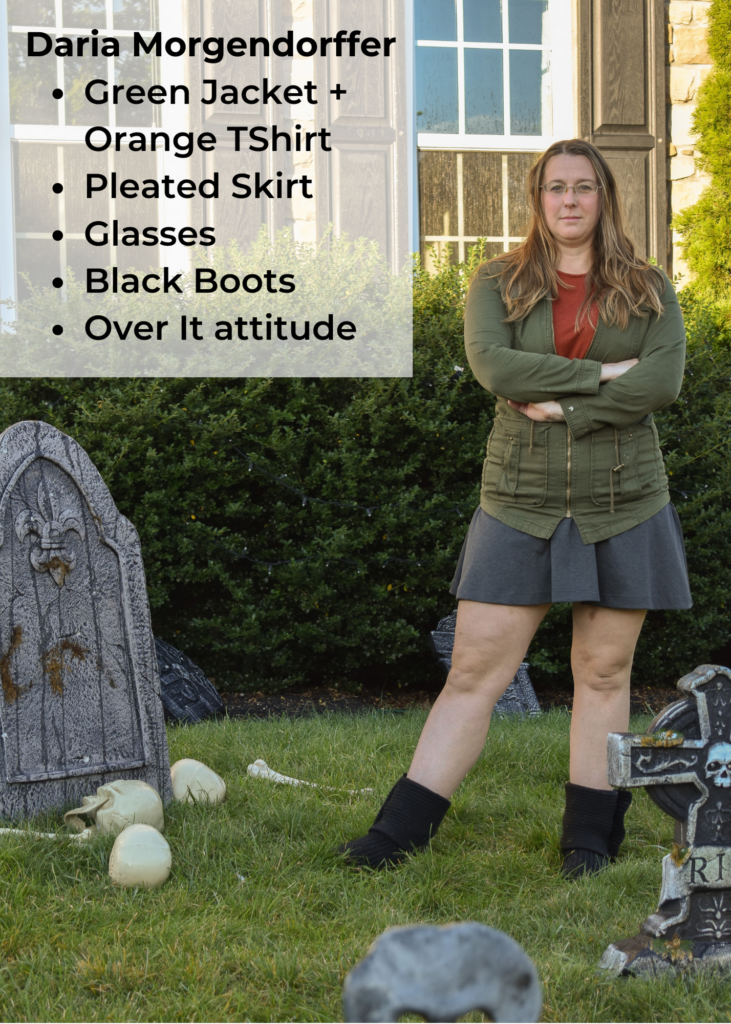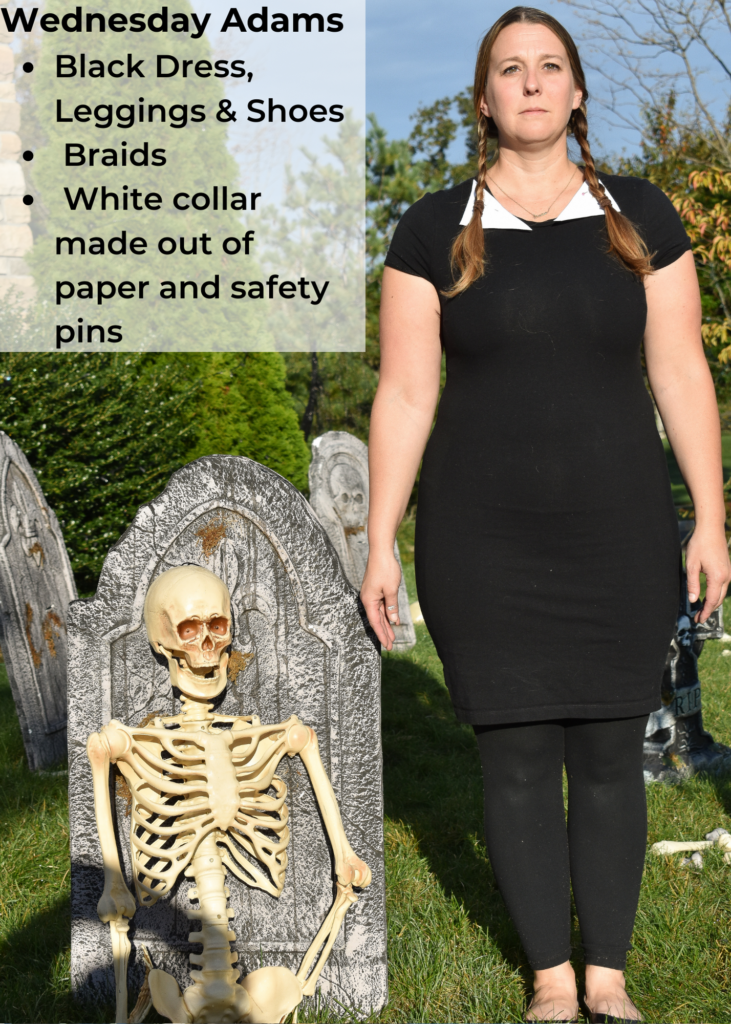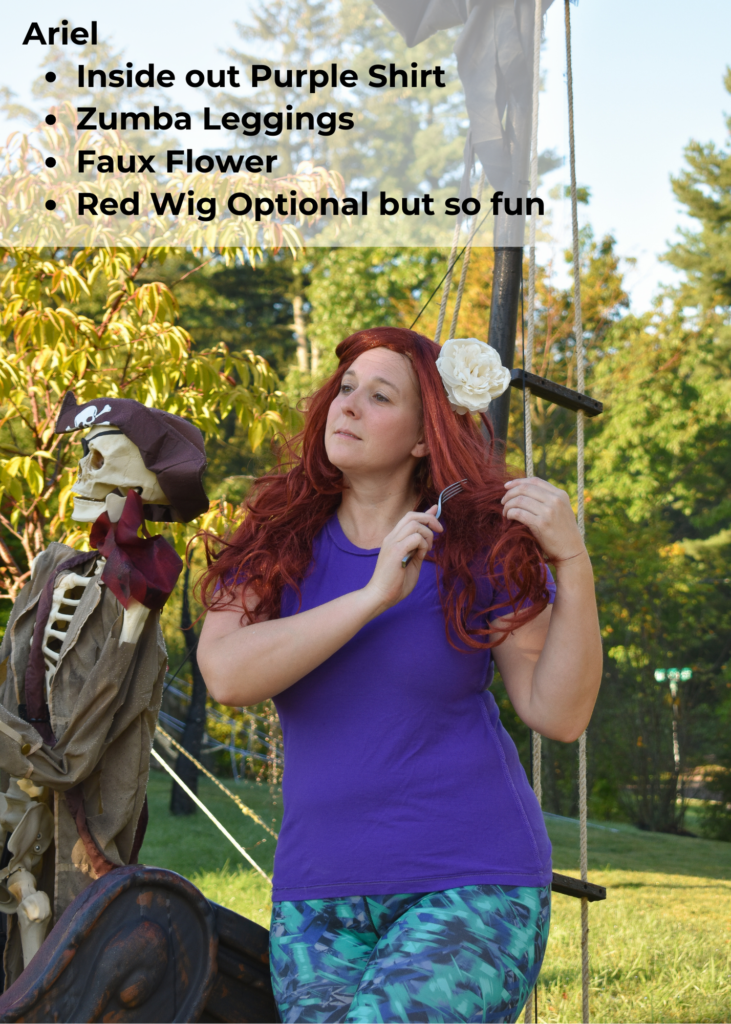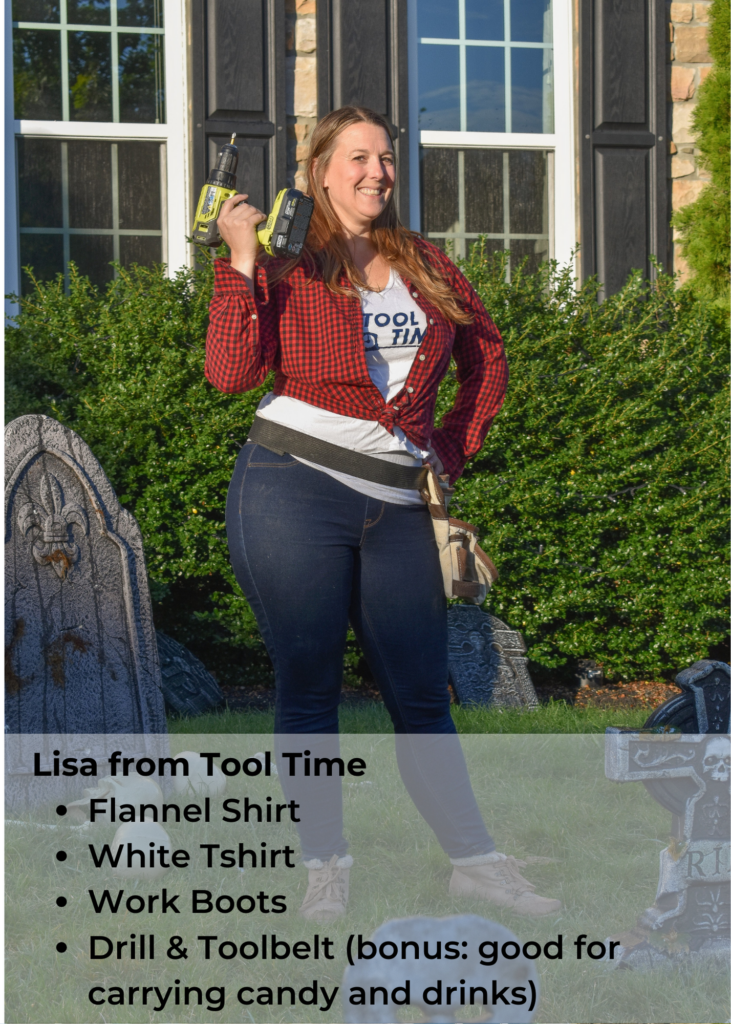 Halloween Dinner Menu
Before the candy gorging commences, serve up something tasty and slightly spooky….you can also check out this page to see my favorite Halloween meal and some of the creepy treats me and the boys have baked over the years
Around the House this month….
For the next two months it's going to be all One Room Challenge all the time as I work on transforming the boys playroom into a grown up gameroom before the holidays. My Week 1 and Week 2 blog posts are already live, and you can check out weekly updates each Thursday.
What I brought home this month…..
I didn't technically buy this hoodie this month, BUT I have been wearing it every morning to beat the chill when I get out of bed. Super comfy and you can't beat the message.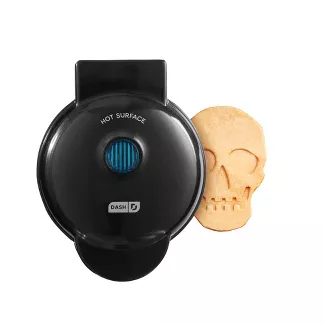 I've been trying to grab one of these mini Skull waffle makers for a few years and now I finally have one (and a pumpkin one and a spiderweb one). My husband has been making breakfast for the boys a few times a week and it's so easy to whip up a warm batch of waffles in one of these things.
There are few things I love more than a comfy vintage washed t-shirt so I bought not one, but two of these to wear to our weekend baseball and soccer games.