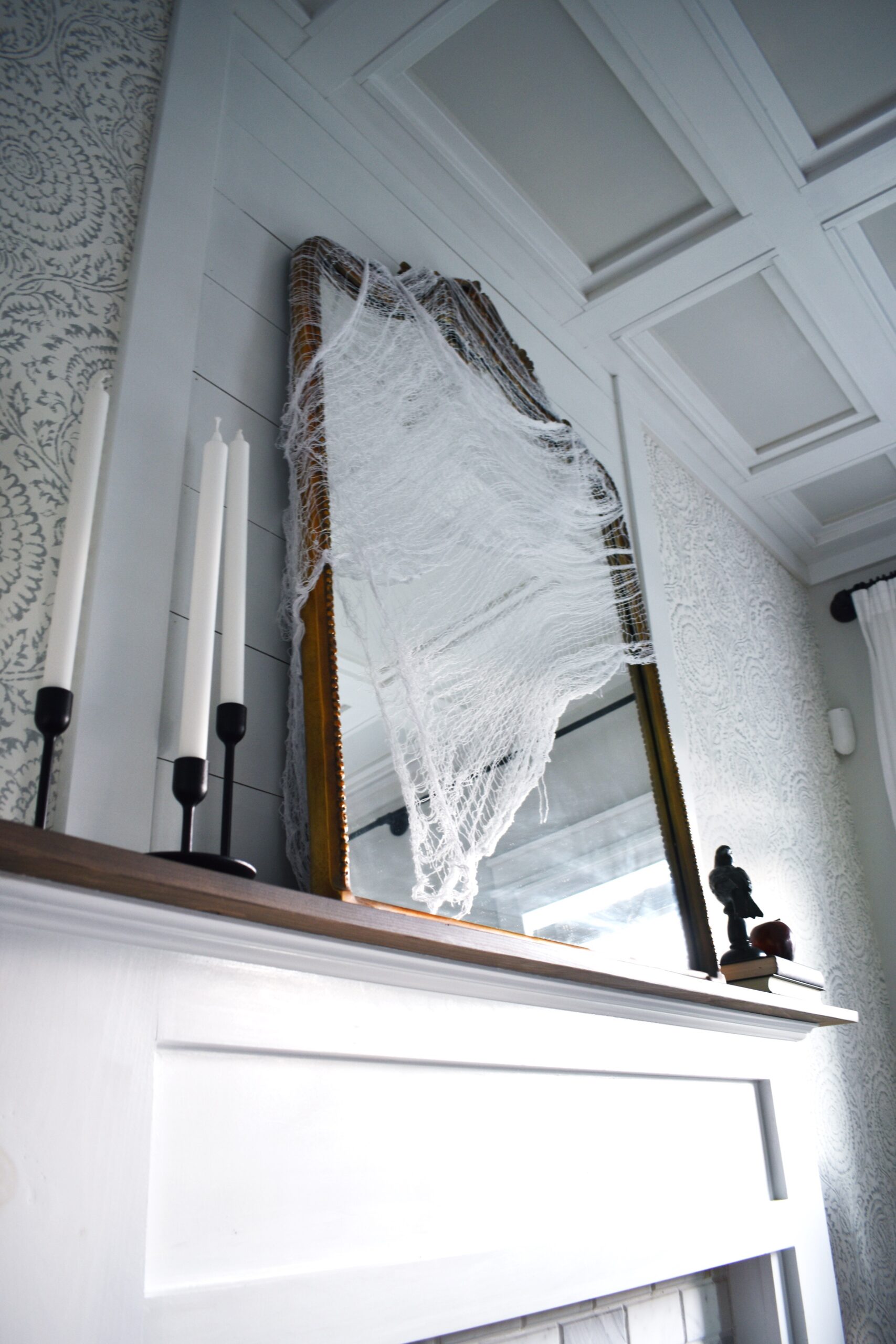 The weather has finally changed, the trees are turning, and it is time to embrace all things Halloween! My boys just love this holiday – last year they kept the faux outdoor skulls and played with them in the backyard all summer (a little macabre I know) – so I had fun this year turning up the spooky factor in our house.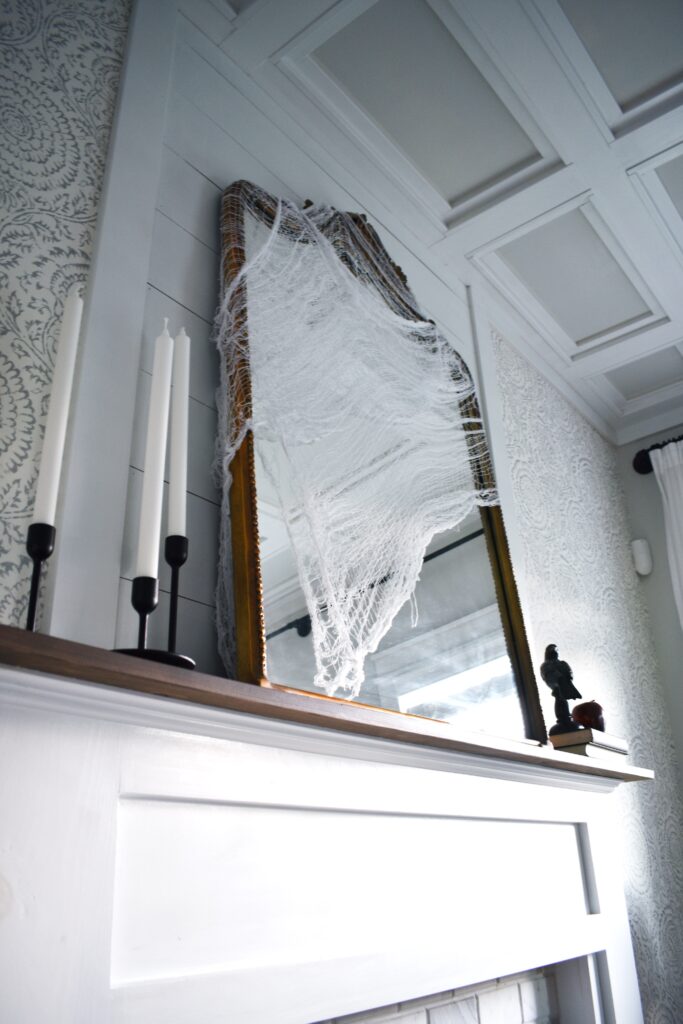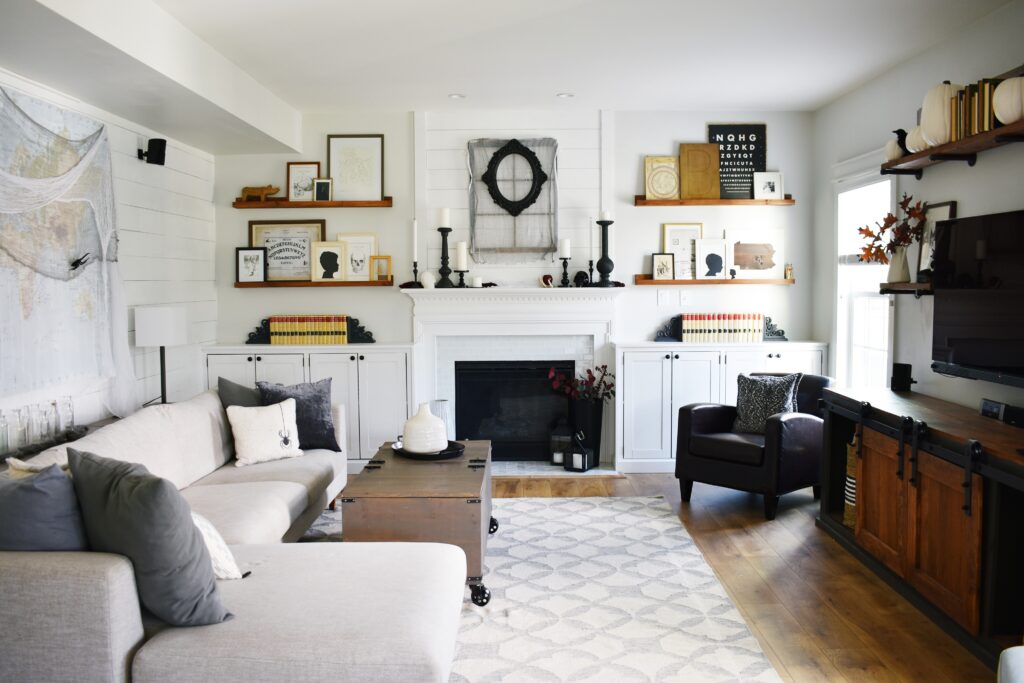 I try to embrace the creepy more than the scary and I really wanted my Haloween touches to blend in with our style, so to do that I imagined I was decorating an Evil Magic or Curisosity shop (think Borgin and Burkes from Harry Potter – and in fact my Harry Potter wand and map were perfect additions to my shelves!) I think I must have watched Disney Descandants with the kids a few too many times before I started decorating too because there are also hints of classic Disney villains all over (poison apples, magic mirror, pirate ships, I even found a tiny spinning wheel).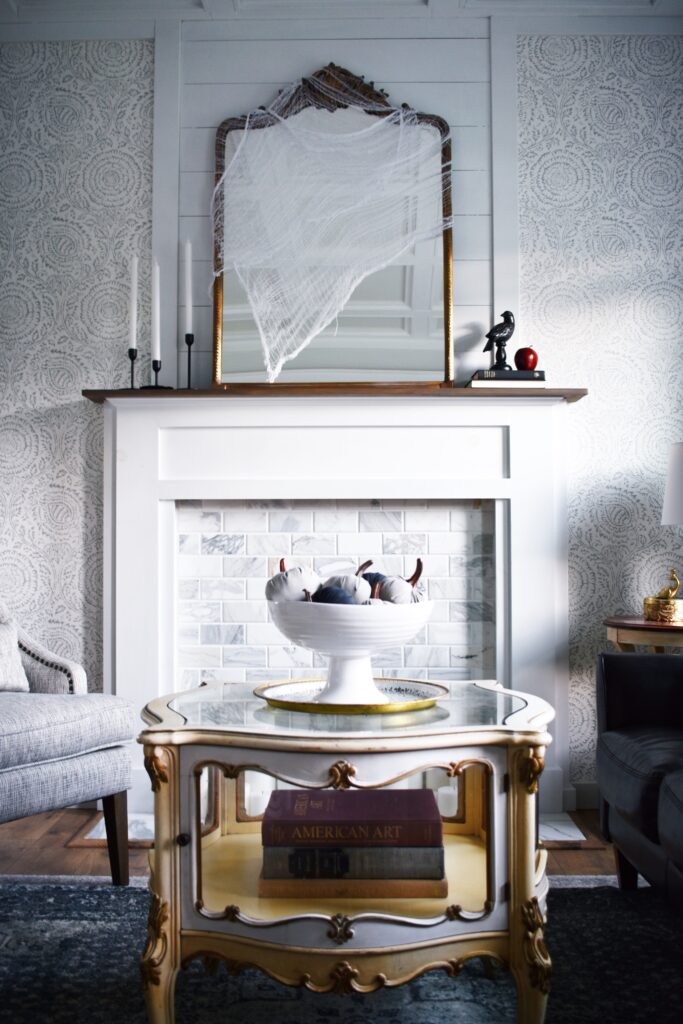 This time I started with my front/dining room and embraced my inner Evil Queen; some gauzy fabric from Target dressed up the mirror and I added some black IKEA candlesticks along with this carved black bird I found at Homegoods. The little velvet pumpkins from the Target Dollar spot were the perfect filler for my centerpiece bowl.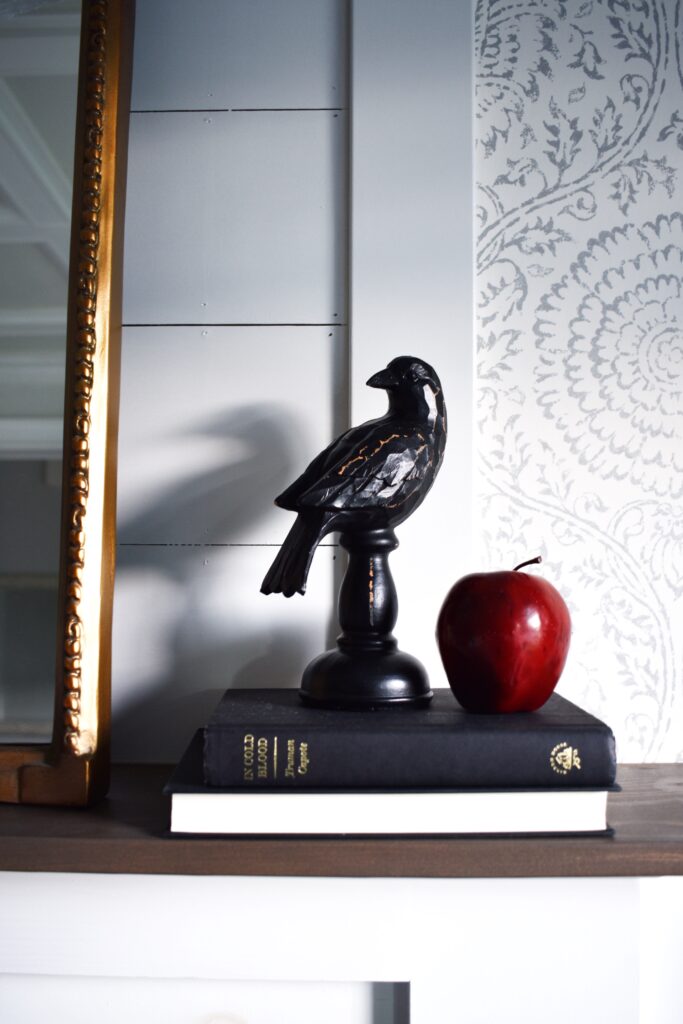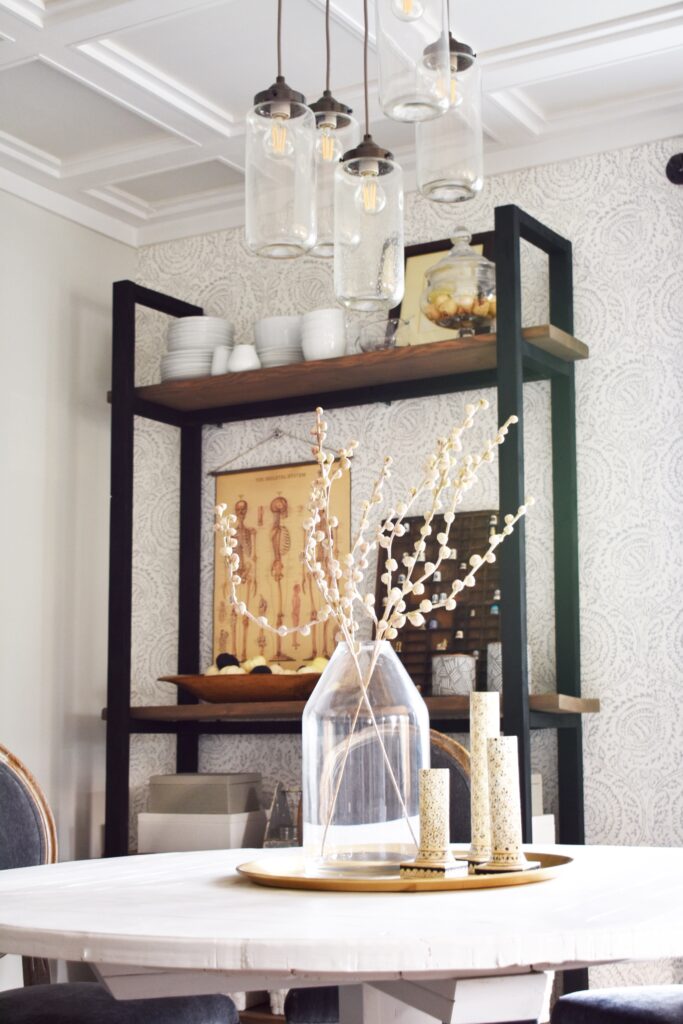 If you guys can't tell, we really like skulls around here, in fact my husband says multiple times a year "We need MORE skulls!" I moved the anatomy print that usually lives in the bedroom and found some really realistic tiny skulls at Michael's to fill up my apothecary jar – if you're looking to find places you can easily switch out holiday decor, beautiful glass vases and jars are great things to invest in. I also re-purposed my mini pumpkins to fill up my vintage dough bowl and had the boys help me paint the orange ones black.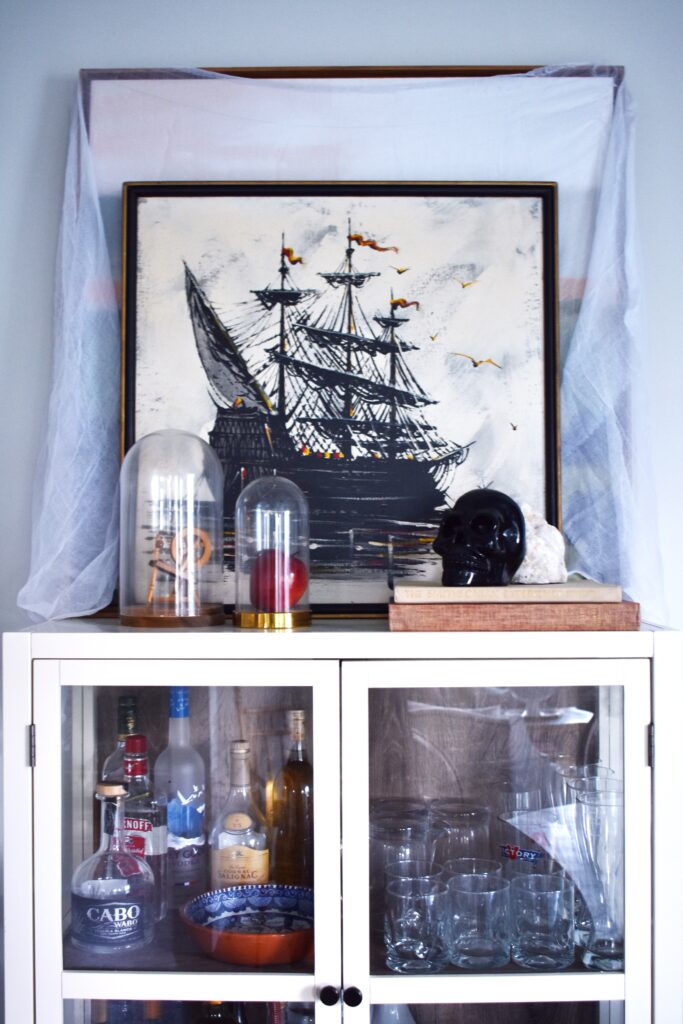 I think the touch that made my husband the happiest is that I brought up this pirate ship painting from the basement – it's been with him since his bachelor days and will probably be with us for all time. It actually makes a great easy change up to my glass cabinet, especially by using some more gauzy fabric to cover up the painting that is usually there. And how great is this black skull!! It's actually a candle that I found at HomeGoods and I was able to track down some more for my living room fireplace.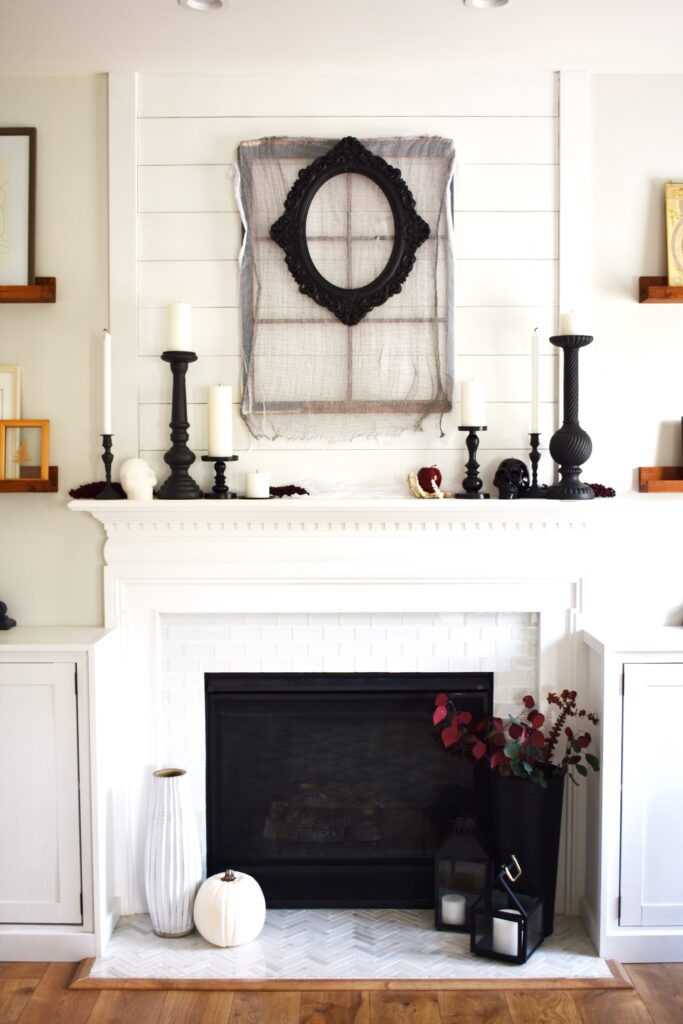 As much as I love color, I think Halloween is the perfect time to go neutral, so I removed anything that wasn't black/white/cream/or red from this room. The black candlesticks came out for the mantel (these are all a mix of clearance items, Goodwill finds, and a can of black spray paint) and I moved some black accents in from other rooms to decorate the hearth.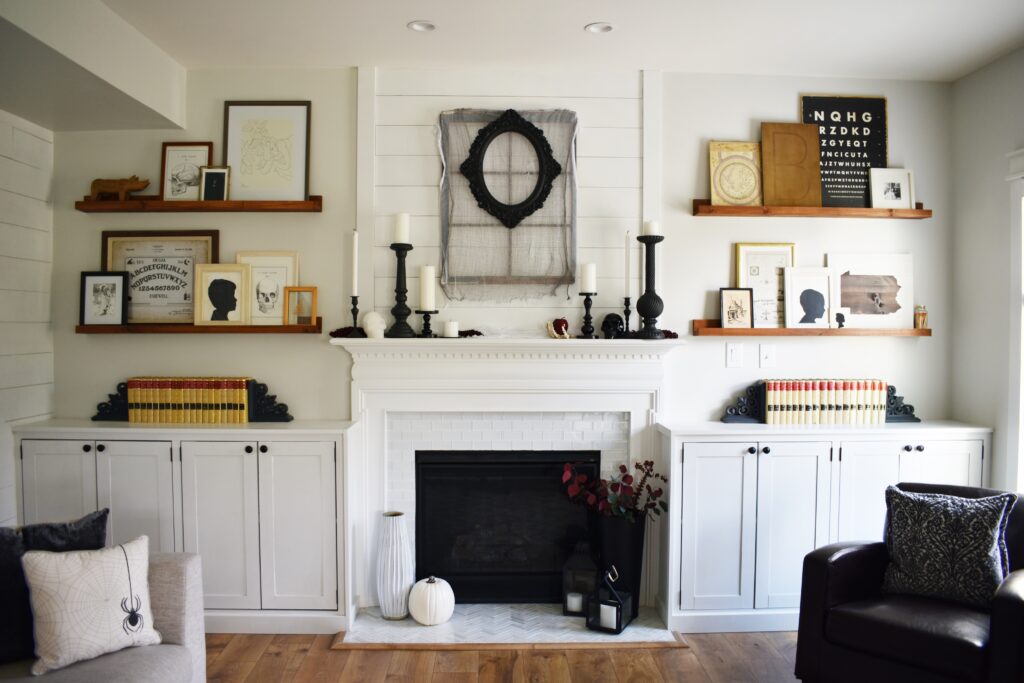 Of course you know I can't leave my artwork in one place for too long, and I'm really loving the pieces I added for Halloween – especially the silhouettes I made of my boys with these super simple DIY steps: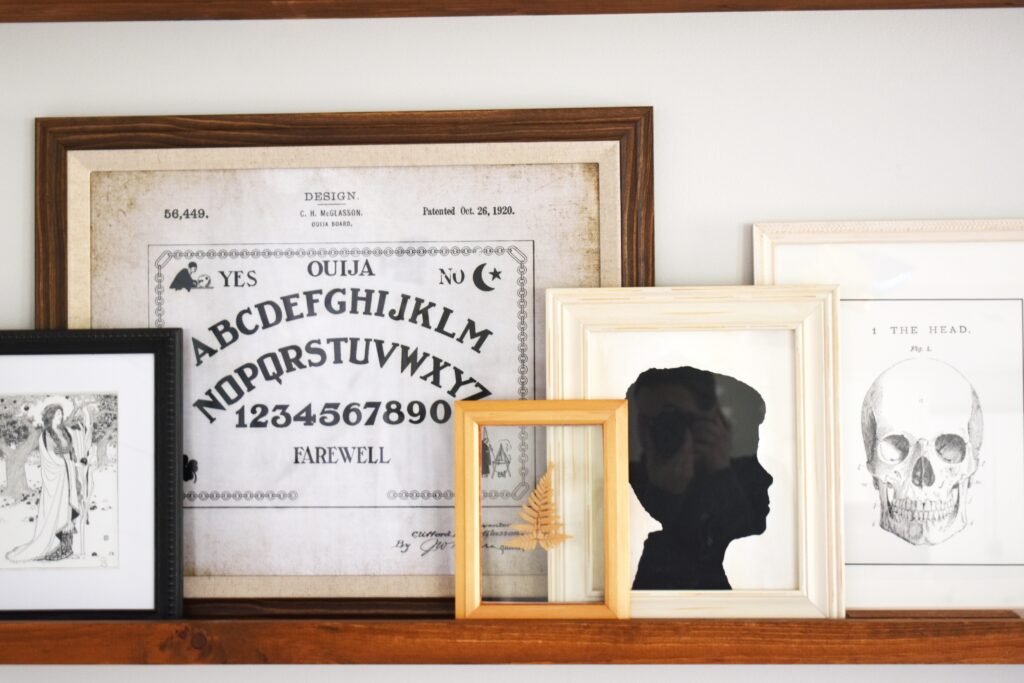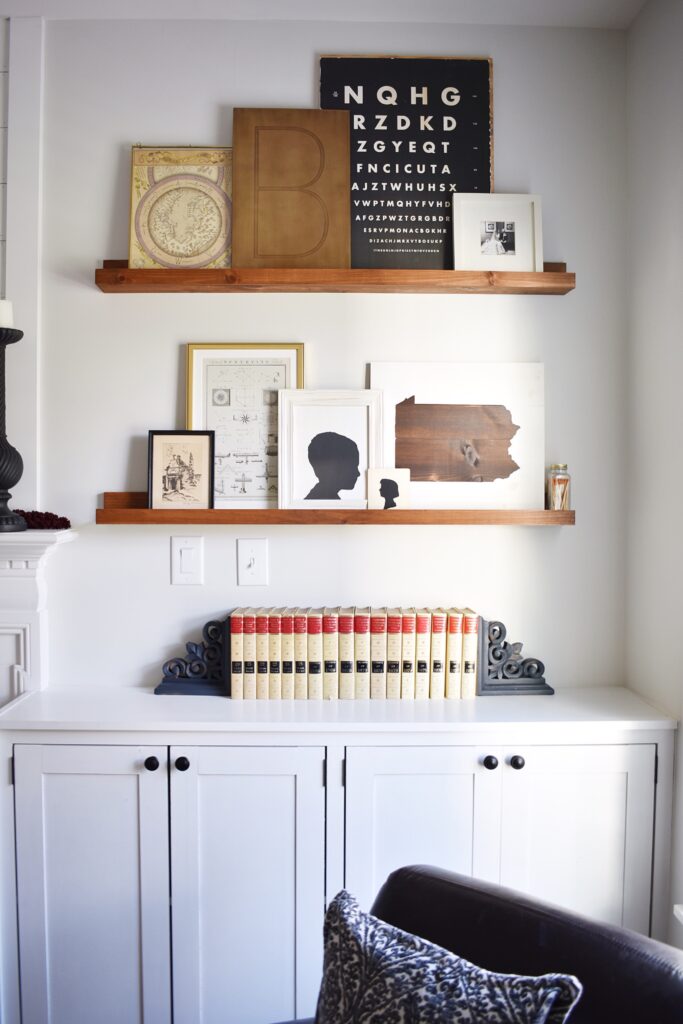 Rounding out the rest of my Halloween artwork are some free printables I found on Pinterest and this clip art site, a Ouija board download I got off Etsy, a wonderful vintage print I found at the antique store, and some other black and white touches I had around the house (like the vintage inspired eye chart which you can find in my SHOP).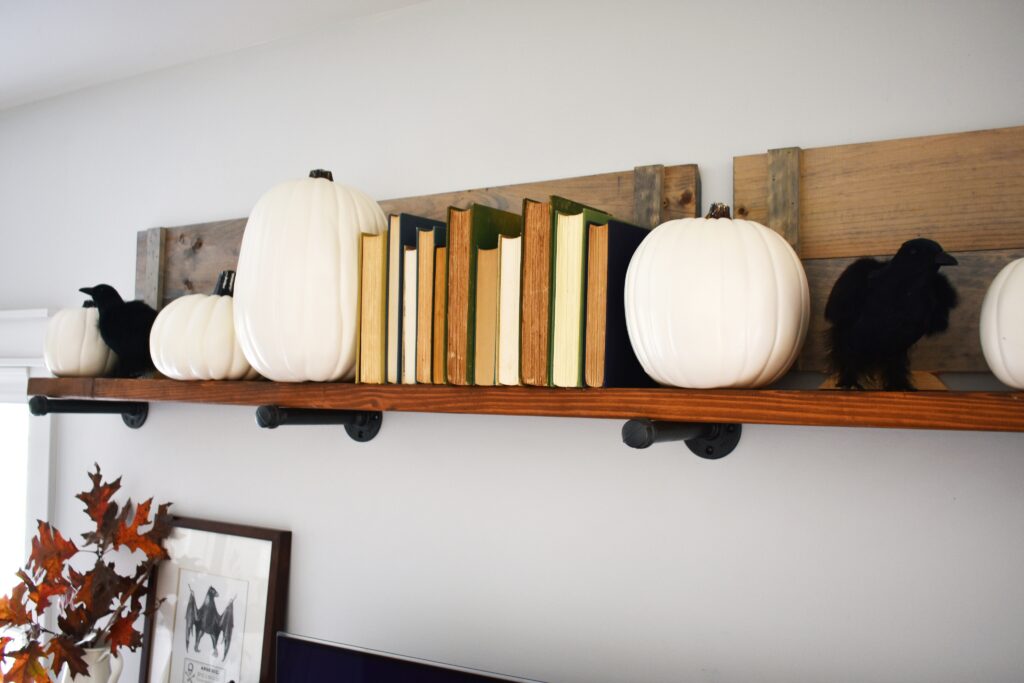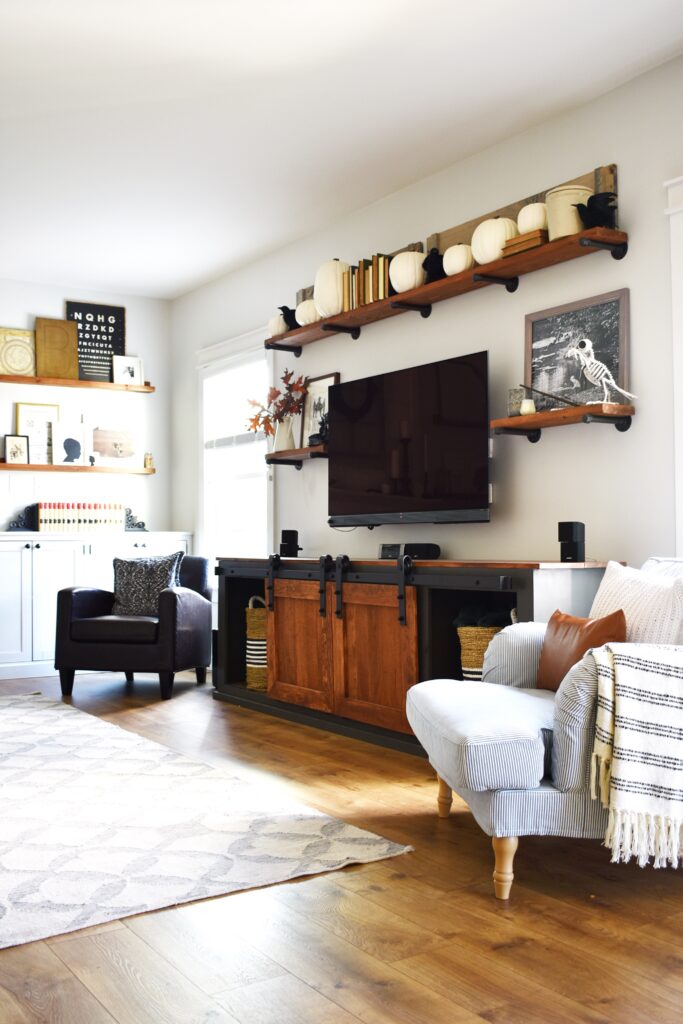 To change out the TV shelves, I moved all the white pumpkins onto the top shelf and bought some faux crows – I don't know why these things make me deliriously happy but I kinda want to add a lot more next year LOL. I also think Halloween is the perfect time to let your little ones pick out some fun pieces – my youngest picked that "antique" phone, which is really just a clearance plastic one that makes noises, and my oldest, who clearly takes after his daddy, just had to have this weird raven skeleton that he swears is a pterodactyl.
I usually leave our over-sized map behind the couch alone when I switch out decor, but my Target fabric was the perfect way to blend it into our Halloween vibe! I really dislike the stringy faux spider-webs because the kids play with them and they end up EVERYWHERE, but this net-like material was a good substitute to house some creepy crawlers.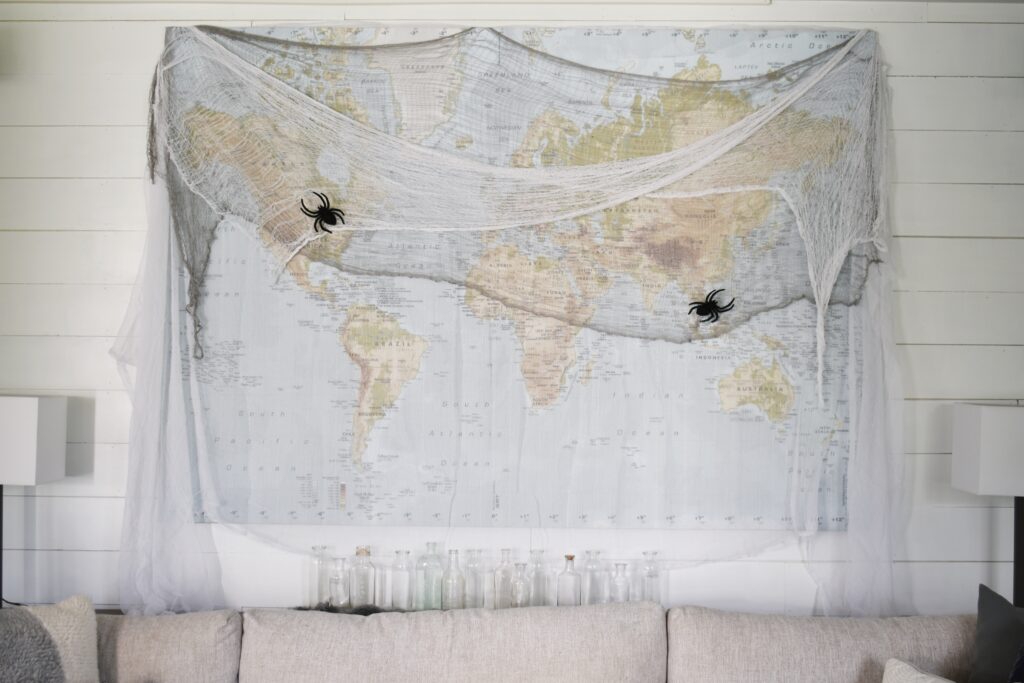 Now that inside is done, it's time to add some gravestones to the front yard and finish our costumes. Next week I'll share my Halloween Tablescape and GASP! we actually are going to use our new Dining Room table for the first time ever! You don't want to miss that now do you ; )