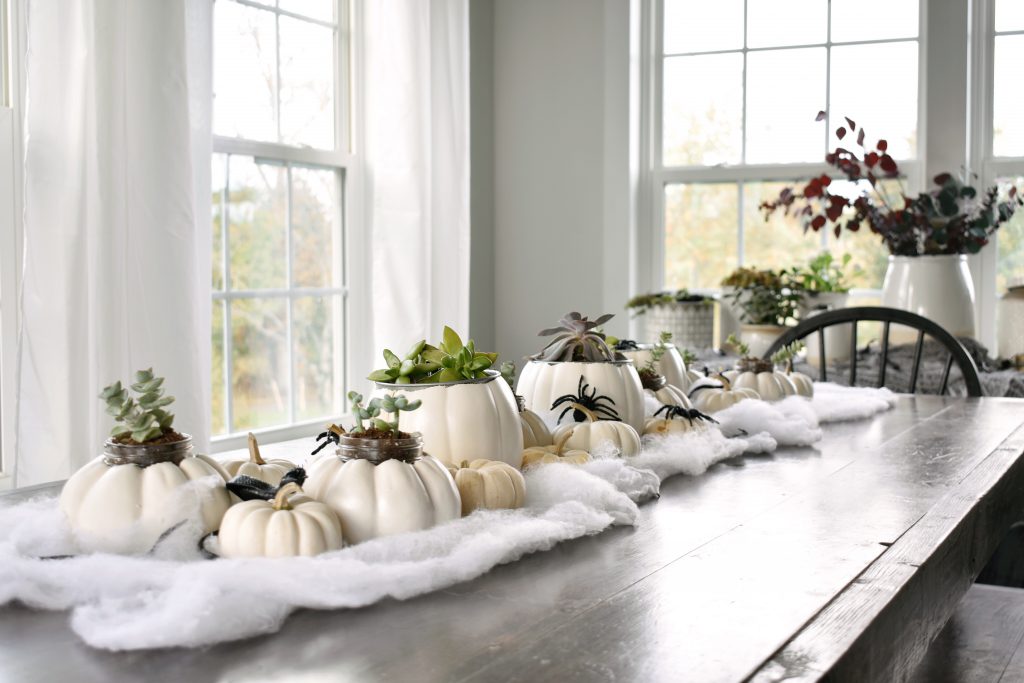 DIY / Halloween
How I decorate for Halloween (without breaking the bank)
As quickly as I brought my Fall Decor out, it was time to put it away and welcome Halloween (don't worry though, it'll all be back for Thanksgiving). To me Halloween is the perfect time to DIY your own decor and let your creepy flag fly! Just as I did last month, this year I concentrated my efforts on decorating the morning room…..and here's the fun part, I re-used all of the pumpkin succulents and potted plants I used for my fall decor but made them look completely different with a few crafty touches and about $40 worth of supplies.
Some of the links included in this post are affiliate links, meaning, at no additional cost to you, I will earn a commission if you click through and make a purchase)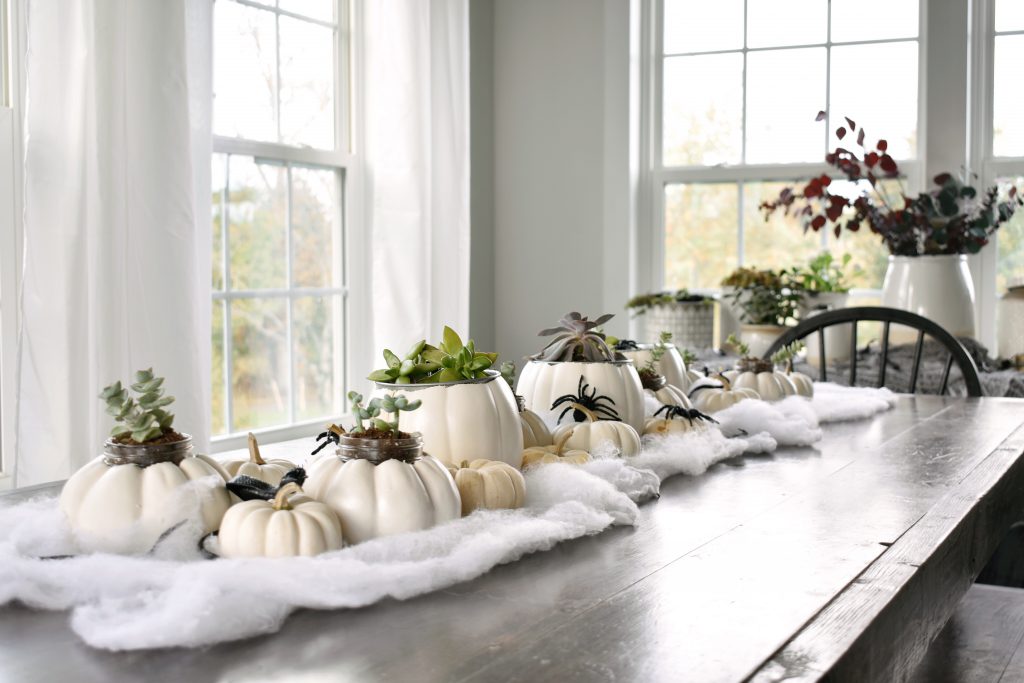 I keep a spare set of white IKEA curtains on hand to change out my blue and white ones when I need to (they're only $15 for two panels) so I started with those. The first thing I picked up was a few packages of faux spiderwebs from the Target Dollar Spot which I spread out on the kitchen table and topped with my pumpkin succulents. Mix in a bag of fake plastic bugs and two very eager to help children and PRESTO! – an ethereal Halloween centerpiece that doesn't get in the way of dinner each night.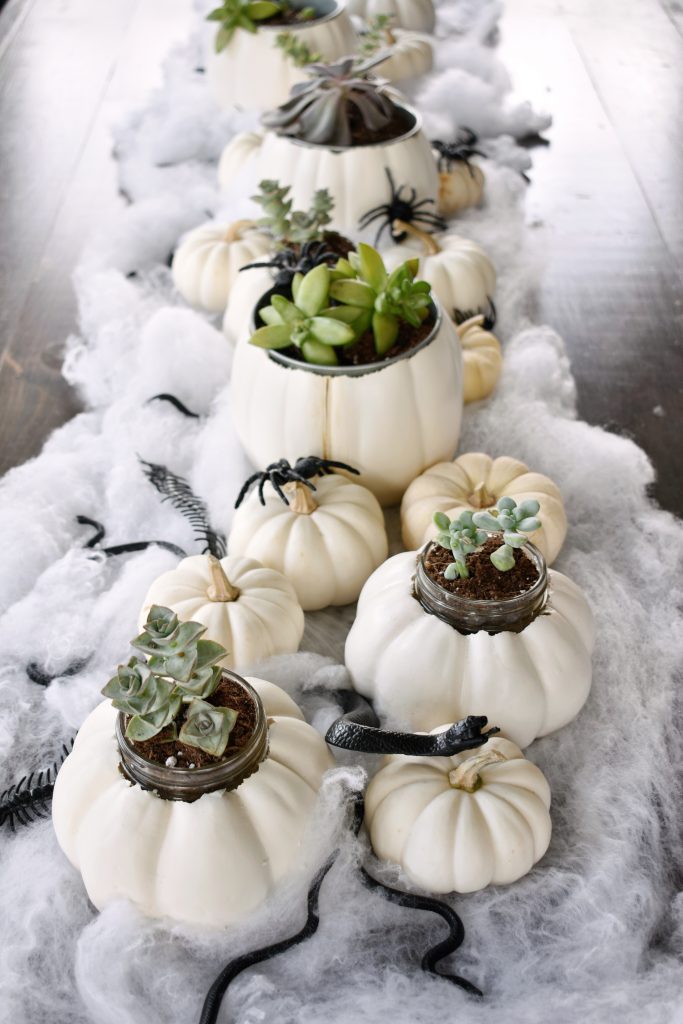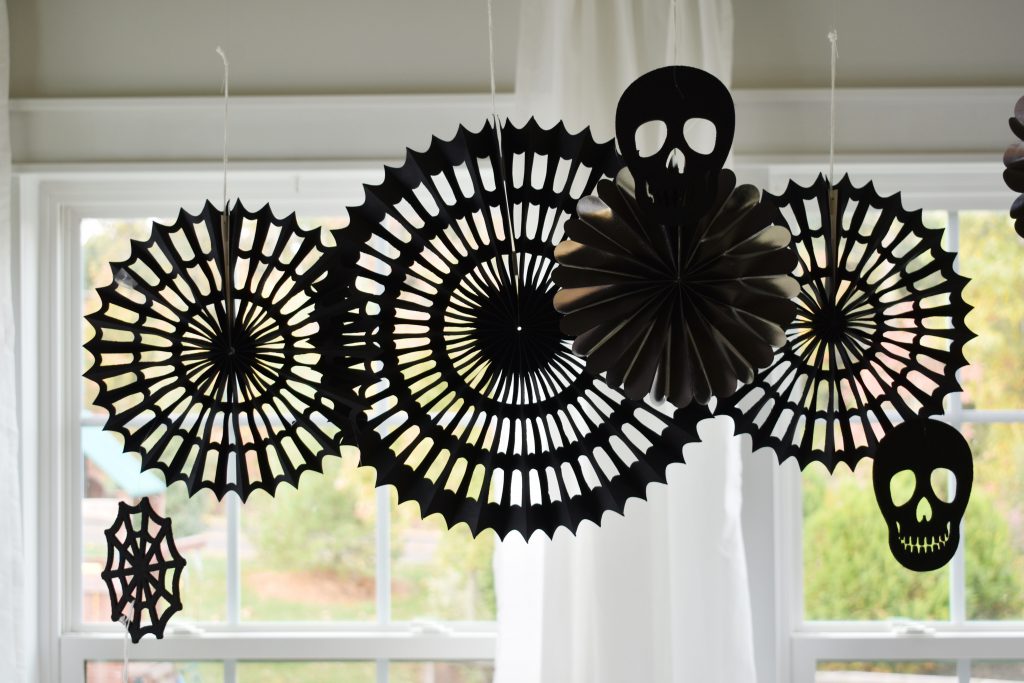 While I was wandering around Target I also spied these really cool black paper fans – for only $3 a pack! Using 4 packs of the paper fans, my stock of 3M hooks, some fishing wire, and a few felt skulls I had left over from last year, I created my own Halloween Chandelier for only $12. I don't know if it's just me but anything hanging from the ceiling seems just magical – I'm actually planning on leaving the hooks up there until Christmas time and finding a new way to use them.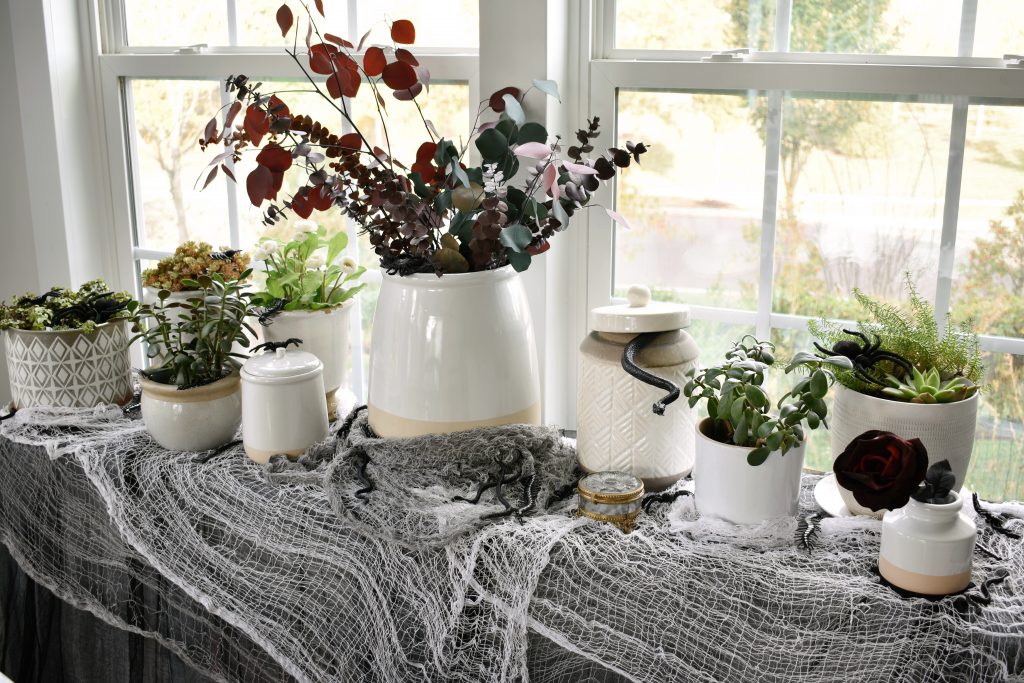 Black Fabric / White Fabric / Gray Gauzy Fabric / White Gauzy Fabric
The plant table also got a makeover using layers and layers of sheer fabric. I stock up on this stuff if there's any on clearance at the end of the season and use it alllll over the house for Halloween, but even at full price it only runs btw. $5 – $10. I found the dried eucalyptus at Wegmans last year and it gives off the perfect smell for the season, oh and of course the boys couldn't leave this table bug free either.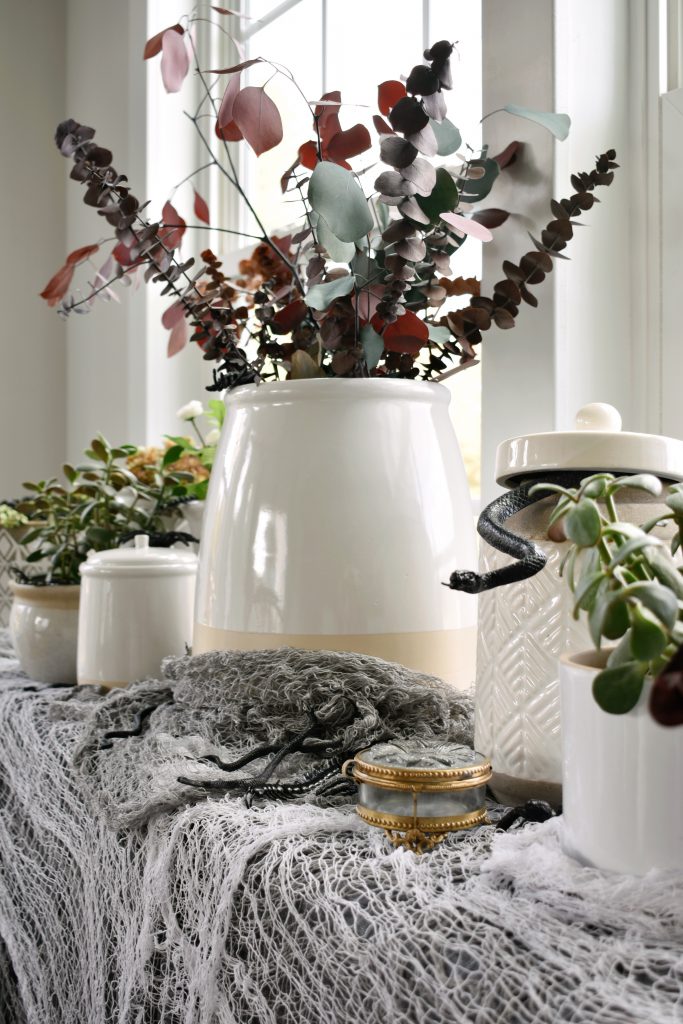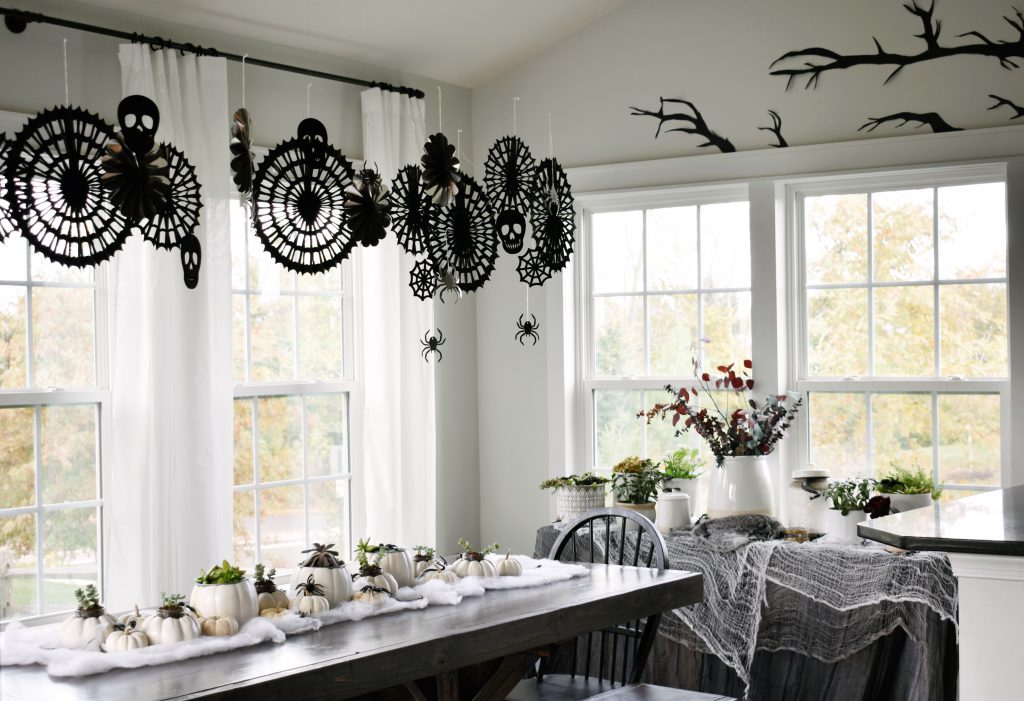 The last touch I added was a pair of DIY paper trees. I constantly struggle with what to do with this space, but at least now I can say I figured it out for Halloween! To make the tree I used a simple roll of black craft paper and first cut out a tall trunk to climb the wall, then went back and cut out a few spindly branches separately. I didn't draw anything out in advance but you can certainly do that before you start cutting anything. Funny story – before I started I told my husband what my plan was and his reaction was "do you know how to make a tree?" Like most things of course I didn't exactly know, but I was pretty sure I could figure it out along the way LOL.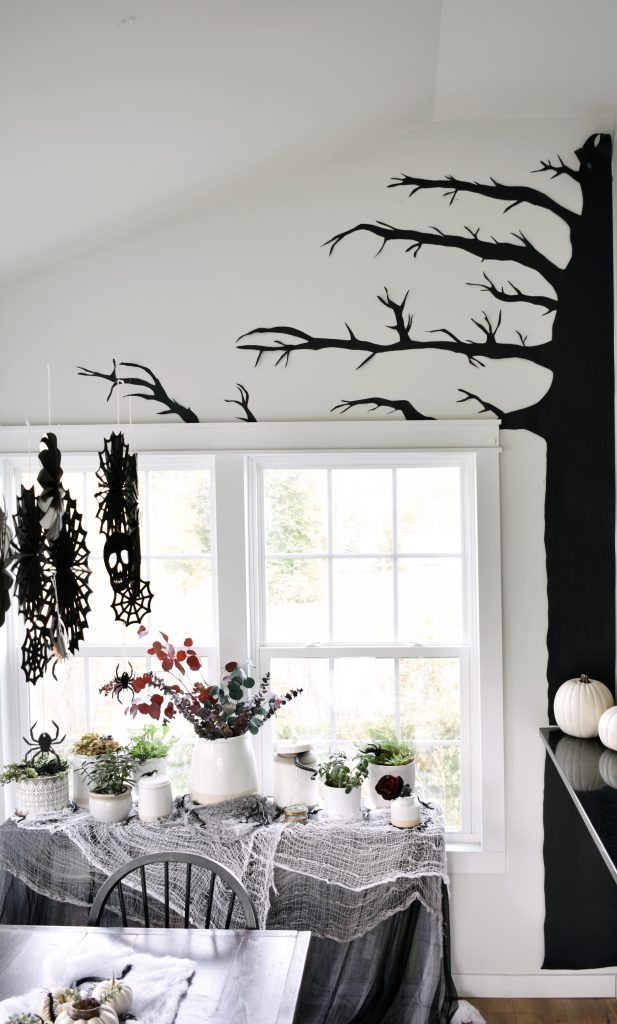 Throughout the rest of the house I kept the decor very similar to what I put out last year (you can check out my Halloween Home Tour for lots of fun pictures) but I did add a few fun touches to the house.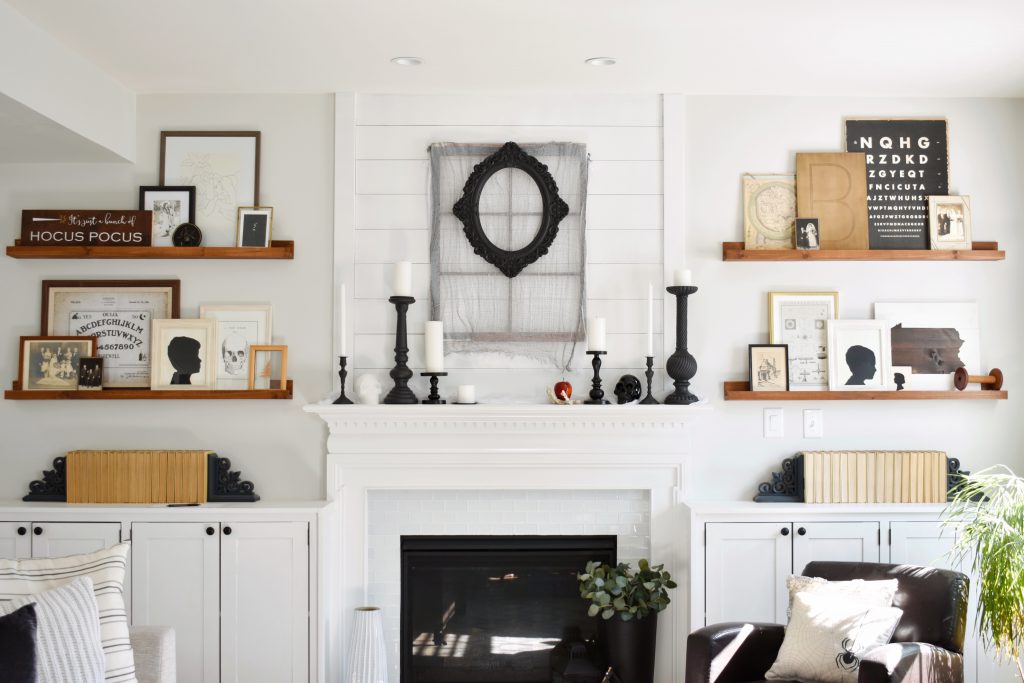 I found a picture of a wedding cake covered in black butterflies on Pinterest and I became obsessed with the idea of adding them to the wooden piece at the top of the stairs. I picked some large and small fabric butterflies I found on Etsy and just attached them to the piece in a random sweeping pattern.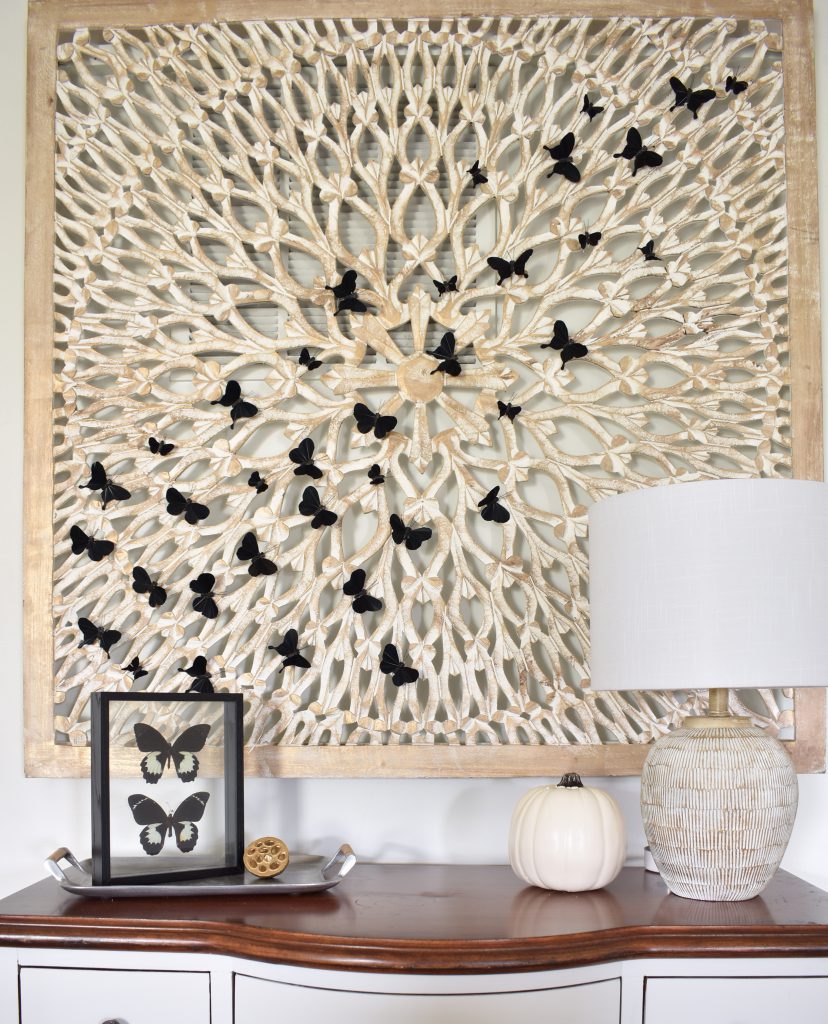 The front rooms got a few inexpensive pillow covers from IKEA and I brought in some more black and white artwork (the bat and skull I printed for free and the flower is an old IKEA print that was hiding in the basement) as well as the vintage high chair I got from a friends yard sale (I have yet to put a creepy baby doll in it yet —- maybe I should make one appear out of nowhere on Halloween night!)
Flower Pillow Cover / Striped Pillow Cover / Skull and Bat Prints
And of course I couldn't not dress up my favorite hallway planter box with some gauzy fabric, white pumpkins leftover from last month, black fabric flowers, and a few apples.
To be completely honest, I wasn't entirely happy to lug all of the Halloween stuff out given that I had just put out the fall decor a few weeks before — BUT I forgot how much I love the neutral color palate. It's a nice change of pace and so easy to play with without breaking the bank.