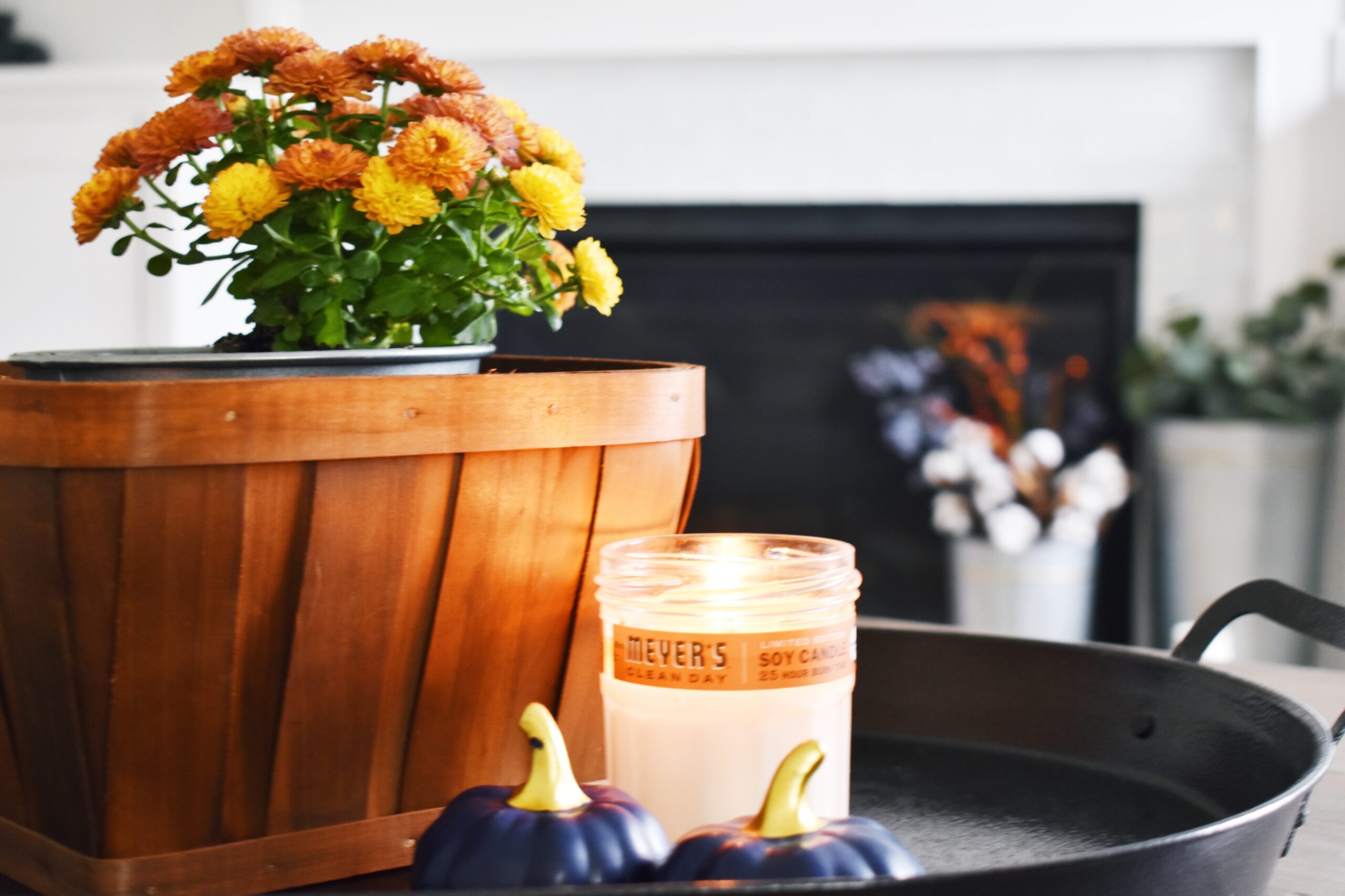 I wish I could say I'm writing this on a cool, crisp Autumn morning with the waft of pumpkin candle floating through the house – but the truth is the weather out her has been CRAZY and we have had more hot and humid days than I'd like to admit. Regardless, that didn't stop me from channeling my inner Sweater Weather and decking out the living room for fall. I grew up in a house that changed with the seasons so changing out my decor regularly is something that I really like to do. Last year I made myself go through all my seasonal decor and get rid of anything that I really didn't love anymore – so now I have the opportunity to start from scratch, which is both fun and daunting. Instead of going crazy and decorating the whole house at once, though, I'm concentrating on one room at a time and this year I decided to go all out in the room we all love the most – my living room.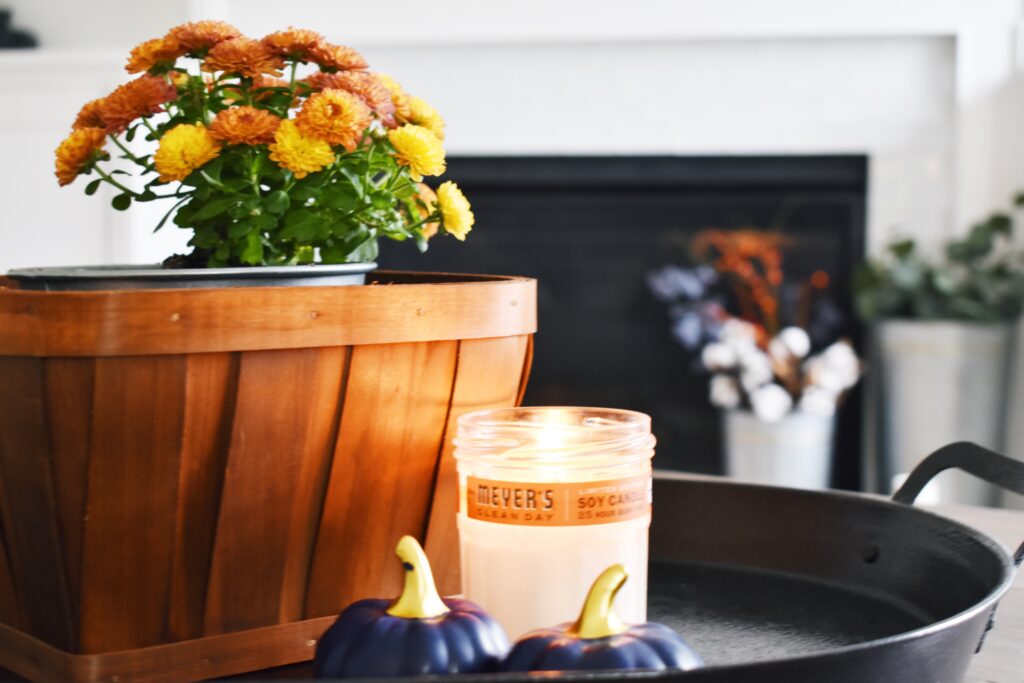 One of the main reasons I kept the bones of my house neutral is so I could bring in whatever accent colors I want. Since I have touches of blue throughout my house (and in my mind blue is totally a neutral) I try to incorporate it into my seasonal decorating whenever I can so for my fall design I added touches of burnt orange and navy blue to warm up the space and compliment the warm wood tones.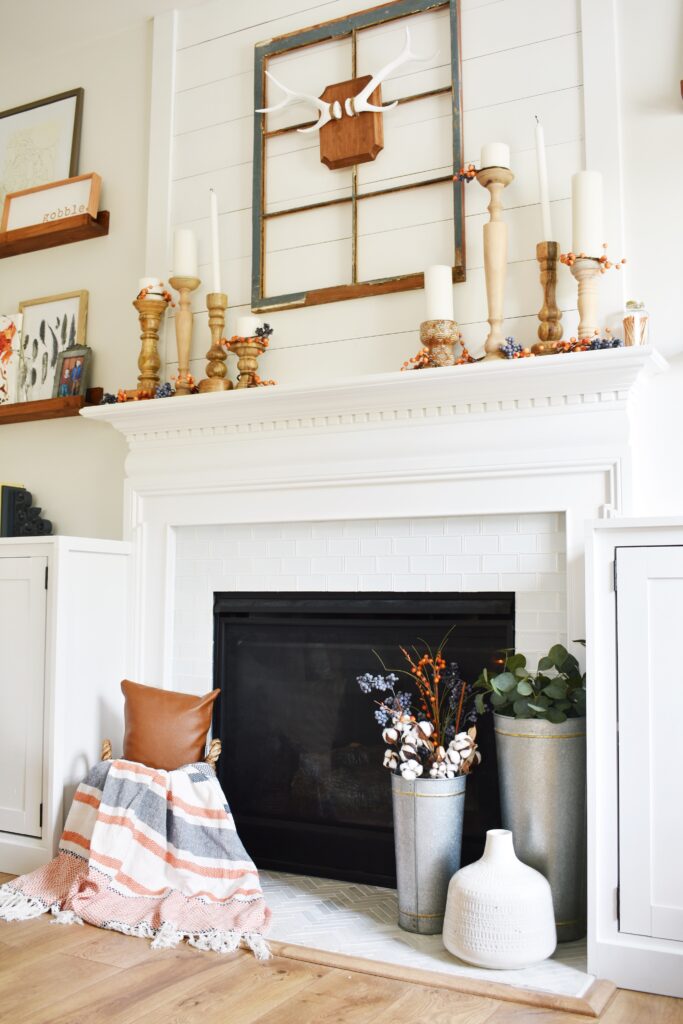 I always start with my mantel because it's the main focal point of the room. I had been collecting light wood candlesticks over the summer and kept them up for the fall (as well as my antlers from Near and Dear) but added some beautiful faux berry sprigs from Michael's. For the hearth I mostly brought together things from around the house – my Hearth and Hand galvanized metal planters which I filled with some faux eucalyptus along with some more faux stems, and the basket/throw blanket that usually live in the front room.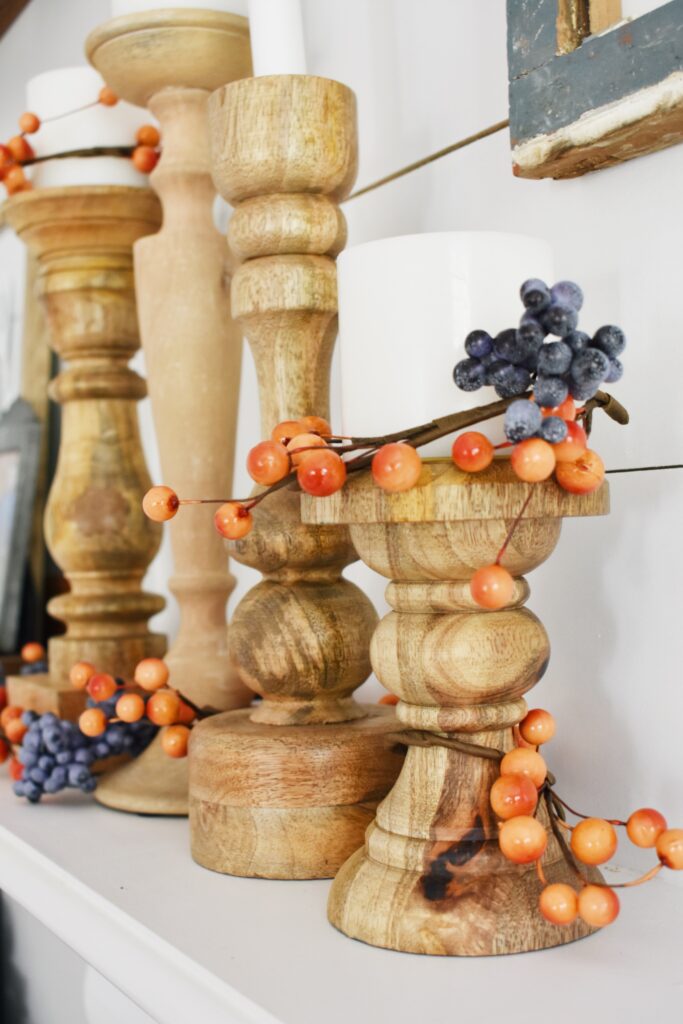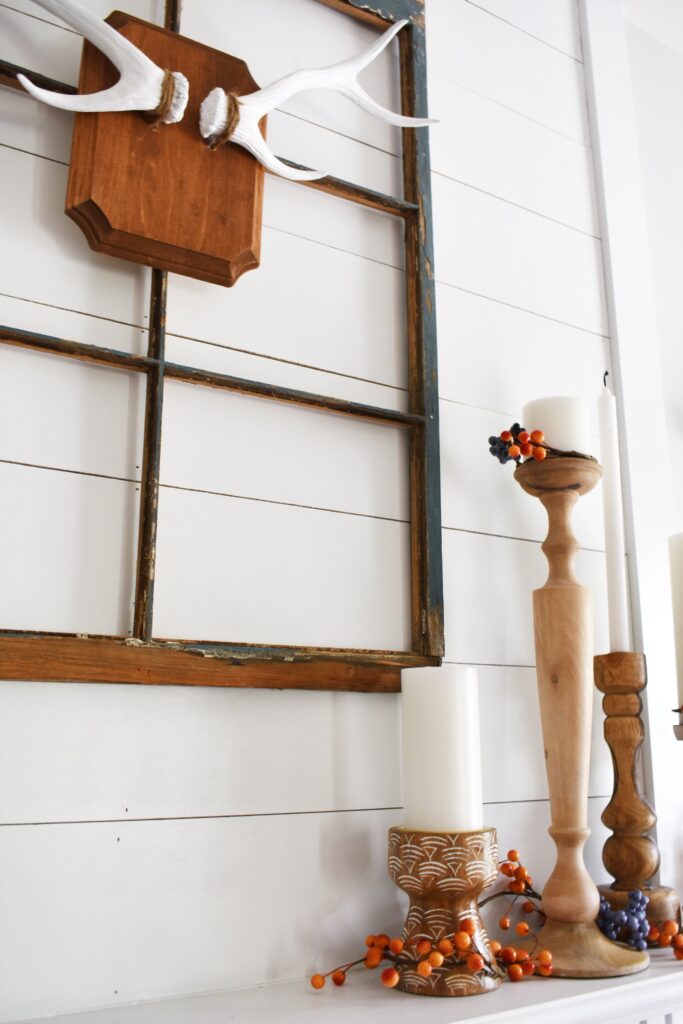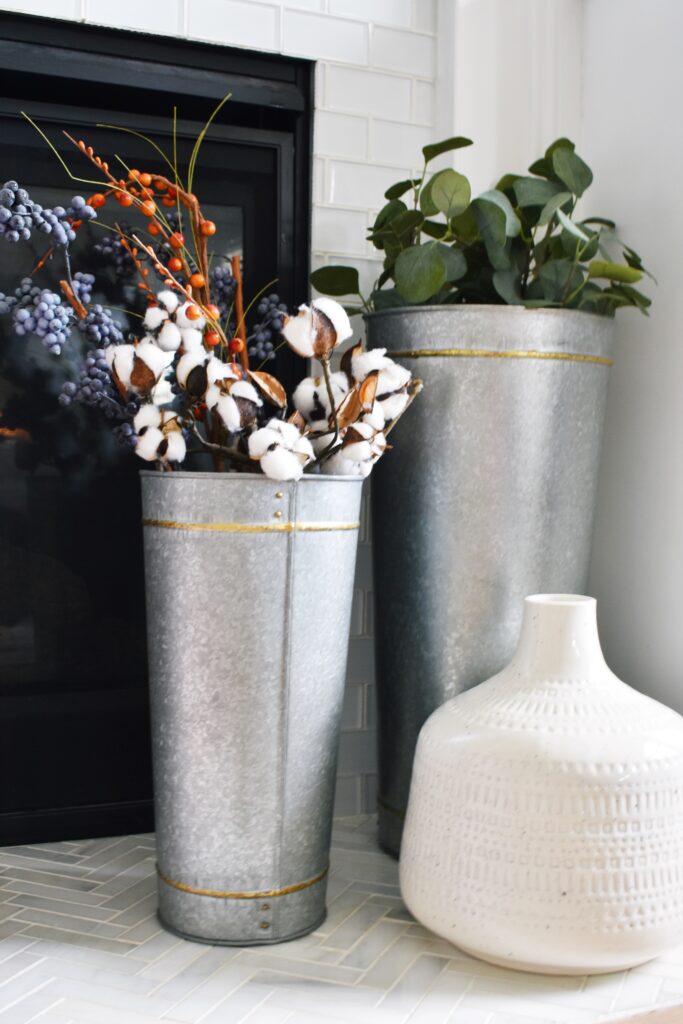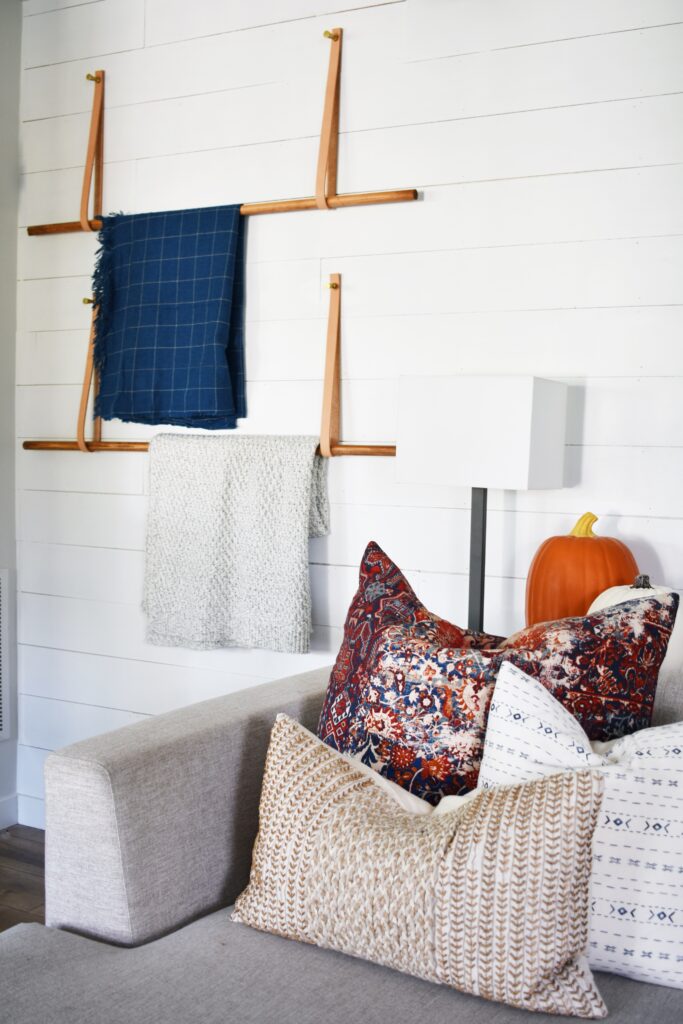 The one area that I did splurge on was in the pillow department. I have resisted stocking up on pillows for a long time, but now that we have our big beautiful Interior Define couch, and I have a good collection of pillow inserts to play with, I gave in and indulged in some new beauties. Most of these came from HomeGoods, but I did pick up these velvet navy blue and antique rug inspired beauties from West Elm on Premier day, and I discovered this wonderful new shop called Woven Nook that has beautiful handmade pillow collections at very affordable prices. And because you can't usher in fall without some cozy blankets, I brought down a plaid throw from the guest room and scored the blue guy on the blanket ladder for $5 at IKEA (and I just saw that they used it in the HGTV Urban Oasis so I'm just assuming they got the idea from me LOL)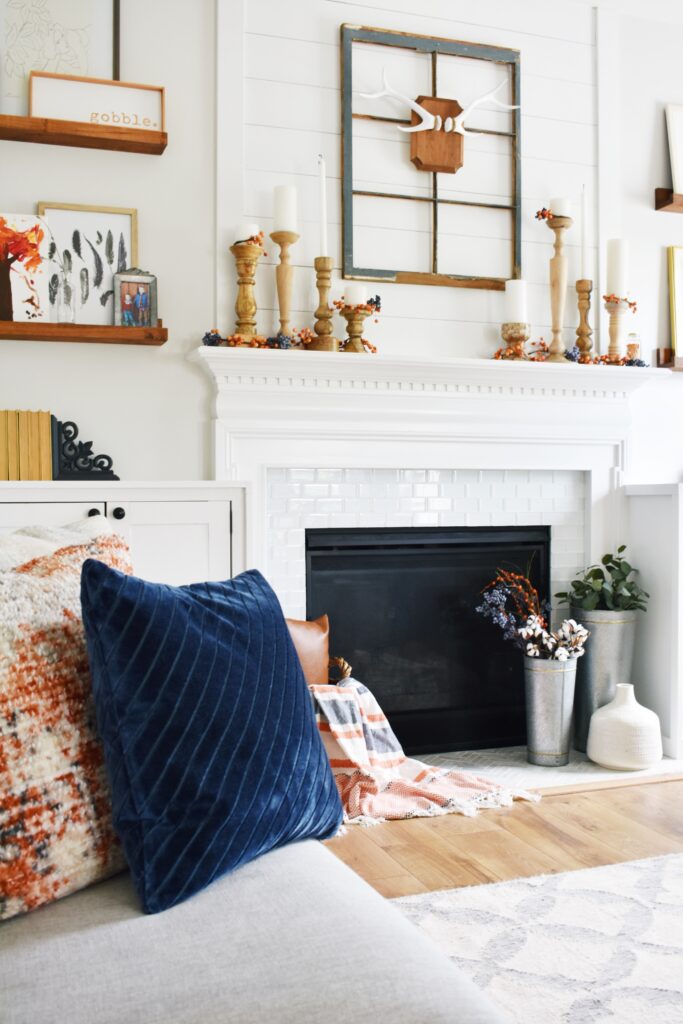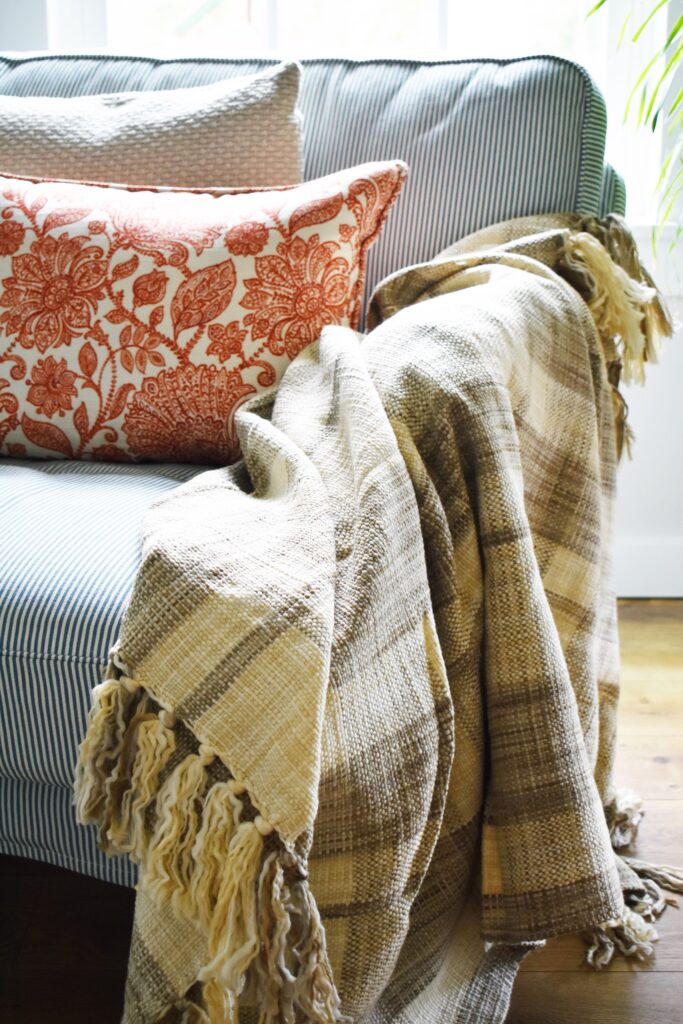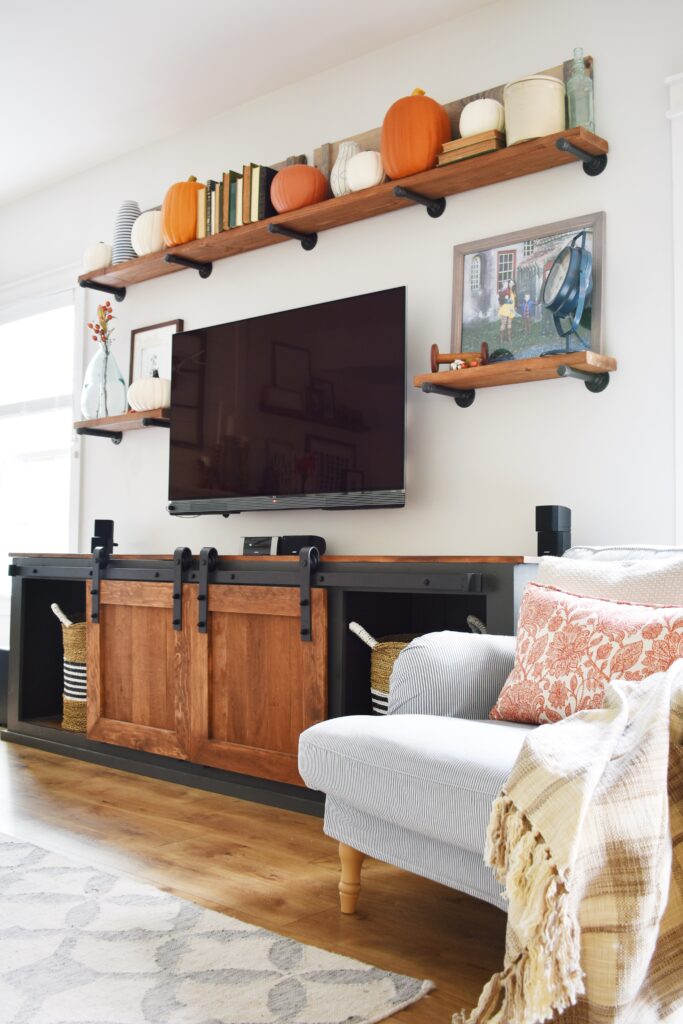 To round out the room without any more major splurging, I relied on some of my favorite DIY tricks. I added lots of faux pumpkins around the shelves on the TV that I got on a major Michael's sale at the beginning of the season, and paired down the books and vases that usually live up there to only the blue and white ones. On the art ledges and shelves I used some of my favorite cheap art tricks to change things ups – family photos from the fall, free printables, even some artwork that I made with my oldest years ago combine to round out the fall feeling.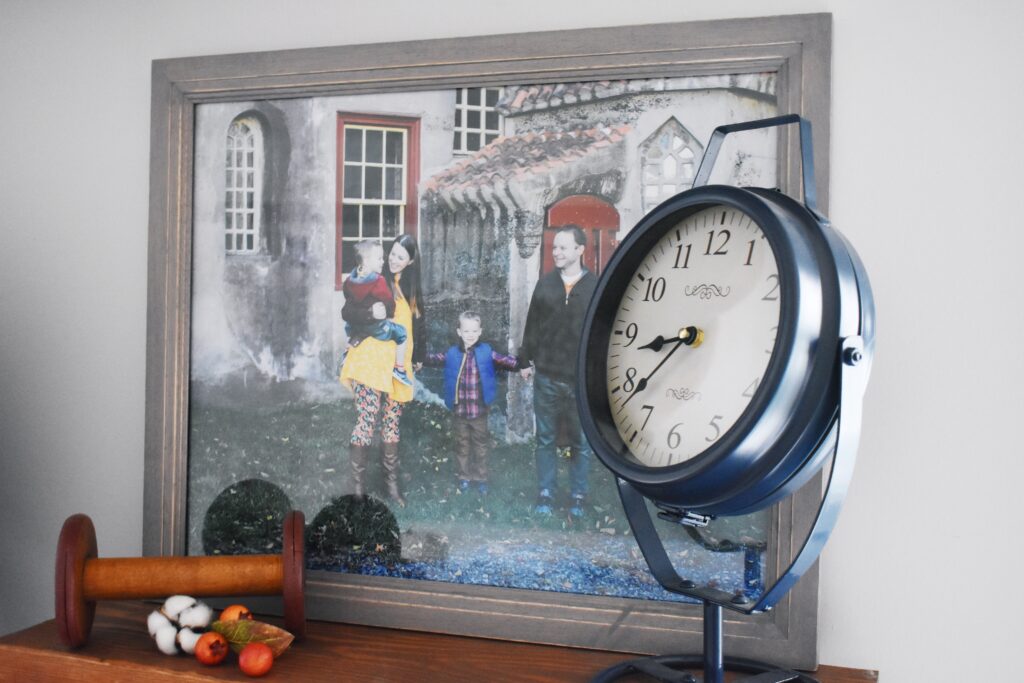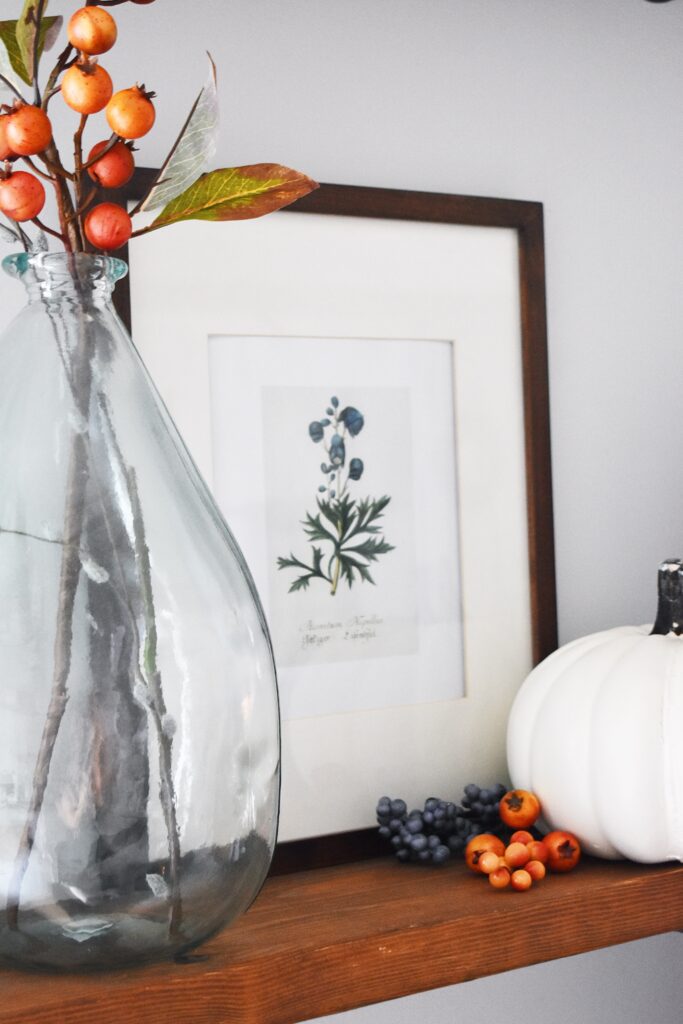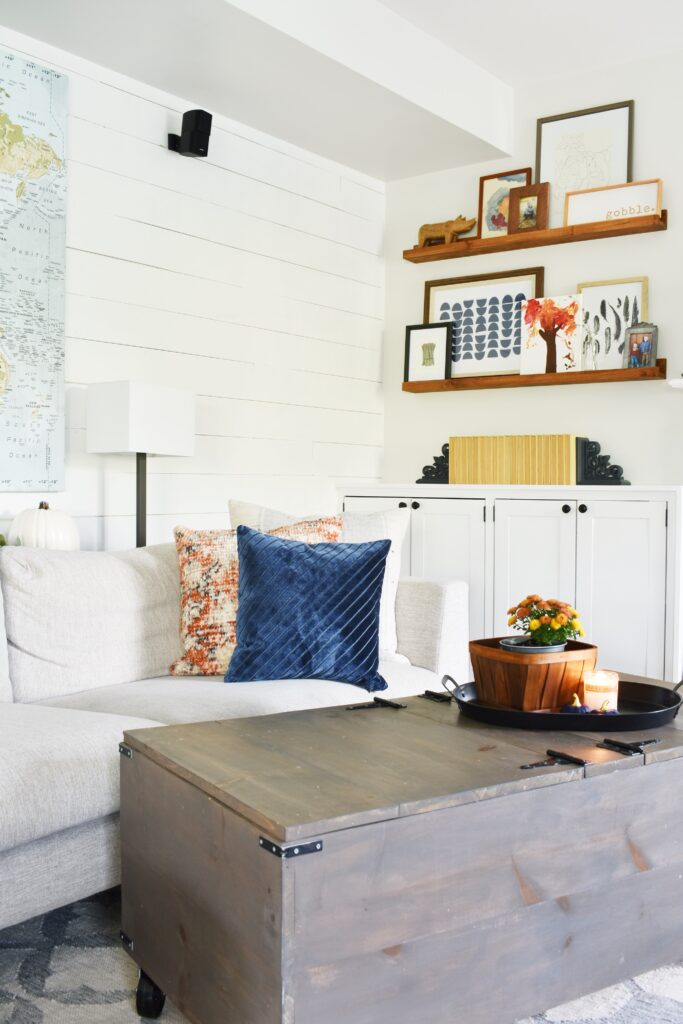 And because you can never have enough pumpkins, I built myself a long shallow box out of scrap wood and filled it with faux eucalyptus, mini white and orange pumpkins from Trader Joe's, and the perfect ceramic navy pumpkins from the dollar spot. Bonus! Come Thanksgiving I will move this guy to the kitchen table to serve as the centerpiece.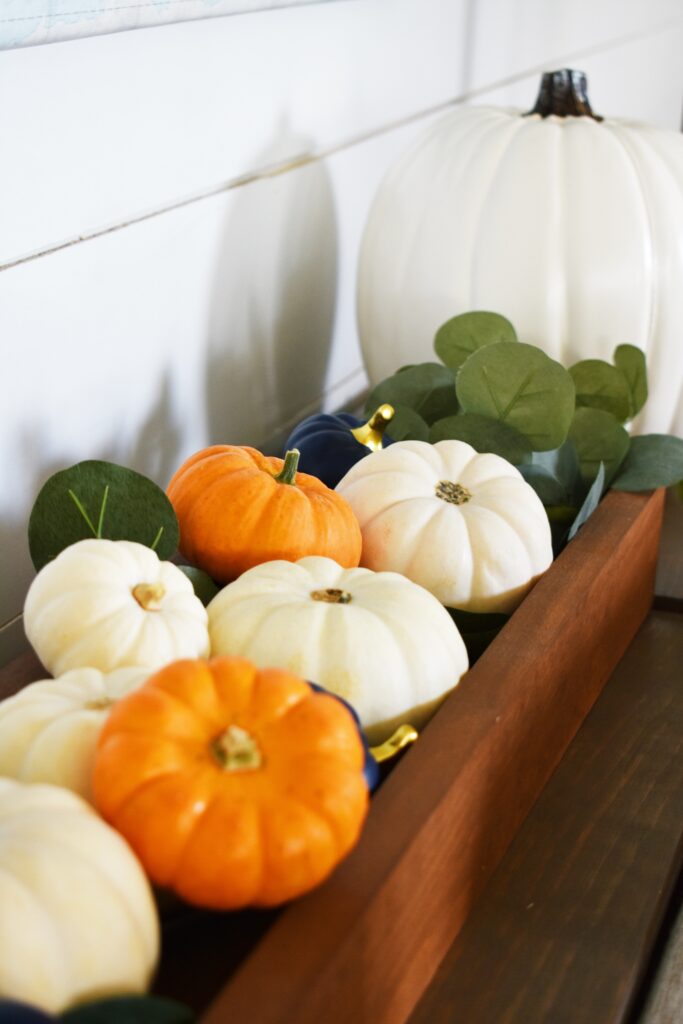 Now that it's October I will be taking all of this down to go all out for Halloween (stay tuned for that post!) but I'll be putting everything back up afterwards for Thanksgiving, which may seem nuts but makes the effort of putting this all together even more worth it as I get to enjoy it for two whole seasons. I know seasonal decor isn't everyone's cup of tea, but for those that embrace it like I do I hope I inspired you to bring a little color (and a whole lot of pumpkins) into your home!