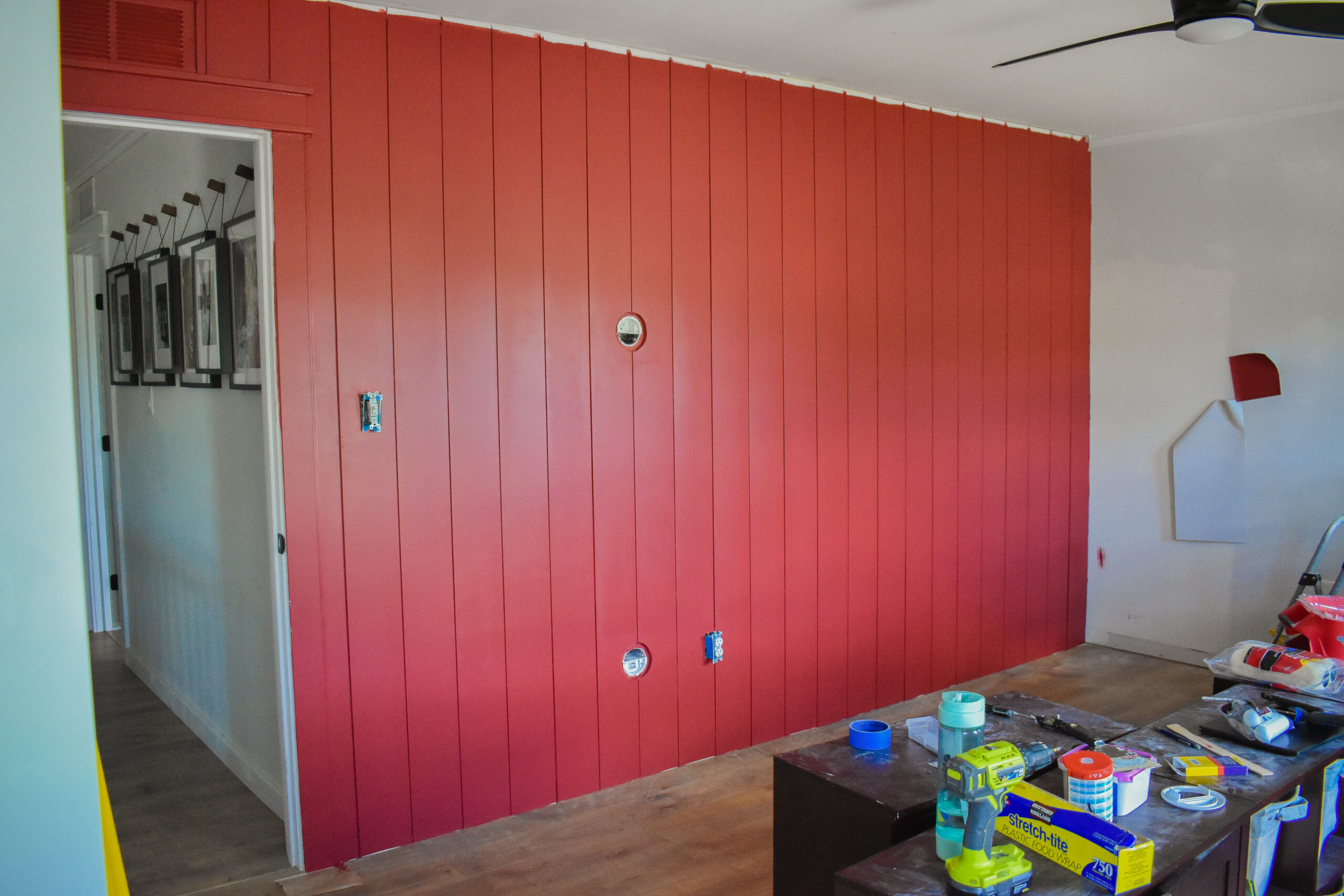 Are you ready to see some progress in this room? Me too….so let's dive right in.
Week 1 / Week 2 / Week 3 / Week 4 / Week 5 / Week 6 / Week 7 / Week 8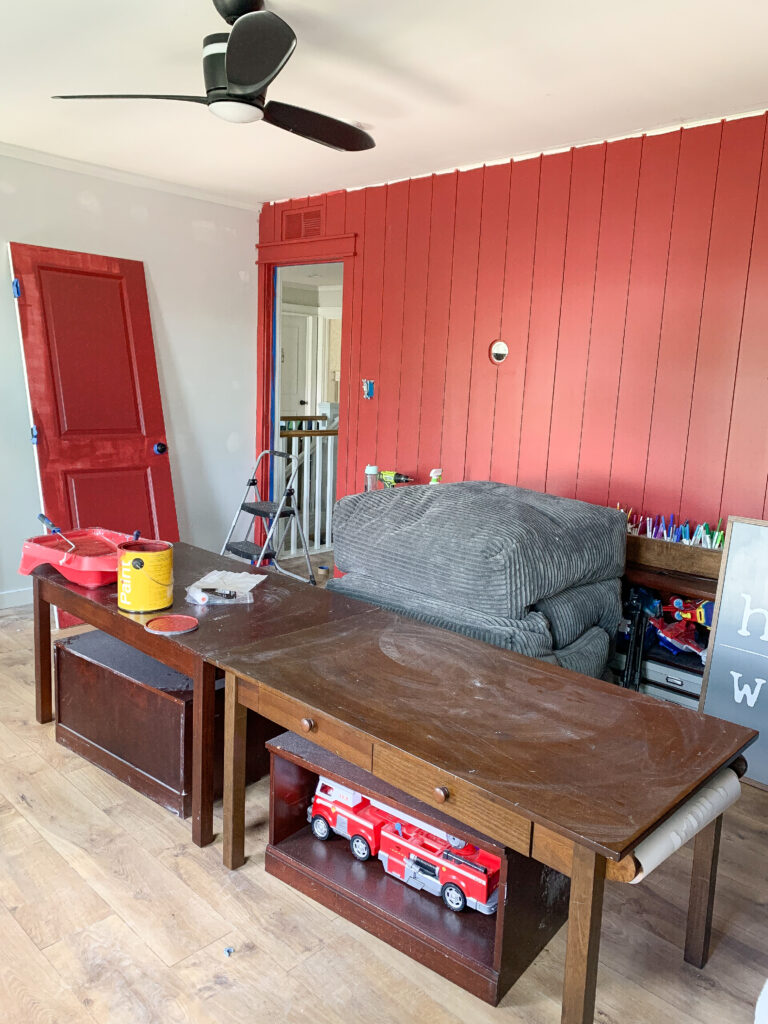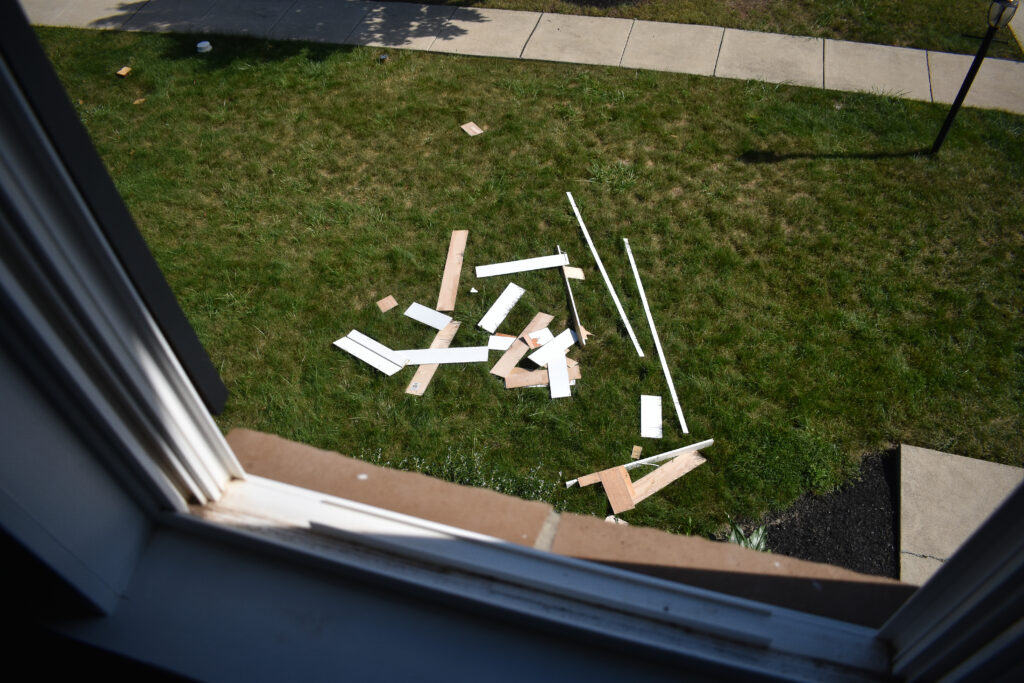 The first project I needed to tackle was replacing the old plywood shiplap wall with a new fancy shiplap wall. This was the hardest part of the room to take out — not physically because it came off the wall easy enough and I just threw the pieces out the window onto the yard — but it really hit home that this room was growing up. I even found some old crayon marks on the wall where my sons old bed used to be and more than a few ugly tears were shed.
But grow up this room (and my boys) will and out went the old wall and in went the new vertical shiplap. Actually before that happened, first went in the TV cord management system. We've used this device twice before to hide the cords for our flat screens, and I won't say it's a piece of cake to install but the directions are pretty clear and it's much easier to work on an interior wall that doesn't have insulation then an exterior wall that does.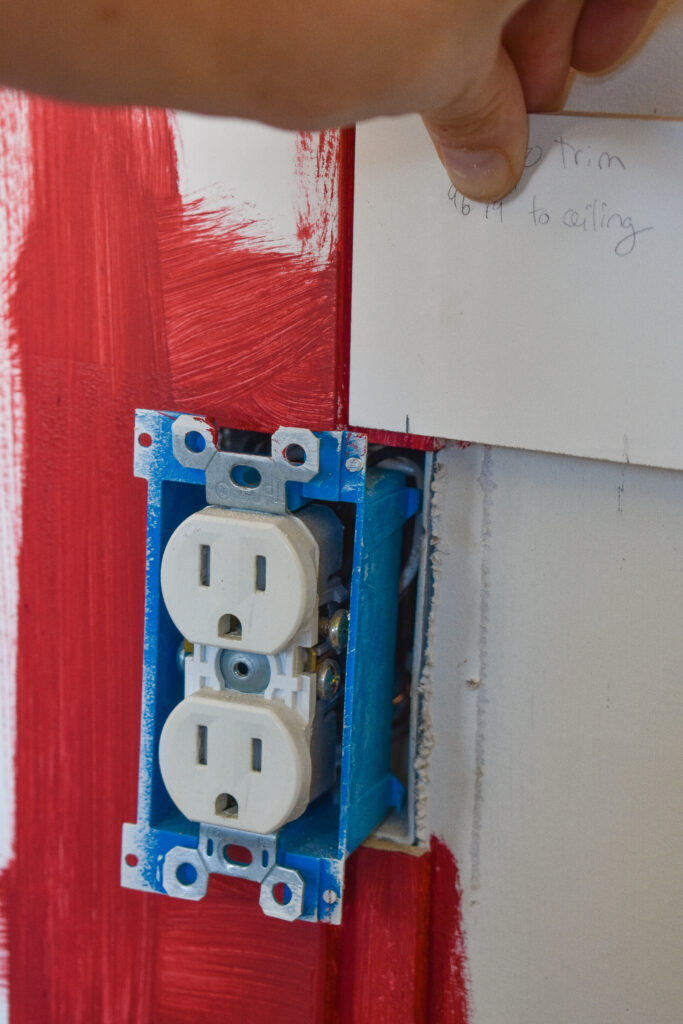 From there I got to work hanging the new vertical shiplap boards. The first few took me a little extra time because I had to work around the door, the holes for the cords, and the lightswitch/outlet…..but once I got past those the rest went up super easy because I didn't even have to trim them to fit.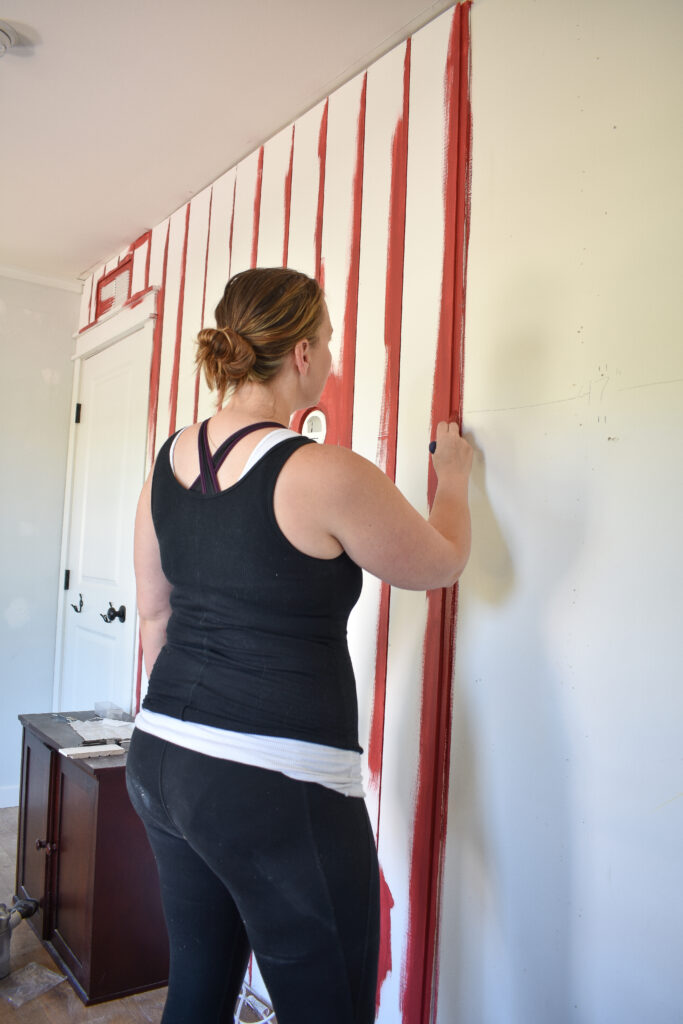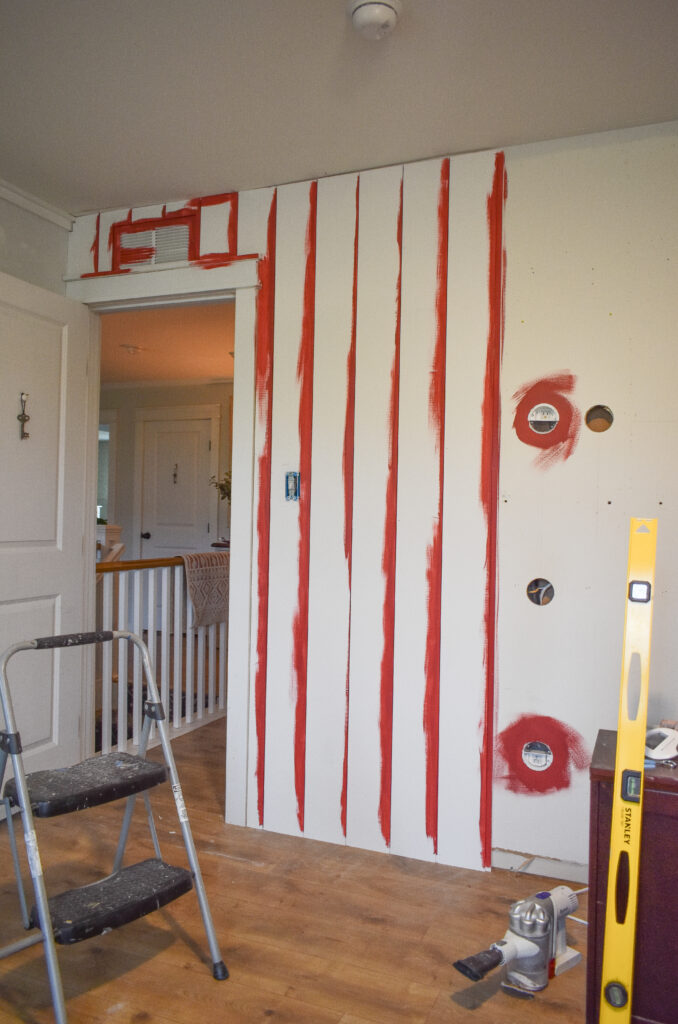 As I was installing I painted the edge of the trim the wall color before I installed the next board — this really cuts down on the touch up time when you go to paint. After all the boards were up, I put on two coats of Big Apple by Clare Paint and my sons dream red wall was done.
One note about this paint — I use Clare paint whenever I can because their coverage CANNOT be beat. I helped some friends paint a dark red wall years ago and I cannot even remember how many coats we had to do — and that was with a pink tinted primer! But three coats of Clare and this wall was done….it's pretty damn magical in my book. Not only that….I love this color red….which is something I never thought I'd say about my home. It's deep and warm and according to my dad it's pretty much the exact same color of my great-grandfather's basement so I think it was meant to be.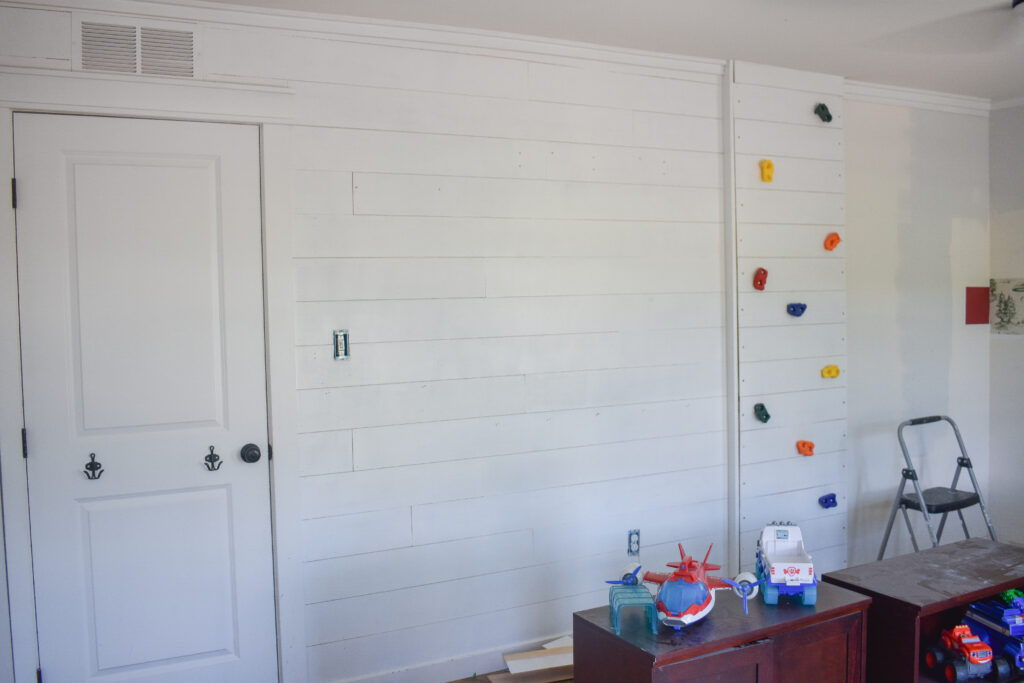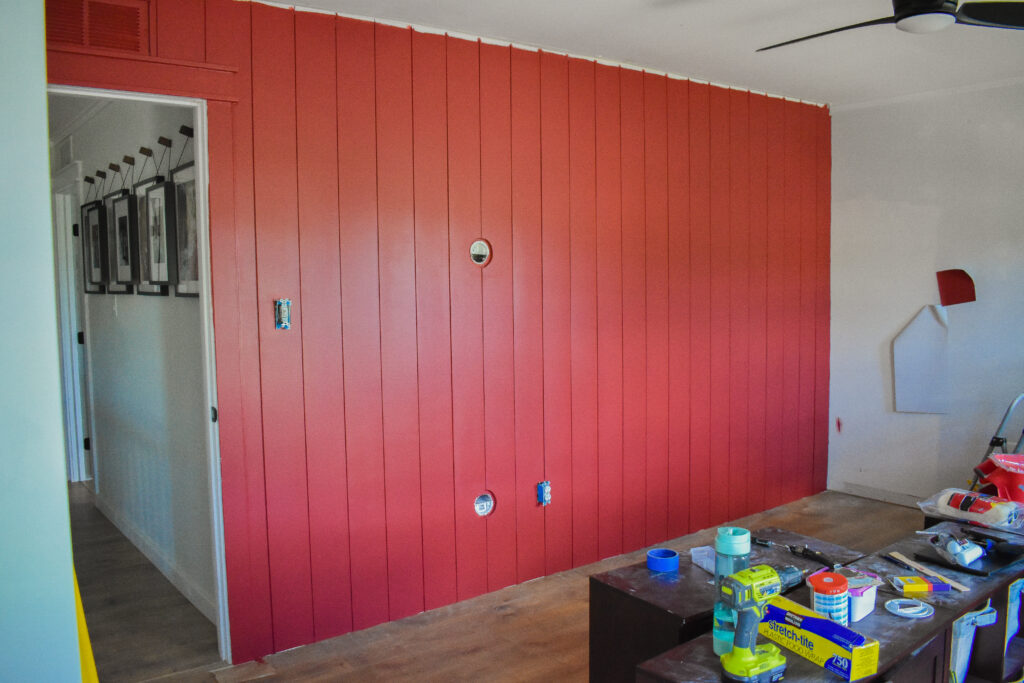 I had my husband help hang the TV once the paint was dry — which isn't a new TV btw. It's the old TV from our living room which had a really slight burn in on the screen so we were able to get a new one through our replacement plan with Best Buy. As I mentioned last week, re-purposing is going to be a big part of this makeover and you'll see more and more of it in the coming weeks.
Next week – we move onto wallpaper! And my boys already want to start moving into this space so I think that means I'm on the right path already. Before we sign off on week three check out this week's progress video to see the shiplap transformation in action…….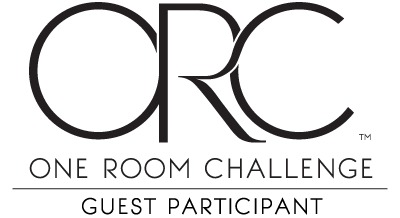 And don't forget to check out what all the other featured and guest participants are up to each week on the One Room Challenge blog!