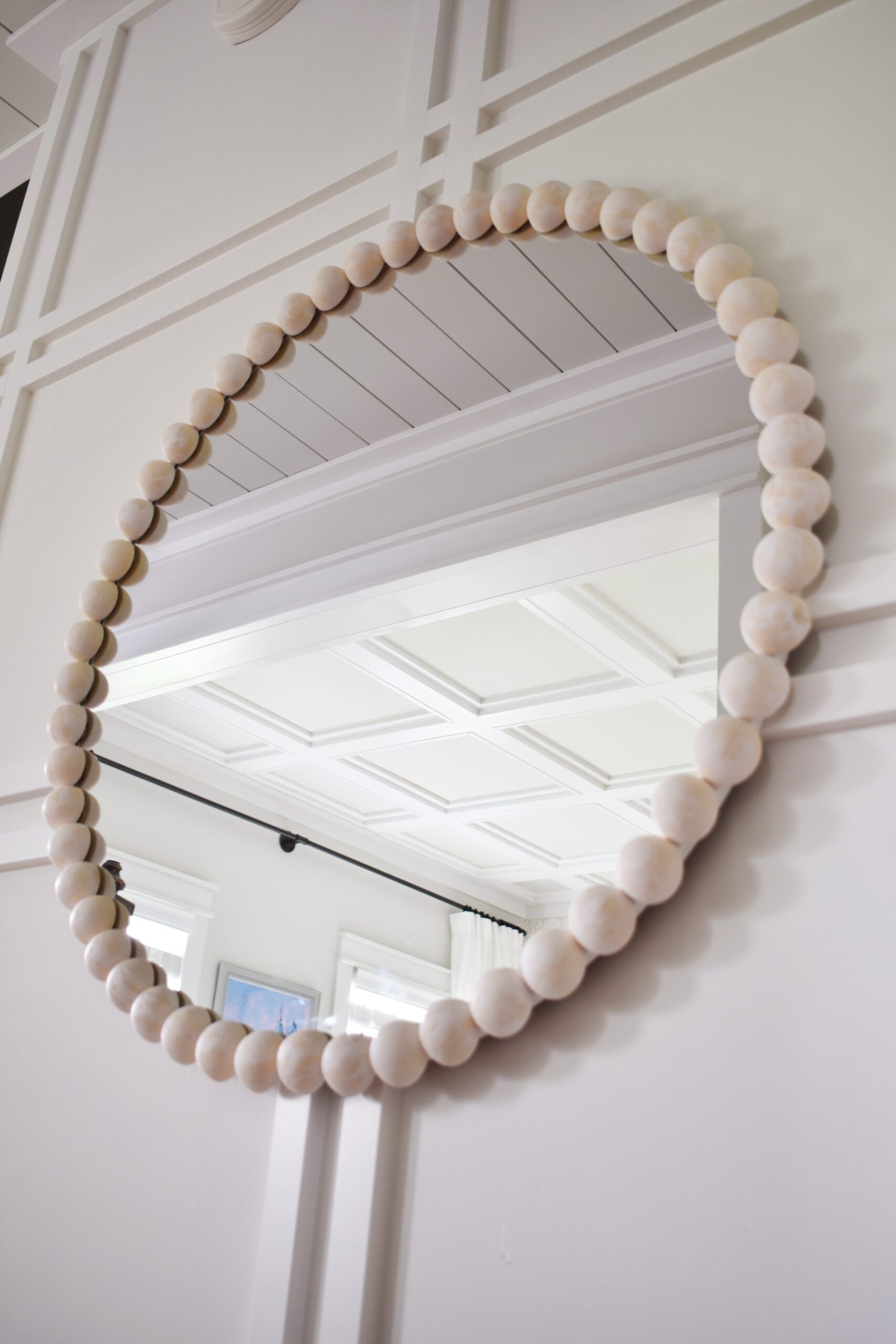 One more week friends and it's finally reveal time! Now's the time of the One Room Challenge where I am basically running on fumes – but at the end of each day the finish line for each space is coming closer and closer into view. I'm holding back showing you how all of the pieces are coming together, but I really think it's gonna be worth the wait when you see the final reveal next week!
Week 1 / Week 2 / Week 3 / Week 4 / Week 5 / Week 6
(Some of the links included in this post are affiliate links, meaning, at no additional cost to you, I will earn a commission if you click through and make a purchase)
I actually took a few days off this weekend to spend some time with my boys in Hershey, PA, so I had to hustle to get one big project done before we left – and that project was installing the shiplap ceiling down the front hallway. I have been wanting to use this beautiful shiplap from Metrie for years and this was the perfect opportunity – it went up so easy that I had enough time to paint it and get the trim up before we left. I honestly had a bit of anxiety about not keeping it white, but it looks so dreamy painted the same color as the walls that that anxiety quickly went away.
This week I was also able to finally to check two of my smaller, but really fun, DIY projects off my list. And trust me, after 4 weeks of heavy lifting and non-stop painting it was a nice change of pace to tackle something I could knock out in a day or two!
Faux Hanging Gallery Wall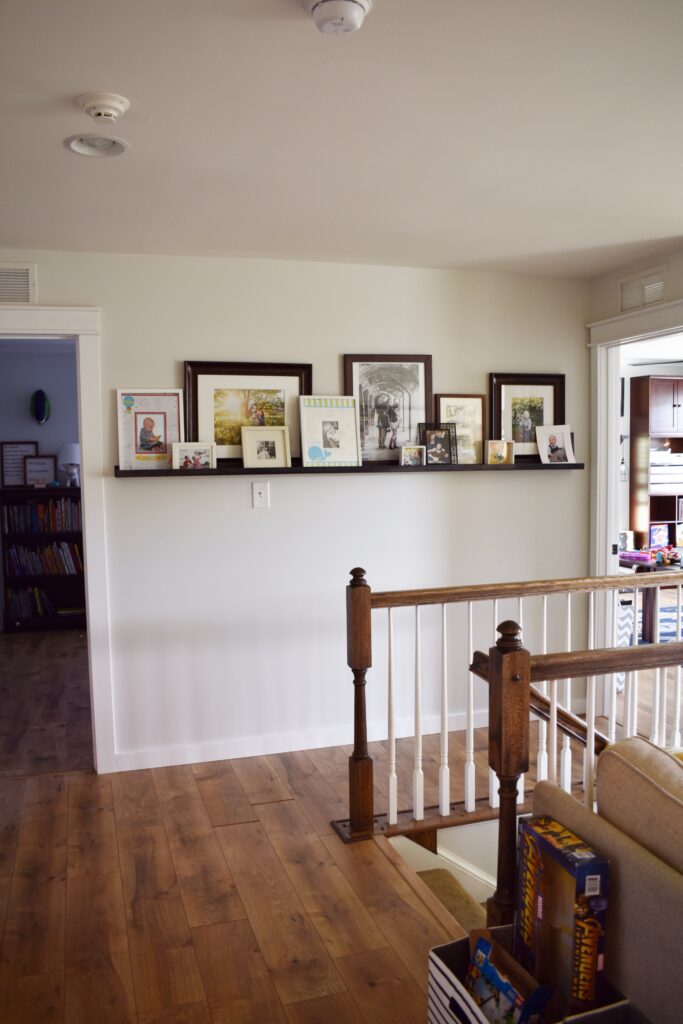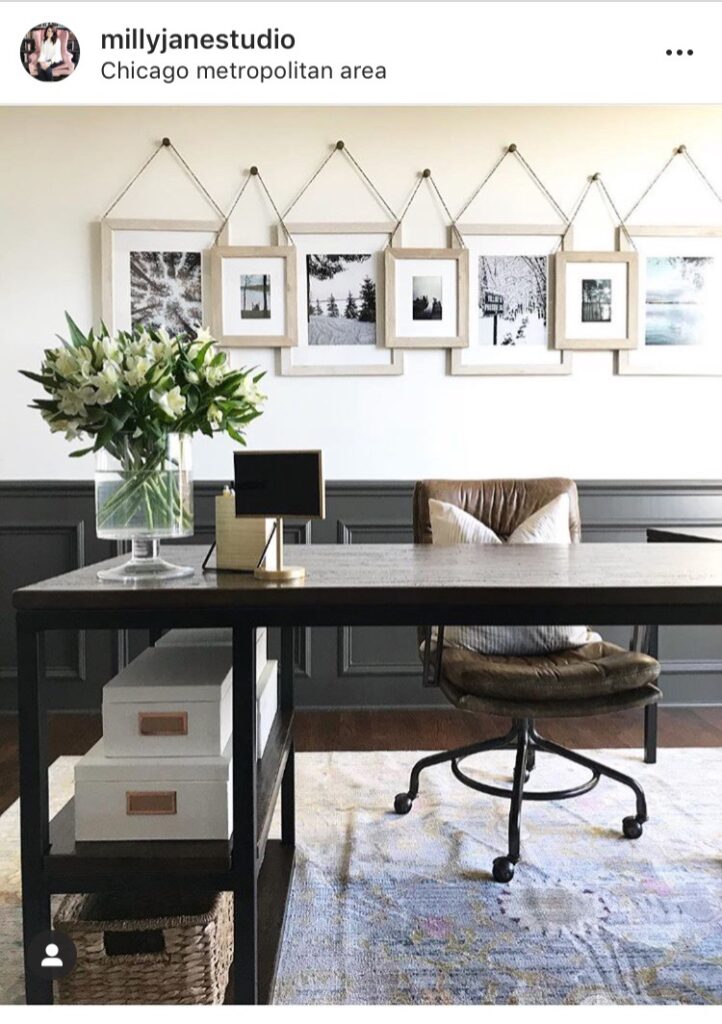 I love an art ledge – I have them scattered all through my home – but once the details of the loft came together I knew I needed to simplify the ledges that used to live on this wall while still having a place to display some of my favorite family photos. Luckily one of my favorite instagrammers (Erin from @millyjanestudio) shared this amazing picture of her office gallery wall and a light bulb went off! Now I just needed to make it happen in a way that didn't need constant straightening or constant worry that they would fall off the wall every time the boys slammed one of the doors.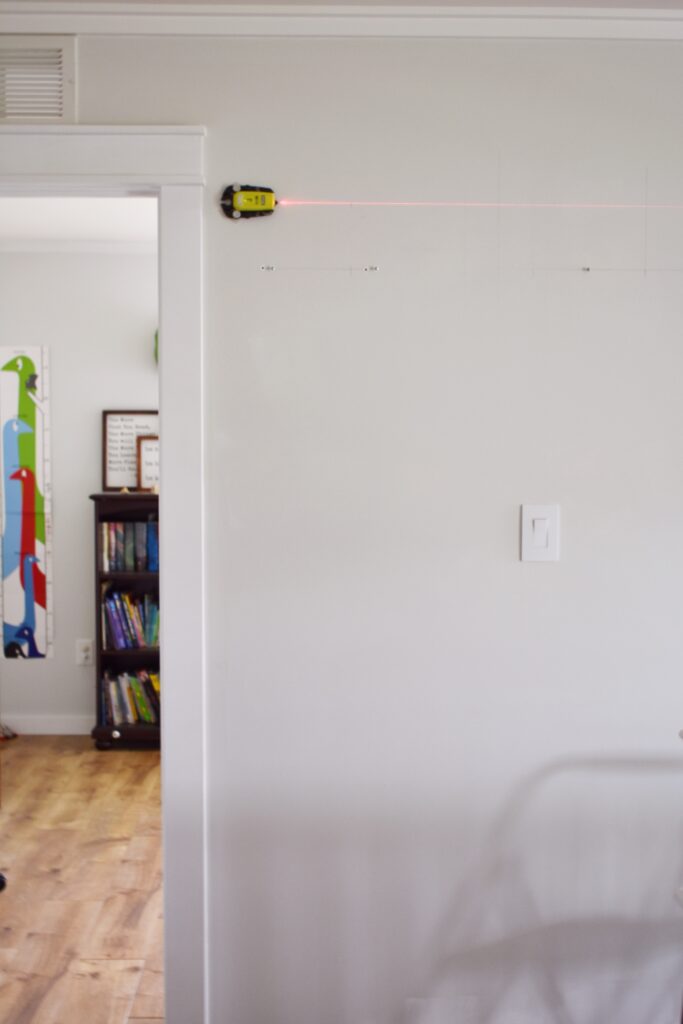 NOTE: You can find a full tutorial (including the materials I used) for this Gallery Wall here. Below is quick breakdown of how I created this display
To do this, I first attached the 4 larger frames to the wall using drywall anchors and screws instead of just relying on the cords they hang from . Figure out the spacing of your hook/pegs first (I used these wood pegs from Etsy), and then you can center your screws around every other peg. I love using my Ryobi laser level to make sure all my anchors line up with each other.
To add the Leather Cording to each frame, I drilled some small holes in the top, threaded the cord through one end and tied a knot. Then I hung each on the screws I had drilled and brought the cord around the peg and through the other hole. I just used a small piece of blue tape to mark where the cord should stop, and from that I was able to tie a knot in the other side at the right spot to make the cord look tight, but not too tight that the frame came off the screws.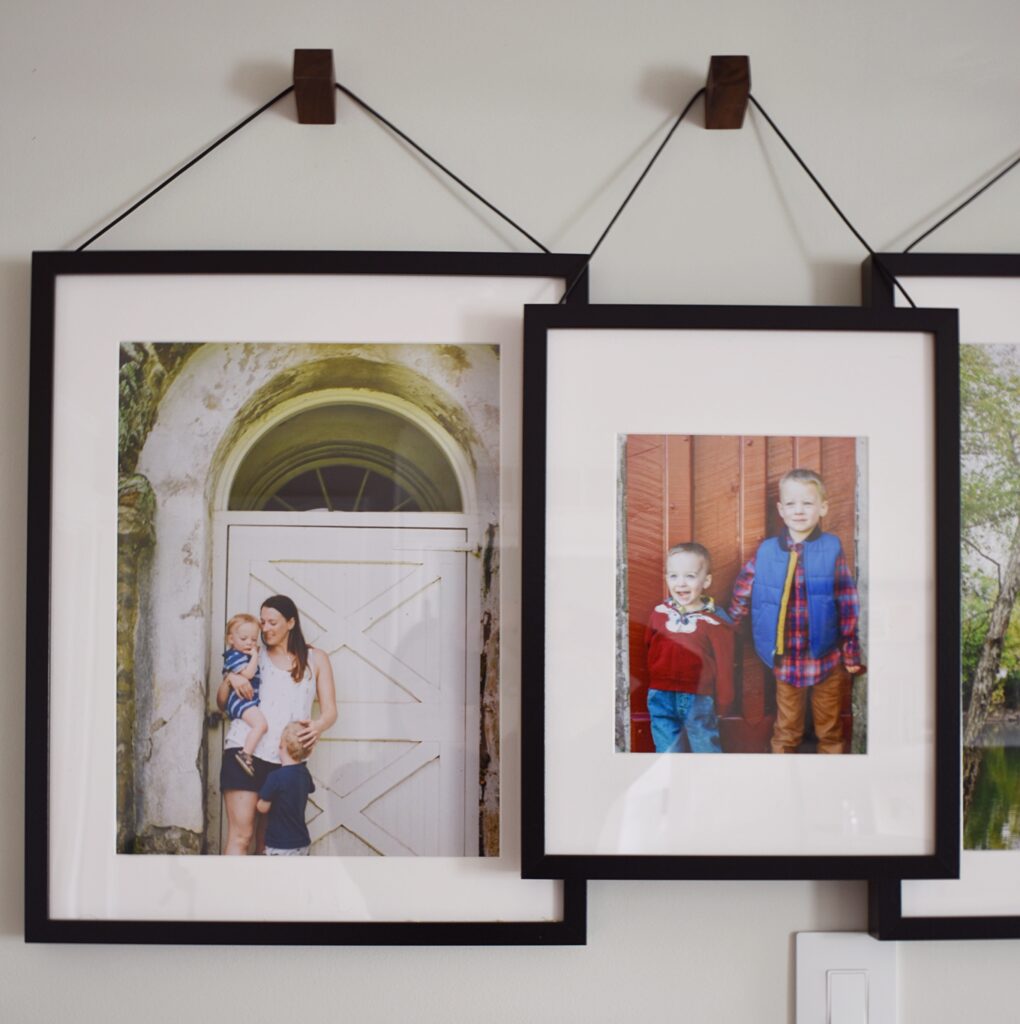 For the 3 smaller frames, I drilled some very small pilot holes into the larger frames and then carefully added some small screws to hold them in place too, then just repeated the above steps with larger lengths of cord.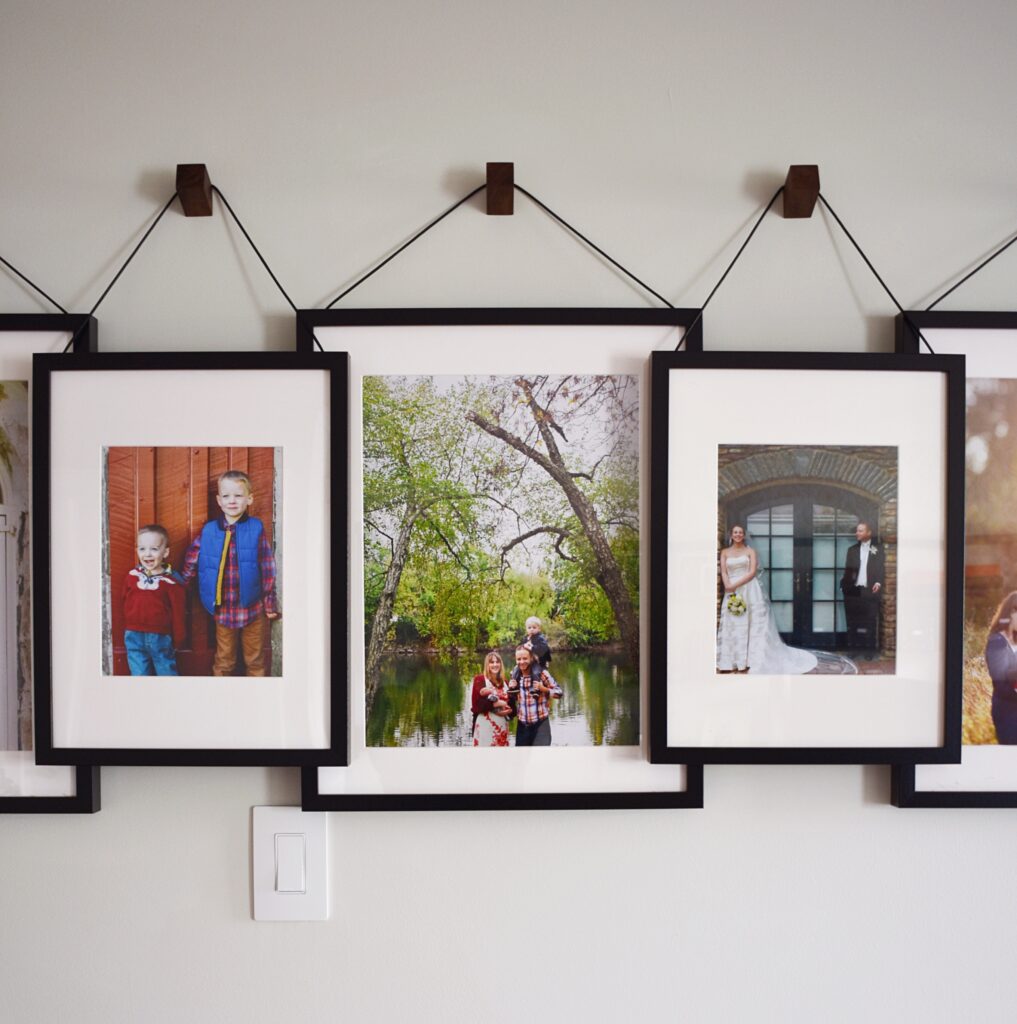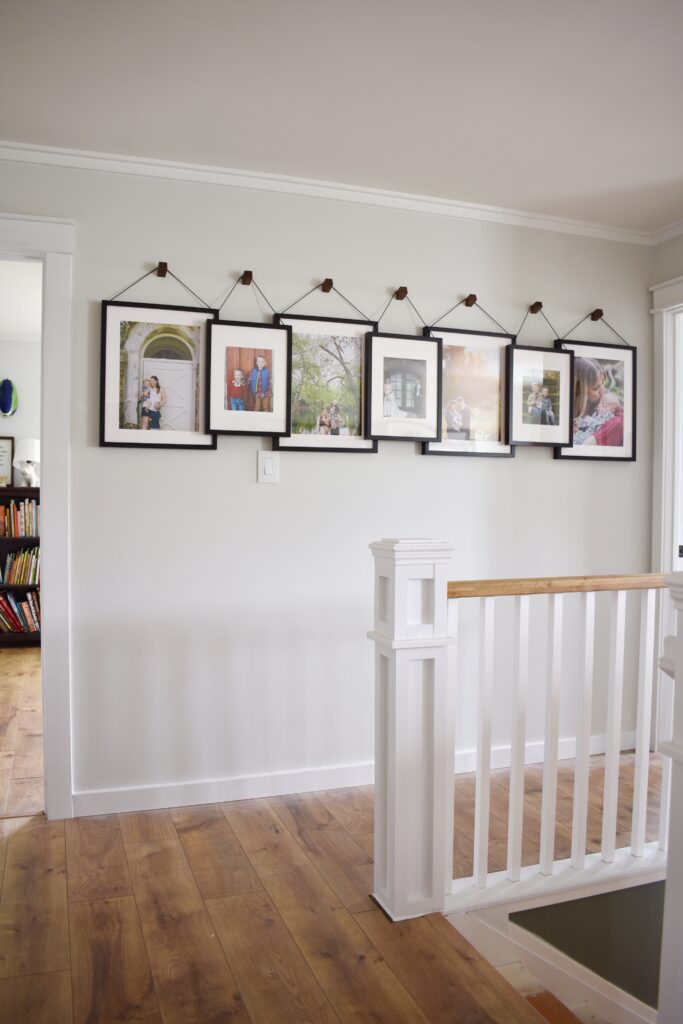 The photos all come from our family photo shoots over the years with my sweet friend from Lauri Tripaldi Photography. I love that not only are the frames super secure, they'll also be easy to switch out with the seasons (cause you know I've got lots of Xmas pictures saved for next year!)
DIY Pottery Barn Inspired Mirror
As much as I loved the mirror that was in our entryway (don't worry – it's gonna have a nice new home in my closet) I really needed a round mirror to stand out against the plaid wall trim. This one from Pottery Barn Teen has always been one of my favorites, and I was super close to ordering it except that it was really a few inches too small for what I needed so I set my mind to figuring out how to DIY it.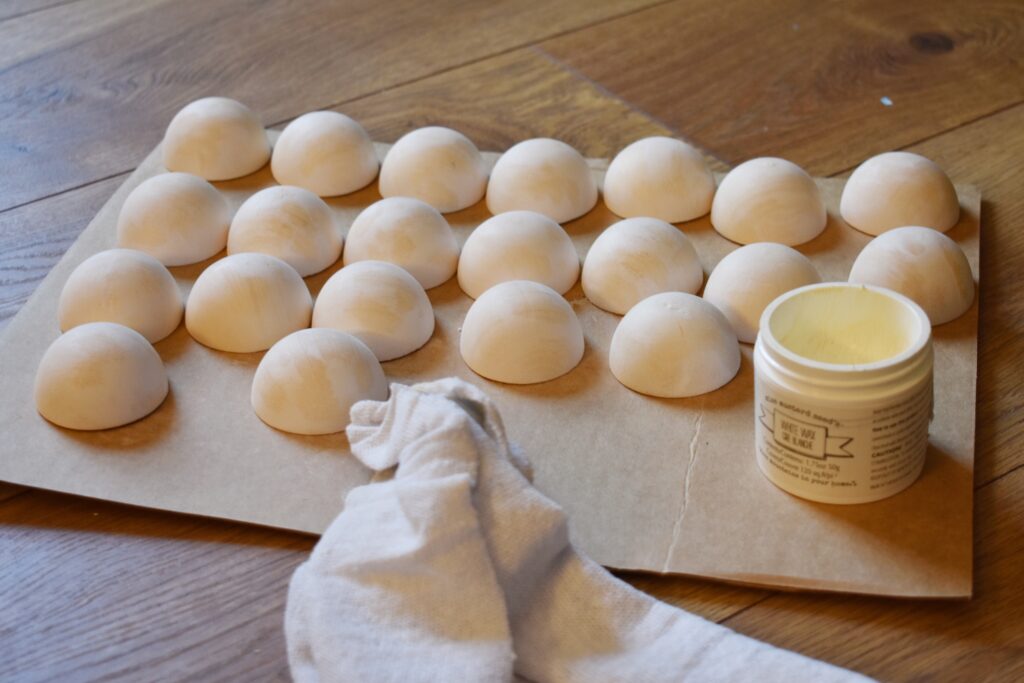 I got super lucky and grabbed this great Target mirror during an awesome sale. I found these wooden spheres on Amazon and painted them with a few coats of white chalk spray paint. A pass over each one with some sandpaper gave them a slight distressed look, and I finished each with a little bit of leftover white wax I had on hand.
Once all my balls were ready to go, I started to space them out around the mirror beginning by dividing the circle into quarters, and then eighths. From there, I was able to space out the rest of the balls, working one section at a time. To attach them I used my tube of Liquid Nails, which takes a while to dry so I would have time to fix the spacing if I needed. If I had to change one thing about this project I would have spaced the whole things out first and then attached each ball with a slightly stronger glue because I did have a few balls fall off when I transported it to hang. I was able to re-attach them easy enough but I may go back one day and re-enforce them if there's a problem. *****UPDATE: I have been using Gorilla Epoxy Glue to re-attach the balls and it has worked excellent so I would absolutely recommend using it or a similar Epoxy for this project.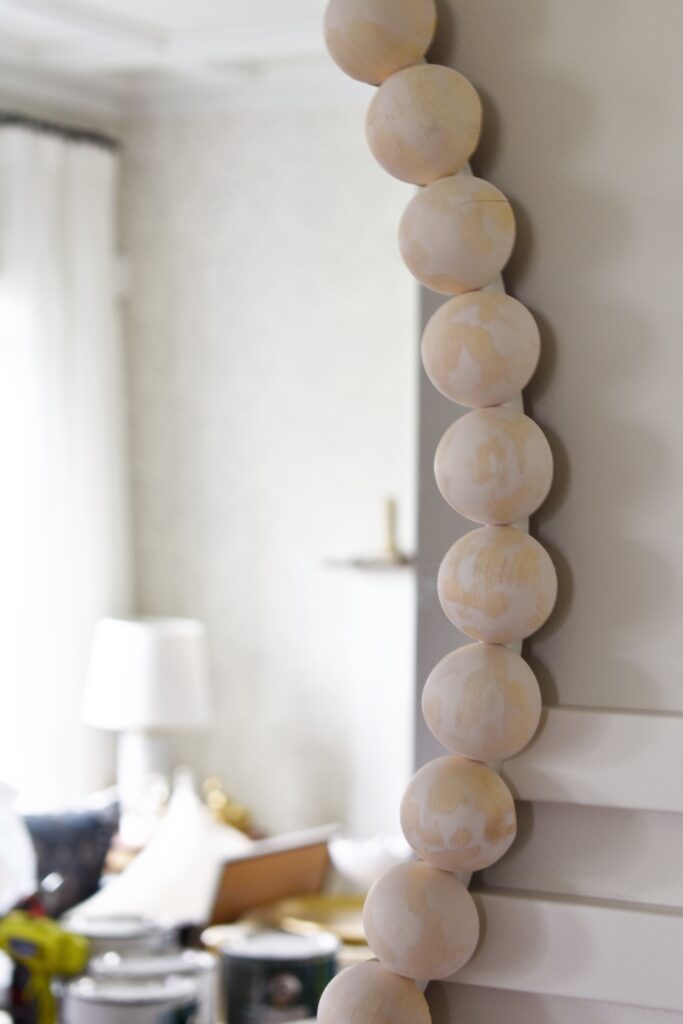 I'm loving the way that this one turned out – and it doesn't look it in this pic but this thing feels GIGANTIC in person which is awesome!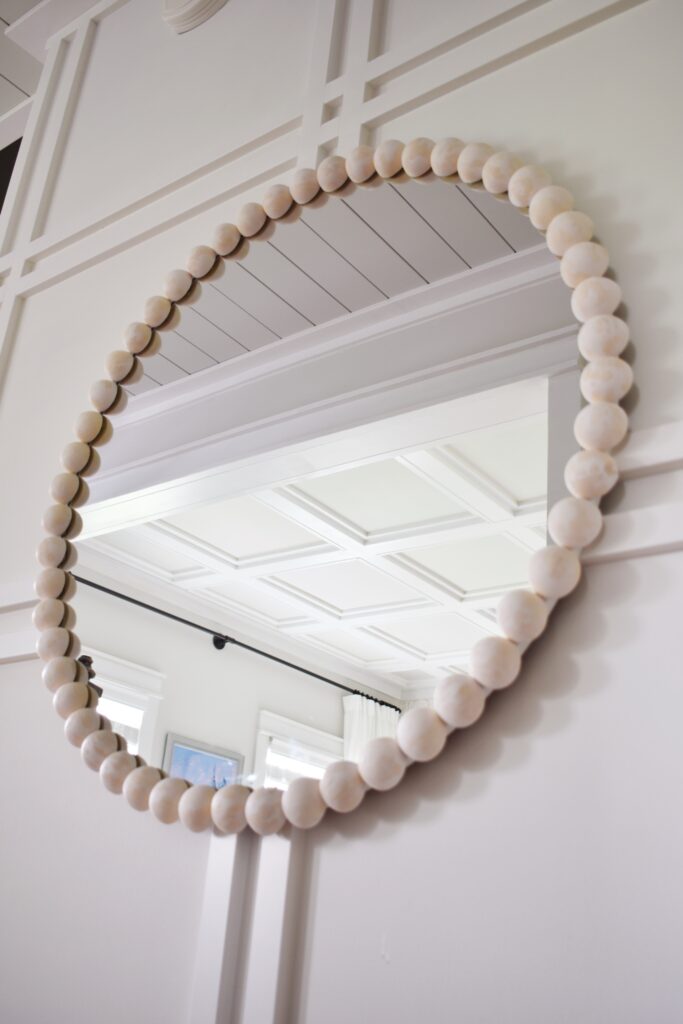 Believe it or not there is still a hefty number of things still left on my list to get done this week – including replacing the entire staircase! – but I think it's gonna be doable…it may come down to the very last second but still doable. I hope you all come back next week for the final reveal, and that you're checking out what all of my fellow One Room Challenge guest participants have been accomplishing because there are some beautiful spaces close to being finished.