Happy One Room Challenge Week 2 everyone! First, if anyone tried to leave me a comment last week and got an error message I AM VERY SORRY! We've been working on some website updates that blocked commenting, but everything should be fixed for this week…thank you husband!
If you missed last week, you can check out all of the before pics of my front room and dining room in my Week One post.
Second off, even though I just spent a crazy weekend working on my space I'm going to hold off sharing any major progress pics with you guys until next week when things look a little more put together – but I did include one sneak peek at the end because I of course can't help myself.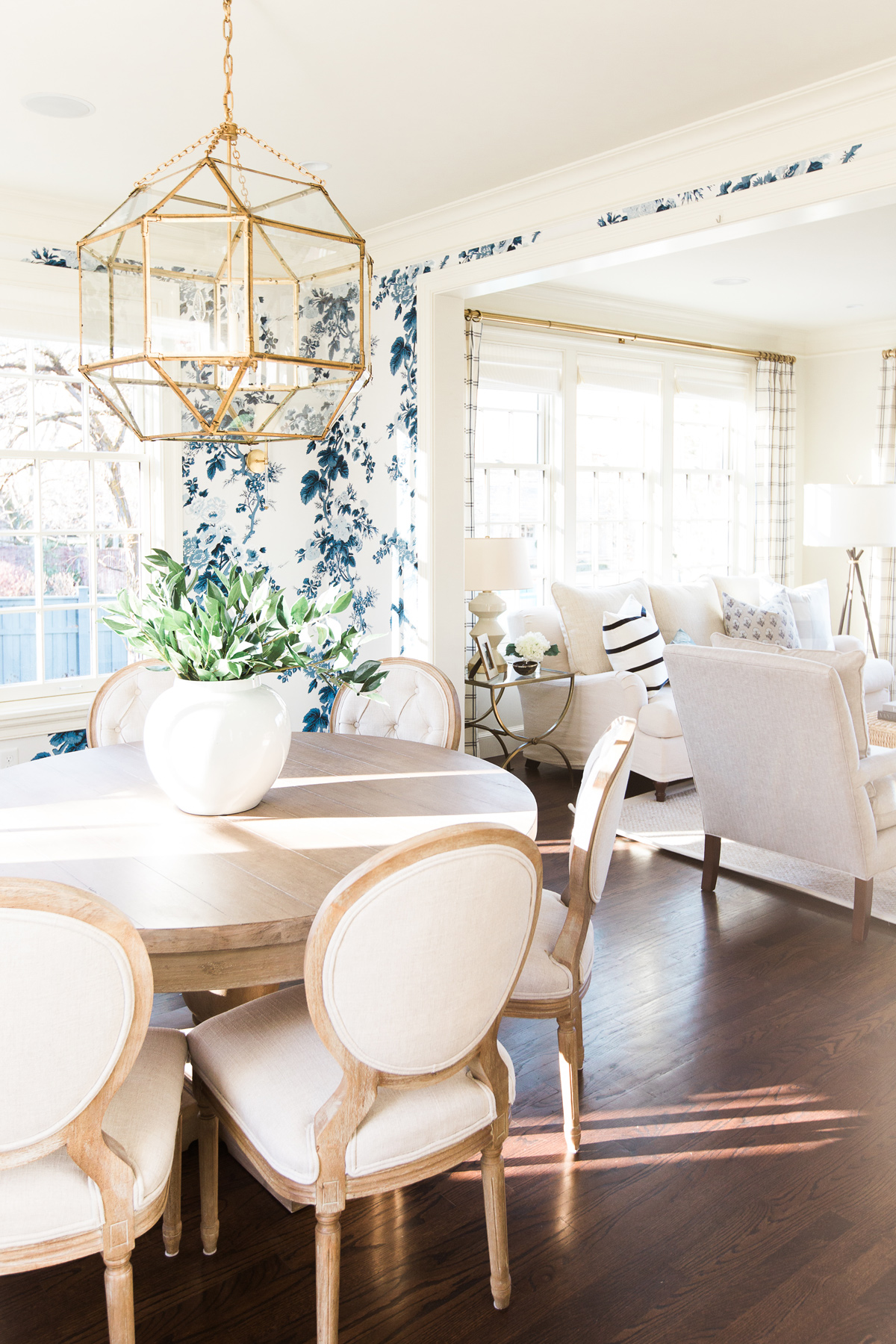 Instead, I'm going to share a better idea of my plans for these two rooms. It's hard finding inspiration pictures that have a similar layout to my front/dining room; most have a much more open concept or are closer to a living room / dining room. But this picture from Studio McGee's Country Club Traditional project is not only really close to my layout, but conveys that bright and fresh feeling I'm going for.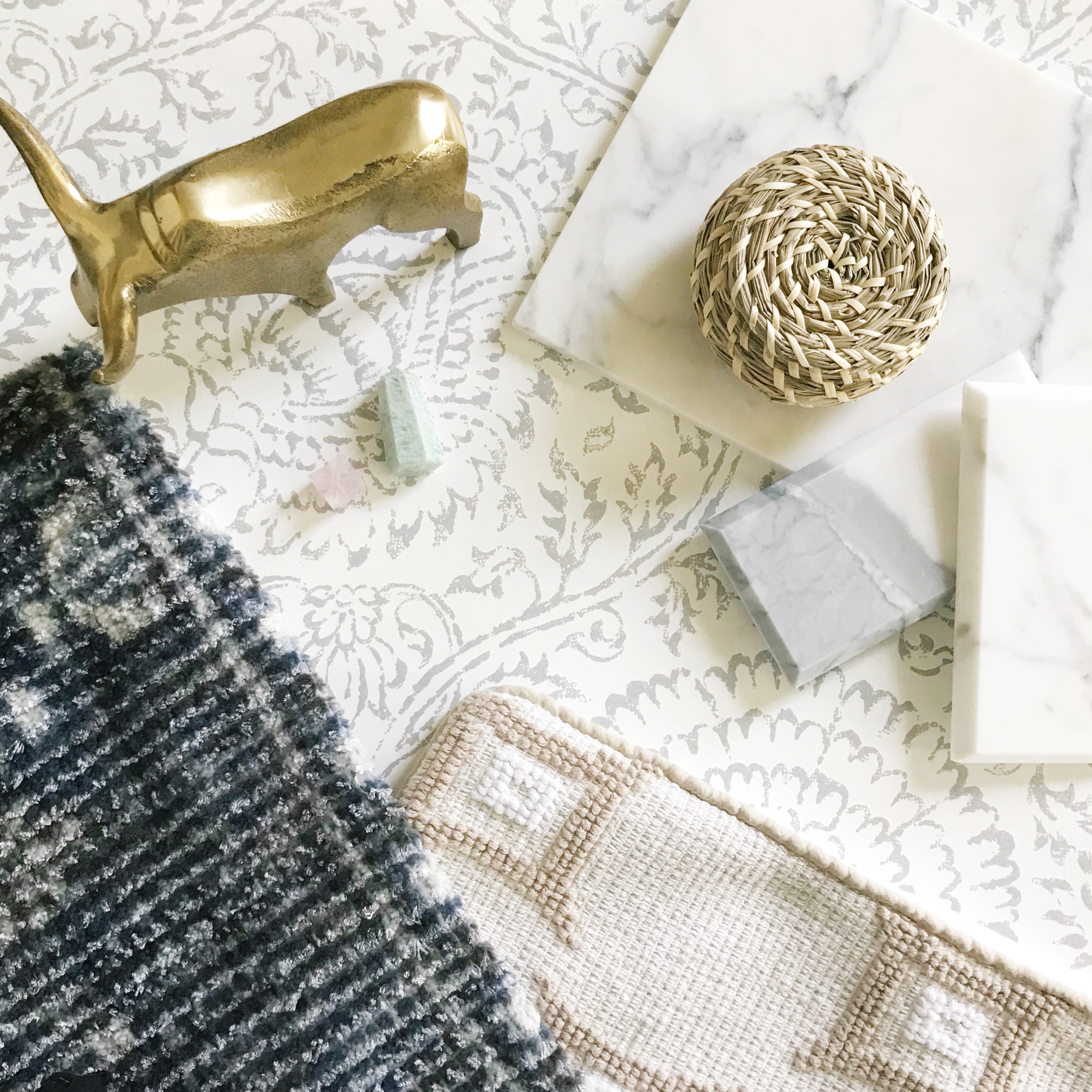 My biggest challenge has been trying to bring a sense of elegance to these spaces without making them seem so formal that we wouldn't want to use them on a daily basis.  How I decided to tackle this was to bring in a lot of detailed trim work and high quality materials (a gorgeous wallpaper from Anthropologie that almost looks hand-painted;  the most beautiful Calcutta marble tiles I've ever seen, and lots heavily textured and embroidered pillows) but keep the furnishings livable and a little bit rustic.
A lot of things in this room are honestly a bit of a splurge for me, but I've been slowly accumulating my bigger items over the last year – grabbing great sales when I can, taking advantage of financing offers, and using lots of saved up rewards points.  Since this is also the only large home project I'm taking on this year, and since a lot of budget is being put towards permanent features, I  feel comfortable allotting a larger chunk of money than I may normally feel comfortable with.
With all that said let me show you how this is all going to come together….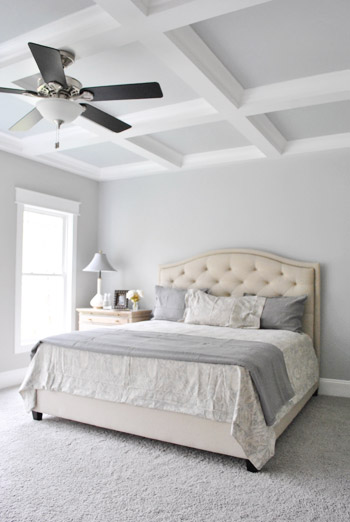 The largest project, which I will share more of in Week 3, is the coffered ceiling I'm installing in both rooms – similar to the above picture.  This treatment (along with the AMAZING wallpaper) will connect these two spaces together while distinguishing them from the rest of the house.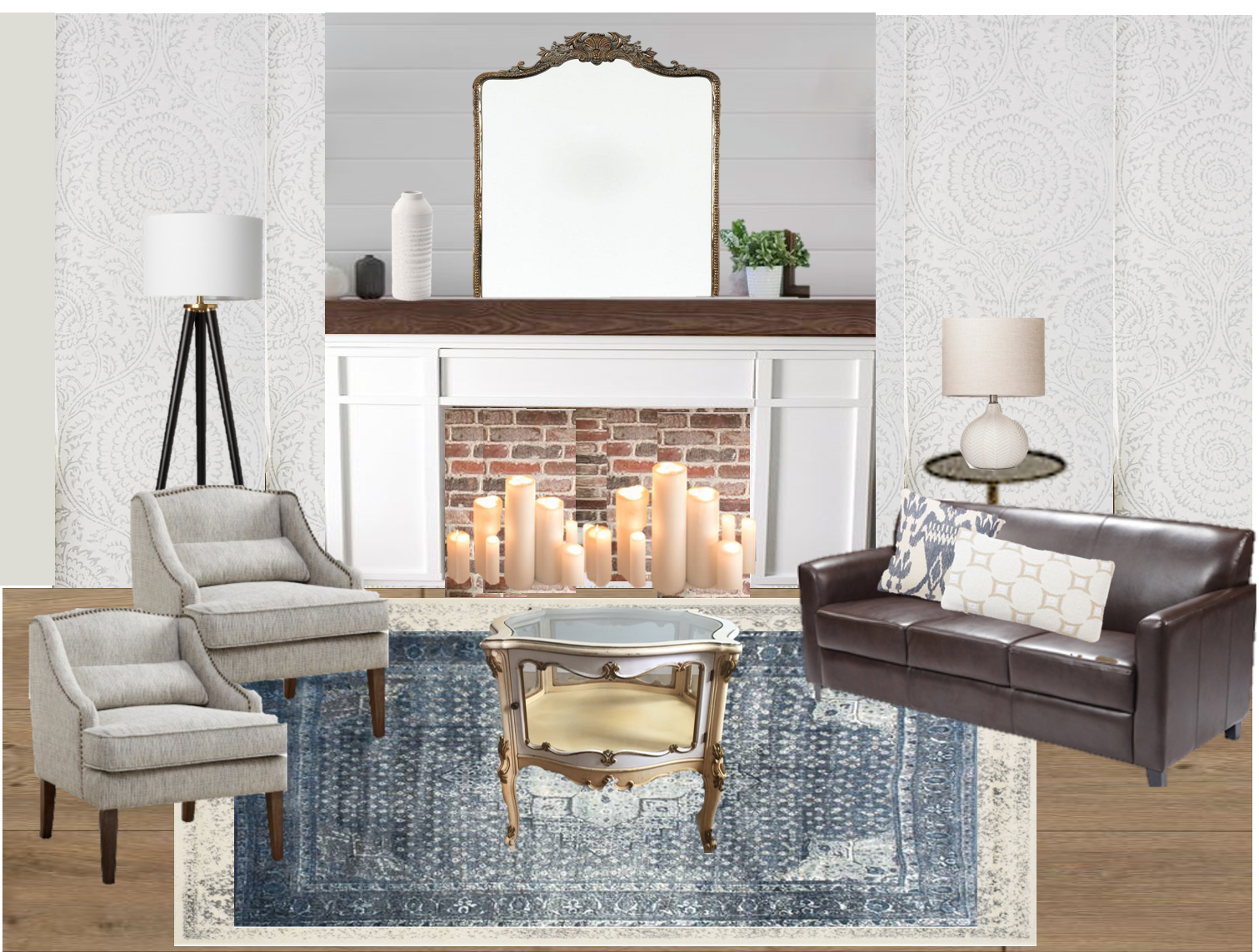 The second big project will be to build a faux fireplace in the front room.  This space really needs some sort of central focal point so I am defining it with a big, lovely marble fireplace as well as a beautiful ornate mirror.  I already have most of the furniture and the rugs so the rest of the to-do list is pretty small:
Build and tile fireplace
Hang Mirror
Add window trim
Hang curtains
Touch – up furniture
Figure out art placement
New Lighting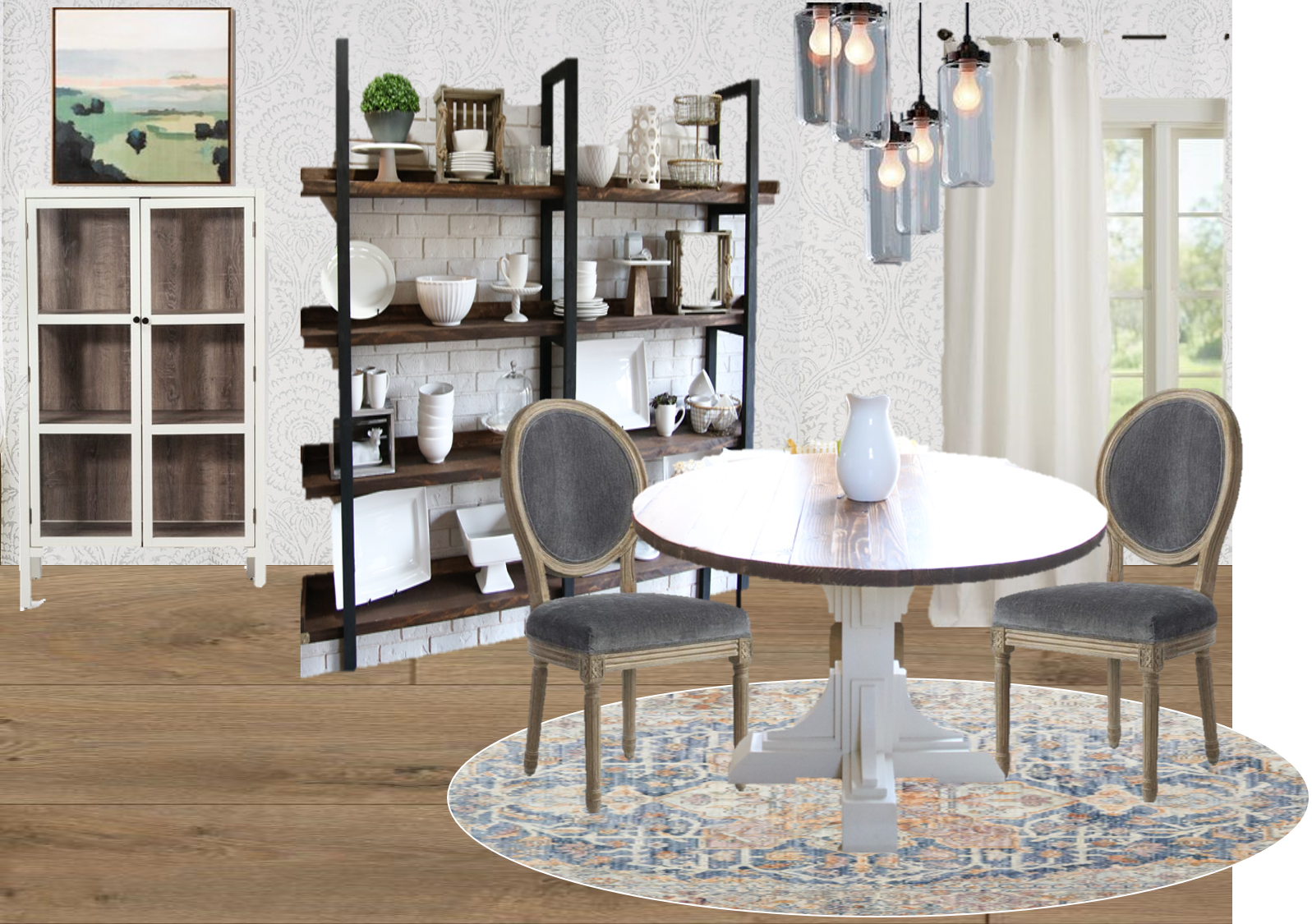 The dining room is where I will be building some brand new pieces – a large shelving unit and a round dining table.  I'm also trying to come up with a new way to describe this room because it will probably very rarely be used as a dining space.  I envision me and my boys doing crafts and building puzzles in here on weekends, and using it as my office during the week so I can sprawl out all over that big table.  Again, I am keeping a few of pieces I already have and love so the to-do list besides the builds is not too terrible.
Build plate rack
Build table
Hang Curtains
Style shelves and barware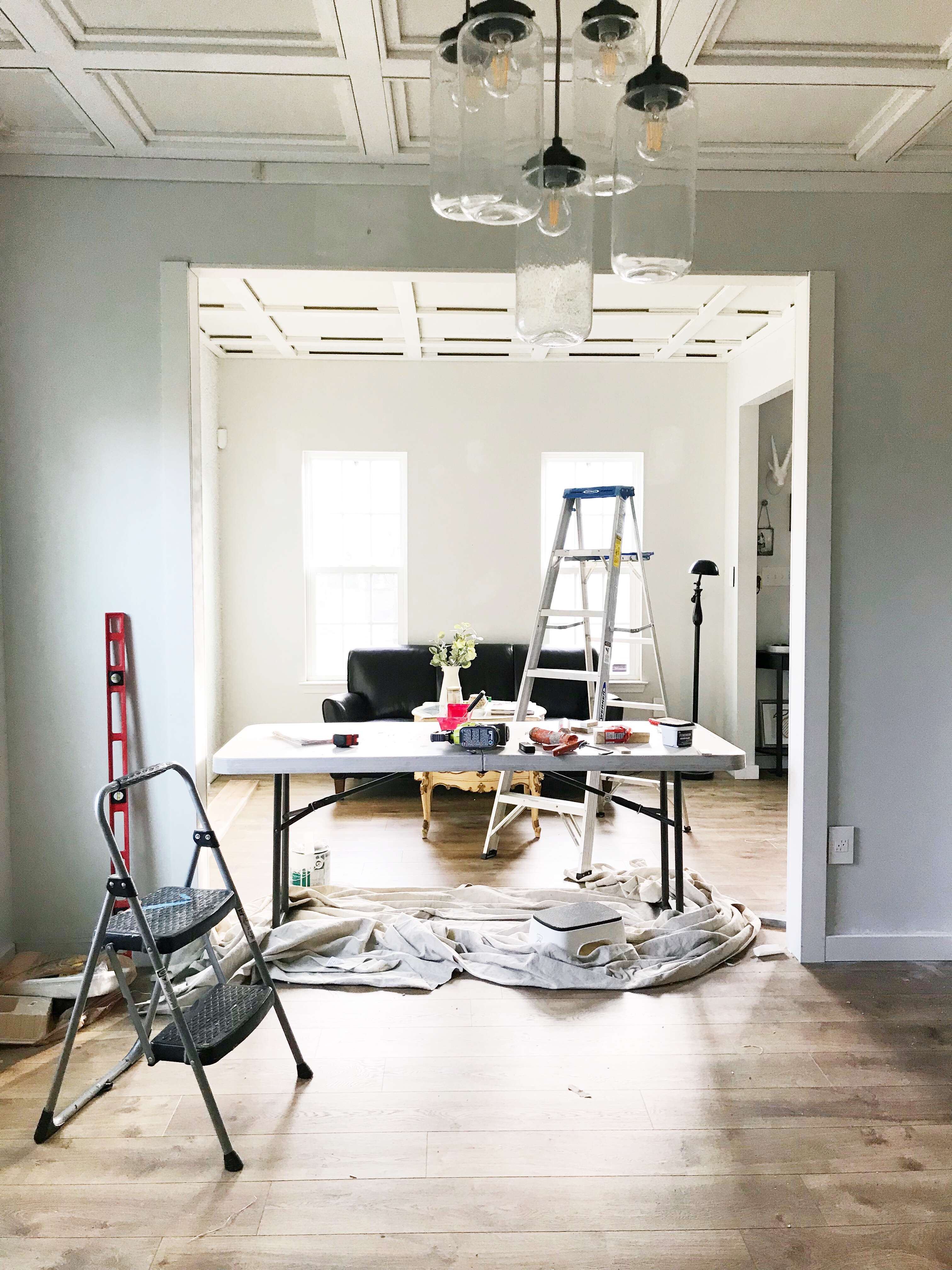 Right now everything is dependent on getting all of the trim work done, which is SLOWWWWWWWWW going but I'm getting there!  The goal is to get all of it installed by the end of week 3, as well as at least one piece for the dining room built.  As long as I keep making progress on the ceiling I think I will just make it to the finish line.
As always be sure to check out what my fellow One Room Challenge feature and guest participants are up to this week!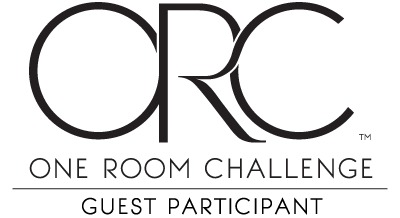 Thank you to my sponsor!
A huge thanks to my sponsor, Legrand. I can't wait to share more about them and how their Radiant Collection of light switches and electric outlets can easily update any space. Stick around to see them soon!!!