We are at the One Room Challenge halfway point friends!  I'm trying not to panic too much, but I gotta be honest and say that I'm feeling some serious pressure when I look at the items still left on the to-do list.  For now, though, let's concentrate on the progress that has been made and how excited I am to finally start sharing it with all of you.
First up – let's just talk about the new love of my life, this wallpaper!!  My amazing dad helped me out big time since we first had to apply a horizontal lining paper to the walls before we could even tackle this beauty (I totally advise you to NOT SKIP THAT STEP with paste the wall type paper)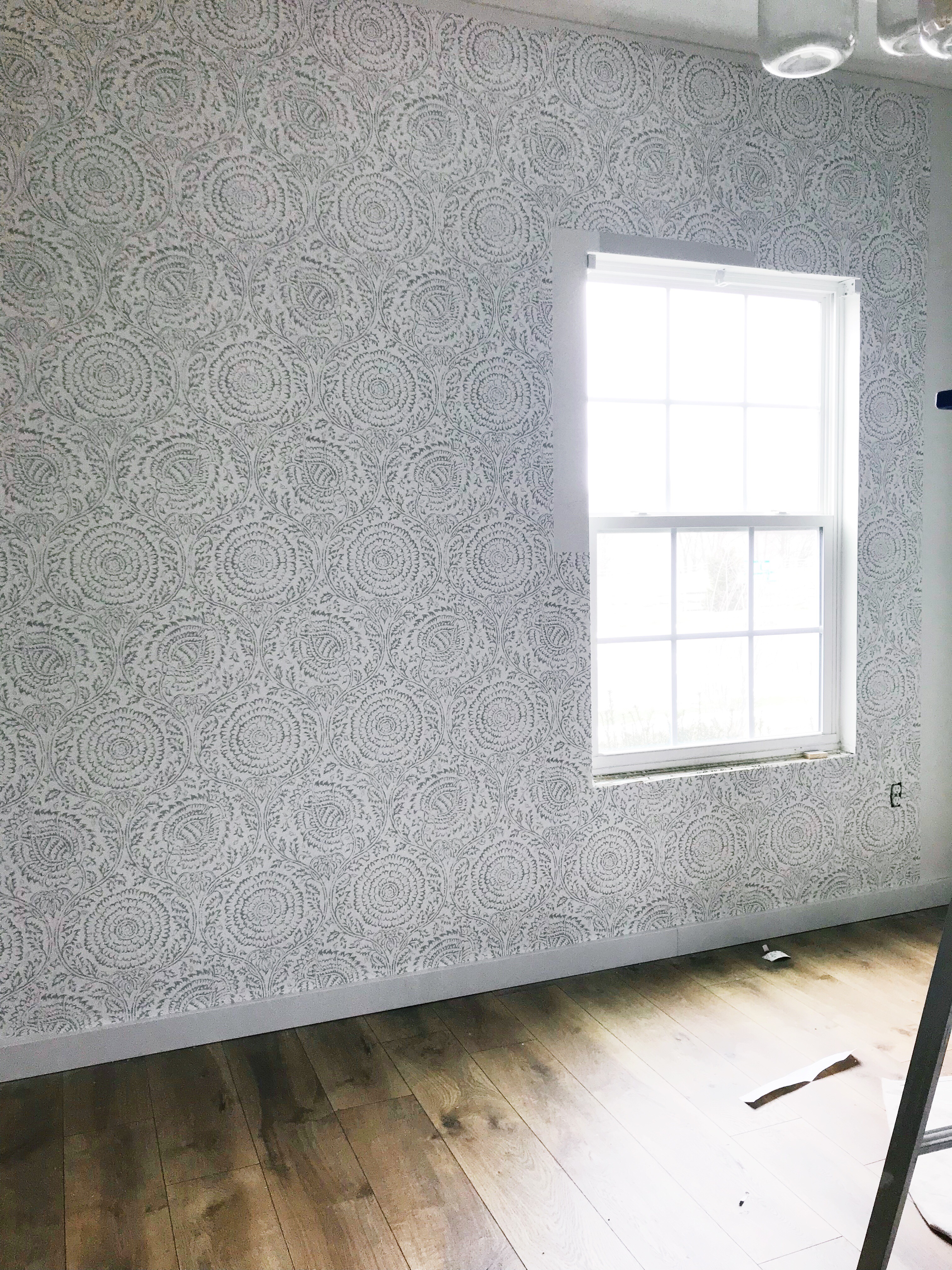 This wallpaper was a huge splurge (it's from Anthropolgie and cost about $200 a roll!!! Don't worry, I used some good discount codes) but it is amazing quality and the pattern mixed with the matte finish makes it look like it's hand drawn, and up close it has the tiniest hints of metallic silver.  I briefly considered stenciling, but this pattern hands down won over any other options I looked into.  The organic design perfectly connects these front rooms to the curtains in the morning room, but the subtle gray color doesn't compete with that bold blue curtain pattern.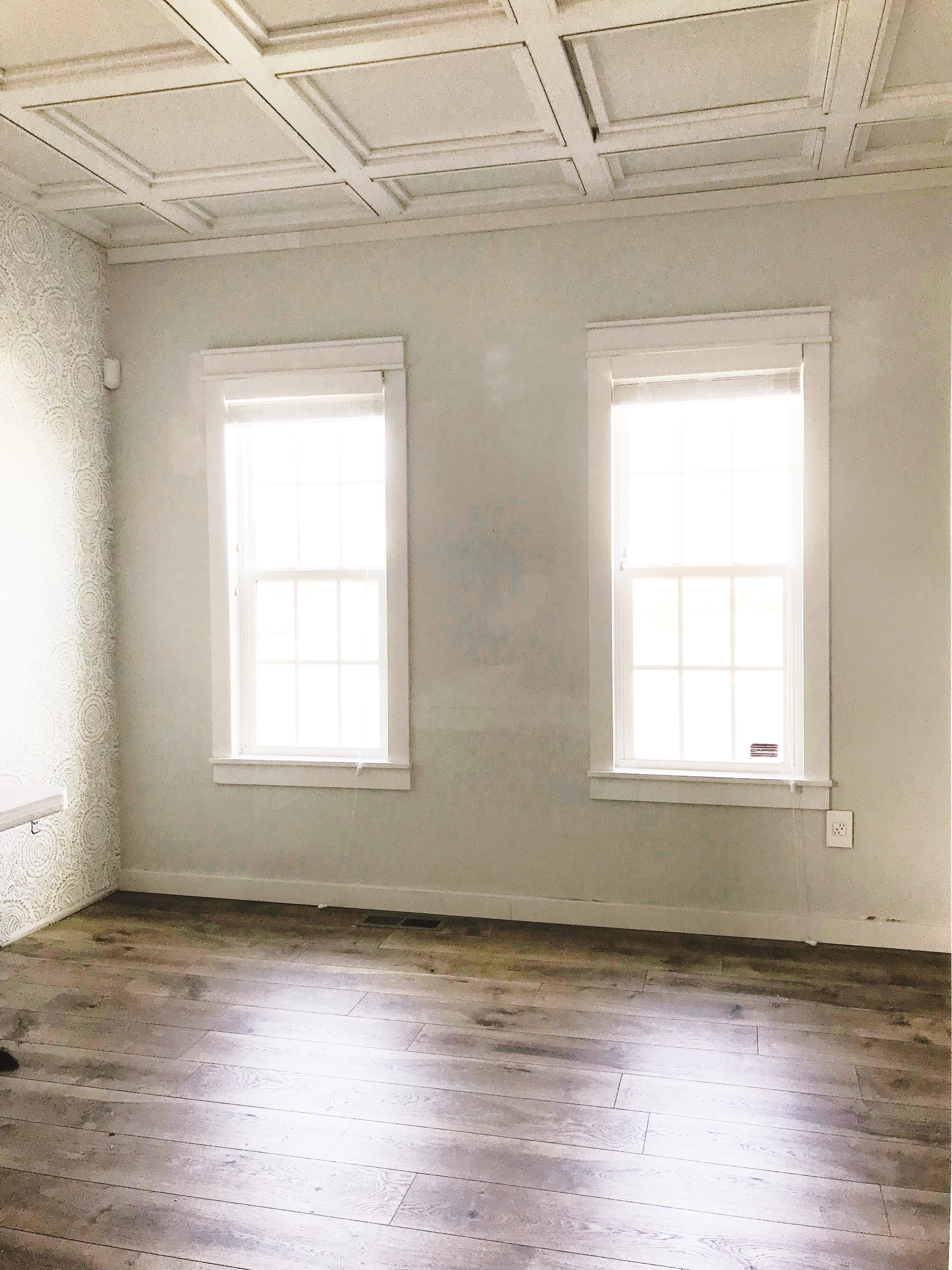 Speaking of windows, as I have worked on each room in my house I have replaced the window ledges and added a simple farmhouse/craftsman style casing.  With these last three windows I am extremely happy to say that the entire first floor is finished!  I included a long tutorial in this post, and also added a video version in my Insta-story DIY highlights if you'd like the breakdown.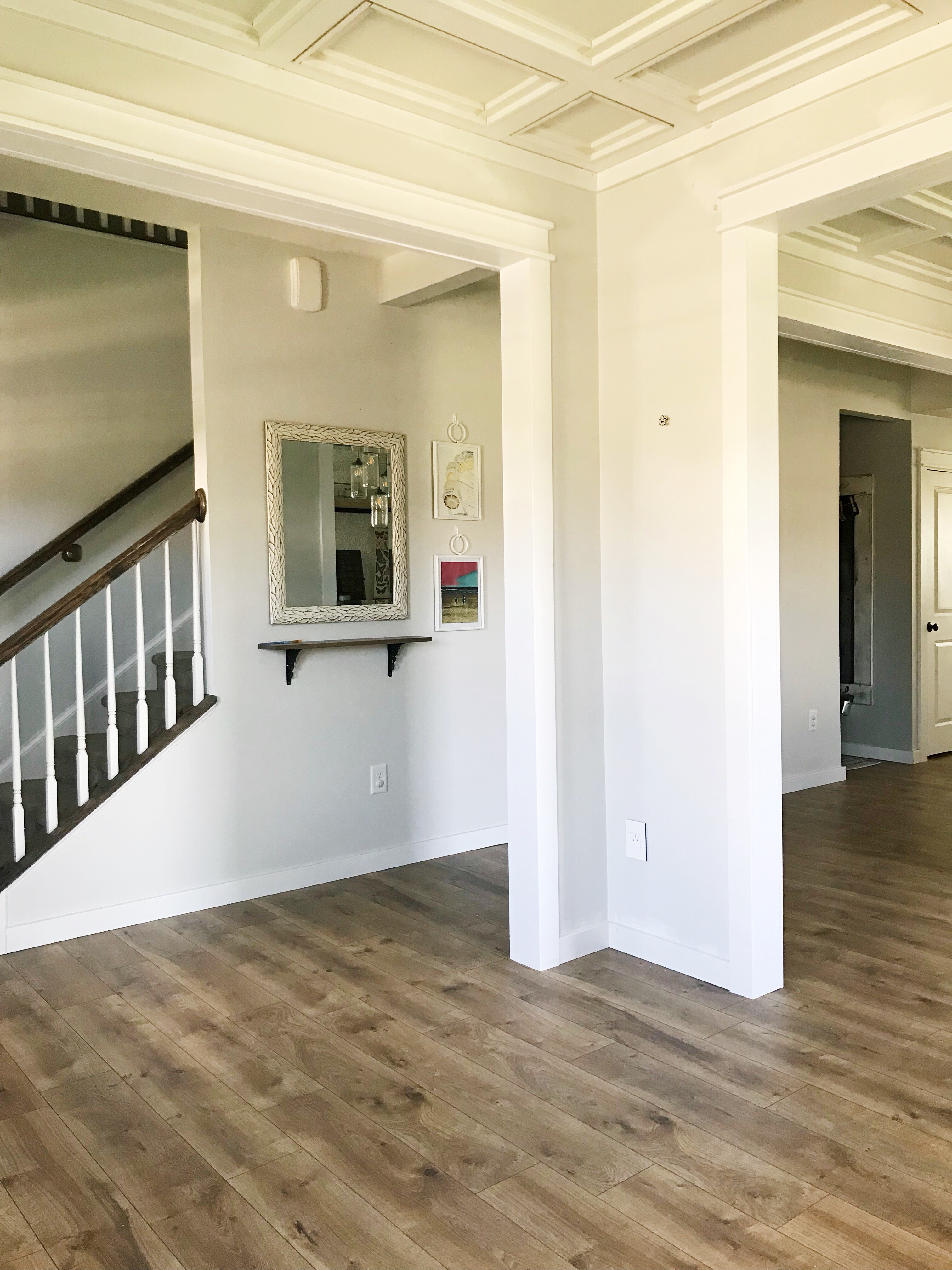 I carried the same trim around the three large openings that connect these rooms to each other and the hallway.  Doing this also gave me the opportunity to fix all of the wanky walls!  You can see below just how off some of these were.  I used wood shims to straighten out every corner and get a clean 90 degree angel.  All of this was covered up by the side trim pieces so all wanky-ness is now our little secret.
Now – let's talk about the main event….the ceiling.  My husband suggested adding a coffered ceiling to these two rooms almost immediately after we moved in so I've been mulling over how to go about this project for close to 4 years.  There are a lot of different ways to create this look, but I settled on my version for two main reasons – 1) I wanted to keep a low profile so it didn't compete with my chandelier and 2) I could use all scrap material to build my support structure and save a lot of money and trips to Lowes (I cannot tell you how many trips to Lowes this took).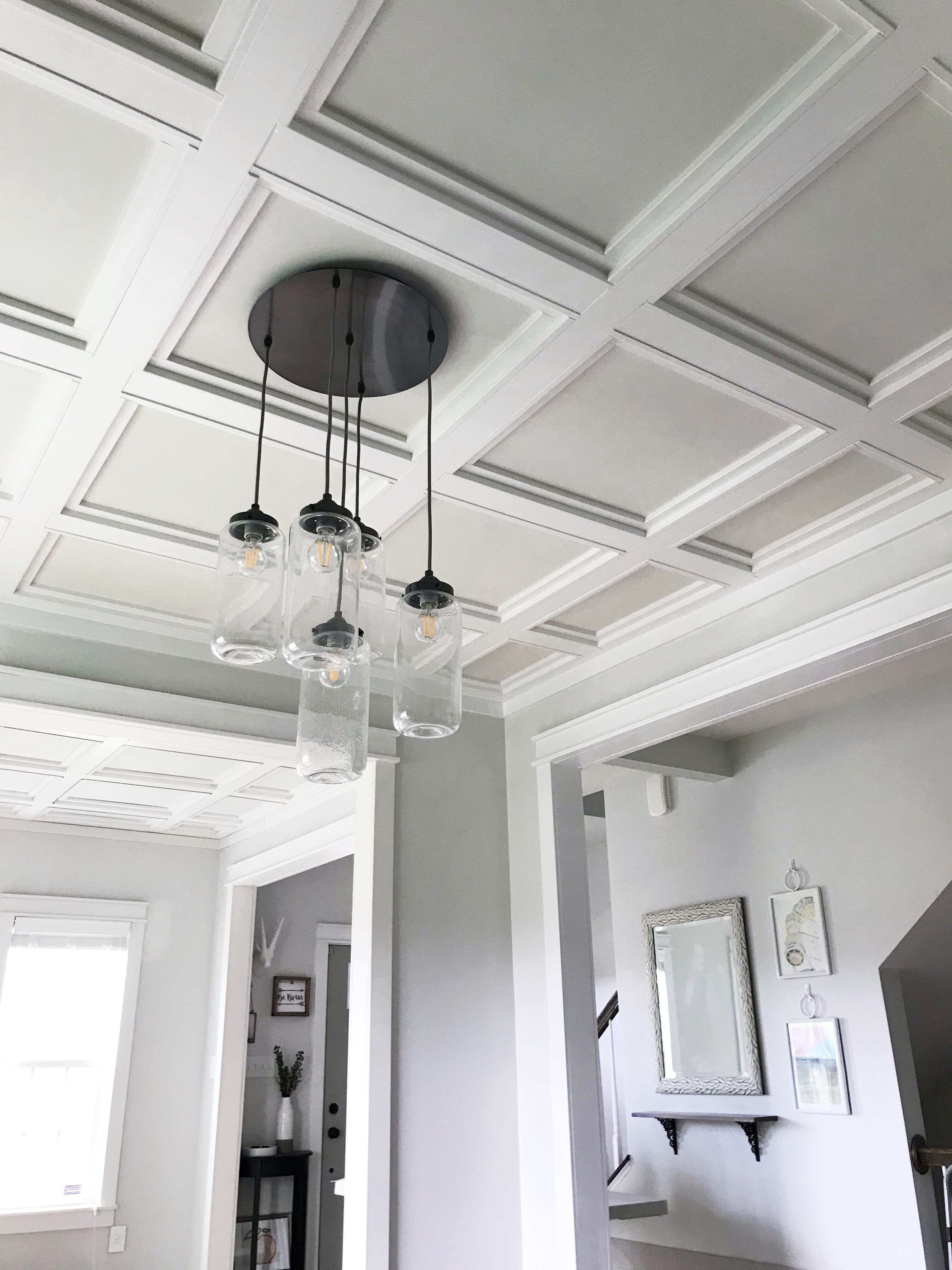 To make this happen I treated myself to 2 life-changing tools – a Ryobi laser level, and a Bosch Laser Distance Measure.  I highly recommend both if you are a DIYer!!
So here's how I put these tools to work:
1. First, I planned out my grid – this will entirely depend on the size of your room but take your time and triple check your calculations.  Using those measurements, my laser level, and a ruler – I drew out my grid in sharpee starting from the corners and working my way towards the center.
2. Next, I used scrap pieces of MDF to create a support structure at each intersection (adhering each with liquid nails and my nail gun).  The scraps are the same width as my final trim pieces, and only 3/4″ deep, so they created the perfect underlayment.  Make sure you are checking for square at each intersection and along each wall!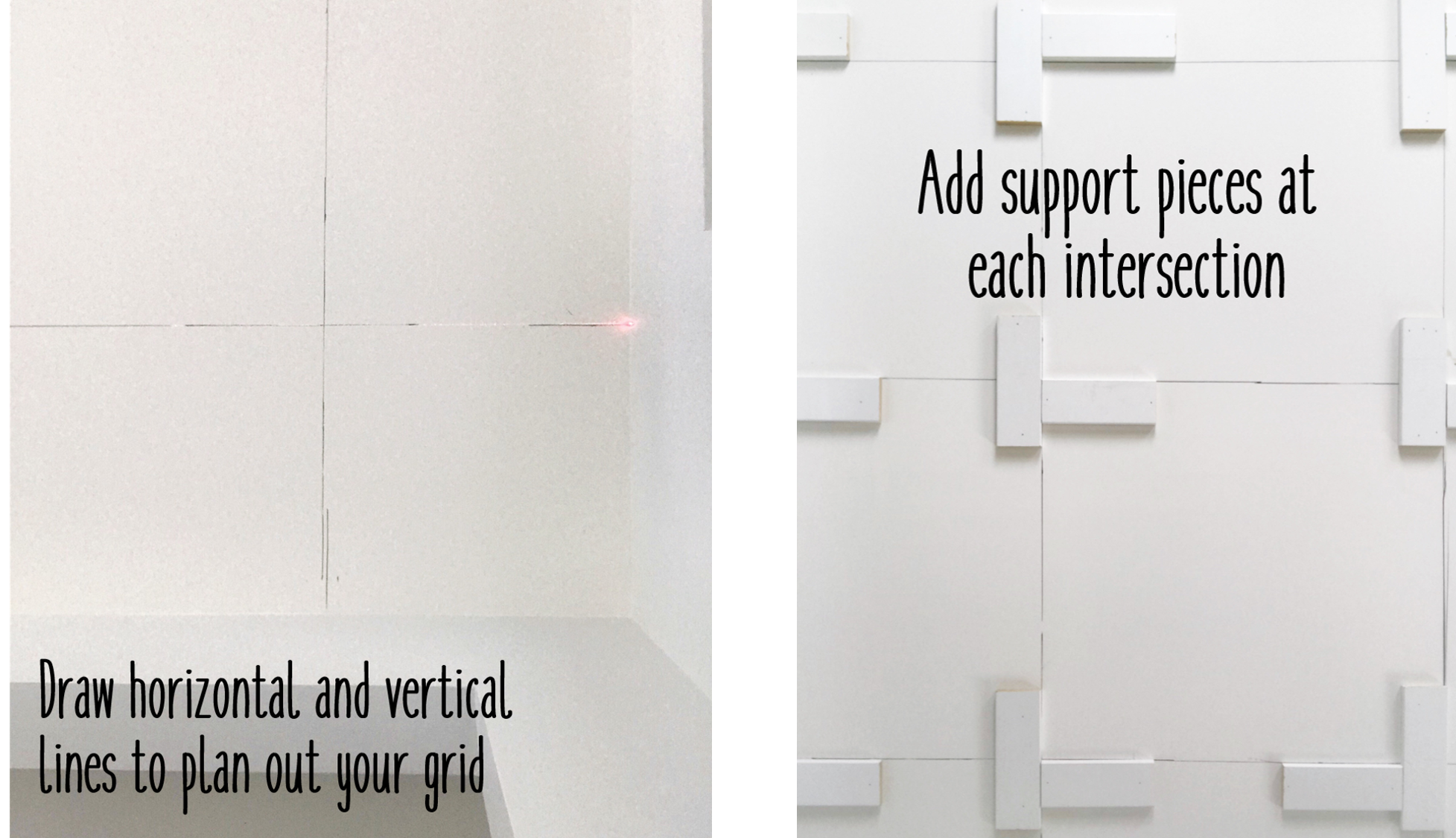 3. Once my supports were complete, I used 12 foot 1×4 pre-primed MDF boards to create the continuous horizontal pieces.  By ensuring your corners are square in the previous step, you can just line these up right along the edges of the supports; again, attach with liquid nails and a nail gun.  At this stage I also painted my ceiling the same color as my walls (Sherwin Williams Frosty White).  I think it gives the spaces some warmth and takes away the formality of the coffers.
4. I then add my vertical trim;  this is where the laser measuring device really comes in handy!  It let me take exact measurements of each space and get the tightest fit possible.  Before I moved on to the next step, I filled in the seams w/wood filler, sanded, primed, and painted two coats of Sherwin Williams Pro-Classic in Extra White Semi-Gloss, which is my go-to trim paint.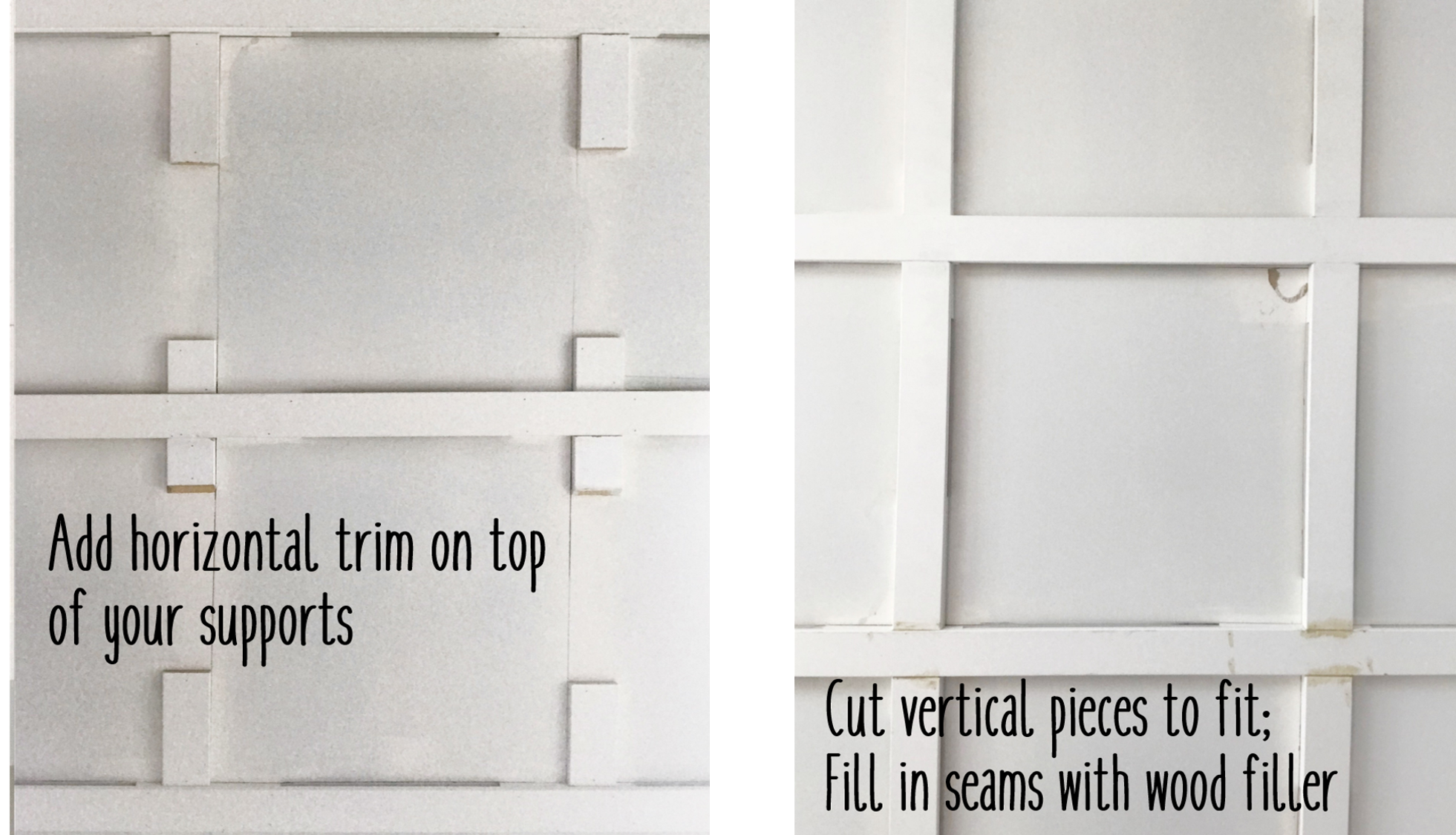 5. Finally, I built an interior box in each square.  This is made of of 4 side pieces that attach to the trim, and 4 flat pieces that attach to the ceiling.  Not gonna lie – this took forever!!  As I finished each box I also filled the seams and any large gaps in with wood filler, that was later sanded and primed.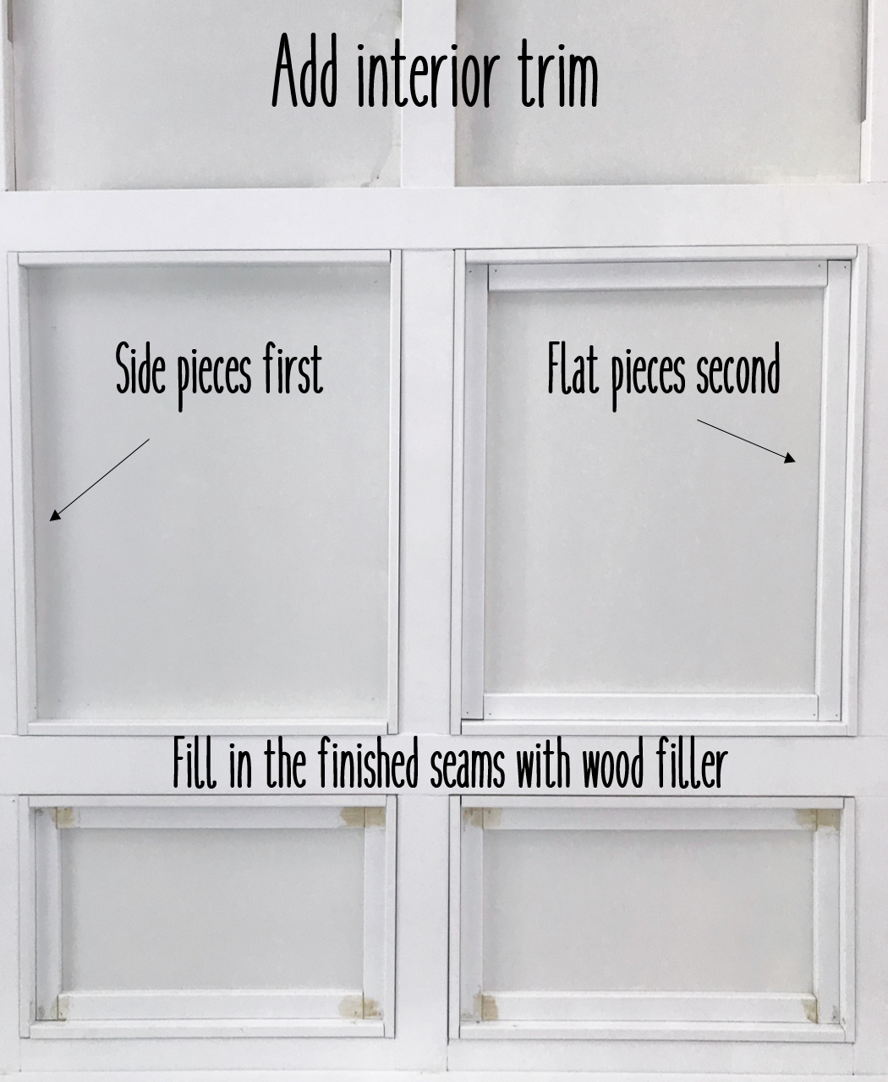 Overall the cost for all of the trim material is going to come in just around $750;  considering that I've seen quotes for ceilings like this in just one room come in at $4000 the sweat equity on this one was SO worth it, though up until this weekend I was getting extremely nervous at how long it was taking.  But the dining room is done now save some minor touch ups, and thankfully just this past Sunday I installed the rest of the front room ceiling and let out a huge sigh of relief.  Now I can caulk, prime, and paint late into the night and spend my days getting all of the other projects done.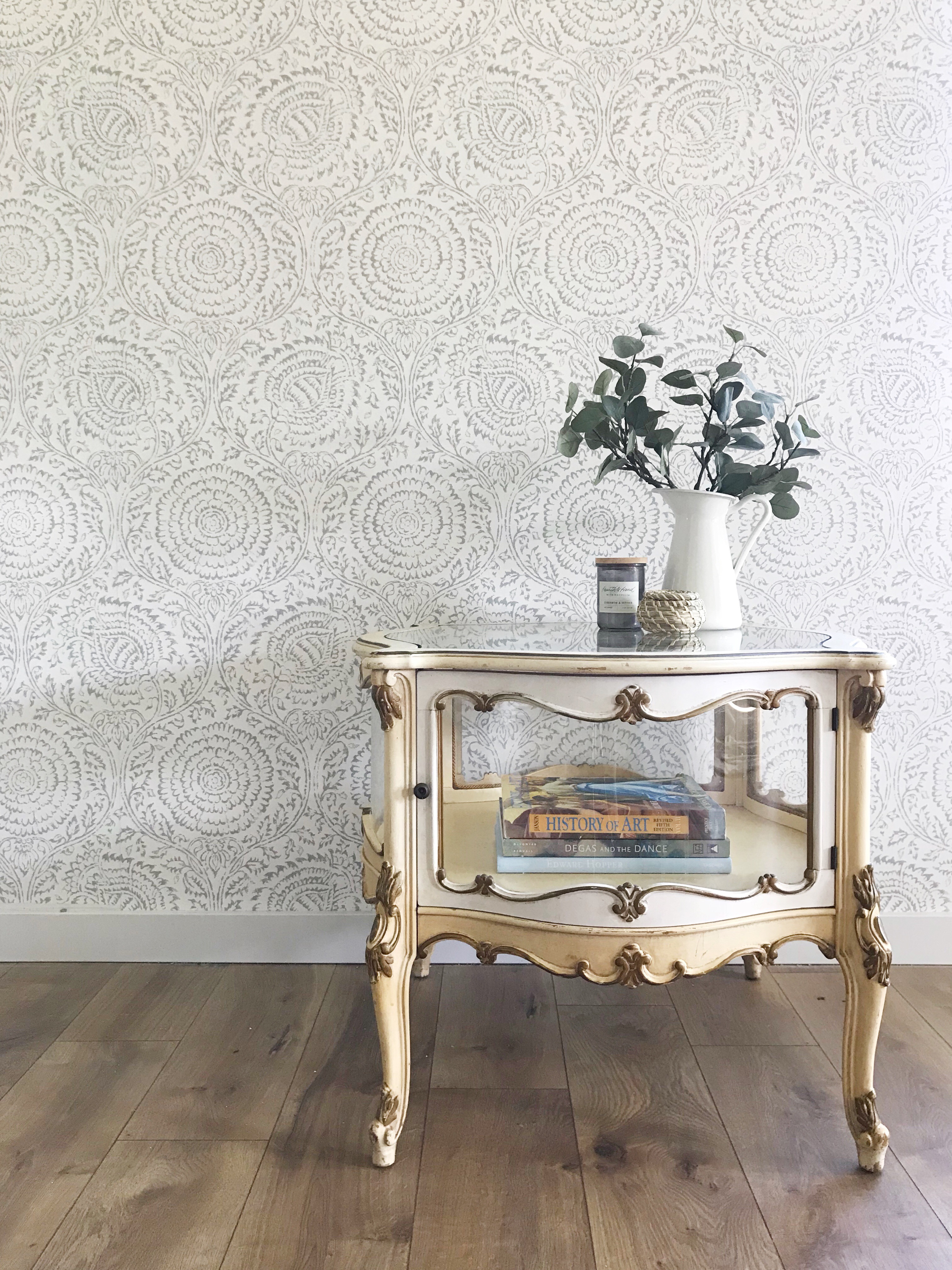 This week I'm finally getting out of trim world and heading back out to the workshop to start building, and next week I'll take you through my furniture decisions and how I decide what to keep, what to let go of, and what to build.
Until then, make sure you go check out the progress of my fellow One Room Challenge warriors…..week 3 is when things really start to get interesting!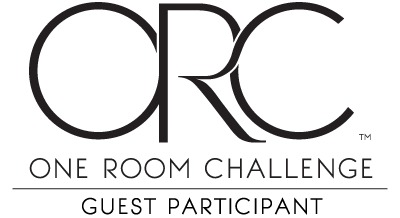 Thank you to my sponsor!
A huge thanks to my sponsor, Legrand. I can't wait to share more about them and how their Radiant Collection of light switches and electric outlets can easily update any space. Stick around to see them soon!!!