Decorating Easter Cookies with Kids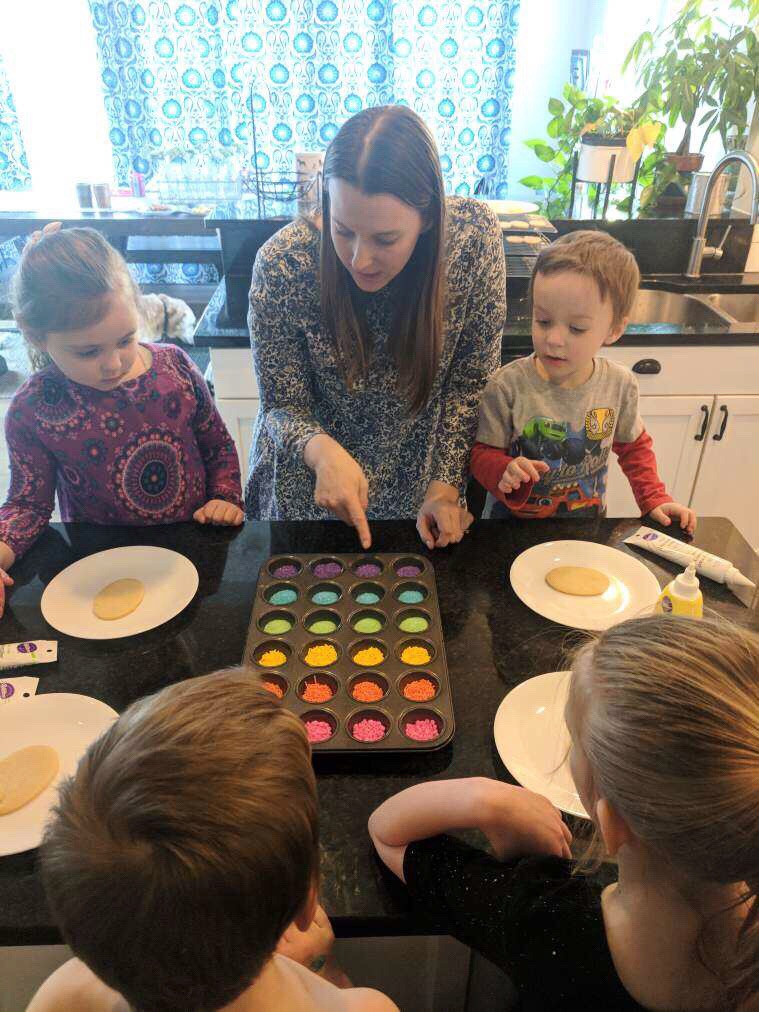 My nieces unexpectedly slept over the other evening, so I planned for one of my favorite things to do with them – decorate cookies.  I'm not gonna lie, trying to manage 4 kids and a potentially messy situation can get a bit crazy!  But over time I've put together a few tricks to make the experience enjoyable for everyone.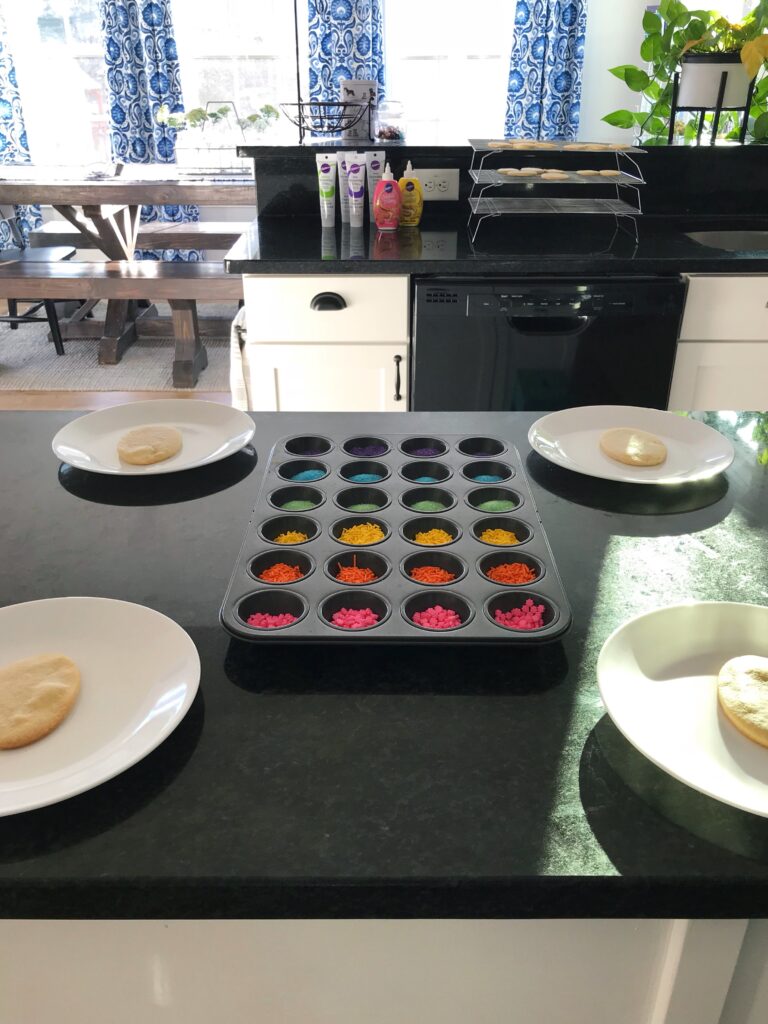 Make sure that each kid has their own space – I set everyone up at my island and give the two little ones stools so they can reach.  Each kid gets their own plate and their own set of cookies.  I also keep my boys on opposite sides of the island because they can't be trusted together LOL
Do as much in advance as possible – I at least make sure that I have my sugar cookie dough made, chilled, and rolled out ahead of time.  For Christmas cookies I let the kids cut out their own shapes, but since we were short on time (and adults) this sleepover I had my oldest help me cut out and bake some egg shapes in advance.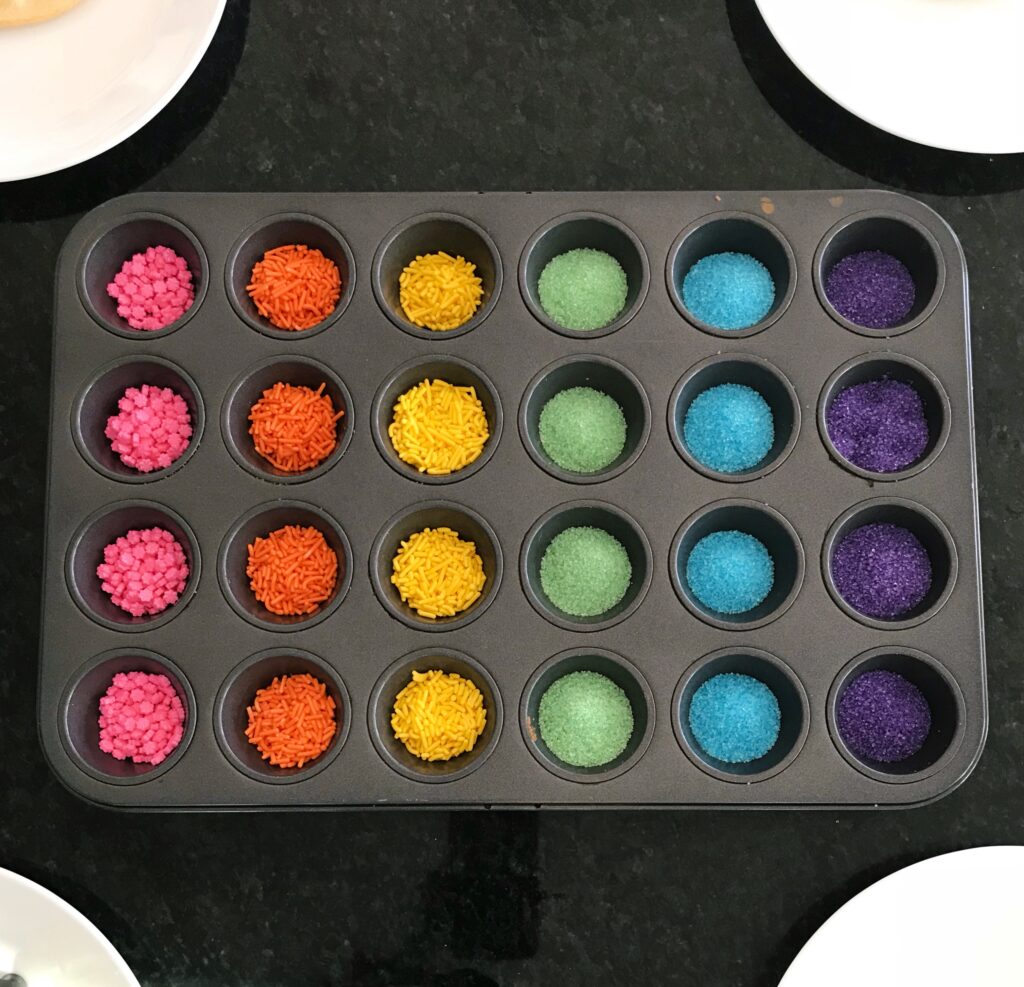 Have your decorating supplies ready to go – because as soon as they get to their station they will be READY!  I like to use a mini muffin tin to hold loose sprinkles and candies, this way each kid can have their own row.  I also make things super easy and use pre-made frosting in a variety of colors.  To make things even easier make sure that you attach frosting tips to the thicker icing tubes – I keep a set of cheap plastic tips around just for this purpose.
Stick to a "One Cookie at a Time" rule – to keep a handle on the chaos, I only give each kid one cookie at a time on their plate.  The undecorated cookies, and the finished ones, I keep on the back counter on drying racks and the adults take them back and forth so the children don't have to leave their stations.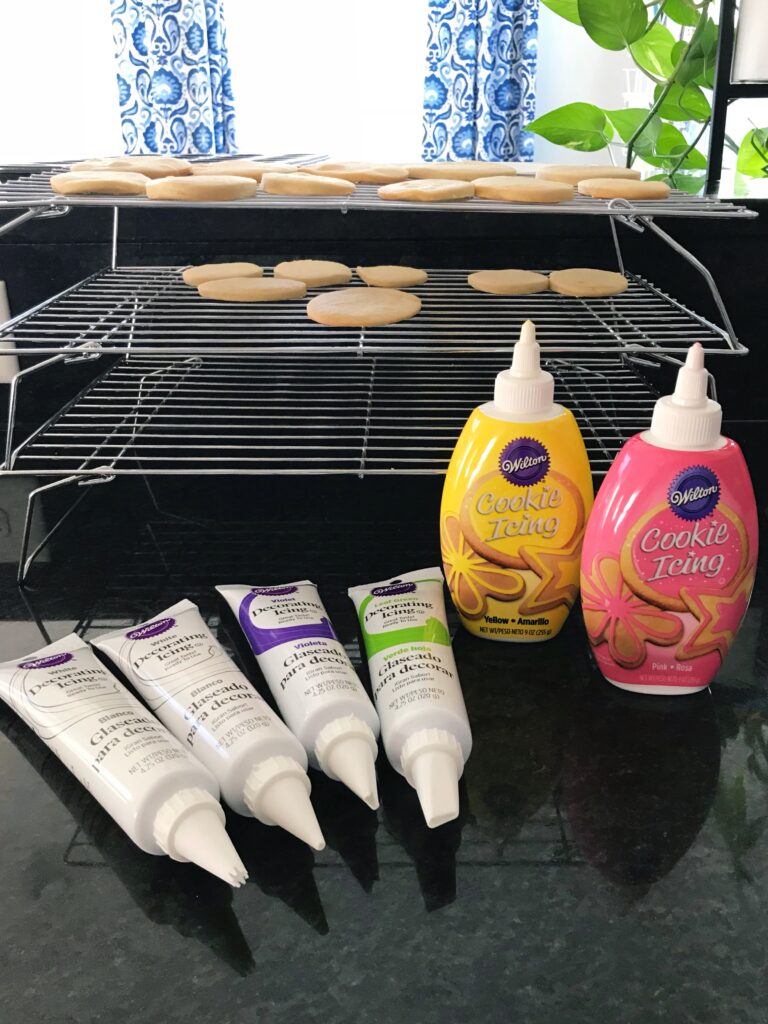 I know the kids have a blast together and I love seeing how different each of their cookies come out!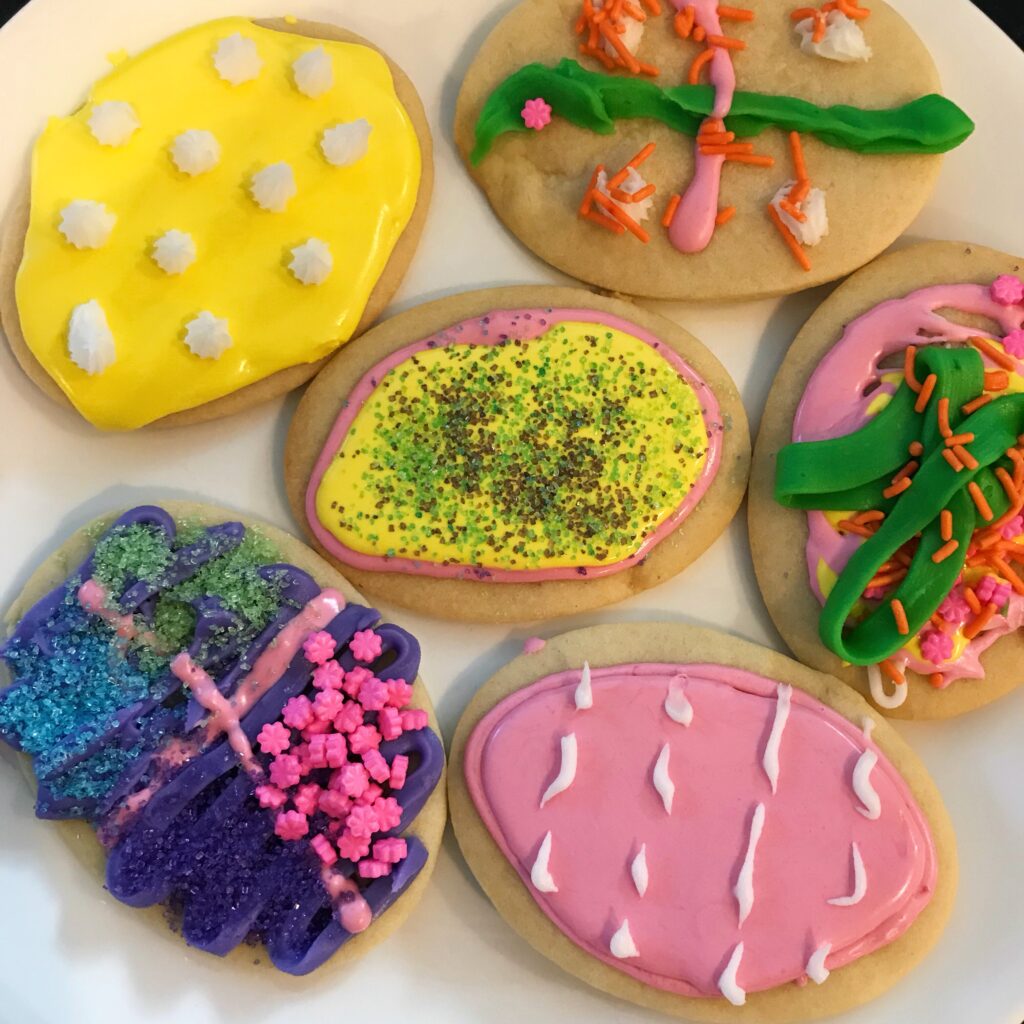 Easter Dinner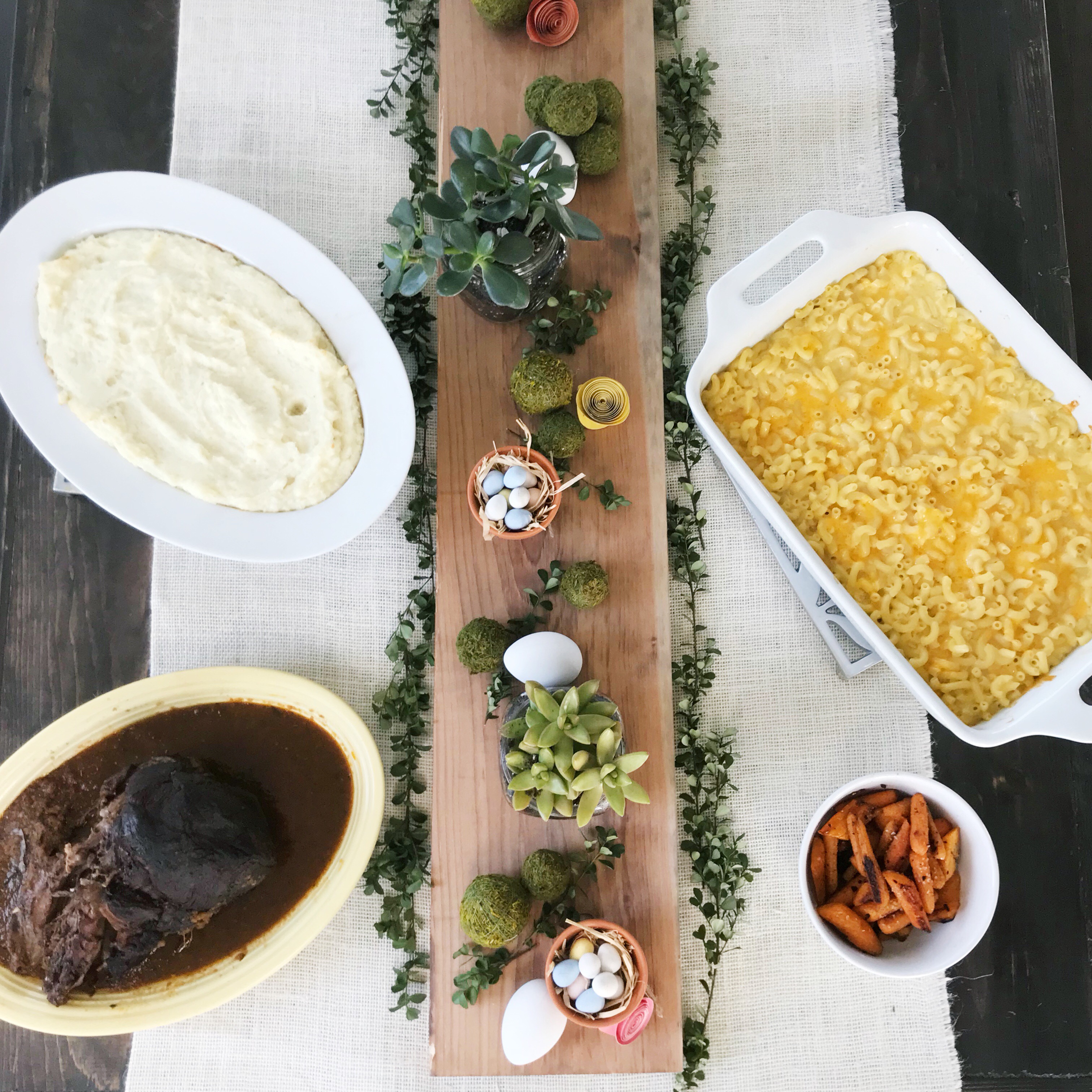 Every year on Easter we join my husband's family for brunch, and my family for dinner.  This year, for the first time, I wanted to cook a special meal just for the four of us.  It's something I'm trying to start each holiday when I know we will be spending the actual day away from our house as a special tradition for only the four of us.  Since my husband doesn't like Ham, I decided to cook a yummy Braised Lamb leg – which my oldest son also ended up loving!  To keep things easy, I made Ina's Make-Ahead mashed potato casserole and a really simple baked mac-and-cheese (both which I put together the day before).   I also threw in one of my favorite new side dishes – roasted carrots w/garlic butter.  For Dessert I whipped up some mini cheesecakes that could also help decorate the table.  All together it was a really lovely way to spend the night together before the busy Easter shuffle.
March Delivery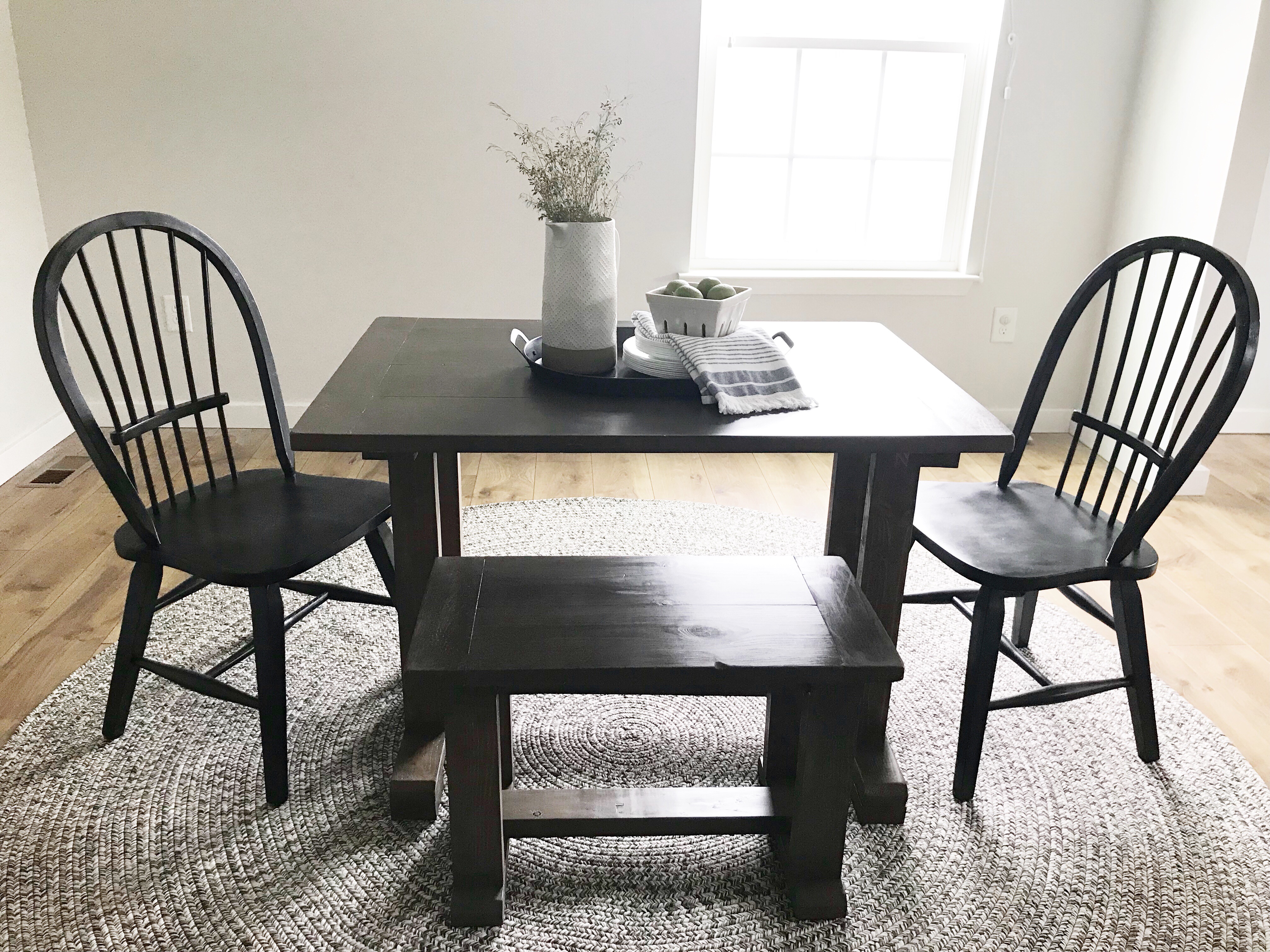 Those of you on the East Coast know that this winter has not been kind (or short!) so being able to work in the garage on large pieces has been pretty halted – but luckily I was asked to build this small table and bench for a kitchen and it was the perfect cold weather project!  I grabbed the warmest weekend that I could to cut all of the wood in the garage and then carry her into the basement to assemble and finish.
The goal was to make a compact table for a small eat-in kitchen area;  I designed the bench to fit snuggly underneath the table, while giving maximum seat area.  I love being able to take on custom projects like this and give people (especially the super sweet lady who made the request!) pieces that they wouldn't be able to find in stores.