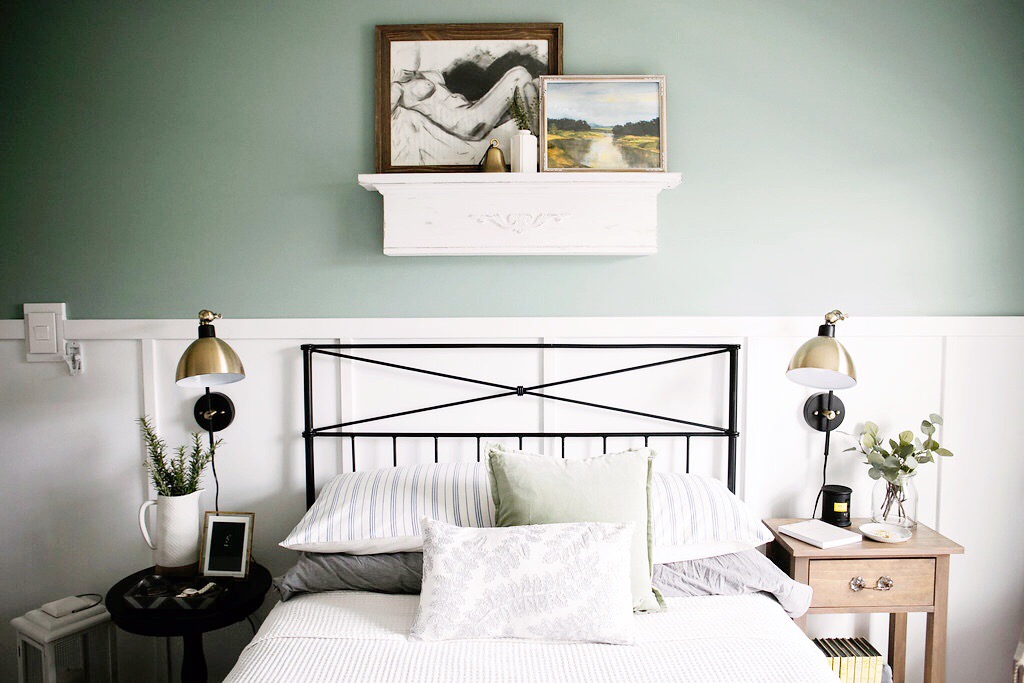 Well we've made it – 7 weeks in the books and the guest bedroom is looking mighty pretty if I do say so myself. Before we get to the good stuff, I just want to say a very big thank you to Linda from Calling it Home (the organizer of the entire One Room Challenge) as well as House Beautiful and the newest ORC media partner Home Love Network. I've decorated many rooms in my house, but taking part in this was an entirely new and wonderful experience! The weekly connection to other bloggers not only pushed my creativity, but inspired me to work to make this little blog the best it can be…and for all of that I am so grateful. As excited as I am about sharing my own space, I think am even more excited to see all of my fellow ORC featured and guest participants final reveals today!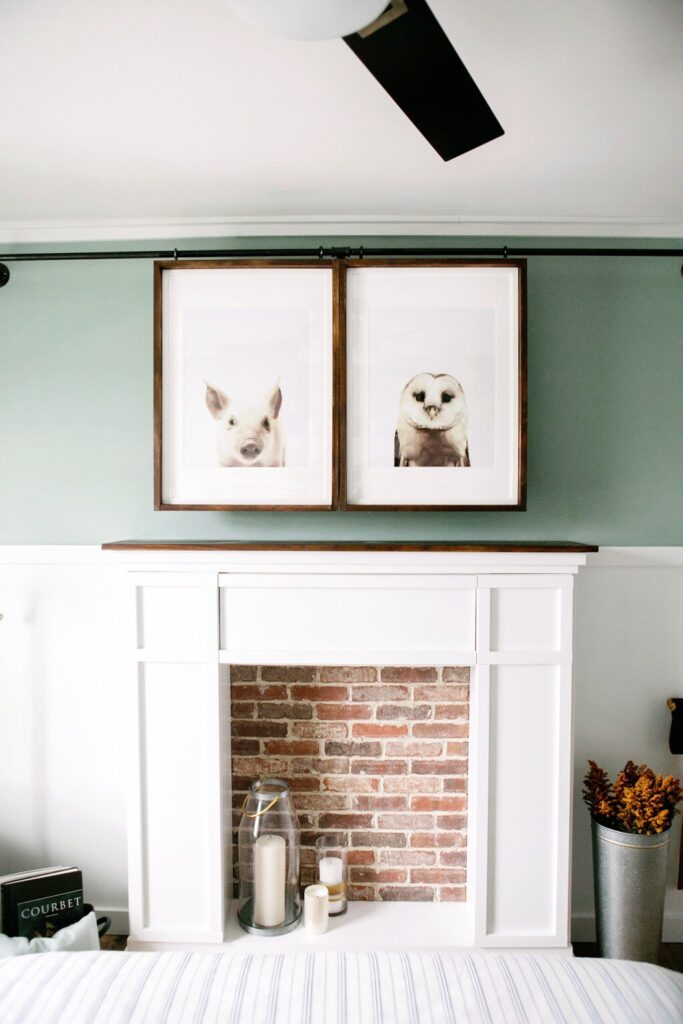 You've all heard me ramble on enough over the last 6 weeks, so now I'm just going to let the pictures do the talking – and lucky for me they are BEAUTIFUL pictures taken by my wonderfully talented and lovely friend Lauri from Lauri Tripaldi Photography.
At the end I have included links to all of the products I shopped for this space, but for now enjoy what I've been tagging as my "Modern Farmhouse" guest bedroom, but I like to think of as my "Re-Furbished Bed and Breakfast w/a hint of Hip Grandma" guest bedroom, you know like all the cool kids are saying : )
And because who can resist a good BEFORE / AFTER – here you go: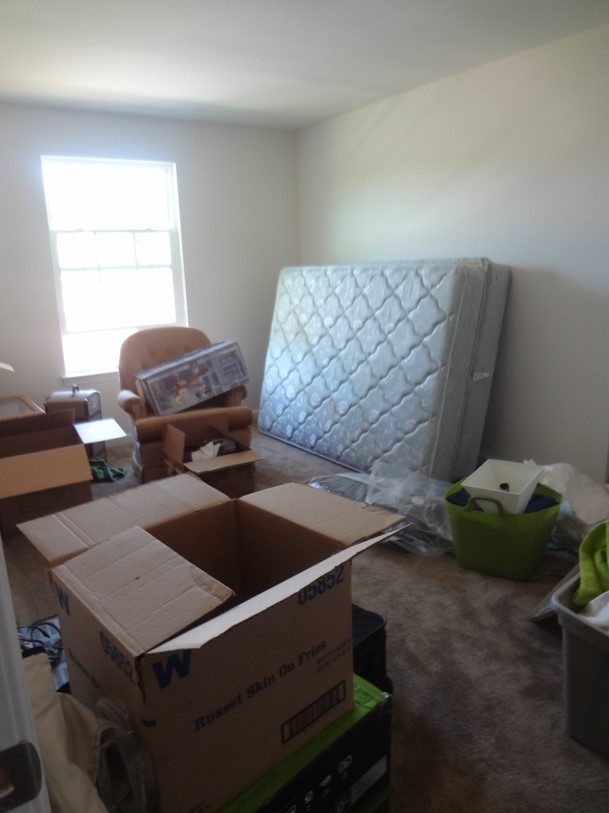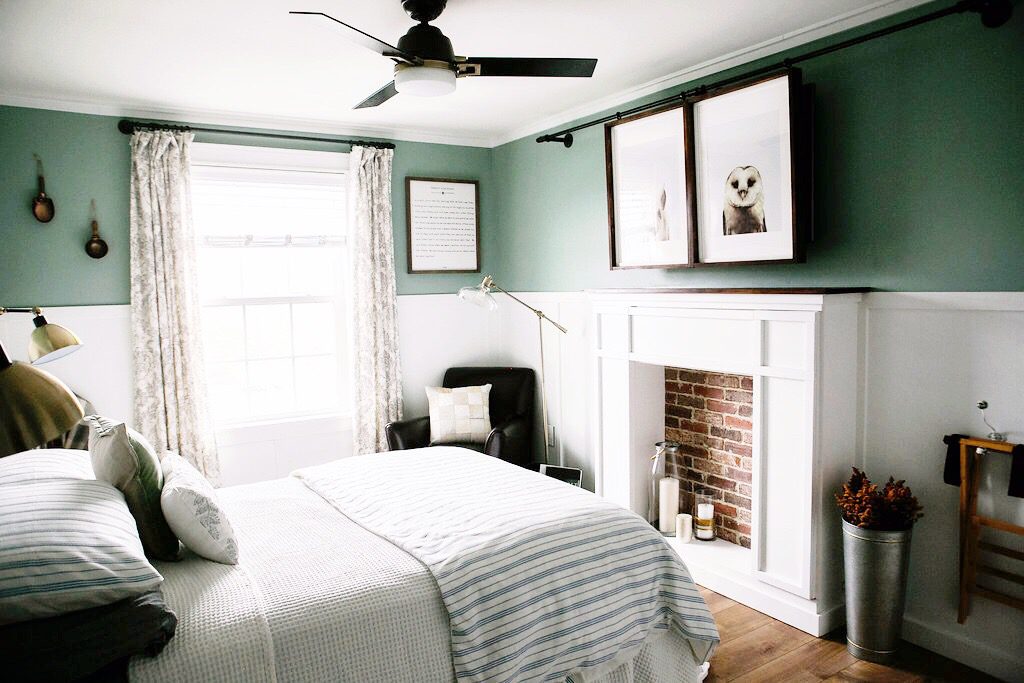 One last thank you to all of my friends and family who have been so supportive in this journey! If you're curious about any steps in the progress of this room, or furniture plans I used check out my weekly posts, and be sure to follow me on Instagram for more design and building projects!
Week 1 – Paint and Planning
Week 2 – Installing the Trim
Week 3 – Building the Faux Fireplace
Week 4 – Building the Bed
Week 5 – Makting the Curtains, building the nightstand and the shelf
Week 6 – DIY Mirror / Homemade Artwork / Hiding the TV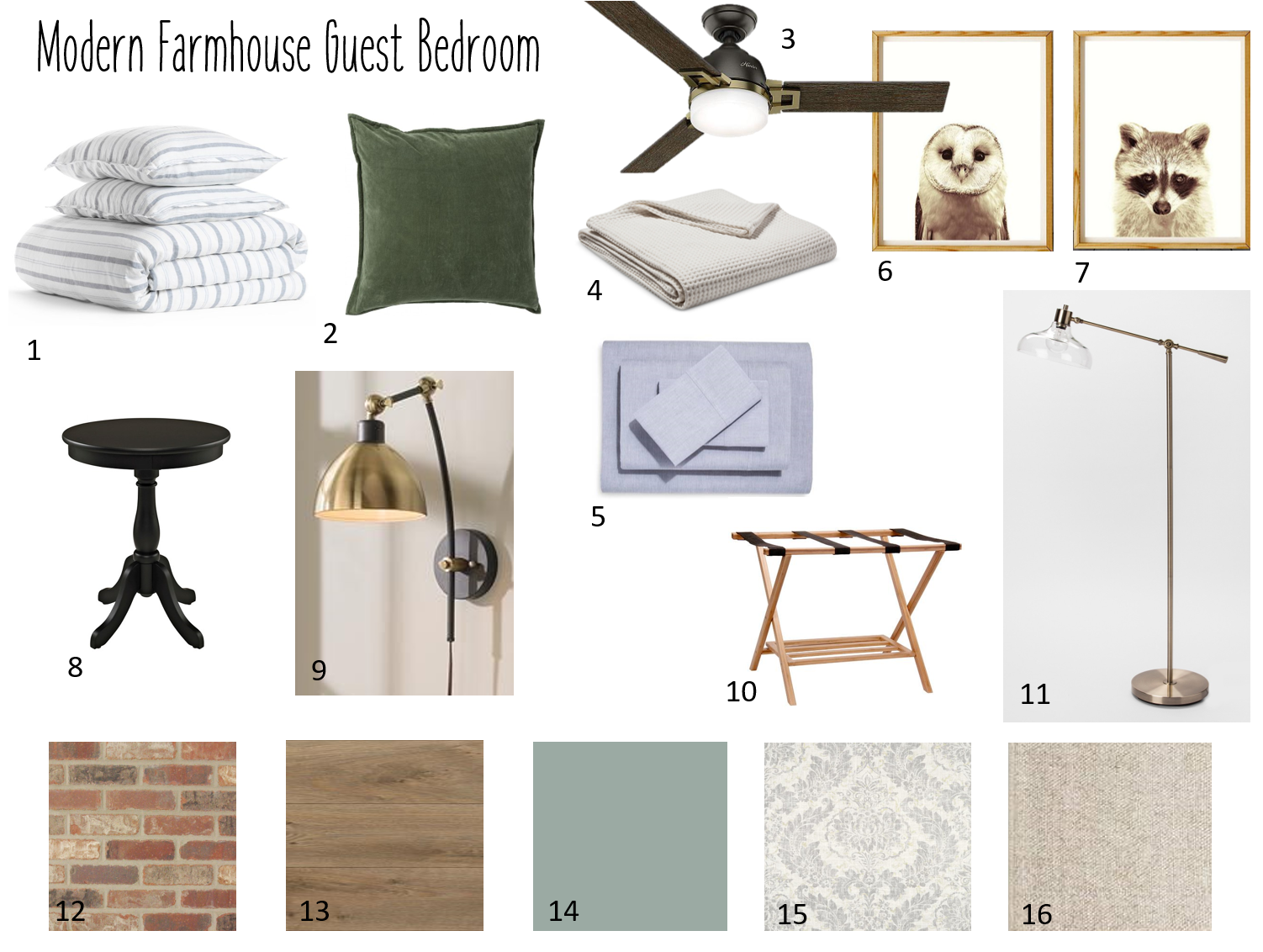 1. Blue Striped Duvet Cover | 2. Green Velvet PilllowCover | 3. Leoni Ceiling Fan | 4. Waffle Weave Blanket | 5. Gray Chambray Sheets | 6 and 7 Animal portraits from Etsy | 8. Black table | 9. Scones | 10. Luggage Rack | 11. Floor Lamp | 12. Thin Brick | 13. Laminate Floor | 14. Sherwin Williams Halcyon Green | 15. Curtain fabric | 16. IvoryWool rug