Happy November everyone! Did you survive Halloween? I know I've got a secret stash of candy waiting for me tomorrow to enjoy while I read about the progress of my fellow One Room Challenge Participants – hopefully they had a bit more productive week 5 than I did. Between getting re-organized after vaca, prepping everyone for Trick or Treating, and just generally feeling a little run down (I'm still in denial that I'm probably getting sick) I didn't get as much done as I was hoping, but here goes……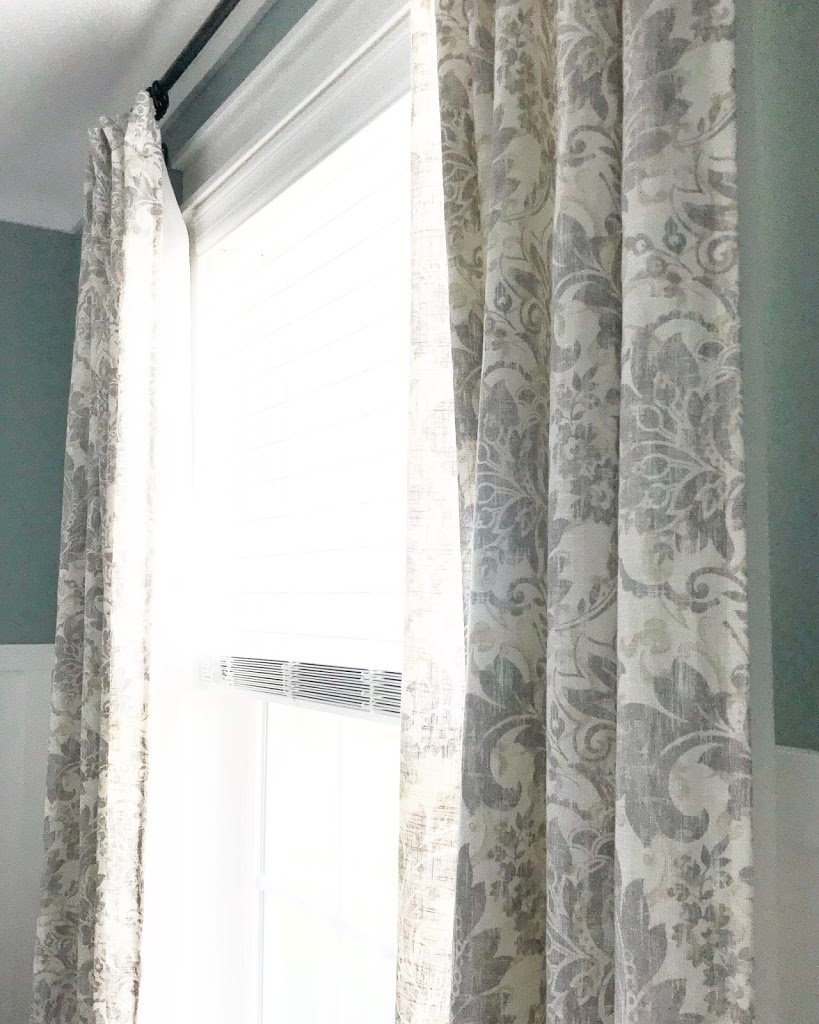 This weekend was incredibly rainy so I decided to tackle the curtains first. I spent a long time looking for the perfect fabric and was debating going with something ready-made until I found this beautiful linen-blend from Online Fabric Store. It has a very subtle gray/gold pattern and a wonderful weight that makes these look a lot more expensive then they are. If you're interested in a more detailed explanation of how I DIYed the curtains, the rods, and the trim you can check out this monster of a post on my morning room windows – but in short I use white Ikea panels as a really affordable curatin liner and black 1/2 inch plumbing pipes as my curtain rods (if you're looking for a non DIY version check out this similar style from Target).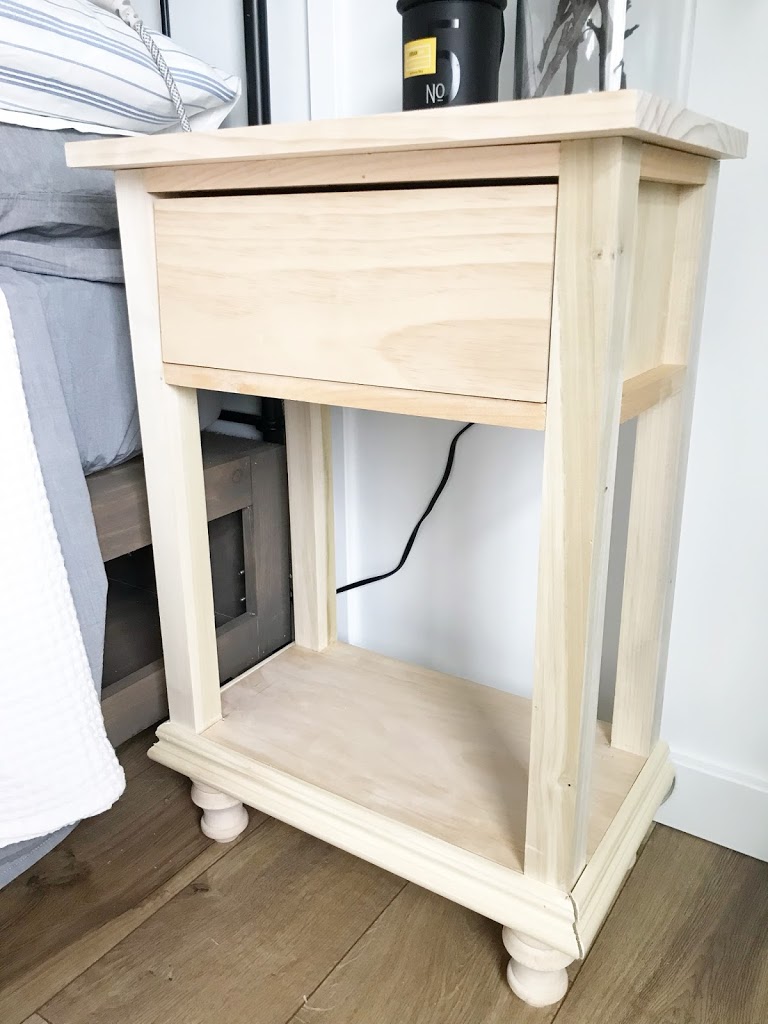 Next up, the second nightstand. I'm happy to say that it's built….just not so happy to say that I still need to do the finishing work and staining – cross your fingers I feel better tomorrow morning and can check that off the list! But even in it's current state I think it looks pretty darn cute. I based the design on these plans from The House of Wood and was able to use mostly scraps from my workshop mixed with some beautiful poplar 2x2s. I wanted something a bit more polished than my usual pieces, hence the turned legs and added trim. Buying something pre-made seriously crossed my mind a few times, but the options I found basically looked almost identical to what I would have made myself so to me it was a no-brainer to roll up my sleeves and just build it custom.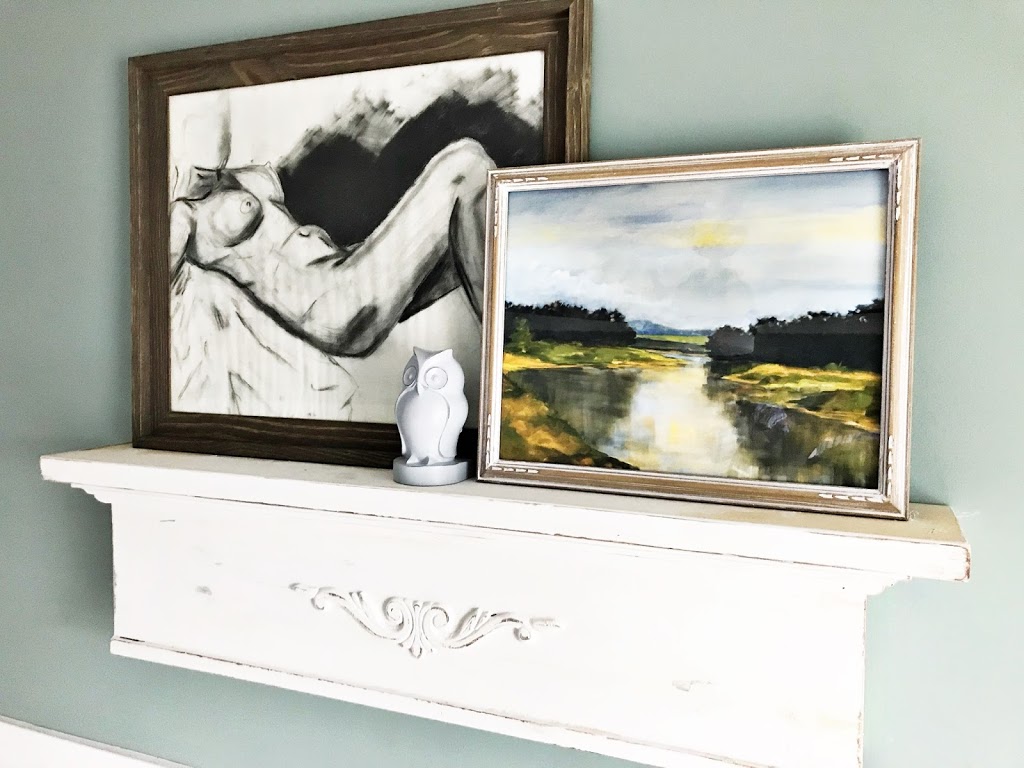 The other building project I was able to tackle (and finish!) was the shelf I installed above the bed. I have had these plans from Shanty 2 Chic saved for a long time and knew this was the perfect room for them – and bonus, I was able to build it entirely from scraps in my workshop (minus some crown trim and a simple wood scrollwork piece from Lowes).
Which brings me to one of the biggest challenges I've had with this room – picking out the artwork. For those that don't know, I have always had an immense passion for art and was actually an Art History major in college, so for me the artwork that finishes a room is just as important as the furniture or paint color — and by important I don't mean expensive or fussy, I just mean that I want to make sure that I have some kind of connection to each piece in my house, even if it is just aesthetically.
For this space, I started with my large map (which you can see in a below pick by the door), and then to pick up the bronze accents I started to look for Sepia colored photos, which led me to my two big animal portraits – why a pig and an owl you might ask? Simple – the Owl because it symbolizes wisdom, and the Pig because he just makes me smile ; ) From there, it got a bit trickier to determine how much more artwork I should/could put in the room. I thought once I brought in the curtains and this taller lamp to the far corner of the room it would feel complete….but it just isn't the case. So I'm going to try creating something on that blank canvas you see on the wall and hope that it does the trick.
And of course, I faced the same issue on the other side of the room, but now I needed to add some dimension and some diversity to my collection. My absolute dream would be to hang two of these Hand Thrown Bells from MQuan studio, but the price is quite a bit out of my range currently, so I'm adding them to the XMas/Birthday list and instead use these two metal scoops I found at Michaels, which I think are pretty good placeholders for now especially since they were 80% off!
Now back to the bed, I had a much more muted plan for the art on the shelf, but quickly realized that I really needed to add some color and shape to that wall. I keep a Pinterest board of online Artwork that I love so I was able to quickly pick out one of my favorite landscapes from Minted, as well as a beautiful carved frame from Michaels. But then what to do for a larger piece – I knew it would be hard to find and get another piece I really loved in time, so I took a gamble and dug through my old drawing pads to see if I could find something….finally settling on one of my charcoal figure sketches. To be honest, I probably haven't looked at those sketches in at least ten years, but while I was flipping through the pages I kept thinking about how much my oldest son loves to draw right now and how special it is to see that passion passed down to him.
So what's left in this room you might ask? Well, if you're paying close attention you might have noticed that I have avoided showing the opposite side of the room…well that's because it's really really empty. Next week that will hopefully change. I'll finally figure out how to hang my animal friends, and maybe figure out what to add to that verrrrryyyy bare corner.
Additionally, I need to finish off the "entrance" to the room. I want to add this shelf from our old entryway, and my plan is to turn this shell from an old clock into a mirror to hang above it…so tune in next week to see if that actually works, or if I will frantically also be trying to find a mirror at the last minute!