Last year was the first time I came up with concrete resolutions for myself.  Throughout the year, especially when I felt very overwhelemed, I found myself thinking back on the goals I set for myself and was able to use them to focus on what was really important and work through the stress.  Of course some I did better on some than others (I gotta say I ORGANIZED the pants off 2018!), but growth doesn't stop just because the year does so I'm carrying on some of the areas that still need improvement into this year's resolutions.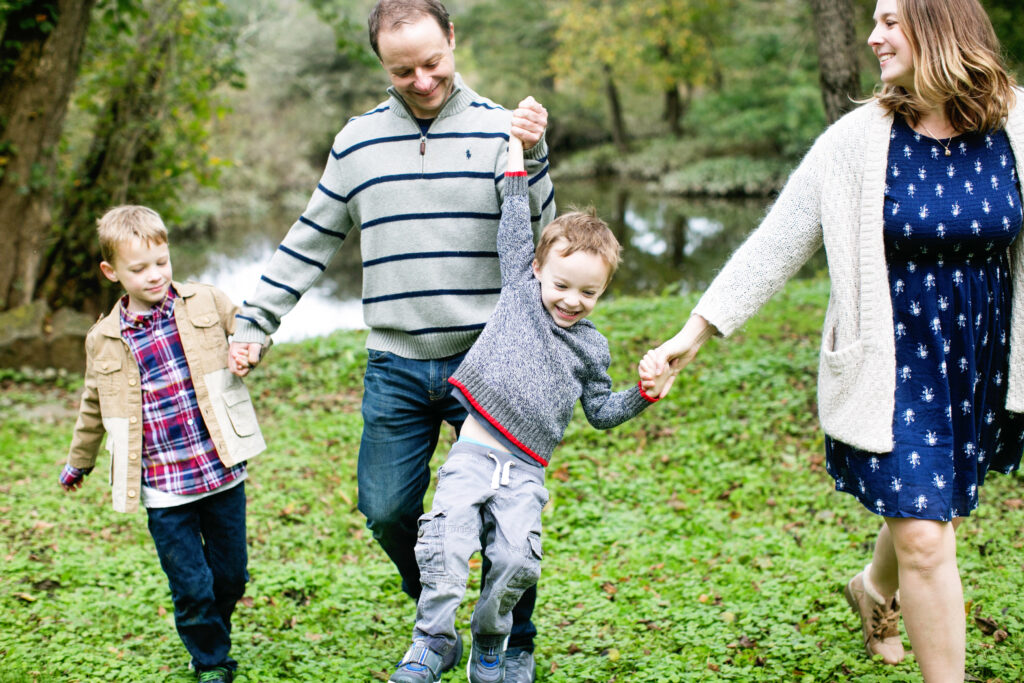 My 2019 Resolutions
HAVE FUN – If there's one over-arching theme I want to keep in mind for this year, it's to take the time to have more fun – with my friends, with the husband, and most especially with my boys.  If I'm home I tend to fixate on my never-ending to do list so I want to plan more activities that take us out of the house and not be in a rush to get back if I don't have to.
PACE YOURSELF – One of my goals last year was to grow my brand and my business, which I did a little too well!  In order to give myself a chance to breath, this year I need to focus on pacing myself and setting realistic timelines for any projects that I start for myself or others.
RELAX MORE – I didn't do a great job of relaxing and taking some downtime for myself last year so I'm keeping it on the list.  I want to set aside time to bake, play video games, read my favorite blogs, and maybe even sneak in a book or two.
BE PATIENT – Over the last few years I've worked incredibly hard to control my temper by increasing my patience, and it's an accomplishment I'm really proud of, but my patience with my boys needs a lot of work now.  It's going to be something I think of when I wake up each day and reflect on before I go to bed each night.
WASTE LESS – The idea of waste has been on my mind a lot this past year.  I paid a lot of attention to the amount of leftovers we threw out, recycled as many things as I could, and tried to invest in more re-usable containers – but I feel like there is a lot more I could do.  I want to focus on buying and throwing away less plastic, investigate a way to set up a compost bin this summer, and cook more meals at home and not waste as much on take out food.
This Year's House Projects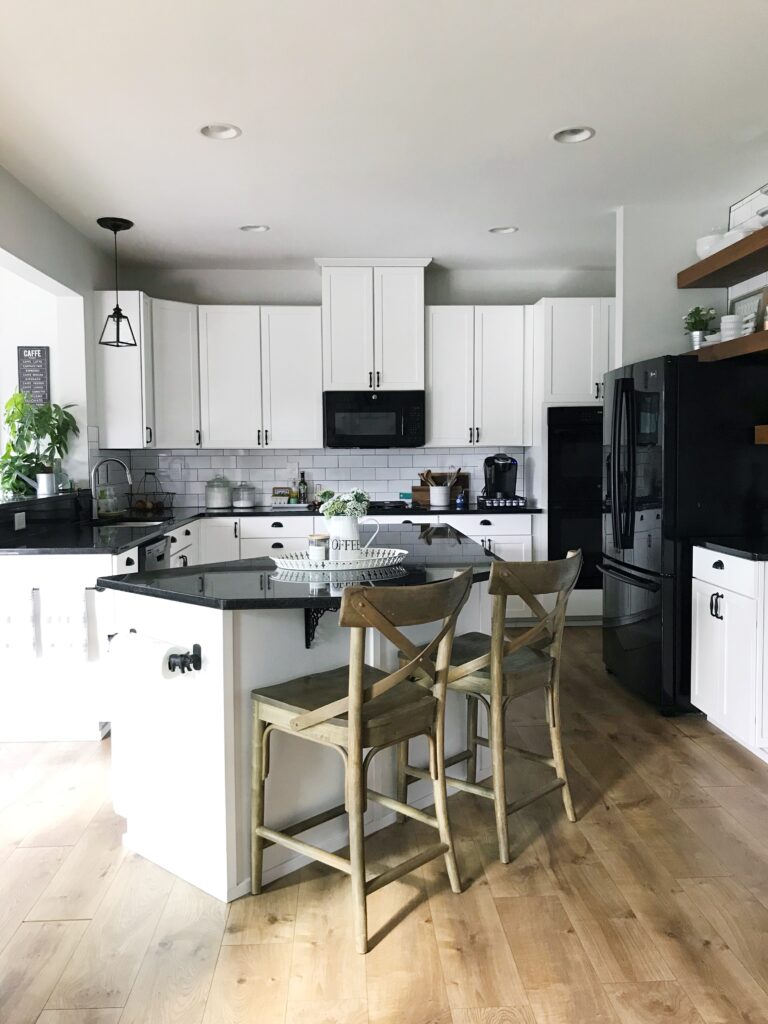 Kitchen Cabinets – If you've checked out my Inst-stories you'll know that this one is already underway as we've already replaced our old huge microwave with a sleek low-profile one and raised the backsplash slightly, but I've got plans to fill in the gap btw. the cabinets and the ceiling, replace the hardware, and make some other small changes to the back wall (oh, and hopefully at some point we'll get a new refrigerator since ours keeps freezing things randomly!).  I don't have a set timeline for this one but I'll probably work on it a little at a time over the first half of the year
Jon's Closet – I feel really bad that I didn't get around to this last year like I had planned.  I had this notion that I could somehow tackle it in the fall after my crazy time at work was over, but that quickly turned out to be realllly wishful thinking.  This year I'm making it a priority to put aside a long weekend and get it done.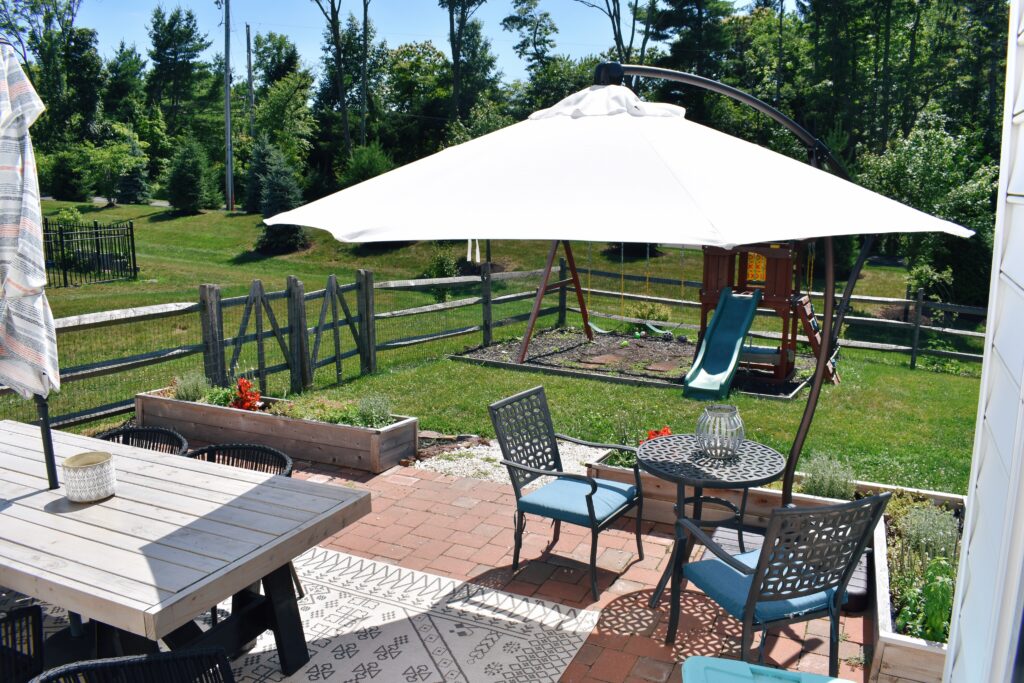 Outdoor Kitchen – Every year we try to tackle one big outdoor project – up this year is our outdoor "kitchen" area.  We aren't planning on installing a gas line or any type of built in cooktop as we bought a new grill last year that is enough for us, but I do want to add a countertop, some storage, and an arbor over top for some shade.  Here's hoping for a much dryer summer than last year.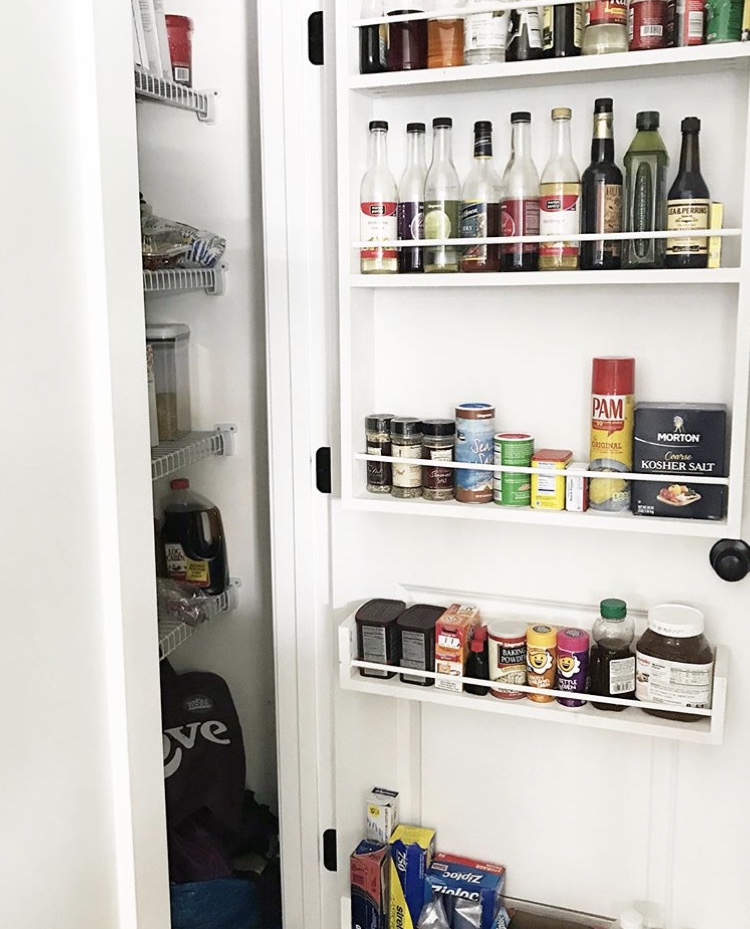 Pantry – This is another leftover from last year, and honestly I forgot I had it on the list (whoops!).  I actually did end up investing in some great storage from the Container Store before school started which has made a big difference but I still need to replace the wire shelves and add some better organization of the bottom half to really maximize space. I'm still going back and forth on whether i should do something fun to the walls or if it's not a good use of time.  Might need to ask you guys for your opinion soon on this one.
Staircase/Loft/Foyer – Who's ready for a sneak peek at what I've got planned for the Spring One Room Challenge?  Well once again I'm planning a multi-space project and tackling the foyer, hallway, stairway, and loft.  I'll save all of the juicy details until the challenge starts so for now I'll just say that my plan is to carry on the fresh and bright feeling of the dining room/front room.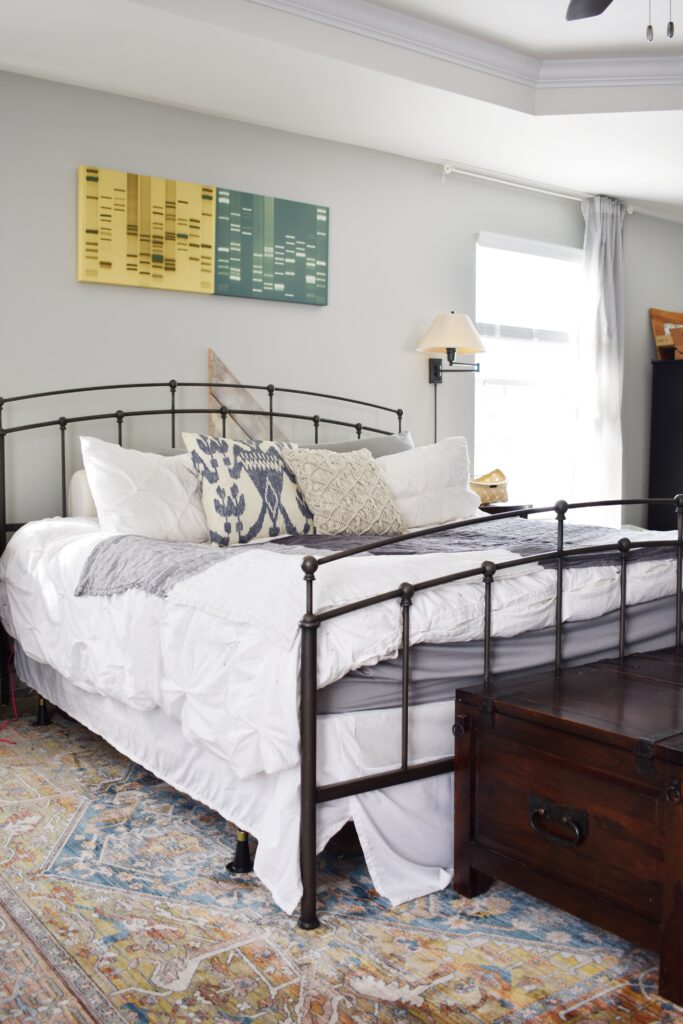 Master Bedroom – I've got big plans for the master bedroom, but since we've got too big dog crates parked in there for at least another few months, the big changes will need to wait.  This year I just want to clean out a lot of the clutter that has amassed in here, find some new nightstands, and figure out a good bedding solution for these two very cuddly, but very sheddy, black pups.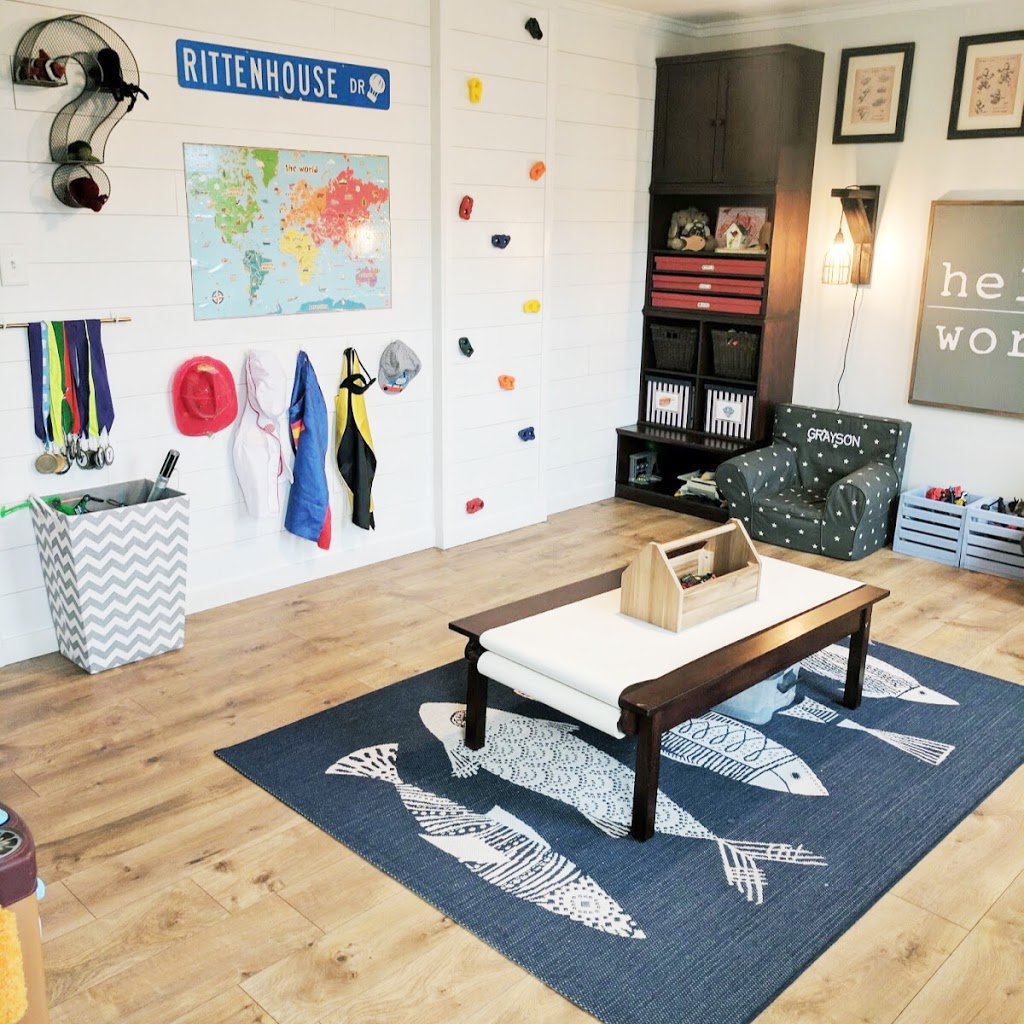 Boys Playroom – One word – LEGOS.  Both of my boys love them, they keep them distracted for hours, but they are taking over this whole room so I've designed a storage system I'm really excited about building.  Also on deck are some new much needed chairs, some cool new artwork, and possibly another small work surface, for LEGOs of course.