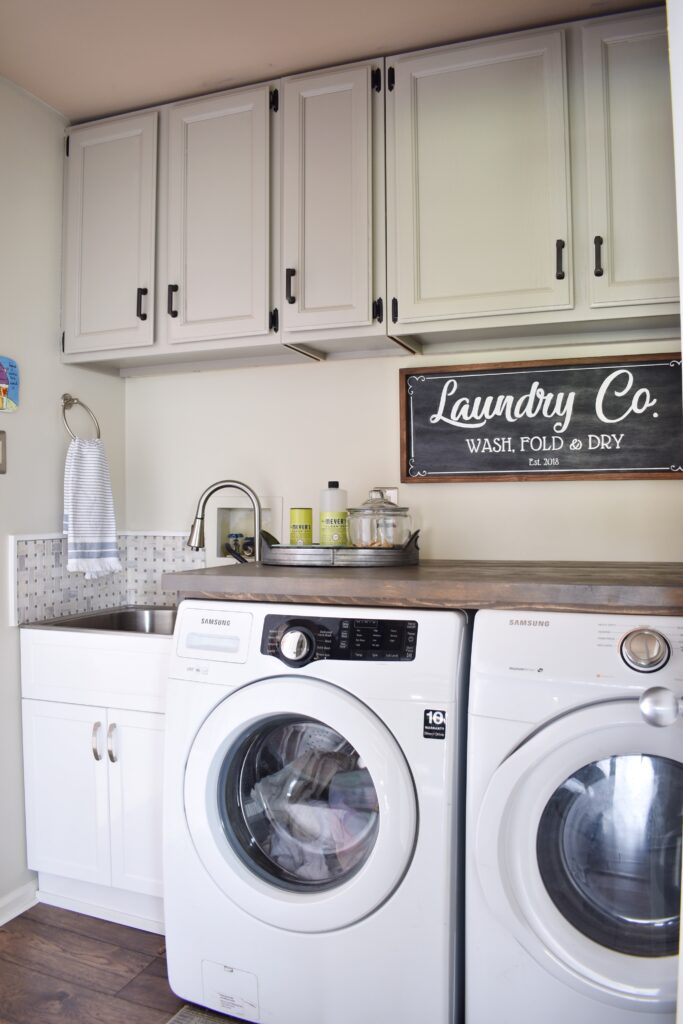 A few months ago I finished working on a small make-over of my mom's laundry room and although I mentioned it in my 2018 Round Up I'm finally getting a chance to sit down and share it with you.  I completely forgot to take a before picture of this space for you – MY BAD – but imagine honey oak cabinets re-purposed from their old kitchen, a basic laundry sink, and lots of socks getting lost behind the dryer which I know was my mom's number one issue to be solved.  This project was heavy on the sweat-equity, but easy on the budget with some sweet DIYs thrown in.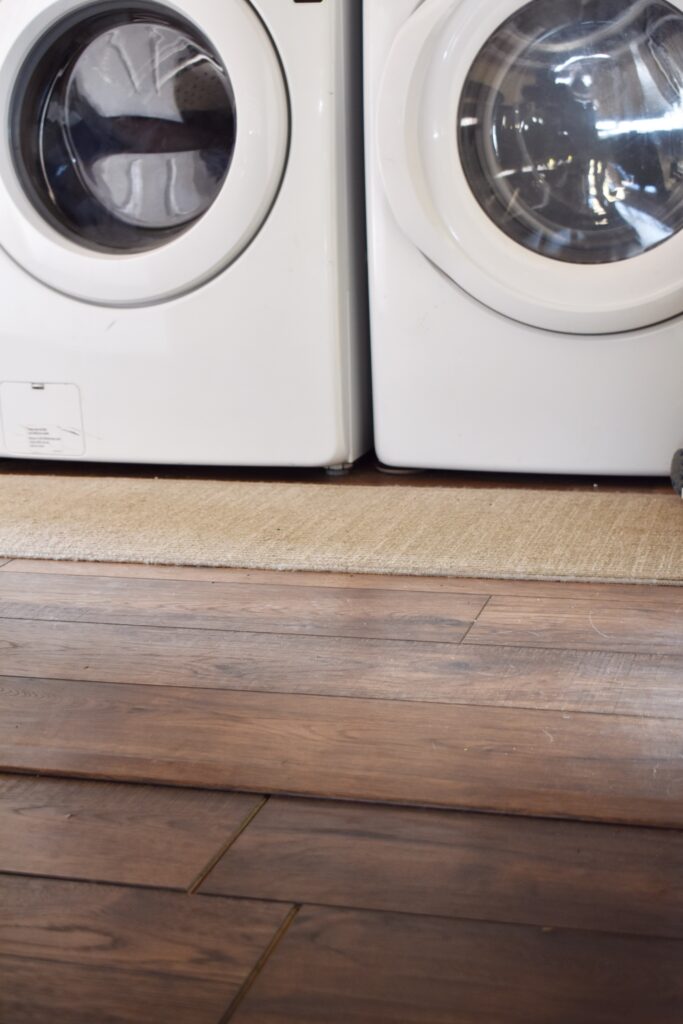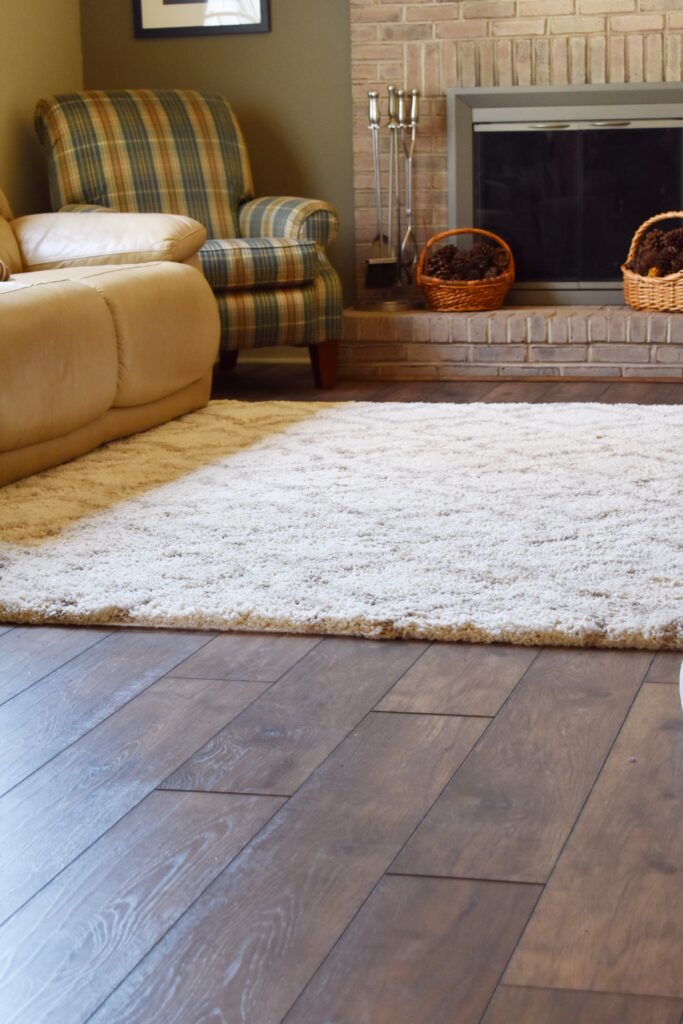 This whole upgrade kicked off two years ago when I first installed new laminate floors in my parents kitchen and living room.  We left the laundry room be as there was talk about replacing that floor with tile, but in the end they decided to just continue the laminate into this room as well, and luckily my dad took over the install and finished off that job!  Their laundry room actually does triple duty as the mud room/garage entrance and sits right off the kitchen so I think continuing the same flooring was the right way to go.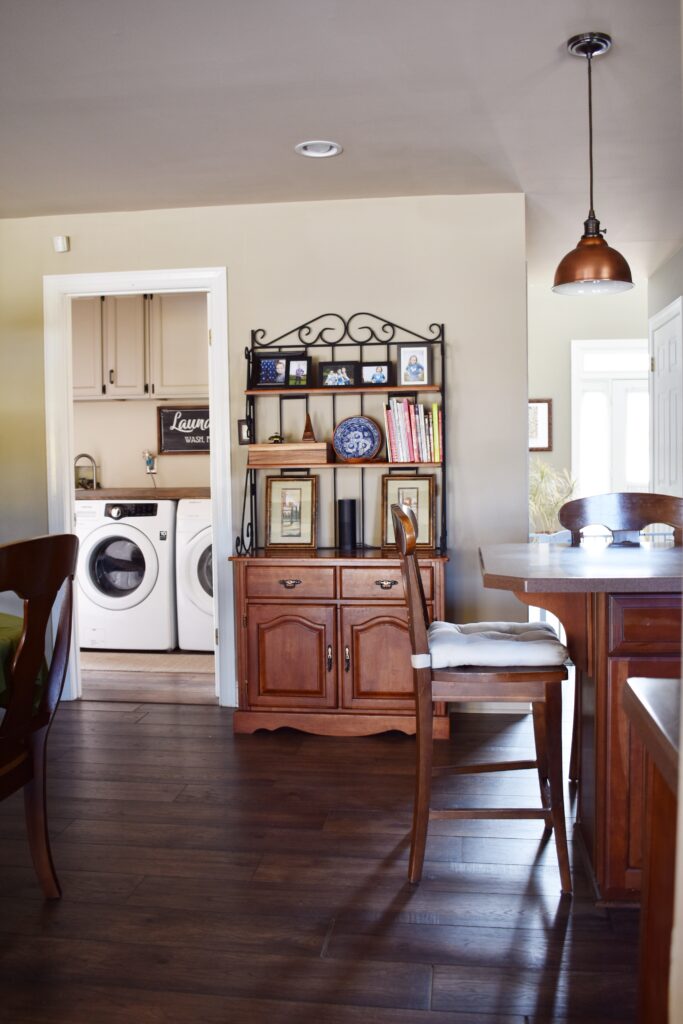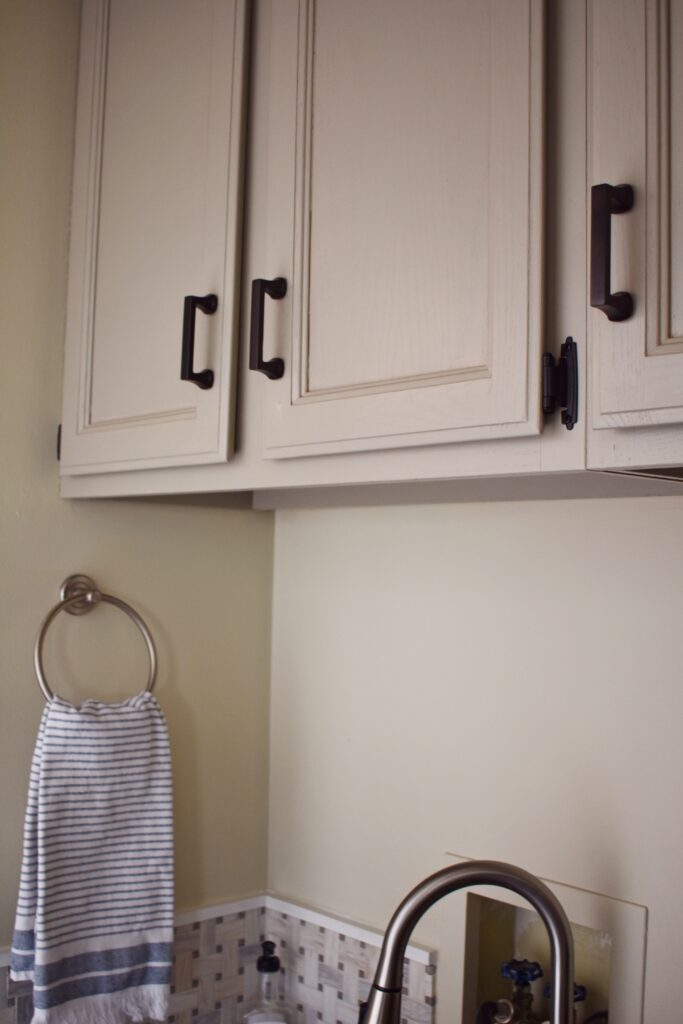 My parents house is swirling in neutrals, and because this room is really visable from the main living space, I wanted it to blend into the background instead of grab attention.  I gave the cabinets a super quick makeover with some paint in a slightly darker shade than the wall color.  his room gets no natural light unless the garage door open so we definitely wanted to keep it as light as possible, and this light taupey shade actually lets the chunky dark hardware really pop!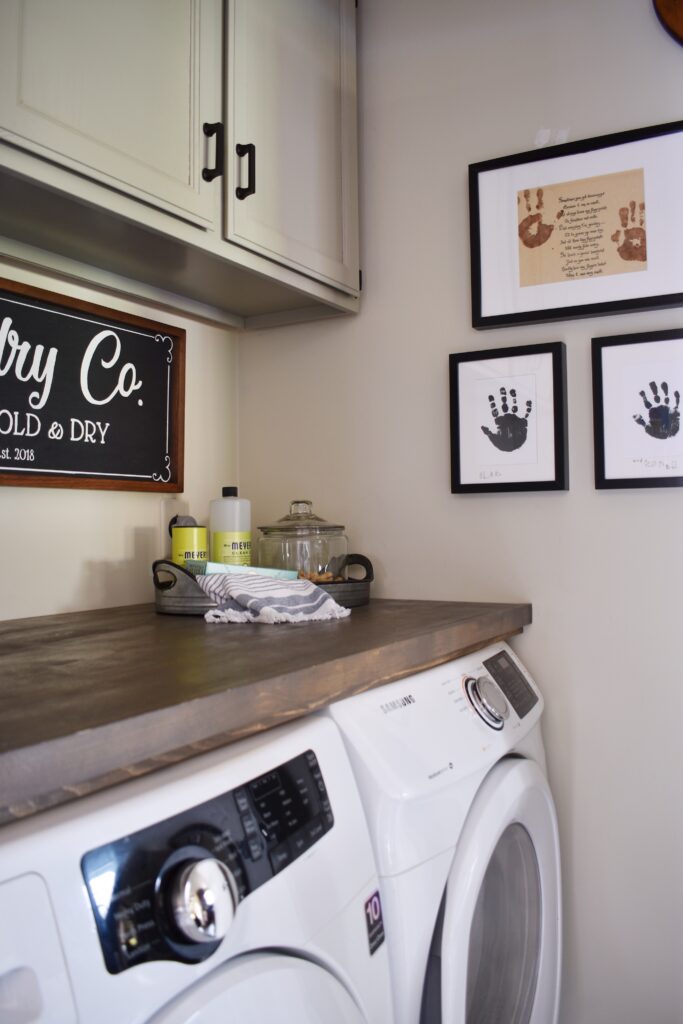 I knew I wanted to give them a large countertop to not only solve the missing sock dilemma, but to also provide plenty of space for the coming and goings of this busy room.  Some stained plywood (Briarsmoke by Varathane) over the washer / dryer is the perfect size and price (about $50 a sheet)  .  I added a thick coat of Spar Varnish to protect it from the sink and the wet pool clothes that make their way inside in the summer.  My mom also really wanted a Laundry Room sign for behind the counter, which I was only too happy to make to bring some more contrast into the space. Oh, and I think the room really came together for my mom when I put those dog biscuits in an old glass canister – it's the little things right.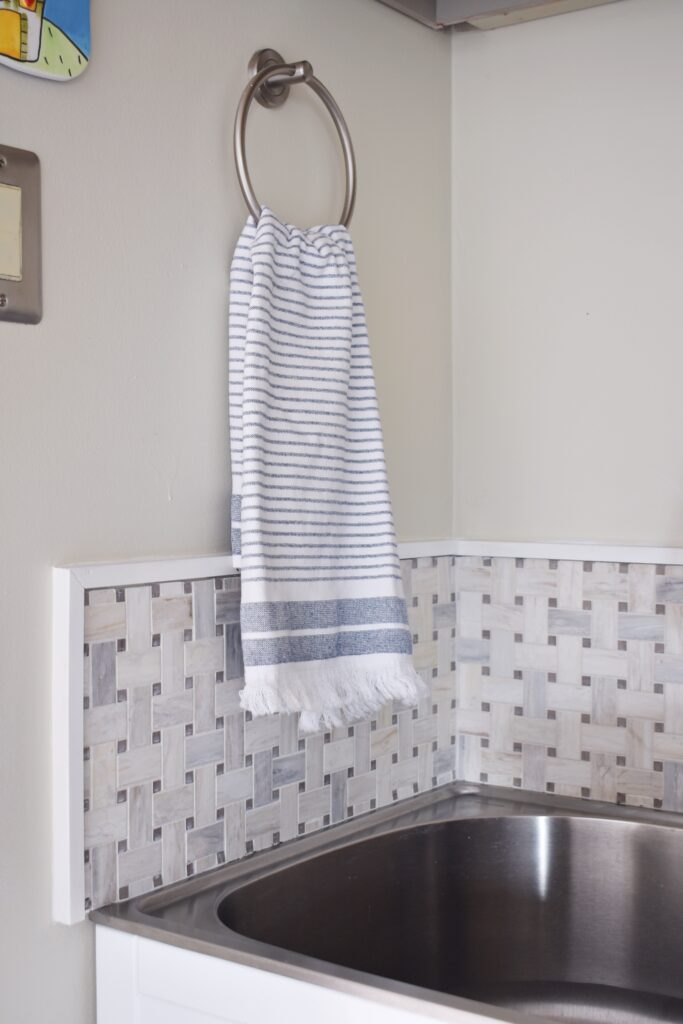 Speaking of the sink, this corner sink was the biggest splurge of this space to replace the plastic laundry tub that was here before.  It's about 100 times cuter and gives some more storage which is always a plus, but not until I went to ring out my brushes  after painting the cabinets did I realize that the sink placement made a backsplash really necessary.  We picked a few sheets of this basketweave tile from Home Depot and to keep costs down we just wrapped it around the corner instead of the whole length of the counter, and I used some square PVC trim to finish off the edges.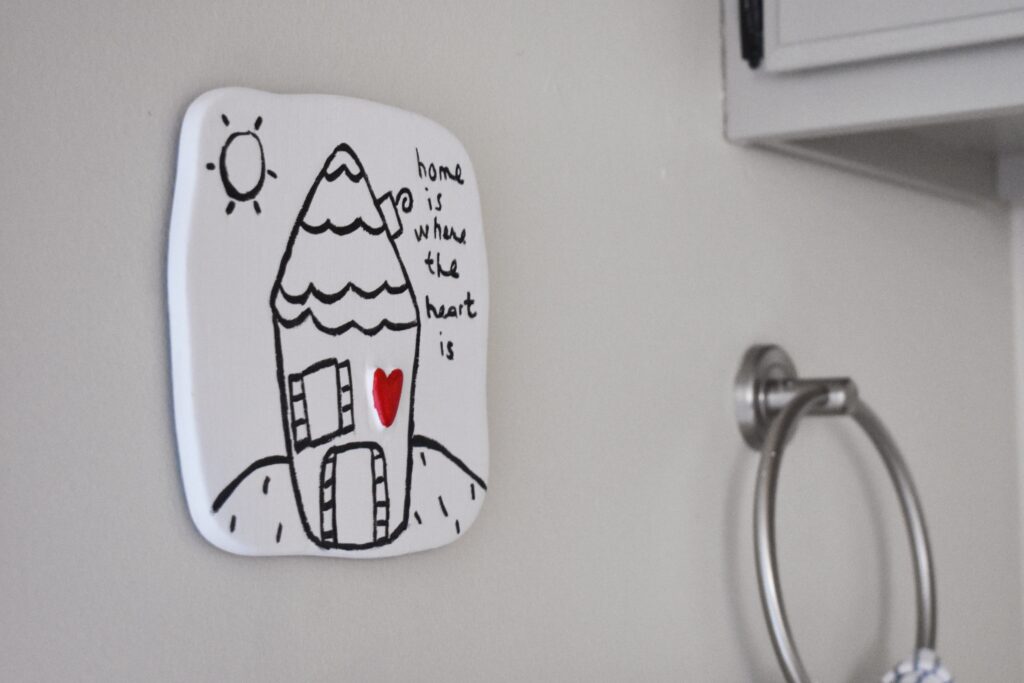 Of course every room, even a laundry room, needs a little artwork and with a few DIY touches I was able to re-use some sentimental pieces my mom already have, like this little ceramic sign which I just painted over with white/black/red chalk paint to match the new color palate.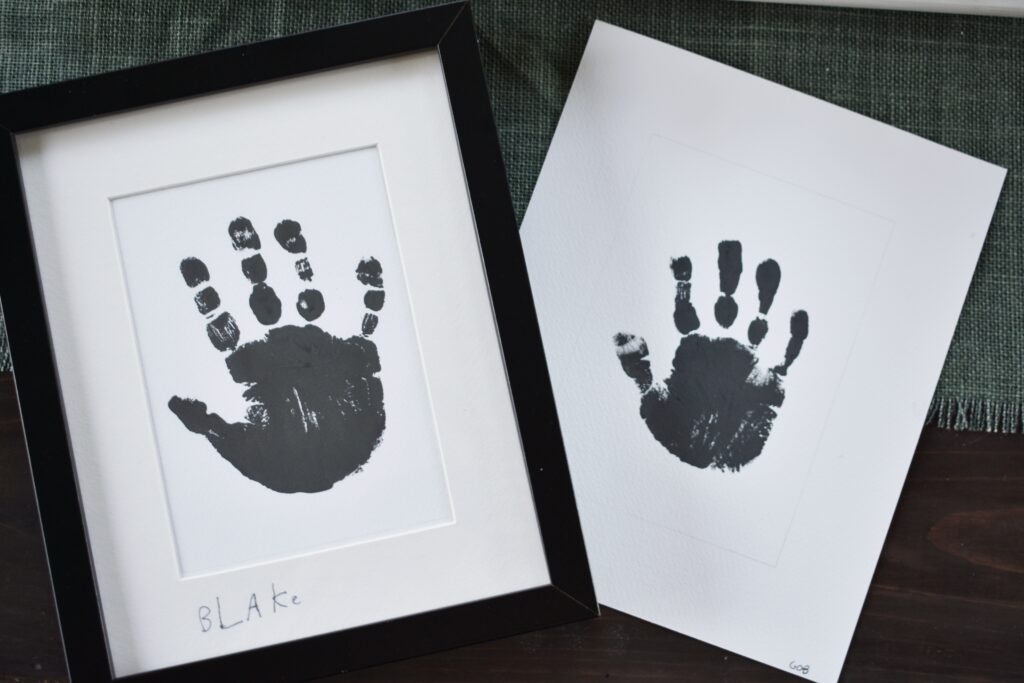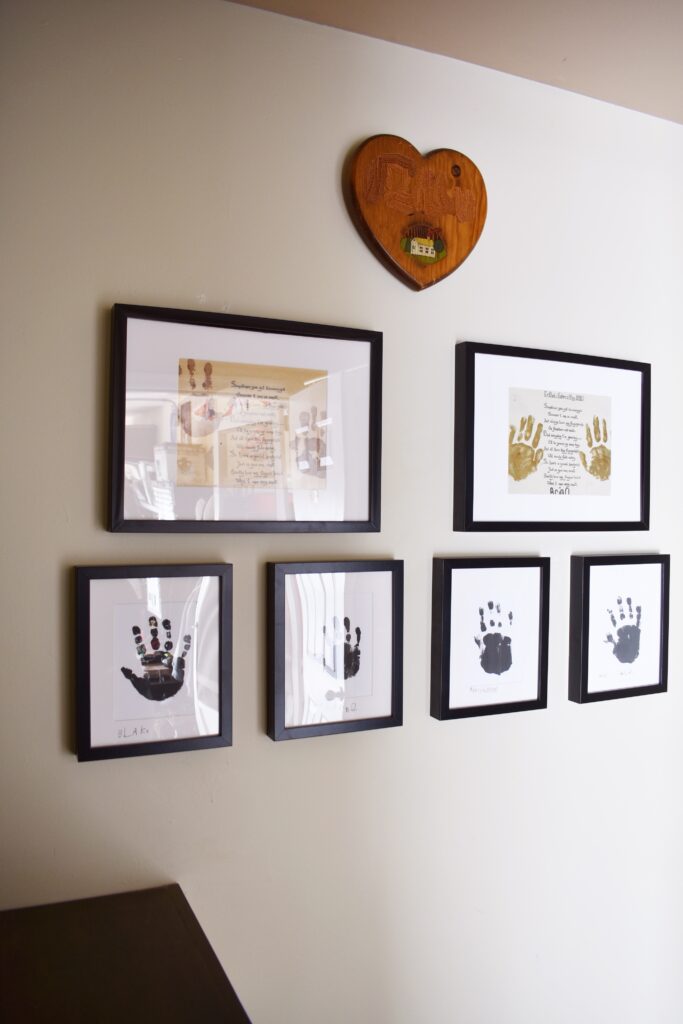 Probably my favorite part of the room, though, is my take on a family tree that I created.  My mom had kept mine and my brothers handprint artwork from when we were little, and I just re-framed them in my favorite IKEA Ribba frames, then I added prints of each of their four grandchildren below.  It was a really easy and fun project to do with the kids and I just love how it turned out.  SIDE NOTE – how alike do my boys handprints look?  Fun with genetics!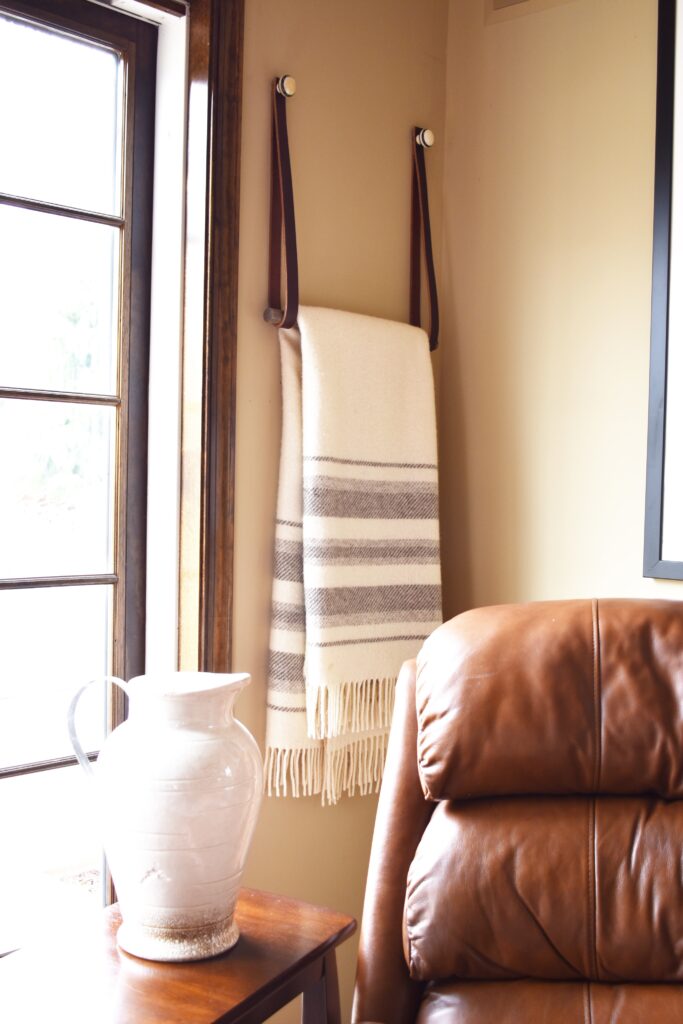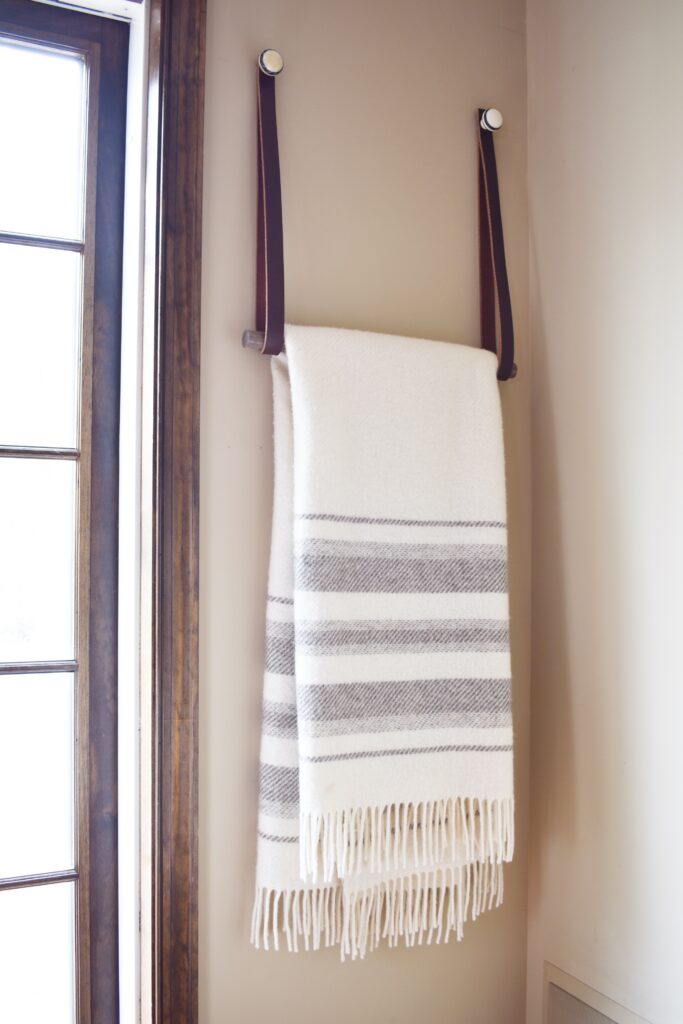 While I was working on the laundry room, I also took care of one other project on my list and made two smaller versions of my hanging blanket ladders for my mom's living room.  I in love these faux bone drawer pulls from World Market that I added!
Altogether the cost (including the new sink) was just about $500 and with that we were able to check off all the boxes we had for this space.  I know my mom loves this little makeover and I love that this long-forgotten room finally feels as cozy as the rest of the house!