Are you all as excited as I am to kick off the next installment of the One Room Challenge?  After 9 months of predominantly working on projects for clients, family, and friends I am so looking forward to spending six weeks working on my own home!  But before I share my big plans let's do a little introduction for anyone that may be dropping into Hilltown House for the first time.
Week 1 / Week 2 / Week 3 / Week 4 / Week 5 / Week 6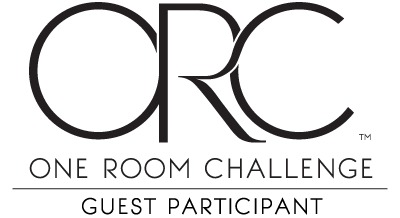 Hi new friends!  My name is Lindsey – I live in beautiful Bucks County Pennsylvania with a crazy household full of two spirited little boys, two rambunctious new puppies, and one amazingly patient husband.  We built our house just about 5 years ago and since then I've been sharing my journey of transforming this builder basic model into something really special, all with my own two hands.  Along the way I turned this little blog into a small business and now I get to share my love of DIY and design with others.  If you'd like to know more be sure to check out my About me page and you can take a peak around Hilltown House on my Home Tour page.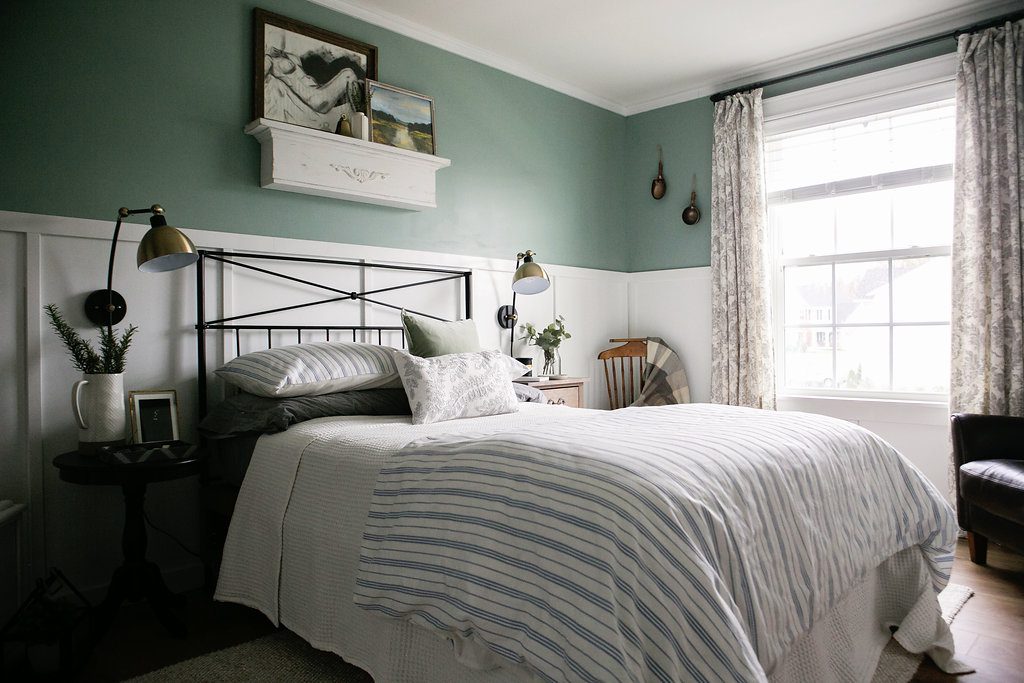 For anyone new to this event, the One Room Challenge is an amazing opportunity for home bloggers hosted by Linda at Calling it Home in partnership with Better Home and Gardens.  During the next 6 weeks a group of over 200 guest and 20 featured bloggers will take the challenge to transform one room in their homes and share their progress each week.
This is my third time participating in the One Room Challenge so feel free to check out my previous two projects – my guest bedroom from the Fall of 2017 and my Dining Room / Front Room from the Spring of 2018, and my Amazon Storefront to get the look in your own home!
Ok – now that you know a little more about me, are you ready to know what I've got planned?  Well, just like last time my project spills over into more than one room but I think you'll see what I've decided to tackle these spaces all at one.  I'm breaking this challenge into 3 major sections so get ready to see all of them in all of their BEFORE goodness
The Staircase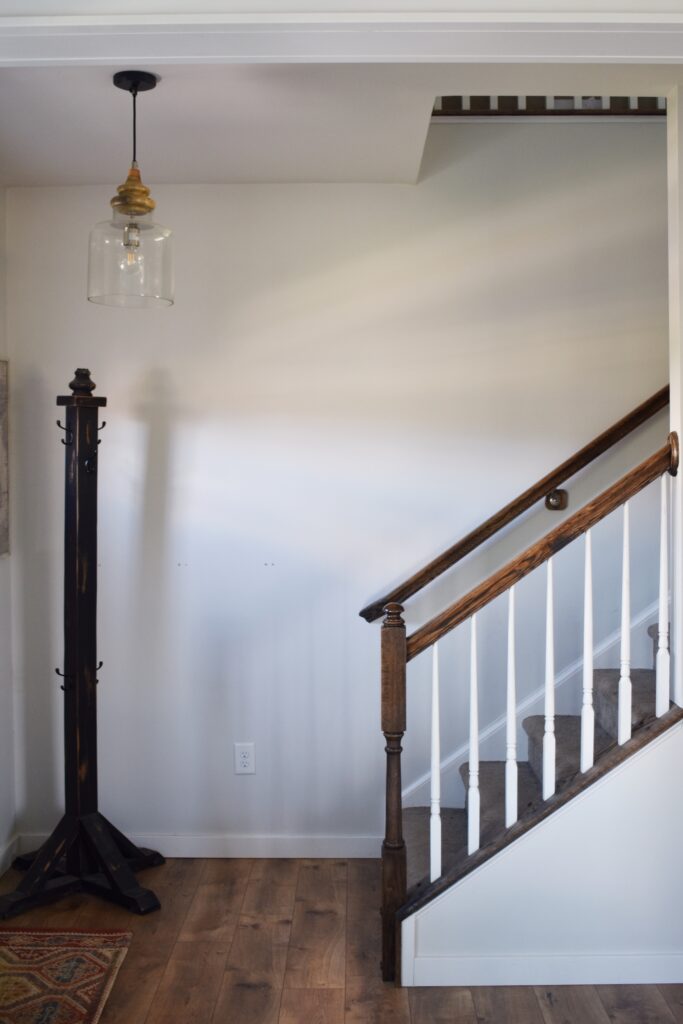 See that photo up above of the front room? Can you spot the one thing out of place with that beautiful picture?  If you said the reflection in the mirror you get a Gold Star!  The upstairs staircase sits directly opposite from the front room, right next to the front door, and it pretty much looks exactly the same as the day that we moved in, including the last remnants of the original builder grade carpet.  The whole idea for this project kicked off with my plan to improve that reflection with some trimwork I'm incredibly excited about – and of course getting rid of that brown carpet and improving that view to the upstairs landing.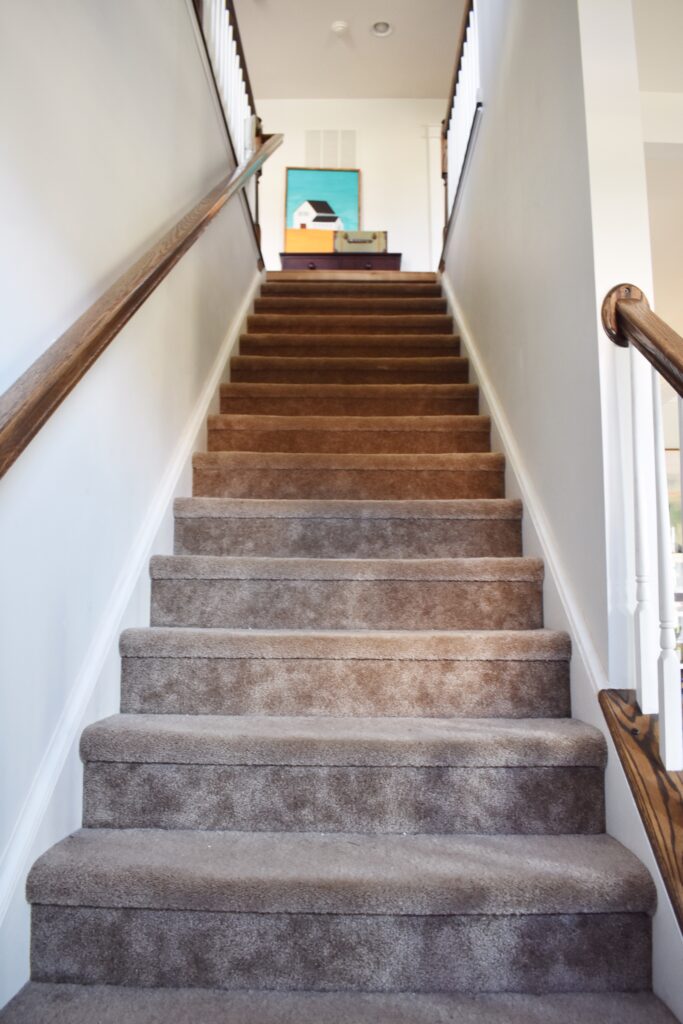 The Foyer and Front Hallway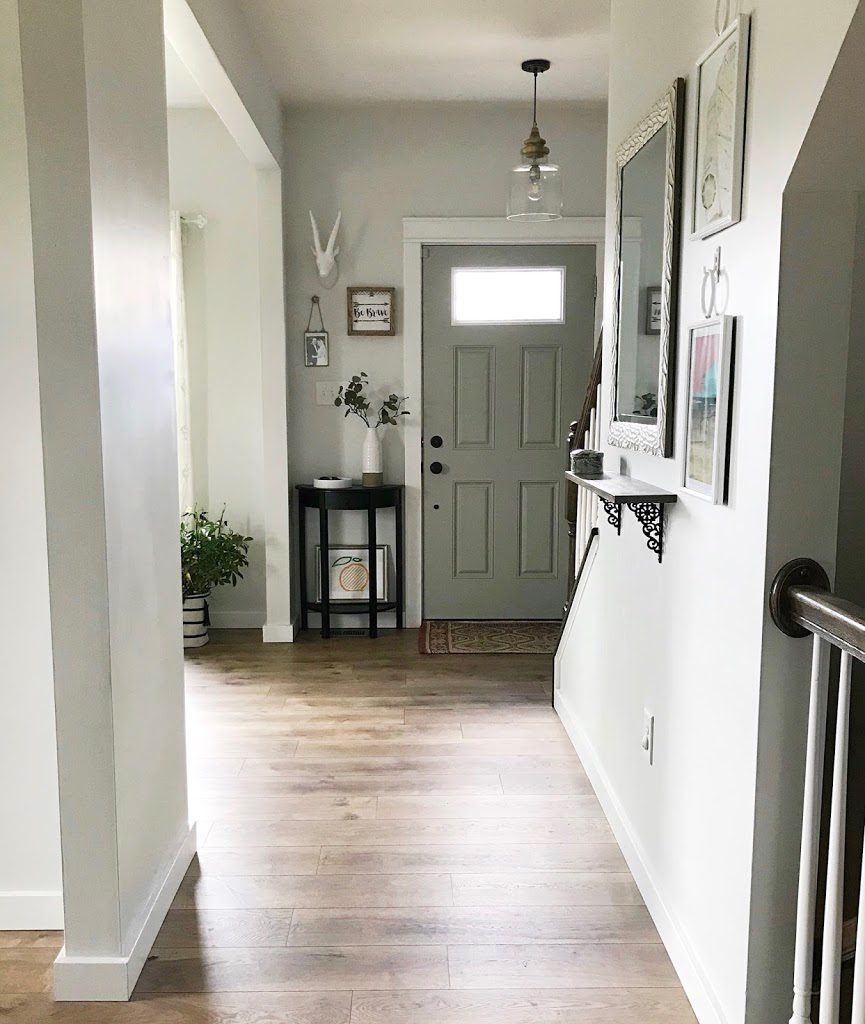 One of my favorite things about our house is the super long hallway that leads from the front door to the back of the house.  It gives off just the right dose of formality and it gives me an excuse to enjoy the Dining Room and Front Room every time I walk to or from upstairs.  The first pics are from the very first day we moved in (we literally walked in the house and I immediately started taking BEFORE pictures as evident by the random car seat).  Since then I've done some small improvements, most notably replacing the lovely wood/linoleum floor combo with laminate flooring (the whole house has Pergo Laminate in Riverbend Oak), painting the front door (Sherwin Williams Sensible Hue), and adding a new light fixture.  The view from the kitchen to the front door is probably my favorite in the house – if I just look straight ahead and not to either side or up to the ceiling.  But not to worry – everything is about to get turned up a notch to finally complete the picture I want guests to see when they enter my home.
The Loft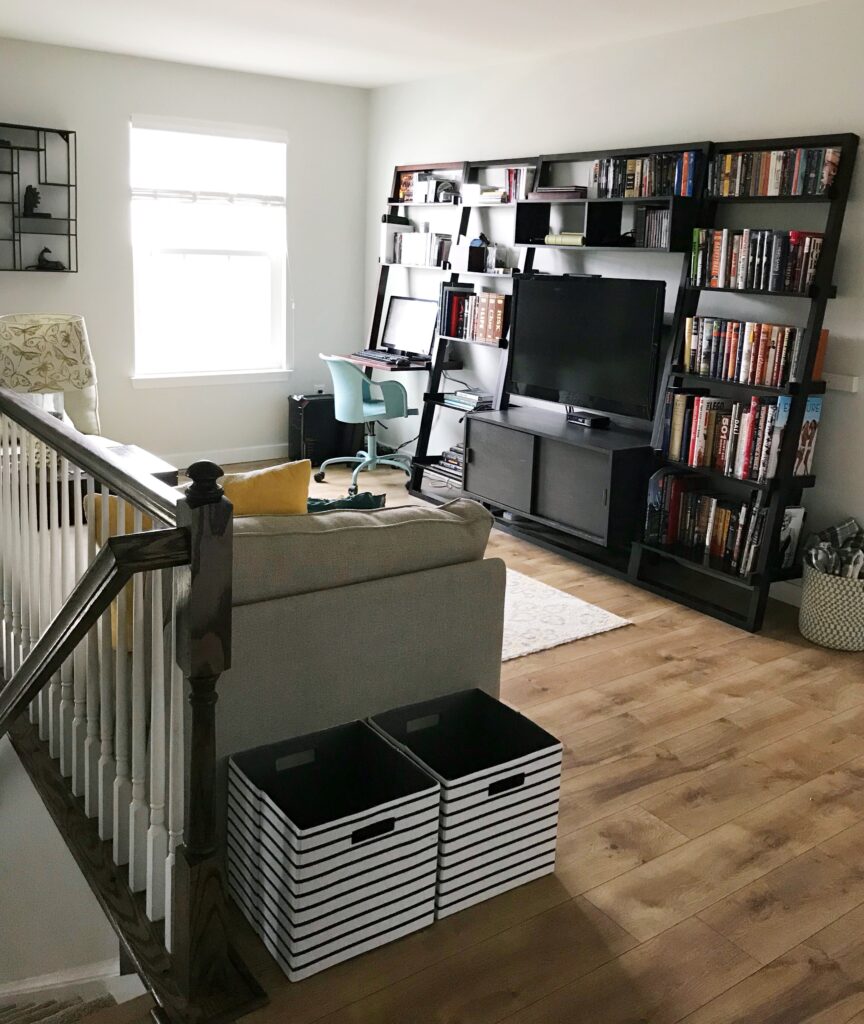 The last stop on this 6 week journey is the upstairs loft.  More than any other space, the loft makes our home really unique in my opinion…it's actually the main reason that we chose to build this floor plan.  It is our second living room that serves as the central hub for our upstairs activities (like movie nights, folding laundry, and working from home), and since it is surrounded by all of the bedrooms it is where we spend most of our nights pre-bedtime.  This space is probably getting the least amount of work done to it – the floors have already been replaced as well as all of the door trim, and most of the furniture that is in there now will stay, but it is overdue for some organization/simplification as well as some details that will make it really special.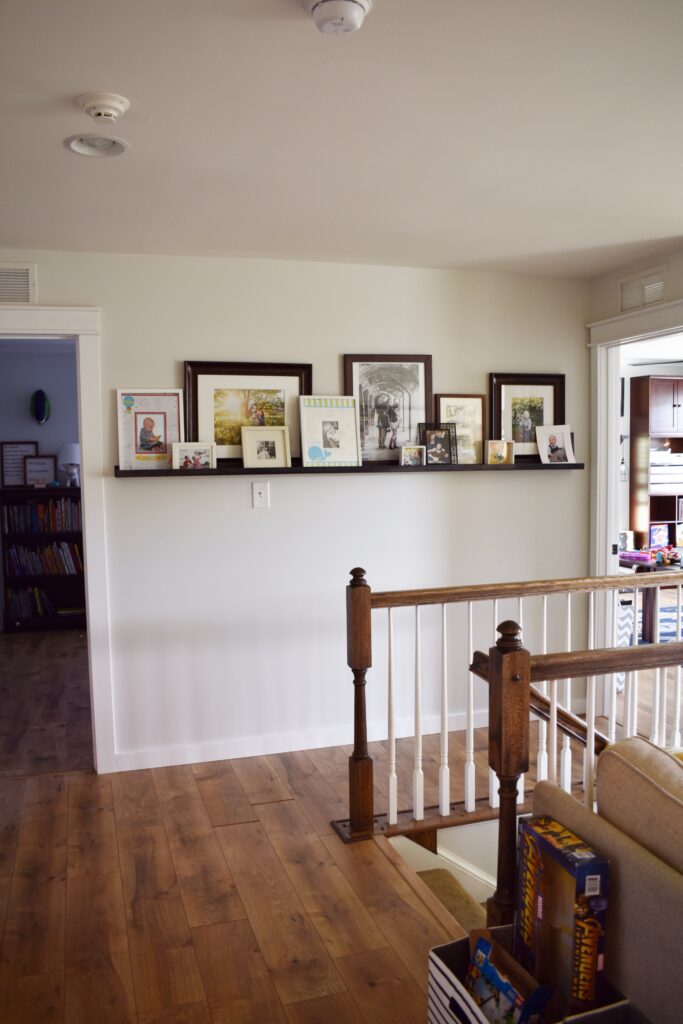 I'm most likely jinxing myself by saying this, but I think I have just enough time to get it all done (just don't ask me if I still think that's true come week 4 LOL).  I've been spending Week 1 working my way through the project I've been most worried about but once I get that out of the way it should be pretty smooth sailing – well, smooth sailing with lots of physical labor and late nights.
Next Thursday I'll take you through my plans for each of these three spaces, but in the meantime, here's a little glimpse at some of my favorite parts of the design as well as a short video I put together so you can see how all of the spaces flow together (thanks to the husband for the soundtrack).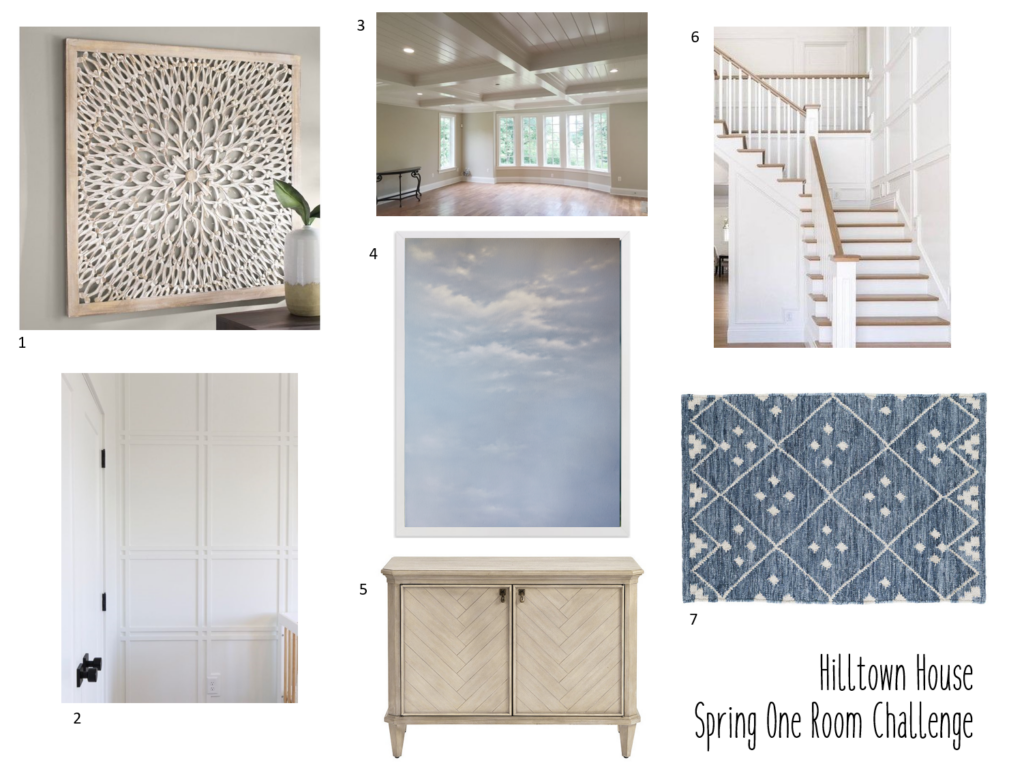 A beautiful Wooden Wall Carving to hide the return Vent
Unique Grid Wall Trim
Ceiling Clad with Shiplap from Metrie
Custom Artwork from my amazingly talented friend Kelly Money
Building a Ballard Designs Inspired Cabinet
Replacing the stair treads and banisters
This amazing runner from Annie Selke
You can follow along with my daily progress through my stories on Instagram  and I'll be sharing some progress shots on my Facebook page too.   And please don't forget to visit my fellow guest participants on the One Room Challenge Blog!  I have made some really amazing friends through this challenge and I cannot wait to see what everyone is up to this time.