Summer Vegetable Dips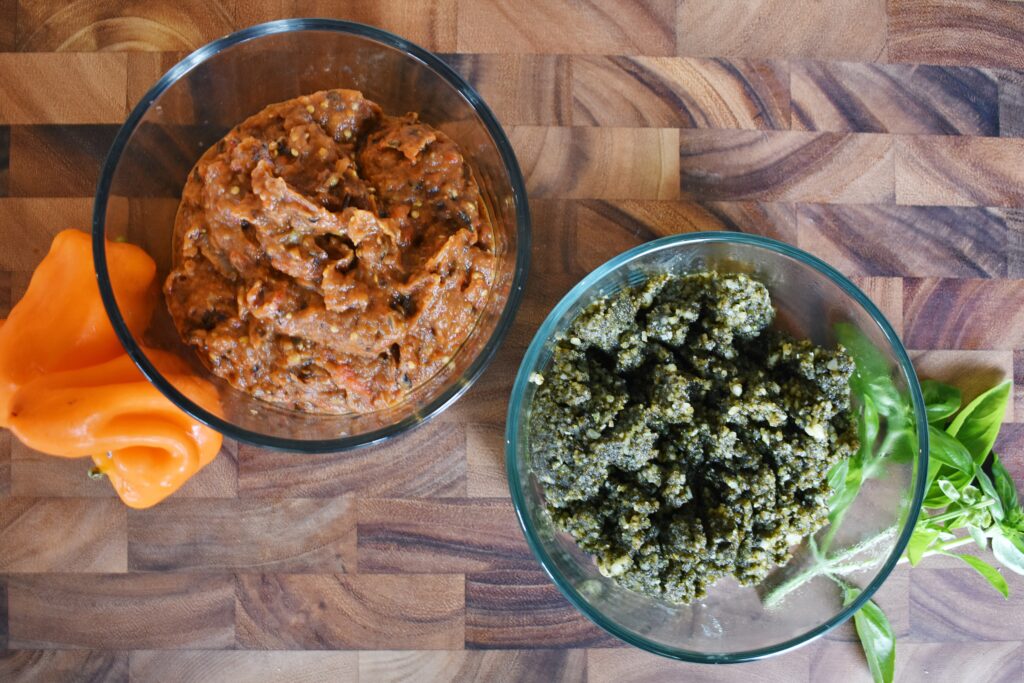 As much as I try to get my boys (including the husband) to eat all of the yummy veggies we pick up from our crop share, there are some that they just don't like no matter how I cook them. In the past there were weeks when they sadly went to waste, but last year I started making batches of yummy dips and spreads that were perfect for me to snack on during the day or use for lunch. I'm sharing three of my favorites below that easily come together in the food processor and are delicious on their own or worked into other meals.
Pesto – Confession, I am not the biggest fan of pesto; I like basil but if there's too much of it in a dish I find it way too overwhelming. That being said, I loooove Giada De Laurentiis' Pesto recipe because it has tons of parmesean cheese, tons of toasted pine nuts, and it's thick like a spread. My favorite way to use it is spread on pie crust and topped with heirloom tomatoes like in this recipe.
Roasted Eggplant Spread – My mom brought me back the most delicious eggplant spread from New York last year; I haven't been able to exactly re-create it but Ina Garten's Roasted Eggplant Spread Recipe is pretty close. Make sure you roast your veggies really well before you puree them to get that wonderful touch of char in your dip!
Home-made Salsa – Not pictured (because I ate too much of it before I took a picture) but I have made this at least 3 times this summer when I brought home an abundance of red tomatoes. Just chop a few red tomatoes, a yellow onion, a few cloves of garlic, and some jalapenos (I use pickled because I have a jar on hand) in your food processor until just combined. I add some lime juice, and salt it until it's just right then keep it in the fridge to eat with chips, tacos, or quesadillas. If you have the Magnolia Cookbook the recipe in there is pretty much the same so check it out. Oh, and guys I'm sorry but I HATE cilantro so you'll never see it in any recipe that I share, but feel free to add it if you must LOL