It's my favorite time of year folks – my busy time at work is done, the trees are changing colors, and there are non-stop holiday's to decorate and plan for.  I've already started Christmas shopping and Thanksgiving dinner planning (check out my go-to Thanksgiving dinner here) and we have lots of fun family activities planned for the next few months, including a trip to Hershey just before Christmas.  Before the merriment commences make sure you catch up on any of my late summer/early fall blogs you may have missed:
Some Fun DIY Organizers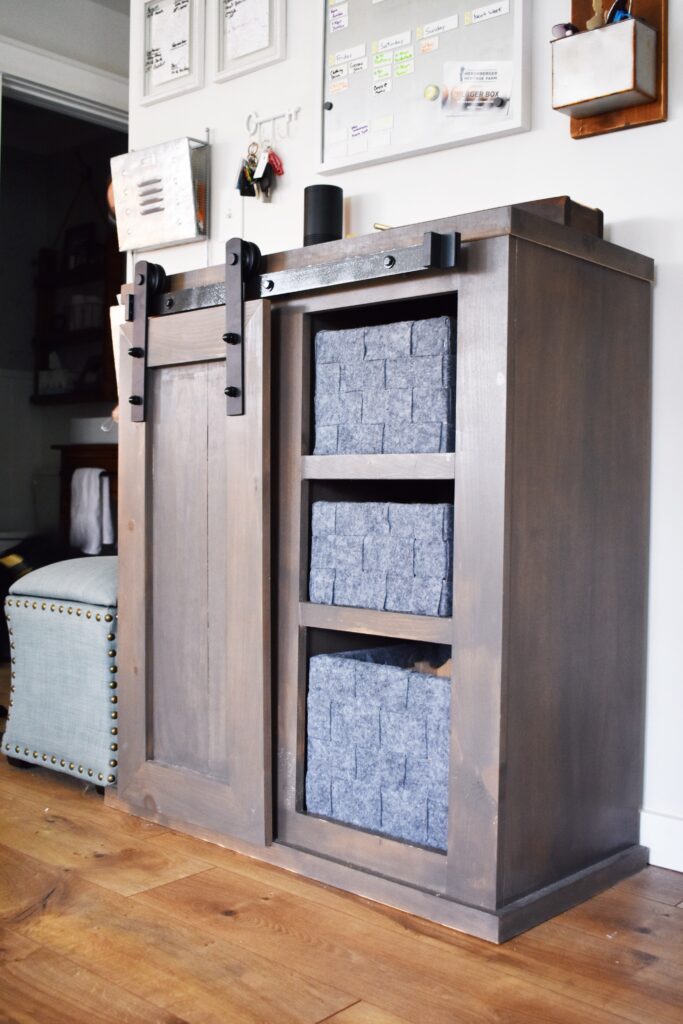 Now that the school year is in full swing we're been fine tuning our system of keeping all of the paperwork in order – and I'm planning on writing a post with my tips on that soon! – but in the meantime I wanted to share a fun and quick DIY I added to my new command center.  I wasn't really loving the storage crates that I had added, but they were the only things I could find that fit, and even if I built something custom for these spaces (which you know I love to do!) I couldn't come up with any better idea than to build something similar.  What I really wanted was a set of felt or knit boxes to soften this piece up – but the common sizes didn't work and I was also afraid they wouldn't be sturdy enough.  One day I just happen to come upon an old post by one of my favorite bloggers (brePurposed) while cruising around Pinterest where she wove strips of felt around canvas boxes and I knew all I needed was a little DIY magic (and some felt from Amazon).  I wrapped the two smaller wooden boxes that I already had for the top slots, but I built a larger box for the bottom out of scrap plywood (if you look close you can see I still need to add a little edging to the inside but that's a project for another day!)  I'm super glad I kept looking for a better solution on this one instead of just going with the easy option because this is exactly what I had in mind – soft but sturdy and in a color that blends really well with the washed out brown.  But how cute would these look in a brighter color in a kids room though?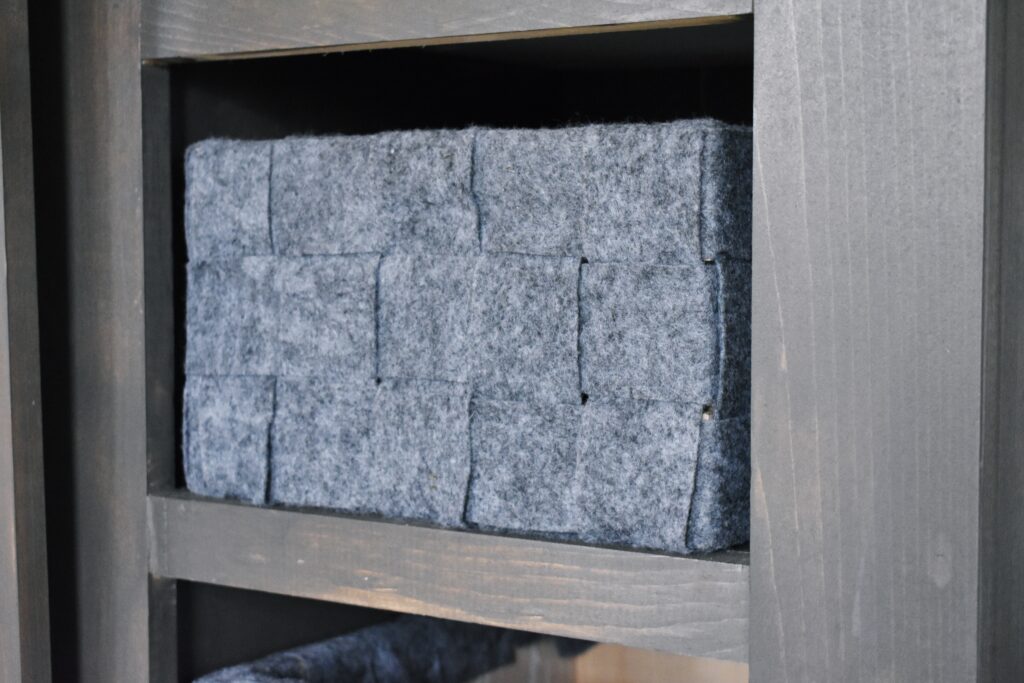 Halloween Treats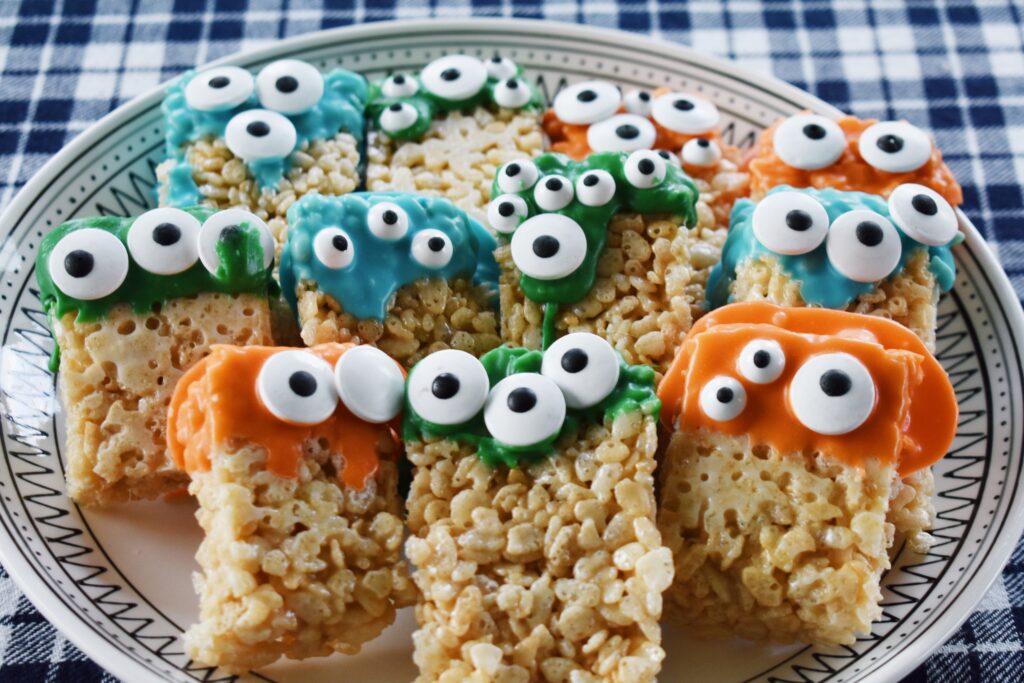 Once the fall/winter holidays roll around I like to carve out time to make some special goodies with the boys.  We look through Pinterest together and I have each boy pick out one recipe to try – with a little push from me in certain directions to chose something that is likely to end up in a Pinterest success than FAIL LOL.  I love to have me back all kind of things, and have no problem tackling more challenging recipes, but for our Holiday treats I usually look for really simple recipes that take more time to decorate than they do to make.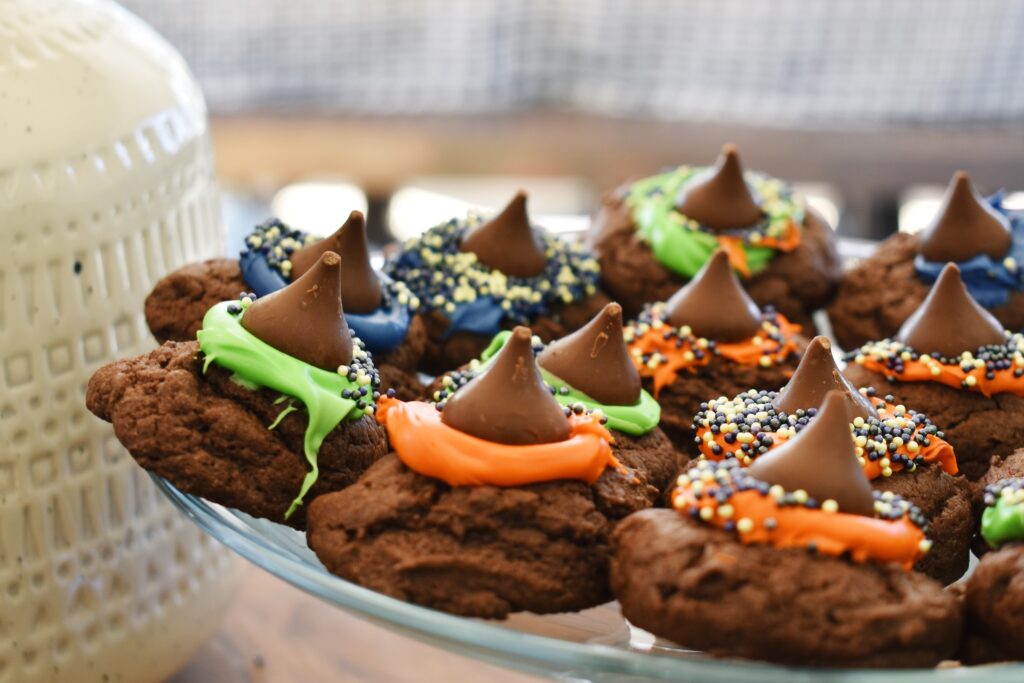 This year we chose chocolate witch hats and monster Rice Crispy treats and they came out great!  The chocolate cookies just used a boxed Devil's food cake mix and pre-made vanilla icing that we colored – I wish I had flattened the cookies a little bit before I baked them so they were a little less round – but once we put the Kisses on top I think they worked.  I was worried about the Monsters because I hadn't really used Candy Melts before, but those too came out super well, and I even found a better way to make Rice Crispy treats by adding a tiny bit of milk to the marshmallows while they're melting which makes them a lot softer to eat.
To see last year's Halloween Treats, as well as my favorite Halloween Dinner Recipe, check out the Recipe Section.
Holiday Shop
This Black Friday I am going to be doing something I've never done before and selling some of my smaller home goods in person at a fun event hosted by some lovely friends of mine.  I've got a lot of fun projects planned and I'll make a lot available in my shop afterwards!  To kick things off I just added these fun Thanksgiving signs with one of my favorite sentiments of the season : )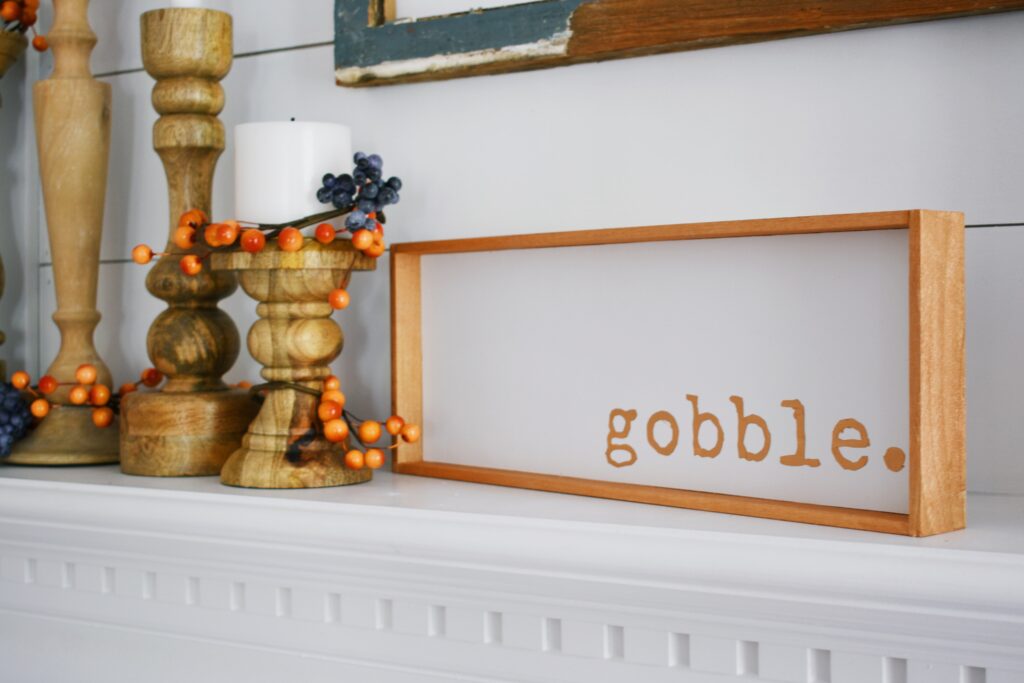 Early Fall Recipes
Find the links these and other of my favorite's on my Recipes Tab.
At the start of the summer we got loads of peppers from the farm which means I get to over-indulge in two of my favorite recipes!  I make big batches of both so I can have lots of leftovers for lunch.
Chicken Fajita Pasta with Spicy Alfredo Sauce – Don't let the Evaporated Milk throw you; it makes this pasta creamy but keeps it lighter than a normal Alfredo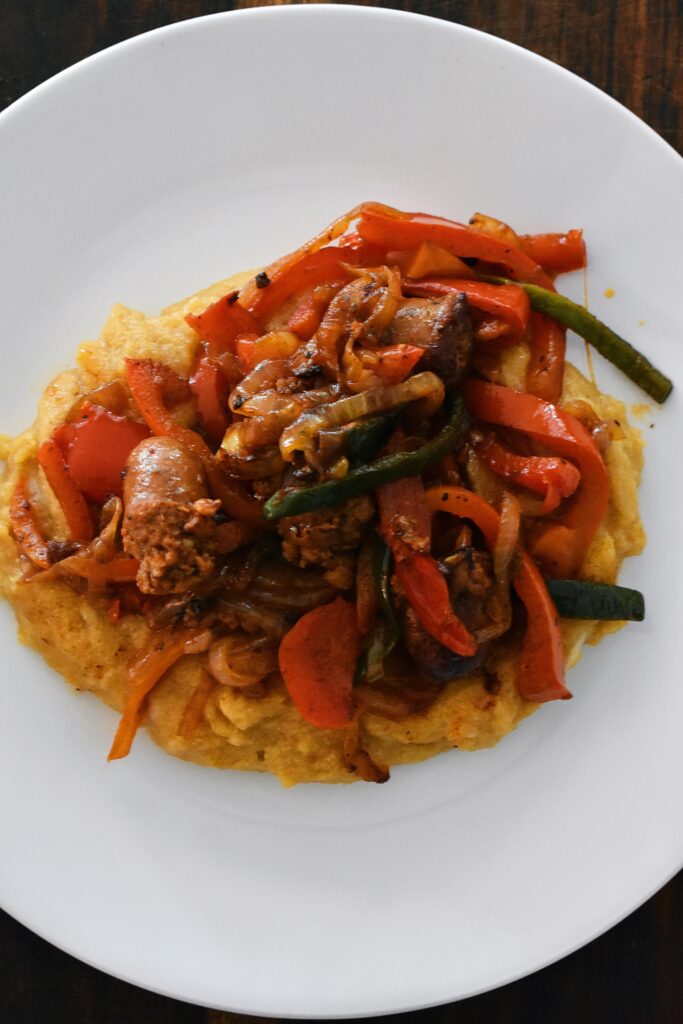 Sausage and Peppers – Poblano peppers make this a little spicy but a hit of Balsamic at the end smooths it out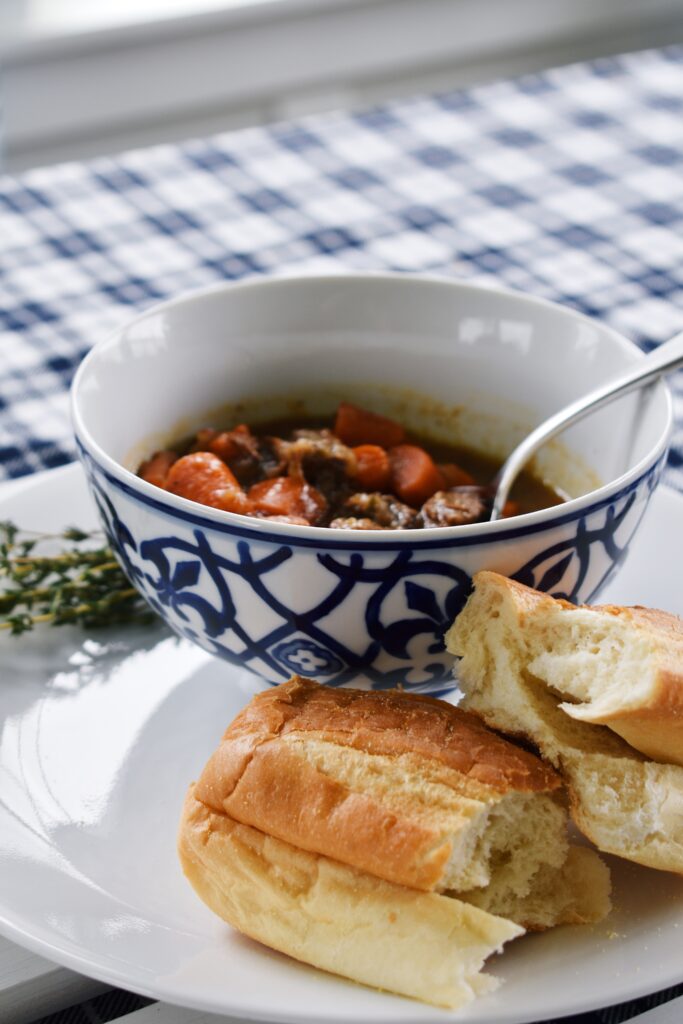 Slow Cooker Beef Stew – I love me some braised meat and this is my go to weekend Beef Stew;  it cooks in the slow cooker and a little dollop of Dijon mustard at the end gives it some good tang.  I don't like the taste of boiled potatoes so I don't add them and I add a little Worcestershire sauce.  I also like to buy a two pack of Chuck Roast when I make this – I use one for this recipe and freeze the other one for another slow cooker favorite – Italian Beef Sandwiches.
Goodbye to our Boy Cash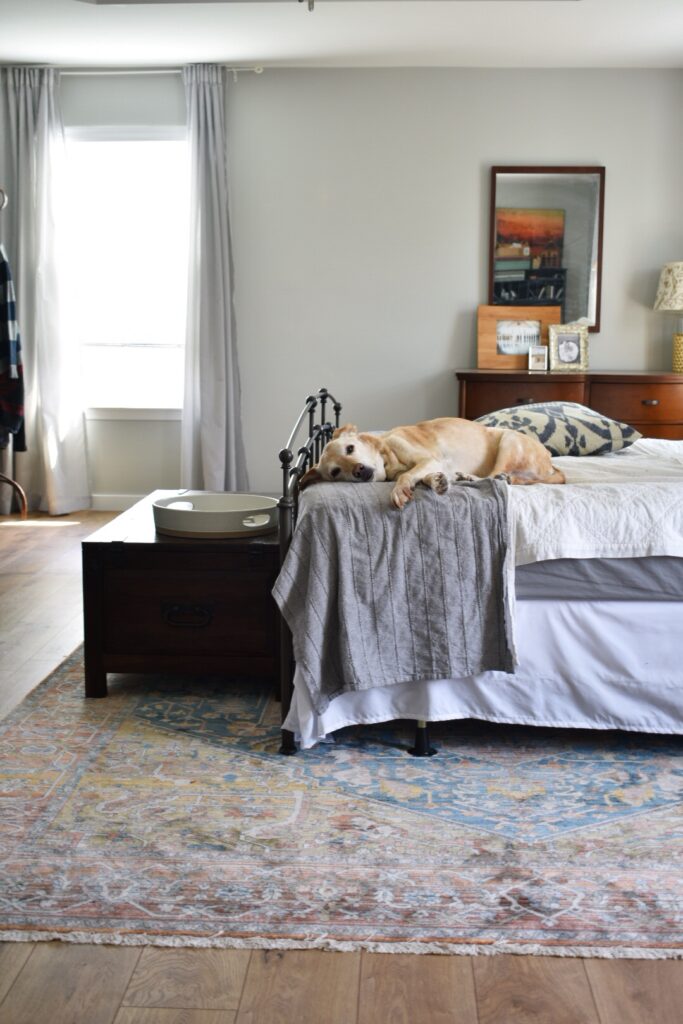 You may have noticed that I didn't write a September round up last month.  When we had to unexpectedly say goodbye to our faithful pet of 12 years, Cash, I knew that I wanted to write something about it but that it was going to take me a while to be able to put pen to paper, and as I type this a month later the tears are welling up again.  It's hard to come home and not have him there to great me;  it's hard to walk through the house and not imagine he's not curled up around the corner;  it's hard for my brain to fully process that he's gone – but we couldn't have asked for a better pet or for better memories to keep his spirit alive in our hearts.  We will miss you dearly buddy and we are truly thankful that you were ours.