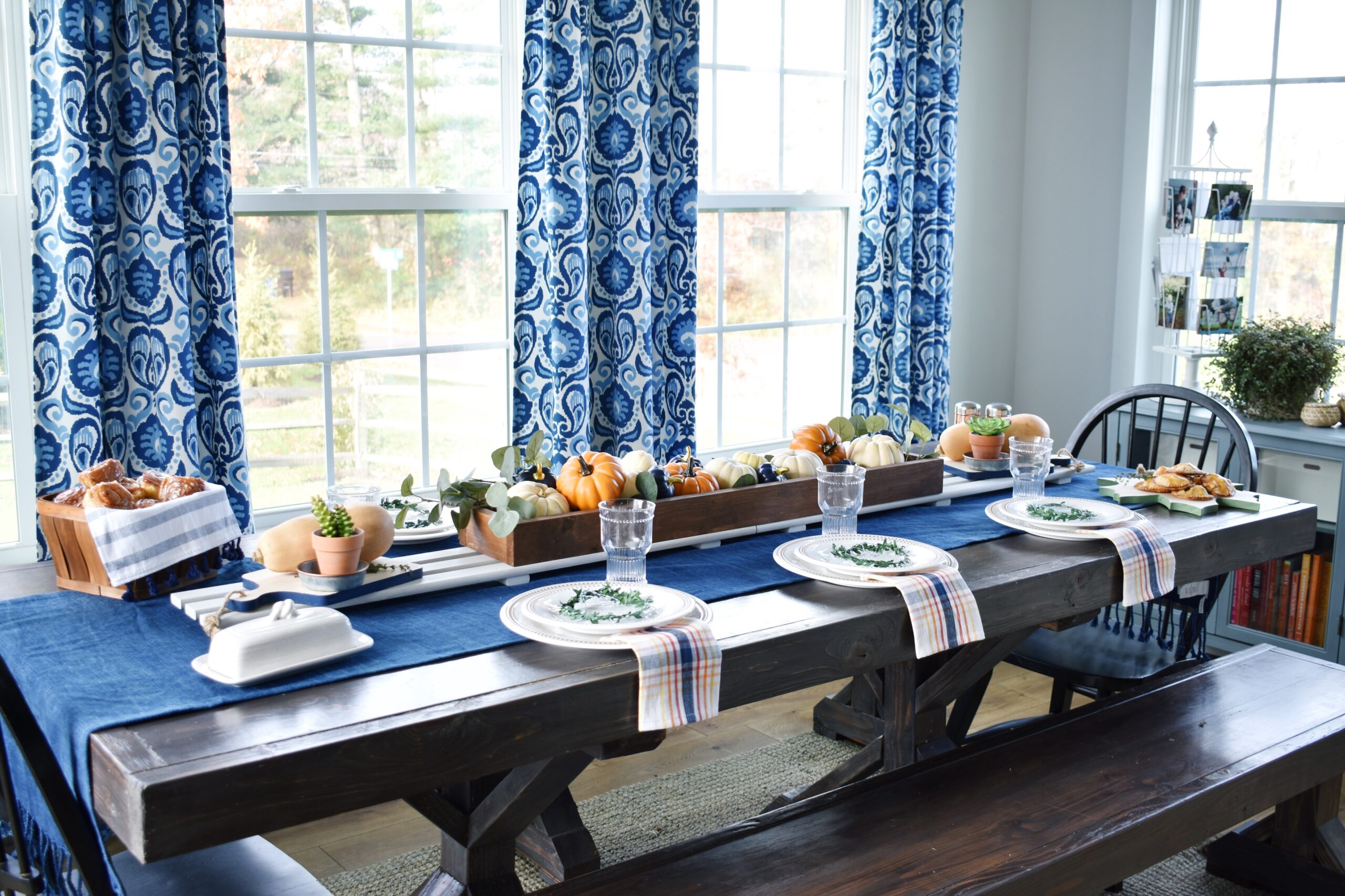 It's almost time for my absolute favorite holiday! Don't give me wrong, I love Christmas and all the merriment that it entails, but as I've gotten older Thanksgiving has become number one in my book. I was talking to my Mother in Law just today about why that is, and I think it's because each day of the long Thanksgiving weekend brings along a different kind of celebration from the feast on Thursday, to the yearly shopping on Friday, to the breaking out of the Christmas decorations on Saturday and Sunday.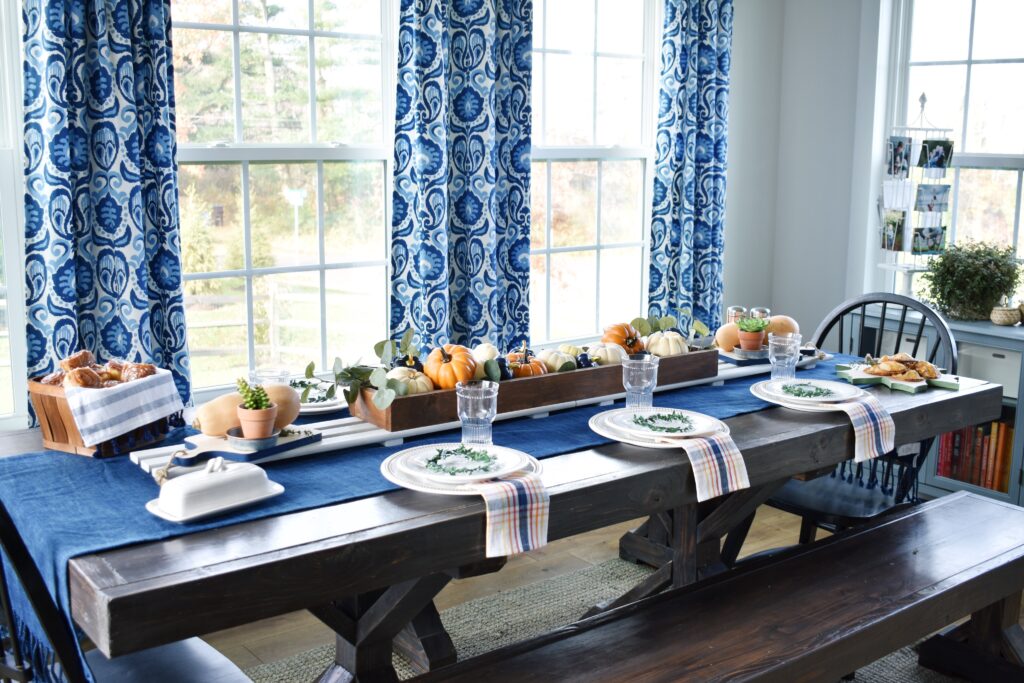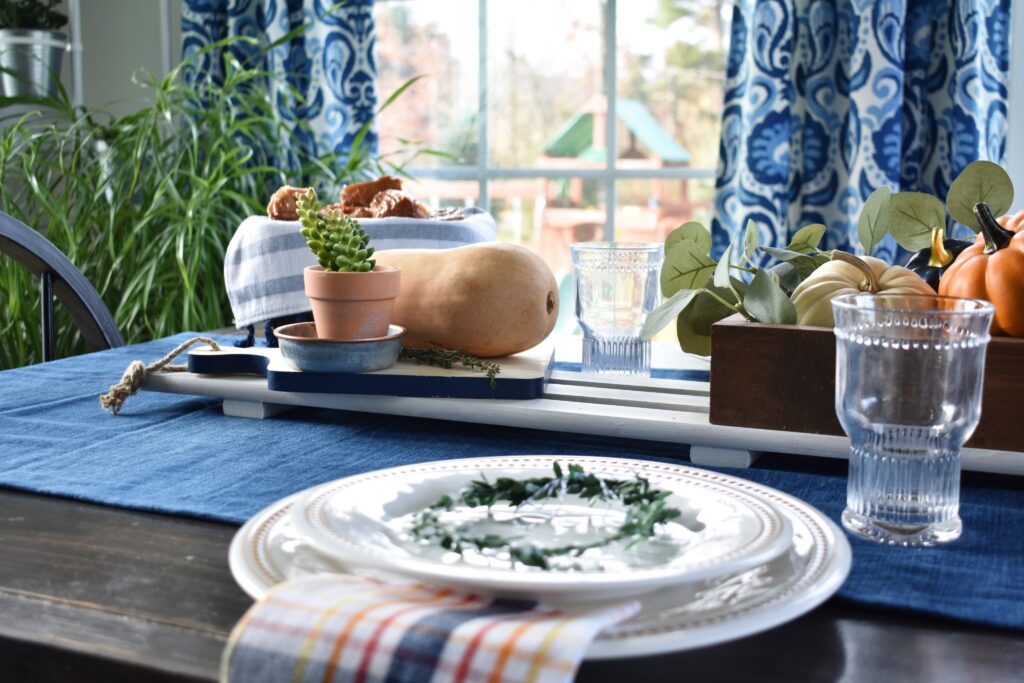 For the last 3 years we've hosted Thanksgiving dinner at our house for mine and my husband's families and I think that that just adds even more enjoyment to the holiday for me because I love to plan and cook big meals for a crowd! Last year I shared my Thanksgiving recipes and you can find them here – I pre-make as much as I can up to a week ahead so my day of cooking is actually really minimal. This year I think me and the boys are also going to try to make some breakfast treats to enjoy that morning – possibly these cinnamon rolls or their favorite orange scones.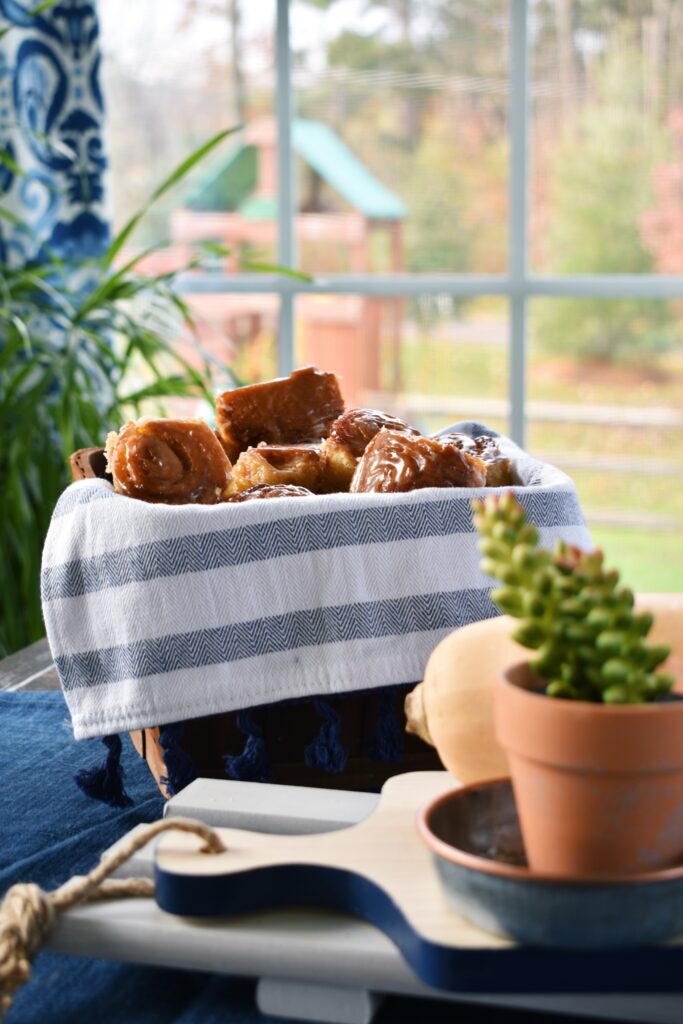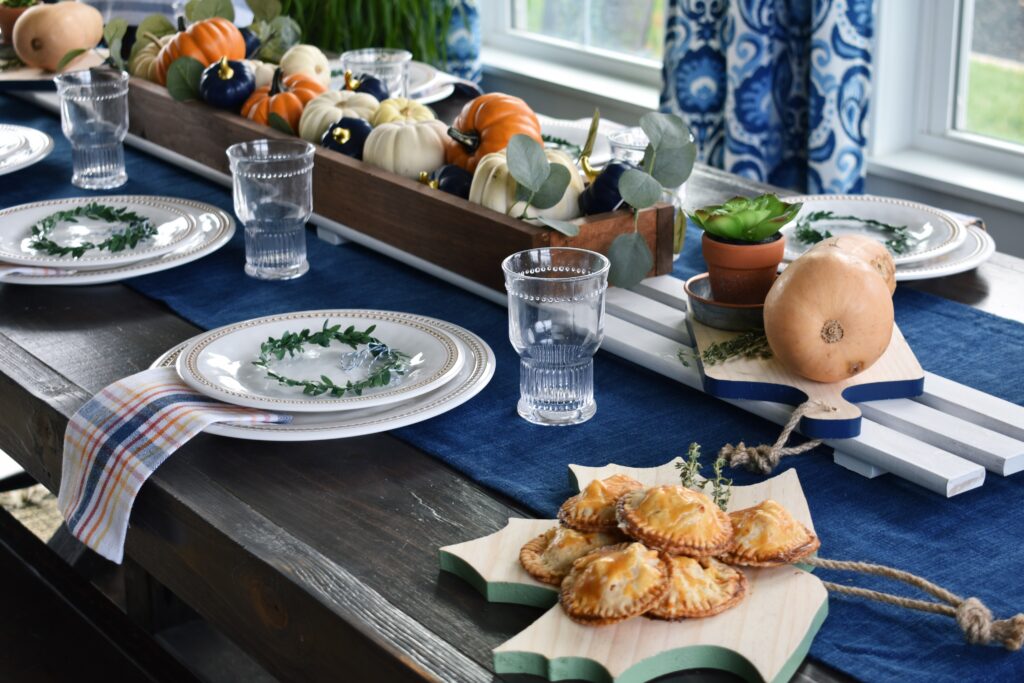 As much planning as I've put into the meal, I have never thought ahead enough to put together a table as enjoyable as the dinner I cook, so this year I made it a point to take the time and come up with something that everyone would enjoy.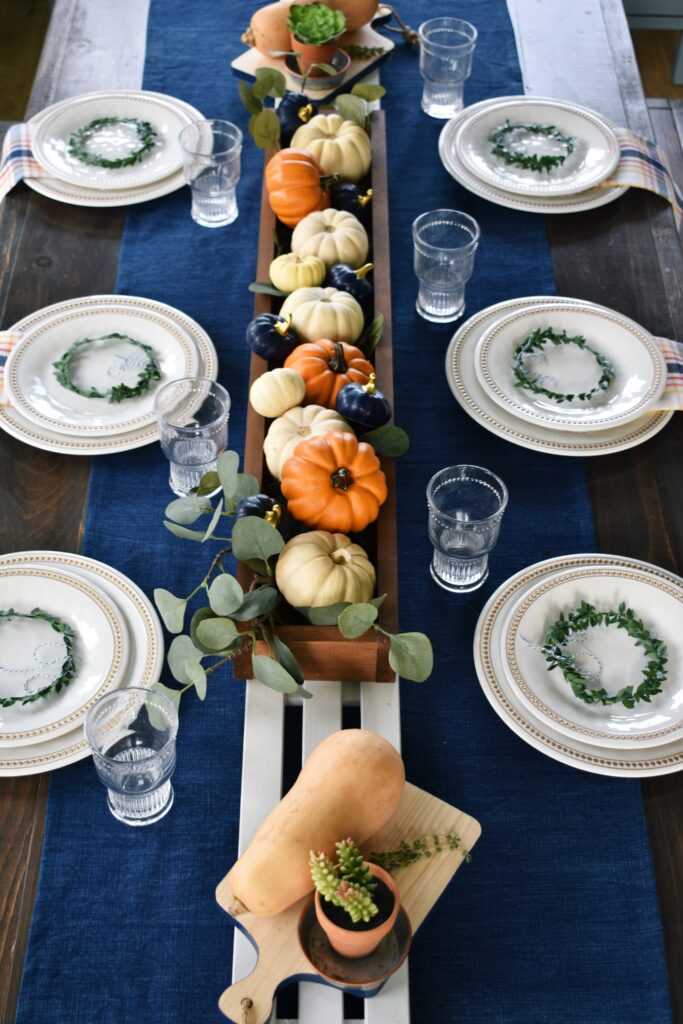 I continued the color scheme from the rest of my fall decor filling the tables with touches of navy blue and burnt orange. To me these deep hues capture the feeling of the crisp fall air mixed with the warmth of the autumn sun. Besides that beautiful Indigo Table runner that I picked up from Pottery Barn on premier day, everything I used for this tablescape I already owned or came from the Target Dollar spot.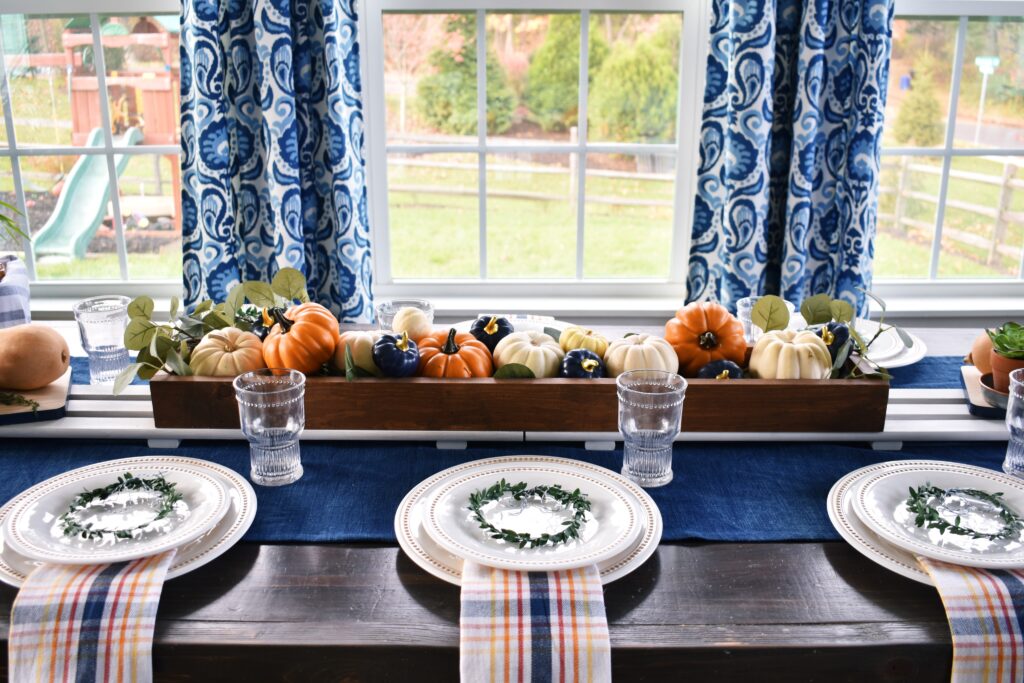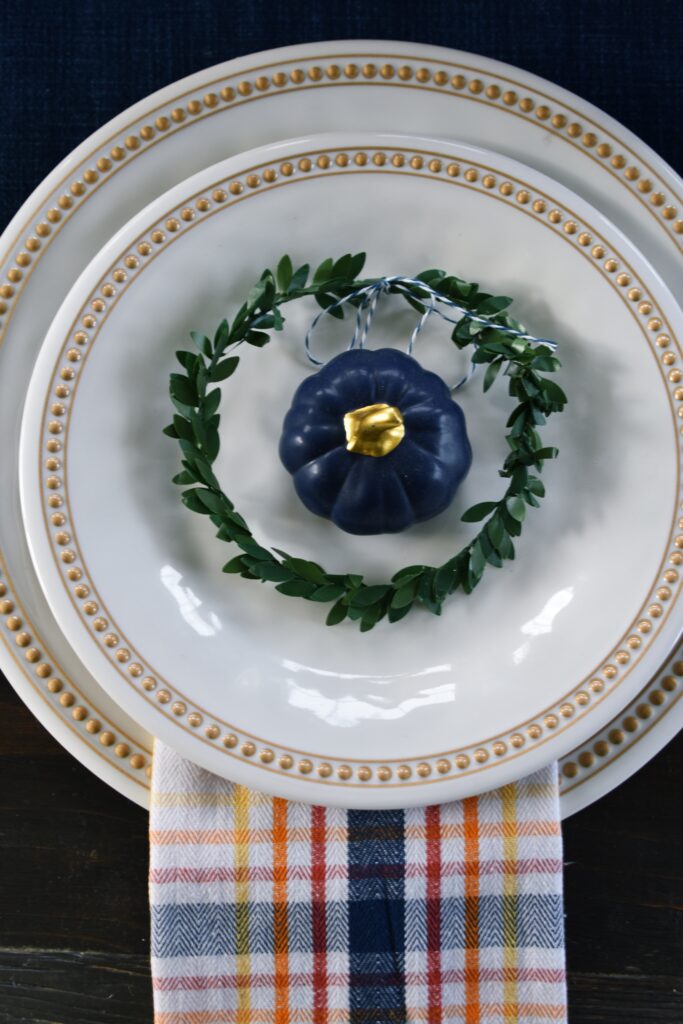 You may recognize the centerpiece from my Fall Home Tour where it originally lived on the console behind my couch – the box I built to fit the space and filled it with some faux eucalyptus and a mix of real and faux pumpkins. It sits on top of the two re-purposed shelves that live on my kitchen table (I love that I can either stack them side-by-side so they work as a wide tray or end-to-end for a longer one).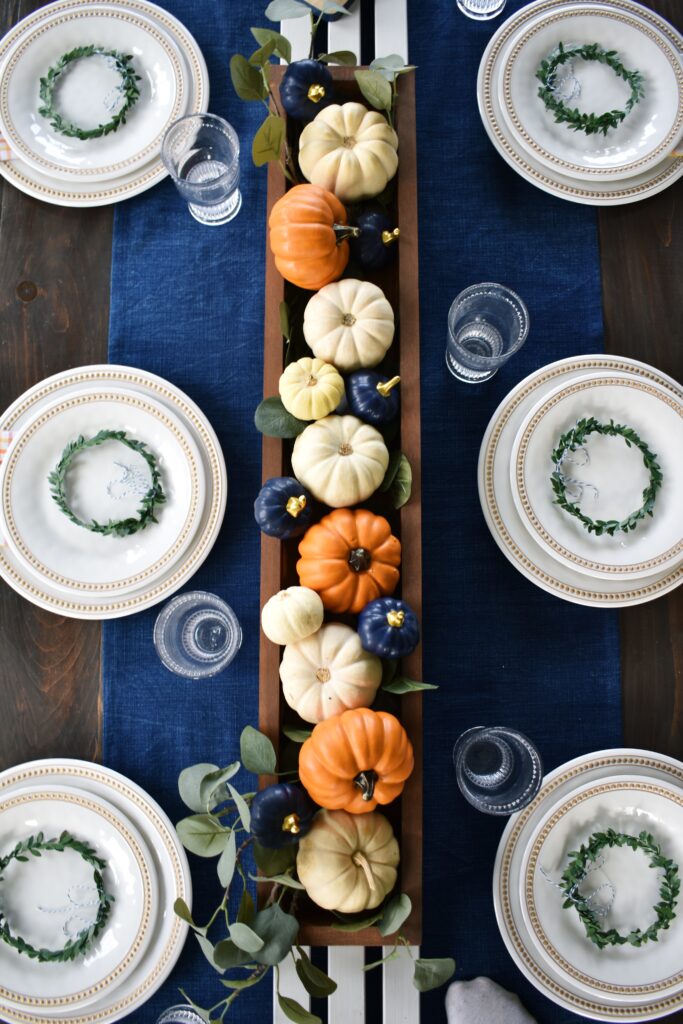 Last year I stumbled on an unbelievable end of the season sale on these cooper rimmed melamine plates at Michael's and picked up enough for dinner and dessert. The napkins I actually made out of two Dollar Spot table runners that I cut down and sewed to finish….I mean how could I pass up blue and orange plaid?? Some delicate Hearth and Hand glasses (also picked up on super sale) and simple wreaths made out of garland finish off each setting – I actually think I'm going to tell each guest they can take the little wreath home and hang it somewhere for Christmas.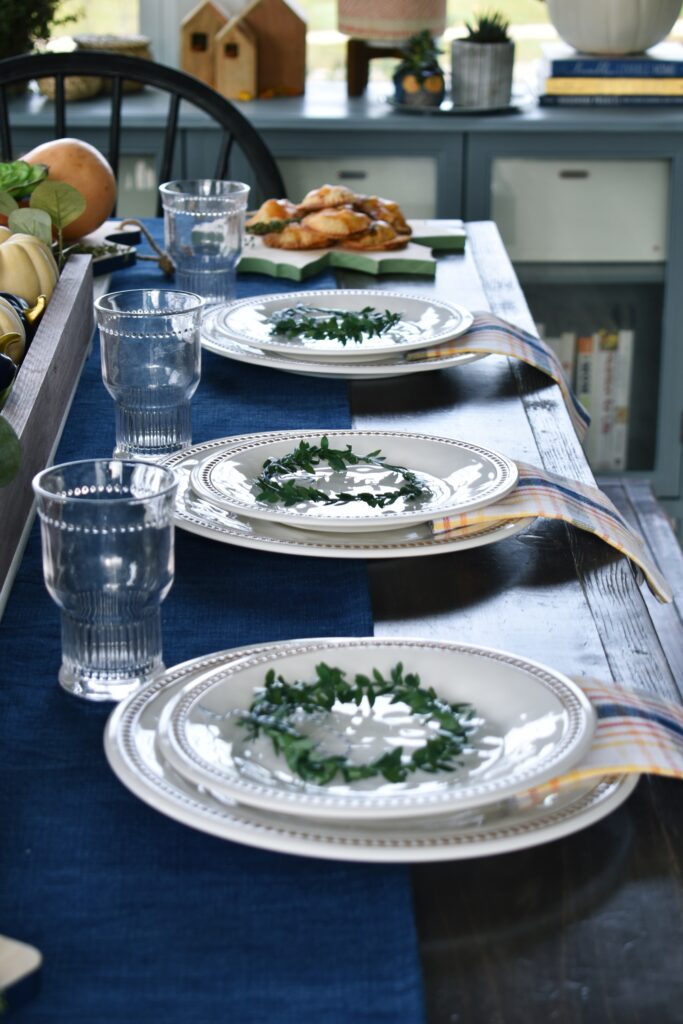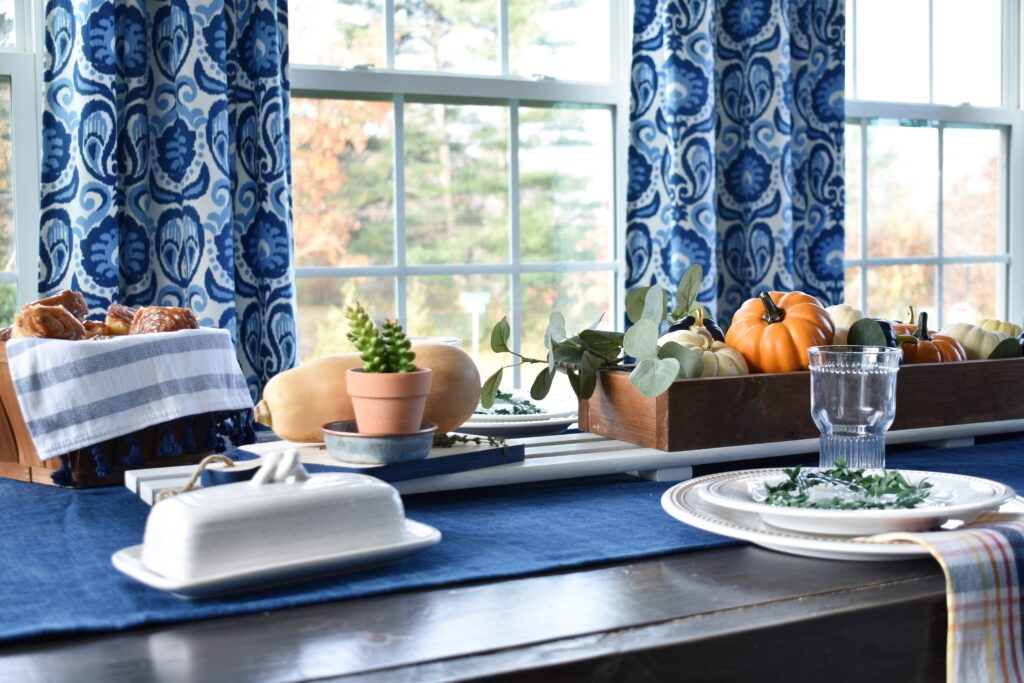 I love using fruits and vegetables on my tables so I added some of the butternut squash I had on hand from our local farm. These darling little cutting boards (also from the Dollar Spot) make great trays for decorations and treats alike, like these mini apple pies me and boys made together on Sunday night.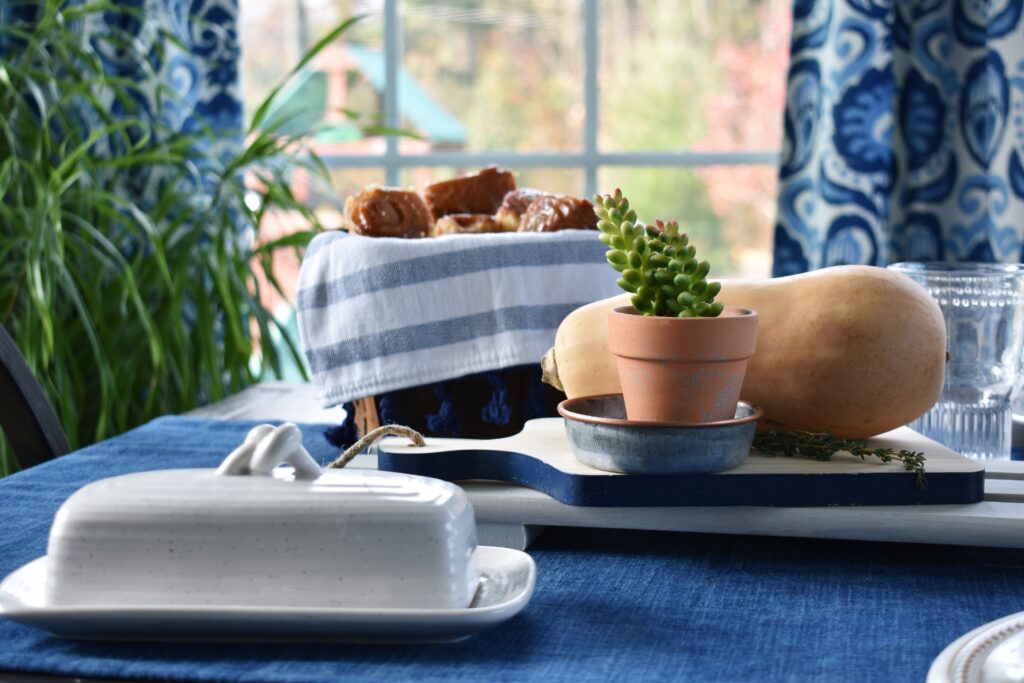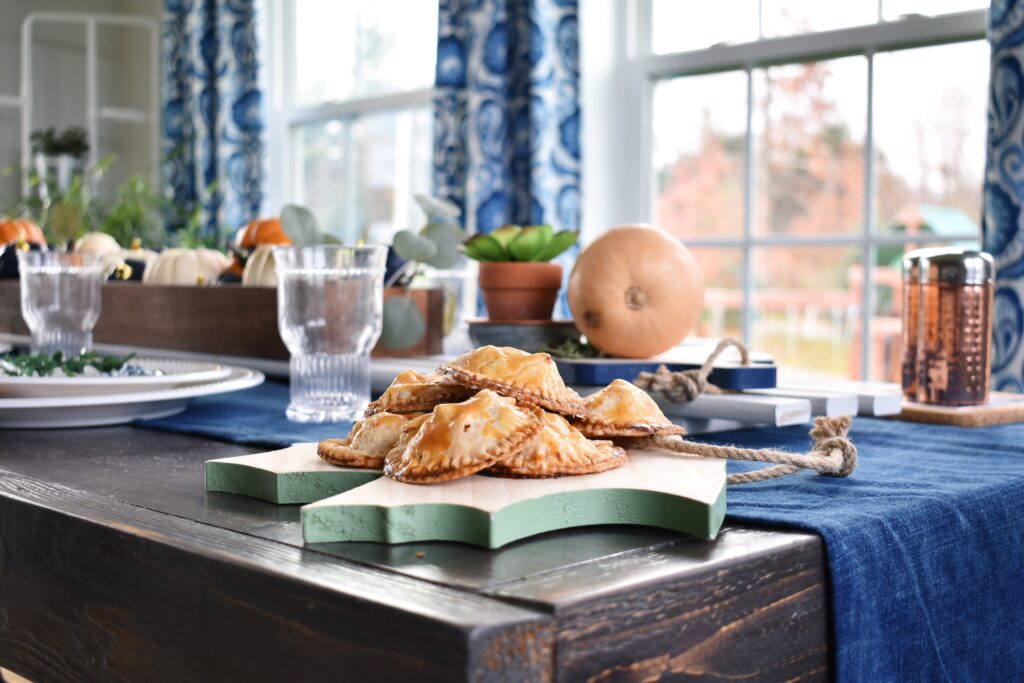 Since I serve dinner buffet style on the island in the kitchen I'll make some small tweaks to the table come Thanksgiving, but I will have it set when guests arrive to set the festive mood. Oh, and in case you missed the news on my Facebook or Instagram, we have added two new additions to our family that I'm sure will find a way to sneak some turkey when I'm not looking. Wishing you all a truly wonderful Thanksgiving – may both your hearts and your stomachs be full and happy!