This week we are celebrating 5 years in our home!  I can't believe how far both the house and our family has come since we moved in.  I have such fond memories of the early days when it was just us on our block and my oldest son used to spend hours playing in the mud pits while we watched our neighborhood slowly get built.  If you want to see how things have changed around here make sure you check out my Home Tour Page for lots of Before/Afters!
52 Week CIO Challenge
I'm happy to report that even during the craziness of the One Room Challenge I didn't let my Cross-It-Off checklist slip off the radar (although I may has miscounted my weeks now that I'm looking at the list LOL).  If you've been following along at home here's what got done over the last two months:
14. Donate boxes of old home goods to the Purple Heart
15. Organize the movies in the loft – I got rid of all the old DVD boxes and sorted them into these compact containers
16. Fix the Dining Room Outlet
17. Buy a new vase for the kitchen island (I found the perfect one at a local shop called The Yellow Door)
18. Add new carpet gripper tape to the small rugs
19. Fix the corner of the playhouse pit
20. Replace the broken planter box corners
21. Patch the hole in the breakfast bar and add new brackets (there was seriously a hole in this wall for the last year!)
Plant Care Tips from ProFlowers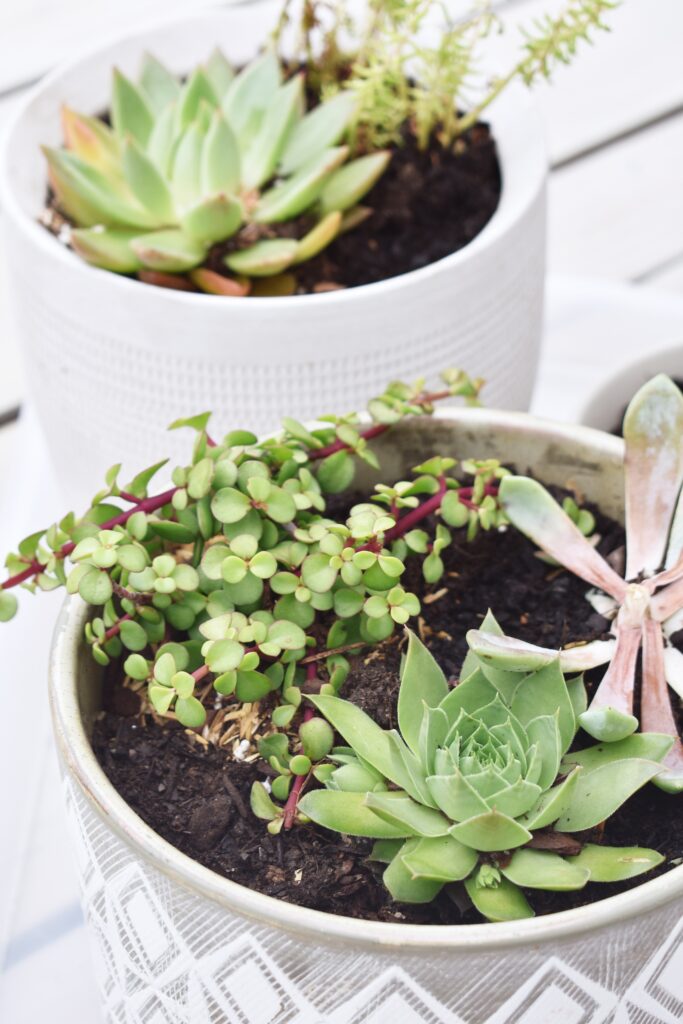 Now that spring is in full swing and warmer weather has finally arrived, many of us are taking on cleaning, renovation and redecoration projects to brighten up our homes.  One of the easiest ways to elevate a space is with houseplants. Take it from me, you don't have to be an expert gardener to maintain houseplants.  There are a variety of different plants with varying care instructions, and some of the easiest plants to care for include:
Succulents + cacti

Sansevieria (snake plant)

Peace lily

Spider plant
To help keep your houseplants happy and healthy, check out these plant care printables by ProFlowers. There are plant observation journals,  a watering tracker, as well as care tips for some of the most common houseplants. Download and print them at the links below!
Facebook Marketplace Treasure
One of the projects I didn't have time to fully share in my One Room Challenge reveal was the amazing cabinet that I added at the top of the stairs.  After months of searching Facebook marketplace I finally found the perfect piece right at the last second – the only problem was that we were out of town and there was lots of interest in it!  So I did what I had to and overbid the asking price.  After a few coats of Magnolia Chalk paint, this beauty turned out better than my original plan of building my own piece.  The lessons of this story if you're going to explore the marketplace for your own home: Be Patient, Pay attention to size and shape not color or pattern, and don't let those unicorns pass you up!
A New Way to Enjoy Mother's Day
I was seriously burnt out by the time we got to Mother's Day this year so when my husband asked me what I wanted to do I told him I didn't want to do anything on that Sunday except catch up on grocery shopping (it was suppose to be a super rainy day anyway).  Instead he suggested that we celebrate that Saturday together because  he had a fantastic idea for something he and the boys could do the next day.  He used all of the random funds he had saved up and bought him and the boys a GINORMOUS LEGO set – think close to 5000 pieces.  And guess what – they've been building this thing together for a few weeks now with absolutely no fights!  It is the best Mother's Day present I have ever received – all three boys enjoying time together and making awesome memories while they build something they absolutely love.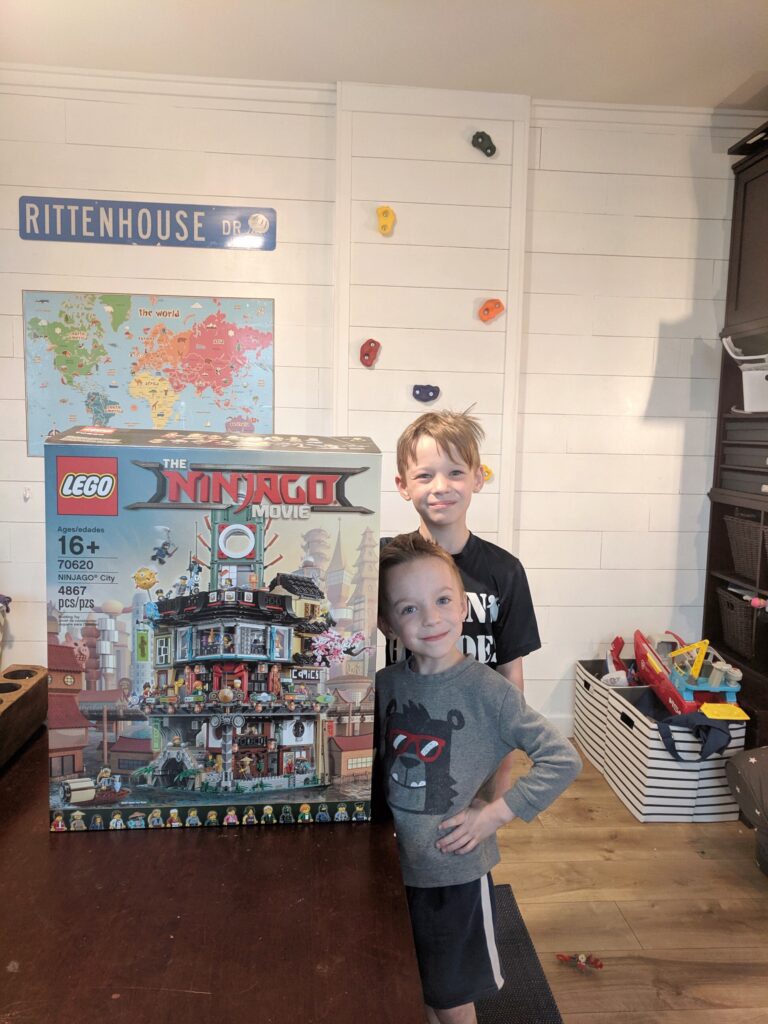 May Recipes
Find these links these and other of my favorite's on my Recipes Tab.
For the last few months we've been getting all of our meat from a local farm (we get one box every two weeks) and it's been a really great help when it comes to meal planning!  This month I'm sharing two of my favorite weeknight recipes that have been on repeat at our house lately.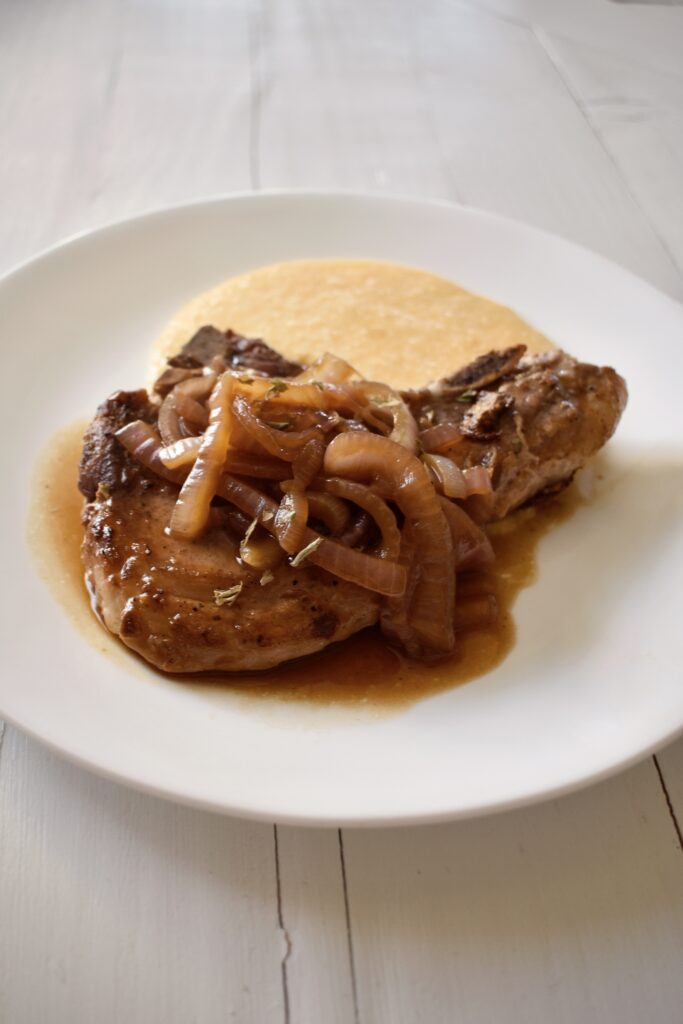 Smothered Pork Chops and Cheddar Grits – I'll make these cheddar grits whenever I want a quick and different side dish.  Click here for the recipe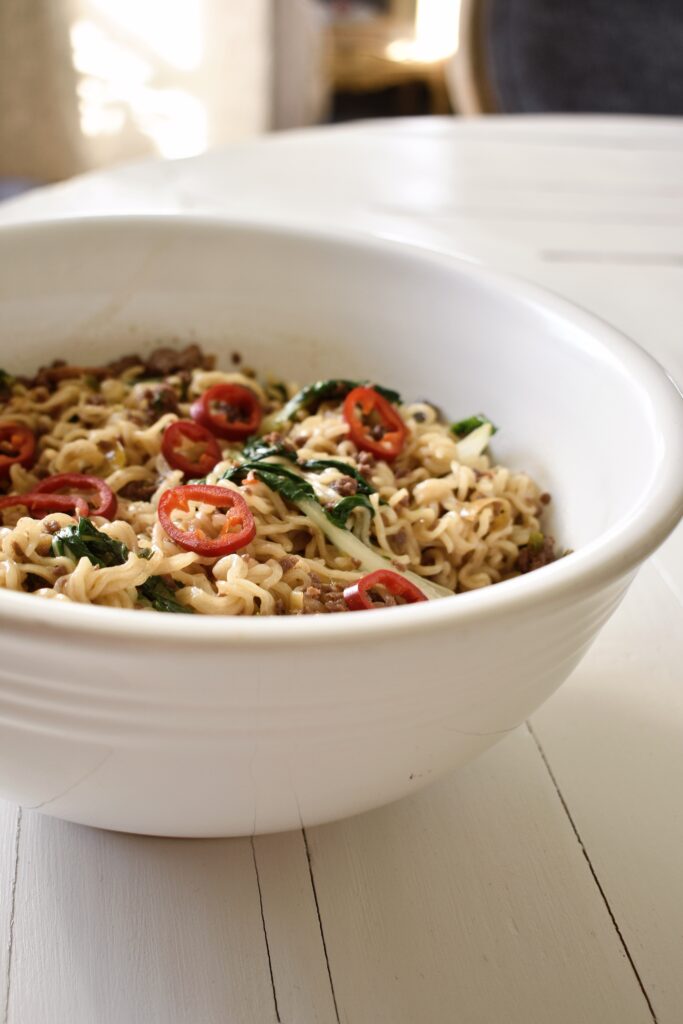 Spicy Ramen with Beef and Bok Choy – I save the spice until the end so the boys can eat the Ramen and Ground Beef.  Click here for the recipe