Holidays
Holiday Gift Guides – For the Ladies, the Gents, the Boys, the Neighbors, and the House
I know this may elicit a few eye rolls – but I love shopping for Christmas presents! Finding the perfect present and seeing the people I love open them is one of my favorite parts of the holiday season.  A long time ago I learned that they key to loving and not loathing Christmas shopping is to get as much as I can bought and wrapped as early as possible (usually the first or second week of December) – that way I'm free to enjoy the rest of my holiday season.
This year I finally put aside some time to share with all of you some of my favorite gift ideas.  While I divided them into categories based on the special people in my life, these of course are just arbitrary guidelines – trust me, as a girl who loves her power tools I definitely don't think that only the gents should get them for Xmas!  All of these are products that I have (or have asked for), have given (or am giving), or own myself.  And, as a big Black Friday shopper, I've also indicated with of these products you should lookout for next week as well as some small shops you can give some love on Small Business Saturday.  With that – let the Holiday Shopping Season commence!
(Disclosure: Many of the links below are affiliate links, meaning, at no additional cost to you, I will earn a commission if you click through and make a purchase)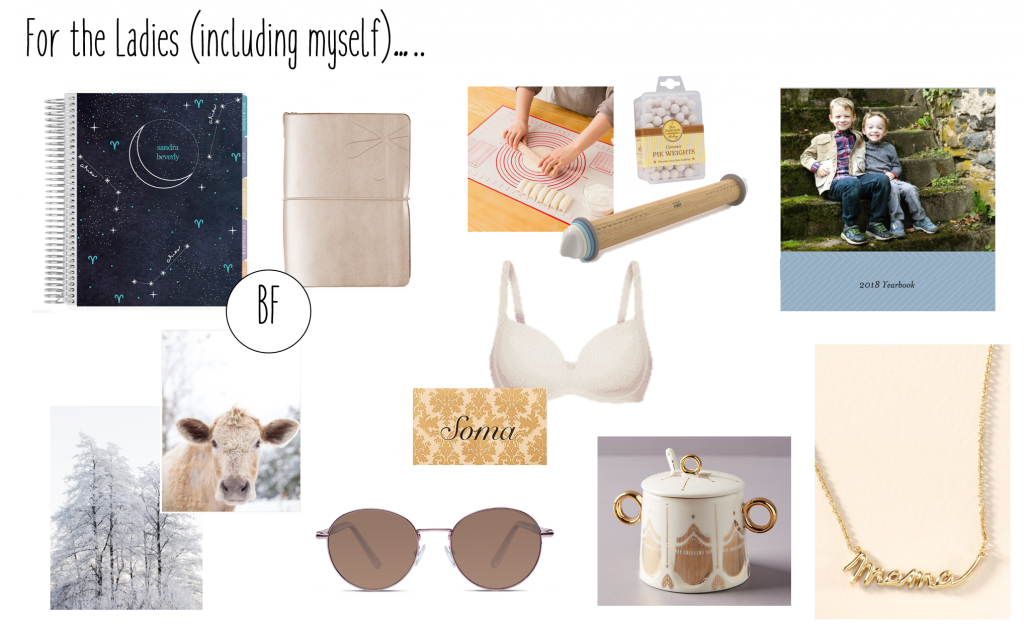 My husband always likes to joke that I'm the easiest person in the world to shop for – but he's not wrong.  It partly because I have way to many interests, but it's also partly because I don't really buy that much for myself throughout the year.  A lot of these ideas would also be great for Valentines Day, Mother's Day, or even a birthday.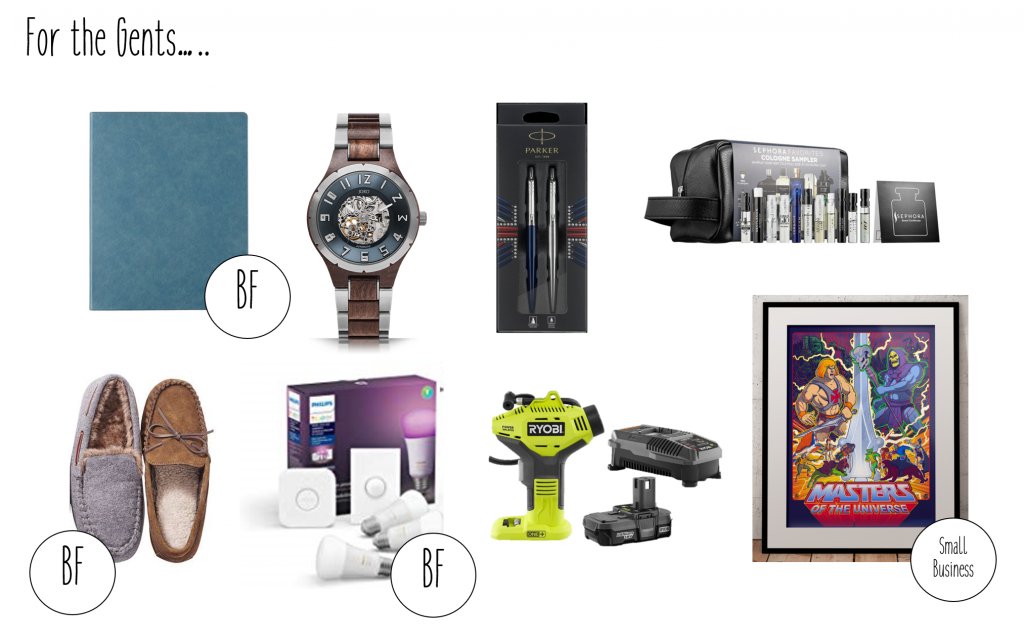 As easy as I am to shop for, I can't say the same about the men in my life. I decided not to share the six different kinds of socks my husband asked for this year (you're welcome) and instead pull in some of my most well-received gifts inspired by all the guys on my list.
One of my proudest achievements is passing the joy of being organized onto my husband! He asked if Erin Condren made a planner designed for men and I happily said YES. I'm getting both him and my dad something from the Focused Collection
If your guy is a watch lover check out the cool new DOVER II collection from JORD wooden watches – You can also save $15 off any JORD purchase with my code: hilltownhouse15
It's a little retro but what goes better with a new planner than a nice new pen set. I found some nice personalized options on Etsy but I'm sticking with something simple like this ballpoint set.
I bought my husband this cologne sampler from Sephora and it was such a big hit he asked for it again. Not only does it come with dozens of samples it includes a voucher for a full size bottle of any of the included colognes so you don't have to guess what scent he'll like the best.
A cozy pair of suede Slippers make for a super easy and inexpensive stocking stuffer – and are great for those cold January mornings.
If your guy likes smart home tech as much as mine, he'll love upgrading to the Philips Hue system. They work with your cell phone and with Amazon Alexa – and if you get the colored bulbs you can have family dance party nights just like us!
For anyone looking to expand their tool collection and start tackling some DIYs – I'd definitely recommend any from the RYOBI tool line at Home Depot. They have a large selection of easy to use tools that all run on the same batteries. This year I'm adding the RYOBI Air Inflator to our collection so we can finally blow up all of our deflated soccer and basketballs.
Looking for some great artwork for your guys office – check out the uber talented Timothy Anderson Design for pieces with his unique spin on pop culture favorites like StarWars, Aliens, and HeMan.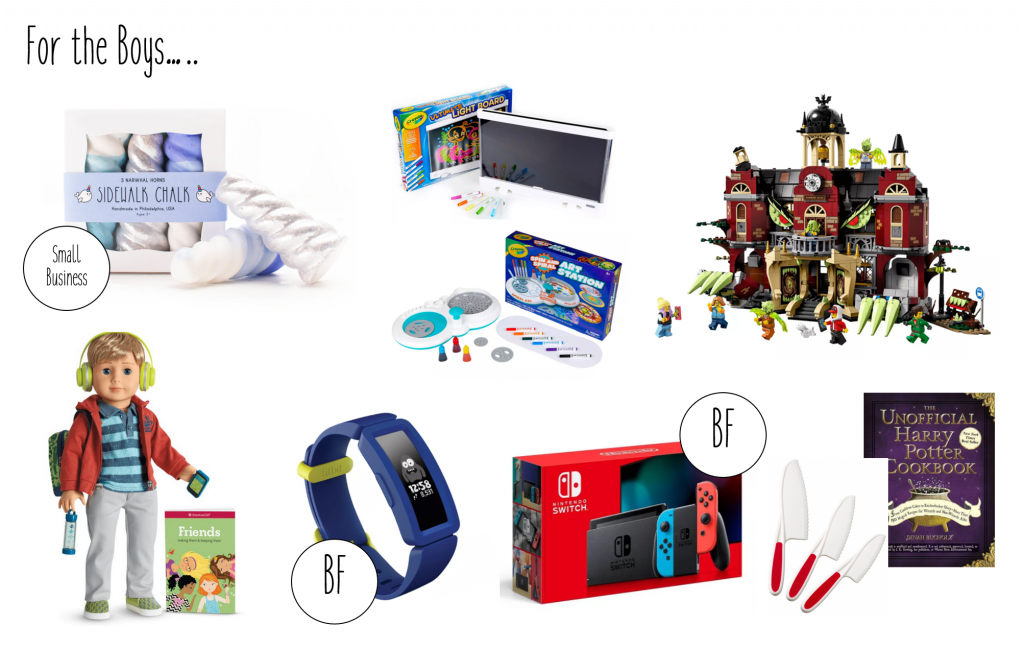 We don't buy tons of presents for our boys during the year, but Christmas is the one time we make an exception.  Here's some of the favorite gifts I have planned for under the tree this year.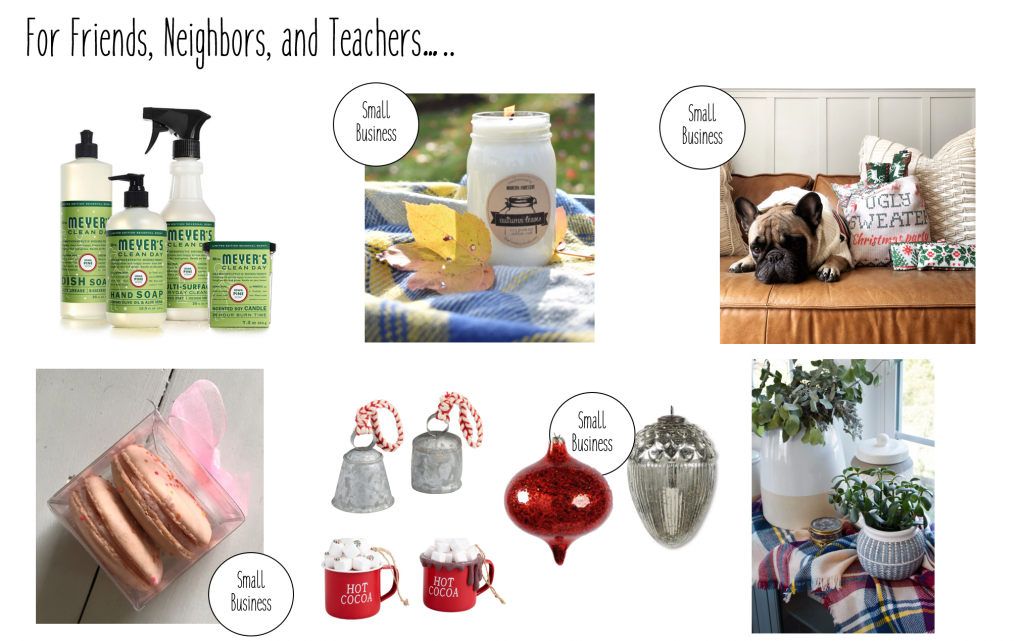 I don't like to give gifts that take up space and turn into dust collectors, so I try to make an effort to pick out things that I know will be used (or eaten) for my friends – and the same rule goes for Teachers.  If all else fails, a gift card to Dunkin Doughnuts attached to a cute Christmas card would make anyone smile!
Last year for a White Elephant gift I got a box of Mrs. Meyers Cleaning products and I thought it was genius! Super functional and just a little special – my kind of present all the way.
You can never go wrong with soy candles in super cozy scents! Modern Forestry has some delicious choices for fall and winter and you can save 20% with my code HILLTOWN20 – their 8oz jars would make perfect teacher gifts too!
I am obsessed with these odor-absorbing Charcoal Bags from Bisou Natural! Anyone with kids, pets, or even just anyone with a car, will be obsessed too. Right now they're having a pre-sale on their cute Christmas Collections, if you want you want to knock out all of your Xmas shopping in one go!
A super special sweet treat from a local bakery – like these pink macarons from the Novel Baker in Dublin, PA – are great to tuck in a gift basket or include with a gift card!
My one exception to my "no gifts that collect dust" rule is Christmas ornaments – they don't take up a lot of room, they bring back happy memories each year you bring them out, and there are endless options of amazing ones to choose from – like these cute Bells or Hot Cocoa mugs, to these gorgeous Mercury Glass Ornaments, to anything your DIY heart can imagine
Even if your friends don't necessarily have a green thumb, I think everyone could enjoy a succulent in a cute pot – and if the plant doesn't make it at least they can still use the pot!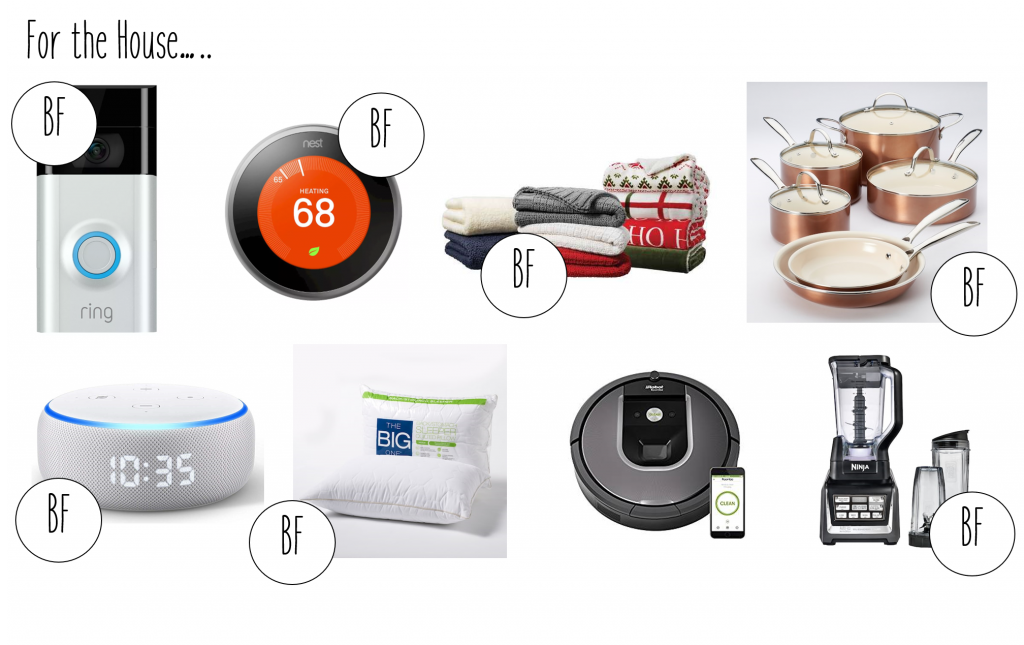 Me and my huband's Christmas lists always include something for the house, whether it be something for the kitchen or a piece of Smart Technology we've had our eye on.  Almost all of these products will be on sale on Black Friday – and, even better, pretty much any of them would be available to order on Thursday morning so you don't even have to set foot in the store.
Last year we finally invested in a Ring Doorbell – I love the extra level of security that it gives us but the function that we use the most is the intercom to talk to our boys when they're playing in front of the house
The Nest Thermostat has been a game changer in our home and our energy bills are the proof!
As I type this, my kid are once again fighting over the comfy blanket in the living room, so needless to say some new Throw Blankets are on my shopping list for Target's Black Friday sale next week
If you've been hanging onto a mix-matched set of pot and pans you've had since your college-days (no judgement – we've all been there) think about grabbing a new set of Cookware this year. I've been really happy with this simple copper set I picked up a few years ago, and was even happier to say goodbye to my old ones all at once!
We have an Amazon Alexa in our kitchen, but we picked up an Amazon Dot for the loft last year so the boys can turn their bedroom lights on/off easier, but these days what it mostly gets used for is upstairs dance parties which is good too.
All of my boys are hot sleepers and sweat in their sleep – so we are always in need of replacement Pillows. I wait until Kohl's has them super cheap on Black Friday each year and replace a few that have scene better days
A bit of a splurge, but I would recommend the Roomba 960 to anyone looking to help simplify their daily cleaning routine (or has two incredibly sheddy black labs). The 960 model can be controlled from your cell phone or the Amazon Alexa and maps your house as it cleans so you can identify blind spots it may be missing.
For the longest time we complained that we needed a new blender, and last year we finally invested in this Ninja Blender System. My husband loves the small cups to make smoothies and I love that I can finally make soup again!