I seriously don't know if last month went by too slow or too fast – maybe both at once? I wish I was able to say that remote schooling was going smoothly, but we've all had a much rougher start adjusting to this new routine than I expected. If we can get a little bit better each week I know that we'll make it work, it just may look different than I thought it would. I read this article earlier in the month about the effects of being in "long term survival mode" that really helped explain a lot of what I've been feeling since March and I highly recommend it to anyone who feels like they've been running on empty with little motivation to refill the tank. I did manage to push myself to cross off 4 more things on my yearly list thanks to some encouragement from some online friends that I am super thankful for:
Caulk shiplap wall trim
Fix Edging on Built In Shelves
Ceiling Paint Touch Ups

FB Marketplace leftover furniture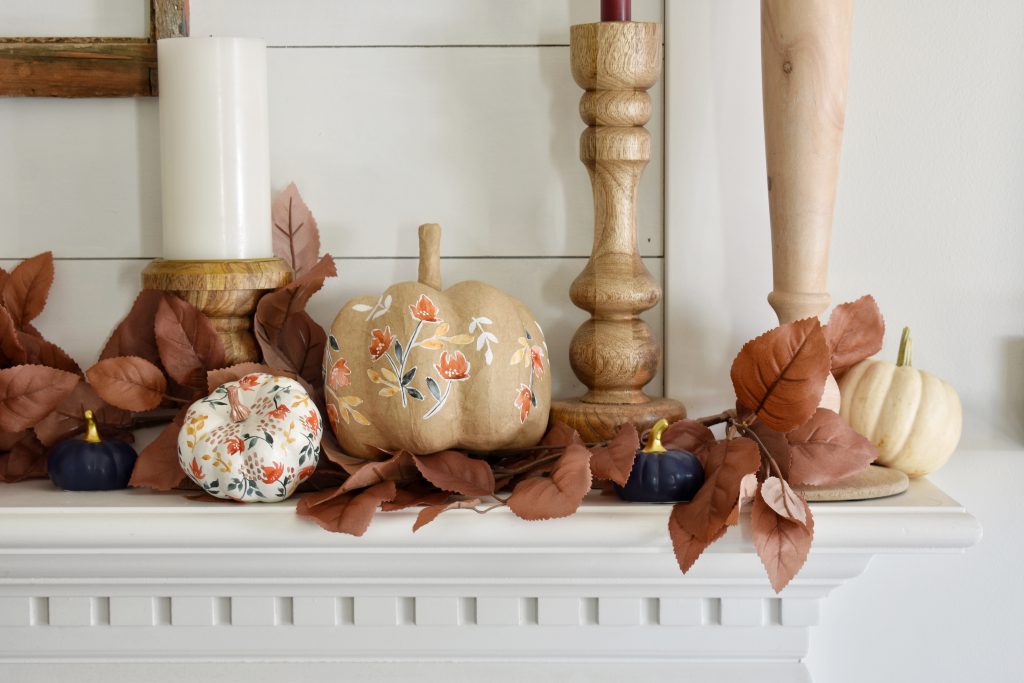 On a positive note, I celebrated a really big social media milestone this month and reached 10,000 followers on my Instagram account. To "celebrate" (besides eating most of that cake by myself) I decided to jump into another project and join the Fall One Room Challenge so stay tuned over the next 6 weeks to check out my next DIY adventure.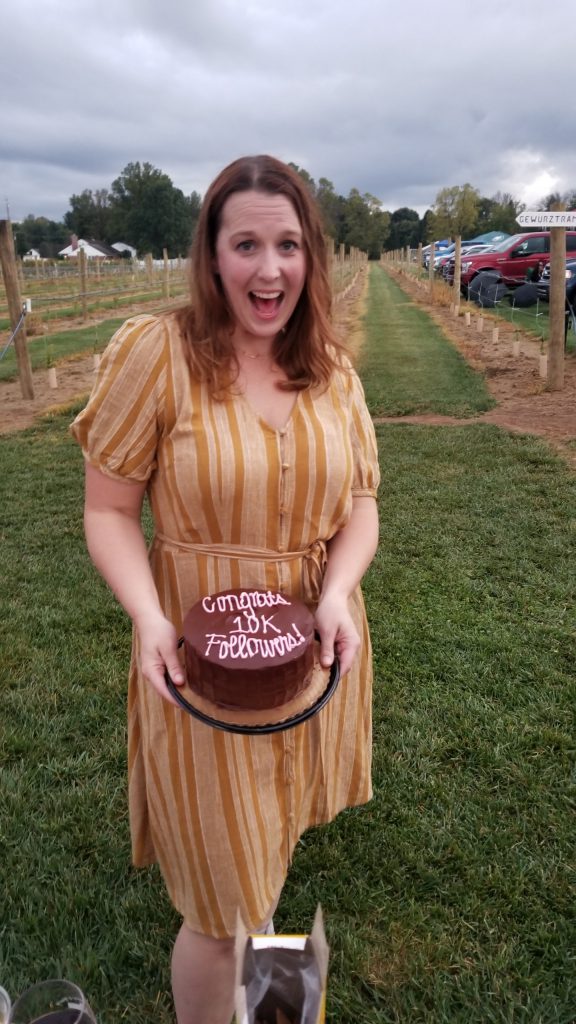 Decorating your Fireplace for Each Season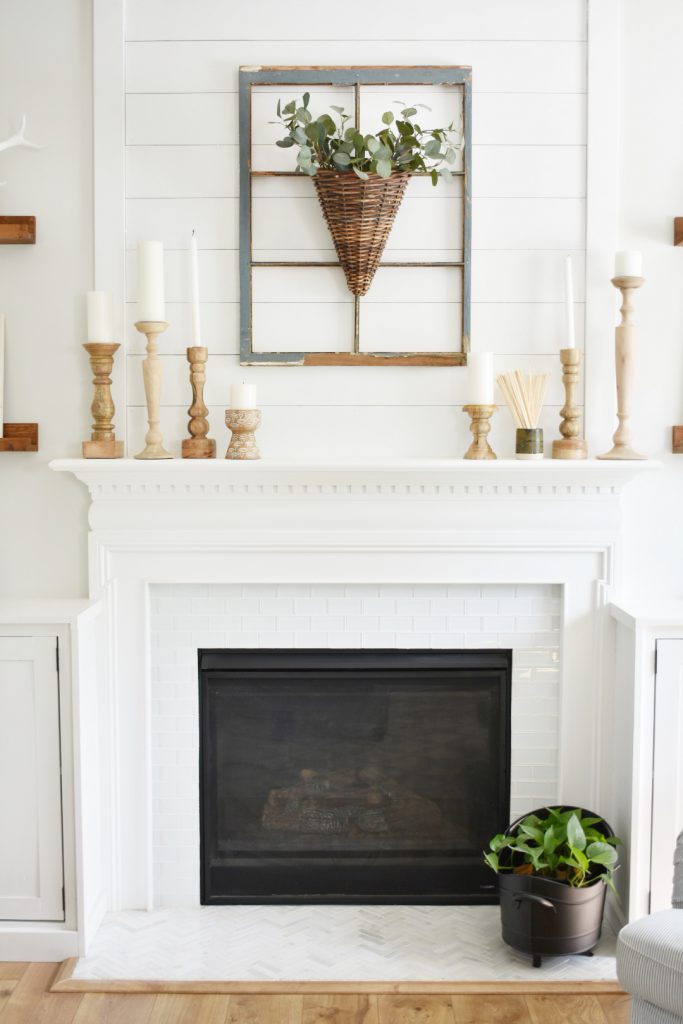 One of my favorite spots in my house to decorate is the fireplace in my living room, but like most things in my life I don't like to spend a lot of time thinking about how I'm going to switch things up as the seasons change. So I follow a few simple rules to create a no-fail fireplace that I'm passing along for you to try in your own home, just don't ask me to pick which one of these is my favorite!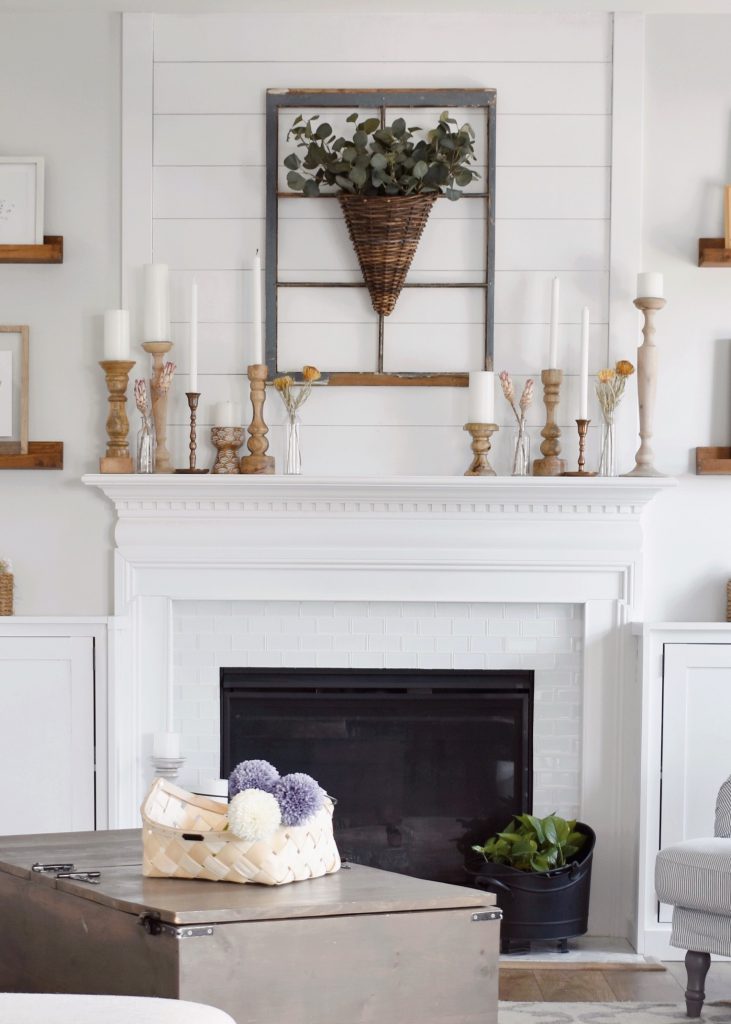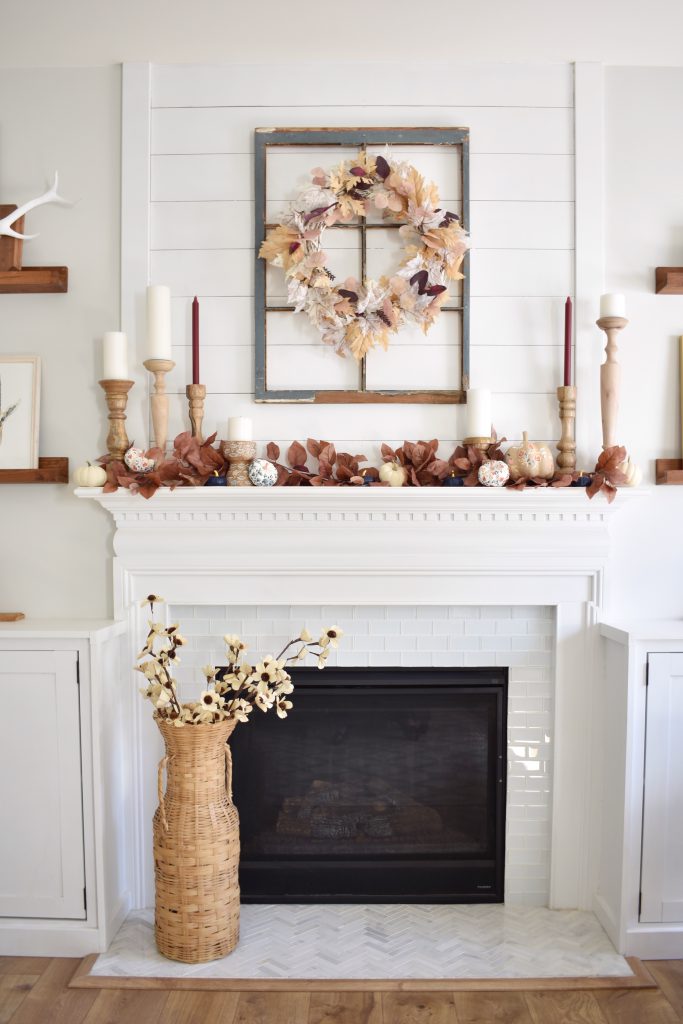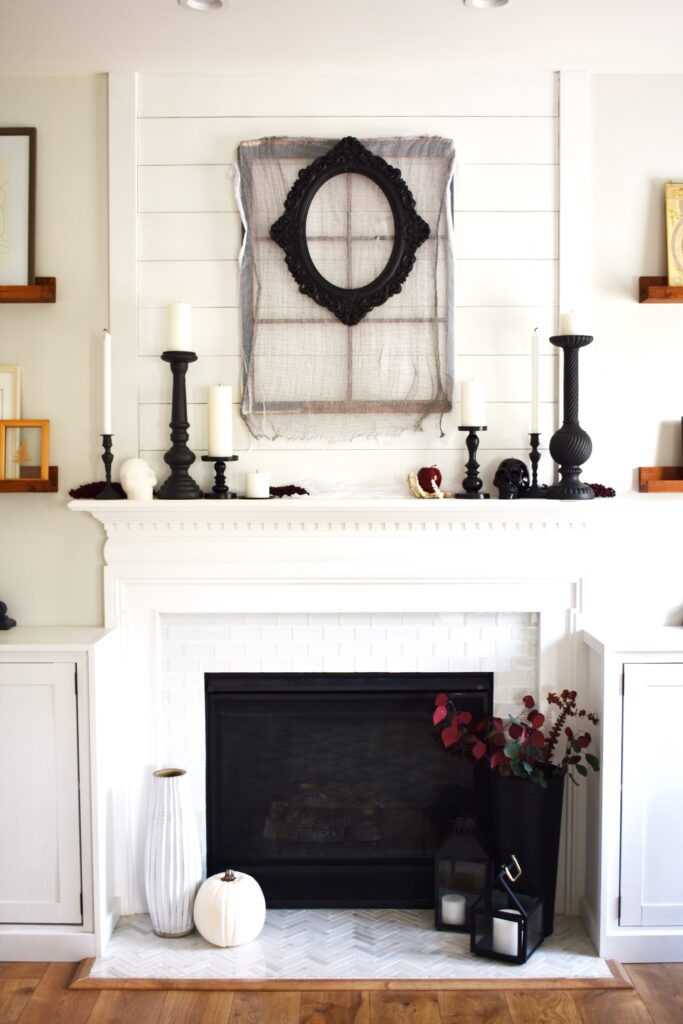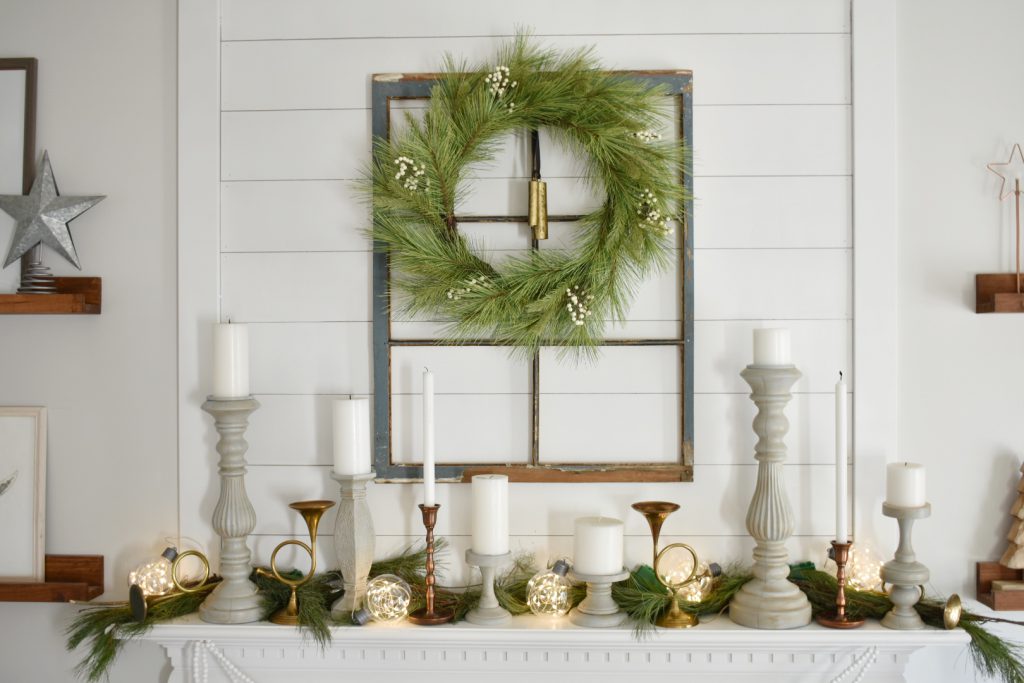 Start with a good background — if you're thinking of building or remodeling a fireplace and you like to switch it up for each season, take that into account when you're picking out your materials. I kept mine white to keep my decorating options open, but used a variety of materials (glass, marble, shiplap) to add dimension and texture.
Start with hanging a large central focal point – I keep my antique frame up all year and switch out what is in front of it but a large mirror or a piece of art could play the same role.
Add a variety of height to either side with similar objects – I use my collection of candlesticks that I rotate throughout the year, but you could also use vases or anything sculptural.
To make it look fuller, add some garland. I don't do this for every season but especially during the fall and the winter I like to add a simple swag to take the cozy factor up a notch.
Sprinkle in some smaller seasonal objects – in the spring I added small glass vases of flower, in the fall it's a mixture of faux and real pumpkins, at Halloween I bring out the skulls, and in the winter bring on the twinkle lights.
Keep the hearth simple – I normally just shop my own home and bring in a variety of coordinate decor pieces like vases filled with faux stems to add some height and ground the fireplace.
Once you find a layout you like – stick with it! That's my key to making this as easy as possible….same layout just different decor depending on the season.
Halloween Decorating Round Up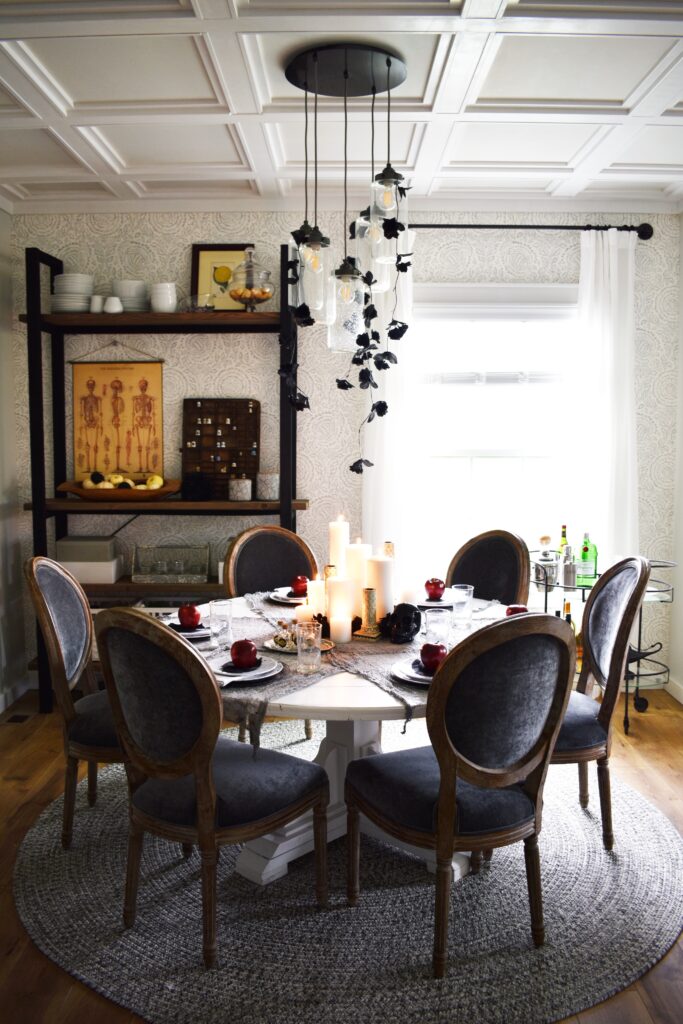 One reason I love decorating for Halloween is that there are so many different directions you can go — creepy, funny, scary, refined. While I love turning my house into my version of a Gothic fairytale, there's so much inspiration out there to fit however you want to celebrate this year.
Halloween Baking with Kids
One of our favorite traditions each Halloween is to scroll through Pinterest and find a new creepy treat to try out. I make sure the recipes are pretty straightforward, usually using my go-to staple recipes, so that we can spend most of our time decorating and look for ideas that don't need to be perfect to look good. We are still deciding what we're going to make this year, bu here's a collection of our baking adventures from year's past….we have a thing for candy eyeballs if you couldn't tell.