Bathroom / DIY
Indulging in a Mini-Master Bath-Makeover with my new Bathroom Butler Heated Towel Warmer
Don't be shocked folks but today I'm taking you inside a space I very rarely show – my master bathroom!  While this room functions absolutely perfectly – there is a lot to be desired aesthetically.  The budget required for a big bathroom makeover is still a few years off and even though I had done a few cosmetic updates (new mirrors, new lights, new vanity color) I kinda left it at that — and then I kinda dreaded going in there every day!  All I could see was what still needed to be done, but since I didn't have a timeline of when that would be accomplished I had nothing to look forward to.  So I resigned myself to that feeling……until the very generous team from Bathroom Butler reached out to me to try out one of their incredible heated towel warmer, and just like that I felt inspired to give this bathroom a mini-makeover and inject some joy into a formerly joyless space  — and I'm excited to say that I can pass that joy onto you with a special savings code you'll find at the end of this post!
**This post is sponsored by Bathroom Butler luxury bathroom accessories.  All experiences, reviews, and opinions are my own.**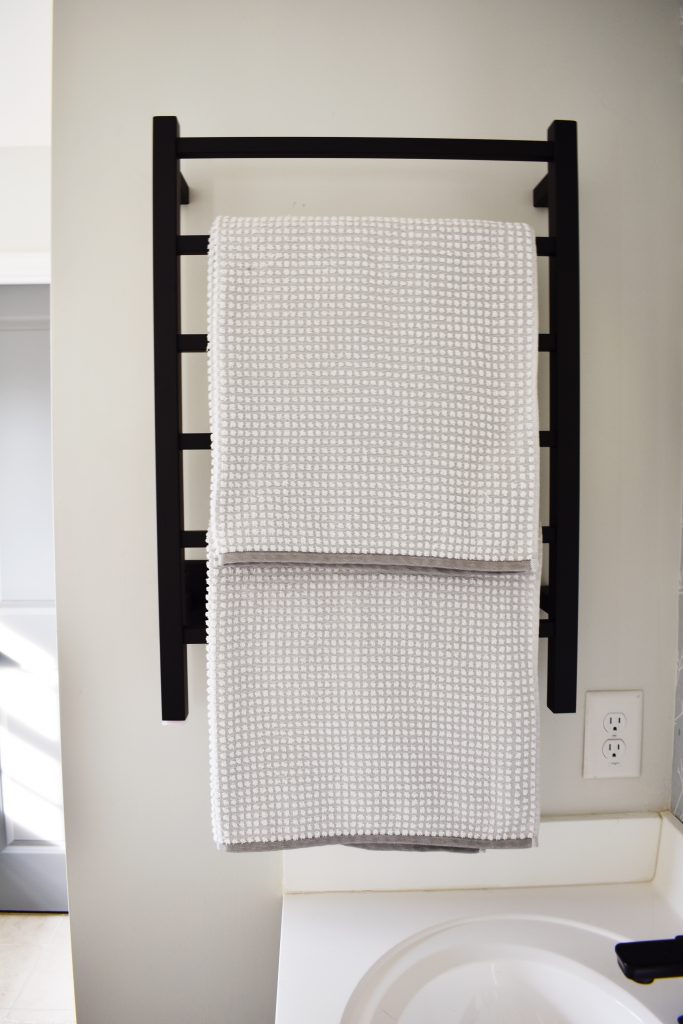 Now, I have to start out by being completely honest, I never had any plans on installing a heated towel rail in my home — I have even been known to think to myself while watching numerous "Love It or List It" episodes that that was one upgrade that I wouldn't need to budget for.  But I'm not ashamed to admit that I was totally WRONG – mostly because I had the misconception that they were just used to warm your towels, when in reality their primary function is to dry your towels in a hygenic and energy efficient way.  Germs and bacteria can build up on your bath towels when they don't dry properly, causing a damp musty smell, which was something we were experiencing just having our towels hanging on hooks.  Typically, used bath towels should be washed after every use to reduce bacterial build-up, which increases both your water and electricity consumption.  The smart alternative is to use a Bathroom Butler heated towel warmer –  it not only reduces the bacterial load on your towels by up to 90%, it also saves water and electricity use with less washing.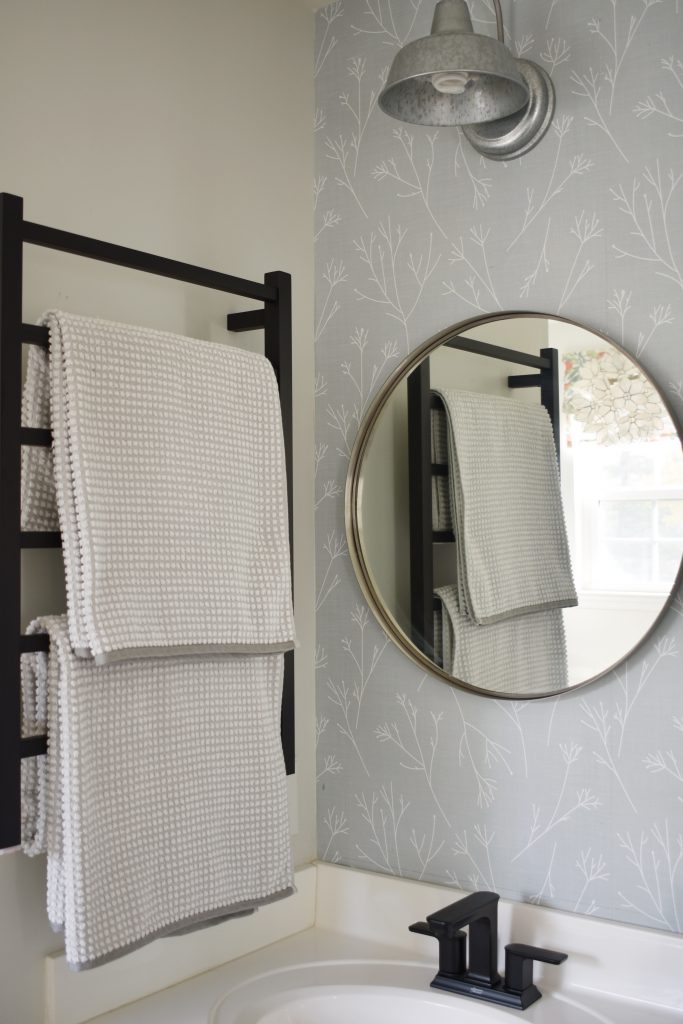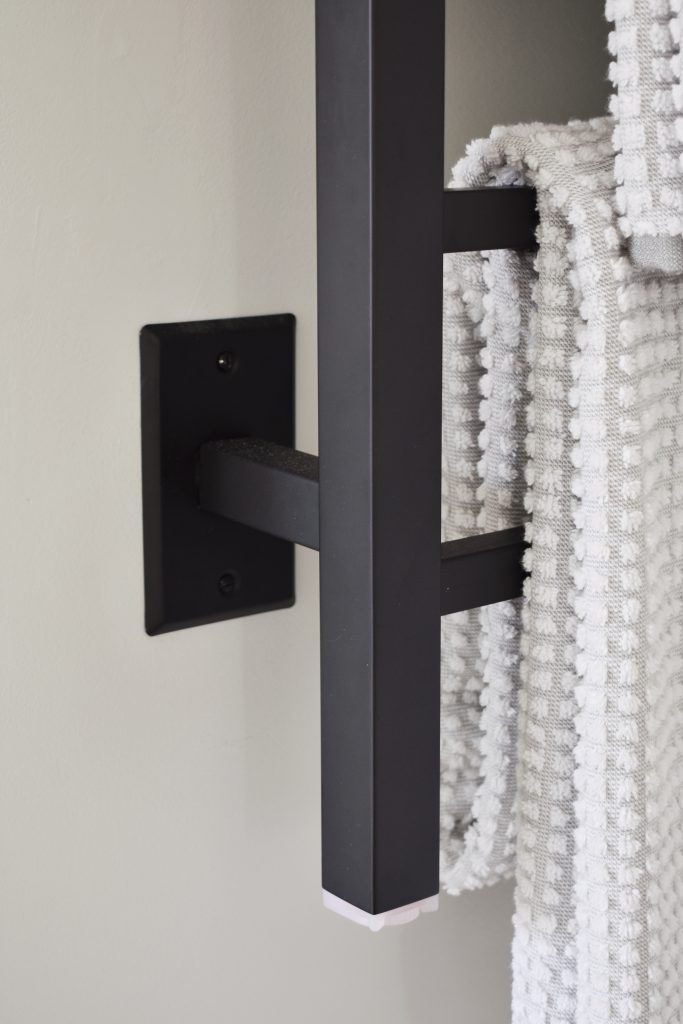 Installation-wise, Bathroom Butler's Heated Towel Warmers do require a hard-wired connection, but they make it as easy as possible by making either a left or right electrical connection possible, and they include a super simple to use template so I was able to mount it in one afternoon on my own after the electrical connection was installed.  While Bathroom Butler offers a Digital Control Timer, I opted for the manual Personal Temperature Switch since we have a pretty irregular schedule, and it has been working great for us since we installed it a few weeks ago.  After my husband takes a shower, folds and hangs the towels (I know!  I can't believe it either), and switches the rack on to our personal heat preference….then in about 4 hours when I'm ready to take a shower they are completely dry, not to mention nice and warm.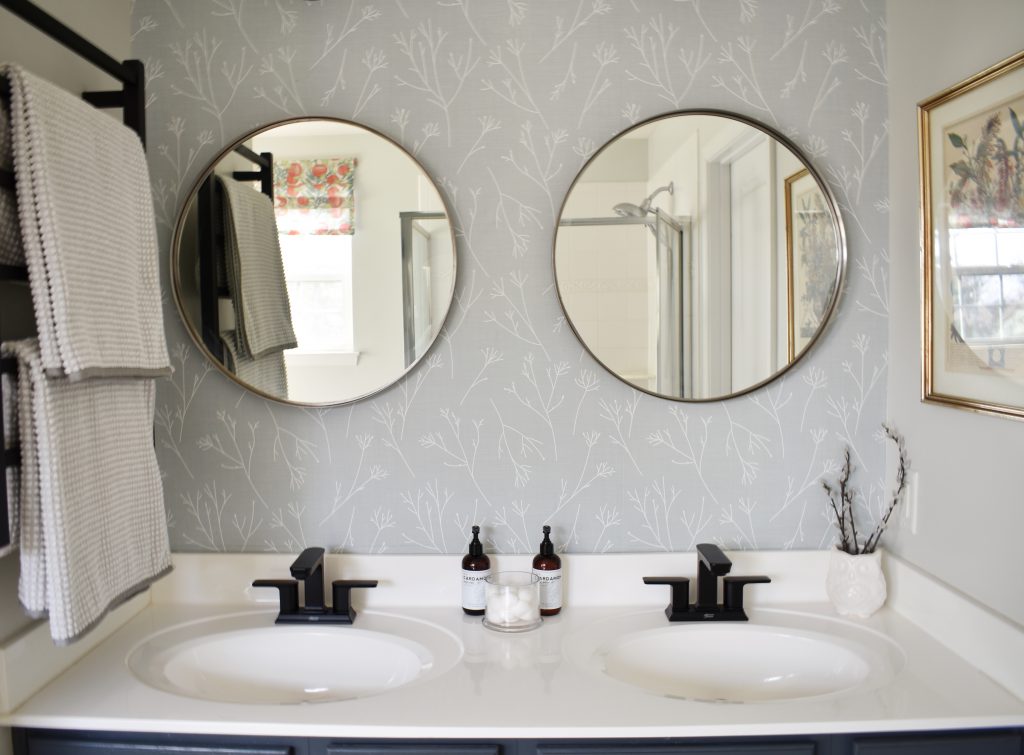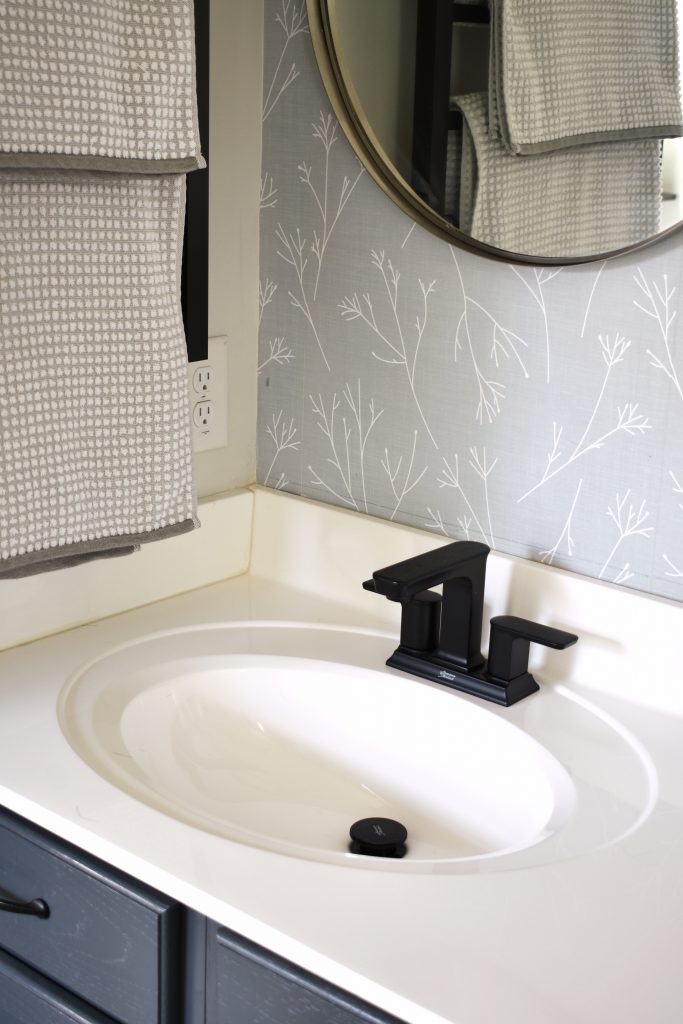 What drew me into wanting to work with Bathroom Butler was the high-quality of their products, their clean/simple design style, and the gorgeous matte black finish option.  I ultimately chose the sleek Cubic 6 Bar Towel Rail for my master bathroom – and then I immediately realized that the rest of the sink area needed some major improvements to do this beautiful piece of engineering justice!  Since I didn't want to commit to anything permanent, I decided to try out some removable wallpaper for the first time and found this soft blue twig pattern to contrast the modern look of the towel rail.  I also just so happened that I had purchased some matte black faucets from Home Depot over the summer that I had planned on using in the guest bathroom, but I decided to install in here instead because they match the towel rail finish PERFECTLY!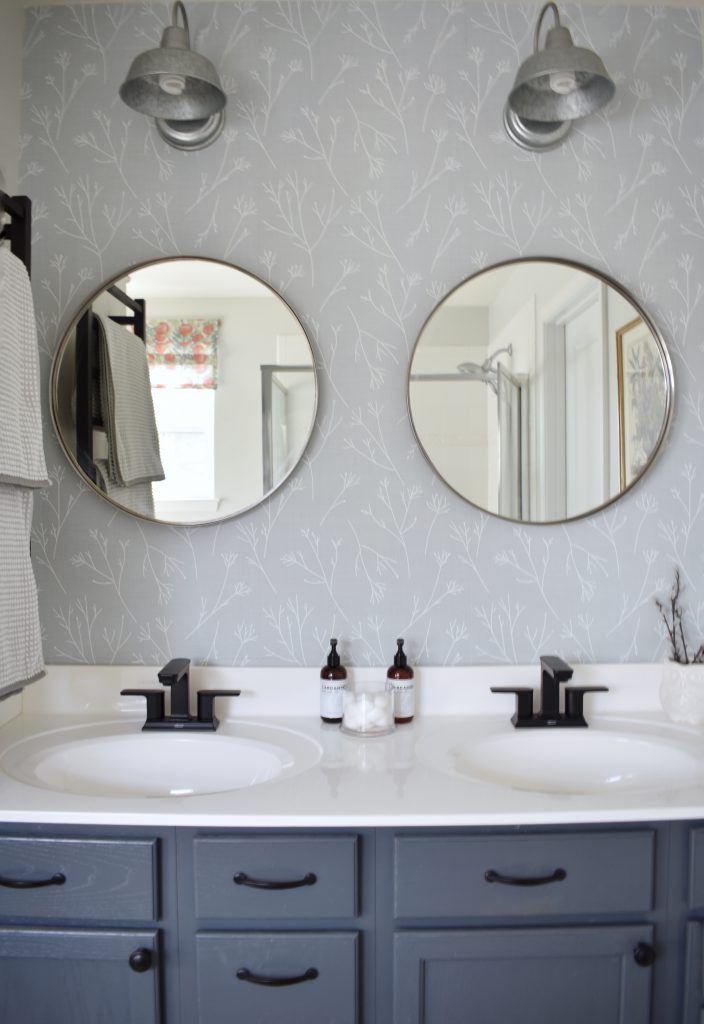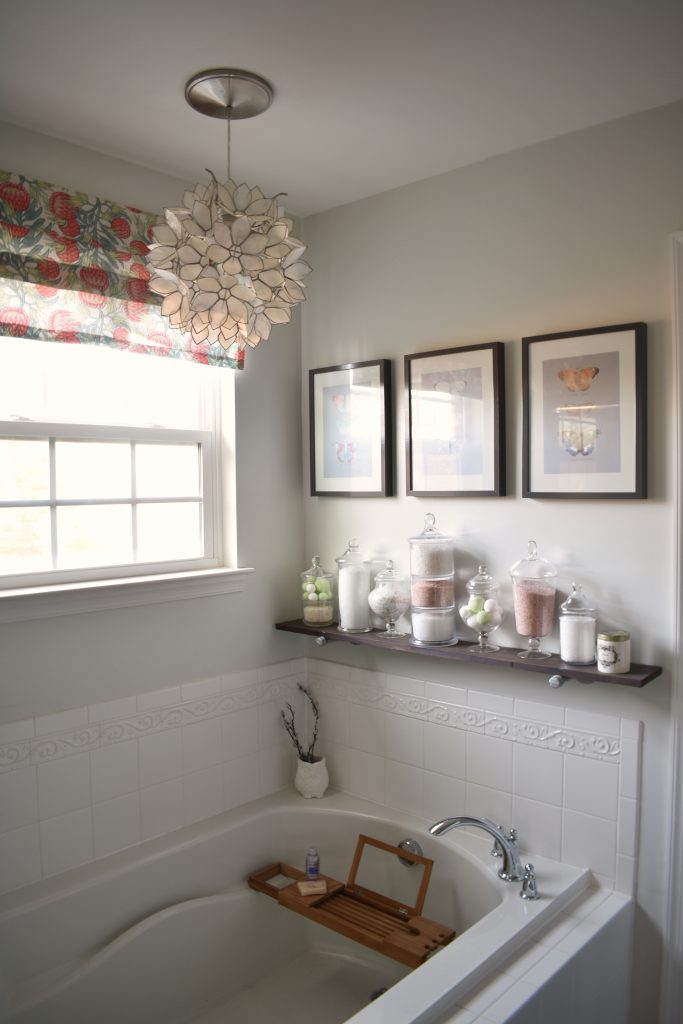 Of course once the sink area was looking pretty I couldn't stop there, so I added a few more simple updates including some easy DIYs.  Once I took the towel hooks off the door it was looking a little empty, so I painted both with some leftover gray paint I had (Sherwin Williams Cityscape in their Emerald Urethane finish) and finally finished changing out the doorknobs.   Then, to soften up all the black and gray I hung one of the beautiful antique flower prints I bought over the summer, and replaced the faux roman shade I had made a few years back (using this tutorial from Young House Love) with one in this colorful Protea Pattern.  And to add some fun, I hunted down lots of different glass apothecary jars from HomeGoods and filled them with lots of different bath salts and bath bombs (I was actually surprised that it only took the husband a day to notice that change when he asked me "Where those rocks always in the bathroom?")  At the very last moment, like the morning I took these pictures, I decided to go for it and add one last thing I had been dreaming of for this space and picked up this runner from Target and I'm so glad I did – it adds that last touch of coziness that even the boys noticed when they commandeered my shower that evening.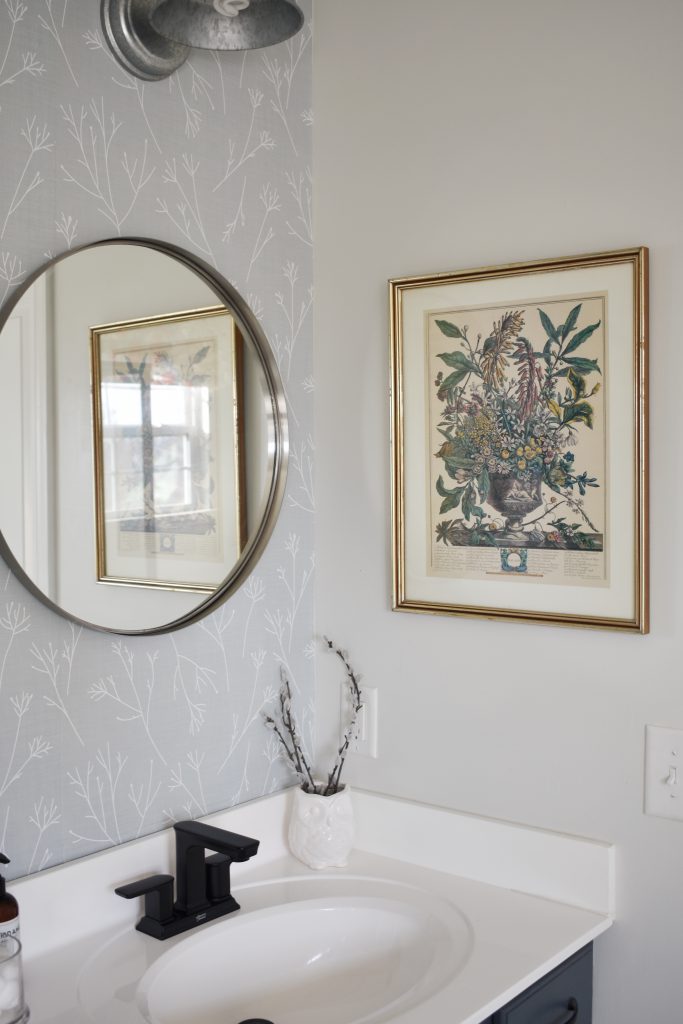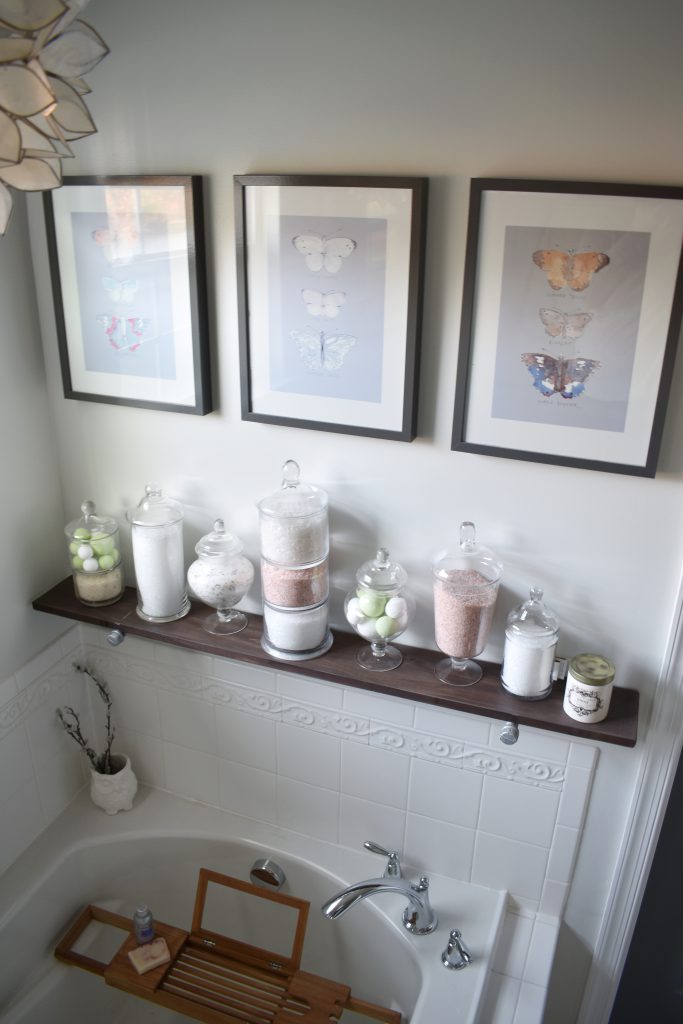 So what lessons did I learn from this mini-bathroom makeover?  Well for one, I shouldn't have waited for some far off renovation to make these simple upgrades!  Yes right now there's nothing I can do about the tile or the plastic shower pan, but there were so many easy solutions I could have made to make this room feel complete without a full reno years ago.  Second lesson learned, sometimes it just takes that special, slightly indulgent piece, like my Bathroom Butler Heated Towel Warmer, to kick your butt into gear and get those creative juices flowing.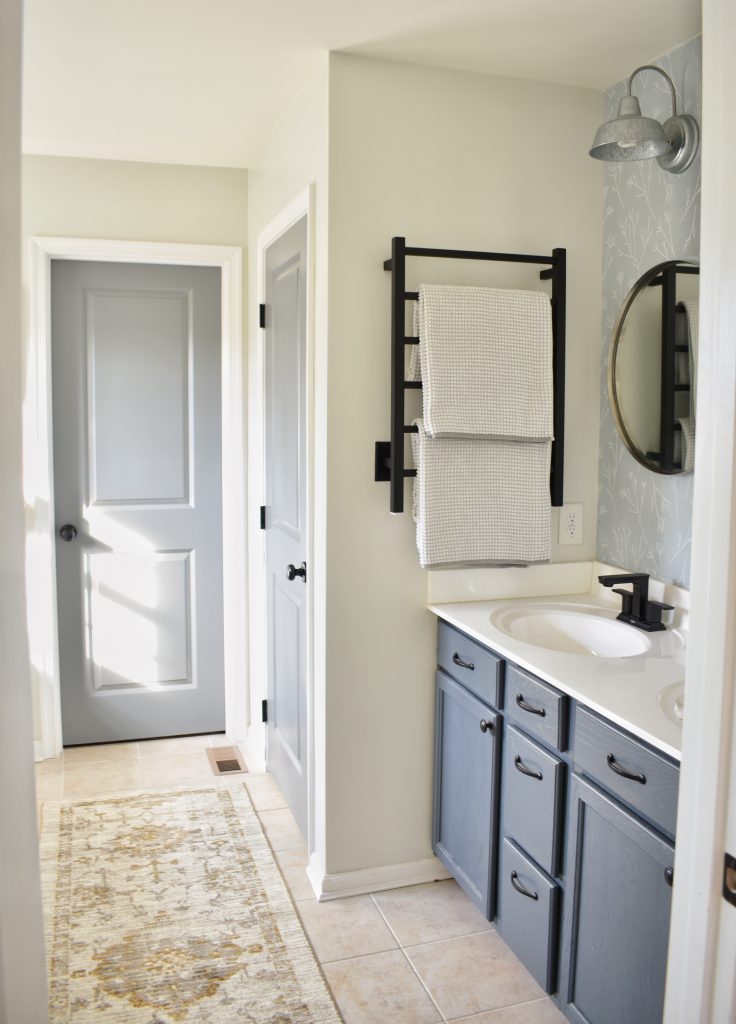 Now – are you ready for the exciting part?  If you're in need of your own kick in the butt, from now through December 2nd you can use my code HILLTOWN15 to save 15% off any of Bathroom Butler's Heated Towel Warmer OR any of their other gorgeous bathroom accessories!  Their bathroom shelves and standard towel racks are the perfect addition to your Black Friday shopping list – I know I've got my eye on a new robe hook and toilet paper holder to round out our new bathroom!
---
Bathroom Butler is a family owned business that prides itself on crafting top of the range bathroom accessories and heated towel rails in line with the dynamic demands of the market. Now in its second generation and with distribution in USA, Canada, Australia, South Africa and Mauritius we are continuously expanding our roots.