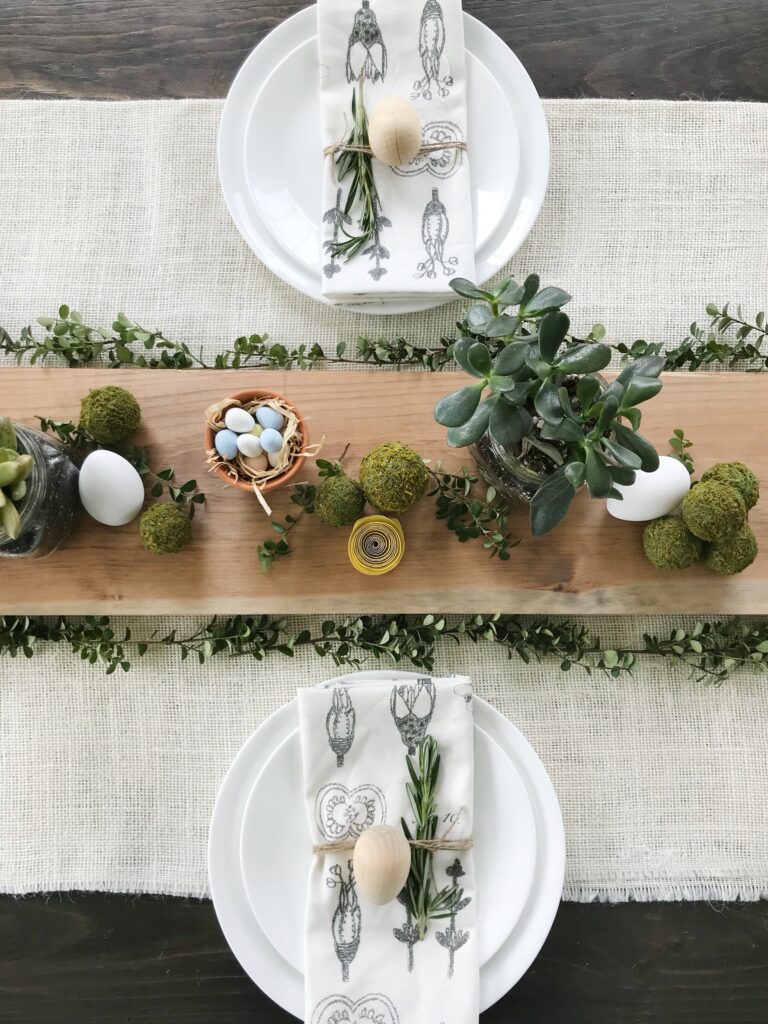 Confession time everyone – as much as I like decorating, I have never been great at putting together a tablescape.  Whenever I host a big dinner or party, I always put a lot of time into planning and preparing the menu, but run out of time or energy before I ever get something cute on the table.  But this year, after a combination of Instagram inspiration and winter boredom, I decided to challenge myself!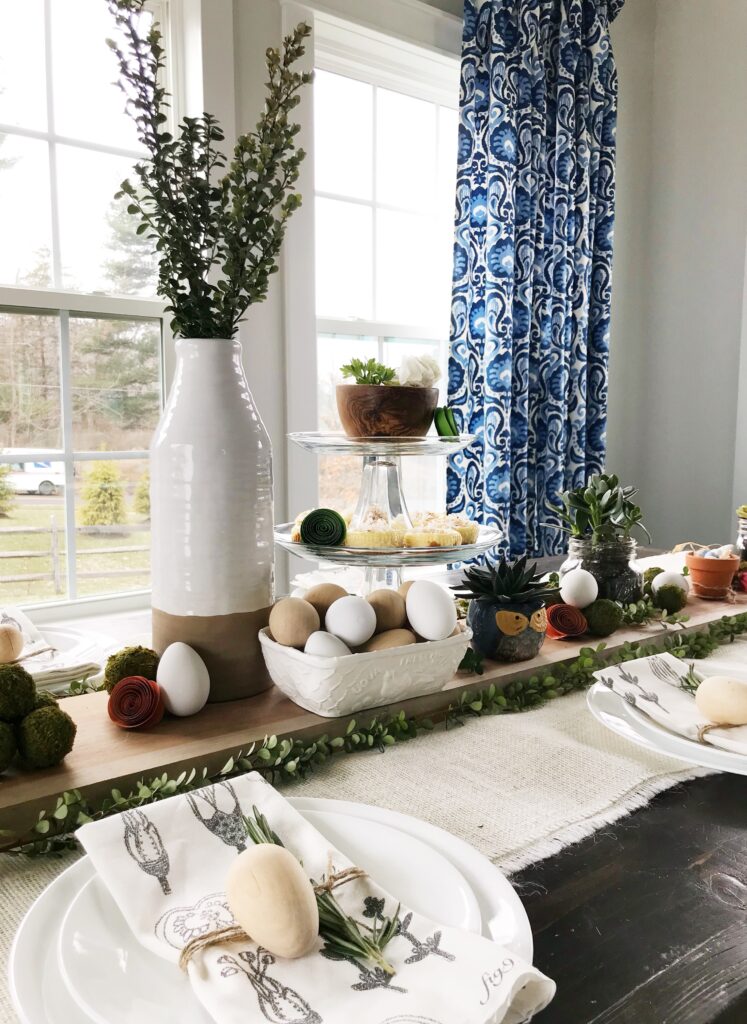 We eat Easter dinner at my mom's house each year, but I've been trying to make sure that for every holiday we have some sort of meal at home so I will be cooking Saturday night for just the 4 of us…..with that in mind I started to put together a casual setting at our kitchen table using mostly items I had laying around the house.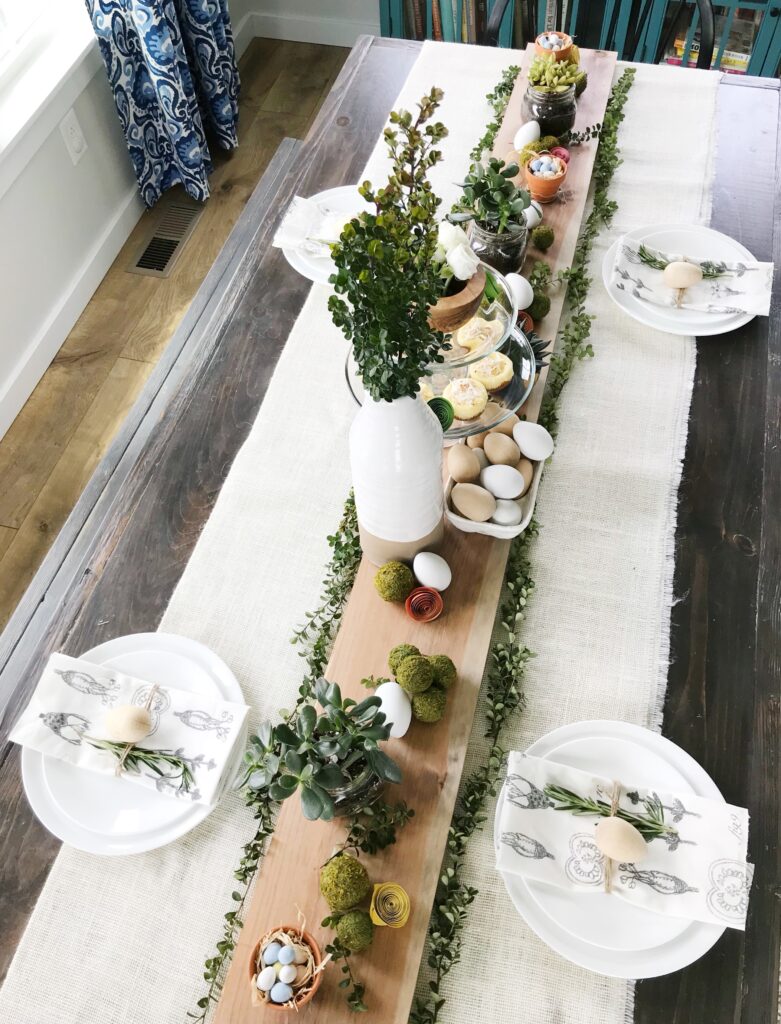 Our kitchen table is 8 feet long, but not very wide, so to center everything I used some spare burlap and a scrap piece of wood that runs along the length of the table.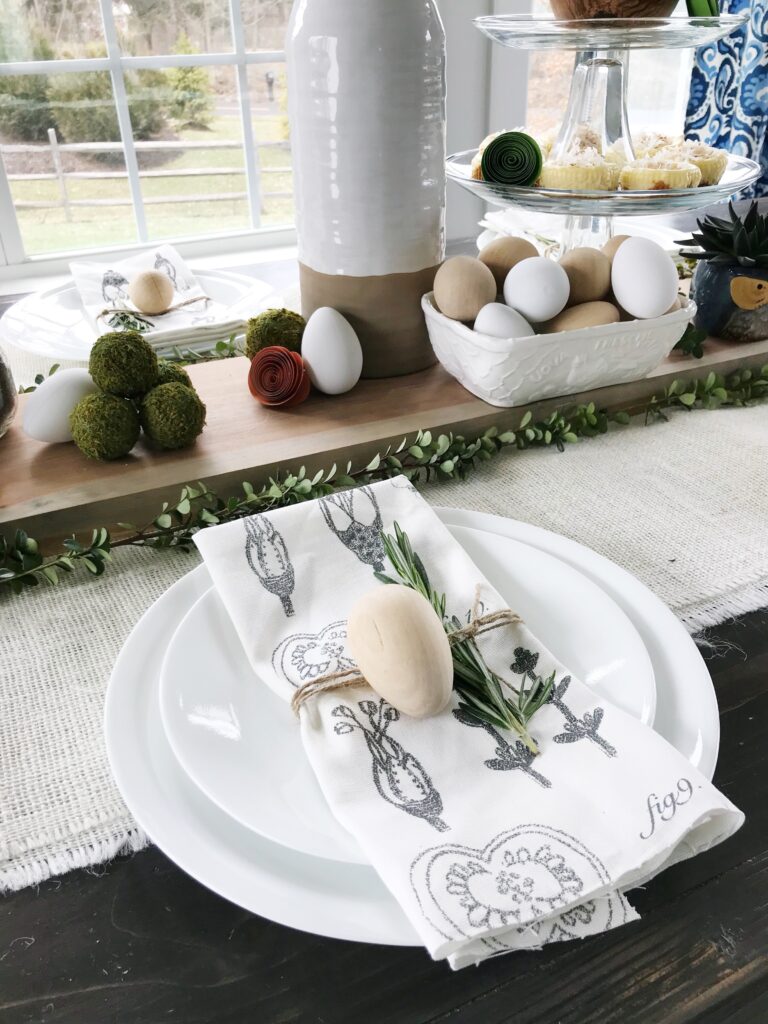 For the place settings, I just used our everyday white dishes and made napkins out of some leftover IKEA fabric tied with twine.  I am obsessed with these little wooden eggs that Target had in the Dollar Spot this year so I picked up a dozen of those and finished everything off with a sprig of rosemary since I will be using it in the braised lamb I'll be cooking.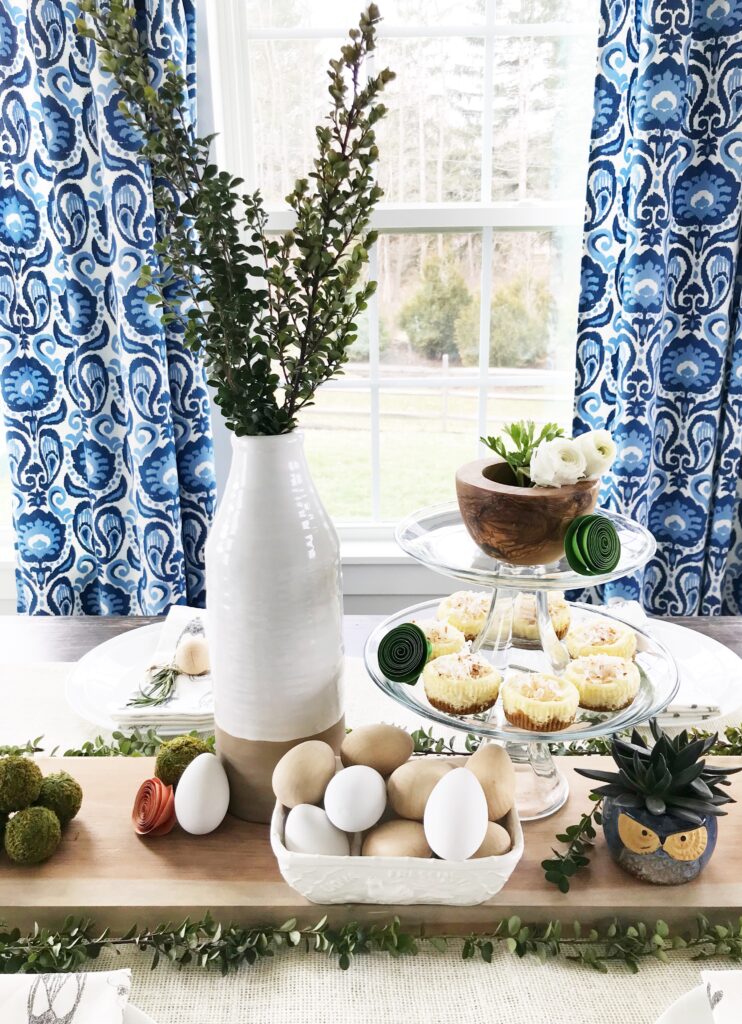 The centerpiece is made up of a vase I stole from my entryway and mixed it with one of my glass cake stands (one day I'll tell you all why I have dozens of them laying around LOL), a little owl succulent that my oldest son picked out, and a ceramic egg carrier holding more of my wooden eggs as well as a few white paper eggs, also from Target.  I could have used real eggs but I love these faux ones so much that I imagine using them for years to come.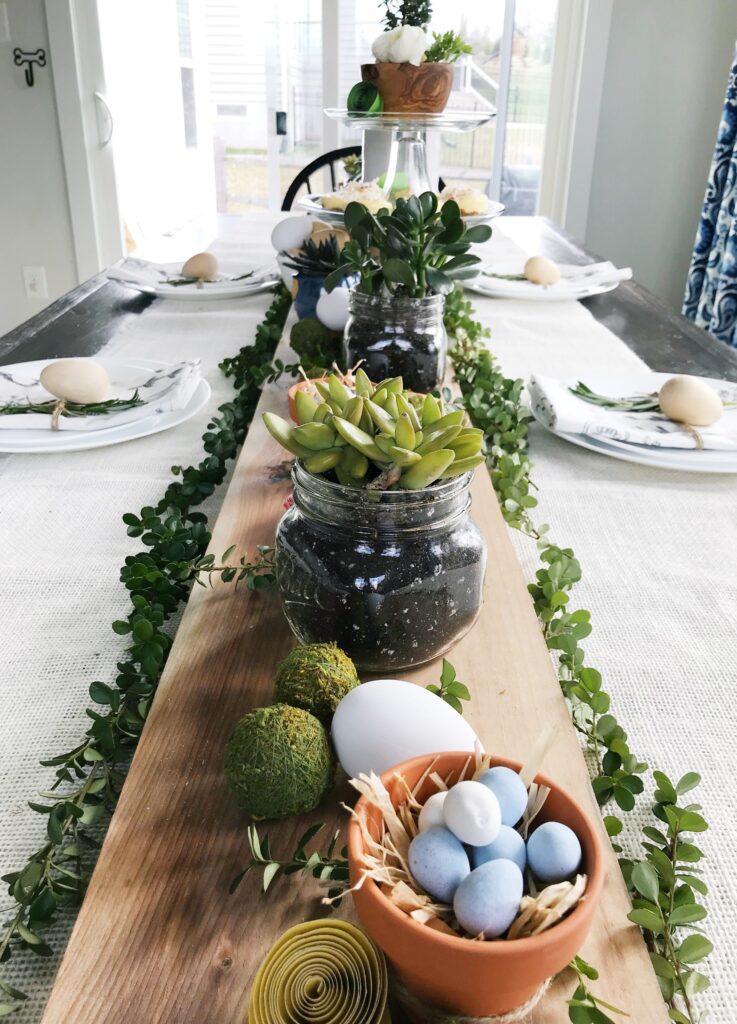 I wanted to stay away from anything too pastel or too cute (because Boy Mom) so I incorporated lots of fresh greenery that I picked up at Home Depot and Trader Joes, and that will all have new homes afterwards.
All of the glass jars and terracotta pots I  already had, as well as the little green moss balls that usually live in my antique bread bowl.  I did pick up some Cadbury mini eggs (and somehow managed NOT to eat them all in advance) and I randomly found a little garland of paper flowers in the Target dollars spot that adds the perfect little pops of spring color.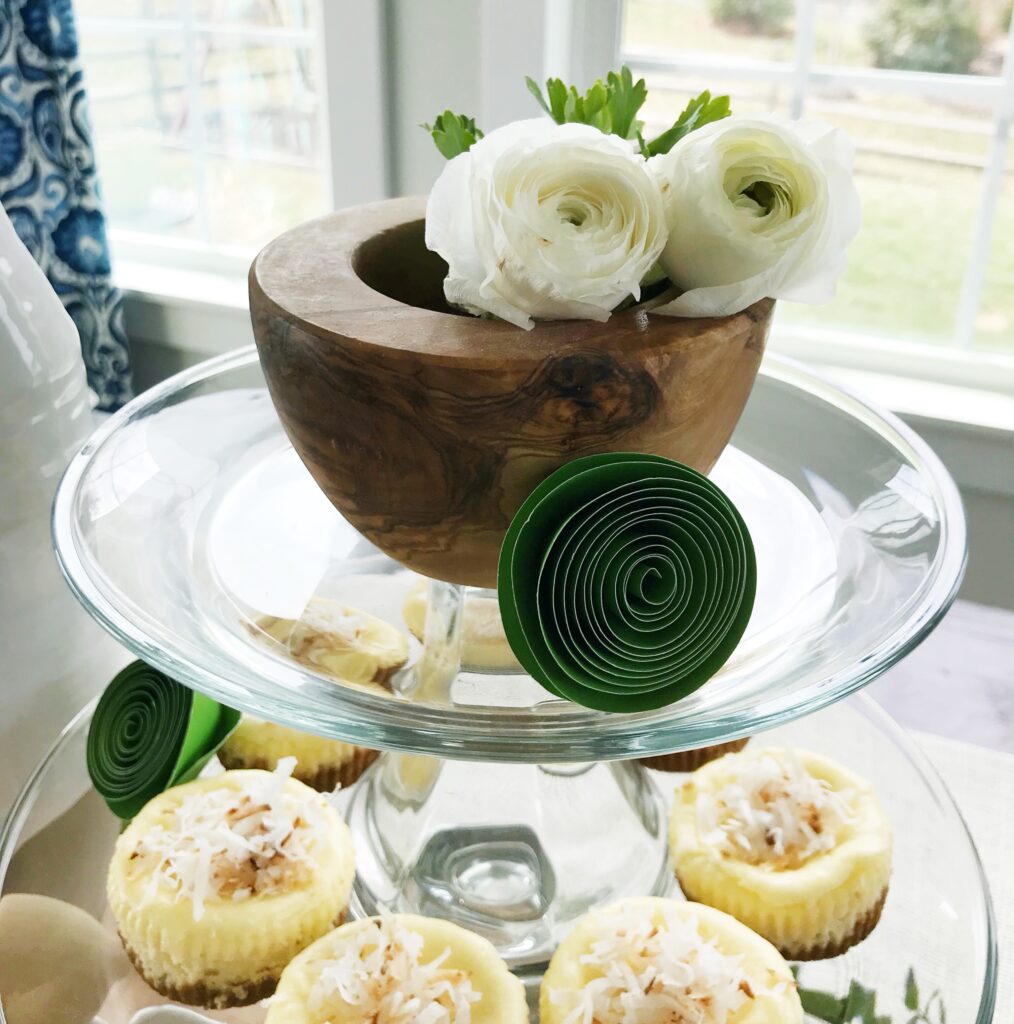 Of course I can't put together a spread without something sweet, so I decide that some mini cheesecakes topped with toasted coconuts would be the perfect compliment to my Easter Garden.  I haven't made these in a long time, and since I can't avoid grabbing one each time I'm in the kitchen I'm starting to remember why!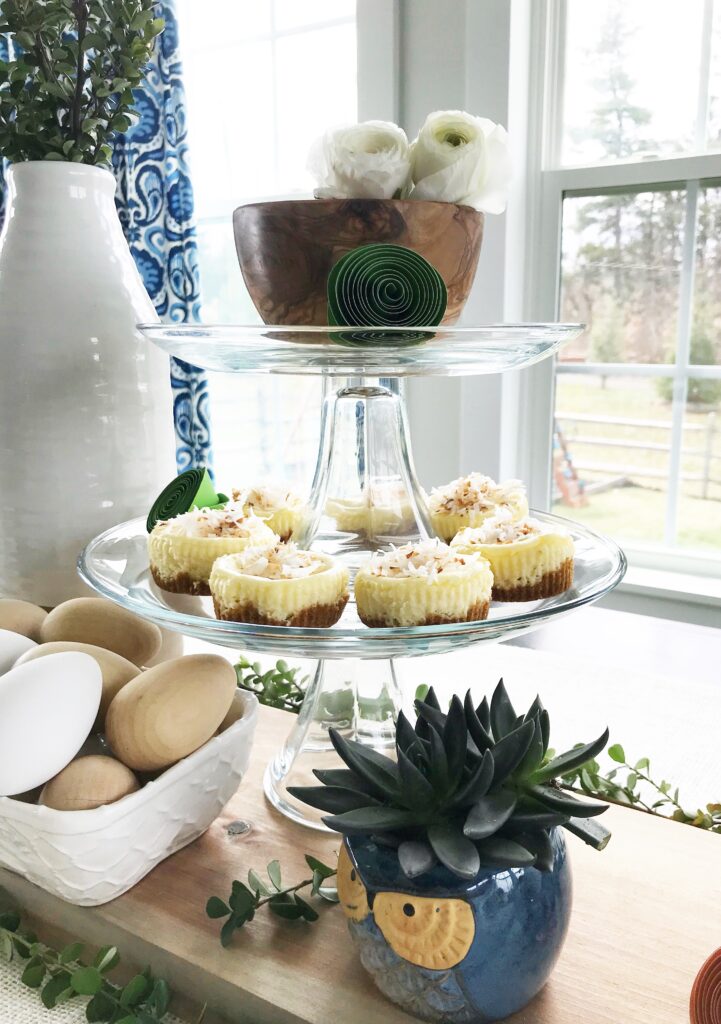 In the end, I really love the way this came together!  It actually has my wheels turning as to how I can incorporate a larger centerpiece into our kitchen table year-round, but for right now I'm looking forward to sitting down for dinner as a family tonight.  If you have the time, I would definitely recommend shopping your house and seeing where your creativity takes you for your next gathering, even if it's just for a little family of four it makes the meal you share just a little bit more special and magical.