It's only been a week and I have to tell you that I am SOOOOOO IN LOVE with how the bathroom is looking!  It honestly was hard for me to put that first stroke of new paint on the walls – after all this was the first big DIY accomplishment I took on myself – but now that things are rolling I know 100% that this was the right decision.
Week 1 | Week 2 | Week 3 | Week 4 | Week 5
Speaking of decisions (cue the segway…….) I've had a few questions from my followers lately asking me about my design process, so I thought why not spend a little bit of time this week showing you exactly how I got to the final plan for this bathroom.  For me, it's never a straight forward process and although it may seem like things comes together in a snap, the truth is I spend months (most of the time close to a year) putting a design together.  Pretty much every time I start out with a completely different idea that I end up with but it really is a necessary journey to go through, and as infuriating as it is to hear, most of the time I have to go off of my gut feeling of when something feels right and when something still needs more thought….and this bathroom is a perfect example.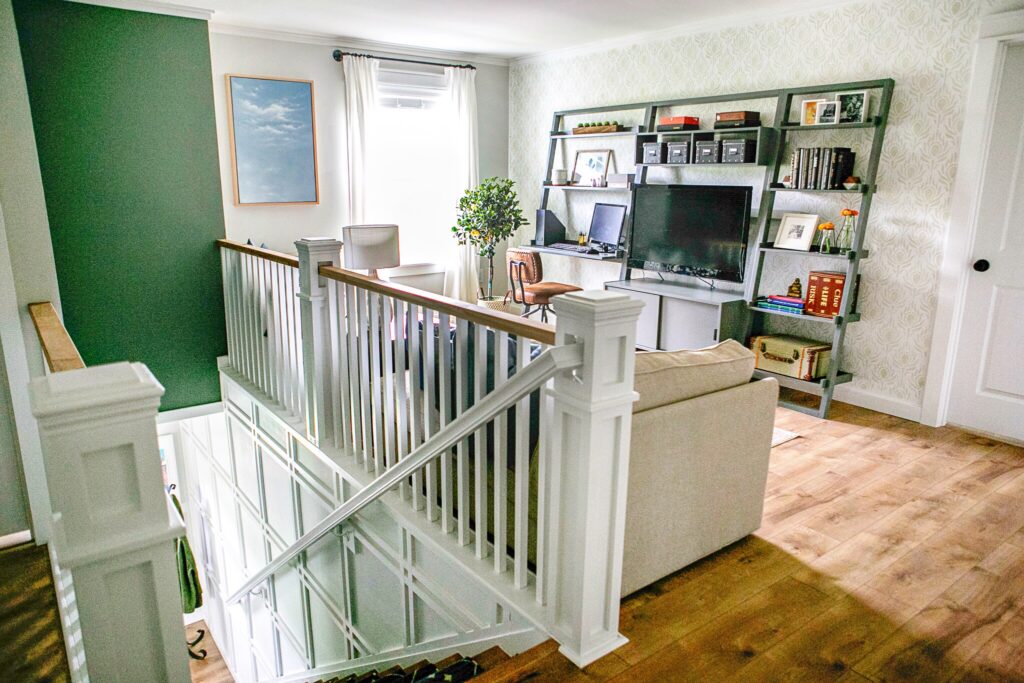 I first got the idea to change up this space after last springs One Room Challenge because once I finished the loft and stairway, this bathroom suddenly stuck out like a sore thumb to me, and since I needed to fix the crown anyway, it totally made sense to wrap all that work into a mini makeover.  Since I knew that the main elements (tile, beadboard, medicine cabinets) would stay the same I started to think about what elements I could change – and that was mainly the colors in the room!  The tricky part, though, is that this bathroom has no natural light so picking colors that work is far from an easy task.  In truth, when I picked the original color for the walls I settled on a much more muted shade than I originally thought because every color I tried looked sickly green.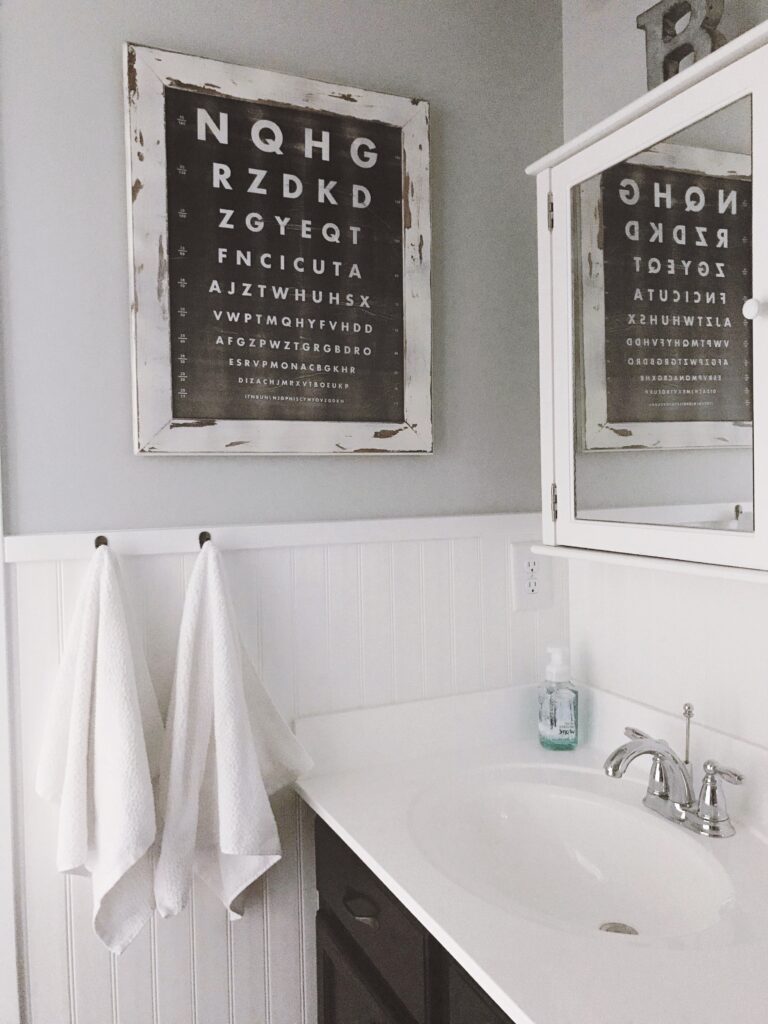 Since I love all things blue I first thought why not incorporate some dark blue like two of my absolute favorite bathrooms from Emily Henderson and Kristin Laing.  The PROBLEM – the only way to really make that dark blue work on either the vanity or the beadboard was to go really light on the walls (problematic because white walls take on a yellow look in artificial light) or put a pattern on the walls (which I really didn't want to do because there is a lot going on in this small space already).
So then, I thought about keeping everything the same but go with a darker blue on the walls above the beadboard (like Chris Loves Julia's old half bath) but after some thought I nixed that idea too because it would have been way too dark without a window to let some natural light in, and any lighter shades of blue felt either way to childish or way too dull.
At this point, I was completely convinced that I needed to paint the vanity.  While I really loved the gel stain technique I used on it during the first renovation, it always felt too close to the color of the floor so I knew contrast btw. the two would make the space feel totally different.  Feeling a little stuck, I decided to change plans and instead focus on what paint I already had on hand and see if any of those could work.  First I loved the idea of using the leftover Moonstone chalk paint from the stenciling project in the loft to paint the vanity, but the more I thought about it it seemed like it would look really odd with the white beadboard.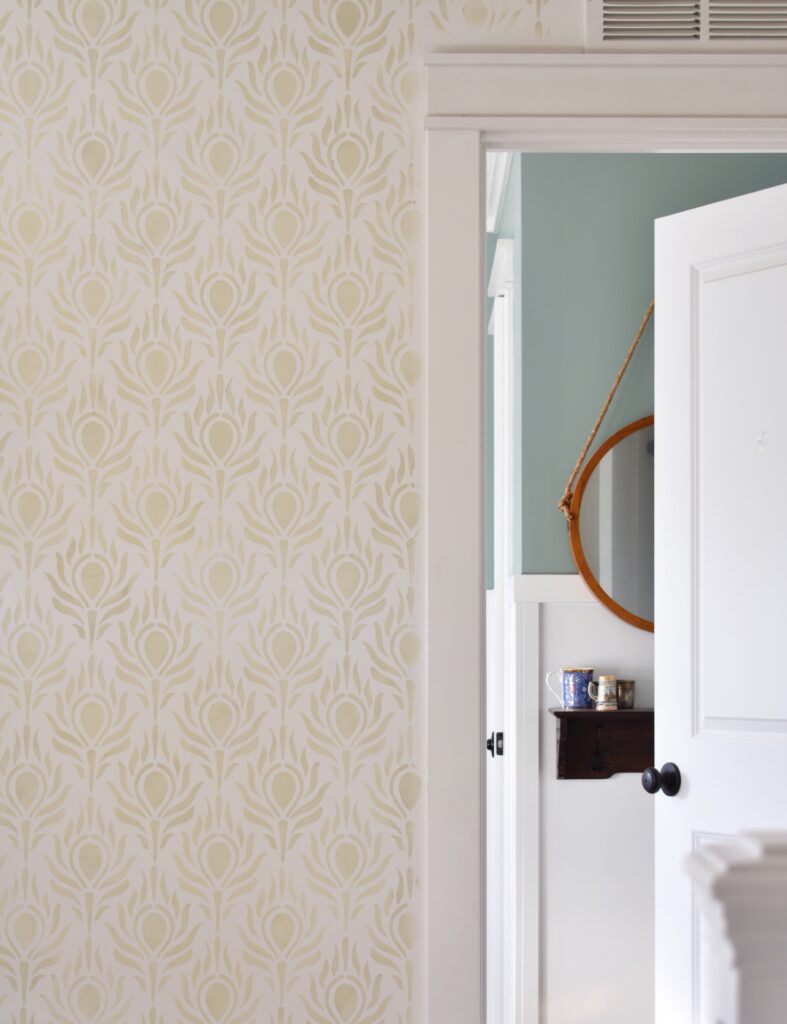 Finally my Eureka moment came when I realized I had more than enough green paint leftover from the Guest Room (Sherwin Williams Halcyon Green) – something I had completely forgotten about – and PRESTO!!  The plan was in motion  —  all I had to do was use my own guest room as inspiration for this new space.  I could save on wall paint and put that money towards painting the vanity white instead to match the beadboard, then bring in some more golds to replace the dark bronze pieces.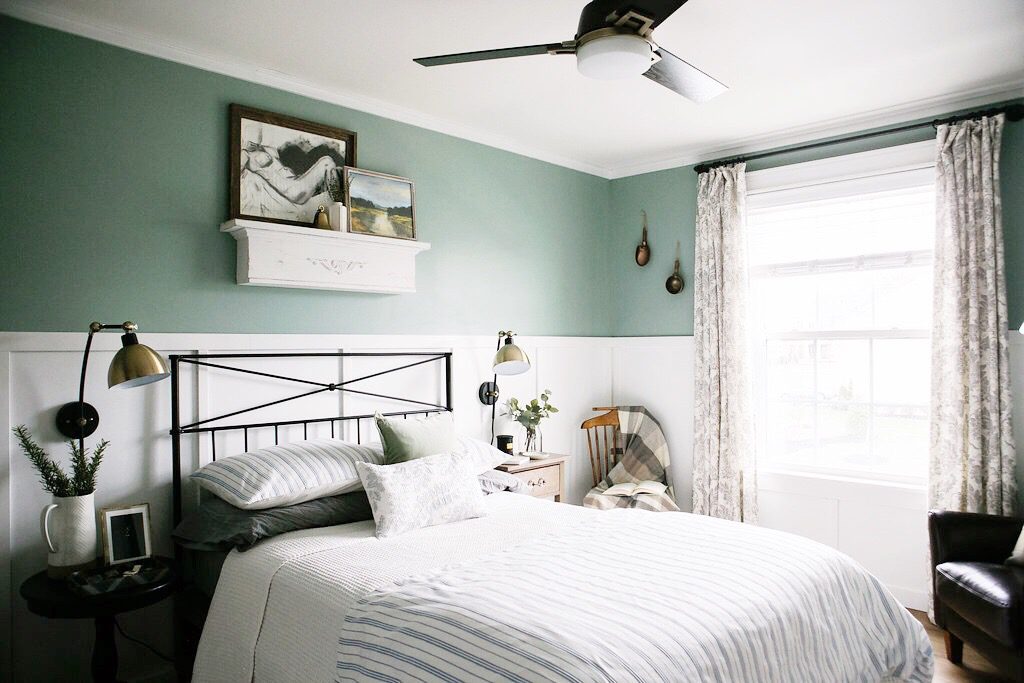 Once I have a pretty good idea of what I want, I always do one final look around Pinterest for similar spaces – it's one way I confirm that "gut" feeling I talked about earlier – and once I found this bathroom makeover from Vintage Revivals I was sold on my plan.  It also helped inspire the idea to add some more colorful artwork and some lighter wood tones to the space to balance out the lack of light and make the space more fun and fresh.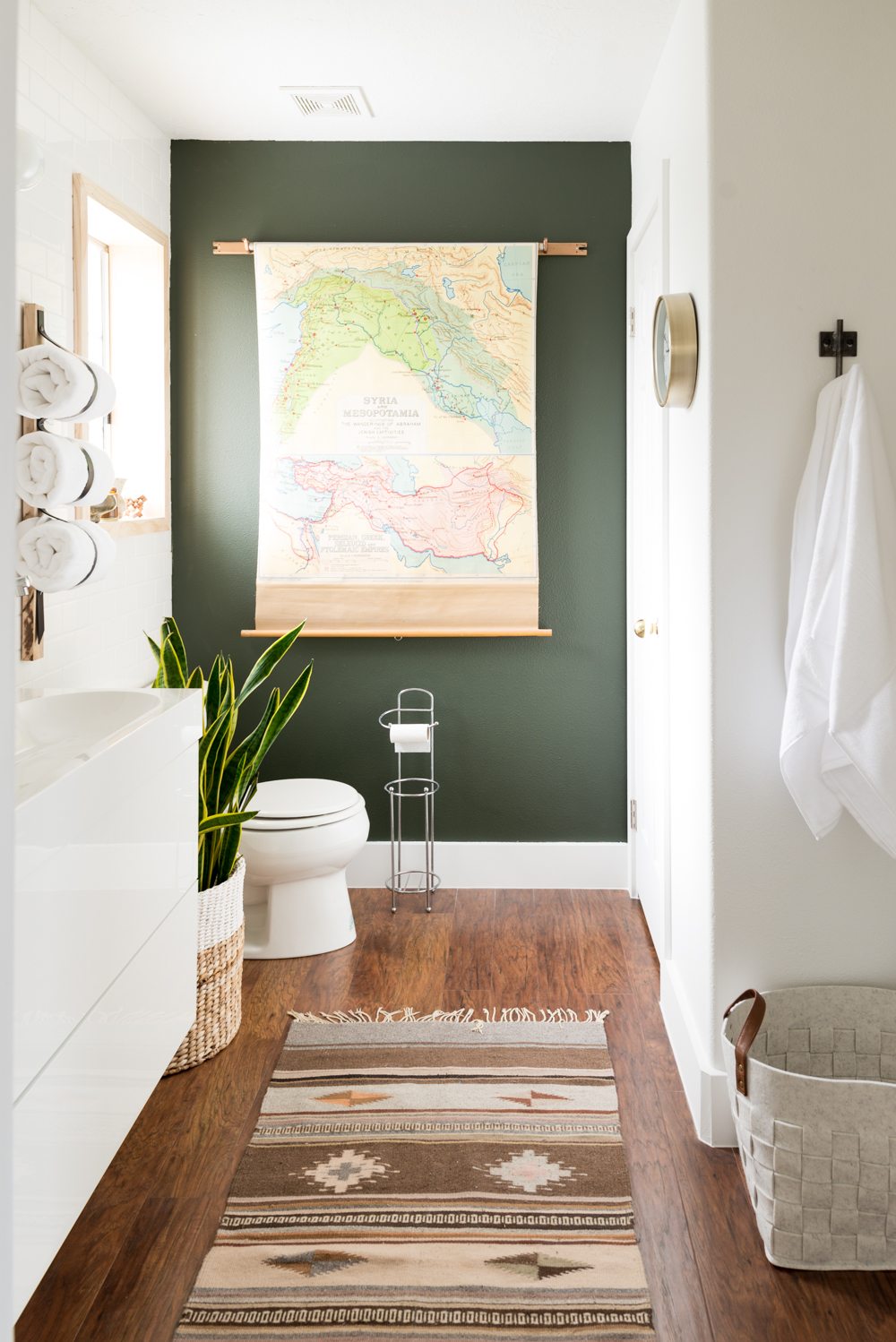 So if you've lasted with me this long, I hope some of that was helpful and if nothing else made you feel better about your own indecision when it comes to planning a space!   This week in the actual bathroom lots of painting has taken place and next week I'll be sharing all about that, as well as the not fun task of replacing that messed up trim, but for now I'll leave you with a quick sneak peek of how things are looking so far………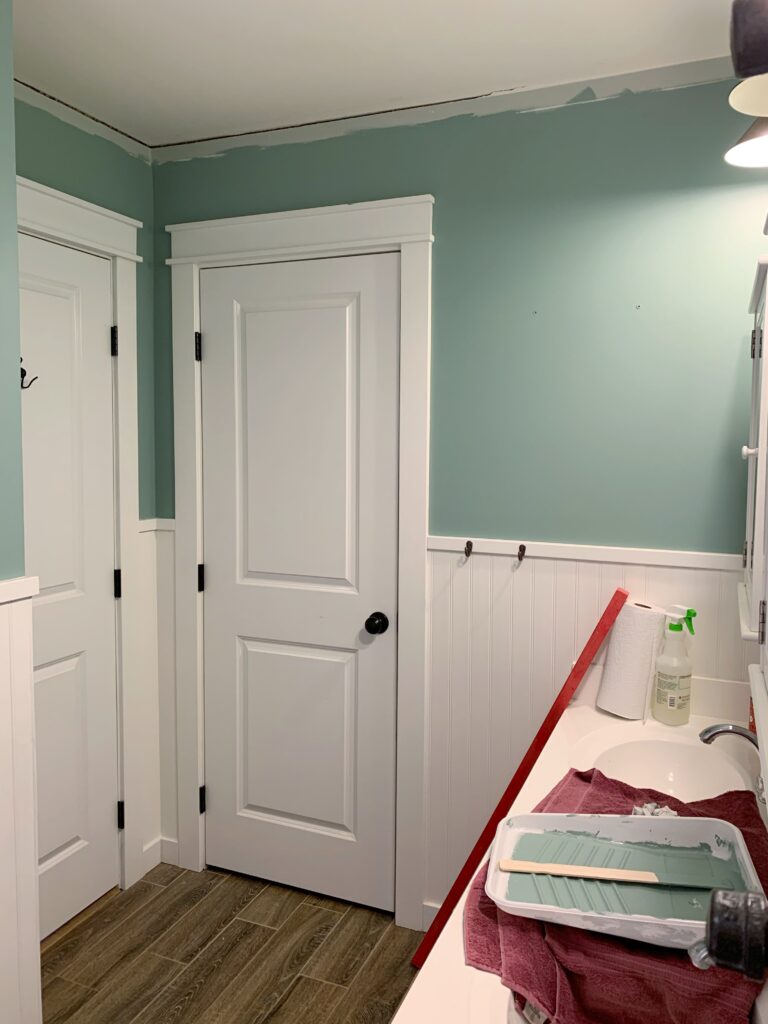 And don't forget to check out what my fellow challengers have up their sleeve for Week 2……..
You are invited to the Inlinkz link party!