Usually at this time of year I would be wrapping up my projects from the previous year and sharing my goals for the upcoming one – but I'm throwing all that out the window and jumping right into the first project of 2020!  I'm extremely excited to be joining Erin from Lemons, Lavender, & Laundry this January and taking part in her $100 Room Challenge – one month, one room, only $100!  It's a big departure from the One Room Challenge that I take part in in the spring but it's a chance to challenge my creativity and resourcefulness in ways that I think could be really helpful to readers looking to tackle their own DIY makeovers.
Week 1 | Week 2 | Week 3 | Week 4 | Week 5
Now for the question you're all dying to know – which room is getting a makeover this time?  Well I'm going way back to the beginning of my DIY adventure and re-visiting the first room I ever transformed — our guest bathroom (you can read all about the first remodel here).  Before I say anything else I just want to go on the record and say – I KNOW…..lots of you love this room the way it is and I get it!  It's super cute and if you want to copy this exact design in your own home then please go for it………but the truth is it's just not right for this house anymore.  As the house has evolved (especially the 2nd floor) this bathroom feels a little too farmhouse for it's surroundings.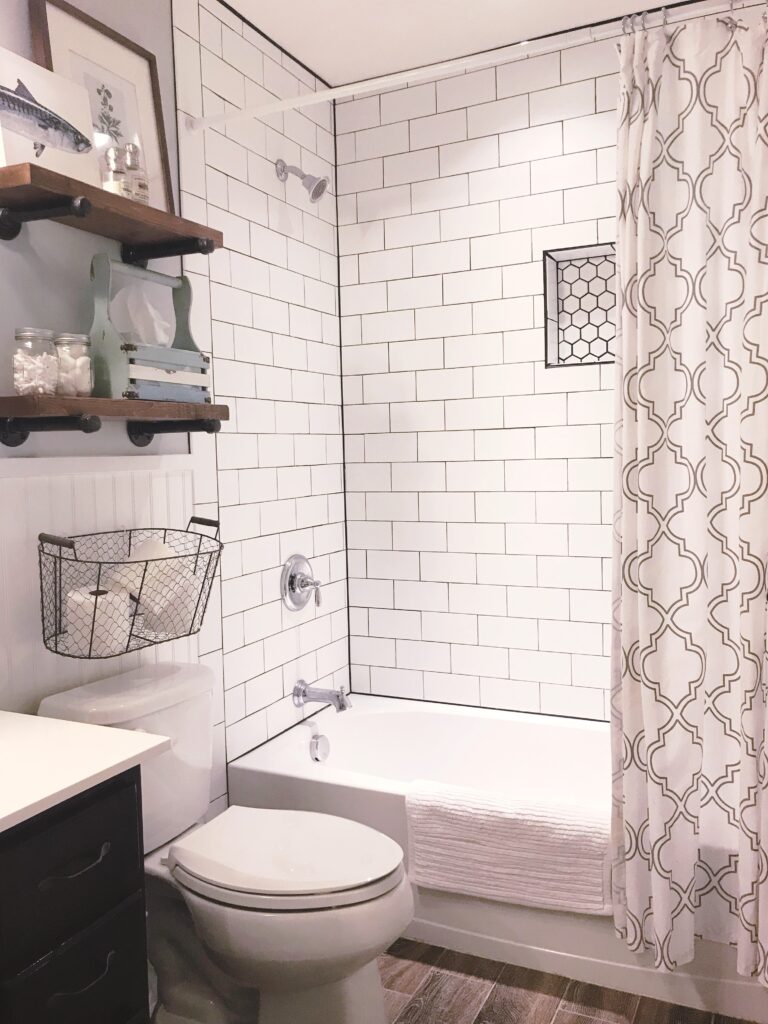 That being said, there are elements I still love that won't change – the wood tile floor, the subway tile, the beadboard, the medicine cabinets will all stay exactly the same.  But with a few tweaks, some hours up on the ladder, and a whole lot of paint – I think I can completely change the vibe of this room and bring in the fun and quirky moments that are lacking right now.
It's really gonna be a challenge to stay under that $100 budget, and there are some structural issues I have to deal with first before I can commit money to more fun things (more on that next week but it involves re-installing the crown molding).  Here's an idea of what I have in mind and how I'm planning to keep the cost down so I have enough left to add some fun styling at the end: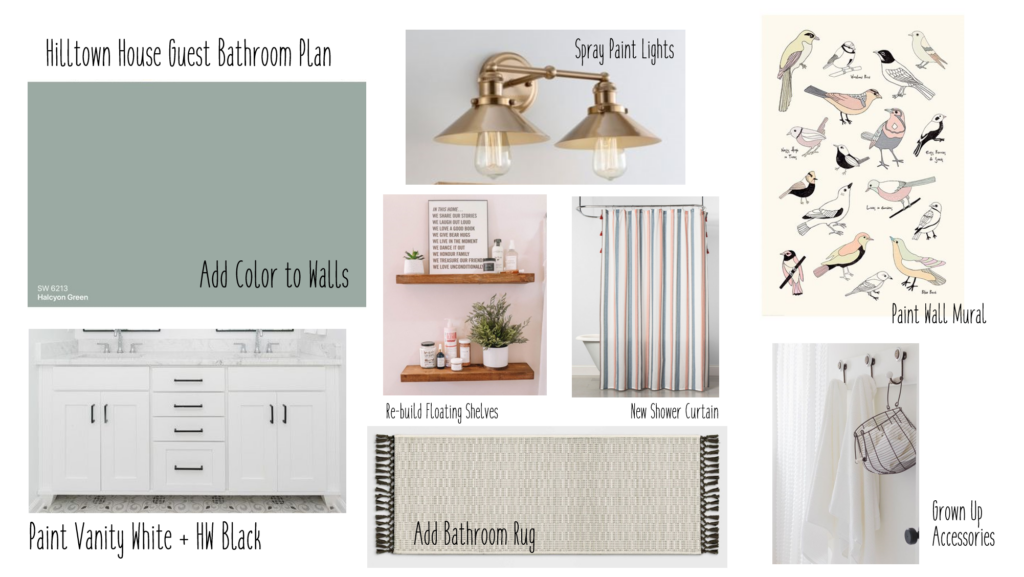 1. Add Color to the Walls – I have enough paint leftover from the Guest Bedroom to paint the walls this amazing shade of green (Halycon Green from Sherwin Williams)
2. Paint the Vanity White and Paint the Hardware Black – The paint will be my biggest expense but I think changing the vanity to blend into the beadboard is gonna make a huge difference!
3. Spray the Vanity Lights – A little leftover spray paint will go a long way
4. Re-build Floating Shelves – I have a plan to re-use the existing shelves for a whole new look – fingers crossed on this one for sure!
5. New Shower Curtain – Hoping to have enough money leftoever at the end to get something fun to add a little boho vibe
6. Add Bathroom Rug – This room desperately needs one and I have a plan to keep it in budget that you'll love
7. Paint Wall Mural – I'm most excited about my plan to add artwork to this room for close to zero dollars
8. Right now the room is full of the boys toddler accessories (towels, cups, toys) and I think some simple swaps to more grown up accessories will be the perfect final touch
I've spent a lot of time lately working on other peoples homes so it's going to be really fun to kick off the year putting a little time into my own again.  If I keep to my goal of getting at least one thing done every day I think I'll get this room in shape by the end of the month.  Make sure you come back next week to hopefully see some major changes right out of the gate —- and make sure you check in what my fellow $100 Room Challenger have planned as well!
You are invited to the Inlinkz link party!