Welcome to Week 2 of the One Room Challenge – and Wow guys that week went by FAST!!  So fast that I'm already a teensy bit worried about my timeline but trying not to panic – well at least not panic too much!  I've made a lot of progress (and I'll share some quick peeks with you at the end of this post) but nothing is 100% finished yet so I think that's where my anxiety is coming from, but the plan is to  wrap up a few things this weekend which will feel fantastic!
Week 1 / Week 2 / Week 3 / Week 4 / Week 5 / Week 6
(Some of the links included in this post are affiliate links, meaning, at no additional cost to you, I will earn a commission if you click through and make a purchase)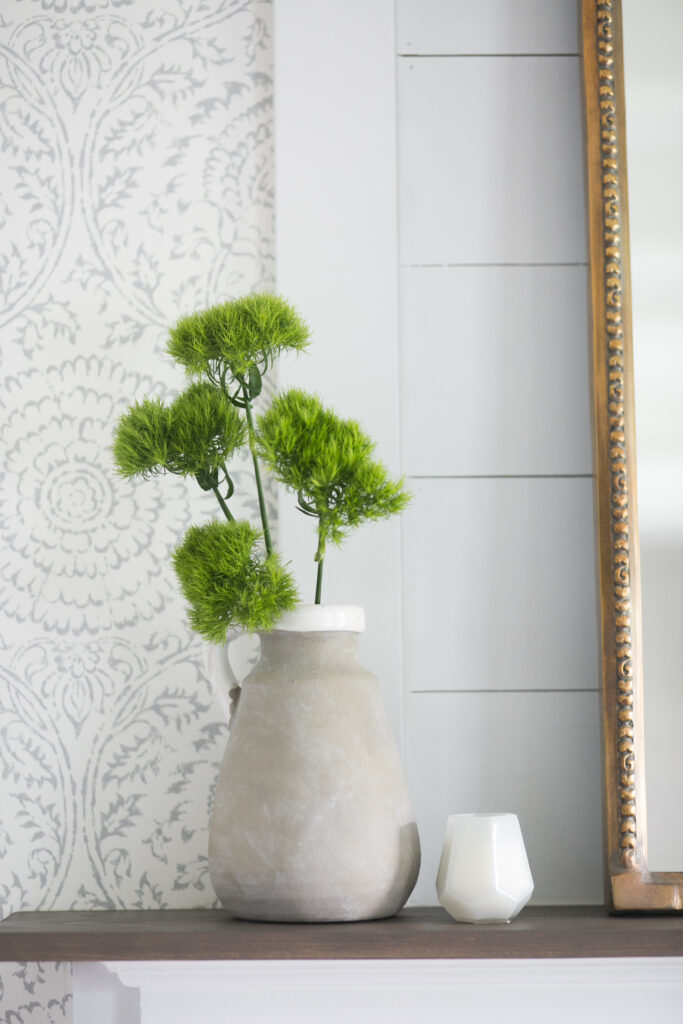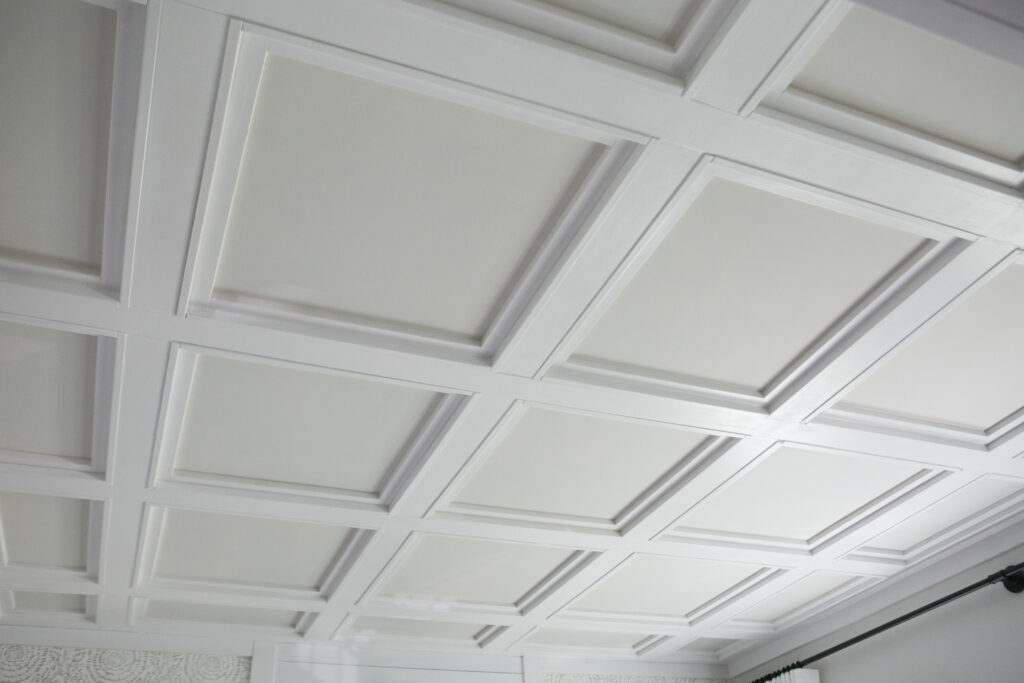 In my Week One post I shared the before pictures of the three spaces that I'm making over and a general idea of the design, but this week I wanted to break down my plans for each space in a little more detail.  My biggest inspiration for this project is actually my last One Room Challenge and the desire to have that same  look carry over into the hallway and stairway, and then up into the loft but with a much more casual vibe than the formal dining and living room.  Of course I had to repeat some of the best elements of these rooms (my DIY coffered ceiling and beautiful patterned wallpaper) but I tweaked them just enough to keep things fun and quirky.  I'm gonna say this up front – its A LOT of look – but I'm unifying everything with similar colors and shapes so it all (hopefully) make sense in the end.
The Staircase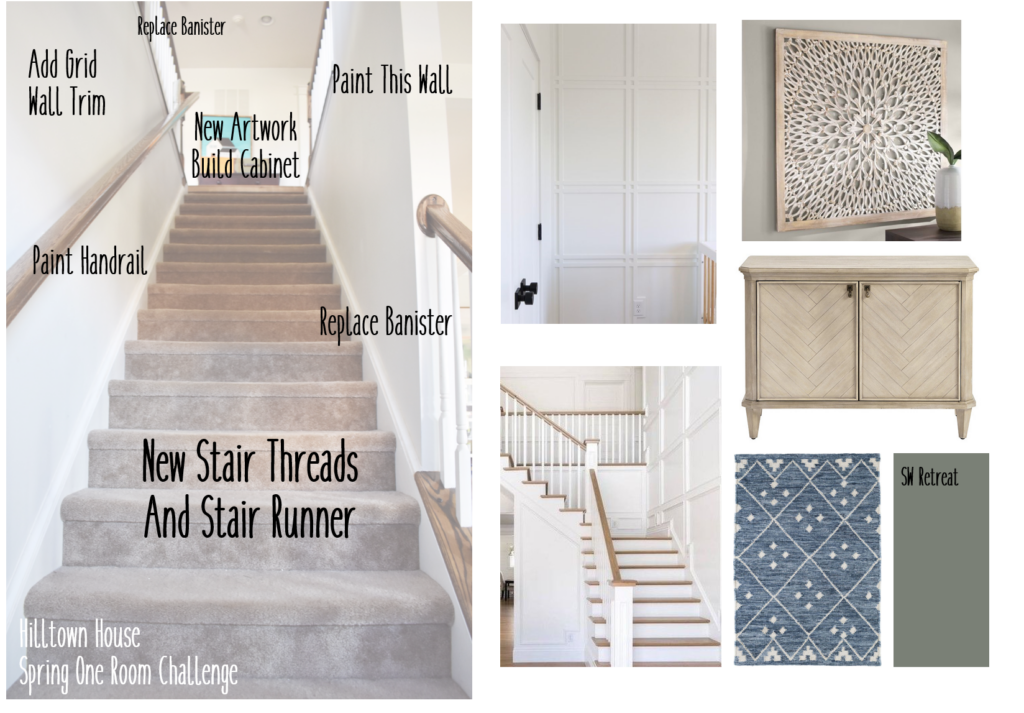 Have I mentioned yet how much I can't wait to pull up that carpet??  The stair threads will be replaced to match the flooring in the rest of the house then I'll be adding this gorgeous runner from Annie Selke – I've been obsessed with this rug since I saw Jenny Komenda use it in last Spring's One Room Challenge.  I'm thrilled to say that those banisters have already been replaced (I'll share more of that process next week) and the right hand side has been painted a dark green, which was a last minute decision I'm really happy with.  I've got to say the part I'm most excited about is creating a feature wall on the left hand wall using not just a grid pattern – but a plaid grid pattern!  The cherry on top of this view will be this large wooden piece of wall art from All Modern, and I have plans to build a cabinet similar to this one from Ballard Designs.
The Foyer and Front Hallway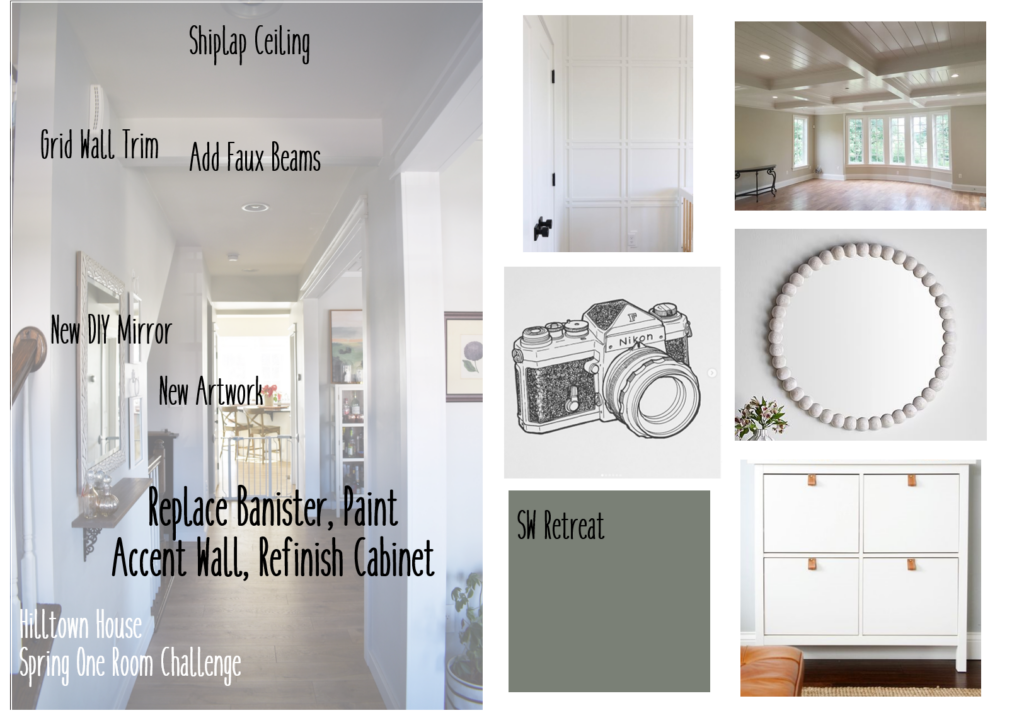 The same plaid wall treatment will carry into the foyer – which will mirror the coffered ceiling in the dining room / front room and finally make these two spaces feel cohesive!  And because one ceiling project wasn't enough for me, I'll also be adding shiplap from Metrie along this whole hallway and creating some faux beams to help hide that one random soffit we have.  I also have plans to DIY a version of this mirror from Pottery Barn Teen, re-finish the IKEA shoe cabinet that we have, and add some cool artwork from my favorite graphic artist Timothy Anderson Design.
The Loft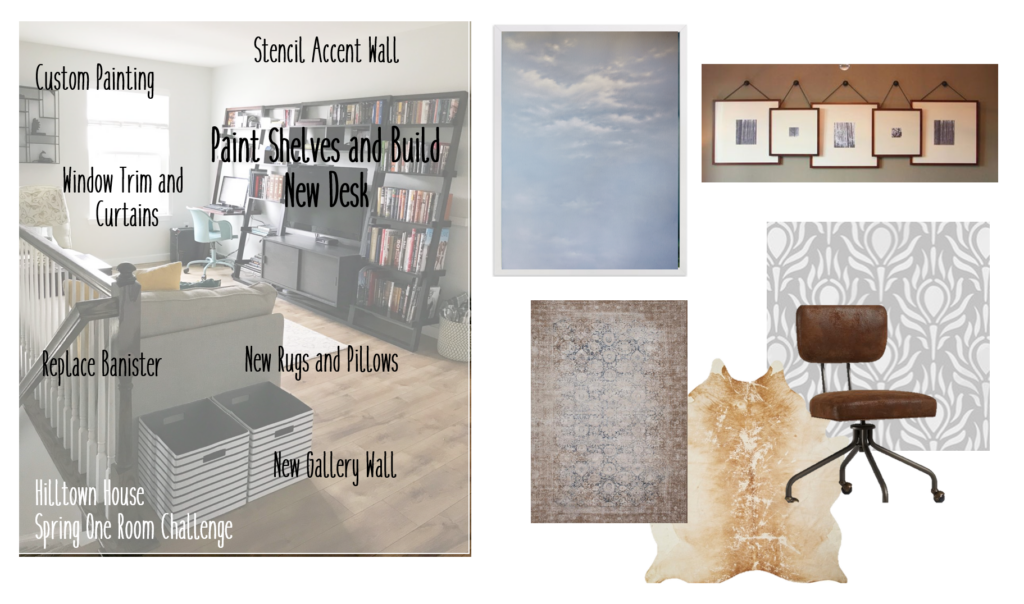 I mentioned last week that a lot will be staying the same in the loft (the couches, end table, and most of the shelf unit will stay) but the things that will be changing are pretty big, most notably the railings will be completely replaced and I'll be adding a feature wall behind the leaving shelves using this awesome peacock stencil from Royal Design Studios.  Speaking of those leaning shelves – I'm planning on altering them slightly to make the desk area larger and adding this comfy new office chair.  To finish off the space I'm simplifying our family photo wall and finally displaying my beautiful painting from my amazingly talented friend Kelly Money.
Like I said, it's a lot of look, but so far I'm extremely happy with how everything is tying together – I just can't wait to get all the holes filled and seams caulked so I can finally start concentrating on the fun stuff.  Until next week, enjoy these quick shots I grabbed of how things were looking this morning and keep following me on Instagram!  Oh, and be sure to go see what all my fellow guest participants are up to this week on the One Room Challenge Blog.