Every time I finish a big room makeover it tends to make me look around my house and over-analyze whether all of the other spaces are telling the same story.  This spring, when I finished the Dining/Front room makeover, my focus laser-ed in on the rest of the first floor.  In my last post I shared some of the small changes I made to my morning room, and this time I'm bringing you the most used space in our house – our living room – and the small projects and decor updates that have changed the feel of the whole space.
The bones of the room (the shiplap wall, the built ins and fireplace, the furniture) are all still perfect and I am so happy that I stuck with my gut and kept everything light and neutral.  But some of the styling of the room never felt quite right.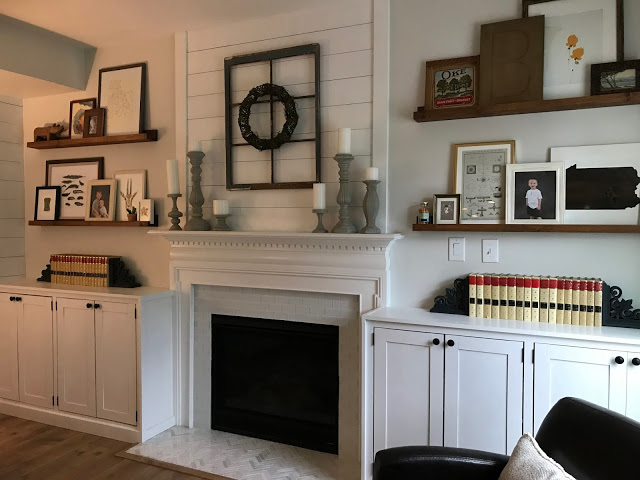 For example, the pictures ledges on either side of the fireplace and the fireplace mantel always seemed like they came from two different houses – one a little bit more country farmhouse and one more in my quirky farmhouse style that I still can't quite come up with a name for.  One day I decided to move some of my taller vases in front of the fireplace, and from there it just kinda snowballed into me changing up all the fireplace decor.
In all honesty, my first plan didn't work.  I tried to replace all of the candlesticks with matte black ones,some I bought and some I spray painted, but it was wayyyy too dark so I put those away and plan to bust them out at Halloween instead (side note: the gray ones are also tucked away because I think they're still great as part of my winter decor).  Luckily just at the same time I nixed the black, Target put all of it's Opalhouse collection on super sale –  including all of their beautiful carved wooden candle pillars – so I picked some up and immediately knew that this was the way to go.  It actually took me a while to round it out with some additional finds from HomeGoods (as in I just found the last one last weekend!) but it was worth the wait.
To replace the wreath I had hanging on my vintage window frame I decided to incorporate one of the husband's favorite accessories and figure out a way to mount a set of deer antlers that didn't require an actual deer head.  I found a wonderful PA shop on Etsy called Near and Deer  and ordered a set of their beautiful resin deer antlers.  I picked up a simple wooden plaque from Amazon that I stained the same color as the picture ledges (Varathane Early American) and attached the antlers with a simple screw through each one.  I simply wrapped some twine I had around both sides to cover the screw and he was ready to go.  It ended being a super easy and fast project that made a gigantic difference.
From there, I moved onto the floating shelves around the TV.  When I first installed them I purposely left things pretty bare because I didn't have a really solid idea of how to style them.  Slowly, I've been adding things (pottery, vintage books, prints) but I couldn't get that top shelf to look full.  I tried adding some framed prints up there, but that just ended up looking really cluttered.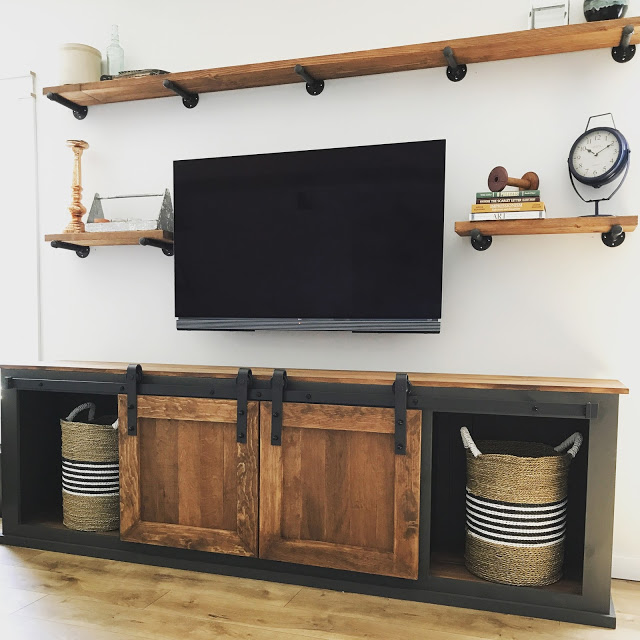 Eventually I had a light bulb moment – I needed something that filled the blank wall behind all the objects I was collecting and added some height.  I don't know how I came to this idea, but what I decided on was to build a set of faux shutters and lay them horizontally.  I used some leftover boards from the garage and aged them with this awesome Oaked stain from Weatherwash to create a set of really simple planked boards.  Now the top shelf feels connected whereas before it always looked like a random assortment of floating pieces.
The last area I changed up (and probably my favorite!) is the blanket storage next to the couch.  When I first put the room together I built a cute little blanket ladder because at one point I thought I wanted to hang a piece of artwork above it.  When I decided against that idea, I was going to just build a bigger blanket ladder – but then I got an idea.  We keep the dog bed on the floor in this corner and no matter how many times I moved it, our dog would eventually knock it out of place and a bigger ladder would have the same problem.
Instead – I took the concept of the blanket ladder and put it directly on the wall.  Again – this was super easy to pull off!  I bought some leather straps off Amazon (I ended up having to buy two 72″ lengths of this natural leather) and some dowels from Home Depot that I again stained the color of the picture ledges.
After cutting the leather strips in half and drilling holes through the top, I used my favorite trick of attaching cabinet knobs to the wall (just add a drywall anchor and screw the knob in) and inserted the dowel so that it hung from the two straps.  I'm slightly obsessed (ok more than slightly obsessed) with how this one turned out.  It just feels super clean and cool against the shiplap.  And the best part!  I can hang so man more throw blankets from it than the ladder that was here before!
Just a few small changes and now I feel like not only do the pieces of the living room are all speaking the same language now, the room as a whole speaks to the rest of the house in a way that was missing.  Over the last year especially I've learned that when you're doing a house in pieces you may not nail your exact style the first time around – and that's totally OK!  It doesn't have to mean that you need to start over – sometimes it's just swapping out a muted color for a richer one, or adding an element that ties two sides of the room together.  If you can take a step back and be honest with yourself about what's not working, then you are one step closer to figuring out how to fix what's broken.